17 Best Home Office Setup Ideas for 2023 (+ Productivity Hacks)
To create the best home office setup, invest in ergonomic furniture, remote collaboration tools, and reliable business phone systems. Design your space with the right color schemes and greenery, and make provisions for storage and a meeting area. With a well-decorated, properly equipped room, you'll be more motivated and efficient in accomplishing tasks. Here's a compilation of the best ​​ideas for a home office setup for work-from-home professionals:
Must-have Equipment for the Best Home Office Setup
In the same way that the right tools are essential in a traditional office setup, building a dedicated workspace at home requires proper gear to make managing tasks easier and improve your level of comfort. In this list of home office setup ideas, we covered the must-have furniture pieces, fixtures, and gadgets to complete your space.
1. Make Sure You Have High-speed Internet
With most of our work done in collaboration with others online, a fast and reliable internet is essential in completing the home office concept. If the nature of your job is handling different types of calls using a voice-over-internet-protocol (VoIP) system, it's even more important to ensure you have high-speed internet.
The best VoIP service providers for home offices, namely Ooma, Nextiva, and Phone.com, feature free speed test tools on their websites that tell you if your internet meets VoIP network requirements. Upgrade your internet subscription, if necessary.
To further ensure an excellent connection, reconsider the placement of the router. If your home office is far from the router and blocked by walls, there's a good chance that you'll experience internet problems. One more option for improving internet speed is to use Wi-Fi extenders or repeaters, especially when your office is in a dead zone.
2. Choose a Height-adjustable Desk
The best home office setup prioritizes a height-adjustable desk that promotes efficiency and comfort. Sitting for long periods contribute to health issues, including high blood pressure, obesity, and cardiovascular disease. With a height-adjustable desk, you get to take regular breaks from sitting.
Find a work desk that features a broad range of heights, great stability, and one-touch operation for ease of use. Make sure it has enough surface area and storage for all your work essentials. Work is easier to manage when you have all that you need in one place.
3. Buy a Laptop Stand
This gear also helps in maintaining good posture and improving comfort while working. It allows raising the device to eye level, keeping users from hunching over their laptops. Aside from promoting better posture, a stand prevents laptop airflow problems, which happen when the device sits on a flat surface for a long time. With this gear, you'll maintain your laptop's optimal performance for a long time.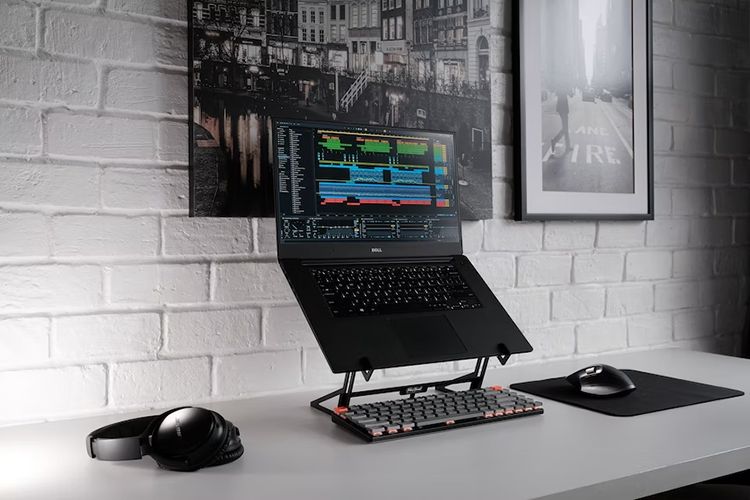 ---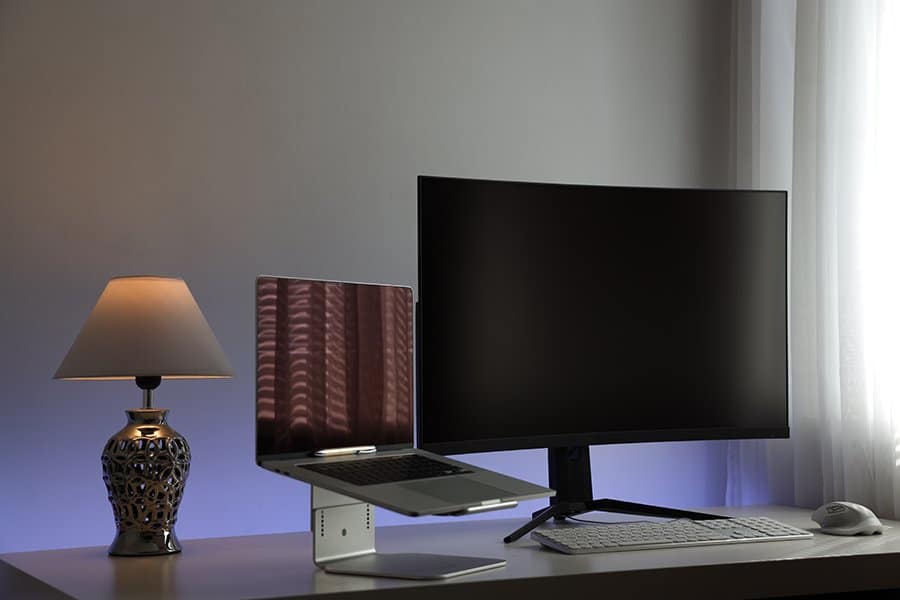 ---
4. Use an Ergonomic Chair
The best office setup isn't complete without an ergonomic chair that fosters good posture. When shopping for a chair, choose one that has an adjustable seat height, lumbar and arm support, back tilt tension, and a headrest. They must be made of comfortable materials with enough padding so you can sit comfortably for hours. They should also come with high-quality casters, like those from Steelcase, so it's easy to move around while seated.
Don't forget to consider the seat width and depth. The seat width must provide ample space for thigh support. At the same time, the chair must be deep enough that your back is able to lean against the backrest comfortably. The right ergonomic chair will reduce back pain and improve blood circulation—making you more productive while working. If you're looking for furniture options, consider our top picks for the best office chairs.
5. Improve Lighting Quality
The best home office setup offers great visibility on the task you're working on and improves comfort. Avoid working directly under overhead lights to reduce glare. Instead, use lamp shades to create a diffused type of lighting that's easy on the eyes. Task lighting is also beneficial to give better visibility on the documents you're working on.
As much as possible, maximize natural lighting. Exposure to natural light helps produce vitamin D, which is linked to improved moods and better concentration. Aside from helping you be more productive at work, natural light drastically enhances your appearance on video calls, especially when you're facing a window. The light fills in the sides and helps project accurate skin tones on video meetings.
6. Purchase Noise-canceling Headphones
Aside from being able to listen to relaxing or upbeat music while working, noise-canceling headphones are beneficial for getting rid of sounds that distract you from work. More importantly, high-quality headsets are great for improving the quality of calls. The noise-canceling microphone will reduce background noise and help callers hear your voice more clearly. With less distraction on the call, there's less need to repeat information.
If you use headphones heavily, invest in VoIP headsets with advanced active noise cancellation features, which help drown out low sounds, such as those in fans or air conditioning units. Explore here the best VoIP headsets with impeccable audio quality.
7. Invest in a Dual Monitor Setup
A dual monitor setup helps optimize work performance since you get to see more content and readily check multiple windows without any hassle. It's suitable for tasks that require comparing different kinds of documents.
More importantly, a dual monitor setup improves collaboration with others. Have one monitor for your video meetings on Zoom or RingCentral, and then another for Google Docs as a reference for your virtual discussions. To learn more about these video conferencing solutions, read our in-depth Zoom review and RingCentral review.
8. Use a Power Strip
Over time, you may find yourself adding more tools to your home office setup, including printers, photocopiers, and fax machines. As you might expect, these devices require power, which is why it's worth buying a power strip and including it in your work-from-home setup ideas.
When choosing among products, consider the number of outlets available, length of the cord, and extra safety features like 15- or 20-amp circuit breakers. It's also best to choose the ones that have USB ports.
9. Subscribe to a Collaboration Tool
Software that supports project management, team chat, file sharing, and audio and video meetings is an essential tool for remote work, as it makes team collaboration easy. If you're an entrepreneur who just started a small business, invest in a unified communications as a service (UCaaS) platform that provides voice, video, and messaging functionalities.
Consider Microsoft Teams and Skype, two of our top picks for low-cost and free UCaaS solutions. Read this Microsoft Teams review to learn more about the tool.
10. Get a Business Phone Number
This great tip for a home office setup is beneficial in maintaining professionalism and streamlining call management. With a dedicated phone number, you get to designate business hours, customize a greeting message for customers, and enhance your brand image overall. Forward calls to multiple phones easily and ensure that your business accommodates all customer inquiries.
Choose among different types of business phone numbers: local, toll-free, vanity, and international. VoIP provider Grasshopper offers custom toll-free phone numbers, which help reinforce brand identity and recall. Meanwhile, 8×8 provides international toll-free number services to over 100 countries. Use this guide when deciding which business phone number works best for your needs.
Must-have Design Elements for the Best Home Office Setup
The overall design of your home office influences mood and motivation. Details like color schemes and neatness of the space will either improve or dampen work efficiency. These are some of the best ways to set up a home office, design-wise:
11. Incorporate Productivity-boosting Colors
Colors are not just home office decor elements that improve aesthetic appeal. They evoke a certain ambiance that affects your state of mind when working. Color therapy suggests that the color red is stimulating while the color green is calming. Yellow improves concentration, while orange enhances moods.
Pick the right hues for your home office to create an environment conducive to productivity. Get inspiration from home office examples online if you're unsure how to incorporate certain colors.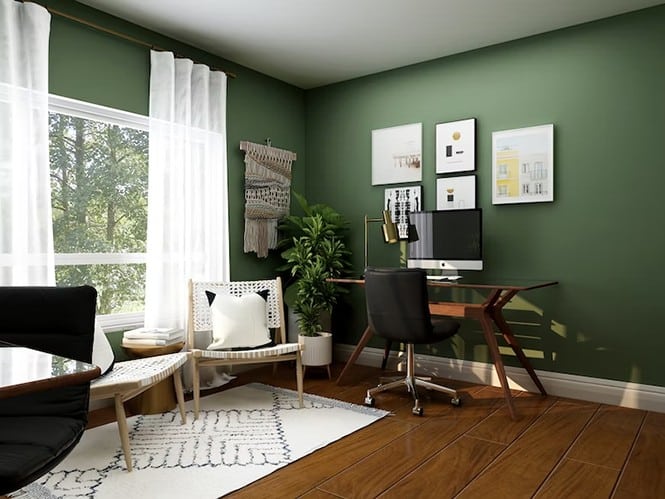 ---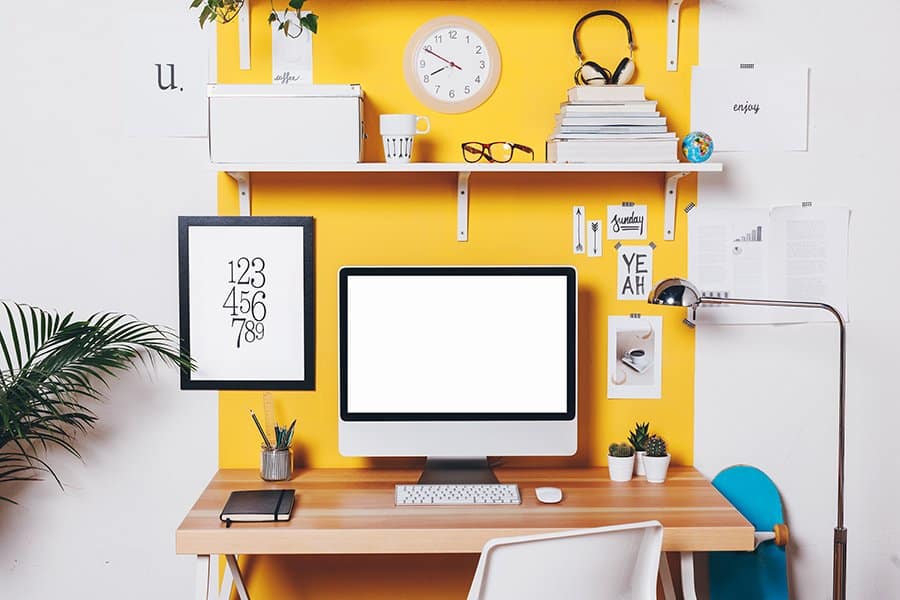 ---
12. Introduce Plants to the Home Office Space
The most amazing home office setups feature an abundance of greenery, as plants help relieve stress and improve concentration. Studies show that people who have plants in their workspace tend to perform better. If you're looking for low-maintenance greenery, snake plants, aloe, and English ivy are some great choices.
13. Organize Your Office & Keep the Space Tidy
According to a study published in the International Journal of Psychological Research and Reviews, clutter negatively affects work satisfaction and pleasure and increases the risk of burnout and tension. In the practical sense, you lose precious time for work when you have to rummage through piles of papers to find a specific document you need. In the same way, it's difficult to focus when you're surrounded by a mountain of files that remind you of things to address.
This is why organization using different storage fixtures and accessories is among the top home office setup ideas. For putting documents in order, use a filing cabinet and place it near your work desk so that it's easy to access files when you need them. For trinkets and other materials that are worth displaying, put them on floating shelves. For items that need to be concealed, use baskets, bins, and ottomans or seating furniture that also serve as storage.
14. Maximize Desk Organizers
The desk easily fills up with stuff when you're busy working. This is why aside from filing cabinets, you must have desk organizers with compartments for different items, including pens, sticky notes, notebooks, and other office supplies.
Another good home desk setup idea is mounting a pegboard onto the wall. With this, you'll be able to hang headphones, organize pens and other items, and easily reach them when needed. Make it a habit to clean your desk when you're done working.
15. Dedicate a Space for Meetings
If you're having clients or colleagues over to your place for alignment huddles, plan your home office design layout to make room for a meeting area. Similarly, have a dedicated spot where you'll join virtual meetings. Ideally, your background should be tidy and void of personal items.
A neutral background for video calls is ideal so it doesn't distract others during the meeting. Alternatively, there's also the at-home office idea of having eye-catching artwork for a background that still conveys professionalism.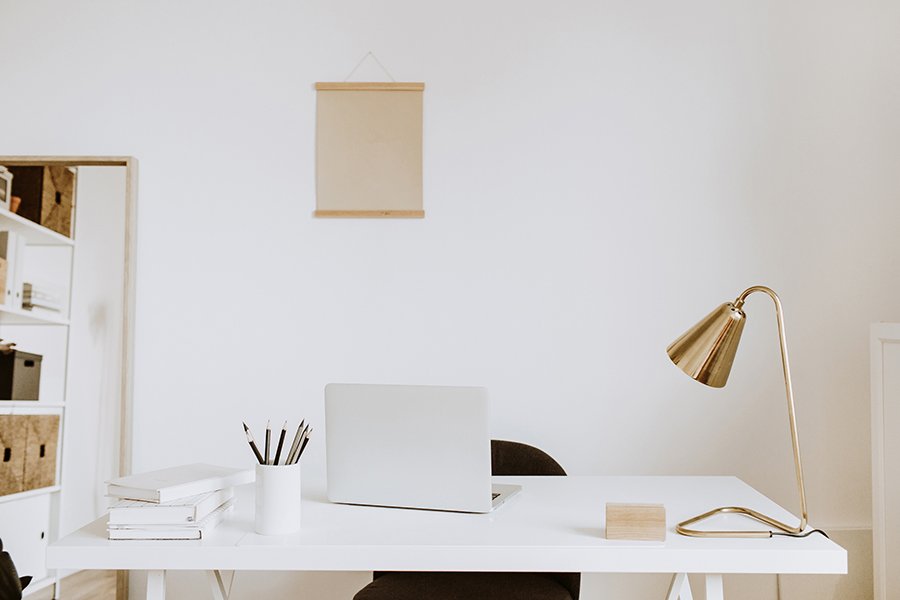 ---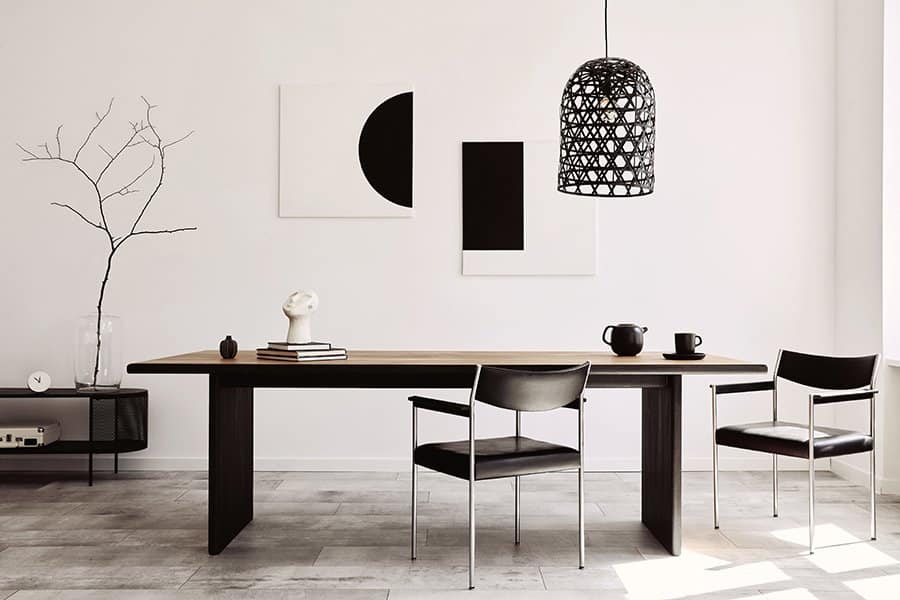 ---
16. Create an Inspiration Wall
This is one of the most recommended home office setup ideas if you want to enhance your space's visual appeal further. Turn an empty wall in your office into an inspirational corner where you hang beautiful photos, favorite brands and quotes, and all other items that motivate you. Revisit this corner when you're in a creative slump and find renewed inspiration. When curated well, this makes for an excellent background for video meetings.
17. Bring the Outdoors In
The desk location is the most important consideration when deciding the best home office layout. We recommend placing the desk at a spot where you can look at something pleasing, e.g., your house's garden or the nearby beach. This way, every time you take a visual break from your screen, you'll have a refreshing treat from outdoor views.
If you're in a windowless room, hang a nature-inspired artwork on the wall opposite your desk. Choose decor pieces with nature elements: fresh flowers, seashell trays, wicker baskets, or water artwork.
Productivity Hacks for Work-from-Home Professionals
While a home office sets you up for better productivity, it takes good habits to maximize its benefits. After all, you're still in the comfort of home with family members or friends, where it's hard to resist the temptation of putting off work and attending to household duties. In this section, we tackle the best practices for maximizing your time in the home office.
Treat Your Home Office as a Real Office
In the same way you condition yourself to get the job done when reporting to the office with bosses and colleagues, your mind and body should be in work mode as soon as you step inside your home office. By extension, family and friends staying with you should understand that when you're in the home office, you're doing important work that requires focus. Non-urgent concerns over household matters will have to wait until you take your break.
---
Create a Schedule for the Day
It's easier to manage tasks and stay committed to finishing them when you plot them in a schedule. With a timetable telling you to get this certain task done by a certain time so you can have enough time to do other tasks, you'll feel more motivated to follow through with your to-do's for the day. monday.com, Trello, and Asana are just some task management tools worth using.
Aside from avoiding slacking off, the best benefit of creating a daily schedule is avoiding work spilling over into the hours you're supposed to rest and spend time with the family. Since you accomplished all you need to do for the day by sticking to your schedule, you enjoy more time for personal matters.
---
Work During Your Most Productive Period
Everyone has different times for productivity peaks. Figure out yours by observing your alertness, energy level, and productivity at different hours of the day. Once you determine that, schedule your most important tasks for that specific period.
Guard your focus during this time, minimizing giving in to distractions, like going out of your home office to have a snack break and conversing with loved ones at home. For the rest of the tasks, distribute them during the remaining hours of the day.
---
Plan to Do More Than the Minimum
Tasks often take longer to finish than you initially expected. As a result, you usually accomplish less than what you planned to cover. Rather than sticking to the minimum number of deliverables for the day, plan to do more so you can work harder. In case you fail to meet your target, you'll still see more tasks finished at the end of the day. Share your daily commitment to the team to increase accountability using unified communications tools like RingCentral.
---
Use the Pomodoro Technique
The Pomodoro technique is a productivity hack that involves breaking work into intervals. Set your timer to 25 minutes and work on your chosen task until the timer rings. When the time is up, take a short five-minute break. Then, work for another 25 minutes, again spending a five-minute break after the timer ends. After three or four sets of 25-minute work, take a longer break for about 20 to 30 minutes.
---
Bottom Line
Working from home is the modern norm that will dominate different industries for years. It provides cost savings, promotes greater flexibility in scheduling, and prevents commute stress, contributing to greater job satisfaction and productivity. To maximize the benefits of remote work, an excellent home office setup is necessary. Create one that provides the right tools, fosters a comfortable ambiance, and makes it easy to get the job done.