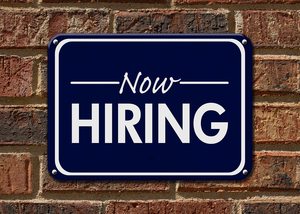 Indeed.com is one of the largest traditional job board sites, with over 180 million unique visitors every month. Also, they have some of the highest quality of resumes listed and are one of the few job posting sites that allows employers to pay for advertisements/postings by the click, instead of having to pay a hefty $400 – $500 fee up front. We will walk you through the most important steps to get the most out of your Indeed job postings.
What are the Ways to Get Your Job Posting on Indeed.com?
There are three main ways your job listing can show up on indeed.
Free Job Posting – To make a job posting for free, create an account with indeed, fill in your pertinent job information, and then post it. For more on how to post your job for free, check out the how-to section below.
Organic Search – If you have your job posting formatted correctly and designed to do well for online search engines, there is a good chance Indeed will pull in your job posting automatically and link to your page (see more below in Organic Search Tips section).  However it is not guaranteed.
Sponsored Job Posting – Last, but not least, are Indeed's sponsored Job postings. If you do a sponsored posting, you will pay-per-click, generally somewhere between $.25 – $1.50. Sponsored ads appear at the top of search results and in other prominent places as well. You can sponsor either a posting that is on your site or one that you have posted directly on Indeed.com.
How to post a Job for Free
Indeed.com allows employers to post job listings for free, which is a great option if you cannot afford to use paid advertising. This is how to do it:
Step 1: Go to Indeed.com and click on the "Employers/Post Job (Free)" tab at the top of the page.

Step 2: Click on the "Post Job" button on the middle-left of the page.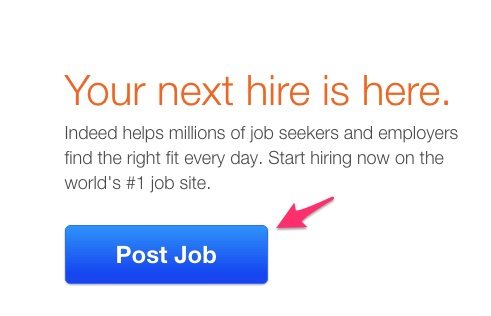 Step 3: You will be asked to create an account. Fill in your email, pick a password, and then click "continue". If you already have an account with Indeed.com, just click the "sign in" button to the top right.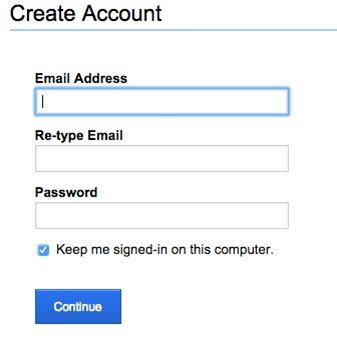 Step 4: Fill in your Company name, Job Title, Job Description, and all other info the form asks for. Then, click the "Continue" button at the bottom of the page.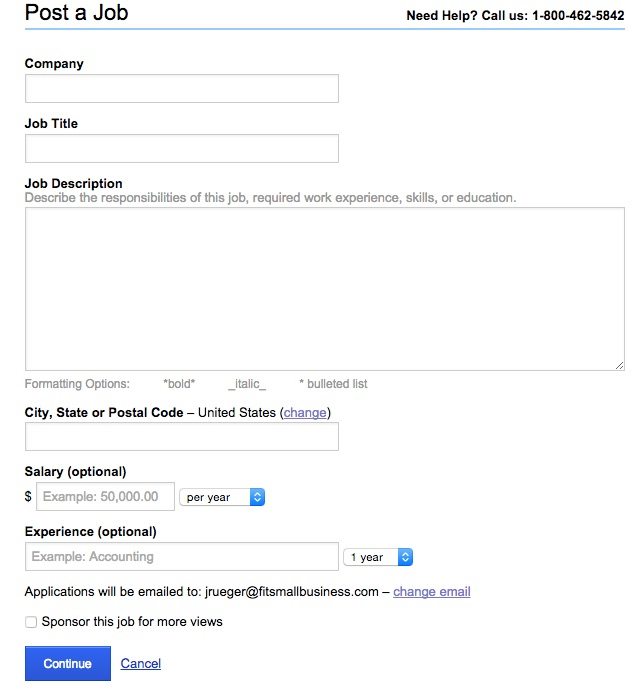 How To Get Your Indeed Job Posting/Listing Page Seen via Organic Search
It is possible to get a link to your online job posting/xml job feed simply by making your page search engine friendly. Indeed.com is constantly on the search for jobs, using engines and prowlers to find ones to add to their site. Here are some steps you can take to up the odds that Indeed.com will find and link to your posting/feed.
Note the Job Title Clearly
Make sure you have a specific job title clearly spelled out. Put it on its own line, near the top of your listing, and make sure it is in bold so it stands out in some way. If it is jumbled in with everything else, Indeed won't link to it. Also, be as specific with your job title as possible. As noted by Indeed.com's Director of Employer Insights, Kevin Walker, a well written job title can increase your traffic by up to 1000%!
Include Your Company Name
This seems like a no-brainer, but at times employers list only a contact email or application submission button and never actually include their company name, because they figure it is obvious enough (I mean, job-seekers are on their site). However, Indeed.com is looking for listings with company names included, so just take the extra minute and add it in.
List One Physical Location with a City and State
Indeed.com is looking for a physical location. Even if your business does not technically have one, put a home address, P.O box, or something down. Be sure to include only one location, Indeed does not like multiple locations. Make sure to include a City, State, and Zipcode as well.
Give Each Individual Job It's Own Web Page and Unique URL
Indeed.com will not link to pages or job feeds that have more than one job on them. They want to see a custom url that is linked with one specific job/listing. So, if you have multiple job postings on your site, create separate url's for each.
Make Sure You Have a Job Description
Include a detailed job description, including lots of keywords related to the field. It's also a good idea to repeat words from your job title whenever you can, without the description seeming stilted. The more keywords are repeated, the more likely it is that search engines and Indeed will find your listing.
Check out our Ultimate Guide to Writing a Job Description for more help.
Have Some Sort of Submit Button or Application Submission Email Address
Make sure you include clear instructions for how an applicant should conclude the process, whether it is a submit application button, or a phrase like "Send resumes and applications to jrueger@fitsmallbusiness.com."
How To Advertise Your Job on Indeed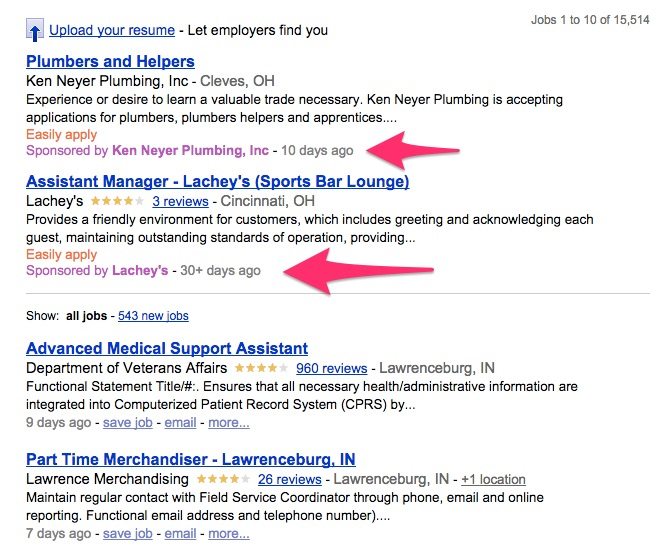 As with any business, Indeed.com is out to make money. One of the main ways they do this, is through sponsored advertising. Basically, sponsored job listings are the top 2-3 and the bottom 2-3 listings on each Indeed.com job search page. In many cases, sponsored listings will outperform free or organic job listings by 3-5 times. Why? Indeed.com's search results are based on relevancy and recency. As your free/organic listings age, they generally fall further down in search results. Sponsored ads do not, they always remain on top/bottom.
Indeed.com's sponsored ads work on a pay-for-performance cost model, which means you pay a certain fee for every click you get from the sponsored ad, generally between $.25 and $1.50 or so. You can set a monthly budget, a targeted amount of customers, and Indeed.com will try to meet your goals by bidding automatically for you, no longer displaying your add when your monthly budget is reached.
If you want to do sponsored advertising for a job posting actually on Indeed.com, it's simple. All you do, is click the "sponsor this job for more reviews" when you fill out the job posting info. The box is just above the "Continue" button (see picture above).  Then, you simply pick a monthly budget and you are good to go.
If you are wanting to sponsor a listing from your own site, you can do that too. You just have to get in-touch with Indeed.com and set it up, which is not a big deal. They even integrate with a variety of application tracking systems, so that you get more detailed reports of how people are finding your listing.
Conclusion
Indeed.com can be a great tool for finding quality employees, you just have to know how to work the system and put some effort into making sure your job posting is as accurate and compelling as it can be. With the tips above, you should be well on your way to getting a good set of quality applicants.
Sign Up Now To  Get a $50 Credit Towards Promoting Your Job