One of the most daunting tasks any company has is finding good employees to expand their team. So, where do you go to search for excellent employees?
If you haven't used a job board yet, we recommend Indeed.com as the best for finding qualified candidates. First-time users are eligible for a free $50 credit to get started promoting their open positionsitions.
For this article, we asked small to medium business owners to share how they find employees, in addition to (or sometimes instead of) online job boards. Here's what they shared:
How to Find Good Employees
Here are 29 creative ways to find good employees for your business:
David Waring, co-founder, Fit Small Business
You want to make sure your postings match what job seekers are looking for. So why not check exactly what those are? With Indeed's Job Title Generator you can check out job seeker interest over time and compare it directly with the number of job postings over time. You might be surprised: often, the best job title isn't the one with the most postings, but the one most job seekers are looking for.
---
2. Incentivize Your Current Employees to Find New Talent.
Barry Maher, Barry Maher & Associates
As someone who's consulted on hundreds of hires, my favorite tip for finding great employees is simply to motivate your current employees to do it for you. A bonus of some kind or a cash award for every prospect recommended who is then hired and lasts a significant amount of time, say a year or six months, often works great. Your current employees know what it takes to do the job. They have a vested interest in bringing in people who will make the workload lighter, not heavier.
---
3. Look Beyond Your Location for More Options
Linda Pophal, Owner, Strategic Communications

Break down geographic barriers! Technology lets us connect with people around the world to communicate and collaborate—working with employees is no different. There's no reason a copywriter, for instance, needs to be physically located in your community. Your potential labor market will grow exponentially if you look beyond geographic limitations.
---
4. Utilize Online Communities for Remote Positions.
Shane Park, Owner, Coinplay.io
In November 2014, I hired my first equity-based employee. She was an acquaintance that I interacted with on reddit. At first, she volunteered her time, helping me email game developers to add to Coinplay.io. Within the first month, she contacted ~400 game developers. I offered her equity to stay on board after her stellar performance. And since she started, we've acquired ~60 partners and we're on track to have ~300 games in our product catalog.
---
5. Look for Mutual Connections on LinkedIn and Facebook.
Laura Gross, Scott Circle
I go to my personal network to find good employees. My friends, colleagues and former colleagues know me well and they know to recommend the right type of candidate who would be a good fit with my PR firm. I also use LinkedIn or Facebook if we are interviewing a candidate I don't know to see if there are any mutual connections I can ask.
---
6. Be Visible Where Your Candidates Are.
Tin Thinn, IT Talent Acquisition Specialist, Halogen Software
To reach and engage elite talent in today's highly competitive landscape, we need to inhabit the same places that our target audiences spend time. For example, if you're looking for developers, go onto Stack Overflow to see who has the best ratings because they are typically are the best out there. If you hang out where the talent you're looking for hangs out, such as user groups, commenting on popular blogs and forums, it will help communicate with your target audience because you will use their language and provide them with authentic value.
When you use Indeed to hire remotely, not only does the cost go down significantly, the amount of interested jobseekers increases by a large amount as well. As you can see in the chart below, the amount of remote job postings has virtually stayed the same over the past several years, while the interest from jobseekers continues to rise. Be sure to take advantage of this opportunity with a free $50 credit to post your job on Indeed.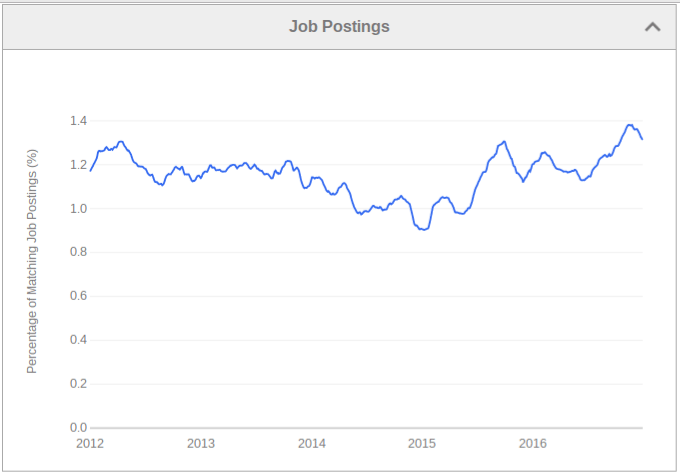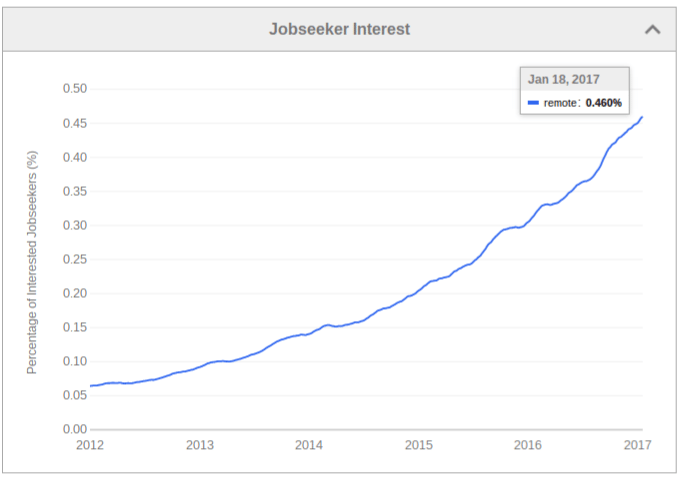 ---
7. Use Facebook to Target Passive Candidates
Adam Seabrook is co-founder of, Betterteam.
Job ads won't reach passive candidates, but everyone is on Facebook these days. Use
Facebook targeting features
to advertise in the feeds of people who match the skills, region and even hobbies you want.
---
8. Go Old School
Caileen Kehayas, Director of Marketing, Proven

Sometimes the best way to hire an employee is not in funneling hundreds (and thousands!) of dollars into job boards and recruiters. Some of the most old school methods still work. Referrals remain a great way to attain a hire. Incentivizing current employees with a cash bonus or other reward for referring a candidate is a great way to build out a team of employees who work well together!
---
9. Check Local Chapters and Organizations.
Chantal Bechervaise, Take It Personel-ly
There are associations and organizations related to every type of field out there. Look for local chapters in your area and get involved in their events and meetings. If an association has accreditations or a certification process then you know you can find potential employees with the skillset needed to perform a certain level of the job. Plus potential candidates tend to be current with the skills and aptitudes required for their field.
---
10. Hire Internally.
Michael Ludlum, President & COO, QuickFlics
One of our coding hires came from the recommendation of one of our investors. Ironically, he was already working for us in fulfillment, we just didn't realize he had a talent or interest in coding. We interviewed him the same day we were told about his coding talent, and now he is our lead app developer and performing brilliantly.
---
11. Go Grassroots.
Liz D'Aloia, Founder, HR Virtuoso Company
Big job boards don't work well for small businesses. Instead, try a grassroots recruiting campaign. It's easy to do and best of all it's free. Simply create recruiting flyers and post the in your community. You can even target your campaign. For example, if you're hiring hotel housekeepers, try posting flyers at laundromats, day care centers, libraries, and community centers. The key to success for small business grassroots recruiting is to have an easy way for people to apply to the job on their mobile device.
---
12. Encourage Employees to Share on Social Media.
Josh Lindenmuth, CIO, Payce, Inc.
At my company, we've found that one of the easiest ways to find great employees is through employee referral bonuses linked along with encouraging our employees to spread the news about open positions on Facebook and LinkedIn.
For difficult to hire positions, employees will often put quick messages on their Facebook accounts, such as, "We're looking for a great web developer who wants a low-key family-friendly place to work. If you know of anyone, please share my contact info!" Informal messages like this can gain incredible reach, and will often bring in employees who were not actively looking.
---
13. Look Out for Talent Everywhere.
Karin Hurt, CEO, Let's Grow Leaders
When I led a large retail sales team in MD, DC and VA, my radar was constantly up for great talent (waiters, hotel staff, other retail experiences). Many my call center clients do the same thing, you can teach specifics, but innate empathy and strong customer service skills are hard to fake. Plus, the best talent usually isn't actively looking for a job.
---
14. Use Email to Recruit Candidates.
John Jersin, CEO / Co-founder, Connectifier
People respond differently to e-mail than they do to a social site message. When people see an e-mail from a job recruiter – especially if the e-mail is compelling and relevant to their personal situation – it's not a breezy, dashed-off form of communication. People are more likely to save the e-mail, think about it, and then respond at length – recruiting e-mails require more consideration and command more respect, in a way, than other forms of communication.
---
15. Target Your Competitor's Employees.
Kathleen Steffey, CEO, Naviga Recruiting & Executive Search
One of the ways we find top talent is by identifying competitor companies, and other companies within our industry. Once we have our targeted companies, we can then solicit top candidates with similar titles and roles, and reach out to them on LinkedIn or by phone. This strategy is great because the candidate will already have previous industry knowledge and experience, but since they're passive candidates, the process takes a lot of time and deliberate effort.
---
16. Check With the Alumni Networks of Local Colleges.
Lauren Fairbanks, Owner, My Digital Remedy
I own a chain of iPhone and laptop repair shops called Digital Remedy Repair, and we're always hiring tech-savvy phone and computer techs. Because most of our tech jobs are entry-level, we reach out to the local community colleges and technical colleges that offer IT and hardware courses. These students tend to be already familiar with some of our more basic repairs, and have a good foundation for learning more complex repairs.
---
17. Open Your Referral Program to Your Entire Network.
Travis Bennett, Managing Director of Studio Digita Web Design
A technique that worked great for my agency was to offer a bounty. I ran a series of Facebook ads that mentioned we were looking for staff, and we'd pay out a referral fee to anyone. This turned the normal people in my area into recruiters, and we received a huge influx of recommendations from friends and friends of friends, all looking to cash in. We ended up finding one great team member with this technique, and it got our agency in front of a ton of people at the same time.
---
18. Invest in Creating a Paid Internship Program.
Don Martelli, Vice President at Schneider Associates
At our agency, we have a pretty rigorous paid intern program that brings in some of the brightest and most talented seniors or grad students from colleges and universities in and around Greater Boston. These young minds are thrown right into the mix on client assignments and get the type of experience a full time employee would. This allows us to test the waters a bit and find out which of the interns are power players, so when they graduate, we can pluck them the minute they walk off the stage with their diploma. It's a great farm system.
---
19. Buck Tradition and Consider Hiring Your Friends.
Jordan Scheltgen, Managing Partner at Cave Social
For me, my best hires without a doubt have been friends. Traditional wisdom tells you to stay away from friends, but it couldn't be further from the truth. In a small business setting, it's essential that employees get along and are all committed to the same vision. This comes from the sheer fact that they will be spending a ton of time together. By hiring friends, you already have an established level of trust and a sense of what the person is good at. So before you head out to monster.com, mine your social network and you'll be surprised with the quality of team members you can get to join your business.
---
20. Look for industry-specific job boards, which are booming in growth.
Mark Aselstine, Founder of Uncorked Ventures
One piece of advice for any small business looking to hire is to find job boards or sites that are specific to your industry. We're located in the Bay Area and as both a wine business and a small business, obviously can't compete with salary structures or perks that come with a tech job. Sites like Craigslist and local newspapers ended up being pretty pointless spots to advertise our openings, the few times we had them. However, the wine industry does have a niche specific job board (winejobs.com), where our offer is consistent with others that are on there and perhaps more importantly, we know that we're much more likely to be talking with qualified candidates.
---
21. Add a "Hiring" or "Careers" page to your website.
David Batchelor, President/ Co-Founder of DialMyCalls.com
Create a "Hiring" page on your company's website in case talented people ever come check you out. Even if you currently don't need someone in a specific role, it's a good idea to keep job postings on your site. If someone is that interested to look up your company and find the job posting, you know they are already one step ahead of the game when it comes to being an A-Player.
---
22. Compentency Interview
Rob Knott, Thomson Local
If you want to get a genuine feel for a candidate I would consider abandoning the STAR competency interview approach entirely.
Asking someone how they handled a recent challenge in the workplace isn't going to give you any real insight into their character, or provide any indication as to whether they could be an ideal fit for your work culture.
At best, a competency interview will reveal how well a candidate can deliver a polished answer pulled directly from the internet and rehearsed the night before – trust me, I've done it myself. When I interview candidates I explain that this won't be like a 'normal interview' and that they should relax and breathe. I may even complain about my long journey to work, crack a bad joke or something similar to show that I am just as human as they are.
The difference in a candidate is immediately apparent. They loosen their shoulders, they relax in their chairs and often they break out into a smile of much needed relief.
This is the time when a candidate's character and traits truly shine through. Remember, you are hiring a person, not a performer.
---
7 Bonus Ideas for Finding Good Employees
As a bonus, we are going to give you ideas from our own in-house HR expert, Christy Hopkins. Christy is a PHR-certified HR professional who has consulted with over 50 small businesses in recruiting issues.
Here are Christy's top 7 ideas for finding good employees:
23. Use a powerful recruiting tool that focuses on sourcing
Technology continues to break new ground in the daily lives of many recruiters and hiring managers, and with software like MightyRecruiter (and its associated Google Chrome Extension, MightySourcer) it's easy to see why. With a database of 20+ million resumes, a recruiter can gain access to a vast set of potential candidates, source passive ones, and manage all applicants from one central location.
If you're not ready to shell out a lot of money for recruiting software, have no worry. MightyRecruiter is completely free to use—for one sole operator, or even a whole team of recruiters and hiring managers.
---
24. Try an old-school career fair or attend a virtual job fair.
Career fairs still exist and can be a great place to find employees. Look through Eventbrite or Time Out online to find career fairs if you are in a major city. Otherwise, consider looking for a virtual career fair to attend.
---
25. Hang a sign in your window.
It's practically free and you never know – one of your current clients could prove to be a future great employee or have a referral for you. Consider adding a QR code or another way for someone to apply from their phone, or encourage the potential applicant to enter the business for more information.
---
26. Try a paid search platform like ZipRecruiter.
ZipRecruiter is only $900 for access for an entire year, including resume searching and up to 10 job postings at a time (other packages available). You can easily search for resumes of job seekers who are looking in your zip code and nearby, as well as send them messages directly. There is also a feature that matches your posting to profiles in their database (Indeed does this as well). Note that these platforms tend to be better to find employees for entry to mid level roles over senior positions.
---
27. Use Craigslist if You're in a Service Industry.
Craigslist still is the main hub for food & beverage and other service-oriented businesses. A posting can range from free to $35 in major cities and usually provides a quick 50-100 resumes to look through. Just make sure to set up a separate email address to receive the applicants, and leave your phone number off your posting.
---
28. Look to non-profits who are seeking employers for their clientele.
Immigration, domestic violence, veterans, and various other non-profit organizations are constantly looking for employers who are looking to help their clientele get back on their feet with a job. Better yet, the non-profit usually has already done a background check and some job training in order for the person to be in their database. Serving the community while finding great talent is a win-win situation!
---
29. Create an apprenticeship or internship program.
Instead of a paid internship program, your company could offer an internship that can count for academic credit. To do this, work with a local community or specific department at a 4-year college. For example, a Human Resources major might be required to have an internship for graduation. This is how your business can benefit from not only an ambitious college student required to intern, but also from a higher level of community presence.
---
Over to You
What do you think about the above suggestions? How do you find employees? We would love to hear about what your small business has done to find top talent.