How to Find Employees You'll Love in 2023
Explore our tips and strategies below to find employees who are a great fit for your business.
This article is part of a larger series on Hiring.
Some tried-and-true approaches can simplify the process of finding the best candidates for your open positions—whether you're hiring for remote or in-person positions, looking for contractors or full-time employees, or needing to find someone at the last minute. Word-of-mouth, advertising, employee referrals, and job boards are just a few ways to find employees. Primarily, be honest about the role when creating your job description and ad. It's important to include all relevant responsibilities and not just the fun stuff.
One go-to strategy for the best place to find employees is using a job board like ZipRecruiter. You can post a new position in minutes and share it on more than 100 other job sites. Sign up today to start posting jobs for free.
Watch our video below, which covers the same content as our article but breaks down the best way to find employees by employee type—online, remote, hourly, and replacement.
1. Develop Your Company's Online Presence
Regardless of whether you're relying on the internet to hire employees, a cohesive online presence is important. Not only will having a professional website and social media profiles help you earn the trust of your potential clients, but it will also make a positive impression on the most attractive job candidates. Consider these tips when optimizing your company's online presence to attract high-caliber employees:
Apply consistent branding standards across your website and social media profiles (follow key social recruiting tips).
Complete your company profile and monitor employee reviews on employer review sites like Glassdoor.
Keep an eye on customer feedback across sites like Google Maps and Yelp.
2. Sign Up on a Job Posting Site
While it is possible to fill positions using only social media and your company website, you'll improve your chances of filling a role drastically by advertising your open positions on a job posting site. These sites allow you to post your jobs (sometimes to multiple sites at one time) and can get as industry or person-specific as you need—everything from general job posting sites to internships.
If your budget allows, consider a site like ZipRecruiter. Not only does ZipRecruiter provide easy-to-use and customizable job post templates, but it also sends your listing to multiple job sites automatically in one click. Because of this increased visibility, more top-tier candidates are likely to see the job in a shorter period, making it easier for you to fill openings quickly.
If you need help with your recruiting needs, consider using recruiting software that will assist with job postings, applicant tracking, and interviewing.
Knowing how to find employees for small businesses at no cost can help cut back on hiring costs and get your positions filled quickly. There are many free options for posting your jobs online, such as Indeed, which offer applicant tracking and unlimited job posting.
However, many of the free job boards are limited in what you are allowed to do. Some have paid levels (in addition to free options) that offer added features, such as boosting your job ad, recruitment filters, and dedicated account managers. To learn more, visit our guide to the best free job posting sites.
Free job boards are great if you are on a limited budget or only need to hire a few employees. However, if you hire consistently throughout the year and need advanced features, such as applicant tracking and online questionnaires, consider using a more robust paid job board.
These job boards are targeted to reach a wider audience, and many use artificial intelligence (AI) to match you with the right candidates. Additionally, high-quality job posting sites allow you to post to multiple job boards, track your applicants, and manage your posts with a mobile app.
Posting open roles to job boards can expose your job description to a large number of candidates—especially if you're trying to fill a local role. However, if you are trying to hire a specific type of employee (such as a remote worker or student employee) your posting should be more targeted.
Remote Job Boards
If you're specifically trying to hire remote workers, some posting sites may fail to get your job in front of the right candidates. For that reason, it's important to choose a job board that caters to remote employees.
A few other job boards to consider that specialize in finding remote workers are
Student/Intern Job Boards
For small businesses interested in hiring interns or student workers with specific skills or interests, local colleges and universities are a great place to start the recruiting process. Not only can you find candidates who are interested in your industry, but college students may also be more open to hourly employment than other highly qualified workers.
This form of recruiting is also a great way to build relationships with top-caliber candidates who will soon be entering the workforce. By hiring top students as interns, you're more likely to keep them on as full-time employees in a competitive market—saving you time and hiring costs down the road.
Niche Job Boards
Your business may be specific to a certain industry or type of worker, such as nurses or truck drivers. When looking for someone to fill these roles, a general job board may not help you find the most qualified candidates. In these cases, post your open positions on a job board specific to your needs. Additionally, if you are looking for a specific demographic of people, such as veterans or those with disabilities, consider posting on a niche job board.
Finding employees, whether using a job board or word-of-mouth, comes with a cost. Read more in our Cost of Hiring an Employee article.
3. Optimize Your Job Postings
As with almost everything else, the first place people turn to when searching for a job is Google or another search engine. Because of that, you should optimize job postings so that they're more likely to land at the top of relevant search results. To ensure your company's open positions are found by top candidates, follow these tips when writing a job description:
Incorporate relevant keywords: Help Google find your job posting by including relevant search terms in the job title and throughout the description. Consider using the free Google Ads Keyword Planner to see which keywords you should target.
Include the job location: If you're using a job posting platform like ZipRecruiter, there will be a field to enter the job location. However, you should also include the city and state where the job is located in the body of the job description. This will help job seekers who enter a search term like "accounting job in Denver CO" to find your posting. If you are posting for a remote position, be sure to announce that in your job posting.
Add salary information: Having salary information in your job posts adds transparency, which most job candidates value in a company. Additionally, it will allow your job post to show up on search filters.
Optimize your URL: For jobs that are posted on your company's website, choose a webpage slug that includes the job title and the location of the role. For example, you can help a posting stand out to Google by using a slug, like: /accountant-denver-colorado/.
Add transcripts of multimedia content: If your company incorporates videos into its job descriptions or hiring pages, make sure these scripts are also optimized for the keywords you selected. Then, include transcripts of each video on the corresponding webpage to ensure Google picks up those keywords.
Accentuate Your Remote Culture
If you have a large contingent of remote employees and are proud of the efforts you've made in team building, training, communication, and other areas to keep them engaged, share the details on your website. Likewise, use a portion of your job description to list benefits and other perks available to remote employees.
A 2021 study from CareerArc found that 82% of applicants factor in an employer's brand and reputation before deciding to apply. These are major facets of your company culture—and while it may initially seem less important for remote roles, your culture is one of the deciding factors for high-quality candidates to choose you.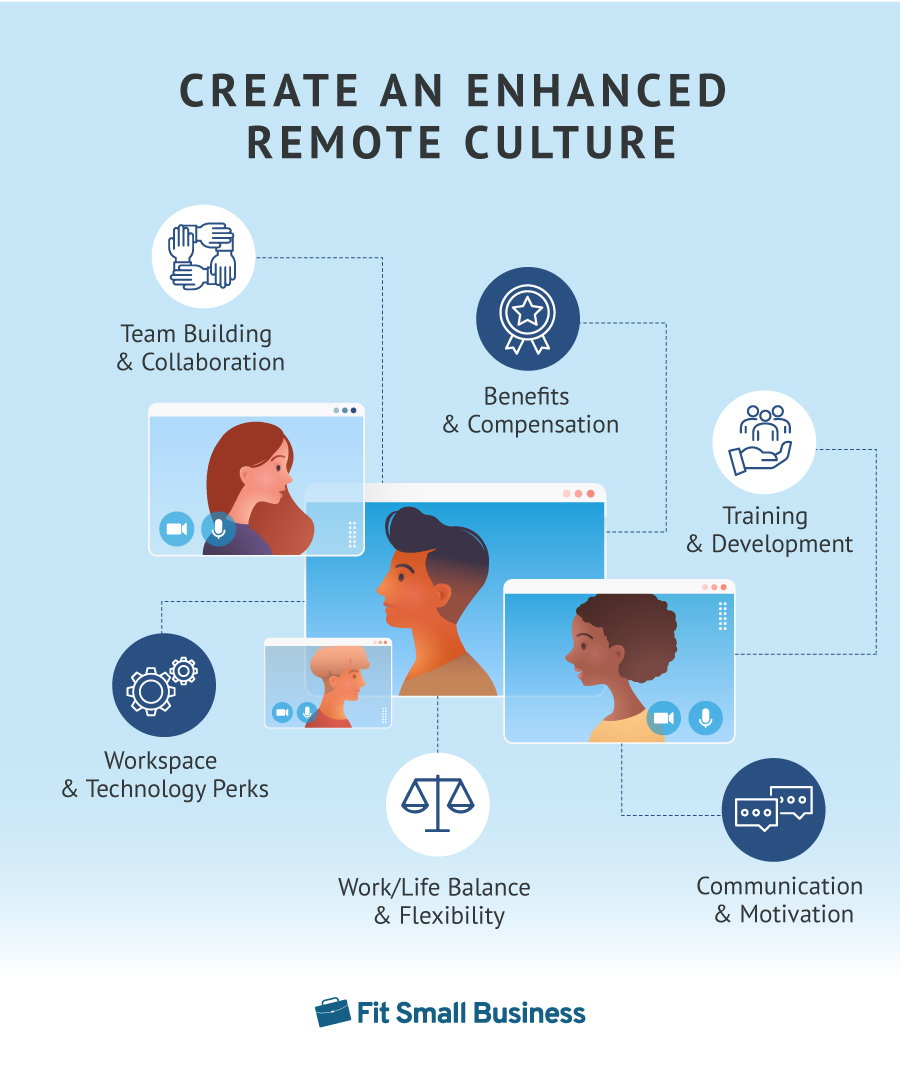 To learn more about how your company can adapt and stand out to potential employees, read our recruiting statistics article.
Provide as Many Details as Possible
Communication is often one of the most challenging aspects of retaining remote employees and helping them succeed. So, it shouldn't be a surprise that this can also pose challenges during the recruiting and hiring process. Overcome these hurdles by including as many details about your remote role in the job description as possible.
Make it clear that the role is remote: When searching for remote positions, many job seekers get frustrated by unclear expectations. If the role is fully remote, state that clearly. If the job requires some travel or some in-office time, include that as well.
Other common terms for remote work include:
Work from home
Distributed
Work from anywhere
Virtual

Mention required meetings: Many people choose remote work because of the flexibility it affords them. For that reason, it's helpful to clearly state whether remote employees are expected to attend scheduled meetings and, if so, how many each week. This will help potential applicants decide whether the role is a good fit for their lifestyle.
Describe technology requirements: If your job opening requires an employee to have access to specific equipment or a minimum internet speed, now is the time to mention it. Likewise, if your company will provide the necessary equipment, then include that in the description as well.
Outline the hiring process: Depending on the role, the hiring process for a remote position may be more extensive than for a traditional office job. If your company requires multiple stages of interviews—or a test project—make sure to spell this out in the job posting.
Be Consistent
Once you post an open position—on social media, a site like ZipRecruiter, or elsewhere—take the time to review candidates consistently (daily is our recommendation). Just like you, other businesses in your industry are looking for the most qualified candidates. Failing to respond to applicants quickly can mean the difference between hiring your next great employee and losing the candidate to your competitor.
This is especially important if you have an extensive interview process—the faster you identify a promising candidate and schedule an interview, the more quickly you can fill the position.
4. Advertise Locally
If you are looking for hourly employees who can work flexible schedules, you likely want someone who lives locally. In this case, traditional job posting websites may not be necessary. Instead, consider using a more grassroots approach to hiring. Try posting your job on local job boards, Facebook Groups, or websites like Craigslist.
The most direct way to find local employees—typically hourly staff—is to advertise directly at your business that you are hiring.
Help Wanted signs can draw potential candidates who visit or come near your business or by word-of-mouth through people who have seen your sign.
The most direct way to gather information on candidates is to have individuals fill out a job application directly at your workplace. However, you can also use a Help Wanted sign to direct candidates to apply online. This will ensure you have all candidate information in a central location online.
Depending on how many employees you need to hire—and how frequently—the recruiting process can take up a huge amount of time and resources. Staffing (or temp) agencies can simplify recruiting for hourly employees by identifying candidates, hiring new employees, and—in some cases—managing benefits and payments. What's more, staffing agencies often specialize in specific industries, so find a company that's familiar with the type of staff you need.
One of the keys to successful hiring is to never stop recruiting. Business owners and hiring managers who only look for employees when they're hiring often find themselves with a limited pool of applicants—especially if they're in a hurry. If, instead, you've cultivated a robust network of high performers in your industry, you'll always have a strong starting point when filling an open role.
Consider attending job fairs or other recruiting events to meet candidates looking for opportunities. You will have the opportunity to meet face-to-face and collect resumes.
5. Choose an Efficient Applicant Tracking System
The hiring process can be time-consuming under the best conditions, but it's even more so if you don't have a system for organizing and tracking applicants. To streamline—and speed up—the hiring process, choose an applicant tracking system (ATS).
These platforms can help you hire employees more quickly (which is often important when replacing key employees) by providing job description templates, candidate management pipelines, and resume parsing features.
6. Ask for Referrals
The traditional recruiting process can be long and frustrating. If you're in a hurry, you may not have time to pore over hundreds of applications to find a few qualified candidates. One way to condense this process is to ask your current employees for referrals. Not only can they tap into a larger network of potential hires quickly, but your employees also are already familiar with the company culture and can identify candidates who are a good fit.
Setting up an employee referral program and offering incentives to current employees who provide a great candidate can ease the hiring process.
Frequently Asked Questions (FAQs)
What is the best way to find an employee?
There are a number of ways to find employees—job boards, local advertising, networking, and referrals. The best way is to utilize all avenues available. If you are looking for hourly staff to work in your office, post a Help Wanted sign. If you are looking for remote workers, then post on a job board, like ZipRecruiter. If you are looking for a specific type of worker, such as a nurse, post on a niche job board.
How do I write a good job description to find employees?
A good job description will clearly outline the skills, experience, and qualifications needed to succeed in the position. Be sure to spell out, at minimum, the highest priority tasks of the position. Additionally, you should paint the picture of your business and culture, and notify the candidate of the top benefits available should they make it to hire.
How can I find employees for free?
Finding employees doesn't have to cost your company big dollars. There are numerous ways to find employees for free–post a help wanted sign, post your job on a free job board, like Indeed, and ask for referrals.
Bottom Line
Employees are the backbone of every small business, so it's incredibly important to know where to find employees who are both qualified and a good culture fit for your company. Depending on your needs—and the hiring climate—this can be difficult to accomplish.
If you're struggling to find qualified candidates and want to get your job posted on more than 100 job sites and social networks, ZipRecruiter can save you time and frustration. You can try the platform for free and then choose the combination of recruiting tools that most closely fit your needs.
You May Also Like…