Although Indeed.com is well known for it's job postings, it's also a place for business owners and recruiters to search for resumes. With over 2 million resumes added each month, you can find the most specific and up-to-date talent on the market.
In this guide, we'll show you how to use Indeed resume search. We're currently looking to fill a digital marketing position at Fit Small Business, so we'll be conducting our own resume search as an example.
We'll also give you an email template for contacting potential candidates, which was provided by Stephen Fean of Watchdog Real Estate. Stephen will also be chiming in now and then with some expert tips on using Indeed for recruiting.
If you're ready to hire, you'll want to click here for a free $50 credit to promote your job notice on Indeed.
How to Search for Resumes on Indeed
Getting started is very simple. From the homepage of Indeed, click "Find Resumes" in the upper left corner. You can search for resumes for free and without creating an account. If you want to contact somebody, the cost is $1 per resume.
To begin your search, just enter a keyword and location. For our position at Fit Small Business, we'll try "digital marketing" in New York City. This will return all resumes with "digital" and "marketing" in the title or body text.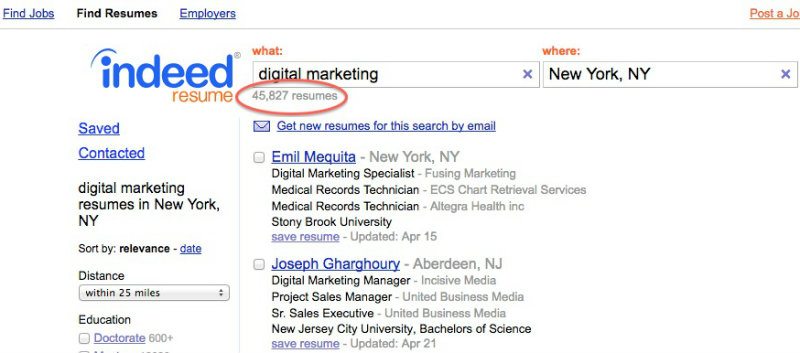 Right off the bat, we found over 45,000 responses. This, obviously, is way too many to sort through. Instead, we'll narrow it down using Indeed's advanced search.

First things first, we want to search for the exact phrase "digital marketing." This will rule out candidates who have marketing experience, but not digital marketing, specifically.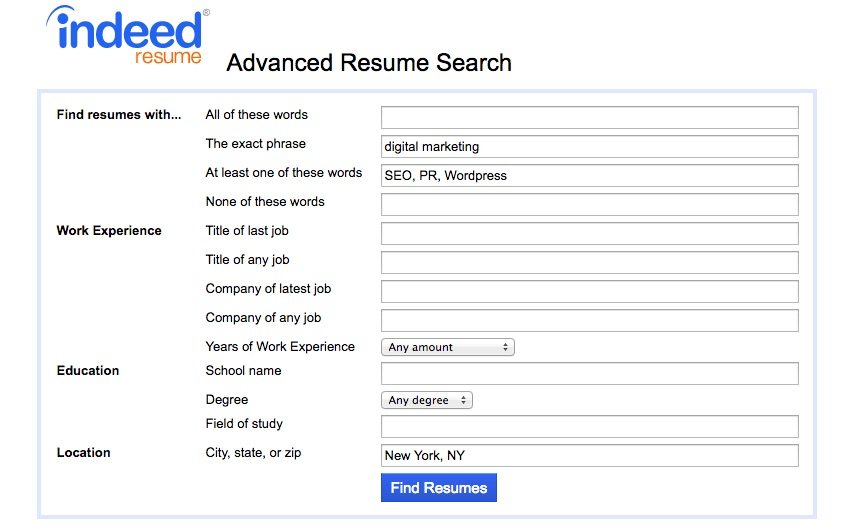 Next, we'll add a few more skills related to the job. Ideally, we want a candidate who has experience with SEO, PR and WordPress. While none of these alone are deal breakers, we would like our candidate to have at least one of these additional skills. To add them to our search, we'll enter them under "at least one of these words."
This returns a much more modest 195 resumes. Better than before, but still too many to read through in an afternoon.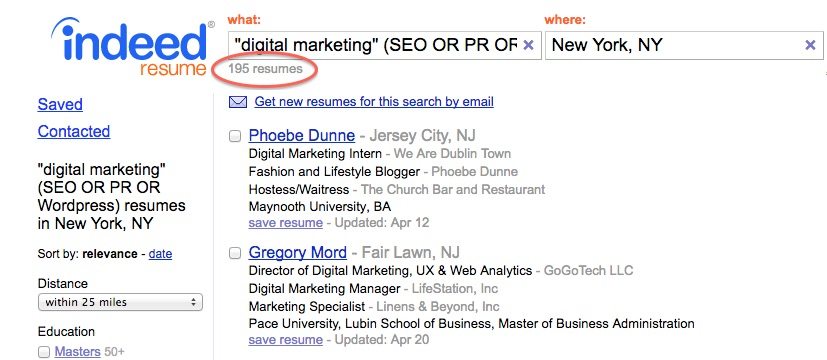 Indeed Resume Search: Filtering
Since we still got a lot results, we're going to start using Indeed's filtering tools. These are listed in the left-hand column after you make a search. In order, they are:
Distance

– Within how many miles of your city do you want to search for applicants? The last thing you want is to excited about a candidate who winds up having an unrealistic commute to your office. It may sound like common sense, but setting distance requires a solid understanding of local geography.

Education

– Indeed allows you to filter candidates based on their education level, such as Bachelors, Masters, etc.

Years of Work Experience –

Filter candidates based on their years of work history. Stephen Fean gives us a word of caution about using this filter. For one, it's not always accurate. For example, if I worked at a shoe store for 5 years and then as a digital marketing manager for 1 year, this would show up as 6 years.
Secondly, it can box out good candidates. Stephen explained to me how he usually has an ideal range in mind (say, 3 to 5 years of work experience). However, he often finds good candidates that are just under or just over this range. If you do want to use this filter, we recommend setting the range broadly.
Job Titles –

Indeed will show you the range of job titles that came up during your search, such as "Marketing Director" and "SEO Specialist." This can be helpful if you're looking for something specific. Bear in mind, the same job title can be worded differently depending on the company.

Companies –

Indeed will also list past companies candidates have worked at. Stephen told us he's had success with this tool, as it allows him to identify candidates who have worked at competitors, or other similar businesses. Under "advanced search" you can also search for specific companies.

Locations –

Similar to distance, location allows you to filter resumes based on their city or neighborhood.
And last but not least…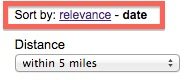 At the top of the column, you can choose to sort candidates by relevance (to your keywords) or date posted.
Stephen recommends changing this to "date." While Indeed tends to have mostly up-to-date resumes, they can be a few months, or even a few years old. You're far more likely to hear back from a candidate who uploaded their resume a week or two ago.
How We Filtered Our Search
To narrow down digital marketing resumes for Fit Small Business, I made two adjustments:
I lowered the distance to 5 miles. New York City is a big place and our candidates will likely need to be within the 5 boroughs to be within commuting distance.

I changed "sort by" from relevance to date.
I still have over 100 results. But now that I'm sorting by date, I can focus exclusively on resumes posted in the last month. This gives me about 20 results. Perfect!
How to Read Resumes on Indeed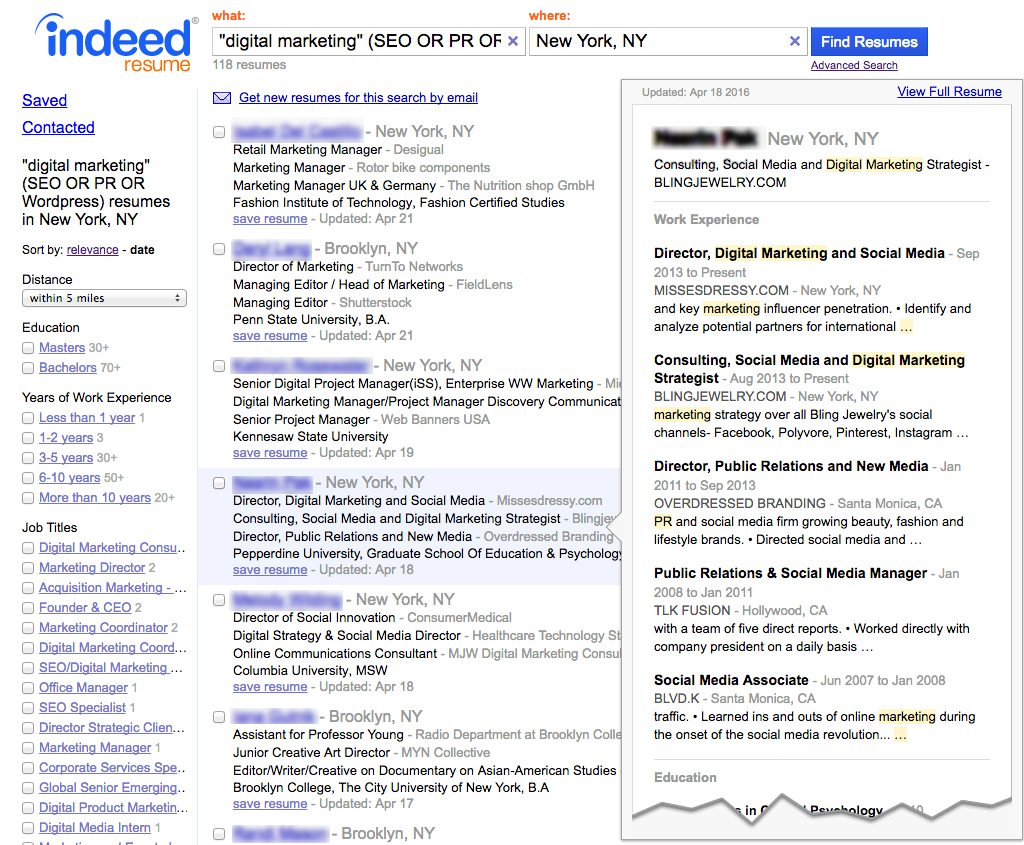 Indeed makes it very easy to scan through resumes at a glance. As you hover over names, a preview of their work history will pop up. Indeed will automatically highlight your keywords within their resume, so you can immediately identify your top picks.
Clicking on a name will bring you to their full resume. From there, you can type up a message and contact the potential candidate. Indeed charges a flat $1 per resume.
How to Message a Candidate
So you've found the perfect candidate, but now comes the tricky part. How do you contact them in a way that captures their attention?
A recruiting message is essentially a sales email. You want to grab their attention quickly, then offer a simple way to follow up. According to Stephen, you also need to make your message personalized. Like a sales email, it's easy for candidates to pass it off as spam, or as an ingenuine mass email. Instead, point out specific areas of their resume that sparked your interest.
Here's a simple recruiting message template that Stephen gave us:
Hey [First Name],
I came across your resume on Indeed. Your previous work history really sparked my interest. In particular, I noticed that you [Point out specific skill or experience].
I was wondering if you have a phone number or email address I could contact about an opportunity we have.
We're [explain company in 1 sentence]. We provide our employees [explain unique benefits, like flexible hours or unlimited vacation time].
Hope to hear from you soon!
[Your Salutations]
Generally speaking, you want to avoid mentioning compensation in the initial email. Keeping vague can spark more curiosity. Also, it allows you to negotiate salary later on, after you learn more about their qualifications.
Following Up on LinkedIn
If you don't hear back from the candidate in a couple of days, Stephen recommends following up on LinkedIn. Although Indeed messages are sent to the their personal email address, candidates are prone to missing the email, or mistaking it for spam.
Stephen estimates that about half of the resumes he contacts respond. For the other half, he adds the candidate on LinkedIn and sends a message. Often times the candidate will say they never saw the email but are, in fact, interested in the position.
This article from Hubspot explains how to send a LinkedIn message to somebody you're not connected to.
The Rest of the Hiring Process
So you've identified and contacted your top candidates. What do you do from here?
When a candidate responds, the first thing you should do is set up a quick 10 minute phone or Skype interview. You should be able to determine pretty quickly if the candidate is a good match. From there, select only your top candidates and invite them to an in-person interview. This will save you a lot of time, compared to interviewing every candidate in your office.
For additional help on running a job interview, check out these Fit Small Business guides:
The Bottom Line
Indeed resume search is a powerful tool to find specific talent. With over 2 million resumes added each month, it's easy to find relevant candidates who are currently looking for a new job. That's a lot easier than trying to convince a good candidate to leave their job!
If you're ready to hire, you'll want to get a click here for a free $50 credit to promote your job notice on Indeed.