Indeed Resume Search: Ultimate Guide to Finding the Best Candidates Fast
Learn to set up your company Indeed account, search candidates, view resumes, and contact potential new employees.
This article is part of a larger series on Hiring.
Indeed Resume is the Indeed for Employers feature that allows a free search of over 25 million resumes. Using simple and advanced tools, you can search job candidates who may be a great fit for your open positions. However, to contact potential new hires directly through Indeed Resume, you must purchase a subscription (after a14-day free trial).
This ultimate guide will show you how to search for resumes on Indeed and use its sorting and filtering options to find the best candidates fast. You can also download our email template for contacting potential candidates once you've found them.
Step 1: Create a Business Email & Free Employer Account
Before creating your Indeed account, a best practice is to make a company email address. Create a specific business email address for hiring purposes so candidate emails don't fill up your personal email. Consider something like: jobs@companyname.com or careers@companyname.com.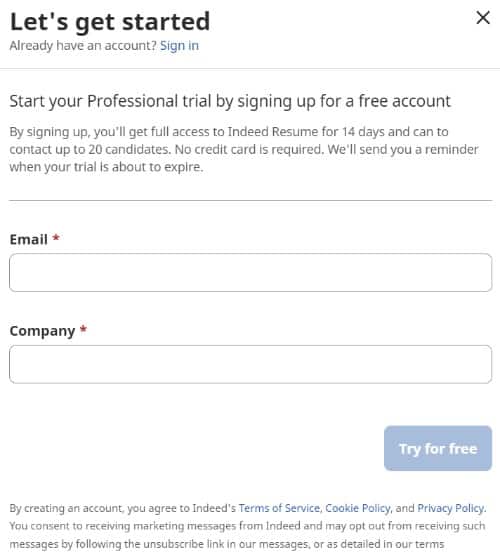 Then, create a free employer Indeed account. You can start with a free 14-day trial of Indeed for Employers, which will give you access to Indeed Resumes, where you can search and contact up to 20 candidates.
Step 2: Search for Candidates
From the employer page of Indeed, click "Find Candidates" in the upper menu bar. Then, enter a keyword and location. It's that easy.
You can perform these searches for free without signing up for a subscription plan. However, you cannot view or contact candidates without a subscription.
How to Search for a Specific Individual
The easiest way to search for a specific person's resume on Indeed is to use the top search feature. Type information about the individual, such as name and location. Indeed will search the text of all resumes to find ones that match this exact criteria and provide a listing of candidates.
You may want to use this type of search if someone suggests you talk to a candidate, and you want to learn more about them by looking for their specific resume online. Use as detailed information as you can to find your candidate. The results will list the last or current company position, education, and assessments.
Note: Only candidates with their resumes set to "public" will show on the results page.
Step 3: Use Indeed's Advanced Search to Get Targeted Results
Advanced search is the best way to target specific job seeker resumes on Indeed. It allows you to search millions of current online resumes for specific words, phrases, job titles, companies, years of work experience, name of school, degree, field of study, and location. The advanced search can be accessed by clicking the icon next to the search box (as indicated by the red arrow below).

Once you select advanced search, you can search for an exact phrase (e.g., digital marketing) and fill in other attributes you want your search to include. This is where you would do a deeper dive into exact keywords you are looking for in resumes (such as SEO and email marketing), work experience requirements, and education qualifications.
Click "find candidates" at the bottom of the search query, and Indeed will populate candidates that meet your criteria.
Step 4: Use Filtering Options to Narrow Results
To narrow your results even further, use Indeed's filtering tools. The filter options are listed in the left-hand column after you make a search.
The first two filtering options are by distance and last updated date:
Distance: Within how many miles (from 5 to 100) of your city do you want to search for applicants? This filter may be irrelevant if you hire remote staff.
Last Updated: Shows resumes that have been updated in the last day, week, month, or all resumes regardless of how old they are.
The remainder of the search criteria focuses on filtering for job-specific information.
Availability: Job seekers can use #readytowork to indicate they are ready to begin work immediately.
Job Titles: Indeed will show you the range of job titles that came up during your search, such as "Marketing Director" and "SEO Specialist." This can be helpful if you're looking for people who have held specific roles and allows you to find candidates even if the job title they use isn't the same exact title you searched for.
Company: Indeed will list past companies where candidates have worked. You can identify candidates who have worked at similar businesses or in industries where you want to recruit. Using "advanced search" is another way to find specific companies.
Years of Work Experience: Filter candidates based on their years of work history—but be cautious. Indeed adds work experience together, e.g., one year of digital marketing plus five years of shoe sales = six years.
Education: Indeed allows you to filter candidates based on their education level, from high-school diploma through doctorate degree.
Assessment: Indeed will filter resumes by the types of assessments that closely match your search criteria (e.g., for Marketing Manager the assessments listed could include social media, marketing, SEO, and sales skills).
Sorting Candidates
At the top right of your search results, you can choose to sort candidates in one of two ways:
Relevance (to your keywords)
Most recent (by date resume was last updated)
While Indeed tends to have mostly up-to-date resumes, they can be a few months or even a few years old. You're far more likely to hear back from a candidate who uploaded their resume more recently—and notice that you can see which resumes are most recently updated in red text.
Step 5: Sign Up for a Subscription Plan
To review resumes and contact potential candidates, you must sign up for a subscription plan. Indeed Resume offers three no-commitment subscription plans: Professional Trial, Standard, and Professional. Each tier is feature-rich to help you zero in on the right candidate by searching a diverse and active talent pool.
Professional Trial

Standard

Professional

Pricing

Free for 14 days

$100 per month

($960 per year)

$250 per month

($2,400 per year)

Candidate Contacts Per Month

20

30

30

Unlimited Resume Searches

✔

✔

✔

Contact Multiple Candidates at Once

✔

✔

✔

Access to Hiring Insights

✔

✔

✔

Email Contact Templates Available

✔

✔

✔

In-project Candidate Matches

✖

✔

✔

Rollover of Unused Contacts

✖

✔

✔

Email Reminders Automatically Sent to Unresponsive Candidates

✖

✔

✔

Data Export Capabilities

✖

✔

✔

Free Customer Support

✖

✔

✔

Advanced Candidate Filters

✖

✖

✔

Text Capabilities for Opt-in Candidates

✖

✖

✔
Step 6: View Resumes on Indeed
Once you have signed up for a subscription plan, Indeed makes it very easy to scan through and review resumes. After you search for candidates by job title, you will have the opportunity to view your candidate matches under the Projects tab.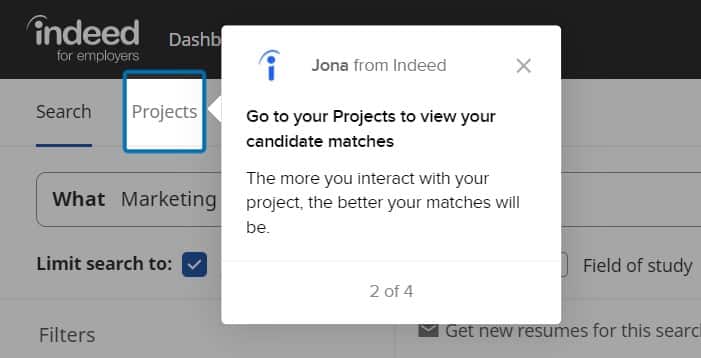 Here you can set up new projects to receive candidate matches.

Once you have projects in place, click on the project name to see all recommended candidates for that category. From there, you can click on the job title name to view the candidate's resume.
Another option for viewing your candidates and resumes attached to a specific job posting is to view under the Candidates tab. Here you can see all candidates you have interacted with for a specific job opening, view resumes, mark your interest level, and send a message.
Step 7: Contact Candidates Through Indeed Email
Now that you have screened all applicants and found your top candidates, it is time to reach out to them through email. Simply click "message" in the three-dots tab and you will receive a pop-up text screen—you can use this area to set up an interview. All texts will automatically send an email to the candidate.
Sample Email Message to Candidates
You can send email messages to your existing and passive candidates through Indeed Resume. A passive candidate is one who is not actively applying for a position but has their resume set to "public" so that potential employers can easily find them.
An email recruiting message template can be useful when deciding to contact these potential candidates. Be sure to introduce yourself and your company and let the candidate know what type of positions you are currently accepting applications for. If you don't hear back from them in a couple of days, consider following up on LinkedIn.
You can download our customizable sample email message here: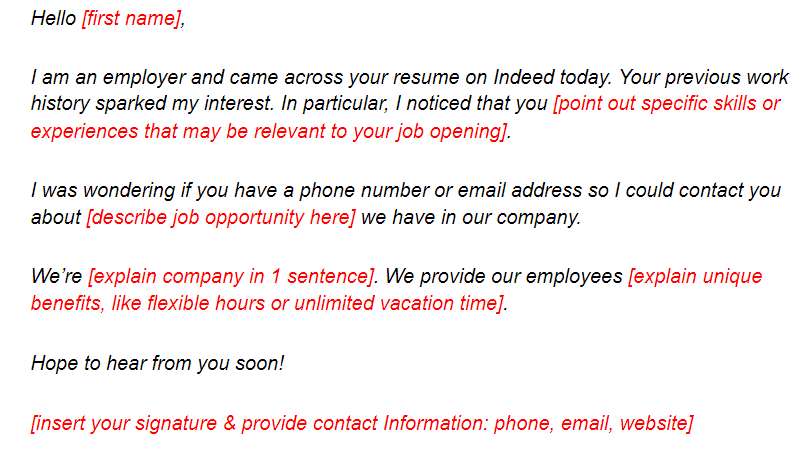 Bottom Line
Indeed Resume is a powerful tool to find specific talent that fits your exact criteria from location to education. With over 2 million resumes added each month, it's easy to find relevant candidates who are currently looking for a new job. That's often a lot easier than waiting for job seekers to apply to your open positions or trying to convince a good candidate to leave their current job.
Additional Indeed Articles You May Find Useful