Recruitment software helps businesses find top talent by posting open positions to job boards and keeping track of candidates who've applied. Which software you choose depends on what you need it to do: screen candidates, manage interviewer feedback, run background checks, send offer letters. You may need more than one recruiting software tool to manage your end-to-end staffing.
Top 8 Recruiting Software (And Why We Like Them)
| Recruitment Software | Best For | Pricing |
| --- | --- | --- |
| | (Best Overall) Businesses want to post jobs and track applicants for free | Free + add-on options |
| | Small businesses with an average of three to four open positions at any time | Free trial |
| | Companies with fewer than 50 employees wanting to streamline a complex recruiting process | Free job posting plan |
| | Employers that want to improve their employment brand with customization and photos | Free trial |
| | Firms needing low-cost recruiting software integration with other business apps | Free trial |
| | Businesses that prefer pre-hire assessments and background checks built | Free trial |
| | Federal contractors and large firms that require EEOC compliance and Affirmative Action | Custom pricing available |
| | Staffing firms and businesses with multiple recruiters | Low per-user price |
How We Evaluated Recruitment Software
In our evaluation of recruitment software for small businesses, we looked at easy-to-use job posting and applicant tracking tools a small business might need. We excluded complex, high-priced ATS software designed specifically for recruitment firms, although we provide staffing companies with some alternatives toward the end of this article.
Price: We evaluated free and low-cost recruitment software.
Cloud-based: We chose software that will interface with online job boards, calendars or HR/payroll software and that you can access from any internet-connected device.
Job board posting: We prioritized tools that post open jobs on your career website or to external job boards and social media, and that track applicants by source.
Applicant tracking: We evaluated software that monitors where applicants are in the recruiting process: i.e., applied, interviewed, hired, as examples.
Resume uploads and parsing: Preference was given to recruiting software that lets applicants upload resumes so that you can compare candidates side-by-side.
Background screening: These tools prevent poor hiring decisions.
Assessments: We found providers that can pretest job skills with online evaluations, ask pre-screening questions, or offer personality assessment tools like DiSC profiles.
Reporting & analytics: We found tools with reports that HR may find valuable such as "time to hire." Some provide EEO-compliance reporting as well.
Based on these factors, we recommend Indeed as the best overall recruiting software for small businesses. It does both job posting and keeps track of your job applicants in one place as well as provides pre-screening options and pre-employment testing—all for free.
Indeed: Best Overall Recruitment Software for Small Businesses

We find Indeed to be the best overall recruitment software for small businesses, because it serves as both a job board and as an applicant tracking system (ATS). In fact, it's not a bad idea to use Indeed along with your other recruiting software to increase your reach. Indeed posts jobs for free and provides a company page for your business.
With Indeed, you can monitor applications, view resumes, and contact candidates. Using its interface tools, you can even make sure your new hires are moved directly into your HR/payroll system.
Indeed Pricing
Indeed provides most of its recruiting software features for free. However, it offers pay-per-click advertising that starts at $5 per day. In addition, Indeed can provide recruiting services for a fee if you need help sourcing candidates. You can also pay $100 to $250 per month if you want to contact individuals whose resumes you've found posted on Indeed.
Indeed Add-Ons & What They Cost
| Features | Indeed |
| --- | --- |
| Job Posting | Free |
| Sponsoring a Job | Pay-per-click advertising starts at $5 per day |
| Resume Search | Free |
| Contacting Job Seekers Who Applied to Your Job | Free |
| Contacting Passive Job Seekers | $100-$250 per month (based on volume) |
| Customized Recruiting Services | Requires a quote |
Indeed Features
Indeed has all the basic features to post jobs online, view candidates, and schedule interviews. It also offers resume uploads and parsing. And Indeed has a mobile app that you can use to post jobs and job seekers can use to apply.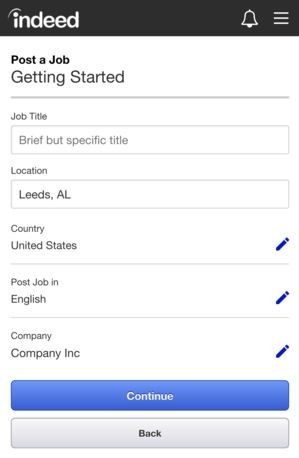 If you're advertising your online job in your storefront, Indeed even provides a customized "help wanted" sign with a QR code you can print and post at your work locations for job seekers to scan and apply online.
Job Board
Indeed is more than a job board. It's a job site aggregator similar to ZipRecruiter, scouring the internet looking for job postings. That means you can post a job directly to Indeed or you can upload the job to your own job board, and Indeed will pick it up and post it for you. We provide tips on how to do this in our article How to Maximize Your Indeed Job Posting. And the best part about posting a job on Indeed is that it's free.
Applicant Tracking
To save you from keeping track of active job seekers in file folders and spreadsheets, Indeed provides built-in applicant tracking tools that show you who has applied, where they are in the interviewing process, and any feedback that you or hiring managers have provided. Resumes are uploaded, parsed (Indeed uses AI to pull out the relevant details from each resume—like work history and education) and searchable so that you no longer need to maintain paper copies.
Mobile App
Using Indeed, job seekers can apply online or via mobile phone. That increases your chances of getting quality applications quicker, since they can sign in using their email or Facebook account, instead of having to create a new account on a third party ATS software.
Customer Support
Indeed provides customer support directly from its website. The support team will help job seekers apply to your jobs as well as assist you with any job posting or advertising concerns. In addition, Indeed's Employer Help Center provides hundreds of how-to guides with step-by-step instructions and screenshots.
What Indeed Is Missing
Indeed isn't a full-featured applicant tracking system. If you post hundreds of jobs or have dozens of recruiters, there's no easy way to keep track of who is managing which jobs and candidates. In addition, they don't offer a live chat feature if you simply want a human to help you out with your job posting.
What Users Think About Indeed
Indeed earns solid feedback from business owners and hiring managers. They like that they can source candidates from a huge database of job seekers, as well as post jobs for free. Some users complain they get too many unqualified candidates, but that can be overcome easily by adding screening questions to the job posting.
ZipRecruiter: Best for Small Businesses That Are Consistently Growing

ZipRecruiter is a good recruitment software for small businesses that are continuously growing, because it reserves monthly job slots you can use to post open positions. It reposts the jobs to 100+ job boards, giving your company more exposure. You have to sign up for a subscription, which is why it's great for companies that are consistently growing versus hiring for a one-off position.
ZipRecruiter Pricing
ZipRecruiter offers a free four-day trial. It doesn't provide a completely free plan or the exact same type of features as Indeed, but you can try any of its plans (even the premium one) out for free during the trial period. From there, plans start at $249 monthly for four job slots (you can pay more for extra), and there's a customizable enterprise plan for large companies hiring more than four employees each month.
ZipRecruiter Pricing Plans
| Features | Standard | Premium | Pro |
| --- | --- | --- | --- |
| Price | $249 | $339 per month | Custom pricing |
| Number of Candidates | Unlimited Candidates | Unlimited Candidates | Unlimited Candidates |
| Number of Users Per Account | 1 | 1 | 2 |
| Active Job Slots* | 1 | 4 | Customizable |
| Follow-up Emails to Candidates | 0 | 0 | 25 |
ZipRecruiter Features
With ZipRecruiter, you can post open jobs, do resume searches, and screen candidates. And like Indeed, you can automatically copy your job posting to more than 100 additional job boards. Although you're limited on the number of job slots you can have open at any one time, you can receive an unlimited number of candidates without being charged extra.
Job Board
You can use ZipRecruiter to post an active job, and once it's filled, reuse the slot to post a new position. The system will instantly post your open jobs to many other job and social media sites, including Google, Neuvoo, Facebook, and Twitter. This expands your reach significantly and will make it easier for you to find a variety of eligible candidates.
Applicant Screening
The software also matches the language in your job description to resumes its users upload or submit, so you always have the latest pool of applicants to consider. You can add screening questions to each job post to ensure you only receive the most qualified candidates.
Mobile App
ZipRecruiter has a mobile app that makes it easy for job candidates to view and apply to your open positions from anywhere. Likewise, you can review applicants, resumes, and other job-related data from any mobile device.
Customer Support
When it comes to customer support, ZipRecruiter is rated higher than Indeed. You can contact a representative by phone versus just online. It has both an email and live chat option. When we spoke with a support team member, the rep was prompt, friendly, and very helpful—she didn't know the answer to our question and put us on a brief hold to double-check her answer.
What ZipRecruiter Is Missing
ZipRecruiter doesn't have all of the communication features that Indeed has nor does it have a completely free plan option. If you're looking to post a single job and don't know when you'll have another position available, it's not the best hiring software for you.
What Users Think About ZipRecruiter
We found that ZipRecruiter receives pretty good reviews from employers posting on third-party sites. They seem most impressed with the level of personal customer service the company provides, some of which even naming the representatives who helped them.
Freshteam: Best Recruitment Software for Firms With 50 or Fewer Employees

We recommend Freshteam for small business users that need more robust applicant tracking features. It's free if you have fewer than 50 employees and don't need to post more than three open positions at a time. In fact, even if you outgrow the free program, Freshteam's pricing is significantly less than most of the other recruiting software we reviewed.
What makes Freshteam great (besides being free) is that it is part of a larger suite of applications, called Freshworks, that can manage all aspects of your business automation, including CRM, sales, IT support, and call centers.
Freshteam Pricing
Freshteam pricing starts at free and increases to $250 per month if paid monthly for a company with 50 or fewer employees. For example, a startup or small business might choose the Sprout package for free. It provides up to five job postings at a time. You can even embed those job postings directly on your company website at that price.
Freshteam Monthly Pricing Plans
Features

Sprout

Blossom

Garden

Monthly Price*

$0

$75 per month

$150 per month

# of Employees

50

50

50

# of Job Postings

3

10

Unlimited

Posts to Job Boards

N/A

✔

✔

Other Features

Plus,

Custom branding
Social media recruiting
Offer letters
*Discounts available for annual pricing. Additional employees cost extra.
For small business recruiting, the packages priced between $75-$150 a month are the best value. Prices go up as you add employees to your business. However, if you pay annually, you can save anywhere between 25% to 33%. However, if you want more than three jobs posted at once or want those jobs to be featured on job boards like ZipRecruiter or Indeed, you'll need to upgrade.
The Garden plan features custom branding, recruiting via social media, and the ability to manage candidate job offers. If you want advanced features such as customized recruitment roles (helpful if you're in the staffing industry), you can use its Estate package, starting at $250 a month.
Freshteam Features
Freshteam has a plethora of features in addition to managing your job postings. It provides templates for job descriptions and job posts so that you don't have to create them from scratch. It can also help you find qualified applicants with its candidate sourcing feature.
As job seekers apply, Freshteam can screen their resumes, allowing you to evaluate candidates and schedule interviews. Once the interviewing begins, Freshteam can help you gather interviewer feedback on scorecards. Then, when you select the best candidate for the job, you can send your offer letter right from the system.
Below are some additional features that make Freshteam stand out:
Post to Free Job Boards
In addition to having your own career site for applicants to apply to your open jobs, Freshteam sends your jobs to job boards like Glassdoor, LinkedIn, and ZipRecruiter. This saves you time from cross-posting jobs on these sites by hand and helps promote your jobs to encourage more applicants to apply. You can also use the "embed jobs" feature to put a link on your own social media account or website at no cost.
Mobile
Freshteam has a mobile-friendly site with email integration so that you can contact candidates directly from the system—that way all your communication back and forth with applicants is kept in one place. In addition, you can upgrade to obtain multiple email accounts. For instance, you may want entry-level applicants to send their forms to one person, while management applicants send their resumes to another.
Collaborate With Hiring Team
Freshteam features tools such as email and scorecards that let your hiring team share feedback about the candidate. That saves you time from having to make follow-up phone calls or get notes back from interviewers. It's all in one place, and the scorecards make it easy to see all the interviewers' feedback or all candidates side-by-side.
Software Integrations
Freshteam, as part of the Freshworks family of business applications, has integrations into calendars like Calendly, and Office 365. It also integrates with Google apps and Facebook. And of course, Freshteam has native integrations into its other Freshworks modules such as Freshworks CRM, Freshdesk, and Freshchat.
Customer Support
Freshteam provides 24/7 customer support via phone, email, and website tickets. In addition, it has an online chat that is very responsive.
What Freshteam Is Missing
Unlike many hiring software providers, the data from Freshteam doesn't integrate with common HR and payroll software. Therefore, if you use another HR or payroll system, you'll have to make sure you move new hire data from Freshteam into your payroll system in order to process the candidate as a new hire and set up their payroll and tax forms manually.
What Users Think About Freshteam
Users appear to like Freshteam and don't complain about. There were complaints about the provider not having a mobile app, but as of this writing, there is one available. There were positive comments regarding the software being free, and many employers explained how it really helped them organize and streamline their hiring process.
Recruitee: Best Recruitment Software for Employer Branding

Recruitee is best for small businesses that want to use recruitment software to promote their employer brand. It allows you to customize your career page and job application forms. It also provides you with a custom domain for your job postings, or you can sync it with your existing website. That helps candidates get a feel for your business and your brand from the start.
In addition, Recruitee has an intuitive interface that lets you view jobs and candidates on a dashboard. Communication with applicants and interview scheduling can all be done right in the system, with all your notes in one place. And it has added mobile apps for iOS and Android.
Recruitee Pricing
Pricing for Recruitee is based on the number of active jobs you have posted (similar to ZipRecruiter) and the number of talent pools you maintain. It runs from $109 a month for five jobs posted up to $333 to manage 10 jobs at once.
Recruitee Pricing Plans
| Features | Launch | Scale | Lead |
| --- | --- | --- | --- |
| Price | $109 per month | $399 per month | Custom pricing |
| Job Slots | 5 | 10 | Custom |
| Talent Pools | 5 | 10 | Custom |
*Discount for annual subscription
Recruitee allows you to track the pools of talent separately as well. For example, if you want to keep your customer service job seekers separate from your management talent, you would use two talent pools. It also offers a free 18-day trial.
Recruitee Features
Recruitee has all the basic recruiting software features from posting jobs to tracking applicants. These features are available at all price points, including unlimited team members and candidates. In addition to posting on external job boards, it hosts and allows you to customize your careers website.
If you have a few jobs that you fill over and over, such as customer service reps or foodservice staff, you can really describe your work environment to entice people to apply. Recruitee lets you give future employees a flavor of what it's like to work at your company. And, you still only use one job posting per role.
Here are additional features that make Recruitee stand out.
Job Posting
Recruitee can post jobs to over 800 additional job boards and post jobs via social media to help you promote your open positions. It provides tools for sourcing applicants, such as importing them from other job sites and tracking them through the recruitment process, while analyzing your results.
Dashboard
With Recruitee, you can see a dashboard of potential hires, or look for candidates based on ratings. It's similar to choosing the best products from Amazon. You can also add tags and ask questions to help you keep track of candidates by skill, experience or any other criteria you find important.
Applicant Tracking
Recruitee has an intuitive system for keeping track of applicants such as which candidates have been screened, interviewed, or received job offers. You can see activity by candidate and notes on each person in the database. Because it's got a built-in calendar, it can work as a reminder dashboard for your hiring managers so they don't forget key activities, like having a candidate complete a background check.
Reports
Recruitee provides reports that help you do things like finding out how long it takes to fill a position or learning where your best candidates are coming from. It also has data export options in addition to standardized reports. You can slice the data any way you like or upload it to another software system, like payroll.
Customer Support
Recruitee's help center provides advice and answers online in the form of searchable how-to articles. It also provides support via email. Its hours aren't posted, but it promises a two-day turnaround when you send an email.
What Recruitee Is Missing
Recruitee doesn't have any native integration with HR/payroll systems like Gusto. However, using third-party integration tools like API or Zapier, you can share data from Recruitee with lots of other apps. It also has no online chat or call center to provide immediate assistance if you have issues.
What Users Think About Recruitee
Users are pretty impressed with Recruitee for the price and features, including its drag and drop interface and customization options. They also like the customer service provided. Most of the cons that users listed were in regard to "nice-to-have" features versus existing ones that aren't up to par.
Zoho Recruit: Best Recruitment Tool for Business Software Integration

Zoho Recruit is a close runner-up to the first few recruiting software options based on features and price. What makes it different is its native integration with a whole suite of business apps including Zoho People, which is an HR platform. That's great if you are looking for integrated business apps like Zoho One.
Zoho Recruit offers a range of features, including your own careers website to premium job boards and resume parsing. Zoho Recruit also provides reports, dashboards, workflow, and a mobile app. And it has a ton of integrations—such as Google Apps and Outlook, which Recruitee doesn't yet offer.
Zoho Recruit Pricing
There's a free version of Zoho Recruit with basic features that allow you to manage candidates, emails, and interviews for one open job at a time. Otherwise, Zoho Recruit is priced between $25 and $75 a month per user. This makes it very affordable for a small business where only one person is doing the hiring.
Zoho Recruit's Pricing Tiers
| Features | Standard | Professional | Enterprise |
| --- | --- | --- | --- |
| Price* | $25/user per month | $50/user per month | $75/user per month |
| Job Openings | 100 | 250 | 750 |
| Prescreening | N/A | ✔ | ✔ |
| Custom reports | N/A | ✔ | ✔ |
*Discounts are available if you pay annually.
The $50 per month Professional version costs less than either Recruitee or Freshteam and provides features on par with professional applicant tracking systems such as the ability to manage recruiting for more than one business. In fact, the $75 a month per user Enterprise version has advanced features that only recruitment firms might need to use like the ability to manage multiple recruiters or do recruitment for external clients. It also provides a free trial.
Zoho Recruit Features
In addition to its native software integration, Zoho Recruit has many features of a professional applicant tracking system, at a price point that allows a small business to benefit. Even in the free version, you can track candidates, interviews, and notes. You can also use email templates, store your data, and use Zapier to integrate to third-party apps.
Using the paid versions, you get everything you might ever need, including data backup, an events log, posting to premium job boards, pre-screening, feedback forms, a custom inbox, mass emails, search tools, document attachments, dashboards, reports and even a custom logo to promote your employment brand. Here are a few other cool features.
Job Posting
You can publish jobs on your website, search for candidates on Indeed, create a custom job application form, and set up auto response rules, such as to say, "Thank you for applying."
Workflow Management
Workflow management allows you to set up rules so that the software does much of the work for you. You can have five to 50 custom rules depending on which package you choose, and you can set up 100-300 alerts to tasks and assignments, including time-based actions and webhooks.
User Security
Some companies don't like all team members to see the same data. In the free software, you get only one user profile, but you get four user profiles in the Standard package and up to 25 in the Enterprise package. You can set up groups, data sharing rules, and guest users, for example, if you want others to comment on a candidate, such as a freelance interviewer.
Social Recruiting
All except the free option provide integration to LinkedIn, Twitter, and Facebook. If you update to the Professional package, you can interact with candidates in social media directly from the system, and capture their contact details from Twitter and Facebook. Social recruiting improves your reach as well as your employment brand by allowing you to interact with candidates in real time.
Customer Support
Zoho Recruit makes finding the information you need easy with e-books, webinars, and videos, in addition to online forums and their help center. You can also email them for support 24 hours a day, Monday through Friday. There's no support on weekends.
What Zoho Recruit Is Missing
Zoho Recruit is missing one-on-one personal support via phone or online chat. And there's no support on the weekend. It's very customizable which can make it complex—but the tool itself does everything that recruiting software needs to do.
What Users Think About Zoho Recruit
In general, users like Zoho Recruit and give it top ratings for all the features they get at a very affordable price. A few mention that they'd like to be able to talk to a person when they set it up or have a problem.
ApplicantPro: Best Recruitment Software for Pre-hire Assessment & Background Checks

ApplicantPro is best for those who want to screen candidates before hiring them without having to find background check vendors on their own. It's an affordable recruitment software option that helps you avoid expensive hiring mistakes—especially important in key positions like management, drivers, healthcare workers, and roles that work with children or seniors.
It also offers some cool features such as video interviews and employee onboarding to give you a feel for your candidate and give future employees a good first experience with your company.
ApplicantPro Pricing
ApplicantPro has an entry-level price that's only $60 per job posting. If you have the same job that you fill over and over again, that may be the way to go. For example, you may be hiring sales staff, retail workers, food service employees or housekeepers on a regular basis. Why pay for more job postings than you need?
However, if you want additional features, your pricing will be based on how many workers you have and what features you think you'll use.
ApplicantPro Package Options
Features

Pay-per-Job

Standard

Premium

Pricing

$60 per job posted

Call for quote

Call for quote

Job Postings

1

Unlimited

Unlimited

Features

Branded career site
1000 + free and paid job boards

Plus,

1000+ Additional job boards
Employee referrals
Background checks and assessments

Plus,

Offer letters
Email reference checks
Affirmative action compliance
ApplicantPro has no contracts and no setup fees. The Standard package has most everything a small business might use, whereas the Premium package is more suitable to larger firms or recruiting companies. In either case, you'll need to contact them for a custom quote based on your company size.
ApplicantPro Features
ApplicantPro has all the basic features even with the pay-per job option. It gives you a site to post your jobs to get applications from job seekers and allows you to communicate with and track the applicant throughout the recruiting process. It's the add-on tools we found helpful, especially for small businesses that don't want to risk hiring the wrong person, or businesses who are hiring remote staff.
Here are some of those features on ApplicantPro:
Background Checks and Pre-Employment Screening
With ApplicantPro, you can manage your employment verification all in one place, instead of having to find separate vendors to manage background checks or DOT drug testing. An example of a background check is shown below.
Robust Reporting
The reporting available with ApplicantPro does more than report on your hiring pipeline. It also reports on visitors and traffic to your website. In addition, it can help you find out where your best applicants are coming from. You can print out notes and compliance reports for EEO and OFCCP including Affirmative Action logs (showing reason codes).
Video Interviews
ApplicantPro offers video interviews to help you meet and identify the best candidates even when you're not in the same location. You can set up a branded interview portal and ask custom questions for your candidate to respond to. You can then share the recorded interview with others in your organization such as the hiring manager or their boss. Without this feature, you'd have to invest in third-party video conferencing software.
Interfaces & Reports
With ApplicantPro, you can create custom reports and export new hires to your HR or payroll system for onboarding. In addition, ApplicantPro interfaces with Indeed and other job boards so that you can keep all your job postings and candidates in one system.
Customer Support
ApplicantPro provides support by phone, email and online chat, Monday – Friday 8 a.m. to 5 p.m. Mountain time. They also post their business address directly on their website.
What ApplicantPro Is Missing
ApplicantPro has no free option, and its pricing (based on the number of employees) isn't transparent. You have to upgrade to its Standard package before you get to customize your Careers page or access its background checks feature. Then, you'll need to upgrade to Premium before you'll get a feature that can push data to your HR or payroll system.
What Users Think About ApplicantPro
ApplicantPro has consistently high reviews on software review sites. Users like that it posts to so many job boards. Some users mentioned that there's a big learning curve, and others didn't like that job seekers have to create an account before applying for a job.
Recruiterbox: Best Recruitment Software for Reports, Analytics & Compliance

Recruiterbox has all of the basic features of any good recruitment software, such as online job posting and applicant tracking. However, it's best for businesses with over 100 employees (subject to EEOC reporting requirements), or federal contractors that need to abide by Affirmative Action guidelines, for example.
Recruiterbox provides EEOC reporting in addition to other helpful HR reports and data analytics that help you understand how your company is doing. If your business is risk-averse and numbers driven, Recruiterbox can support all the metrics you need.
Recruiterbox Pricing
Recruiterbox is priced based on the number of employees you have. For example, if you have between one and 50 employees, your price will be around $2,499 to $2,999 per year. That's more costly than the other hiring software we've reviewed, but it may be worth it if EEOC compliance is required for your business.
And it provides unlimited job posts and candidates, so there's no concern that you'll outgrow the software as your business scales up.
Recruiterbox Features
Recruiterbox allows you to post to popular online job boards like Indeed and Glassdoor. You can also post jobs to your business website with its Careers Page Widget. Once candidates apply, you can get feedback from an unlimited number of reviewers, schedule interviews with the calendar interface, and keep all your hiring notes in one place.
In addition, it also has a workflow feature like Zoho Recruit, that can help streamline your work. For example, you can schedule an interview with managers, and then request feedback from them. Recruiterbox integrates with third-party tools like Namely, BambooHR, and QuickBooks Payroll, helping save you data entry steps once a candidate accepts an offer and is hired.
Here are a few additional features that make Recruiterbox stand out:
Job Postings
Unlike other hiring software that charges for each job that's posted, or that limits you to a fixed number of job postings, Recruiterbox allows you to post as many open positions as you want. That way you don't have to worry about surprise upcharges if you go over your limit. In addition, it's easy for job seekers to apply as they don't have to sign-up or register on the site to apply for a job like they would have to do using ApplicantPro.
Workflow
Recruiterbox's workflow allows you to automate aspects of your recruitment process such as asking a hiring manager to screen a resume or requesting an applicant to fill out an EEOC form after they apply. For example, let's say you have a multi-step process that requires screened applicants to have a phone interview by HR before being passed to the hiring manager. You can build that step into your workflow to be managed automatically.
EEOC Compliance Surveys & Reporting
With Recruiterbox, you can ensure that you're complying with labor laws, such as the EEOC, as well as look at reports that help you continuously improve your recruiting function. For example, you can run reports to find out where your best job candidates are coming from or to prove that you're complying with affirmative action requirements.
Due to its high price, Recruiterbox is better for larger firms doing lots of hiring or federal contractors who need to confirm that their hiring practices are EEOC compliant. Using Recruiterbox' workflow, you can ensure forms are completed and then use their reports to provide data to requesting agencies.
Customer Support
Unlike Recruitee and Zoho Recruit, you will get unlimited support from a person, as well as a guided implementation to help you set up your software. They're available 24/7 via email and claim that they respond in minutes, or they'll set up a call with you.
What Recruiterbox Is Missing
Recruiterbox doesn't have a scheduling tool, so you have to use a third-party calendar to schedule your interviews. It also doesn't interface with G-suite or Outlook like most of the other recruiting software does. And while its software is mobile-friendly, it doesn't have a mobile app.
What Users Think About Recruiterbox
Users who don't have an HR background find Recruiterbox is easy to use and they like the customer support. They find the templates, website integration, and the ability to add candidates via email helpful.
Vultus Recruit: Best Recruitment Software for Recruiting & Staffing Firms

We included Vultus in our listing of best recruiting software because of its robust features and low price. It's a full-blown applicant tracking system—perfect if you're in the staffing industry or do executive recruiting. However, it's so inexpensive to use that it can work for small businesses as well.
Because Vultus is designed for all sizes of businesses, including corporate recruiting departments and recruiting firms, it has some nifty features that you don't typically find at this price point. You can attach documentation to a candidate's name, group candidates by skills and set filters, keywords, flags and tags to organize your jobs and your candidates any way you like.
Vultus Pricing
The pricing with Vultus Recruit is based on the number of users you have. Since small businesses may want to give themselves, managers and perhaps a recruiter access, they're likely to use the package that costs $18.99 a month per user. If you want to have more resumes parsed than what's shown in the pricing tiers below, you need to contact Vultus so it can give you a quote on that.
Vultus Volume Discount Pricing
| Features | 1-5 Users | 6-30 Users | 30+ Users |
| --- | --- | --- | --- |
| Pricing | $18.99/user per month | $14.99/user per month | $9.99/user per month |
| Emails | 10,000 | 50,000 | 100,000 |
| Resume Parsing | 50 resumes free | 100 resumes free | 300 resumes free |
In fact, if only one person uses the recruiting software in your business, then you'll get all the features for just $18.99 per month, including 10,000 emails and free parsing for up to 50 resumes. You also get unlimited storage, free setup and configuration, and free initial training.
The pricing table above shows the additional volume discounts you get when you pay for more users, but frankly, most small businesses can get by with the first tier shown.
Vultus Features
All three pricing tiers above provide the same features; that includes job postings, document attachments, workflows, a dashboard, custom forms and fields, collaborative hiring, and a hotlist to keep track of your top candidates.
Like the other recruiting software we reviewed, Vultus provides reports and analytics. You can export your candidate data using a CSV file to make it easy to bring new hire data into your HR or payroll system.
Here are some additional features Vultus offers:
Customization
The customization options are amazing with Vultus. You can customize jobs, data fields, workflows, and reports so that you see exactly the job and candidate information you want to see.
Open Posting
Vultus posts jobs to all the major job boards like CareerBuilder, Monster, and Glassdoor as well as industry-specific job boards like Techfetch. In addition, you can share your job openings on Facebook, Twitter, and LinkedIn. You can mass email your job openings or even post them via mobile.
Resume Parsing
Like most of the other recruiting software we reviewed, Vultus does resume parsing. But unlike Freshteam or Recruiterbox, you don't have to pay a fortune or upgrade to a higher tier to get this feature.
Integrations
Vultus' integration with Outlook lets you contact candidates, send emails and even allows them to apply directly through Outlook. And, Vultus has a workforce management and payroll tool called Vultus Connect, so there are integration opportunities if you're looking for an all-in-one solution for recruiting and HR. Like most of the other recruiting software reviewed, it too has a mobile app.
What Vultus Is Missing
Vultus doesn't have a very exciting user interface. Nonetheless, the functionality is there, and the price is terrific for what you get.
What Users Think About Vultus
Vultus has pretty good user reviews on all the major online review sites with customers expressing appreciation for all the features that are available at a low per-user price.
Looking for something else? Read our buyers' guide on the best HRIS/HRMS software for small businesses.
Bottom Line
As a whole, recruitment software helps you advertise jobs, screen candidates, and even track applicants in the process. Some systems specialize in only a few areas like job posting, but they all support your hiring process. To learn more about putting your job posts together, read our article about how to write and post a job ad.
We recommend Indeed as the best recruitment software for small business, because it has all the job posting and candidate management features you need for free. First-time users get $50 in sponsorship credit as well as a company page and careers page, all at no charge. Get your $50 credit.