In this buyer's guide, we narrowed the pool from hundreds of recruitment software platforms down to 3 great options for small businesses: Recruiterbox, ZipRecruiter, and SmartRecruiters. We chose to review and compare these 3 systems because they offer the best combination of price and recruiting capabilities for small businesses. Read on for our full review and comparison, as well as our top recommendations.
Best Recruitment Software For Small Businesses: Recruiterbox
We picked Recruiterbox as the top choice for small businesses because it provides the best features and customer service for the price, is faster and easier to set up than competitors, and has a unique Google Chrome extension that makes it easy to find candidates for your job postings.
Recruiting Software Summary Table: Recruiterbox vs ZipRecruiter vs SmartRecruiters
RecruiterBox

ZipRecruiter

SmartRecruiters

Pricing

Learn More
$20/job posting per month or $490 per month for the Pro Plan, which includes unlimited job postings
$249/month for 3 job postings
$375/month for 10 job postings

Higher fees for 20 job and 50 job plans

Discounts for annual memberships
Lowest tier plan costs $4000/year plus $2000 one-time setup fee

There is also a free plan with limited features
Free Trial?
Yes - 14 days
Yes - 4-7 days (sometimes they run promotions for longer trials)
No, but they have a free platform that is not advertised with limited features
Ease of Setup

Learn More
Easy
Easy
Medium
Ease of Recruiting Process
Easy
Medium
Medium
Sourcing Capability / Resume Database

Learn More
Google Chrome extension that parses profiles from LinkedIn & 3 other sites directly into recruiting system (no additional cost)

No resume database
Search 9 million+ resumes in database

No sourcing
Integrates with LinkedIn Recruiter & Entelo plus 15 other systems

No resume database
Job Boards Included
Indeed, Adzuna, Recruit.net, Glassdoor, and EmployIQ are included for free; other paid options as well
600+ job boards are included for free; other paid options as well
13 job boards are included for free (Indeed, Monster, Glassdoor, The Ladders, LinkedIn, and more)
Customer Support

Learn More
Live chat & email support 24/7; phone support is via your account rep
Phone support, email support, and live chat from 9 am-9 pm EST
Email support only for free accounts; phone & email support for paid plans (hours & days not provided on request)
Mobile Options

Learn More
None
No mobile options for recruiter/business, but there is a mobile app for job seekers
iOS, Android, and Windows app available for recruiter/business
Why Do You Need Recruiting Software?
To begin, we want to provide you a framework of what recruiting software will do and what's included in recruiting software. Recruiting software is designed as an end-to-end hiring solution for small businesses and can be used to do the following:
Post jobs across multiple job boards
Recruiting software allows you to post your job to multiple job boards. You can save a lot of time time and money, potentially hundreds of dollars, by subscribing to recruiting software instead of paying to post on each job board. With recruiting software, job boards are either completely free or you get a discounted rate through your recruitment software membership.
Search for applicants/source candidates
Recruitment software can help you find applicants that fit your job description. The software lets individuals apply directly for your job, and you also find and contact passive applicants through the resume database or sourcing sites like LinkedIn. Passive applicants are people who aren't currently looking for a job but might be interested in your job if they knew about it.
Review and rank candidates
Recruitment software makes it easy to keep track of candidates so that you don't mix up which candidate is which. Also, you can rank candidates on how well they fit your job description and how well they do at each stage of the hiring process.
Schedule interviews
Recruitment software usually integrates with your calendar and email program, as well as lets you send candidates templated invites for interviews.
Organize candidates by stages
Recruitment software lets you organize candidates by the stage of recruiting they are in, from needing review to offer letter stage.
Build a talent pipeline
Maybe you meet someone who isn't a fit right now, but will be in 6 months. Recruiting software helps to keep track of your hiring pipeline and their contact information.
Now that you know how recruiting software can power your hiring process, we'll give you our top recommendations.
Recruiterbox: Best Recruitment Software For Small Businesses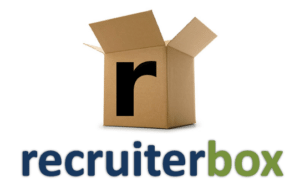 We picked Recruiterbox as the top choice for small businesses because it has the most features for the price, is easier to setup and use than the competitors we looked at, and has the best capabilities in terms of getting passive applicants. They are also the only one to offer 24/7 customer service by live chat and email.
While the $490/month price tag for the Pro Plan might give a small business owner sticker shock at first, it is worth it for what you get. The Pro Plan has unlimited job slots (which means you can post as many jobs as you want at a time). With your subscription, you get to post on all the included job boards like Indeed without paying the job boards and without going to each website yourself, saving time and money. The major job boards, like Indeed and Glassdoor, are included in your Recruiterbox subscription (although you would have to pay if you want premium versions of postings on certain job boards like LinkedIn).
It also has an a la carte option at $20 per posting, which no competitor offers. The a la carte package has a limited number of features and does not include access to Recruiterbox's powerful sourcing features. What this means is that the $20 option might be good if you have a high-traffic role like a Marketing Manager in a major city, where you don't need sourcing features, and perhaps if you only hire a handful of people per year.
Recruiterbox has a great standout feature that the other two companies don't have: a Google Chrome extension for sourcing candidates. This extension button lets you click and send candidate information into the your Recruiterbox system automatically from LinkedIn, Angellist, etc. This makes it easy to find candidates that may not apply directly for your job (passive applicants) and builds up your talent pipeline.
On the downside, Recruiterbox lacks a resume database for you to look through, meaning you can't just search for resumes that fit your open job and ask those candidates to apply. In addition, the lower-priced a la carte plan doesn't make sense for most businesses due to the lack of features, which pretty much forces you into the $490/month plan. At least that plan is month to month and can be cancelled or paused at any time.
ZipRecruiter: Best Recruitment Software For Businesses On a Budget

ZipRecruiter is the ideal recruitment system for business owners on a budget. It is more affordable than Recruiterbox and SmartRecruiters at $249/month for 3 job slots and $375/month for 10 job slots. See more in our article describing ZipRecriter features in more detail.
ZipRecruiter's simplicity also makes it very easy for business owners who are nervous at the complexity of a recruitment software system. With a resume database attached to the system, ZipRecruiter lets you do all the things you need to do in one place–you can post jobs to job boards and social networks, contact candidates matched from the database (which includes 9 million+ resumes), and manage and rate candidates.
You also get a lot of bang for your buck – they include 600+ job boards with your membership, which span the big ones like Indeed and smaller niche job boards, and gets your posting huge exposure in little time since it will be posted on those job board sites. This makes it stand out from Recruiterbox and SmartRecruiters, which only include a handful of job boards at no additional cost.
The biggest downside to ZipRecruiter from my perspective is that a lower quality of talent tends to apply for ZipRecruiter postings and register for their resume database. For this reason, ZipRecruiter might not be a good fit for high-level positions, like consulting or management. It's better for businesses, such as restaurants and retailers, that want to hire hourly employees. In contrast, Recruiterbox and SmartRecruiters are suitable for a wider range of businesses.
The ZipRecruiter system also does not have scheduling functions and requires some administrative work on the business owner's part to schedule candidates for interviews.
SmartRecruiters: Best Recruitment Software for Analytics

For data junkies and process improvement minded business owners, SmartRecruiters is ideal. It allows you to see data like which job boards your candidates are coming from and who's accepting offers, so you can improve upon your recruiting processes over time.
Built like a sales and marketing funnel, SmartRecruiters is a great system for those who want to know where their recruitment process needs work and the data around their applicants. You can drag & drop data categories and create custom reports and tables quickly, which you can then view from the app.
SmartRecruiters is the only one of the three systems to offer a free platform (it is not advertised, however). With this free platform, very little is included. You can only have 1 user, and you cannot access any of the complex reporting features they offer. You can, however, post jobs and receive applications. This may be all you need if you only hire a couple times a year.
For paying customers, there are 17 integrated recruiting platforms, so if you are someone who already bought, for instance, LinkedIn Recruiter or Entelo, SmartRecruiters helps you make the most of those platforms. You can recruit for candidates and link profiles you like to your SmartRecruiter account. However, you'll have to pay separately for these recruiting tools, which requires a big investment from the small business owner. This is one of the biggest downsides to SmartRecruiters. Another downside of SmartRecruiter is that, unlike ZipRecruiter, it does not have a resume database to search for applicants.
In-Depth Comparison: Recruiterbox vs ZipRecruiter vs SmartRecruiters
How the Recruiting Process Works for Each Software
Below is a breakdown of each system's actual steps for recruiting candidates, as well as highlights of any unique features that they offer. We will go over in detail how each software handles these steps of recruiting:
Posting Jobs
Posting your jobs is the first step to using recruitment software. Once you have figured out a solid job description and job title, you will want to post your roles in order to get candidates who are interested in the position. This is where you enjoy one of the biggest perks of recruiting software- your subscription can save you a ton of money and time from having to post jobs to individual job boards yourself. You get discounted rates or free inclusion on job boards through your recruitment software system.
Want to read more on creating a good job description? Click here.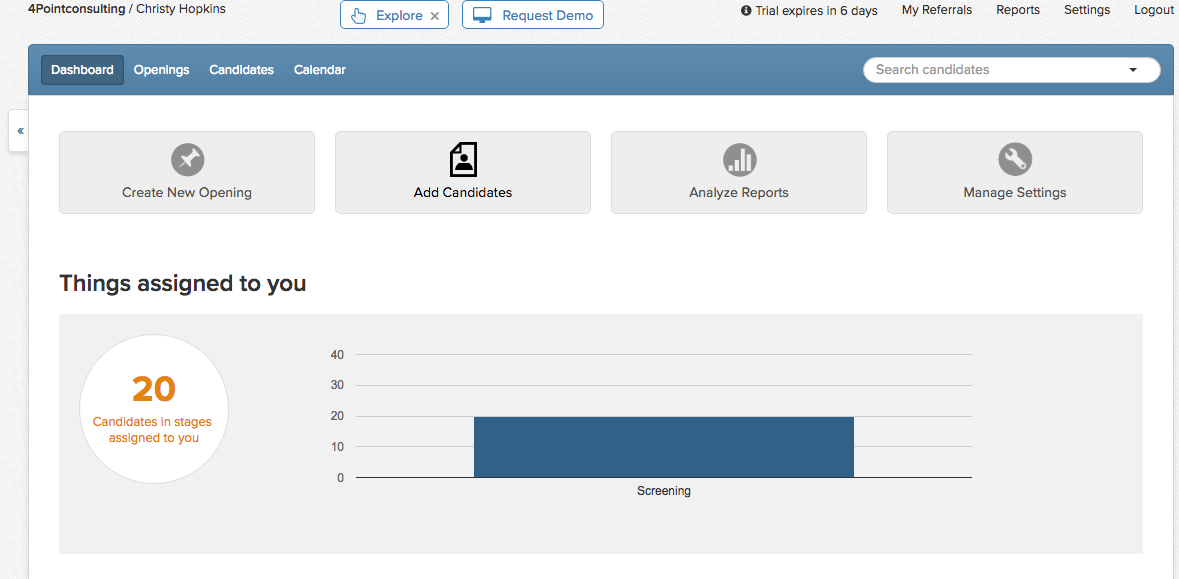 There is a button on the Recruiterbox dashboard that says "Create New Opening" that takes you to the posting screen. Once there, it walks you through all of the essentials that you need to fill in to have a good job posting.
Recruiterbox includes Indeed, Adzuna, Recruit.net, Glassdoor, and EmployIQ as their free job boards with their platform. The system also has paid options, such as sponsoring a post with Indeed or using a job board that charges per posting like LinkedIn.You can also blast the posting link to your connected social networks.
Though Recruiterbox has a limited number of included job boards compared to ZipRecruiter, I posted 3 roles through their system and started receiving applications right away, making me feel confident that their integration with their partners is smooth.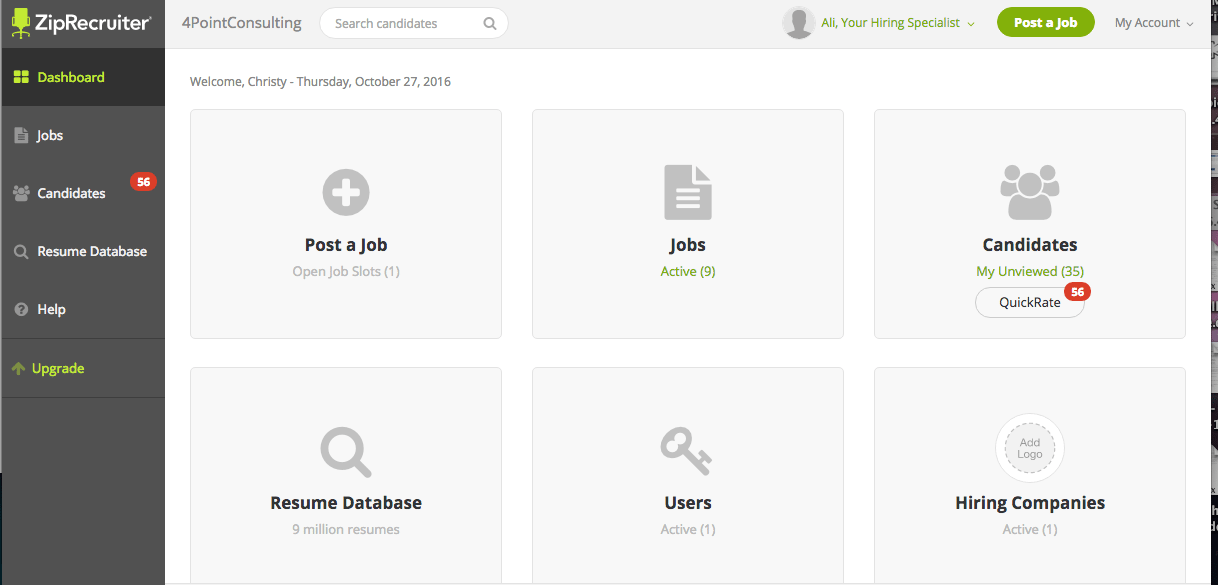 ZipRecruiter dominates this category and has a network of over 600 job boards (ranging from the major ones to super small and niche) included in all levels of its subscription plans. The company uses an algorithm to determine which job boards work best for your posting (as well as posting it to all the big ones like Indeed), making it important that you write a great job description and have an accurate job title. Once you put a job title in the blank title section, ZipRecruiter will then tell you if they have a job description template if you'd rather use what they have.
Post a job is right on the dashboard of ZipRecruiter's login screen. The system helps you to make sure you fill out all the sections you need to to attract applicants, and it has job description templates you can edit for common roles.
After you have set your job description, you can post to the hundreds of job boards included with ZipRecruiter. A few clicks and your posting can be viewed on multiple job posting sites. The system then asks you if you want to pay for additional boards and if you want to blast to your social media networks.
I have posted many roles on ZipRecruiter since I am a subscriber. Some positions get slammed with applications right away (like for my bakery/café client) and some postings get crickets (like my tech firm). ZipRecruiter is a bit hit or miss in terms of who is on their database and is a job seeker with them.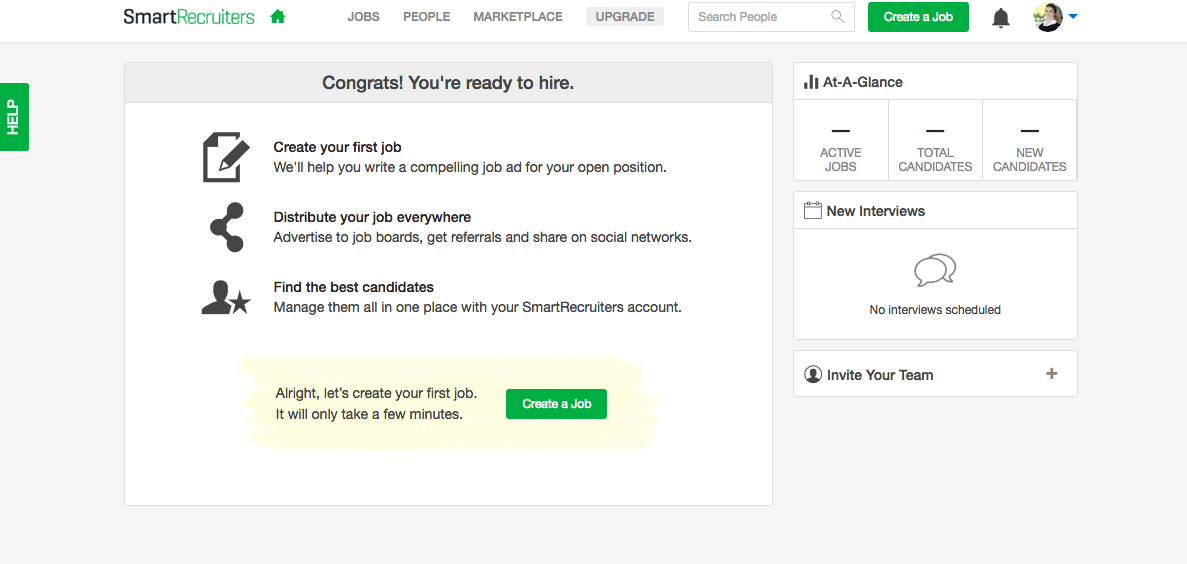 There is a simple "Create a Job" button right on the SmartRecruiters dashboard. The system then cues you to fill in the blanks so that you can create a good posting.
SmartRecruiters has 13 job boards available for posting your position to. The 13 boards consist of the big job aggregators like Indeed, LinkedIn, and Glassdoor. The company also uses social recruiting and you can link your company's profiles for easy social blasting.
SmartRecruiters also has a marketplace function, which you can go in and pick job boards from categories (like Diversity Job Boards, Niche Job Boards) and then link an account with the job board to your SmartRecruiters account. Most of these boards have pay-per-click pricing, but some are priced per posting.
One thing I didn't like about SmartRecruiters was that I couldn't choose which job aggregators I wanted – I either had to post to all 13 or to none. I also decided to NOT post my initial role to the aggregators and SmartRecruiters posted it to 3 systems that I had never heard of, like a Facebook job app. So if you are just practicing, be careful because SmartRecruiters makes the job public very quickly.
Searching for Applicants (aka Sourcing Candidates)
For many roles, you'll find that numerous applicants will apply directly to your job. However, if you have a role that is hard to recruit for, if you have very specific requirements or skills needed, or if you live in a less populated area, you might need to do some active recruiting and look for applicants to tell about your open job. Recruitment software helps you with this process. This is called "sourcing" and can be a huge perk of recruitment software since this step can take a lot of time to do on your own.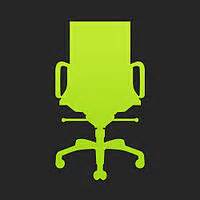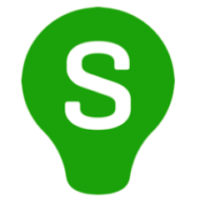 Reviewing and Ranking Candidates
Recruitment software is also useful for reviewing and ranking candidates for your open job. This can be very helpful when you get hit with a bunch of resumes and need to way to filter them. The softwares we evaluated have various systems ranging from stars to thumbs up or down, as well as drop down classifications. ZipRecruiter is the most advanced in terms of the ability to rate and rank candidates.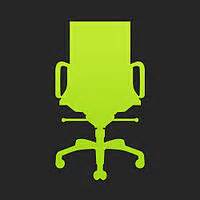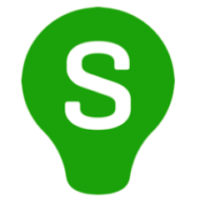 Scheduling Interviews
A big perk of recruiting software is its ability to save you time on several fronts. During the posting step, you saved time from going to tons of job boards. Now, you can also save time by being able to quickly schedule interviews with candidates (versus the 20+ long back and forth email chains).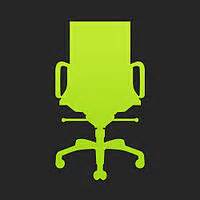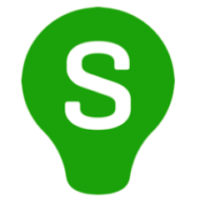 Organizing Candidates in the Recruiting Pipeline
Recruitment software also helps you keep track of which part of the pipeline each candidate is in, and helps prevent you from losing candidates due to the recruitment process taking too long. This feature is especially nice if you are not the only person doing the recruiting. You can see who is responsible for which candidates and close any gaps accordingly.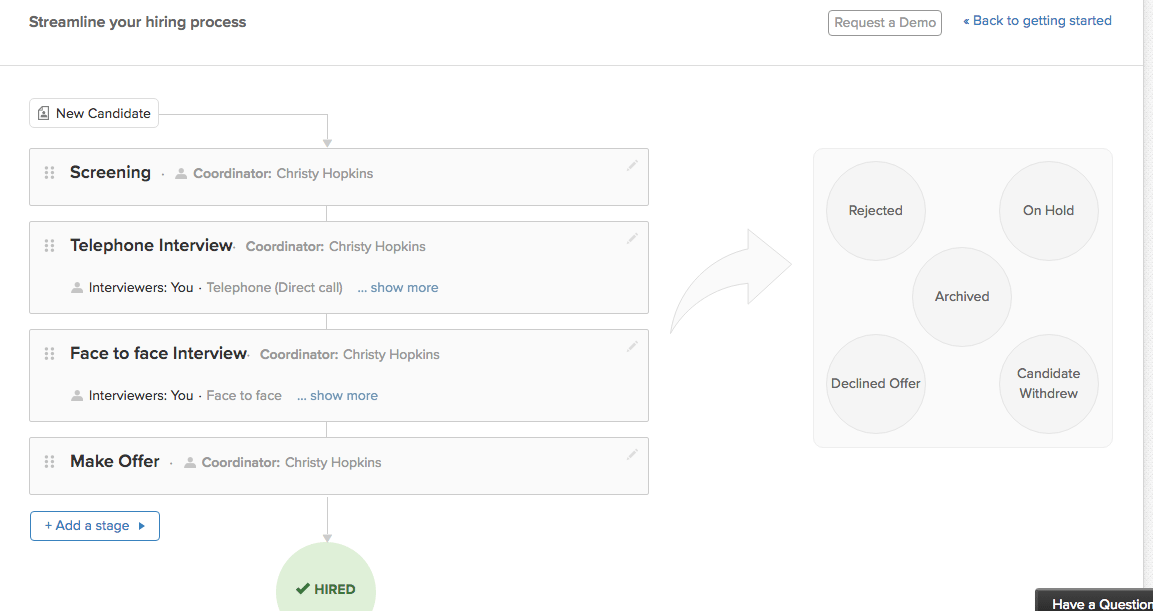 Recruiterbox lets you keep track of who is a new applicant, who has been phone screened, who has been in-person interviewed, and who has been given a job offer in the system by using a simple drop-down menu to change their phase.
You can also customize the funnel to remove or add stages for organization, which is a perk if you have "special" phases like an assessment or a personality test you have them take. Here, on the screenshot below, you can see the candidate workflow where you would remove or add stages.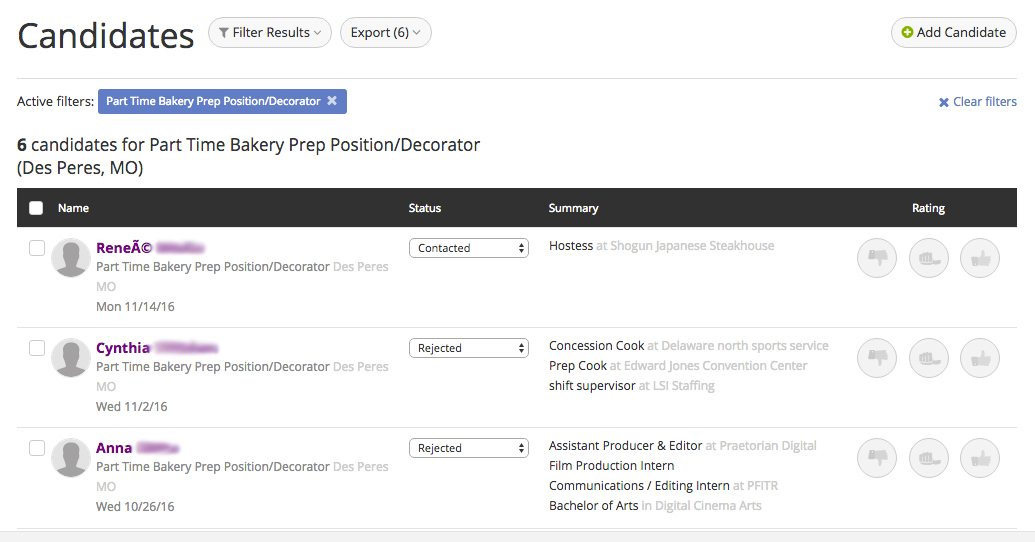 ZipRecruiter has 10 phases you can assign to candidates, and it includes a "Withdraw" phase, which is nice if you feel like you are constantly losing candidates (you can start to track why and where in the process they withdrew). You can sort candidates by a drop-down menu of which phase they are in.
Here is an example of how the candidates come up when you go into a job that is live. If I had clicked on the drop down at the top, I would have then been able to filter out "rejected" candidates, or only see those in a certain phase: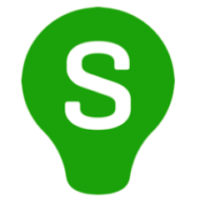 Hiring a Candidate
The whole idea behind recruitment software to help you zero in on and hire the candidates you need for your roles, and ideally in quicker time than doing it on your own. It also helps you to track if you have your offers turned down or lose out to competitors. Finally, it is useful for building up a talent pipeline- perhaps someone was not the right person for the job now, but might be for a job that's coming up in 6 months as your business grows.
Have a new hire? Try Zenefits for your HR onboarding needs!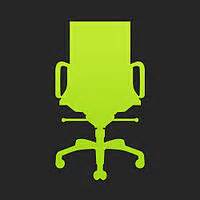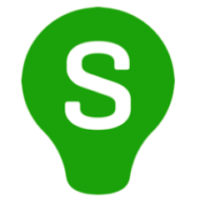 ---
Pricing
Recruiting software is more of an investment than other software because you are paying for not just the system, but also the connected talent, the connected job boards, and the price of having a "recruiter" in a system (versus a paid recruiter or staffing agency).
The biggest cost advantage of using a recruitment system is that you can post on multiple job boards after subscribing to just one recruiting software. In other words, instead of spending thousands of dollars to post on Indeed and LinkedIn and Monster and other sites each month, you can spend just $490/month to do so through Recruiterbox. That can end up being a net positive for your business instead of an expense.
The three systems we chose for our article represent a range of prices. In general, we found that the more you pay for a recruitment system, the more encompassing the system is, such as access to job boards, access to more candidates' resumes, and more ways to promote your posting to active and passive applicants.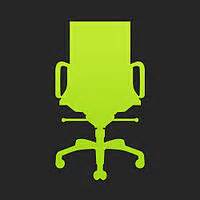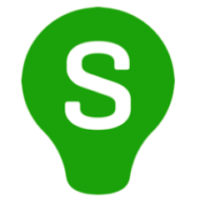 ---
Ease of Setup
Setup varied widely for our three evaluated systems, ranging from starting your free trial immediately (Recruiterbox) to taking 3 days to call me to set up the free trial (ZipRecruiter). However, in general, once I was set up through each respective system with a profile, all three systems were easy to get started on.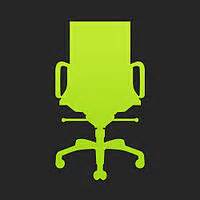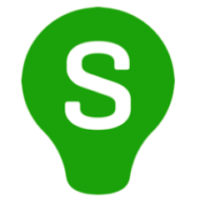 ---
Customer Support & Training Suite
Recruitment software, like any purchase, is an investment and should come with good customer service and training. Interestingly, all 3 of our recruitment software systems encourage live chat or email customer service over phone support. However, if you go a few extra steps, you can speak with a live person.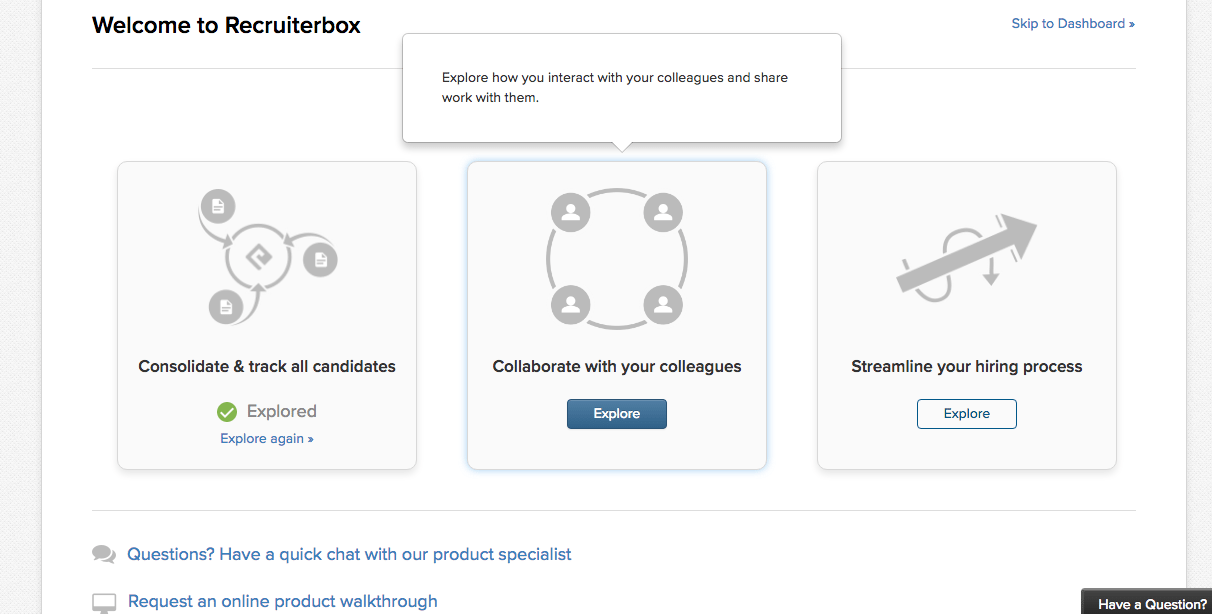 Our small business choice, Recruiterbox, has customer service 24 hours per day, 7 days per week with live chat and email support. 24/7 support is one of the reasons Recruiterbox edged out its competition, which keep more normal business hours for customer service.
If you want phone support, you will need to schedule it with your dedicated account rep. Calls with your account rep are free.
Recruiterbox has an "Explore" button on its main dashboard that takes you to the below screenshot. From there, you can learn how to track candidates, how the system works with multiple team members, how to streamline the hiring process, and cue live chat help or request someone to schedule a product demo with you.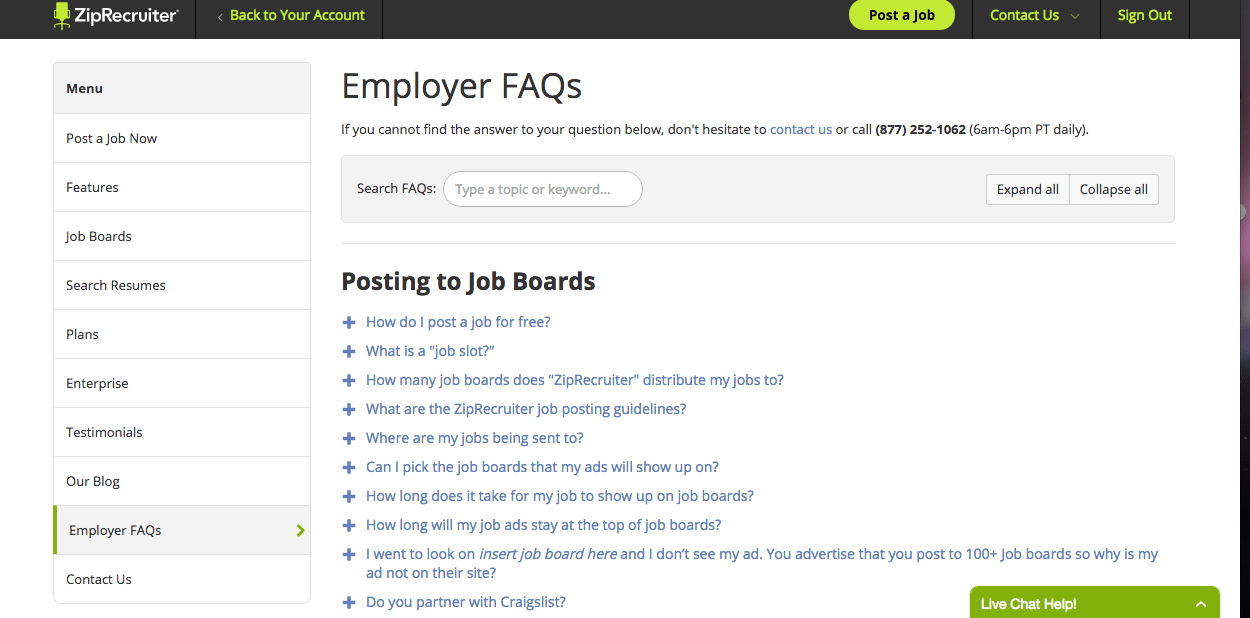 ZipRecruiter provides live chat and email customer service from 6 am-6 pm PST.. Like our other platforms, ZipRecruiter does not have phone support unless you schedule time with your dedicated account manager (which is complimentary and included in your subscription).
From my personal experience, chat or email is the way to go with ZipRecruiter. I tried to get my account rep on the phone for this story, and she did not even answer my email requests for a phone call.
ZipRecruiter does not have a dedicated training suite; however, they do have literally hundreds of FAQs that are easily searchable and grouped by categories. The top of the FAQ section also tells you how to get to live help.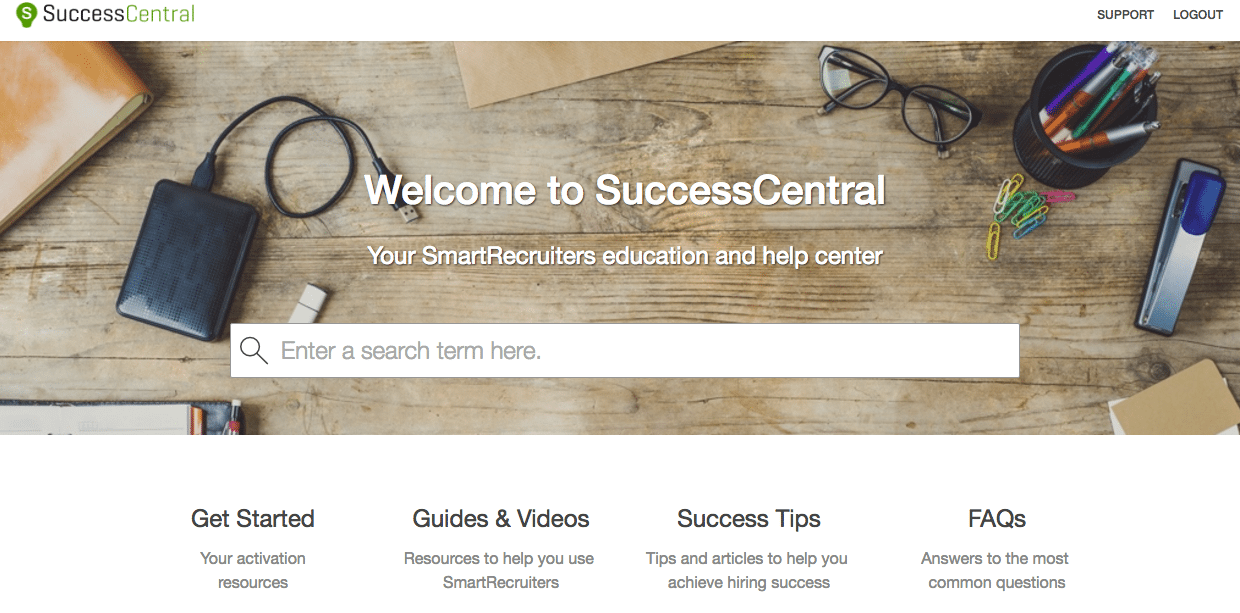 The SmartRecruiters customer service platform has two separate levels. For the free plan, email support is provided, but the hours were not provided to us. For paying customers, it appears they have phone and email support, but no hours or days of service were provided to us despite asking the rep twice.
SmartRecruiters has the best training suite of the 3 systems we looked at. Its training suite is called SuccessCentral and, as you can see below, it's fully encompassing with videos, tips, and more. They also have a site called SmartIdeas, where you can contribute ideas for ways to improve the system, and other users can "up vote" them.
---
Mobile Options
For recruitment software, mobile options are a bit different than for our traditional buyer's guides. There are two sides to having a mobile option for recruitment software. One side would be for the actual recruiter (aka you, the small business owner) and the other side is for candidates to apply.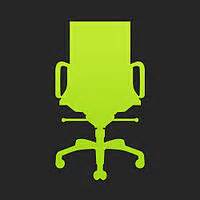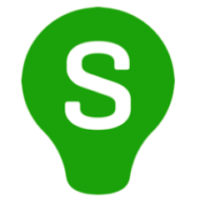 ---
Other Recruitment Software Options
While the 3 recruitment systems we reviewed here will fit most small businesses, here are some other tools we considered including in our guide:
| System | Best For | Summary of System |
| --- | --- | --- |
| RecruiterBox | Most small businesses | $490/month for unlimited users and unlimited postings. A great price if you are ready to scale big time and looking for quality talent. |
| ZipRecruiter | Simplicity | Simple interface, simple postings, and large resume database to search from make ZipRecruiter the easiest overall and great for less tech-savvy business owners. |
| SmartRecruiters | Analytics | Streamlining your processes and running reports (which you can customize) are the biggest pluses of SmartRecruiters. |
| Greenhouse | Integrations | With over 80 integrations, Greenhouse is great for more well established, tech-forward businesses who have a lot of systems already in place. |
| Jazz | Cutting edge ideas | Jazz is using big data to improve and target companies' recruiting, including area salary data and more. |
| iCIMS | Companies headed to 100 people | iCims has 2 levels of plans- iCims Now! for companies under 100 employees, and iCims Recruit for companies over 100 employees. |
| Lever | Pipeline builder | Not sure you want to hire yet or keep meeting great people you don't have roles for? Level might be your answer since it acts like a relationship management system and builds communications with candidates. |
| HiringThing | Up & Coming | HiringThing is very reasonably priced for the small business owner, starting at $22/month. However, it is new to the field and has little information out there on its reputation, which is why we didn't include it in the buyer's guide. |
| Bird Dog HR | Comprehensive HR Solution | Another new player in the field, BirdDog HR, is establishing itself in the recruitment software space, as well as in performance management, compliance, and other HR needs. |
| Halogen | Full cycle talent management | Halogen is a software that manages everything you need from hire to fire, including performance management, bonuses, and employee engagement. |
| JobDiva | Hiring managers for medium to large scale businesses | JobDiva offers recruitment, ATS, and CRM in one platform. It lets users link the software to browsers and allows for specific filtering of candidates. |
| ClearCompany | Full feature recruitment | ClearCompany is designed to do most business management tasks within the recruitment software interface. It is useful for companies that require teams to manage the software. |
| Big Biller | Small businesses with few hiring managers | Big Biller has a built-in applicant tracking system and customer relationship management system. |
| ApplicantStack | Businesses of all sizes | ApplicantStack is a configurable and scalable software to fit the specific needs of your business |
| Zoho Recruit | Looking for best candidates quickly | Zoho Recruit has an applicant tracking system that finds the best candidates for your business. |
| JazzHR | Small, medium, and large-scale businesses | JazzHR features job postings and syndications, reporting and compliance, as well as mobile accessibility |
| PCRecruiter | Businesses who want contract management features | PCRecruiter has a contract management and candidate workflow central portal |
| Workday | Companies who want all employee features in one platform | Workday allows you to fulfill candidate management, employee training, benefits, and payroll tasks in one place. |
| Hyrell | Businesses that want automated software | Hyrell automates and streamlines the hiring process for businesses |
| Recruitee | For small to medium sized businesses | Recruitee streamlines the hiring process with a great user interface. |
| Erecruit | Temporary hiring firms | Erecruit is designed for specialized businesses who need high volumes of applicants. |
The Bottom Line
Recruitment software is an investment but it can be a worthwhile one for a growing business. Losing candidates to the process is a common problem that costs small businesses time, money, and talent. Recruiting software can ensure that never happens again, while providing insight into how to fix it. It helps you take control of your people, which are your biggest assets as a small business.
We recommend Recruiterbox as the best recruitment software for small business because it is the most advanced yet affordable recruitment system for the small business owner, especially those who need educated, high-level employees.