Advertising for open positions and finding the perfect candidates to fill your jobs is a critical task for any organization. In some cases smaller, industry-specific job boards are best, while in others a posting on the largest, most far-reaching job boards is what is needed. Planning your recruitment strategies ahead of time will result in time saved, mitigated recruitment costs, and strong, qualified additions on your team. We address proven ways for how to advertise for your job, what media channels and job boards to use and how best to utilize them.
Knowing how to launch a recruitment ad is important. Knowing where to post it is also essential, and we recommend using ZipRecruiter in addition to industry-specific channels. It's a useful recruitment platform that reaches millions of applicants and allows you to sync your job ads to all of the large job recruitment boards, including Indeed, Monster, CareerBuilder, Glassdoor, and others.
COVID-19 and Recruiting Employees
Due to COVID-19, it's important that your job ads effectively communicate that the positions you're advertising are active and that you are a responsive employer. The words "active" and "responsive" have become powerful buzzwords recently and communicate to applicants that you are serious about hiring. Many recruitment ads are from before the COVID-19 crisis hit the job market. Some employers never removed ads, as a result, many applicants have found themselves applying to jobs that no longer exist or have been placed on hold. State, you are "actively" recruiting for XYZ position and you are a "responsive employer."
1. Writing Effective Recruitment Ads
Writing an effective job ad can yield strong, desirable candidates in a short period of time. We all want to hire the best candidate as quickly and cost-effectively as possible. The following steps are our suggestions as to how to formulate a recruitment ad that gets results fast.
Your Title or Headline of the Position
It is very easy for companies to develop creative job titles that are meaningful for the organization internally, but externally, outsiders cannot intuitively understand the value or purpose of the role based on the title alone. For example, using titles like Marketing Rock Star (Marketing Executive), Beverage Dissemination Officer (Bartender), Digital Dynamo (IT Manager), and others like these will not be helpful for you if you aren't clear about what the job actually is.
If you're set on using a fun or creative title, it's best to use it next to the conventionally understood version (as we did in the prior paragraph).
Share What the Company Is About
The first paragraph or so should be less about the job and more about the company. Who is the company? What is its mission? How long has it been around? Endear the reader to your brand and then dive into the description of the position you are recruiting for.
Clearly Outline Position's Purpose
Sharing a lot of information in the ad without giving enough detail on what the position actually is can lead to unqualified candidates applying to your advertisement, or, due to misunderstanding the ad narrative, those who aren't truly interested in the jobs for which you're recruiting.
Clearly List Applicant Requirements
Help readers clearly understand if they should apply for a position. If the title of your advertised position is Department Manager, you'll need to add more details in the ad. Include how large the department is, what its responsibilities are, and how many employees the position will be supervising. This also helps the reader determine what level the Department Manager position is at within the organization (e.g., whether or not it is a "senior" role or a "mid-management" level role).
Clearly State How and When to Apply
If you do not want candidates coming at you from all mediums (e.g., through your company's social media accounts, your website, employee emails, etc.) then be sure to clearly state how and when to apply to your advertisement. Many employers will list something along the lines of, "No phone calls please. Apply with your resume and cover letter to careers@companytitle.com" (we suggest using a "ghost email address" so no staff member has to share their own email address and risk job seekers overusing it).
Recruitment Ad Placement
At times "where" you post your job demands a more nuanced approach to how the ad is written and the nomenclature that is used. This ensures that it is understandable, digestible, and appreciated to the applicants in the field or industry (for whom the posting source was written).
An example of when ad placement is "extra" important is with information technology (IT) professionals. IT journals or job boards often have job ads with more IT specific language, so they appeal to the professionals they're targeting.
2. Preparing (Internally) to Advertise for Your Job
There are many steps that organizations need to take before launching a recruitment strategy. Removing unexpected surprises (such as going over budget) and disorganization (that could result in needlessly lengthy recruitments) is the purpose of this guide.
Discuss the Overall Job Parameter With Leadership
More than seeking approval to recruit for and fill the position, acquiring buy-in from decision makers that you work closely with is crucial. Over time, even if no one is occupying a position, its purpose can evolve along with its basic functions. Checking with leadership before posting an advertisement is wise as it ensures that all team members are on the same page.
Ensure Budget Is Considered (if it Is a New Position)
Resist the temptation to rush into a recruitment project without first analyzing what your budget is for advertising, hiring, and onboarding your candidate. Advertising on Indeed or LinkedIn, for example, can easily cost a couple of hundred dollars for a two-week posting. One-month postings, which are common, can be $600 and above. It's important to be prepared and know ahead of time that you have sufficient resources to find that perfect candidate.
Create or Update Your Job Description
Updating your job description before beginning your recruitment process is a critical step. Job descriptions can help you onboard your new employee, once hired, and assist you in developing employment ad text for the recruitment process. Job descriptions require you to be precise and focused on the most important functions that make up the position.
Ensure Your Onboarding Program Is in Place
Although this is not part of advertising for your future team members, it is part of the very next step—welcoming them on board. One of the most important and overlooked steps in the workplace today is how organizations onboard, or fail to properly onboard, their new team members.
The Society of Human Resource Management (SHRM) reports that on average, it costs $4,000, not including salary and wages, to hire a new team member. SHRM further notes that 69% of employees are more likely to stay with a company for at least three years if they experienced great onboarding. Further, new employees who experienced a structured onboarding program, were 58% more likely to be with the organization after three years. Onboarding is important, and smart employers take it seriously.
3. Recruiting on a Budget
There is a fine art to attracting strong candidates on a budget. Recruiting with limited or no money will always add a hurdle to finding the best candidate. There are creative tactics that you can employ to assist, but note that bringing on new team members is one of the biggest actions you can take to align your company for future success (if you have financial resources to use, we advise doing so).
When recruiting on a budget it is important to remember that many job postings see most of their activity in the first week of their posting. If you can partner with a job board, such as ZipRecruiter, who offers a four-day free trial and then a possibility to pay daily thereafter, you may discover a more nimble, cost-effective way to get the word out of your job opening.
There are numerous free job posting opportunities. Although there are limitations to where you can post at times and how long they'll be posted, job seekers will be able to see your open positions on the biggest job boards in the market. Our top four free options are Indeed, Glassdoor, Google for Jobs, LinkedIn, and Ladders.
4 Best Free Job Boards
Job Board

Features and Benefits

Best overall for free and paid job recruitment
Paid ads increase visibility for job posts
Largest job board in the world
Grabs the most advertised jobs

Offers job seekers company ratings, resume tips, and jobs that are being posted in their industry
High traffic
Free resource for employers
Paid options extend job posting beyond the first free 10 days
Not just a job advertising board
Offers employer resources such as templated ads

Free job posting but not always easy to search
Many candidates use Google to search for work

Offers free and paid tiered options
Focus on positions that pay $100k+
As with all of the free sites, if you pay for postings it will boost your visibility and applicant resumes
Helpful when recruiting for management positions
Helpful with creating job descriptions and total compensation packages
4. Common Recruiting Approaches
There are countless ways to recruit for positions. You can use social media, your company's website, online journals and job boards, word-of-mouth, third-party job boards (such as Indeed or ZipRecruiter), and so on. How you go about this task is up to you.
The industry that your organization is in, the type of position you are recruiting for, the level of experience desired, and the urgency at which you need for your new hire are all important factors in how you develop your attack plan.
Using Job Sites to Recruitment
The most common way employers seek candidates is through job sites. The likes of Indeed, Monster, CareerBuilder, Glassdoor, and ZipRecruiter (including many others) all offer robust search engines for applicant resume searches and a vast platform overall to advertise open positions.
Of these resources, we have found that ZipRecruiter, although not the largest, is a very effective partner in getting your recruitment ad seen by many job seekers. The cool thing about ZipRecruiter is that it has the ability to post jobs to hundreds of other job boards including Indeed, Monster, CareerBuilder, etc., in addition to its own.
Social Networking Sites
There are not too many companies launching job recruitments without using their social media platforms. It can be even more advantageous to utilize these tools for certain types of positions, such as marketing and design professionals. And sometimes, they are free to use.
Also, note that overall, social networking sites can be low cost recruitment tools and potentially high impact as the reach of these platforms are all wide ranging.
5 Best Social Networking Sites for Job Postings
Social Networking: Job Board

Features and Benefits

Largest professional social network
Can't post job ads for free but workarounds
Employers, however, can recruit for free by searching passive candidate profiles based on title/industry
LinkedIn allows different forms of content posts
You can post about positions in the "projects" section of your LinkedIn page

Exposure for networking/sharing
500 million people visit Facebook daily
Can use a corporate Facebook page and funnel applicants that way
Interested candidates can apply on their own accord

Site has 1 billion users
Second largest search engine in the world
Employers can offer videos that give basic information about opportunities and the employer brand

Create visually appealing recruitment ads to draw applicants
Can use main profile image to alert "we're hiring"
Third-Party Recruitment Agencies
Commonly known as "headhunters" these third party agencies are hired by businesses to quickly source qualified, pre-assessed candidates in exchange for a fee of 20-30% of the first year's salary of the person hired (for example, if the candidate you hired is paid $100,000, the staffing firm would be get paid $20,000 to $30,000, typically over the first three to six months).
Many employers who use these staffing agencies, or headhunters, take time to locate one that operates or specializes in their industry. For example, Robert Half is a commonly used staffing agency for finance and accounting related positions.
Reach Out Within Your Teams' Networks
We hate to say it, but word-of-mouth, including referrals from current employees, still represent one of the best ways to acquire the top candidates out there. Reaching out within your network allows you to connect with trusted professionals that you, or your team, know can increase the likelihood of scoring a quick referral or applicant that may be right for you.
Niche Vocation Job Boards
Note that these niche vocation job boards are not the same as "industry-specific" job boards. Industry job boards may list opportunities within the banking industry, while vocational job boards will list CFO or Controller job openings.
These vocational job boards exist in just about every single profession that is out there; sometimes finding them is the tough part. Most large job sites are packed full of vacancies and recruitment efforts that often look just like yours, so breaking away from the pack can help your recruitment stand out.
A comprehensive list of vocational job boards can be found at jobstars.com. Niche job boards are not always the best recruitment tool, but adding one to your overall recruitment strategy (which is usually low-cost) can drive additional traffic to your job posting (Indeed, for example). Applicants like to see there is additional information on other job boards about your position.
Cultivate Your Employee Referral Program
Firstbird.com reports that referrals from your employees are the best leads for finding new talent. Further, if you have an employee referral program, you can have an average retention rate of 46% compared to the 33% retention rates of organizations that only use career sites (firstbird.com).
Your employee referrals and their retention rates have a lot to do with your organizational success in the near and longer term. It stands to reason that if you love your current employees, their referrals may be equally great.
5. Tips for First-Time Hiring Managers
The following tips are important to know in order to get your first recruitment off to a strong start. Although each recruitment is different from the next, generally, these are good guidelines to utilize when launching the search for your next awesome team member.
Many of the steps noted in this article should be added to this list. Writing a solid ad, pre-approving interview questions with HR, and creating a job description should be your first steps.
Get to Candidates Timely (Especially When Markets Are Hot)
When the market is hot, knowing how to launch your ad, quickly following up, and reviewing resumes and CV's is critical. Part of the advertising process is knowing how you are going to react to responses that you receive to your advertisement (especially if you utilize a large job board such as Indeed, Glassdoor, Monster, etc.).
Many times, posting your ad in a hot market requires you to follow up with responses quickly. Do not wait lengthy periods of time to follow up with qualified candidates. In hot labor markets, these candidates are often grabbed quickly and offered top pay for positions that are similar to your position's needs.
Refresh Your Job Postings When Needed
With some job boards, there is an option for "job refresh," which ensures your posting stays at the top, or toward the top, of the first page of job search results. There are a number of ways to refresh your job posting, and they all depend on the platform you're using. Keep in mind you won't need to refresh your posts with some job boards, and some don't even give you the option.
Indeed, for example, has dozens of job postings within each category every day (sometimes within just hours). Your job posting could be pushed down on the list by every posting that goes live after yours. It's a good practice to check your entry every couple of days to see where it sits on the job board at-large. If needed, or desired, follow the site's process for refreshing your posting.
Allow Company Brand to Shine
Within your recruitment ads or campaigns, place a bright light on your brand. This means don't be afraid to share details about your organization. Brag a little about who your company is and the awesome work it is doing.
Make it 'Easy' for Passive Job Seekers to Apply
We feel strongly about this next point. If you desire to attract top candidates who are considered "dream employees" then looking for "passive job seekers" (or candidates that already have jobs) is critical. The best way to attract passive job seekers' attention is to make it easy (very easy) for these candidates to apply to your job.
Many organizations who require a resume/CV, cover letter, and corporate application are simply going to miss out on great people who may not make the effort to jump through those many hoops. Heed our advice. Asking for a resume and a cover letter, at the most, should be the general rule you apply to attract candidates.
Stay in Contact With Candidates of Interest
In addition to getting back to candidates quickly for that first contact with them, remaining in touch is a smart and often overlooked practice. At times, it may take longer than you would prefer to fill a vacant position. Whether there are multiple decision makers on your team, you are waiting on delayed funding approval, or the team is indecisive, be sure to connect regularly with your candidate(s) of interest. A weekly call or email will give them reassurance that you value their time and the opportunity to include them on your team.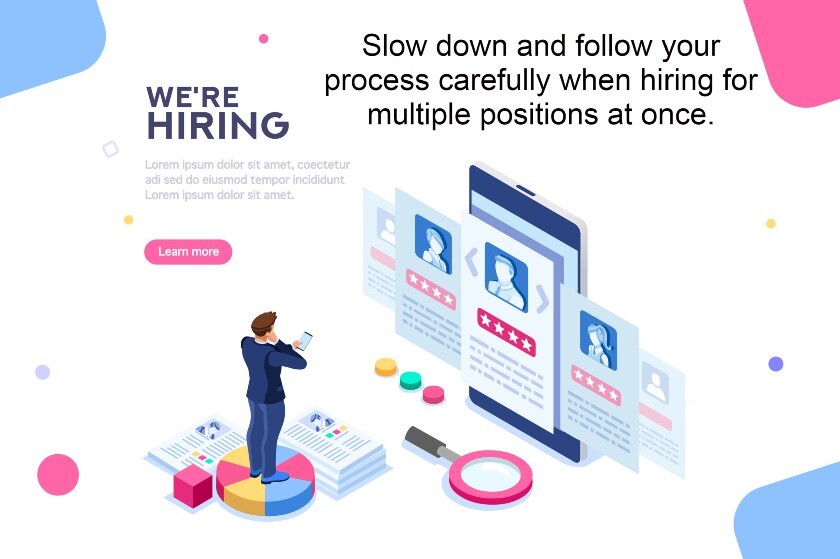 6. Hiring for Multiple Jobs at Once
You won't always have the pleasure of hiring one employee at a time (which is usually easier). When the time comes to advertise and hire for more than one position, whether due to you just starting your business, developing a new department, fast growth, etc., you will need to know how to hire multiple employees simultaneously.
List Your Priorities
Spending your energy and concentration on the most important jobs is the best way to get your priority positions filled as soon as possible. You may have several recruitment ads posted at the same time, but you should choose to review resumes and schedule interviews for the most critical ones first.
Also, limit the number of resumes you review each day. You may suffer from white-out and begin scanning resumes rather than reviewing them thoroughly after you have read through too many. Likewise, after too many interviews in a day, interviewers can be less effective at discerning who the best candidates are.
Track Your Candidates
Keeping track of your candidates can be harder than it seems when you have multiple recruitments at once underway. A dedicated HR professional would be helpful, however, if you find yourself bulk hiring often, an applicant tracking tool may be right for you. Utilizing a tool that is designed to track candidates and where they are in the hiring process can be a huge time-saver for you and your team.
Ensure Budget Is Set for Each Open Position
As we have already mentioned, setting a budget for your recruitment efforts is important. When you are hiring for multiple positions at the same time, it is even more essential that you clearly understand how much money you are spending, what it is being spent on, and what your estimated return on investment (ROI) will be.
Having individual budgets can also serve you and your controller as you may decide to move funds around from one position to the next, so you can pull more resources toward more critical recruitments or harder to fill positions. You may also find yourself paying bonuses or relocation stipends to candidates you want to hire who are located in other states.
Develop Interviewing Teams
Recruiting, interviewing, and filling positions is not a one person (or even a three person) job. Take a wolf pack approach here. Use a team set up that, if possible, uses multiple people that make up different interviewing teams to properly interview all of these candidates of interest for these multiple recruitments. There is such a thing as interviewing fatigue. You do not, under any circumstances, want to make hiring decisions while suffering from interviewing fatigue.
Work hard to space interviews out, use panels for interviewing, and not have the same small group of people interviewing all of the candidates who walk in the door. When staffing up quickly, also note that outside HR partners may be a good resource to tap into, even if it is for a short period of time (especially if you do not have your own HR team).
Bottom Line
Figuring out how to advertise for job opportunities is not always an organized, perfect process. Sometimes, job recruitments take longer and are more expensive than you prefer. Other times, you may find that you've never recruited for a particular position before and do not know where to post your position.
Take a deep breath. Every supervisor has been there. However, building your team with the best talent is one of the most important jobs you have as a leader. Utilize this article and its resources, and you will ensure that you are giving yourself the best chance of finding that perfect candidate. As with everything in the business world, the more you do it, the better you will become at it.