How to Write a Job Description + Free Template
This article is part of a larger series on Hiring.
A job description explains the work duties and requirements of a particular job role within your company. It should also include details about your company culture, as well as the compensation and benefits offered for the position. Once created, it can be published on a job board to attract top talent or used as an internal employment document to clarify job duties and performance expectations for current employees.
Our job description template serves as a customizable document to help specify job duties and requirements. You can download the template and customize it by adding your logo and company-specific details.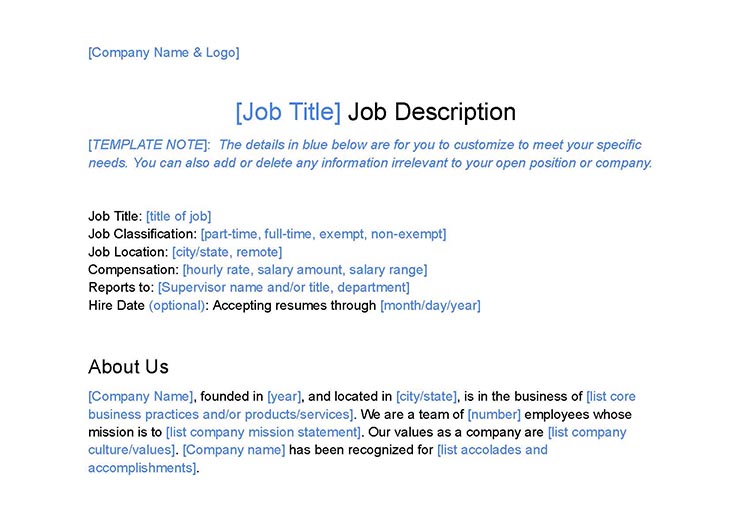 Thank you for downloading!
For a professional applicant tracking system that provides job description templates, consider ZipRecruiter. It will post your job to over 100 job boards and you can manage applicants in one convenient location.
Visit ZipRecruiter for a free trial today!
View our video guide on how to write a job description and follow along with our steps below.
Job descriptions are used to hire employees for both internal and external recruitment processes. Internally, these clarify job roles for existing employees, while externally, these define the minimum requirements, skills, and experience needed so that only qualified job seekers apply for your open positions. Knowing your recruitment approach will help guide you on how to write a job description template.
What to Include in Job Description

Internal Use Only

External Use

Job Title

✓

Can be generic,

i.e., Admin. Asst.

✓

Should be specific, i.e., Administrative Assistant to the Finance VP

Hours or Schedule

(e.g., Full time or part time)

✓

✓

Employment Status

(e.g., Employee, Contractor, Commission-only, Exempt, Nonexempt)

✓

✓

Reports To

(e.g., Name and Title of Supervisor)

✓

✕

Not required, but can put department

Essential Functions

✓

✓

Core Responsibilities

✓

✓

Required Skills and Experience

✓

✓

About Us

Company Background
Company Culture

✕

✓

Compensation

✕

Not required, but can put range

✓

(i.e., pay range)

How to Apply

✕

Not required, but can add internal email

✓

Non-discrimination Statement

✕

✓
---
Step 1: Prepare an Outline
The best job descriptions are concise, thorough, and accurate. They will have a lot of information, so to keep them to the point, first gather all the data you will need and prepare a brief outline.
The following sections should be part of your job description outline:
Snapshot: Provides a quick look at the position
About Us: Describes your company culture and employment brand
About You: Paints a picture of your ideal candidate (e.g., required skills and job duties)
Compensation: Provides an hourly rate or salary range to help job seekers determine whether what you're paying is in line with what they're expecting
How to Apply: Instructions that explain where and how to apply, such as to send an email with their resume or fill out an online application on your careers page
Disclaimer: A non-discrimination disclaimer that reminds job prospects that your business doesn't discriminate and is in compliance with federal and state labor laws
Step 2: Start With a Position Overview
At the top of your job description, and specifically in a job ad, you should include an overview of the position. The details you included in the snapshot will be of great help here.

This section may list the following:
Job Title: The job title used in your HR/payroll system (e.g., Sr. Accounting Associate)
Job Classification: Clarify whether the job is exempt or nonexempt, as well as if it's full time or part time (e.g., Full-time Exempt)
Job Location: Display whether a job is an in-office or remote role (e.g., St. Louis, Missouri)
Compensation: Provide the salary or hourly rate for this position. For salaried positions, it is recommended that you list either the actual compensation for the position or a salary range (e.g., $35,000–$45,000)
Reports To: List the job title of the direct supervisor and/or their name (e.g., Susan Smith, Finance Manager)
Potential Hire Date: Notify job seekers when you plan to hire someone to fill this position (e.g., Accepting resumes through Jan. 15, 2022)
Step 3: Include Company & Culture Details
The About Us section should clearly and concisely outline what your company does and why someone would want to work there. Remember, a job applicant considering your business is also likely considering some of your competitors—and you'll want to stand out.
Hiring Tip
Highlighting your company culture in your job descriptions can influence a job seeker's decision. In fact, 23% of job seekers rate company values and culture as top influencers for whether or not they will accept a job offer.
Some things you may want to consider including in the About Us section are:
What your company does and why it matters (your company's mission and vision statement)
How many people work at your company
What your company values are
What the company culture and teamwork are like
Any industry accolades or impressive stats relating to growth
This section should be limited to just a few sentences. While job seekers are interested in the type of company they are applying for, most want to get to the meat of the job description, which describes the type of work they will be doing. Consider providing your company URL where job seekers can read more about your business and explore your About Us and Culture sections.
Step 4: List Job Requirements
The About You section should clearly outline the skills and experience you expect the candidate to possess. Think about what the day-to-day responsibilities are and note those responsibilities in either a summary or a list.
Consider the main goals that the job holder is responsible for. What are the basic functions? What might their day-to-day life look like on the job? These are all items that should be listed in your job description.
Your job duties template may look similar to what's indicated below.

Duties & Responsibilities
One of the mistakes that small business owners often make when writing a job description is not outlining in detail what the day-to-day responsibilities of the employee will look like. This makes it hard to identify the right candidate for the job and less likely that your job posting will attract people with the specific talents you require. That's why you should map out the job in detail.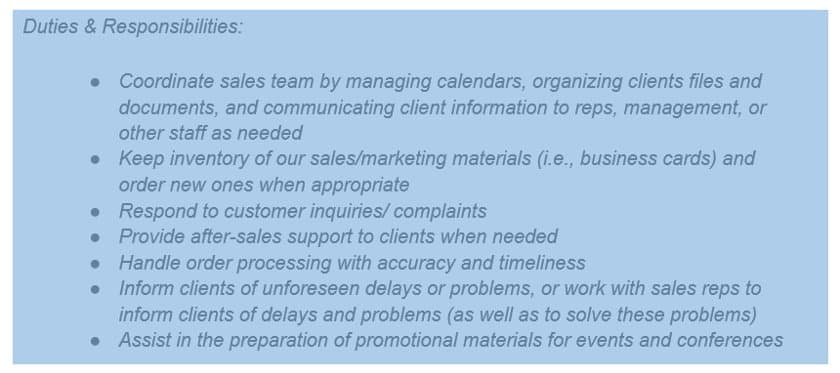 Get specific about what the new hire will be required to do. The more detail you can add, the better the job seeker will be able to determine if their skills are aligned with the position.
Once you list the responsibilities of the position, you'll need to think about the skills and experience that a candidate needs to succeed in that role. An easy way to do this is to separate the skills and experience that a candidate has to have to qualify for the position (must-haves) from those that would be nice to have but are not necessary (preferences).
You can keep the list generic (as shown above) or go into greater detail. Here is a job description example you might list for an administrative assistant:
Must have a GED/ high school diploma
Must have 3+ years' experience in QuickBooks, including using it daily for work in most recent role
Must be familiar with working in a small business and/or working directly for the CEO
Associate degree or Bachelor's degree in Accounting or a related field is preferred
Candidates with more experience may be preferred to candidates with more education
You may want to add a paragraph at the bottom of your Job Requirements section detailing what the ideal candidate looks like in terms of skills and experiences. For example, you might add:
The ideal accounts payable clerk will be advanced in their knowledge of QuickBooks with an ability to create meaningful management reports, and have an Associate degree or higher in Accounting. They should also be able to work under pressure in fast-paced situations with tight deadlines while maintaining a friendly disposition and good internal customer service.
Hiring Tip
Avoid the following mistakes when writing your job descriptions:
Failing to include relevant details, such as physical requirements (like the ability to stand, lift, or speak English)
Using industry jargon in the job description
Failing to include a job duties statement such as "other duties as assigned by the manager"
Step 5: Touch on Compensation
In general, postings with the salary or salary range tend to get more traffic than those with nothing listed. Simply put, you need to be playing in the same compensation ballpark as your applicants—and your competitors seeking the same positions. Posting a salary will let you show that.
If you aren't comfortable posting an exact salary, come up with a salary range. A sound range would reflect a 25%–30% difference between the lowest and highest points, such as $60,000 to $80,000.
Hiring Tip
If you need help coming up with the appropriate salary for a new position, use our top-recommended salary comparison tools. These can help you get an idea of how much your perfect candidate may require in compensation.
Introduce Your Company Benefits
As part of the compensation package, you will want to include the benefits your company offers. Most job seekers take into consideration a total compensation package that includes both the salary and benefits they will receive.

Some things you can include in this section:
Healthcare: Mention whether your company offers medical benefits, dental, vision, or a combination thereof.
Retirement: Include any retirement benefits you offer, such as 401(k), pensions, stock options, etc.
Paid Time Off: While you don't have to include everything you offer, the job description is a great place to let candidates know how many weeks of paid time off they will receive, plus holidays.
Hiring Tip
Including compensation in your job description can help attract qualified job seekers. Many rate overall compensation, including benefits at 67% when it comes to what they want in an employer, with 38% listing it as a top reason for declining a job offer.
Step 6: Notify Candidates How to Apply
Let job seekers know how you would like them to apply. This can be done by having the candidate send a cover letter and their resume to a dedicated email address or by requiring the candidate to complete an employment application.

Step 7: End With a Disclaimer
Every job description should have a non-discrimination disclaimer at the bottom. This will show that you are an equal-opportunity employer and abide by federal and state laws.
Some common language for a disclaimer may include:
ABC Company is an equal-opportunity employer committed to hiring diverse employees. ABC Company does not discriminate against any employee regardless of race, age, sex, origin, or disability.
Once you have created your job description, it is time to publish it. We recommend that you publish to one of our recommended job boards, like ZipRecruiter. Your ad will be posted on ZipRecruiter and 100+ other job boards, and you will have access to applicant tracking technology to make the hiring process a breeze. Pricing starts at $16 per job post per day.
Job Description Frequently Asked Questions (FAQs)
The general rule is that your job descriptions should be short and concise, while still outlining the most important aspects of the position. As such, it should be kept to one or two pages at the most. A job description that is too long may make otherwise qualified applicants skip over your open position.
---
In order to get noticed, your job description should list the description of the position, company culture, job responsibilities, compensation, and how to apply. Additionally, it should be keyword-rich. This means that you should include keywords that alert the job seeker and any job posting site algorithms to the most important aspects of the position you are trying to fill.
---
It is not necessary to have every job candidate sign your job description. However, once you have decided on the candidate you want to hire, it might be a good idea to have them provide their signature as an acknowledgment of the job duties required. This can be done directly on the job description or as part of your offer letter.
---
Bottom Line
A great job description serves multiple purposes—it clarifies the job role, outlines required education, experience, and skills, and touches on company culture. Equally important, a good job description can be modified into a job ad, and it can help you find highly qualified employees you'll love.