A job description explains the work duties and requirements of a job. It has two uses: it can be published on a job board to attract job seekers, and it can be used as an internal employment document to clarify job duties and performance expectations.
Job Description Template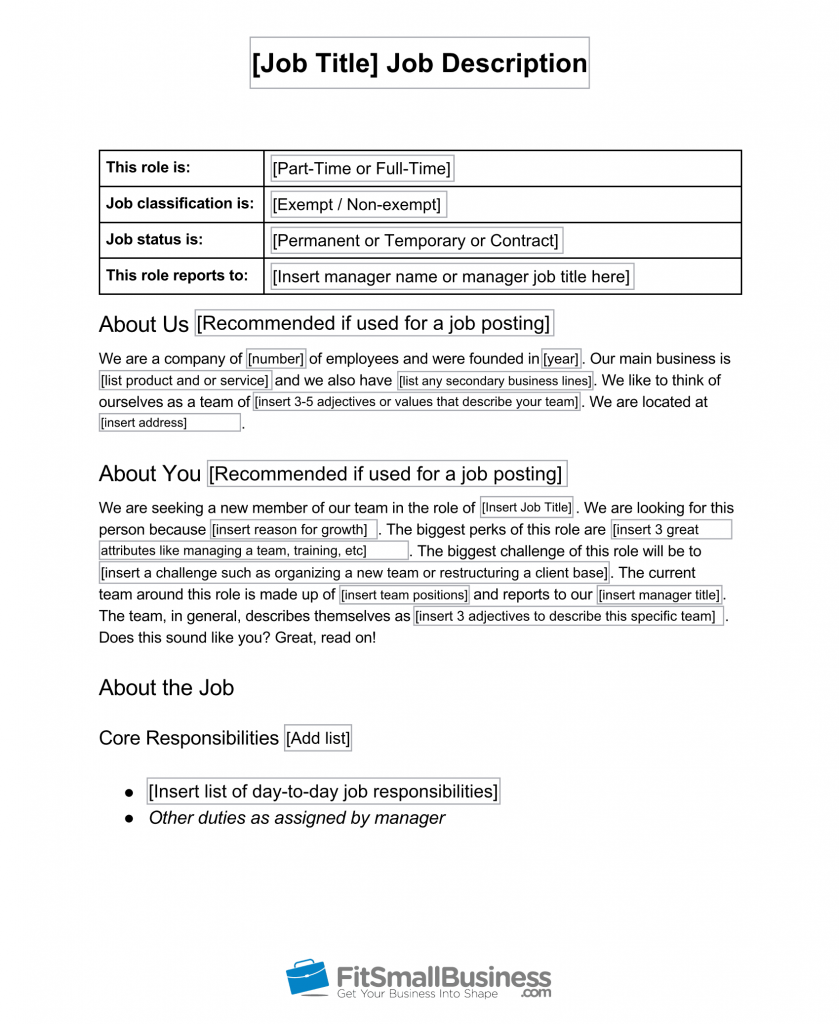 Our job description template serves as a fill-in-the-blank document that you can give to hiring managers to help specify the job duties and requirements. You can download the template as a DOC or PDF file and customize it by adding your own company logo and company-specific details.
Download our Job Description Template as a DOC or PDF.
Here is how to write a job description in five steps:
1. List the Requirements of the Job
Think about what the day-to-day responsibilities of an employee in the job are and then note those responsibilities in a list. Consider what the main goals are that the job holder is responsible for. What are the basic functions? What might their day-to-day life look like on the job? Are there daily tasks? Weekly tasks? Monthly reports? Are there team meetings where they will need to present?
For example, some good examples of duties and responsibilities for a bookkeeping assistant might include:
Deposits daily check run at the bank
Provides daily ledger balance report to management
Approves all expense requests within two business days
Notice how specific they are? Try to create a list like this for each job you're creating a job description for.
Position Details Matter
One of the mistakes that small business owners often make when writing a job description is not outlining in detail what the day-to-day responsibilities of the employee will look like. This makes it hard to identify the right candidate for the job and makes it less likely that your job posting will attract people with the specific talents you require. Moreover, it attracts the wrong candidates to apply to your posting as well as confuses individuals in the job. That's why the first step is to map out the job in detail.
Skills & Experience
Once you list the responsibilities of the position, you'll need to think about the skills and experience that a candidate needs to succeed in that role. To make this list the most effective for your job description, order it from most important to least important.
An easy way to do this is to separate the skills and experience that an employee has to have to even be considered for the position, from those that would be nice to have, but are not absolutely necessary, to those that are required.
For example, here is what one might write for an accounts payable clerk:
Candidate must have a GED/ high school diploma.
Candidate must have three or more years of experience in QuickBooks, including using it daily for work in most recent role.
Candidate needs to be familiar with working in a small business and/or working directly for the CEO.
Must be punctual, efficient, accurate, and willing to take criticism.
An Associate's degree or Bachelor's degree in accounting or related field is preferred.
A candidate with more experience may be preferred to a candidate with more education.
A+ candidates will also be collaborative, team players, and be willing to get the job done, even if that means extra hours.
Notice that some of these are must-haves, and others are preferred. This provides you flexibility in hiring but also puts job seekers on notice that other candidates may be more qualified.
Personality Traits & Work Environment
Traits, like maintaining composure under pressure or having a sunny disposition, are often important when you're hiring for a position or want to remind existing employees of what's required. Many like to draft their thoughts on the personality traits the ideal candidate will have and clarify the working environment so that there are no surprises. For example, if the work environment is high pressure, not temperature controlled, or subject to constant interruptions, candidates and employees will need to be told that, so include it in the job description.
Personality Traits
Personality and cultural fit are critical in the hiring process. Southwest Airlines is a famous example of a company that practices this and truly looks for a personality that aligns with the company's culture and values.
Before you draft your job description, ask yourself: what kind of personality are you looking for in this role? Do you seek a heads-down introvert who can roll with the punches or a bubbly extrovert who speaks up? Adding in some desired personality traits to your job description can help enlighten your applicants to what you are looking for on a deeper level, saving everyone time and bringing you the right applicants!
Work Environment
Consider the following questions regarding the work environment for employees who will work in the job you're writing about. Ask questions like:
Does the person in this role work independently or as part of a team?
How much flexibility do they have in how the job is done?
Do you need someone who can simply follow instructions or someone who can operate with little supervision?
How does doing this job in your company differ from doing a similar job at other companies?
What kind of people (with what kind of temperament/personality) work best under the current manager for this role?
Combined with personality traits, the work environment is a great section to include in your job description to shed even more light into which applicants would be a great fit.
Create a profile of the ideal candidate
Creating a profile of the ideal candidate can also be helpful. You may want to add a section in your notes for what the ideal candidate looks like in terms of skills and experiences in more detailed terms. This is often based on existing employees who have done great in the role. For example, you might add: The ideal accounts payable clerk will be advanced in their knowledge of QuickBooks with an ability to create meaningful management reports and have an Associate's degree or above in accounting. They should also be able to work under pressure in fast-paced situations with tight deadlines while maintaining a friendly disposition and good internal customer service.
2. Decide How You Will Use the Job Description
Most businesses use job descriptions for one of two reasons. The first is to clarify job roles for existing employees so that both you and your staff are on the same page regarding what the job requires. The second is to clarify the minimum requirements, skills and experience needed so that qualified job seekers are encouraged to apply for your open positions. Each use requires different information to be included in the job description. Here are the two types.
Internal Job Description Use
An internal job description is used to clarify an employee's job role. It's used during new hire orientation as you begin onboarding the new hire, as well as used for existing employees during performance reviews. It's also helpful as a tool for managers to coach their employees on job expectations, and can be used by internal job candidates seeking a promotion. The table below shows the sections that may be included/excluded based on whether you're using the job description for internal use only.
Here is an example from SHRM showing the level of detail you may want to include in an internal job description:
External Job Description Use
The real power of a job description is that it can be enhanced and published on a job board to attract job seekers to apply for open positions at your company. In that case, you'll want to add additional sections to your job description that may entice job seekers to apply, such as your company history, culture and work environment. Here is an example of a job description posted to Indeed. Notice how it includes information to entice a job seeker to apply.
The table below shows which sections are most important for each use of a job description
—
internal versus job posting. However, any and all of these sections could be included based on your specific needs.
Recommended Sections to Include in a Job Description by Use
What to Include in Job Description

Internal Use Only

External Use

Job Title

✔
Can be generic, e.g., Admin. Asst.

✔
Should be specific, e.g., Administrative Assistant to the Finance VP

Hours or Schedule
(i.e., Full or Part-time)

✔

✔

Employment Status
(i.e., Employee, Contractor, Commission Only)


✔
Also: Exempt vs. Non-Exempt

✔

Reports To

✔
Name or Title

Essential Functions

✔

✔

Core Responsibilities

✔

✔

Required Skills & Experience

✔

✔

About Us,


Company Background
Company Culture

✔

Compensation

✔
(i.e., Pay range)

How to Apply

✔

Non-Discrimination Statement

✔
Job postings are a marketing piece to get the right candidate to apply. Don't just post your job description, any more than you would put a list of products out to customers. Start your ad with compelling reasons people would want to apply at your organization. Then talk about the reasons someone would want to work for your business, and what they can expect to learn and be responsible for in the role. Show six to eight of the essential functions, and then give them details on the qualifications. Using this formula, you will attract the right candidate…and ensure the wrong candidate doesn't apply!

– Lori Kleiman, SPHR, SHRM-SCP, Managing Director, HR Topics
3. Standardize Your Job Description Format
A job description template, like ours, makes it easy for you to include the most important sections within your job descriptions and ensures that you don't forget anything. It also allows your job descriptions to remain uniform across all jobs (making it easier for your hiring team to use them for staffing, training and referrals).
You'll find the following sections within our template. You can rename, add or delete these sections to customize them to your business.
Job Title – The title shown on a business card, or the job title used in your HR/payroll system, e.g., Sr. Accounting Associate
Job Classification – This should clarify whether the job is exempt or non-exempt as well as if it's full- or part-time, e.g., Full-Time Exempt
Job Status – This can be used to display whether a job is temporary or permanent and whether it's a contract worker or employee, e.g., Permanent Employee
Reports To – This can list the job title of the direct supervisor or their name, e.g., Susan Smith, Finance Manager
About the Job – This is where you describe the position and what it entails
Core Responsibilities – These are the duties of the job

—

what the job does
Skills & Experience – These are the education and experience requirements
Essential Functions – These are the minimum physical requirements (needed for ADA purposes)
If you currently use the free timekeeping and scheduling software Homebase, you'll find they've added free sample job descriptions for common hourly jobs. They can also help you find hourly workers using their new job posting function.
Another alternative is to join a membership organization like the Society for Human Resource Management (SHRM), as they have hundreds of pre-made job descriptions. Once you pay for a membership that starts at about $195 per year for an individual, you'll have access to these, and many more, HR tools and resources for a year.
What to Include in Your Job Description to Get the Best Applicants
If you're using the job description as a way to advertise an open position to job seekers, you'll also want to add enticing details and specifics about compensation and benefits so they know not only what the job is and what you want, but what they will receive in exchange. Of course, they'll also need application instructions. Add these sections:
About Us – Describes your company culture and employment brand
About You – Paints a picture of your ideal candidate: e.g., work style and personality fit
Compensation – Provides an hourly rate or salary range to help job seekers determine whether what you're paying is in line with what they're expecting
How to Apply – Instructions that explain where and how to apply, such as to send an email with their resume or fill out an online application on your careers page
Non-Discrimination – A disclaimer that reminds job prospects that your business, in compliance with federal and state labor laws, doesn't discriminate
A creative way to come up with words and phrases that might attract candidates to your job description is to take a look at what job seekers list on their resumes for similar jobs. You can use Indeed's free resume search feature for that. For example, if project manager resumes typically list PMP certification, then you might want to add PMP certification to your project manager job posting.
What to Include When You Add an About Us Section
The About Us section should clearly and concisely outline what your company does and why someone would want to work there. Remember, a job applicant who is considering your business is also likely considering some of your competitors, and you want to stand out. Some things you may want to consider including in the About Us section are:
What your company does and why it matters (your mission and vision)
How many people work there
What your company values are
What the company culture and teamwork are like
Any industry accolades or impressive stats relating to growth
This section should be three to five sentences, maximum.
Deciding on a Compensation Range
In general, postings with the salary range included tend to get more traffic than those with nothing listed. Simply put, you need to be playing in the same compensation ballpark as your applicants and your competitors seeking the same positions, and posting a salary will let you do that.
How to Come Up with a Fair Salary
The first thing you want to think about here is how much experience you need the person to have. Are you willing to pay extra to get someone who can come in and hit the ground running? That may require you to increase the salary above the average for the role. Or, would you rather pay a lower salary and train someone with less experience, such as a newly-minted college graduate?
Resources That Can Help You Determine Compensation Range
Once you have thought about this, go online and check salary data that's available to the public, such as on job and company review sites like Glassdoor and Indeed. They can help you get an idea of how much your perfect candidate may require in compensation because they'll show you the range of salaries paid to individuals in jobs with similar titles.
Indeed not only provides salary data for free, but it offers unlimited free job postings for businesses to find top talent. Further, if you want to increase the reach of your job posting, you can sponsor a job by paying a per click fee. To help you get started, Indeed provides you with a $50 job posting credit, just for signing up.
Once you settle on what the job should pay, you can use this cost of living calculator to adjust the salary levels you find for similar positions to your location.
A few things we would add to this are:
Ensure the salary you are offering is fair to both the potential hire and existing employees so that you don't create pay equity issues.
If there are competitors that you know have similar positions, you may be able to see what they are paying using Glassdoor.com or PayScale.com.
You can also post queries to groups on LinkedIn

—

just be sure that you are comfortable with whatever you are posting being visible to the public.
From this, you should be able to come up with a salary range. A sound range would reflect a 25 percent to 30 percent difference between the lowest and highest points, such as $60,000 to $80,000. However, if you do not intend to pay anyone—regardless of skill set—the top number, then adjust in order to prevent miscommunications and applicant disappointment.
Also, remember to include any bonuses, such as employer-paid health insurance premiums, matching retirement benefits, commission plans, PTO, and other value-added perks to this section, since they are part of compensation.
How to Apply
Let job seekers know how you would like them to apply; having a dedicated email address for applications is usually the easiest route, like recruiting@abccompany.com.
You may want to ask applicants for a cover letter or for an employment application form, which addresses specific points or asks a specific question, the answer to which will help you weed out the good candidates from the bad candidates.
In fact, Indeed, along with other recruiting software like Freshteam, often lets you set up screening questions for candidates to answer as part of their application process. This will make filtering through the stack of resumes easier, as you can immediately set aside those who do not meet specific criteria, such as years of service or experience with a specific software program.
If you would like to keep track of your job postings and applicants, we recommend Freshteam, part of the Freshworks family of business applications. Freshteam is a free applicant tracking system that can post your open jobs to job boards, and then track applicants throughout the recruiting process.
4. Publish Your Job Description Internally & Externally
You can attach and email job descriptions to each employee, or have the employee's manager provide them with a copy. We also recommend that you store the job descriptions in a searchable location, such as on your network or in G Suite. Regardless, publishing your job descriptions makes others aware of and able to use them to support job-related activities.
Store Within Your HR System
It's a best practice to maintain job descriptions online so that employees and managers can access them. This is helpful if the employee has a question about their job, or the manager is considering adding a new team member. In fact, a best practice is to attach or link the job description to the employee's record, so there's never any question about which employees do which jobs. Many payroll software providers, like Gusto, give you the option to store employee-related documents online.
In fact, our top recommended small business payroll software,
Gusto
, provides this feature. With Gusto, you can provide the job description to the employee as part of onboarding and have the employee e-sign that they've reviewed it. All that is in addition to Gusto's affordable payroll software that provides HR and employee benefits at half the cost of
competitors like ADP
.
Publish to a Job Board
Once you have your job descriptions stored, you can publish them to a job board when you need to hire a new employee. For example, if you have your own careers page on your website, you can promote open jobs by linking them to the relevant job description. However, the real power is in using a job board that allows you to screen candidates based on requirements listed within the job description, such as years of experience or skills like marketing.
We recommend Indeed as our number one job board for small business because you can post your jobs, attach job descriptions and then create candidate screening questions to ensure that only those who meet your criteria in terms of education and experience are shown as qualified. Indeed will also track applicants and communicate with them throughout the entire recruiting process, saving you from having to purchase additional applicant tracking software.
Try Indeed and Get $50 Advertising Credit
5. Update & Maintain Job Descriptions Annually
After the steps above are completed and you have your job descriptions, you'll want to review and update them annually based on labor law changes or adjustments to the job duties. If fact, some lawsuits occur because an employer changes the job requirements of an employee without ever updating the job description. When the job description is shown as evidence, it's outdated, and that may result in the employer losing the lawsuit.
How to Write a Job Description Frequently Asked Questions (FAQs)
Savvy employers have additional questions about the risks and benefits of job descriptions. Here are some of the most common.
What are the legal risks of having no job description?
Job descriptions are one of the first documents that will be requested in an employment lawsuit. Failure to document details means a judge will likely favor an employee's understanding of a job, since you, the employer, did not put the job details in writing.
What are the most common mistakes employers make regarding job descriptions?
Some businesses fail to include relevant details, such as physical requirements (like the ability to stand, lift, or speak English) and may find themselves party to an unfair hiring practices lawsuit when they don't hire individuals because of these factors.
Others make the mistake of using industry jargon in the job description. That can confuse new hires as well as applicants. Still, others fail to include a job duties statement such as "other duties as assigned by the manager," and some forget to include a statement of expectation that employees are required to abide by the company handbook. These mistakes and omissions create risk for the employer, by causing employees to misinterpret the job expectations.
Can a good job description prevent a lawsuit?
The Bureau of Labor Relations (BLR) says yes. And that's because a well-written job description can justify your hiring decisions and clarify job duties, reducing confusion and frustration that often lead to employee lawsuits. They also ensure that you adhere to labor laws by including relevant information like employment status (e.g., exempt/non-exempt).
Bottom Line
A great job description serves multiple purposes. It clarifies the job role for existing employees, reducing confusion and potential lawsuits while improving alignment and productivity. Equally as important, a good job description can be modified into a job ad, and it can help you hire even passive candidates. Those are folks who might not be looking for a job but may be enticed to apply to your company when referred by an existing team member. They may find your job description compelling enough that they go for it.