Some 50% of company websites lack a careers page or have a very simple, text-based page that lists jobs and links. A fully-featured careers page, with images, links, and information on company culture helps you standout so that you attract stand-out candidates as well. We've covered the most important rules and tips for building an awesome careers webpage.
Why Have a Careers Page on Your Website
Nearly all job seekers turn to online sources. While job sites like Indeed and ZipRecruiter are popular, they are limited to job descriptions and applications. With your careers page, you can show up on search engines, attract casual job seekers, and provide the information serious job hunters need to decide if they really want to work for you. Thus, it can attract better-qualified current and future candidates while discouraging those who may not be a good fit. A Careers Page should be the frosting on the cake in your recruitment advertising campaigns.
Pro Tips for Your Careers Page
Although there is not one correct way to develop your Careers Page, there are some helpful tips we want to share that will point you in the right direction. When used properly, these tips will be the foundation to a solid, utilized resource that guides job seekers as they learn more about your company.
Make It Easy to Find
A link to the careers page should be on your homepage and in the footer. It's best not to hide it in a drop-down menu or in a sidebar. Passive job seekers especially should be able to access it in one click. Also, give it a logical page name, like /careers or /positions.
Include the Top Five Information
On your pages (or within the descriptions as applicable) you should include:
Salary/compensation
Benefits
Basic company information
Why should I work here
Company mission/values/vision
Use an Eye-Catching Design
The most important thing is that the page be clean. Avoid crowding a page with too many words or long paragraphs. Use photos and video for a dynamic webpage that is interesting and appeals on several levels. Follow your company's established branding as much as possible so that the page looks like a continuation of your own website, even if it's on a different site.
Ensure That Your Careers Page Is Easy to Navigate
Think about how your best employees would look for information on your page.
Set the tone right off. The first item on your page should tell the candidate at a glance what your company is like and why they should apply. This usually includes a hero image, caption, and branding. Captions may be an invitation, mission statement, or primary non-tangible value of working for your company.
Each job title should include location and whether or not you'll accept remote work. If you have a large number of job listings, consider creating a searchable database that can handle search by title, career field, qualifications, and locations.
Organize the rest by what would interest your ideal candidate and best show your company values. Perhaps tangible and intangible benefits are the next things a candidate might want to know. Or maybe pictures of the company's charity work and off time culture would excite an applicant.
Make use of subheadings and groupings, and use jump links to get to jobs if you put them at the bottom of the webpage.
Consider subpages. Linking to other pages that explain a section in detail can make your careers page cleaner and easier to navigate. However, always include a link back to the jobs page.
Use lists. Rather than long explanations or company descriptions out of the employee handbook, use lists: "Top 5 Reasons to Join our Team," "What We Believe In as a Company."
Three-click Applications
Ideally, your candidate should be able to apply in three clicks: one, to get to the careers page; two, to see the job description; and three, to fill out the application or submit a resume. Some companies add a fourth click by putting jobs on a subpage. If you choose to do this, make that link prominent on the careers page.
Share Company Culture, Purpose, Mission, and Your Awesome Team of People
This is a reminder that you have to sell the company's attributes before the candidate sells you on their abilities and experience. Displaying and story-telling your mission and purpose displays your company's story, objectives and purpose for being. Make no mistake, candidates want to hear about this stuff, so do not skimp on the story-telling attributes of your organization. Here are some tips as you think about how you want to tell your story:
You are selling yourself to the job seeker as much as they are selling themselves to you. Nearly 90% of job hunters say company culture is important to them. Show it off.
Ask your employees what they would say to convince a friend to work for your company.
Include some candid photos of company events or people working together in a way that exemplifies the best of your culture.
Include employee quotes.
Consider infographics instead of lots of text.
Use photos to show diversity.
Feature your team. If you have a small team, this lets a candidate get to know future co-workers virtually.
List awards—or better yet, post images of the awards, especially those related to work culture or employee satisfaction.
Consider a FAQs section. It can cover some of the extra company information as well as address common questions your HR people receive from interested candidates.
Optimize Your Career Page for Online Searches
Integrate with LinkedIn, Indeed, Monster, ZipRecruiter, and other job boards as much as applicable. Use keywords in your job listings that a job seeker would use in a search, even if the actual job title is different. Add a keyword specific to the industry: "fintech product manager" or "holistic health products manager" will attract the right candidates as opposed to simply "product manager."
Discuss the Hiring Process
Include a simple summary of how to apply and another about what happens next. When are you starting interviews? Will they get a call if they don't make it to the next level? Will they be asked to take online skills tests? Include this on the webpage, or add it after the end of the application. This simple step can save your hiring officer a lot of time answering emails from candidates.
Make It Simple and Easy for Passive Job Seekers to Express Interest
In addition to making your jobs easy to find and apply to, consider adding:
Email a Friend: Studies have found this significantly increases the number of applications you receive.
Job Alert Registration: This lets you collect emails for future vacancies so that candidates who aren't immediately interested in a current opening are notified about openings in the future.
Build a Talent Bank: Provide a way for job seekers to send a resume even if they do not qualify for any of your current openings. An email with an autoresponder to acknowledge receipt is sufficient. Like the job alert function, this gives your HR a head start on filling a position from available candidates.
You can also add your company's LinkedIn Career Page to your website for easy applying. Some also will add the search engines that they are using for their recruitment efforts (such as Indeed or ZipRecruiter, which posts to 100's of job posting sites).
Provide an Email
Candidates often have questions. Provide a specific email where they can ask. Also, include links to social media unless those are already on the header or footer.
Update Your Careers Page Routinely
Set up reminders or automations for things like closeout dates or closing because you've hired someone. Also keep company information up-to-date by adding new awards, changing out photos, or listing new events or people. Also, check emails now and again to make sure they are accurate.
Do's and Don'ts for Your Career Page
Here are some more straightforward tips as in DO this, but DO NOT do that. Based on our experience, there are smart things to avoid that will aid your Careers Page from becoming stale, under-performing and unengaging.
The Do's
DO sell your company to candidates. Whether in your company culture or as a separate section, be sure you explain why you're a great place to work. Try to be specific to your company: Benefits, recent company successes, or special events or group activities can help attract the best matches.
DO include video. A short video of your offices and employees talking about the company or specific positions can engage candidates more effectively.
DO optimize for mobile. Depending on the career field, 43% to 90% of job seekers do so on mobile, so having a career site that is optimized not only for display but also for sending resumes or filling out an application is vital.
DO test your application on multiple browsers. If you allow job seekers to fill out applications online as opposed to simply loading a resume and cover letter, test the applications on multiple browsers, including those for Mac and mobile.
DO write your job descriptions in a tone that reflects your company culture. Every job description contains the same elements, but the presentation should reflect your company. Are you serious and professional? Hard-working but fun?
DO look at competitors' pages. What do you need to include in terms of information or style to attract similar candidates? How can you stand out?
The Don'ts
DON'T advertise your services or product. Keep this page clean of any extra advertising that may be on the rest of the website. This is not the place to ask them to sign up for a newsletter, see a customer service chat bar, view ads, or have to deal with subscription requests.
DON'T use stock photos. This page should show genuine employees, actual offices, and real events.
DON'T misrepresent company culture. It may be tempting to follow the latest trends when showing your company culture, but showing your true nature—even if by current standards, it's not as exciting—will draw the right-fit candidates for you.
DON'T crowd the page. Career pages can include a lot of information without getting cluttered. Include white space. Keep the design light. Let pictures carry the tone and information.
Four Examples of Dynamic Career Pages
Now that we've discussed what goes into a good careers webpage, let's see a few in action. The ones that we've selected to share simply represent pages that inform the reader in an easy, clean and creative fashion. Keeping in mind that many people are "passive job seekers," meaning that they are actively employed and are casually looking to see what is out there for alternative employment options. Your Careers Page needs to appeal to this group of people—so entertain as you inform.
Lettuce Entertain You Restaurants
Lettuce Entertain You Restaurants is a restaurant chain with a simple, but powerful careers page. While it uses subpages heavily, it nonetheless gets props for its clean design that shows more than tells you about its company.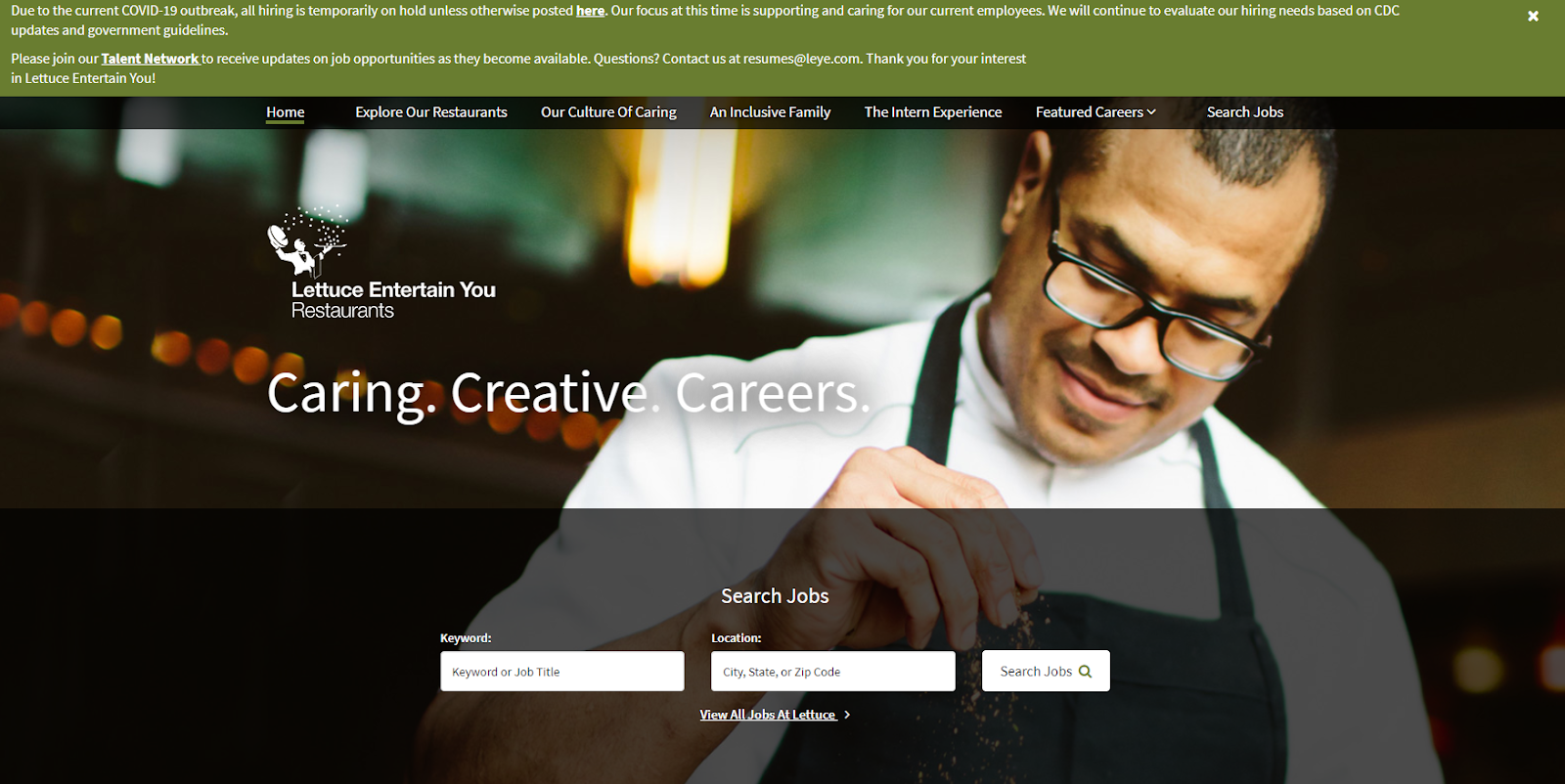 This hero image fills the screen, and it's great for three reasons: One, it immediately gives you a feel for the kind of restaurants they run. Two, they use three words (and alliteration) to give the purpose right off. Three, the jobs section is above the fold. As a bonus, they have updated their website with a banner about the effect of COVID-19 on hiring, provided a job alert, and supplied a place to ask questions or send resumes.
As you scroll down, it uses photos and short descriptions to share company ideals and opportunities by teams, with links to jobs that apply to each team. It also uses bright, simple icons for searching for jobs by location. There's a video about working at Lettuce as well.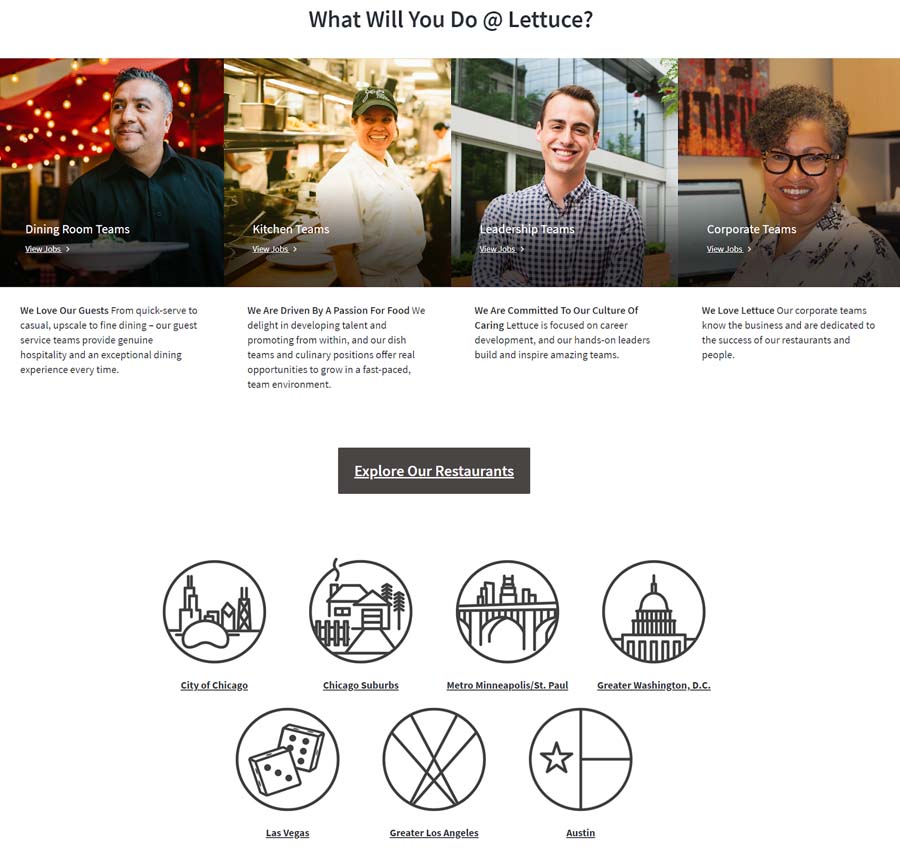 ZURB
Zurb is a digital product design company with a distinctive voice, which they portray fabulously on their careers page.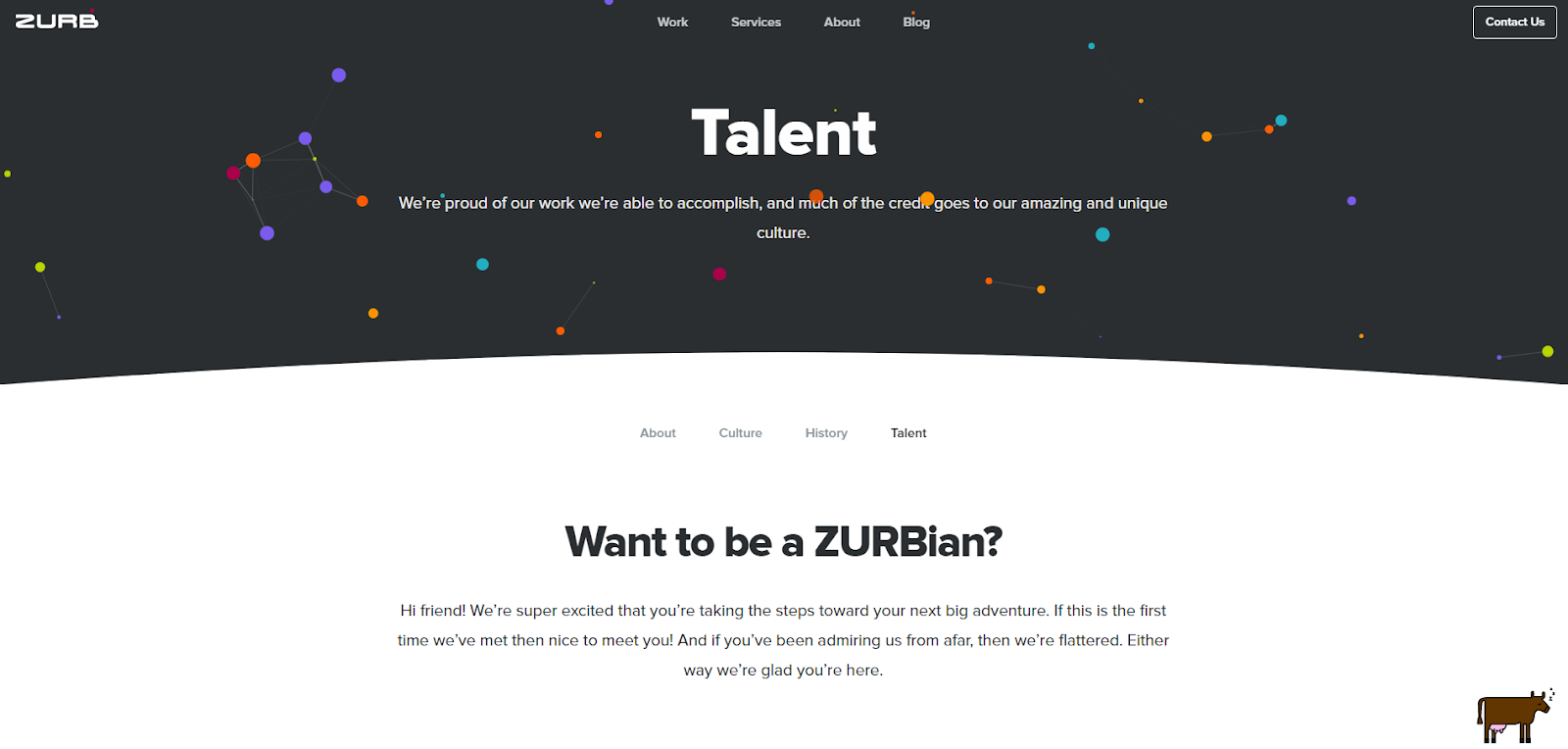 Yes, there's a cow in the corner of this page. Why? Click on it and find out! It's quirky fun and fits completely with the tone they are trying to portray. They carry this through the entire page, with comments like, "Light speed is so 1987," "Insert internet high-five here," and jokes about world domination. Candidates will feel right at home or be put off immediately, which weeds out bad fits.
Nonetheless, they are serious about their mission: to help people. They also take time to explain a little about the hiring process and to reassure you that they make quick hiring decisions.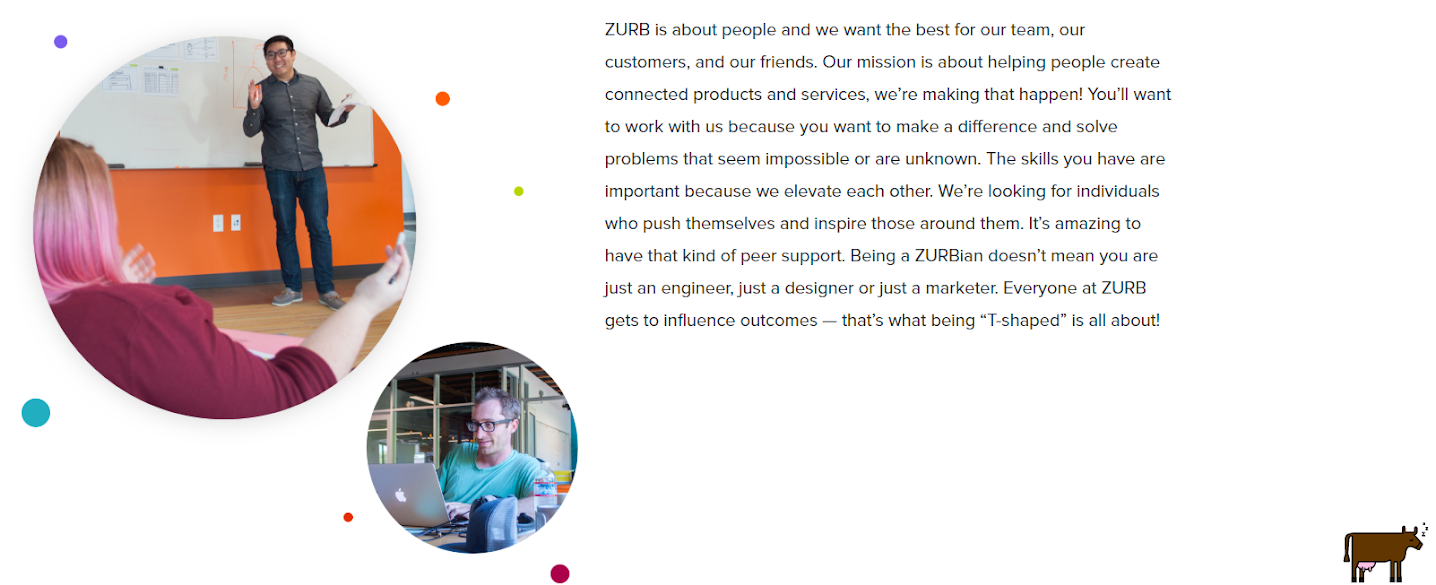 GoSpotCheck
GoSpotCheck is a task flow mobile app. Its careers page, like its app, is clean and has a simple flow, but it covers all the important points.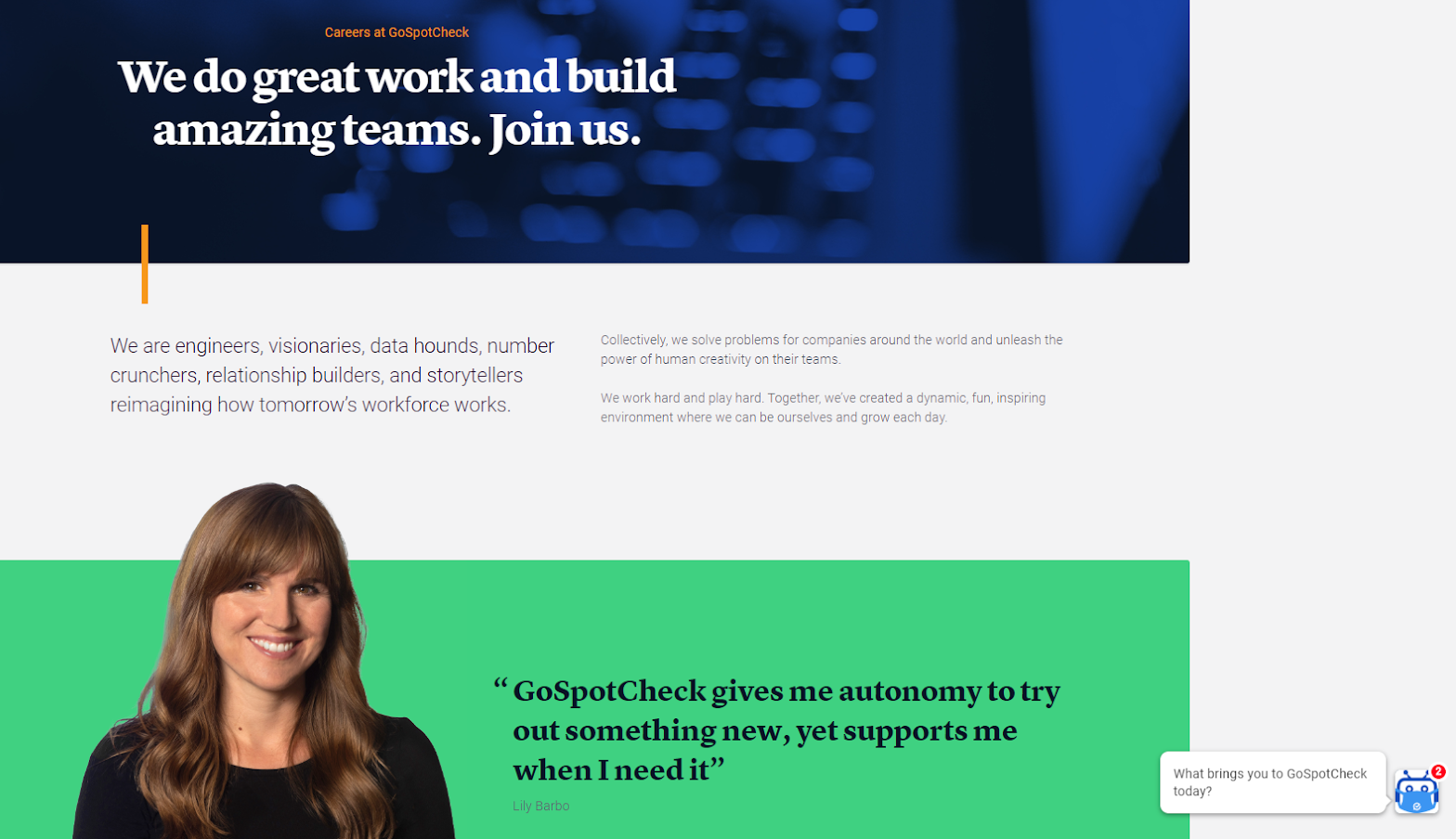 The page starts with who they are and what they look for, plus an employee quote with a photo. The chatbot, alas, is for the product, not careers, and could have been disabled on this page to avoid confusion. The next section outlines the benefits, including tangibles like 401(k) and intangibles like lunch-and-learns.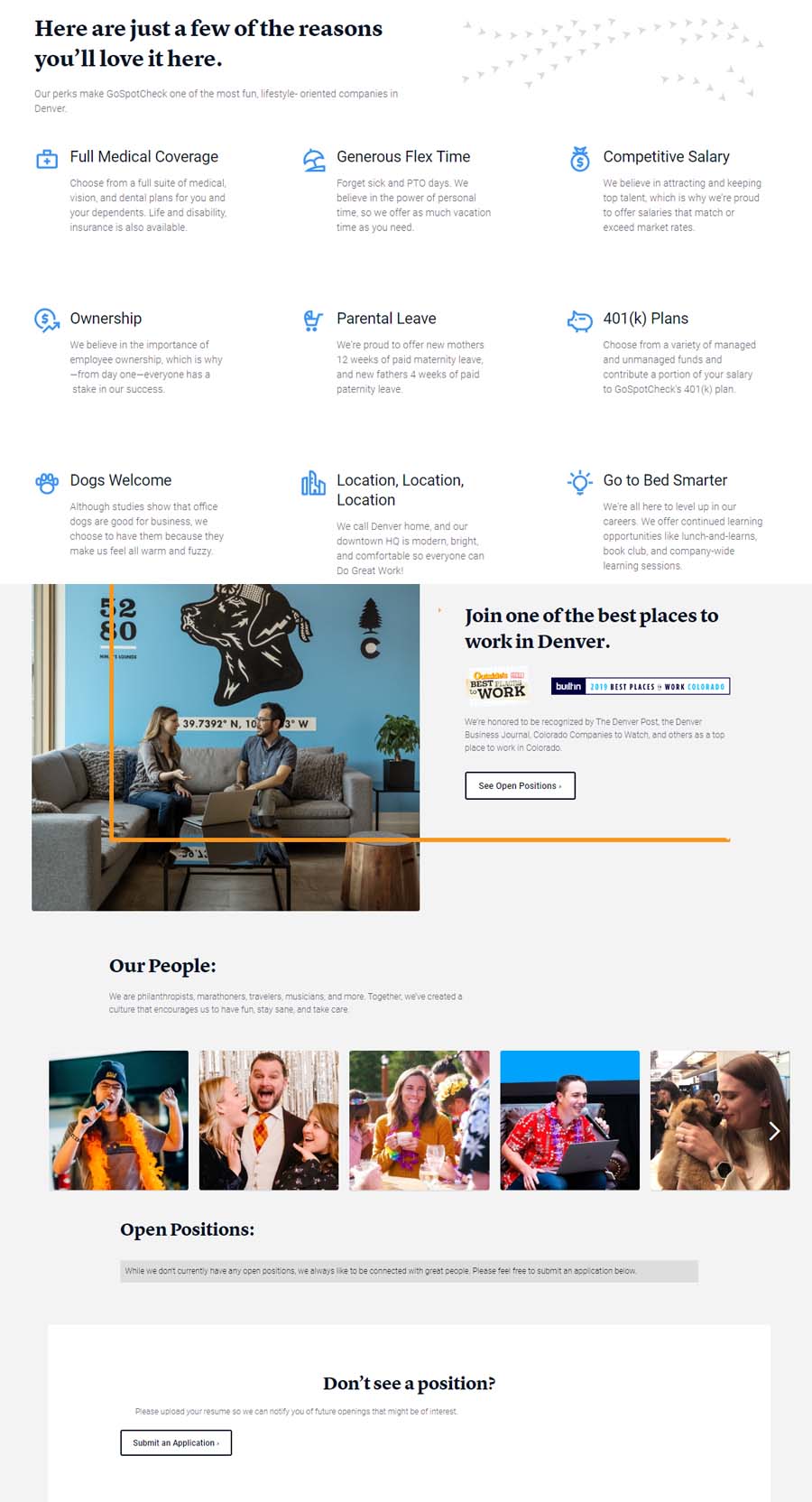 Next, it gives a clearer idea of culture. Notice the use of awards and images as opposed to a lot of text. There's also a button to jump to open positions as well as a list on the bottom and an invitation to submit a resume so you can be alerted to future openings.
Clif Bar & Company
Clif Bar & Company is a family and employee-owned company that creates energy bars under a number of healthy, active-living based brands. Their culture, pay, benefits, holistic wellness programs, and dedication to employees' career growth, create a unique and meaningful workplace that employees value and want to help grow.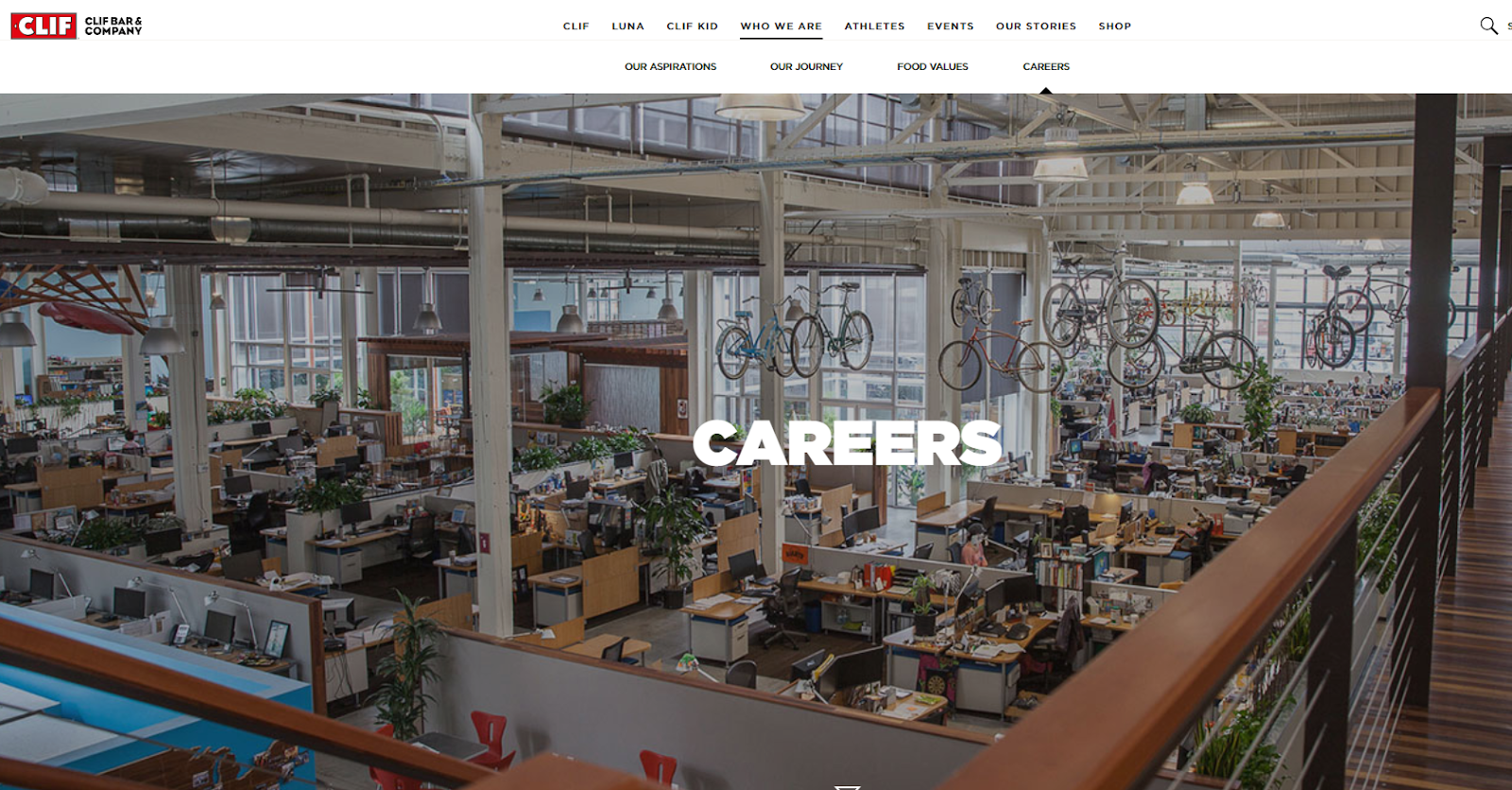 The Clif's Careers Page captures you right away with a look at their office space. They also give you easy access to their five key aspirations as a company, food values and career opportunities. They also share some of their brands that you can click directly into.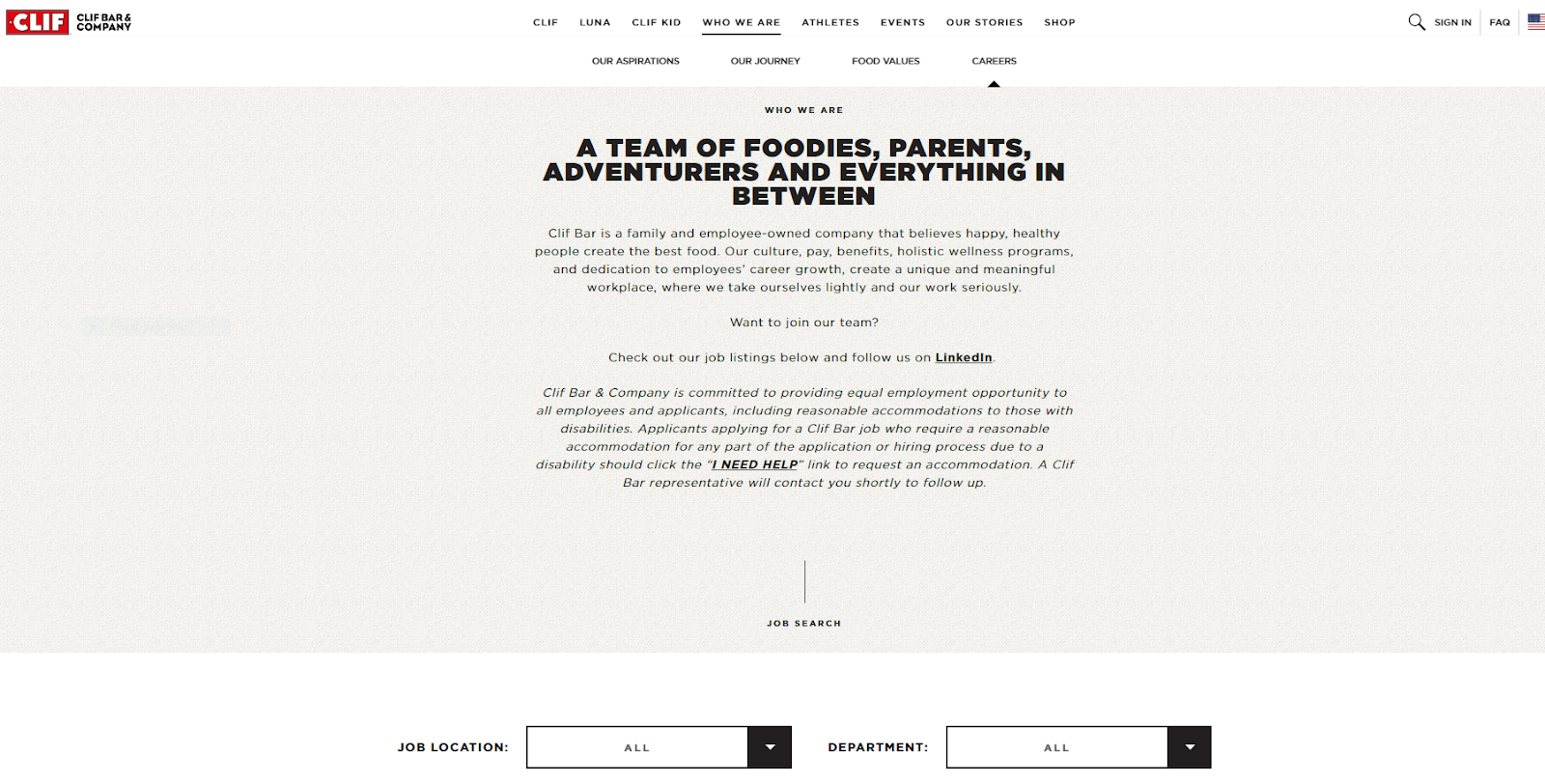 This portion of their page displays the personal aspect of the employees who make up the great organization. It also offers a direct link to Clif's LinkedIn Careers Page.
Bottom Line
A well-designed careers page can help you attract and land the right candidate. They do a big job, not only listing positions and facilitating applications, but also representing the company culture, setting candidate expectations, and encouraging ideal candidates to apply now or in the future. It's worth the investment of time and effort. Use the tips we've suggested, and don't be afraid to get creative.