The best online real estate schools offer web-based classes to help aspiring real estate agents and brokers pass their real estate licensing exam and gain continuing education credits. We reviewed 10 schools and landed on the six best—including the best real estate school overall—based on price, availability, coursework, study aids, and success rates.
Best Online Real Estate Schools 2019
| Best Real Estate School | Best For |
| --- | --- |
| | (Best Overall) Students seeking affordable exam prep, prelicensing coursework, and career resources |
| | Future agents needing instructor-led online real estate courses |
| | Experienced real estate professionals seeking subject-specific refresher courses |
| | Realtors wanting designations in areas like green home sales |
| | Brokers seeking group prelicensure for their staff's realty exams |
| | Agents wanting continued education credits for niche specializations like veteran services |
Click here
to learn more about how we evaluated the best online real estate schools.
Which Real Estate School is Right For You?
Real Estate Express: Best Online Real Estate School Overall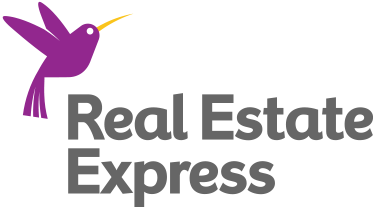 Real Estate Express is an online real estate school that stands out for its affordability and comprehensive approach to real estate licensure. Students get career path information before the real estate exam, prepare for the exam with effective online courses, and get guidance on how to make the most of a real estate career post-exam for about $389, depending on your state. This is the best option for people seeking an affordable school with career guidance.
Real Estate Express Pricing
The pricing for Real Estate Express is dependent on your state and ranges from a low of $389 in California to a high of $649 in Texas. This includes prelicensure training with exam prep and a money-back guarantee. Real Estate Express' cost is made even more affordable with a 35% off promo code.
Real Estate Express Features
Real Estate Express is the only real estate school on our list that offers prospective students the tools to explore real estate as a career before they register for the exam. Once a student decides to move ahead with the exam, Real Estate Express moves them through effective exam prep, and after the exam, post-licensure continuing education.
What Real Estate Express Offers
Real Estate Express offers comprehensive prelicensure exam prep covering topics like the laws of real estate, finance, and real estate contracts. Agents can also register for post-licensure continuing education (CE) credits. Because all of the courses at Real Estate Express are high-quality, the school boasts high pass rates and satisfaction guarantees.
Kaplan offers the same real estate courses for new agents with a less user-friendly platform, making Real Estate Express the better option. However, 360training, which offers coursework for many other industries, might be better for experienced, non-agent real estate professionals because they offer customizable exam prep that focuses on specialized skills or subject areas.
Continuing Education
Real Estate Express offers a membership program—as well as per-course pricing—for its continuing education classes, similar to the Center for Realtor Development. Covering topics like real estate law and millennial buying behaviors in real estate, their continuing education courses allow real estate agents to take one class for about $20 or gain access to all classes for $57 per month. This is a unique pricing structure for one of the best real estate schools.
Career Resources
The Career Hub at Real Estate Express helps potential agents hit the ground running with information about creating a thriving real estate career. It gives future agents the ability to find out more about salary expectations, common real estate myths, and setting up a real estate marketing plan.
Kaplan has a similar resource center with advice videos and informative webinars. Offering more limited options, The CE Shop distributes a bi-weekly podcast with topics on agent safety and ethics. OnCourse Learning, meanwhile, offers webinars, white papers, and blogs.
Perhaps the biggest Real Estate Express competitor in the career resource space, Center for Realtor Development, offers networking, events, and information on practically every topic through their connection to the National Association of Realtors.
What Makes Real Estate Express Unique
Real Estate Express is one of the best real estate schools that is ARELLO (Association of Real Estate License Law Officials) and IDECC (International Distance Education Certification Center) certified. These accreditations ensure that Real Estate Express is adhering to the legal and educational guidelines for a pre-exam real estate course. They also ensure that Real Estate Express' continuing education courses meet a certain level of quality.
ARELLO and IDECC accreditations are both recognized and endorsed by the National Association of Realtors (NAR). Real Estate Express is a good choice if accreditations and third-party verifications are important to you.
What Real Estate Express Is Missing
Unfortunately, Real Estate Express users often don't have enough time to complete classes before they expire. Access expires in six months due to changes in materials and updates to real estate information.
What Users Think About Real Estate Express
Users rave about the comprehensive, easy-to-understand online format of Real Estate Express. Most reviewers noted that they enjoyed their coursework and that the repetitive nature of the work was reinforcing without being monotonous.
Kaplan: Best for Instructor-led Online Courses

Kaplan is an online real estate school that offers instructor-led online real estate courses to help potential agents study for their real estate agent exam or real estate broker license. Prices start at $549, depending on your state. With instructor-led videos—coupled with onsite classes—Kaplan is perfect for aspiring real estate agents and brokers who need a more traditional educational model for exam preparation.
Kaplan Pricing
Kaplan pricing is competitive, though dependent on the state. For example, the cost for coursework in California is $399 for online videos and $549 for live, instructor-led review of materials. Texas is also affordable at $429 for video-only real estate classes.
Kaplan Features
Kaplan is a highly trusted real estate school with web-based, live classes. The biggest benefit is the ability to learn from a real agent with actual sales experience instead of a book. If you prefer self-paced study with repetitive quizzes and text-based questions, then Real Estate Express and 360training are better choices.
What Kaplan Offers
Kaplan real estate school offers a variety of online and in-room, instructor-led courses to help potential agents pass their prelicensure exam and active agents develop new marketable skills. Kaplan has classes such as Real Estate Law, Property Management, and Sales/Marketing 101; these are available both online and in limited classroom locations, depending on your state.
Like OnCourse Learning, Kaplan provides specialty real estate courses, such as home inspection and house appraisal training. 360training also offers specialty courses, like a home appraisal course, but through a third-party partner.
Continuing Education
While Real Estate Express and The CE Shop both offer extensive post-licensure programs for continuing education, The Real Estate Accelerator from Kaplan combines the best features of both into one online real estate course to prevent real estate agent drop-off after the exam. This makes Kaplan a better option for continuing education. Courses are available on-demand and can be purchased individually or as part of a package.
Career Resources
With the Kaplan Career Toolbox, agents can get career advice and tips from active real estate agents and brokers about their career path. RealXperts webinars and Toby Talks video series are designed to help agents take real estate education to the next level with real-world mentorship about how to launch and grow a real estate career.
Similar to the career resources available through Real Estate Express and OnCourse Learning, Kaplan builds its online real estate school around each stage of becoming and remaining a real estate agent. The Center for Realtor Development leverages the power of the NAR to create the same type of experience, while The CE Shop and 360training lag behind both.
What Makes Kaplan Unique
The professional development classes at Kaplan include the Real Estate Accelerator two-day boot camp for new real estate agents to help them get through their first year of licensure; this is a hybrid between continuing education and career development. Plus, with commercial real estate and brokerage business training, Kaplan's professional development real estate courses add real-world experience to the learning environment.
What Kaplan Is Missing
Kaplan has suffered from technical issues in the past, such as locking students out of their accounts and failing to load test materials. If you are not technically savvy or are low on time, then Real Estate Express might be a better choice.
What Users Think About Kaplan
Most users report that Kaplan provides a strong body of knowledge for real estate agents seeking a crash course for licensure through instructor-led online classes. They also appreciate the career advancement tools and support.
360training: Best for Subject-specific Refresher Courses

360training is an online training platform with courses available for real estate professionals, like office managers or broker assistants, who want to brush up on specific real estate concepts before taking their state licensing exam. Single-topic classes are $79 per course. Given this focus, 360training is best for aspiring agents with industry experience who need help with only a few specific subjects or concepts before taking their exam.
360training Pricing
360training pricing is affordable at $79—if you only need a single, subject-specific prep course. If you need a full prelicensure class, the cost is dependent on your state; it is $110 in Florida, $175 in California, and $495 in Texas. Full prelicensure classes do not include topic-specific pre-exam prep.
360training Features
360training offers hundreds of courses online that cover topics from human resources to finance. Because of the course specificity, 360training can be used for exam prep or professional development, but they have no designated continuing education classes. If you are seeking comprehensive exam prep or career-building guidance, Kaplan, The CE Shop, and Real Estate Express are better choices because their curricula are targeted toward new agents.
What 360training Offers
Like The Center for Realtor Development, Real Estate Express, and The CE Shop, courses are listed by state and cover subjects like taxes, fair housing, and brokerage administration. Like OnCourse Learning and Kaplan, 360training provides a real estate course for home appraisals and house inspections. The benefit is that you can take just one subject-specific course to help you brush up on a key topic.
Career Resources
360training focuses on subject-specific courses. It is the least able of all of the schools on this list to offer support to students after they become real estate agents. The Center for Realtor Development is the best option because its connection to the NAR means newly licensed agents can easily contact members all over the country. For career support through online materials, OnCourse Learning, Real Estate Express, and Kaplan are the best choices.
What Makes 360training Unique
360training is the only online real estate school that separates exam prep from prelicensing classes. By offering single, subject-specific courses for $79, real estate professionals can brush up on specific subjects they don't know well without having to spend hundreds of dollars on a full exam prep program.
What 360training Is Missing
360training.com is missing a user-friendly online experience. Users who reported issues with the online platform consistently noted that it was burdensome to move between modules and slightly clunky for an online real estate school.
What Users Think About 360training
Most users reported a great overall learning experience with the 360training online material. A few users noted that there were some glitches in the interface that need to be addressed, as they make the online learning experience less effective.

Center for Realtor Development (CRD) is an online real estate school focused on offering niche market certifications and designations for $100 to $700. These courses are endorsed by the National Association of Realtors (NAR) and cover niche topics such as green real estate and real estate technology. Given its unique focus, CRD is ideal for real estate agents who want to target new markets with niche certifications.
Center for Realtor Development Pricing
Courses at CRD range from about $100 to $700, depending on your state. However, membership in the National Association of Realtors is also required. The dues for the National Association of Realtors (NAR) are $150 per year.
Center for Realtor Development Features
Only open to real estate agents who are NAR members, CRD focuses entirely on continuing education coursework and certifications for real estate agents who want to work with niche audiences like veterans or unique properties such as green homes. The CE Shop is a better choice if you're looking for a wide variety of continuing education classes.
What Center for Realtor Development Offers
CRD offers certificates and designations in areas like diversity, negotiation, military relocation, and green housing—similar to 360training and The CE Shop. However, CRD's certificates and designations are approved by governing boards like the NAR within the realty industry, making it the best option for these types of certifications.
CRD is focused on expanding real estate agents' skill sets to increase their income, so new classes are always launching that reflect trends in the real estate industry. The subject matter for these classes is decided by CRD in conjunction with the NAR, both of which regularly monitor the industry to see how shifts in buying and selling behaviors might require additional training or information.
Career Resources
CRD gains credibility as an online real estate school from its close ties to the NAR. To help share the most up-to-date information with real estate agents, the CRD covers timely topics in podcasts, such as how to plan a social media strategy, how to work with lenders, and how to explore the elderly care market.
CRD can be hard to beat because the local NAR chapters provide valuable real estate agent advice and networking opportunities, but their online career resources are limited for a real estate school. If you want online career resources, then Real Estate Express, OnCourse Learning, and Kaplan may be better choices.
What Makes Center for Realtor Development Unique
The topics for continuing education at CRD are more timely than those offered by other schools. Listed by state availability, these topics include solar housing real estate, senior real estate specialty, generation buys, and second vacation home sales, among many others.
What Center for Realtor Development Is Missing
CRD is missing prelicense prep for the real estate agent exam. By design, CRD only offers continuing education, designations, and certifications for NAR members who already have a real estate license. If you are searching for prelicensing and exam prep classes, then Real Estate Express, Kaplan, and 360training are better choices.
What Users Think About Center for Realtor Development
According to Facebook reviews, real estate agents love the diversity and career advancement choices offered by CRD online real estate school. The selection of classes and presentation of materials are a hit with agents and brokers.

OnCourse Learning is an online school that focuses on group-based prelicensure courses for agencies and brokerages. OnCourse Learning is unique because they offer brokers a turnkey solution that includes marketing materials and reporting for groups of potential agents starting at $157. OnCourse Learning is right for brokers and realty firms seeking to provide pre-exam prep to several agents at once.
OnCourse Learning Pricing
OnCourse Learning pricing is considered moderate and varies by state, starting at $157 for Florida prelicensure exams and increasing to $359 in California and $566 in Texas. There is even a broker post-license training package that starts at $299 for five classes. To offset the cost, OnCourse Learning offers a 25% discount promo code.
OnCourse Learning Features
OnCourse Learning focuses on providing large group experiences instead of individual support. Brokerages can sign up for group training with OnCourse Learning, then have individual agents log on using a brokerage account for study and exam prep. Topic-specific training is not part of the OnCourse Learning experience.
What OnCourse Learning Offers
For brokers who need to provide basic prelicensing training for a group of potential agents or create educational opportunities for future brokers in a franchise, OnCourse Learning is the right choice to meet your needs. However, if you are seeking individual attention and education in a real estate school, Real Estate Express, Kaplan, and The CE Shop are better options.
Continuing Education
OnCourse Learning also provides continuing education classes as a part of their regular offering, but the subject matter is limited to broker-specific material and high-level business topics like management. For a broader selection of continuing education classes, Real Estate Express and The CE Shop are better options.
Career Resources
Recently, OnCourse Learning merged with Career WebSchool, providing students with a wealth of career resources. With webinars, videos, blogs, white papers, and NAR networking events, OnCourse Learning covers topics like how to start your career as a new agent and how to find investment properties in a neighborhood.
What Makes OnCourse Learning Unique
OnCourse Learning helps real estate brokers address their needs for large group training. With less focus on meeting the needs of individual agents, OnCourse Learning instead targets brokers, associations, and private institutions as the right audience for their online real estate school. Brokers can buy groups of classes for multiple agents and help agents get professional certifications that will grow the business and sales.
What OnCourse Learning Is Missing
Following the merger mentioned above, OnCourse Learning has focused on group training and therefore fails to address the needs of individual real estate agents. There is very little support for students who need personalized study options. For this kind of study, consider Real Estate Express or 360training.
What Users Think About OnCourse Learning
The one review on G2 Crowd expressed happiness with the courses and the information provided through the newsletter. The reviewer felt that the annual plan was a better deal than the monthly plan.
The CE Shop: Best for Continued Education in Niche Markets
The CE Shop is an online real estate school specializing in continuing education for niche markets; topic areas include marketing to gain leads, home buying for veterans, and marijuana in real estate; prices start at $239. The CE Shop is unique because their continuing education (CE) courses allow real estate agents to target niche markets while building their knowledge base, so it's best for agents looking to master a specialty while getting CE credit.
The CE Shop Pricing
The CE Shop pricing varies widely by state. Coursework in Florida starts at $239 and California is a reasonable $279, though Texas enters at the high end at $959 for prelicensure classes. There is a monthly payment plan available, plus a free trial and money-back guarantee. There is also a 20% off promotion.
The CE Shop Features
The CE Shop is entirely focused on helping real estate agents satisfy their continuing education requirements; as such, it does not offer real estate exam prep or prelicensing coursework. 360training is probably the most comparable in non-real estate exam prep courses with about 650 classes, but The CE Shop courses tend to cover more niche topics.
What The CE Shop Offers
The CE Shop offers a wide array of continuing education credits for real estate agents seeking more targeted courses in niche markets. Subjects include real estate law, short sales, marketing, personal safety, and social media, just to name a few. They boast an extensive catalog of courses for continuing education and each is available to purchase individually.
Career Resources
The CE Shop has a podcast called "The Shop Talk" that posts new episodes every other Wednesday. "The Shop Talk" podcast educates agents on how to create a business and grow their realty sales. Experts give tips and advice on topics such as transitioning from another career to real estate and how to manage ethics in real estate.
There are fewer than 10 "Shop Talk" podcast episodes as of this publication date, so there isn't a lot of material or support. Kaplan, OnCourse Learning, and Real Estate Express are better choices for scope and amount of material. Also, the Center for Realtor Development boasts networking events with an extensive collection of online career resources for real estate agents, so consider them for more robust career support.
What Makes The CE Shop Unique
The CE Shop has a wide breadth of classes for agents and brokers to pick from; topics run the gamut from home buying for veterans to flood hazards and commercial real estate. The wide variety of CE classes gives agents the ability to grow a niche audience within their target market.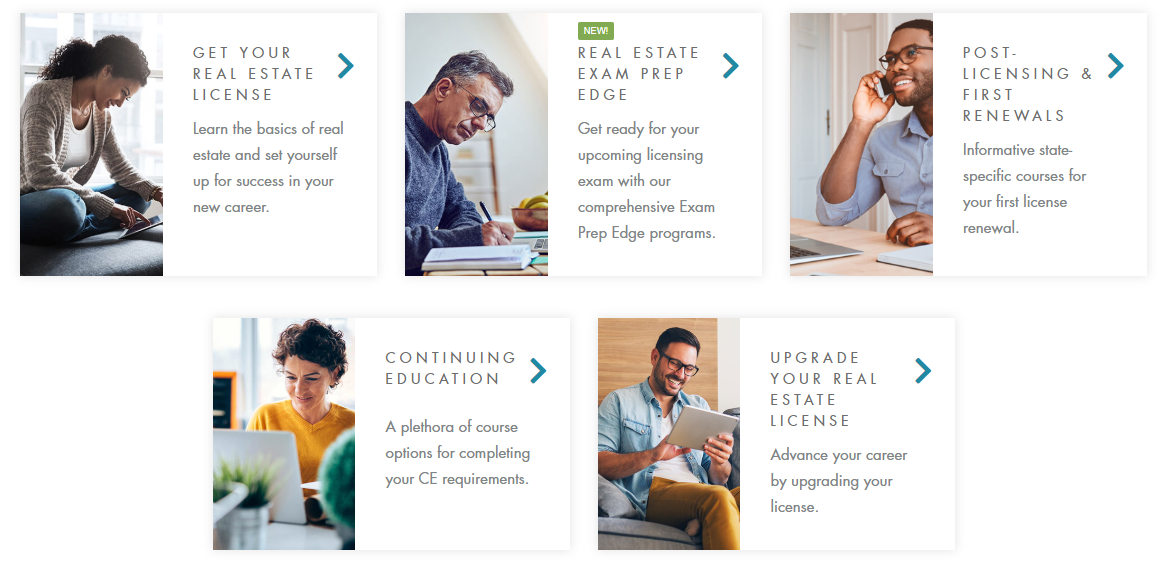 What The CE Shop Is Missing
The CE Shop needs to improve its technical stability. The negative reviews tended to focus on replacing the glitchy online exam proctor—a hindrance to effective learning for many students. Also, CE Shop does not offer prelicensing coursework; for this, consider Real Estate Express or Kaplan.
What Users Think About The CE Shop
Users were satisfied with the contents of the real estate courses and found the information helpful. There were many complaints about The CE Shop's proctor for exams, however, as mentioned above.
6 Best Online Real Estate Schools 2019
School

Price of Courses*

Where Offered?

Pass Rate*

CA - $389
TX - $649
FL - $489

25 states

Nationwide - 78%

CA - $399
TX - $429
FL - Not Offered

17 states

Average of about 70%

CA - $175
TX - $495
FL - $110
+ $79 prep

11 states

N/A

Does not offer prelicensing courses

Nationwide

N/A

CA - $359
TX - $566
FL - $157

19 states

Does not offer pass rates

CA - $239
TX - $959
FL - $279

25 states

CA - 91%
TX - 82%
FL - 85%
*Note: Prices and pass rates are different for each state. For simplicity, we noted a price and pass rate for one state in every major U.S. geographic region as an example. To find out the price and pass rate for your state, please contact the appropriate real estate school.
How We Evaluated the Best Online Real Estate Schools
Finding the time and materials needed to prepare for the licensing exam can be difficult, which is why the convenience of an online school is appealing. In order to ensure our rankings offered both convenience and top-quality education, we considered factors like time investment required, networking, support, cost, and post-licensing opportunities as the foundation of achievement and career growth.
These are the criteria for evaluating the best online real estate schools:
Price: While the cost of online real estate schools varies greatly from state to state, we included schools in this list that provide great value. This was determined by considering the quality of the coursework, study materials available, and the likelihood of passing the licensing exam and advancing an agent's career.
Availability: While a vast number of states do accept online real estate school coursework, there might be state-based restrictions on what online real estate school courses are accepted. We considered these restrictions on our list.
Length of program: Most of the online real estate schools on our list estimate an average time for completion between six to nine months, but the actual finish date is up to the learner. We evaluated program lengths and accessibility in our reviews to help aspiring agents plan their education.
Study aids: From offering study manuals to suggesting focus groups, an online real estate school has to go the extra mile to help students embrace concepts and prepare for their real estate license exam. Therefore, we considered real estate schools that offered or included study aids.
Pass rate: If the online real estate has a strong pass rate on the first attempt, then it indicates they successfully prepare students for the exam. Therefore, we favored schools with strong pass rates.
Coursework: While costs and credit hour requirements vary greatly state to state, course content and supplemental resources can also differ. Therefore, we spent considerable time considering prelicensing coursework, continuing education course offerings, and career resources.
Real Estate Express is the overall best online real estate school on our list due to its affordable tools for helping potential real estate agents pass the licensing exam and launch their career after the exam is passed. Real Estate Express aids students in determining if real estate is a suitable career path, sets expectations of what they will encounter in the licensing process, and guides them through licensure and beyond.
"Brick-and-mortar real estate schools unfortunately leave prospective agents woefully unprepared for the realities of a career in real estate. Online courses offer individuals the same opportunity to learn the important laws and regulations with the significant advantage of saving a tremendous amount of time commuting to a school. I have done all of my re-certifications online and found it to be just as interesting, and I enjoy the way that I can learn at my own pace."

– Philip Lang, Co-founder, Triplemint
Best Online Real Estate Schools by State
Some states require unique pre-licensing coursework. As a result, there are certain areas where it may be beneficial to enroll in a course curriculum specifically designed for that area. Click on the name of your location to learn more about the best online real estate schools for your state.
| | | | | |
| --- | --- | --- | --- | --- |
| Alabama | Alaska | Arizona | Arkansas | |
| Colorado | Connecticut | Delaware | Florida | |
| Hawaii | Idaho | | Indiana | Iowa |
| Kansas | Kentucky | Lousiana | Maine | Maryland |
| Massachusetts | Michigan | Minnesota | Mississippi | Missouri |
| Montana | Nebraska | Nevada | New Hampshire | New Jersey |
| New Mexico | New York | North Carolina | North Dakota | Ohio |
| Oklahoma | Oregon | Pennsylvania | Rhode Island | South Carolina |
| South Dakota | Tennessee | | Utah | Vermont |
| Virginia | Washington | West Virginia | Wisconsin | Wyoming |
Frequently Asked Questions (FAQs)
Do I need a real estate license in my state to be a real estate agent?
States require a real estate agent to have a license in their own state or a reciprocal state. The requirements vary from state to state, so it is important that you check with your state's real estate board to find out what requirements you must meet.
Is there a membership option for an online real estate school?
Not all of them do, but Real Estate Exam Scholar costs about $29 for a six-month membership. With practice exams, free flashcards, and a guarantee to refund your money if you do not pass the exam, Real Estate Exam Scholar might be a good choice for prospective agents looking for a school membership.
Does my state accept online prep classes?
While many states will accept an online real estate course, not all do. When you pick an option from our six best online real estate schools, a quick browse through the menu will tell you what is available in your state and the requirements for enrolling in online real estate schools. You may want to also familiarize yourself with your state's specific licensing requirements before signing up with any online provider.
Bottom Line: Best Real Estate School
An online real estate school allows potential agents to complete prelicensing and CE requirements in preparation for the licensing exam; many also include career resources. In our rating of the six best, we considered price, length, and content of coursework, pass rates, and availability.
Based on these criteria, our pick for best overall real estate school online is Real Estate Express. They offer affordable prelicensing real estate courses as well as career support post-licensure. Learn more about Real Estate Express' extensive and high-quality offerings by visiting their website.