How to Get a Real Estate License in Every State (7 Steps)
To start a career as a real estate agent, you're required to obtain a license from your state's Real Estate Commission. While the steps may vary slightly based on your state, getting a real estate license generally includes completing prelicensing education, getting a background check, passing the real estate exam, finding a sponsoring brokerage, and submitting an application. Time frames, number of education hours, and fees vary across the country.
Use the interactive map below to get information about steps, requirements, and online real estate schools specific to your state.
If you live near the border of two states or move to a new state after working as a licensed agent, you should know the reciprocity and portability rules. Many states have reciprocity with other states, which means you can be licensed in more than one state or transfer your license to a new location. For details on the rules in all 50 states, read our Real Estate License Reciprocity & Portability Guide.
1. Meet Your State's Legal Requirements
Each state has specific prerequisites for real estate professionals, which usually include an age requirement and an educational requirement. The majority of states require aspiring agents to be 18 years old and have at least a high school diploma or GED (General Educational Development Test). However, there are exceptions for states like Montana, where candidates only need a 10th-grade education prior to licensure.
Here is a sampling of the basic requirements for five states:
| State | Age Requirement | Education Requirement |
| --- | --- | --- |
| | 18 years or older | None |
| | 18 years or older | High school diploma or GED |
| | 18 years or older | High school diploma or GED |
| | 19 years or older | High school diploma, GED, or evidence of participation or enrollment in a home school program from the Department of Education |
| | 18 years or older | Must have received credit for completion of 2 years of full curriculum study at an accredited high school or equivalent |
In addition, applicants are required to disclose criminal offenses and include an explanation and all court documentation. Getting a real estate license is still possible if you have a criminal history, although it is decided on a case-by-case basis. Each state's Real Estate Commission will review the documentation in order to determine if the applicant is eligible for licensure.
However, candidates with a felony conviction, especially one that relates directly to the functions of a real estate agent, like fraud or embezzlement, will have more challenges getting approval. It's best to reach out directly to your state's Real Estate Commission to review your application before moving forward with the process.
2. Complete Prelicensing Coursework
To get a real estate license in all 50 states, you must complete prelicensing courses. Each state requires a different number of hours, ranging from 40 hours in states like Michigan and New Hampshire to 180 hours in Texas. When learning how to get your real estate license, choosing the right prelicensing classes will set you up for success. It's important to choose courses based on your learning needs, especially the learning format that helps you understand and maintain knowledge.
Prelicensing courses are usually offered in person at a local real estate school or through an accredited online real estate school. If you prefer more traditional learning methods, in-person courses or live streamed classes will be a great fit. On the other hand, if you have a busy schedule, a self-paced online program allows you to work through the material at your convenience. Plus, online courses often provide tools to help you succeed, like real estate flashcards, worksheets, e-books, textbooks, webinars, and discussions.
Purchasing prelicensing courses is a significant financial investment, and it's only the first of many upfront costs when getting your real estate license. In addition to purchasing the required education, which can cost anywhere from $119 in Florida to $980 in Texas, you'll also need to pay for the exam fee, application fee, insurance, office or brokerage fees, the Multiple Listing Service (MLS), branding and marketing materials, and potentially training or mentorship programs.
Learn more about the costs of becoming a real estate agent in our complete guide. Plus, read our guide to real estate agent salaries to learn how much agents earn and the factors that affect their income.
If you're unsure of where to start, take our quiz to find out the best real estate school options and articles that can assist with your decision:
Which real estate school and program is right for you?
3. Get Fingerprints & Background Check
Getting fingerprints and running a background check are important steps to getting a real estate license for all states. There are about 15 states that do not require fingerprints but will run a background check based on the information provided in your application. Either way, this information goes hand-in-hand with your criminal record disclosure and is used to review your background to determine your eligibility for licensure.
To get fingerprints, applicants must visit a local law enforcement agency or a livescan fingerprint provider like IdentoGO, based on your state's preferred agency. The fee for fingerprinting varies per state but ranges from about $15 to $80. Fingerprints are run through the state and/or national databases, so there can be a full picture of your background, including any discretions.
4. Pass Your State Real Estate Exam
One of the most notable steps in learning how to get into real estate is taking the state real estate exam. The exam is primarily issued by PSI or Pearson VUE, which are national licensing exam providers. An exception to this includes California and New York, which conduct exams through their state's real estate departments.
The exam covers all the national and state topics studied during the prelicensing coursework. The number of questions on the exam range from 75 to 200 questions, depending on your state. Others fall somewhere in the middle, like New Jersey with 110 questions and South Carolina with 120 questions.
While every state's test differs slightly on the topics they include, there are a few common items covered:
Property ownership and land use controls and regulations
Laws of agency and fiduciary duties
Property valuation and financial analysis
Financing
Transfer of property
Practice of real estate and disclosures
Contracts
Real estate calculations
To get specifics on which items will be included on your state's exam, plus the number of questions that will be included for each topic, review your state's Real Estate Candidate Handbook. For example, the Ohio Real Estate Candidate Handbook outlines how to schedule your test, what is needed at the testing center, and what is included in the test. Check out the handbook by clicking your state's "How to" guide on the state-by-state map and review the section on scheduling your exam.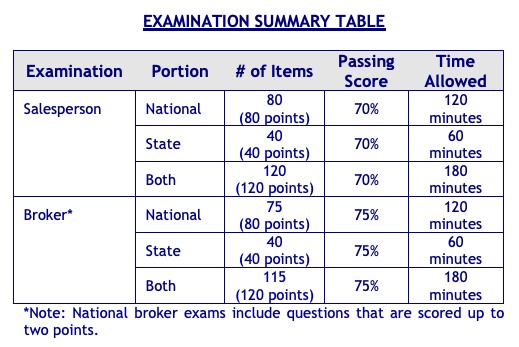 ---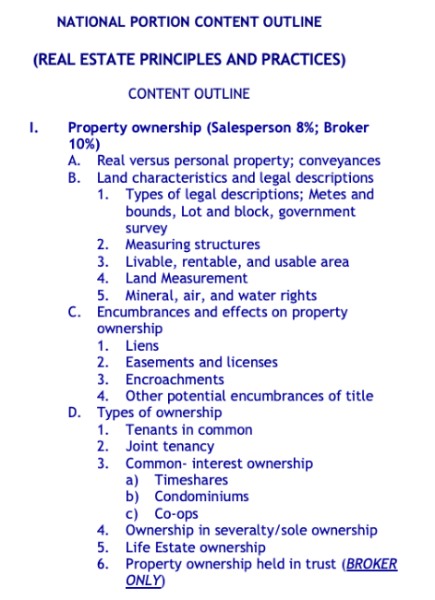 ---
You can get your real estate license with either a 70% or 75% score, depending on your state. The exception is Vermont, which bases its score on the amount of knowledge a minimally competent practitioner (MCP) should have to operate as a real estate professional. However, if you do not pass the exam on the first attempt, you are able to retake the exam.
Most states allow an unlimited number of retakes, although you have to pay the exam fee each time. However, there are a few states that limit the number of times you can retake an exam or require you to retake some or all of the prelicensing coursework if you fail the exam. For instance, Georgia, Tennessee, and West Virginia require you to pass the exam within 90 days or two attempts, whichever comes first.
If you're looking for the best real estate exam preparation tools to build your confidence before exam day, check out PrepAgent. It offers affordable, comprehensive exam preparation education for all 50 states with tools and features to encourage retention. It includes video and audio lessons as well as flashcards, real estate practice exam questions, and even a pass guarantee.
5. Pick a Sponsoring Brokerage