Master's Degree, Strategy and Leadership (New York University)
BA, Marketing & Business Communication (University of St. Thomas – Opus College of Business)
Real Estate Operations
New Agent Training & Onboarding
Office Technology
Marketing
10+ years in operations
5+ years in management and team building
5+ years in the real estate industry
Aloun Khountham is a freelance real estate contributor to Fit Small Business. Her real estate experience stems from over five years as a New York City real estate operations executive for a growing brokerage. Much of her time in real estate was focused on implementing processes and procedures as well as introducing new technology solutions to help agents succeed. She is currently an operations director in the wholesale sector.
When not working, you can find her exploring New York's culinary scene with her friends, on a flight to see family and friends, or chasing warmer weather.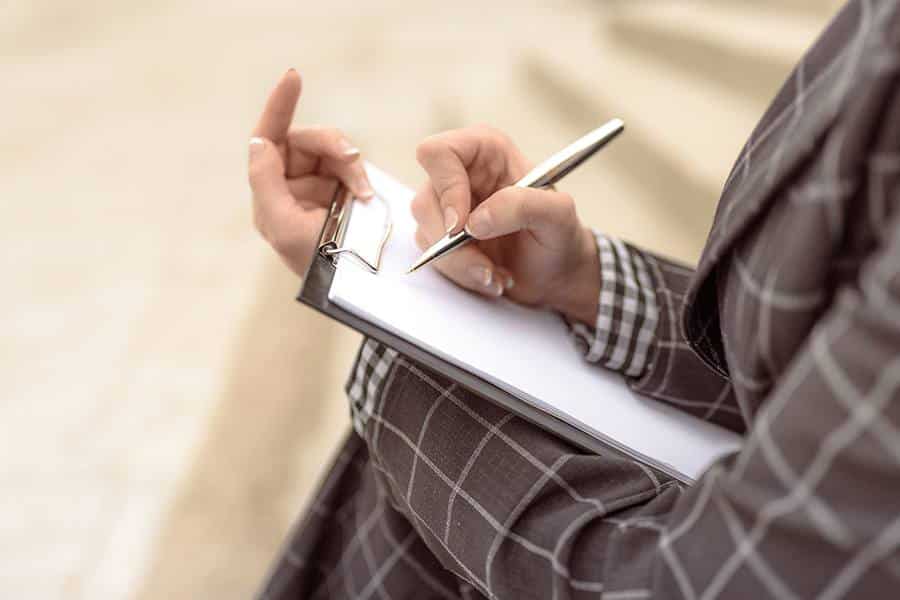 January 31, 2023
12 Free Open House Sign-in Sheet Templates (+ Tips)
Collecting contact information from attendees of an open house is essential for real estate agents to promote and sell their current listing and build their client base. An open house sign-in sheet lets you passively capture each visitor's information so you can spend more time and effort hosting. Sign-in sheets differ by the type of information you gather, ranging from basic contact information to mailing addresses to detailed questionnaires. Download our open house sign-in sheet templates below. Customize the templates as needed to match your branding and choose the specific information you'd like to gather from your leads. Digital sign-in sheets are also an efficient option for collecting open house leads as an alternative to physical sheets. Digital forms allow agents to collect additional data points that may be too tedious to handwrite.  makes it easy to launch digital forms on a tablet or mobile device. As contact information is collected, the information can be integrated with a client relationship manager (CRM) for easy follow-up. Here are the four types of open house sign-in sheets and templates you can use at your next open house: 1. Basic Information Open House Sign-in Sheet Basic sign-in sheets for open houses should be titled with the address of the property along with "Sign-in Sheet'' so open house visitors can easily find and complete the form. Include the date for your own reference, especially if you are conducting multiple open houses at the same address. Most importantly, ask for essential contact information like the attendee's name, phone number, and email address. While this information will not give you deeper insight into the buyer or seller, it will provide you with all you'll need to contact them in the future. Also, asking for simple contact information on a real estate sign-in sheet allows visitors to fill out the form quickly. A form that is too long and asks for too much may discourage them from leaving such contact information. This type of realtor open house sign-in sheet is best when you expect a high number of visitors. A short, simple sign-in sheet won't create a line at the sign-in table and will help with the flow of the open house tour. This allows real estate agents to maximize their real estate lead generation efforts. Basic signs are great for agents who have pre-existing workflows in their CRM focusing on email marketing, phone, and SMS follow-ups. Instead of asking for phone numbers on your sign-in sheet, try asking for mobile numbers. CRMs like have integrations that allow for SMS texting through Textline. It also offers user-friendly marketing automation tools with list segmentation, marketing analytics, and premade professional templates. Additional available templates for you to use to gather basic information from your open house visitors: 2. Physical Address Sign-in Sheet The sign-in sheet collecting physical address information is similar to the basic sign-in sheet for open houses but has space to input a visitor's mailing address. Remember that some clients may not want to leave such personal information and will skip this section, but if they are willing to add it, it can be useful for your business. This information helps determine the location they currently live in and the properties they might be interested in purchasing. It also informs agents whether they are current homeowners or are renting and ready to make their first home purchase. With a physical mailing address, agents can conduct real estate farming. Real estate farming, through direct mail, like postcards, flyers, and letters, can generate real estate leads and promote brand awareness. Platforms like allow agents to create digital mailer campaigns with premade templates that will be mailed out in chosen increments. Agents can upload their own designs if they choose or stop and start campaigns as they see fit. ProspectsPLUS! even offers Every Door Direct Mail (EDDM) to send postcards along a mail route using the collected ZIP codes collected at the open houses. More templates that will allow you to collect open house visitor mailing addresses: 3. Sign-in Sheet With Detailed Questionnaire Open house templates with questionnaires contain the same information as the basic and physical address forms, but also ask visitors detailed questions about their home search. This can include questions about their prequalification status, agent representation, and properties they're interested in, to name a few. Other qualifying questions on an open house sign-in sheet may include the following: How did you find out about the open house? What real estate sites do you use to look for properties? What is your budget? What is your ideal property layout and location? How long have they been a homeowner? Are you pre-approved for a loan? What is your preferred method of contact? Any property feedback? Agents can use this information to focus their immediate efforts on the most motivated buyers. Also, adding additional screening questions to your open house sign-ins lets you get more insight into your visitor, allowing you to tailor your marketing strategy to their needs. It will also assist in segmenting your email follow-ups based on the questions asked. For example, if you have several first-time homebuyers, send them an informative packet regarding the sales process. Or if some visitors were soon-to-be sellers researching the competition, offer them a free, comparative market analysis. Since these open house sign-in forms typically take extra time to fill out, be strategic when using them. Real estate agents typically don't use open-ended questions and opt for multiple-choice responses instead. This will ensure you won't only get detailed responses but also visitors through the sign-in to focus on the open house. More downloadable open house templates collecting detailed information: 4. Digital Sign-in Sheet A digital sign-in sheet for an open house is listed as one of our top open house ideas. It offers a lot of benefits that paper sign-in sheets do not. Mainly, it can integrate with your CRM, so you don't have to manually add contacts after open house events. Additionally, you don't have to decipher handwriting, so you're likely to get the most accurate contact information. Digital open house sign-in sheets are easily customizable for each event, but it's still best to have a standard template with questions for basic visitor information and add to it as needed for each property. With the added technology, digital open house sign-in sheets also have the ability to mark question fields as required or optional. This way, you can ask more questions without it feeling too overwhelming for those who don't want to list specific information and can skip to the next question. Digital sign-in sheets are also completed faster than manual sign-in sheets. Use this added time with prospective leads to connect and make a good impression. Any open house event can use a digital sign-in sheet. Consider your demographic before using the digital sheets. Less tech-savvy visitors may have difficulties with the QR code or using the tablet provided, which means you will collect fewer leads in the long run. However, if your listing is modern and considered a smart home, you should match the tech-forward environment. Software platforms like offer powerful digital marketing tools for real estate agents. Its free sign-in sheet for an open house can be converted into a touchless sign-in sheet through a quick response (QR) code. Thus, open house visitors can use their own mobile phones to fill out the form. Agents can use the platform for marketing their listing with individual listing websites and branded social media content. How to Convert Open House Leads Into Clients Collecting prospective client information at open houses is half the battle—now you must convert leads into opportunities. This data should be used to not only sell the listing they visited but also as opportunities for you to represent buyer clients and obtain new listings. With the contact information at hand, you'll have different tactics to connect and approach prospective clients after the event. Here are four proven ways to convert open house leads into clients: Bottom Line Creating the right sign-in sheet for an open house is only part of what makes it a successful real estate event. Not only will the open house sign-in sheets help with marketing the available listing, but there are many additional benefits to collecting attendee information, like increasing your contact lists, nurturing future opportunities, and gaining insights into your efforts.
Discover more resources
for your business
Master's Degree, Strategy and Leadership (New York University)
BA, Marketing & Business Communication (University of St. Thomas – Opus College of Business)