MS in International Marketing from Edinburgh Napier University
Marketing
Brand Development
Web Design
Digital advertising
7+ years experience in Marketing
10+ years in startup and new venture development
MSc International Marketing
Before joining the team, Kelly Main worked as an analyst at firms like Lincoln Financial Group. She has also founded a number of successful startups, including OpenOnion under the Google Tech Entrepreneurs Program, which was later acquired under the name Whisper.




In her spare time, she can be found exploring foreign lands, climbing mountains (and then jumping off them), flying helicopters, and working on educational projects that help break the cycle of poverty.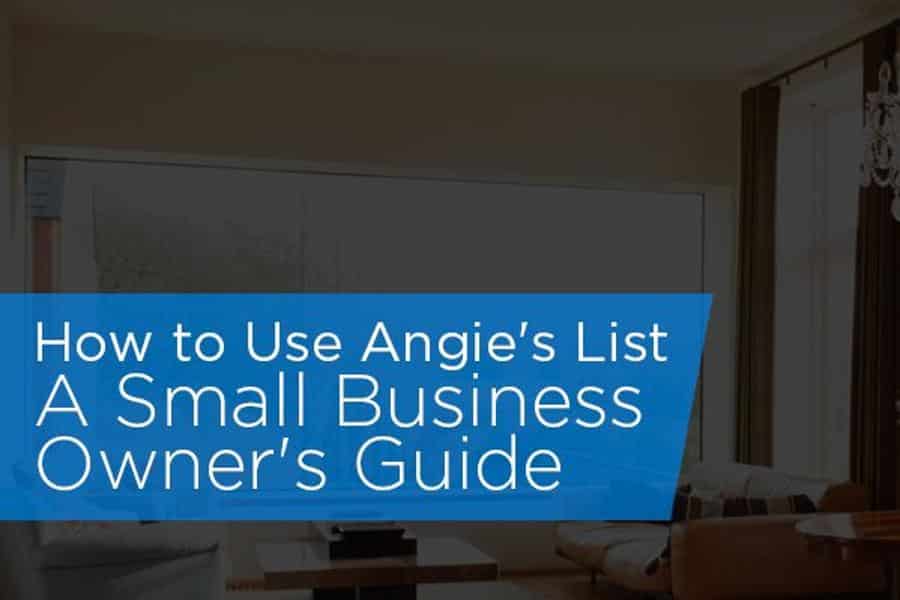 November 5, 2021
How to Use Angie's List to Build Your Home Services Business
Angi (formerly Angie's List) connects consumers with businesses providing a wide range of home services from plumbing to pest control. With nearly 6 million users per month, your business can reach prospects who are actively seeking home services in your area and advertise to get high-quality leads with the opportunity to convert them to customers. To get started, visit and follow the prompts to create your business listing. Here's how to use Angi to promote your business in 10 steps: 1. Choose Angi's Pro Network to Get Started Click on the button that reads "List my business" to get the setup wizard started. You'll first add your business' category, such as "animal grooming," and your ZIP code, so you are placed in the right search results for leads in your service area. 2. Add Your Business Information Next, you'll enter your contact information for your business, including first and last name, business name, phone number, and ZIP code. This information is for when homeowners need to contact you with questions or for a quote, so use your business phone number. 3. Create Your Angi Account Add an email address and create a password to use when logging into your account. You'll have to check the box to agree to the terms of service, but getting emails with special offers and discounts from Angi is optional. 4. Write a Business Description for Your Angi Profile When writing a business description for an Angi profile, keep in mind that this is your chance to make a great first impression with potential new customers. You want to write a business description that includes what your company specializes in and how you differ from others in your industry. You can also include trust-building stats like customers served or years in business, and list awards, certifications, or accolades your business has earned. 5. Choose More Business Categories You've already chosen your initial category in the first step, but now you can add more, if they apply. For example, if you run a lawn care service that also offers tree removal and sod installation, add those as separate categories. Adding more business categories gives you more exposure when Angi customers search for specific services. Just make sure your business is actually able to provide those services, and that the profit margin is sufficient to offset any advertising costs you incur to generate leads using Angi. 6. Select Your Service Areas On the next screen, you'll see a pin in the map of your business' location. If your service area goes beyond your ZIP code, just click the other areas where your business provides services. As you click each section, it turns red, showing all the locations you serve, which also ensures you show up in searches in those surrounding areas. Once you finish this step, you'll get an option to download the Angi app, which is completely optional. It's available for iPhone and Android and allows you to manage your account from the app instead of through a browser. The Angi mobile app is a great tool for solopreneurs and small business owners who might need to manage their account while on the road fulfilling orders. 7. Access to Your Angi Dashboard Now you'll be able to get your first look at your dashboard as a pro on the Angi network. Here you'll see deals, quotes, messages, and reviews. If you sign up to offer discounts or deals to customers, you'll see those on this page. Your Angi dashboard also shows your quote requests from new customers, messages from other Angi members, and provides a section for you to request reviews from existing customers. 8. Include More Details About Your Business At the bottom right of your dashboard you'll see ways to make your profile stand out by giving prospects a better idea of what to expect from your business and what makes it special. For example, there are small graphics that represent whether your service people wear masks when working with clients, if you offer emergency services, if you speak other languages, or if you have a minority-owned and operated company. 9. Complete Your Angi Business Profile There are several sections you can complete to better help Angi users decide whether to choose your business instead of other home service businesses on the platform. If you have licenses or insurance for your business, add those to your profile to boost trust. You can also add the payment types you accept, any accreditations you've received, and your health or safety measures. Additionally, you can create photo galleries to show off success stories and project before-and-after photos. These are especially helpful for home service businesses like housecleaning services, home repair and renovation, pressure washing businesses, and lawn care companies. 10. Get Certified & Consider Advertising Through Angi If you want to generate exclusive (or semi-exclusive) leads through Angi, you'll have to become Angi Certified and pay for advertising and deals. To get started, connect with an Angi client success manager or the advertising department. There's very little information on Angi's site or your dashboard about ads or the cost, so you'll have to click the button to request a call and get a custom quote. For certified status, you need to maintain a star rating of 3 stars or higher and keep all licenses up to date. You'll also need to agree to a criminal background check every two years. Angi Alternatives to Grow Your Business Angi isn't the only option for small service-based businesses to list and advertise in order to attract new customers. If Angi isn't working for your business, it's too expensive, or you simply want to try another ad marketplace, consider one of these Angi alternatives. : Thumbtack is a similar site for service-based professionals to connect with local homeowners. It's the same business model as Angi, in that customers don't pay anything to use the service, but businesses pay for leads. : Your Google My Business profile is free, and often shows up in search results when someone searches for your business or a local business like yours. Google's ads work well for many businesses and customers alike. You can pay for different types of ads, including local service ads, to show up higher in search results. Google also offers certified status and local service ads that display "Google Screened" or "Google Guaranteed" labels, which further increases trust among consumers. Learn more about how to set up and use Google My Business. : Another option for a free business listing is Bing Places for Businesses. It's Microsoft's and Bing's answer to Google's local search results. Create your profile and manage your reviews to compete with your competitors in the local search engine results pages (SERPs). You can also pay for Microsoft Advertising to help push your profile up in search results. For more information, check out how to get started with Bing for business. : One of the original customer review and local business listing sites is Yelp. Like Angi, businesses need to pay to rise in the search results, but customer reviews go a long way to helping new people find services they want to try. It also has a larger category base, including restaurants and other services. Learn more about Yelp for business. Check out the complete list of the best online business directories to list your business on, increase your visibility, and generate more web traffic. Frequently Asked Questions (FAQs) Is Angi really free? Technically, yes. It's free to list your business on Angi. To get the highest-quality leads and show up higher in search results, you'll likely need to pay for advertising or offer deals to customers. Another free business listing that can give you access to local customers is a Facebook business page. How does Angi make money? Angi charges consumers a membership fee to access exclusive discounts and deals, but it's optional; otherwise, access to the list is free for consumers shopping for home services. Businesses can list their services for free, but to offer deals or get the Angi Certified status, they need to pay for advertising. What is better than Angi? Angi could work well to generate leads for your home services business, but if it doesn't, there are plenty of alternatives to consider for lead generation. Try , , , or Microsoft Advertising. Bottom Line Angi is tailor-made for local service-based businesses to find or pay for high-quality leads in their service areas. It's free to use, but to get the most benefit out of it, pay for advertising. When consumers use your service, you can request a review, which helps improve your profile on Angi, which could in turn result in more leads. You'll need to nurture leads that you get from Angi, and a customer relationship manager (CRM) like can help you organize your leads' important information. It also includes a lead form generator to capture traffic from other sources. Get started with a free 14-day trial. You Might Also Like… Not all ads target audiences the same way. Learn the difference between Facebook Ads and Google Ads. Use these landing page examples to inspire your lead generation efforts. Organic search can be a powerful way to get leads to your site, but you need to make sure you rank high on Google.
Discover more resources
for your business
MS in International Marketing from Edinburgh Napier University