When comparing Kabbage and OnDeck to determine which has the best loans, a business should first consider whether or not it has an existing relationship with Kabbage. While Kabbage would be the preferred lender for recurring working capital, the company is only offering its lending product to existing Kabbage and American Express customers. For non-customers or for businesses looking to finance larger projects, OnDeck will be the lender of choice.
Kabbage vs OnDeck at a Glance
| | Kabbage | OnDeck |
| --- | --- | --- |
| Best For | Recurring working capital | Financing large projects |
| Maximum Loan Amount | $150,000 | $250,000 |
| Repayment Terms | 6, 12, or 18 months | 12 to 18 months |
| Repayment Schedule | Monthly | Daily or weekly |
| Annual Percentage Rate (APR) Range | 9% to 36% | 35% to 100% |
| Funding Time | Up to 3 business days | 1 business day |
| Minimum Credit Score | 640 | 600 |
| Apply Now | | |
When to Use an OnDeck & Kabbage Competitor
Because of some limitations with OnDeck and Kabbage, borrowers should check out our list of the top working capital loan providers for more borrowing options. BlueVine is one of the top competitors of both OnDeck and Kabbage. It offers lines of credit of up to $250,000 with starting APR as low as 13%. Borrowers pay on a weekly or monthly basis, and funding can occur the same business day. For more information or to apply for a business line of credit, visit BlueVine's website.
Kabbage vs Ondeck: Overview
For businesses looking for unsecured recurring capital, lower APR and fees, or looking for monthly payments to help with cash flow, Kabbage can be a good choice if you are an existing lending customer. However, for borrowers that are not existing Kabbage or American Express customers, or businesses looking for larger loans and faster funding, OnDeck is the better choice.
Terms
| | Kabbage | OnDeck |
| --- | --- | --- |
| Credit Line | $1,000 to $150,000 | $5,000 to $250,000 |
| Repayment Term | 6, 12, or 18 months | 12 to 18 months |
| Repayment Schedule | Monthly | Daily or weekly |
| Collateral | None | Blanket Uniform Commercial Code (UCC) filing |
| Personal Guarantee | Required | Required |
| Funding Speed | Up to 3 business days | 1 business day |
| Funding Type | Line of credit | Loan |
OnDeck offers larger loan amounts and faster funding. Kabbage offers a smaller line of credit, potentially unsecured loans, and monthly payments. However, Kabbage can take up to three business days for funding and is only open to existing customers.
Costs & Qualifications
Kabbage

OnDeck

Monthly Advance Fee

6-month: 0.25% to 3.5%
12-month: 0.25% to 2.75%
18-month: 0.25% to 2.5%

N/A

Starting Interest Rate

N/A

9%

Expected APR

9% to 36%

35% to 100%

Origination Fee

None

Up to 5%

Minimum Credit Score

640

600

Minimum Time in Business

1 year

1 year

Minimum Annual Revenue

$50,000

$100,000
For existing customers, Kabbage is a good choice for small and new businesses with its minimum annual requirement of $50,000, compared to $100,000 at OnDeck. Because fees are based on the length of the loan, short-term loans will be less expensive. Kabbage has raised the minimum credit score required to 640, so borrowers with low credit scores will likely have to go with OnDeck.
Kabbage borrowers can take out multiple draws at a time as long as the credit limit isn't exceeded, while OnDeck borrowers must pay the loan down halfway before borrowing again. OnDeck has a strict rejection policy for borrowers not meeting the minimum credit score, time-in-business requirement, and annual revenue requirement.
Kabbage vs OnDeck: Mobile Apps
Through the Kabbage mobile app, users can apply for, get approved for, and manage a line of credit. The app has a four-out-of-five rating on the Google Play store, with 368 reviews. Recent reviews have been more negative, with several one- and two-star reviews in 2021.
While OnDeck used to have an app, it is no longer available.
Kabbage vs OnDeck: Loan Originations
OnDeck has originated more than $13 billion in loans, while Kabbage has originated more than $7 billion. Small businesses have borrowed almost twice as much money from OnDeck than Kabbage.
SMART Box Capital Comparison Tool
OnDeck and Kabbage continue to provide a tool through the Innovative Lending Platform Association (ILPA) to help businesses understand the costs associated with their loans and lines of credit. The disclosure is called SMART Box, and an example is shown below: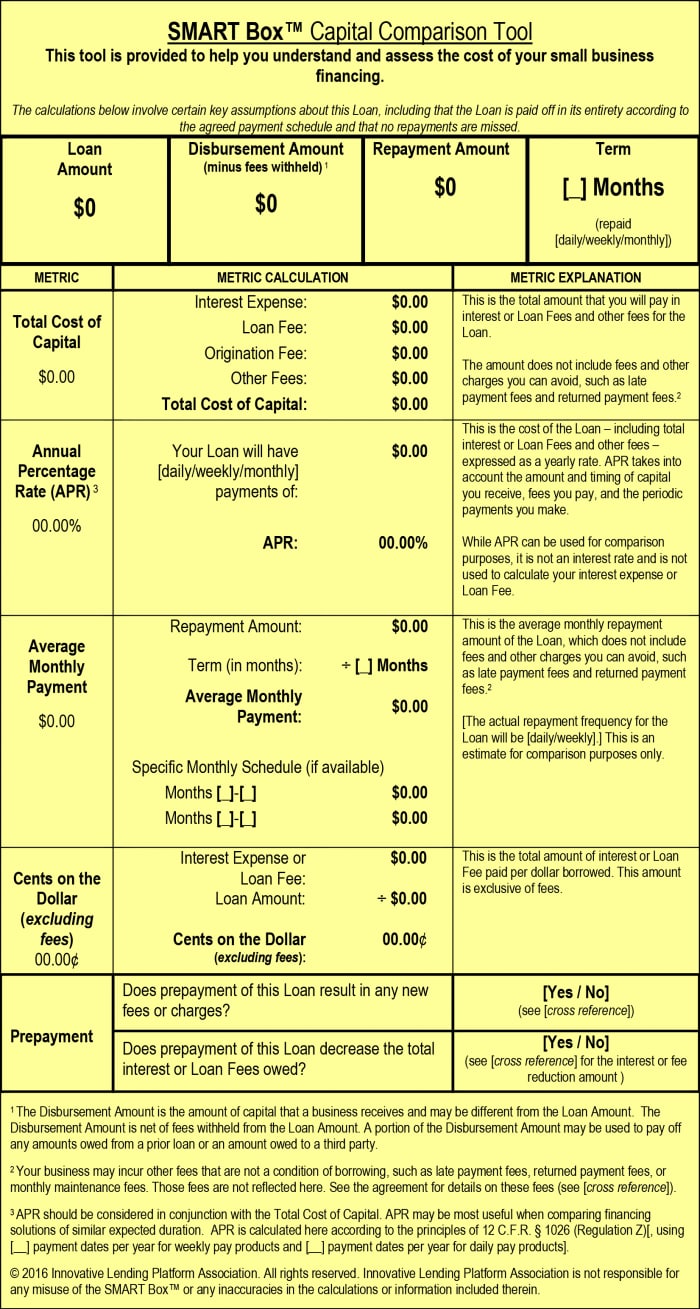 How We Evaluated Kabbage vs OnDeck
Kabbage has the edge in several areas, including lower maximum APR and less frequent payments. OnDeck offers a higher maximum loan amount, a longer minimum repayment period, and a quicker funding time. Kabbage (which was acquired by American Express) is not currently accepting new lending customers as of August 2021.
Minimum qualification: With Kabbage raising the minimum credit score required, OnDeck has the edge in credit score. Kabbage has the lower annual revenue required.
Loan amounts: OnDeck offers a larger short-term loan than Kabbage. Kabbage gives the borrower more flexibility with its line of credit.
Rates and fees: Kabbage has a lower APR range than OnDeck, and fees are based on the length of the draw taken against the line of credit.
Repayment terms and schedule: Both Kabbage and OnDeck offer 12- and 18-month repayment schedules. Kabbage also offers a six-month term. Kabbage payments are monthly, while OnDeck payments are either daily or weekly.
Application, approval, and funding speed: Both offer quick online application and approval. OnDeck funds the same day, while Kabbage can take up to three business days.
Personal guarantee and collateral: While both require a personal guarantee, Kabbage offers lines of credit that do not require a blanket UCC filing. OnDeck still requires the blanket UCC filing.
Reviews: Both have received mostly positive reviews, although Kabbage has received more negative reviews since the American Express acquisition.
Customer service: Both offer customer service throughout the lending process and can be reached by phone and email.
Additional features: Kabbage has a mobile app while OnDeck does not.
Bottom Line: Kabbage vs OnDeck
Because Kabbage only accepts existing customers for its lending product, it is very difficult to recommend them at this time. However, if a business is an existing customer of Kabbage or American Express, Kabbage has a solid line-of-credit product that has a low APR range and requires a very low annual revenue. On the other hand, OnDeck offers larger loan amounts, a longer minimum repayment period, and faster funding. Most importantly, OnDeck is open to new customers, making it the lender of choice when comparing OnDeck and Kabbage.