Small business owners know that getting a business loan from a bank can be a nightmare. Even if you're well qualified, they're slow and there's tons of paperwork. Kabbage and OnDeck stepped in to make getting a business loan easier. But who's best? In this article, we review the rates, terms, and qualifications of the two best short term business lenders: Kabbage vs OnDeck Capital.
Best Short-Term Business Loan Provider: OnDeck
We recommend OnDeck over Kabbage because they offer lower rates and can make much larger loans. OnDeck can get you a term loan much quicker than traditional financing lenders, like banks. Plus, on average, OnDeck is half as expensive as a merchant cash advance.
OnDeck Summary
Loan Amount: $5K – $500K
Terms: 3 – 36 Months
Starting Rates: 9.99%
Expected APR Range: 30-50%
Funding Time: 1-3 Days
Credit Score: 500+
When Kabbage is the Best Short Term Business Loan Provider:
Kabbage can be a better fit than OnDeck if you can't meet OnDeck's revenue requirements or if you require monthly repayment terms. Kabbage business loans are much quicker and easier to get approved for than a traditional bank. They're also more affordable than a merchant cash advance.
Kabbage Summary
Loan Amount: $2K – $150K
Terms: 1 – 12 Months
Starting Rates: 15%
Expected APR Range: 30-50%
Funding Time: 1-3 Days
Credit Score: 550+
Kabbage vs OnDeck Summary
| | OnDeck | Kabbage |
| --- | --- | --- |
| Loan Amount | $5K - $500K | $2K - $150K |
| Terms | 3 - 36 Months | 1 - 12 Months |
| Starting Rates | 9.99% | 15% |
| Expected APR Range | 30-50% | 30-50% |
| Funding Time | 1-3 Days | 1-3 Days |
| Credit Score | 500+ | 550+ |
| Apply Now | www.OnDeck.com | www.Kabbage.com |
*Updated: January, 2018
Why We Chose OnDeck Capital as Best for Short-Term Business Loans:


We believe that most small businesses have the best chance of being approved for a short term business loan by OnDeck. Business owners only need a credit score of 500+, $100K in annual revenue, and at least 12 months of operating history to be considered for a loan. Many other providers of short-term loans require credit scores upwards of 600 and up to two years of business history.
Another reason we like OnDeck Capital is that, compared to other financing options, they're very fast to approve and fund your loan. The application is online, and there's very little paperwork that you have to submit. You can get approved the same day that you apply and funded in as little as 1 business day. Usually, there is no hard credit check, so applying for a loan will generally not have any impact on your credit score.
The third reason we chose OnDeck is loan size and terms. They tend to approve much larger amounts than their competitors, including Kabbage. OnDeck provides loans up to $500K and may approve a loan for as much as 15% of a business's annual revenues. They also offer loans for 3-36 month terms. You can choose the loan length based on what you plan to use the loan proceeds for and how much you can afford to repay monthly.
The interest rates charged by OnDeck can be higher than traditional bank loans, but well qualified borrowers can actually see rates as low as 9.99%. And even with average APRs of ~40%, OnDeck gets great customer reviews. That might have something to do with the fact that returning customers can qualify for lower interest rates and lower origination fees.
When Should You Consider Kabbage Instead of OnDeck?


Kabbage issues loans for 12 months or less and has a maximum loan size of $150,000. If you need a small business loan for a short period of time, Kabbage may be your best choice.
Very small businesses will have trouble meeting OnDeck's minimum annual revenue requirement of $100,000 per year. Kabbage can help these businesses because they can approve businesses with as little as $50,000 in annual revenue.
In addition, Kabbage loans have added flexibility because they work like a line of credit. You get a maximum amount of money that you can draw from as needed, and you only pay interest on money that you use. As you pay off what you borrow, those funds become available to you again (like a credit card). OnDeck also offers lines of credit, but the qualification requirements are stricter than Kabbage.
While Kabbage customers don't provide as glowing reviews as OnDeck's, Kabbage also gets good reviews.
OnDeck and Kabbage Competitors
OnDeck and Kabbage have a number of competitors, all of whom offer fast business loans. The table below shows a list of some of their top competitors. Some of these loan providers offer financing based on your credit card sales, others lend based on your unpaid invoices. You can get prequalified with each competitor online or click the link in the table to learn more.
OnDeck & Kabbage Competitors
---
In-Depth Comparison: Kabbage vs OnDeck
Loan Requirements
When applying for a short term business loan, the three main qualification requirements that the lender will consider are credit score, revenues, and time in business.
Kabbage is easier to qualify for than OnDeck in terms of business revenues. They require at least $50,000 in annual revenues while OnDeck requires $100K. However, in terms of credit score, OnDeck is easier to qualify for. At least one business owner must have a 500 or better FICO score to qualify with OnDeck but Kabbage requires a score of 550+.
OnDeck vs Kabbage Loan Requirements
Minimum Requirements



Apply Now

Annual gross revenue of $100K+
12+ Months in business
500+ Credit score
(Check your credit score for free here)



Apply Now

Annual gross revenue of $50K+
1+ Year in business
550+ Credit score
(Check your credit score for free here)
---
Loan Amounts
OnDeck is the big winner if you need financing north of $150K because that is the maximum you can get through Kabbage. While both companies can get you funded for small amounts, OnDeck will loan up to $500K for businesses with better revenues and longer operating histories.
OnDeck vs Kabbage Loan Amounts
---
Funding Times
OnDeck and Kabbage offer very quick business loans. Despite the fact that they have a pretty high cost of capital, most customers seem to be willing to go back for a second or third loan from these alternative lenders. The speed of funding is very helpful and convenient for even prime borrowers who have the capacity to repay the funds quickly.
OnDeck vs Kabbage Funding Times
---
Rates, Costs, & Repayment Terms
Short term loans are relatively fast and easy to get, and they don't require any collateral like traditional bank loans. This convenience comes at a price, which is why the APR on short term loans is relatively high compared to more traditional financing. The Annual Percentage Rate (APR) is the cost of a loan over one year, including interest and fees. Compared to the interest rates on a home mortgage or car loan, the APR for short term loan providers may seem exceptionally high.
OnDeck and Kabbage have similar APRs, with both companies reporting average APRs of ~40%. However, at 9.99%, OnDeck's lowest possible rate (reserved for the strongest borrowers) is lower than Kabbage's. The average APR's include OnDeck's origination fee of 2.5% on every loan, which is taken out upfront from your total loan amount. Kabbage charges a single interest fee on their loans per month you're in repayment with no additional fees.
Even though short-term business loans from OnDeck and Kabbage have high APRs, keep in mind that you end up paying them off much quicker than you would pay off a conventional bank loan. The total out of pocket cost of a short term loan is often less than the out of pocket cost of a bank loan. In other words, if you need funds to buy inventory, make payroll, or meet some other short term business need, paying 50 % APR over 9 months may be preferable to paying 5 % APR over 10 years.
OnDeck vs Kabbage Rates & Terms
OnDeck and Kabbage both downplay APR when working with borrowers. Instead, they like to focus on the dollar amount that the borrower will have to pay back over the life of the loan, which is called the factor rate.
A factor rate of 1.3 means that the borrower would have to pay back 1.3 times the original loan amount. For example, on $100,000, a company would have to pay back $100,000 in principal and $30,000 in interest/fees over the course of the loan. One common mistake is to think a factor rate of 1.3 equals a 30% APR. This is most likely not true. Depending on several factors, a 1.3 factor rate might equal a 70% APR!
The average APR for OnDeck term loans was 40.6 % in the first quarter of 2016. Kabbage, which is not a publicly traded company like OnDeck, told us that risk analysts in two separate offices confirmed an average APR of ~40%. While each company advertises lower possible rates, we expect the typical Kabbage and OnDeck borrower to pay between 30 % and 50 % APR. This interest rate could be lower or higher depending on the creditworthiness of the borrower, the amount of the loan, and when the loan is paid back.
Repayment Schedules
It's important that the repayment schedule of a working capital loan fits within a small business's normal cash flow. Some small businesses will have no problem adhering to a daily or weekly repayment schedule. For other businesses, monthly payments may seem like the only repayment schedule that will work.
Kabbage vs OnDeck Repayment Schedules
---
Kabbage Reviews vs OnDeck Reviews
OnDeck and Kabbage both get pretty good customer reviews. Both are able to retain customers for multiple loans despite their high APR costs. This speaks volumes to the customer service of each, which we have found to be very good with both businesses. Their customers rank OnDeck a bit higher on overall satisfaction than Kabbage's customers do.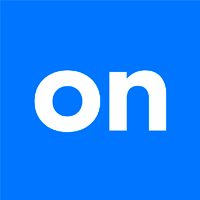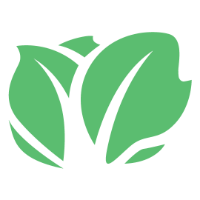 ---
Personal Guarantee & Collateral
A personal guarantee means that you are personally responsible for payment of a loan. If your business goes under and you can't afford the loan payments, the lender can make you turn over your personal assets (e.g. your car or home) to pay off the loan. A personal guarantee is common with most small business borrowing and both OnDeck and Kabbage require a personal guarantee.
Collateral is an asset or assets that you pledge as security for a loan. Most traditional bank business loans require you to put up specific collateral, such as business equipment or machinery, as backing for the loan. Neither OnDeck or Kabbage requires collateral. However, OnDeck places a UCC lien on your general business assets for all loans, and Kabbage does so for loans above $20K. This means that the lender can seize any and all business assets if you're unable to pay back the loan.
---
Additional Features
Both lenders have additional features beyond what is discussed above that make it more convenient for you to manage your loans. These services range from making convenient payments on the go to easily being able to reach a customer service representative.
Mobile Apps
Small business owners are busy, and not always behind a desk. This is why it is essential in today's business world for financing to be available on mobile devices. Kabbage and OnDeck do this by having their own mobile apps. Each app is easy to use and will help you stay up to date with any outstanding loans you have.
OnDeck Mobile App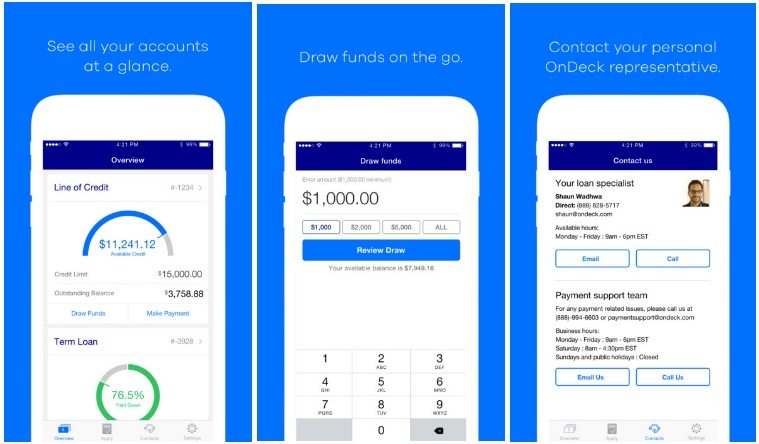 OnDeck's mobile app is designed to meet your needs for all of your loans. The app gives an account overview of where you stand on each loan you currently have in repayment. You can also easily check the status of all account transactions including the loan payments you have made.
OnDeck's mobile app also makes it easy for you to get the answers you need through their customer service team. They provide contact information for your individual loan specialist, and information on contacting the general support department. You can email or call their support team directly from the app.
OnDeck also offers a business line of credit product, in addition to a short term loan. Once you are approved for the line of credit, you can use their mobile app to withdraw funds from that line quickly and easily (shown in the middle picture above).
Kabbage Mobile App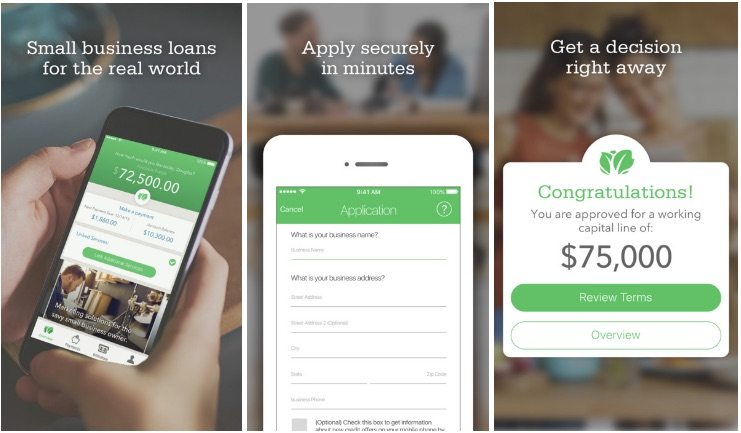 Kabbage also has a helpful mobile app for you to oversee your loans. The app allows you to see an overview of each of your current loan balances, and any transactions made on your account. You can quickly make your loan payments directly through the app when you are away from your desk.
One feature that is unique to Kabbage's mobile app is the ability to apply for a loan directly through the app. They make it very easy to enter your information and get pre-qualified for a loan in just a few minutes. The whole process takes place in the app, and when you're approved you can get connected to a loan specialist.
---
Customer Service
While customer service may not impact your bottom line directly, good customer service can save you a lot of headaches. You might have a problem with your loan, or have a question you need answered quickly. If this happens then you need to have confidence that your loan provider will be there to help you. Let's take a look at how you can reach out to each of these loan providers if you have a question.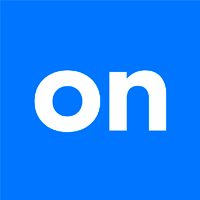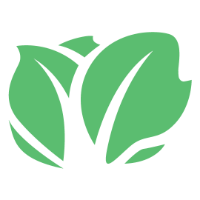 ---
SMART Box Capital Comparison Tool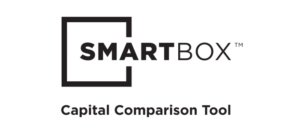 The language and details of a loan can be difficult to understand, and they often sound very different from one lender to the next. You shouldn't need a finance degree to figure out how much you are going to pay for a loan. OnDeck and Kabbage have come together through the Innovative Lending Platform Association (ILPA) to provide a disclosure tool that can help you better understand and compare the true costs of their loans. This disclosure is available after the application process, but before you commit to the loan.
What Is the SMART Box Capital Comparison Tool?
The SMART Box tool helps you understand and compare the costs of small business financing. It does this by giving you 5 different ways to measure the cost of your loan so that you can compare it to other loan products as you shop around. SMART Box then defines each measurement (such as APR) in plain English so that you know what you are looking at.
The need for a tool like Smart Box arose because short term loan providers often describe the cost of their loans using something other than APR (the measurement most consumers are familiar with). They do this because short term loans almost always have higher APRs than long term loans. What resulted was a confusing, irregular mix or measurements that left business owners in the dark.
"The SMART Box was built with the small business owner in mind. The SMART Box will further empower the small business owner to fully assess and compare financing options and make the right decision for themselves. We believe the SMART Box tool really moves the needle as far as informing the small business owner."

— Daniel Gorfine, the Head of Government Affairs for both OnDeck and the ILPA
How SMART Box Can Help You
The SMART Box tool will help give you a better picture of your total cost of capital when you are analyzing a potential loan. This will allow you to:
See if the loan is affordable
Easily compare it to similar loan products
Even compare it to dissimilar loan products.
SMART Box will not only provide you with actual numbers and percentages to analyze, but it will give you plain English explanations of what those numbers mean to your business.
The SMART Box disclosure will give an overview of your loan amount, disbursement amount, repayment amount, and term. Additionally, here is a list of common cost metrics that the SMART Box disclosure will give you:
Total cost of capital
Annual percentage rate (APR)
Average monthly payment
Cents on the dollar (amount of interest paid per dollar borrowed)
Prepayment penalties
Here is an example of what the SMART BOX disclosures look like: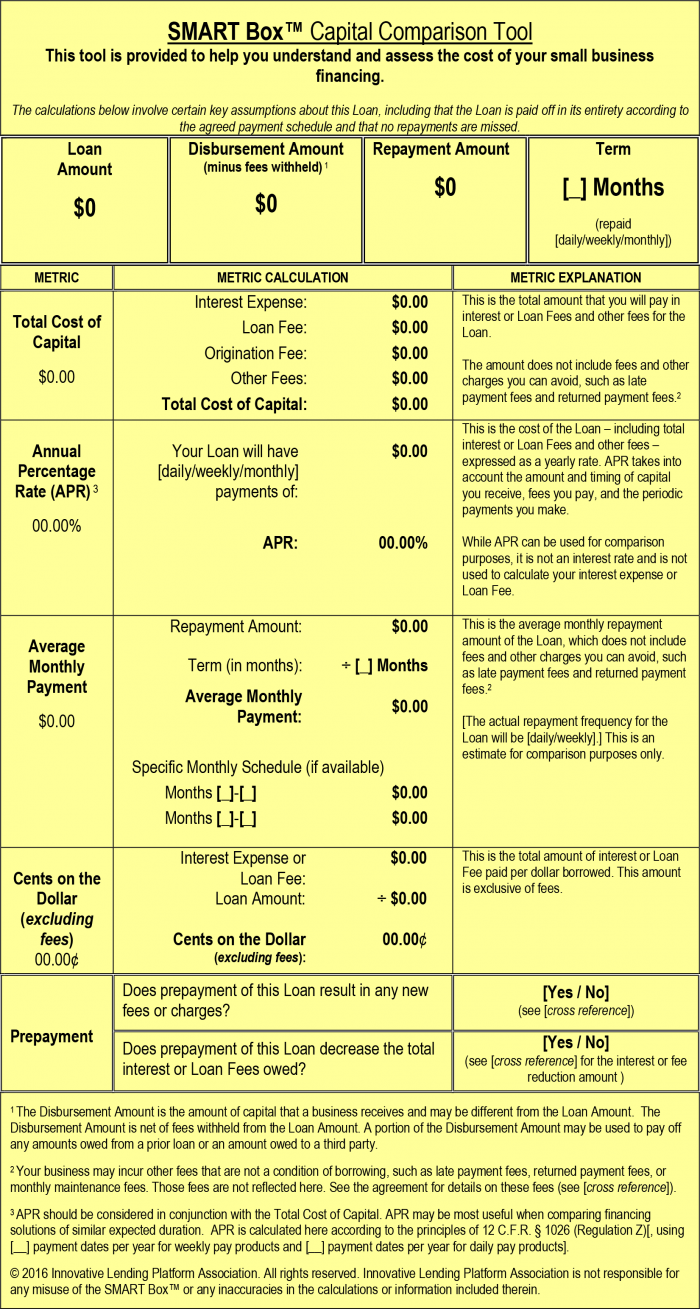 Overall the SMART Box tool is a great way to measure your loan costs more accurately and to compare those costs against other options. Both OnDeck and Kabbage currently provide this disclosure after you finish the application process, but before you accept the loan. Before you take out an online business loan, look for the SMART Box disclosures.
---
More Details on Kabbage & OnDeck
Kabbage vs OnDeck: Loan Originations
The graph below shows how much money each lender has loaned out since the inception of their business.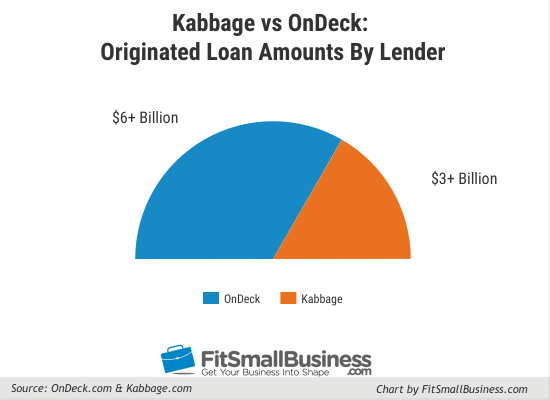 Kabbage vs OnDeck: Ownership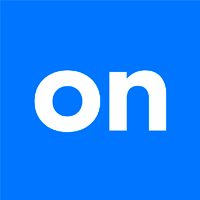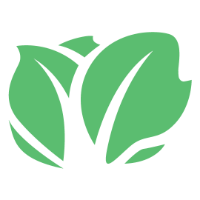 Kabbage vs OnDeck: Company Valuations
Due to OnDeck being a public company, their market valuation is much easier to know for sure compared to an estimation for a private company like Kabbage. As of May 2017, OnDeck was valued at $324 Million. Kabbage's last publicly known valuation came after a 2015 round of funding. At the time, that put Kabbage's valuation at $1 Billion, but virtually every alternative business lender has seen their valuation decrease significantly since then.
Bottom Line
Small business owners are lucky to have so many options today to get short term working capital, with OnDeck and Kabbage leading the way. We recommend OnDeck overall for small businesses because they loan larger amounts of money quickly, with longer terms. Kabbage is a good option for small businesses that generate lower revenues of $50K – $150K.
OnDeck offers loans up to $500K with terms of 3-36 months. If you have $100K+ in annual business revenue, a credit score of at least 500, and have been in business for a minimum of 1 year, then you can pre qualify online today within a few minutes. OnDeck is easy to apply for and can fund your loan as quickly as 1 day.