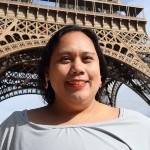 Jocelyn Dimaculangan
Marketing Expert
Education & Credentials:
University of the Philippines, Cum laude graduate of BA Communication Research
Expertise:
Content writing
SEO
Marketing
Highlights
14+ years in editing, content writing & SEO optimization
10+ years freelance copywriting
3+ years managing WordPress websites
Experience:
Jocie is a marketing staff writer at Fit Small Business. Before joining Fit Small Business, she produced content on the Philippine entertainment scene as well as for companies based in Australia, Singapore, and the United States. She has extensive writing and research experience, covering topics ranging from ecommerce to real estate to travel.
Hobbies:
When not deep in the SEO trenches or writing about digital marketing, Jocie can be seen planning her next adventures and crossing off items from her bucket list. Her dream is to publish a travel book on Europe and/or launch a YouTube channel documenting her trips.
"Know thyself…but don't tell anyone." ~ Gimikera
Discover more resources
for your business
University of the Philippines, Cum laude graduate of BA Communication Research
"Know thyself…but don't tell anyone." ~ Gimikera