There are seven steps on how to start a business blog that makes money. First, decide what type of blog to start and which monetization ideas to include. Then choose the best platform, get a domain name, design your site, and add blog content. Next, drive traffic to your business blog so that it makes money. Keep reading to get step-by-step instructions, including blog ideas that can help you earn.
Get everything you need to build brand presence online with WordPress web hosting, a free domain, SSL, and business email from DreamHost.

---

$2.95 a month the first year
Unlimited websites and emails
Free domain and SSL
Get everything you need to build brand presence online with WordPress web hosting, a free domain, SSL, and business email from DreamHost.
---

$2.95 a month the first year
Unlimited websites and emails
Free domain and SSL
1. Decide What Type of Blog to Start
The first step in creating a money-making blog and establishing brand presence for your small business is deciding what you'll write about. You may already have a good idea of what your blog's content should focus on, but you also need to select a niche that offers true earning potential.
One way to determine whether your chosen topic has an audience large enough to generate revenue is to use keyword research tools like Semrush. Its Keyword Overview and Keyword Magic tools show what type of monthly traffic your topic can generate. Plus, they identify the best keywords to use to drive traffic to your site.
Also, take the time to create a formal blog business plan that addresses the most crucial steps on your business blog-building journey. Your plan will outline your niche audience, help you identify competing websites and marketplace opportunities, define your content and monetization strategies, and allow you to develop a detailed plan for promoting your business blog.
Types of Business Blogs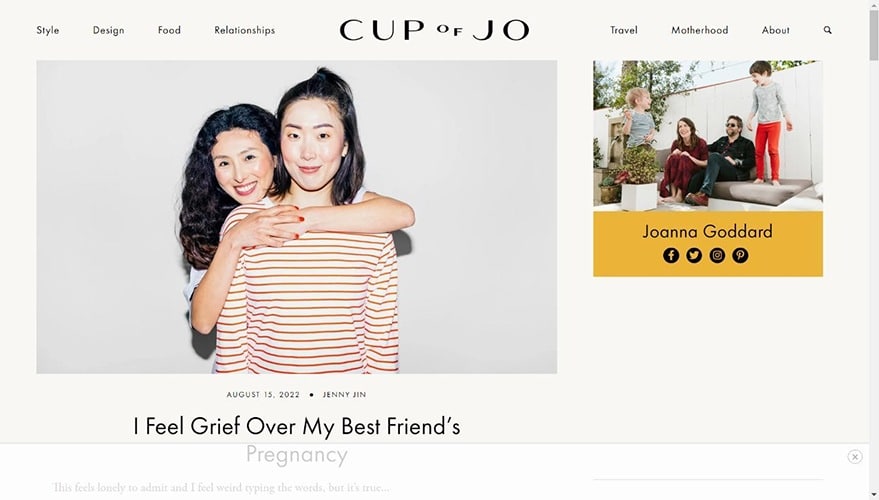 ---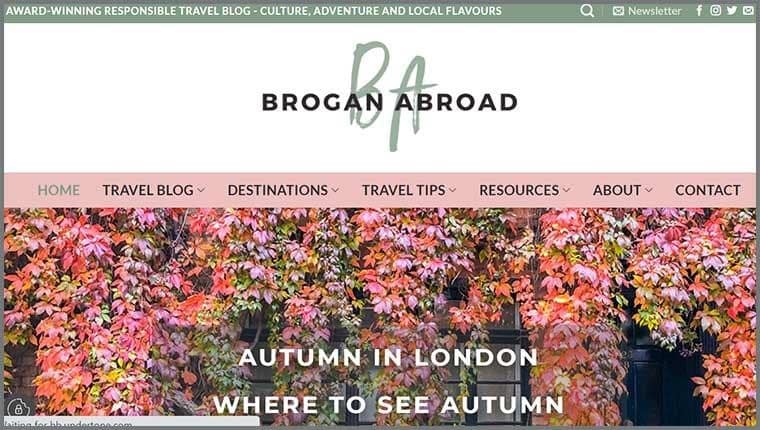 ---
---
There are many types of blogs a small business can start, and each appeals to a different type of audience. The best type for you is one where you already possess deep knowledge, skills, and direct experience, or where you have a strong passion for the subject. Without this, you may find it difficult to generate ample content or you'll spend a lot of time researching articles.
Some of the types of blogs that are easy to monetize include:
Food blogs: If you love to cook and invent new recipes, you could start a food blog. It's also one of the most popular niches on the internet.
Fitness and wellness blogs: Translate your passion for health and fitness into a wellness blog.
Business blogs: Business blogs tend to focus on specific types of businesses (e.g., getting into small businesses, startups, or entrepreneurs), industries (such as restaurants, salons, automotive, and so on), or topics (like marketing, finance, leadership, and management, or human resources).
Travel blogs: If you have a deep affection for adventure and traveling, a travel blog could be ideal for money-making content.
Lifestyle blogs: A popular blogging niche, lifestyle blogs focus on personal choices, interests, style, or unique tastes, discussed from the blogger's personal perspective.
Craft blogs: There's currently a big demand for do-it-yourself craft ideas. If you are passionate about sharing your crafting know-how, you may want to start a craft blog.
Finance blogs: These include personal or business blogs that talk about how to save money, how to invest your money, how to live on a budget, and other subjects related to finances.
Sports blogs: If you're a sports lover, you may want to start a blog about your favorite sport or team.
Mommy blogs: These blogs focus on all things related to parenting, homemaking, and the personal challenges mothers face.
Entertainment blogs: You can blog about movies, television, music, theater, and celebrities.
Fashion and beauty blogs: These blogs typically talk about fashion trends, makeup, hair, and different types of beauty products and regimens.
Hobby blogs: Blog about any hobby under the sun, from model trains to video gaming, gardening, and more.
When starting a successful blog and choosing a blog type, make sure to focus on a niche you're comfortable with, as this could affect engagement, which is an essential key to making money blogging. Also, you'll have a more natural tone writing about topics right up your alley.
2. Choose the Best Platform to Start a Business Blog
There are two primary types of blog hosting platforms. The first is to start a topical blog on a third-party website like Medium, a personal blog (such as a crafting blog) on Blogger, or build professional thought leadership by blogging on LinkedIn. While often free, going this route comes with significant limitations in blog design, monetization, and search engine visibility.
The second option is to create a self-hosted blog. A self-hosted site is the best way to make money with a blog, as you can customize it with all the features you need like themes, plugins, and marketing capabilities. You can do this starting for free on some of the best blogging platforms to make money, like Wix and Weebly, or on paid plans from $5 and up.
For example, you can use Wix's website builder to build a blog, sell products and services, and easily monetize your content with Google AdSense. Alternatively, you can start a small business blog on WordPress for as little as $2.95 with Bluehost.
Self-hosted sites are better for generating organic web traffic among your target audience, especially over the long term. They also provide the most opportunities to implement blog ideas that make money without the limitations that come with third-party blogging platforms.
There are several free blogging platforms such as WordPress.com, Blogger, Tumblr, and Medium. The good thing about these websites is that they connect you to a network of other bloggers and have already built audiences that might align with your niche audience. However, keep in mind that you'll be competing for the same audience with other blogs on these sites.
While you can start a small business blog for free on many third-party sites, there are downsides to doing so, including:
No custom domain: Since your blog will be hosted on a subdomain, you won't get a custom domain name (e.g., yourbusiness.com vs yourwebsite.wordpress.com) to help build your brand. This lowers your brand's credibility, especially if you plan to blog about business topics.
Lack of branding: You'll have very little ability to visually brand your blog on third-party websites. Most will only allow you to upload a small profile photo and cover image.
Competition: Depending on the topic of your business blog, you may have a few to many competing blogs on the platform. This reduces your ability to build a loyal following and cannibalizes the readership between multiple blogs.
Monetization limits: Free blogging sites have strict rules in place as far as how your content can be monetized, and some require that your content generate a minimum amount of traffic before you can start making money. Likewise, you generally won't be able to directly showcase products or services for sale or process sales online and you're unlikely to be able to make money with your blog through sponsored content.
Reduced ad commissions: If your blog makes money through display ads, the third-party platform will take a share of the commission.
Increased risk: You don't have full control over your website. If the website hosting your blog shuts down, your business blog also vanishes. Plus, if the platform determines that your content is violating its standards in some way, it may penalize or delete your blog.
Weaker search rankings: You'll have limited control over search engine optimization, or SEO, which limits your blog's ability to rank on Google. In addition, links back to your website will usually be no-follow links, which don't help to boost your site's SEO.
Design limitations: Design and HTML limitations mean you won't be able to make the blog look exactly how you envision it.
If making money with a blog is not yet your goal and you just want a fun way to share your thoughts, a third-party site could be the right way to go. Likewise, you can use third-party sites in addition to a blog hosted on your own site as another way to build brand awareness and drive traffic. But if you want to use a blog to make money, we recommend building a self-hosted site using Wix, and you can start a blog there for free.
---
A self-hosted blog offers versatility in terms of site design and monetization functionality. Our guide on how to make a small business website can help you get your blog started, so you can grow your readership and brand online in a few simple steps.
Best Platforms for Small Business Blogs at a Glance
Blog Platforms

Free Plan

✓

✓

✕

✕

Starting Cost of Paid Plans*

$16

$23

$5

$2.95

Free Domain & SSL (Paid Plan)

✓

SSL only

✓

✓

Google AdSense App/Plugin

✓

✓

✕

✓

Top Features for Bloggers

Easy to build a custom business blog
Community forums
Solid SEO features

SEO guidance
Email marketing
Dynamic content
Reports and dashboards

Unlimited storage
Personal consultant
Google PageSpeed optimization
Email marketing

Versatility of WordPress and countless free and paid plugins for custom blogs
Strong SEO (with plugins and know-how)
*Monthly cost, billed annually. Wix and HubSpot also offer monthly billing at a higher rate.
Both all-in-one site builders and WordPress websites allow you access to third-party apps and plugins you can use to further customize and monetize business blogs. These include both free and paid software. With some third-party apps, you may have to embed code into a page or your site's header or footer.
WordPress plugins also entail vetting to ensure a plugin is up to date, reputable, and compatible with your site. Get an idea of all that could be required to build a blog site on WordPress, then check out our full list of WordPress tips and tricks.
If you choose an all-in-one site builder like Wix, in addition to robust native features, there are more than 300 plugins, and you can embed code at the page level. This allows you to forgo the time-consuming process of vetting WordPress plugins and the headaches that come along with maintaining and updating your site's plugins over time.
---
For a deep dive into the best platforms for small business blogs, read our article on the best blogging platforms. Alternatively, if you're only looking to create short-form content, read our guide on how to start an Instagram blog.
3. Get a Domain Name
If you've decided to build your own blog site, you'll need to get a domain (e.g., "yourblog.com"). Top recommended WordPress hosting company Bluehost includes a free domain for the first year when you purchase hosting services, and your plan will also come with a free SSL certificate and WordPress page builder. Likewise, some site builders, like Wix and IONOS, give you a domain name free for the first year with paid plans (and free SSL security).
You can also purchase your domain separately from top domain registrars like Domain.com and get a .com domain for $9.99. Domain renewal rates are typically lower on sites specializing in domain registration than with hosting site providers. If you're on a super-tight budget, there are even legit options for getting free domain names.
Top Blog Domain Name Providers at a Glance
Blog Domain Providers

Key Features

Dedicated domain registrar

Free domain in email hosting or site builder plans
Free private registration

Free domain for 1 year with paid web hosting plan

Free domain for 1 year with paid site builder plan

Cost*

$9.99/year

$1-$5/month

$2.95/month

$16/month

Free Domain & SSL

✕

✓

✓

✓
*With annual billing; some plans renew at a higher rate after the first year
When choosing a domain name, consider URLs that include one or more of the following elements:
It describes your blog's niche: Ideally, people will have an idea of what you are writing about from the name of your blog. For example, minimalistbaker.com is a food blog with recipes that have less than 10 ingredients.
It includes SEO keywords: You want people to find your blog when they search Google for answers related to your area of expertise. Having your primary keyword in your domain will help people searching on Google see that your site is relevant to their needs. A great example of this is YTravelBlog.com, a family-owned travel advice blog that gets over 90,000 views each month.
It's easy to spell and pronounce: If your website is hard to pronounce or spell, you're making it harder for people to remember you. Be clear and use common spellings when choosing your domain.
With millions of blogs on the internet, it may take a while to find a domain name that works well for your blog that isn't already registered. The more original your blog's domain name, the greater the chance that you'll be able to acquire the domain you want. See how easy it is to register a domain name for your blog in three easy steps.
4. Design Your Blog
How you design and customize your blog depends on the platform you are using. Site builders like Squarespace and Wix provide templates you can use to quickly build a blog and get it online. While it's a bit more time-consuming to use WordPress, DreamHost plans come with a no-code WordPress page builder and over a hundred templates you can easily customize.
Customize Your Blog
As mentioned, if you're using an all-in-one site builder like Wix, you'll start by choosing one of the blog-friendly templates on the platform. These templates handle key design components for you, so you don't have to be a graphic designer to launch your blog.
Wix has more than 800 responsive design templates, making it one of the best blog sites to make money. Choose your template carefully, though, as you can't easily switch templates later, but once selected, you can easily change your site's fonts, colors, and blog settings. Plus, when you want to add a new page or add something to an existing page, there are hundreds of premade elements that make building your blog easy.
Wix is considered one of the easiest blog platforms to use, and it's ideal for those with minimal technical skills. On the other end of the technical skills-required spectrum, WordPress comes with a learning curve that isn't ideal for web design beginners.
With that said, no-code WordPress page builders like Elementor or the site builder included in Bluehost's hosting plans go a long way to reducing the learning curve needed to start a blog on WordPress. Each has its own options for customizing your blog, including changing settings for fonts, colors, your blog's landing page, article formatting, and more. Take time to set this up because it's time-consuming to change your blog's visual design framework later on.
If you want help designing your business blog, Fiverr helps you find the perfect freelancer to help you build a beautiful blog and set up your domain. Even better, Fiverr freelancers are available for nearly any budget, with project-based pricing as low as $5.
5. Incorporate Blog Ideas That Make Money
The biggest mistake many new bloggers make is not knowing exactly how to make money blogging. If you want to make money from your blog, you'll need to consider how to generate income. For example, do you want to use your blog to generate leads and sell products and services, sell memberships, or monetize your blog through sponsored content, affiliate marketing, or Google Ads?
Click the tabs below to learn more about common ways to make money blogging:
Bloggers and site owners can get their blogs and websites approved for Google AdSense display ads. To apply for Google AdSense, you'll need an active website with original and relevant content.
Once you have an eligible website, you can fill out an application and wait for Google to review your site. If your site is approved, you'll be able to start displaying Google ads on your blog and earning money. Each time a reader clicks through an ad, you earn a small commission.
Google AdSense bloggers and website owners (also known as publishers) get 68% of the click amount (or 51% when it comes to AdSense for search). Depending on the niche, the commission can range from 20 cents to as high as $15, with an average of $3 per click for publishers.
Google AdSense is one of the top display ad networks but not the only one you can use to make money with ads on your blog. Read our list of the best ad networks for bloggers to find out which is best for your small business blog and how to get started.
---
Many businesses pay commissions to bloggers who refer people to their websites through affiliate links. Payouts can either be pay-per-click or pay-per-action. According to 2021 data from Glassdoor, the average annual earnings for affiliate marketers was $89,672, ranging from $41,000 at the low end to $157,000 for top-earning bloggers.
Researching and joining affiliate programs can be a bit time-consuming, but it's also fairly easy, and there's usually no cost to join. Many businesses have their own affiliate programs, which you can often find through links on a site's footer. Others participate in affiliate marketing platforms, such as CJ (aka Commission Junction), Rakuten, Amazon Associates, and ClickBank.
---
Writing content that builds brand awareness and interest in your business' products or services directly helps your business make money. Using a search-optimized content marketing plan, bloggers can reach potential customers at every stage of the buying journey to generate leads and increase sales.
Alternatively, blogging for business allows you to grow an audience to whom you can then sell products or services related to your topic. Here are some examples:
A food blogger could sell online cooking classes or equipment (e.g., pots, pans, mixing bowls, utensils, and so on)
A fashion blogger could sell clothing or lifestyle coaching services
A fitness expert can hold online workout classes, sell workout equipment, or offer nutritional counseling and supplements
A business blogger could sell consulting services or managed services
A craft blogger could sell tools and supplies, online classes, or premade crafting kits
If you plan to sell products or services on your blog, you don't necessarily need to be ready to sell something on day one. You can start building content to grow your readership with search-optimized blog content to build web traffic and an online following, and then introduce offers for services, classes, or products over time.
---
Another way to make money with a blog is to sell memberships. A membership could entitle your reader to get exclusive, gated content that is not on your public blog, give them access to downloadable materials such as an e-book or template, or let them join a private forum website. Alternatively, it could provide them with group or individual sessions or give them a discount on the products or services you sell.
---
Bloggers can also earn money through direct advertising sponsorships wherein a company pays the blogger to promote their product or service. This can be a banner ad on the blog, a sponsored post, or even a mention in the blog's weekly newsletter. Similar to influencer marketing, your blog needs to generate significant traffic and have a loyal, engaged readership to attract paid sponsorships.
If you'd like to know more about how much money you can make by starting a business blog, check out our article on how much bloggers make. The ideas there will help you jump-start your money-making business blogging efforts and help you understand how long it will take for your blog to start generating revenue.
---
For creatives selling music or video-based content, Jimdo is a great option. It has ready-made widgets for adding music and video to your site easily and a low-cost online store plan to get started with.
6. Develop & Publish Blog Content
Once your site is designed, it's time to start adding content to your business blog. One of the best ways to plan and publish content on a blog to make money is to use a search engine optimization (SEO) content marketing plan. This plan helps you determine what content to publish, including how frequently you'll publish, what types of content you'll create, and how you'll promote interest in your site.
There are different types of blog posts you can add to your blog to engage readers and generate money. The most successful bloggers vary their content for maximum appeal to both new and returning visitors.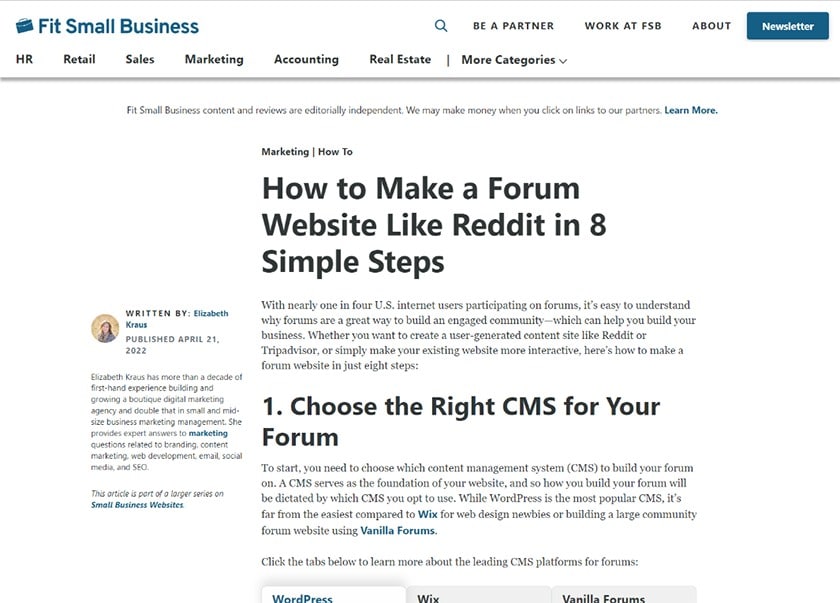 Here are some different types of blog post formats to add to your blog:
How-to articles: Instruct people how to do something. Step-by-step posts are often the most popular how-to posts and can easily be turned into video content.
Tip lists and ideas: These provide solutions to problems that readers want to eliminate or inspiration for what to do.
Reviews: Choose a product or service and offer an objective review. Compare features, options, price, etc. Then advise blog visitors whether you recommend purchasing the service or product or not, explaining why you came up with your recommendation.
Success stories: Everyone loves a success story. Share a success you've had and detail what factors helped you achieve success. This is a great way to inspire blog readers.
Interviews: Interview others on a topic you want to blog about. You could interview an expert in the field or others who have an opinion on what you're writing about and want to share their thoughts.
Thought leadership: Publishing valuable, accurate information consistently allows you to become a thought leader recognized as an expert in your field. This allows you to build credibility and trust, and ultimately loyalty, among your target readers.
Videos: Video blogs, or vlogs, are more visually appealing and can be more interactive as well for your followers. Vlogs can also lead to much better search engine results and, eventually, direct more traffic to your page.
Infographics: Using an infographic for a post can help boost the visibility of your blog because of its shareability. Infographics can boost blog engagement by helping readers understand complex concepts using visual aids such as graphs, diagrams, or charts.
Statistics: Readers often seek out the most credible sources of information, and citing statistics adds credibility to your blog. When you want your blog posts to be more authoritative, back them up with statistics. Include data from official sources and give them credit for the information.
Educational articles: Promoting your products and services is not easy, especially in a highly competitive business niche. By posting informational articles about your products and services, you can pique the interest of your target audience and attract new prospects and clients.
Expert roundups: Gather input from various experts in their field about a certain subject or around a specific theme. Then post all the expert answers in a single post, adding your personal perspective.
User-generated content: You can invite your readers to share their own insights or stories and even use contests to get user-generated content for your website. As an added bonus, these types of posts are highly sharable since followers you feature in this content are very likely to share a link back on their own sites and social media.
When you experiment with different types of posts, you'll soon see which ones attract visitors and which ones convert readers into buying customers. Learn from your successes and do more of what works.
---
Blog posts won't be the only content on your blog. You'll also want to include an "About Me" page, strong calls to action (CTAs), and perhaps some email capture devices using lead magnets. Depending on the type of blog you have, there may be more content you'll add as well, such as a product catalog, subscription signup forms, and gated content, or a community forum.
'About Me' Pages
In addition to blog post content, your blog will also need a strong About Me (or About Us) page. Your About page is likely to be one of the most visited pages on your entire site. It should include content that demonstrates how visitors can benefit from being on your blog and give them compelling reasons to stick around.
Make sure it welcomes your readers and affirms that they've come to the right blog. Be original and conversational. Tell your visitors why you started your blog and how it can help them. Build your credibility by giving a glimpse of your background and experience.
Strong CTAs
Always include strong calls to action (CTAs) both within your blog posts and throughout all your pages. A CTA tells your visitors what you want them to do next. For example, you may want to send your visitors to a pillar post (a core page of your website or blog), invite them to subscribe, or ask them to become a member for insider privileges.
Another next-step action you may want your site visitors to take is to download a free resource like a white paper or template or to join a free community forum. These tools and resources are often called lead magnets and are a terrific way to build an email list.
Lead Magnets
As mentioned above, lead magnets are resources that help you generate leads, usually through web forms. Lead magnets can be for direct sales and building your email marketing list and readership.
Here are different types of lead magnets used to build contact lists:
Create an e-book or PDF: Create an e-book or PDF such as a how-to guide, instruction list, template, or topical overview and require people to enter their email address before downloading it.
Publish a newsletter: Give people a reason to give you their email address by sending out an email newsletter. You can have a pop-up on your page to get people to sign up, or just a box at the top of your website that asks people to subscribe for tips, ideas, and inspiration.
Start a podcast: Similar to a newsletter, starting a weekly or monthly podcast is a great way to build a loyal following as well as your contact list.
Hold sweepstakes or contests: Many people are willing to provide contact information in exchange for an opportunity to win something through a drawing or by participating in a contest.
Offer a free consultation or one-on-one: Offering a free consultation (or a limited number of free consultations) is an effective way to generate sign-ups to build your lead and contact lists. These can be as simple as 15- to 30-minute meet-and-greet sessions or as complex as providing a free report to a prospective client.
Host a webinar: Webinars can help you quickly build contact lists among your target audience. These can be how-to webinars where you demonstrate tips or tricks, informational or educational webinars, product reviews, and more.
Lead magnets are often featured on dedicated landing pages. This makes it easier to track back the source of each contact (e.g., social media posts, online ads, and so on), and site visitors are more likely to convert. See more than a dozen examples of high converting landing pages and learn what makes them work.
---
7. Drive Traffic to Your Blog
Traffic is the lifeblood of any blog. It's what allows you to reach new readers and grow your audience. And the more traffic you have, the more opportunities you have to monetize your blog and make money from it.
Here are key strategies for driving traffic to your business blog and increasing your readership:
In simple terms, the higher you appear on Google's search engine page rankings, the more traffic your blog will get. Search engine optimization, or SEO, is all about making your blog easier for search engines to find.
Optimizing your website and its content to be more search-friendly will make your blog more visible in search results and drive more traffic to your site. In addition to SEO, find out about other effective website marketing strategies you can use to drive traffic to your blog.
---
You can't make money if people don't find your blog. So you want to write about topics people commonly search for because that is the best way to get visibility for your blog. Keyword research can show you how much search traffic different terms get each month and how much competition there is for the keywords you're targeting.
The best free tool for keyword research is Semrush. It is easy to use, and you can input up to 10 queries a day on the free plan. If you opt for a paid plan to get more features and unlimited queries, you'll have access to comprehensive data on your target keywords and your competitors' sites. You'll be able to see your potential traffic based on your target keywords and see what type of content performs well on blogs like yours.
By writing blog posts focused on high traffic and low competition terms, you can increase the chances that your posts will rank highly in Google's search results. Read up on more tips for how to rank higher on Google.
---
---
Guest blogging is when you write guest posts for other blogs in your industry. By writing an article about your niche, you can reach a new audience of potential readers. Your posts will often provide a link back to your own blog, which boosts your site's SEO. Plus, writing informative and engaging guest posts builds your reputation as an expert in your field, leading to more opportunities down the road.
---
Email marketing can be a great way to drive traffic to your blog because it gives you a direct way to communicate with your audience. By building a list of subscribers, you can keep people coming back to your site repeatedly and reach a larger audience with your content over time.
To get started, make a sign-up form for your site. You can use a service like Mailchimp for free to create a form, add it to your site, and send emails to your subscribers. For more details, learn how to use Mailchimp to build your list and send newsletters for email marketing.
Find out why Mailchimp tops our list of the best email marketing platforms for small businesses, and see who else made the cut. From free email marketing software to our top pick for large email contact lists, these are the top recommended platforms for bloggers.
---
---
Frequently Asked Questions (FAQs)
How much does it cost to start a blog?
Sites like WordPress.com and Medium allow you to start blogging for free—however, it's not the best option if you want a blog that makes money. Most people interested in making money from a blog create a self-hosted website. You can start a self-hosted WordPress blog for only $2.95 a month with Bluehost or start a blog free with a site builder like Wix. Alternatively, you can get a free domain, SSL, and email account in blog site builder plans on IONOS from $5 per month.
Are you planning to build an online presence for your business? Check out the best website builders for small businesses based on cost, features, and ease of use. Each offers the ability to easily add a business blog to your site, and most come with a free domain and SSL certificate so you can get your blog online affordably and quickly.
How much money do bloggers make?
It's estimated that most bloggers make less than $100 a month blogging, but that's only because their sites are generally not optimized to make money. Even new bloggers can earn $500 to $3,000 a month if they employ smart blog monetization strategies. Top bloggers earn from $10,000 to the high six figures monthly. Learn more about money-making blogs in our list of business blogging statistics.
Can I start a blog for free?
The top sites for starting a blog for free include third-party sites like Medium, video blogging platforms like YouTube, and self-hosted options like Wix and Weebly. Plus, with Wix and Weebly, you can easily transition to a blog on a custom domain in paid plans starting for $16 or $12 per month, respectively. Learn more in our list of the best blogging platforms for small businesses.
Bottom Line
If you're passionate about a certain topic, starting a blog is a great way to share your knowledge with others with similar interests. Plus, if you're dedicated to the process, your blog can be more than just a hobby—it can become a way to earn an exceptional income.
If you want to start building your money-making blog today, try Wix. You can start a business blog for free and get it online in as little as 15 to 30 minutes. Plus, Wix has hundreds of third-party apps (and excellent paid plans) you can use to get all the functionality your blog site needs.
You May Also Like…