MS in International Marketing from Edinburgh Napier University
Marketing
Brand Development
Web Design
Digital advertising
7+ years experience in Marketing
10+ years in startup and new venture development
MSc International Marketing
Before joining the team, Kelly Main worked as an analyst at firms like Lincoln Financial Group. She has also founded a number of successful startups, including OpenOnion under the Google Tech Entrepreneurs Program, which was later acquired under the name Whisper.




In her spare time, she can be found exploring foreign lands, climbing mountains (and then jumping off them), flying helicopters, and working on educational projects that help break the cycle of poverty.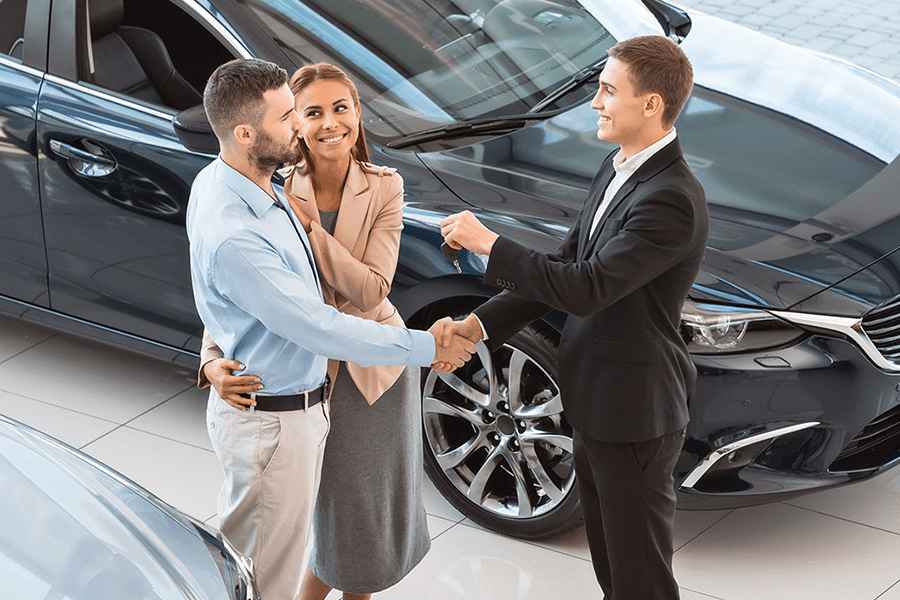 December 29, 2021
12 Automotive Marketing Ideas to Bring in More Customers
Marketing in the automotive industry is surprisingly easy and affordable, and the 12 automotive marketing ideas below are proof. First make sure your website is search-friendly, has valuable content, and you have a strategy for getting positive customer reviews. Then use a mix of automotive digital marketing and traditional marketing strategies to drive brand awareness and traffic to your business' location and website to increase sales. Grow your business using these 12 proven automotive marketing strategies: 1. Optimize Your Brand's Online Presence Starting with a great website is one of the best automotive marketing strategies. Even if you already have a website, it might be a good idea to start with a blank slate. Consider a complete redesign and then build again using one of the best website builders. Using an all-in-one site builder means you won't have to find web hosting or a site designer to create what you want. A good website should be easy to navigate, look professional, and help you rank higher in search engine results pages (SERPs). If you do want help building your site, search for an affordable freelance website designer on who has experience using your preferred site builder. Optimize Your Website for Search Search engine optimization (SEO) is needed to help your website rank on search engines, and is therefore essential for your automotive digital marketing strategy. You can do this with properly written titles for your pages and articles, using keywords in your site's page and blog article content that your audience commonly searches for, and getting customers to leave positive reviews for you online. is one of the best all-in-one web hosting and site builder platforms for creating a professional, search-friendly website. With Squarespace, you'll get a website that's easy for Google and other search engines to "crawl," which can place you higher in automotive-related search results. Plus, Squarespace offers more than 100 sleek and modern templates, so you don't need design or tech experience to get started. Improve Your Rank on Google With the Right Keywords Having a great-looking website isn't enough for people to find your auto industry business online. It's important that you take the right steps to rank higher on Google. It can take a while for the search engine to recognize you as an expert or authority in the automotive industry, especially when it comes to organically ranked content, which includes articles or pages on your site. Use a keyword search tool like to identify keywords your target audience is likely to be searching for. Choose keywords that have high volume but low difficulty. In Ahrefs, you can see how difficult it will be to rank for a given keyword based on "KD," which stands for "keyword difficulty." Difficulty is gauged from 1 to 100, with higher numbers indicating higher difficulty. Often, but not always, the higher the volume, the harder it will be to rank for a keyword because there will be a lot of other websites competing for rankings. Add local keywords, such as the name of your city, in addition to the keywords your target audience would search for. For instance, if you own an automotive repair shop in Phoenix, you might find luck with keyword phrases such as "repair shop Phoenix" or "car repair Phoenix." Once you have a list of keywords you want your website to rank for, publish web pages and blog articles that answer the questions searchers are asking, and incorporate them with your keywords. For example, if your target audience searches for "best car repair shops in Phoenix," you could write a blog article explaining why your business is one of the best car repair shops in the city. Show Up in Local Google Search Results There's more than one way to rank on Google, and ranking in local search results is a must for local brick-and-mortar businesses. When someone searches Google for a specific type of business, like a car dealership or an auto repair or parts shop, near the top of search results Google will often include a map with local businesses. The top three organic results are called the "three-pack" or map pack. Being among the top three organic results is ideal as far as your automotive digital marketing strategy goes because these show up closer to the top of the page. The listing in the top organic spot in Google search results receives 31.7% of all clicks and is 10 times more likely to receive a click than the last listing on the first page of results. Less than 1% of clicks go to any listing on the second page of results, according to data from . To get to the top of Google's local search results pages, aka SERPs, create and fill out your Google My Business profile listing. It's free to do this and doesn't take much time. To optimize your position in local search results, include keyword search terms such as those you use to optimize your website, like "car detailing Phoenix." Just like regular organic search results, it may take time for your listing to rise in the ranks. However, there are some things you can do to speed up the process, such as getting more positive reviews and advertising on Google, which we talk about below. Get More Reviews From Happy Customers One of the best ways to get new business is by getting referrals from happy, loyal customers. In fact, review interaction is up 50% from pre-pandemic levels, and most consumers won't do business with companies with lower than a 4-star review average. You can wait for word-of-mouth, or you can tip the odds in your favor by asking satisfied customers for a review on Google. The more positive reviews your Google My Business listing has, the more relevant your automotive business will appear to Google as the best option. When members of your target audience are searching for services or products like yours online, your listing is then more likely to be placed at the top of search results. To get more reviews on Google, the obvious first step is to simply ask customers to review your business. There's more you can do, though. Make it easy by sending an email after servicing a vehicle or selling products asking for a review and including a link to your Google My Business listing. You can also add a Google review link to receipts to encourage customers to go online and leave feedback for your business after a transaction. If you sell online, you can add a link with a request for a review on the landing page customers visit after completing a purchase. You can also outsource your review marketing efforts to a leading reputation management service like . Podium will leverage text marketing, messaging platforms, and a chat widget on your website to encourage customers to leave positive reviews for your business on Google and Facebook. Advertise on Local Google Results Pages Even if you've done everything in your power to get your website to rank in organic search and your Google My Business profile to show up in local results, you may want a boost to the top of search results through local service paid advertising. Target ads to appear in local search results with keywords, just as you did for your website and Google My Business listing. Service-based businesses benefit by using Google's local service ads because ads are placed above the organic search results. You can also get a "Google guaranteed" tag that increases trust with customers. To get the green badge as part of your Google ad listing, you'll have to agree to a background check and your business must meet certain requirements based on industry. If you need a license to operate your business, you'll also have to provide proof when submitting your application. Advertising on Google can get expensive, especially if your ads aren't set up correctly or targeted to the right audience. The last thing you want to do is waste money on clicks that don't bring in business. The experts at are a great option if you need to outsource Google Ad management, and they can also set up and manage your company's Google My Business listing and Facebook page as well. Reach a Different Audience on Bing Google is often the search engine most people think of for searching the internet for anything, but don't dismiss . Microsoft's search engine, Bing, attracts a different type of audience in terms of demographics. Users tend to skew older and have a higher household income. To make it more likely for your automotive business to show up in Bing search results, fill out your free Bing for Business profile. Use some of the same keywords in your Bing business listing that you used to make your website and Google My Business listing search-friendly. To appear before organic results on Bing, invest in Microsoft advertising. Bing ads are generally more affordable—about one-third the cost of other search engines. Plus, Bing's search engine receives about 1 billion visitors every month. Advertising on Google is one of the cornerstones of a solid search engine marketing (SEM) strategy. Learn the difference between SEO and SEM and how to leverage the four key elements of search engine marketing to drive traffic to your website, generate leads, and grow your business. 2. List Your Automotive Business in Online Business Directories Listing your business on Google and Bing is a great automotive marketing strategy, and you can go a step further by finding other online business directories that make sense for your industry. Listings can help improve your SEO and help people searching for a type of car business discover your listing, along with your hours of operation, address, and website. You'll find plenty of general business directories, such as and Yellow Pages, but you can find more specific directories too. Search online for auto industry-related directories that allow you to create a free listing. Adding listings to a lot of different directories and maintaining them over time can be time-consuming, though. For example, if you change your hours of operation, business phone number, or website address, you'll have to change it on all directories where you added a listing to ensure your data is accurate across the internet. Fortunately, you can use an online reputation management company like to manage and update your listings. 3. Create a Facebook Page & Participate in Groups Create a Facebook business page for your auto shop to make sure anyone can find your services, regardless of where they look. Facebook business pages can even rank on search engines. Incorporate some of the same keywords you used to optimize your automotive website into your Facebook profile's "About" and "Description" sections, and in the content you share on the platform. Join or create Facebook groups all about specific cars, common auto repairs or issues, or even automotive parts—and share posts that show your expertise. Followers will see your business name every time you post, which can help your brand awareness. Plus, you can post about new products or services to help spark interest (and new visitors to your website or business). 4. Advertise on Facebook Facebook advertising is another good way to get your automotive marketing content in front of your local target audience. Rather than relying on keywords people use to search for something online, Facebook ads show up in the news feeds of users. So, as people scroll their social media, your ad (if relevant based on your targeting criteria) may appear for them in between their friends' posts. Target your ideal audience for your ad campaign by location, interests, age, gender, and other demographics. Not only can you target specific audiences with Facebook ads, you can target "look alike" audiences that fit your criteria to a certain degree. So, if your ideal buyer types are males ranging in age from 25 to 49 who live in Phoenix, a look-alike audience might include men 18 to 24, or women in the same age range (25 to 49), all in Phoenix. Facebook ads can also target ideal and look-alike audiences based on recent searches conducted by Facebook users on Facebook or within its advertising network. For instance, if someone has a strong interest in sports cars and searched for similar content online, your ad or a sponsored post will show up in their feed. Because of its extensive capabilities, advertising your automotive business on Facebook may be more complex than you want to take on yourself. is a digital marketing company that can help you manage most social advertising campaigns. Plus, there are no long-term contracts, so you are free to try the service for a month to see if it works as part of your automotive marketing plan. 5. Attract Your Target Audience on Other Social Networks Facebook isn't the only social network where you should implement automotive marketing ideas. Instagram and Pinterest are both visual social platforms, and so are an excellent place to post pictures of vehicles, parts, or before and after photos of what a car detailing service can do. TikTok works well for those who want to create fun, short videos for their followers, and these videos can also be cross-posted to Facebook and Instagram. On any social network, use hashtags so people interested in your industry can find your posts and your pages. For example, if you own a car dealership, you might use #carsofinstagram, #caroftheday, #autoparts, or #autorepair. Likewise, you can incorporate locale into your hashtags to hypertarget your audience, such as #CarRepairPhoenix. There are so many opportunities to build brand awareness and sales on social media as part of your overall automotive marketing plan. Check out our complete guide to social media advertising for more ideas on how to use online ads to reach people who don't yet know about your business. 6. Add Your Business to Yelp & Optimize Your Listing Yelp for Business is often the go-to site for people wanting to check out the reputation of a local business before buying. It's free to set up a listing for your business, and once you do, people searching Yelp can find your listing based on their searches. Use the same keywords that are helping your website rank higher in search results to optimize your Yelp business profile. Once you're registered and listed on Yelp, keep an eye on any reviews left on your business listing and respond to each one, whether positive or negative. Listings with the highest number of reviews and most positive reviews get top spots in organic search results, but you can also pay to have your listing sponsored to appear higher than the organic results. 7. Grow Your Email Marketing List & Send Helpful Content An easy way to start collecting email addresses for your mailing list is to get customers to sign up at the point of sale. For example, offering a discount on their next purchase can help convince a customer to give you their email address, mobile number for text marketing, and even a mailing address for future direct mail campaigns. You can also use website forms to gain contacts, such as a pop-up form offering 10% off for new sign-ups. Create helpful content and publish it on a landing page on your website along with a sign-up form to capture emails. For example, you can offer tips on how to prepare your vehicle for driving in snow or rain, common do-it-yourself repairs, or a 100,000-mile car maintenance checklist. You can then send an email to your contact list with a link back to this content as well, and share a link to this content on social media for even more reach. is one of the best email marketing tools for reaching automotive marketing contacts. It's easy to use and free if you have fewer than 2,000 contacts. Paid plans are affordable and include features like templates, A/B testing, predictive demographics, and a look-alike audience finder. Create pop-up forms for your website, surveys for your readers, and segment your contact list to deliver the most compelling information and offers to the right audience. 8. Try Traditional Local Advertising One of the most common automotive marketing strategies is to advertise in local newspapers, television and radio stations, and billboards. Despite being overshadowed by their more glamorous digital marketing rivals, all of these automotive marketing tactics are still viable. They enable you to hyper-target your ad's placement and contribute to your brand's credibility. In October 2021, National Automobile Dealers Association (NADA) members spent on average 4.9% of gross income on advertising. According to the NADA, car dealerships spend more than 40% of their advertising budget on television, radio, print, and direct mail campaigns. Plus, depending on your location, billboard advertising can be surprisingly affordable. 9. Send Press Releases to National & Local News Agencies Press releases are an effective way to drive brand awareness for your automotive business. Writing them takes practice, but you can use our press release templates to make the process faster and easier. A press release is relevant for many occasions, such as when your business expands, for new product or service releases, when you contribute to a charity, or to promote a special event. In addition to being published online, a news agency could pick up your press release for a story, which could give your news and brand a big boost. Even simply publishing your press releases online can help your SEO. Links from high-authority sites, like news media outlets, are beneficial for your website's domain authority. In turn, this makes your website more likely to rank in online searches. To increase your odds of getting picked up by news agencies, use a press release distribution service like . eReleases will target your press release to your ideal audience based on factors like location and industry, and can distribute your press release to more than 5,000 different outlets. 10. Put Your Business Cards to Work A business card is an essential marketing tool regardless of industry. Customers will often pick up your business card when they are displayed at the point of sale. If you have outside sales reps, they're a must. Or if you network at automotive events, car shows, or with local business owners, such as through your Chamber of Commerce, you'll need a supply of business cards to hand out. You can also establish a referral lead generation partnership with complementary businesses and provide them with business cards to hand out to their customers. For example, if you run an auto repair shop or a parts store, consider setting up a referral partnership with an auto detailing service. As part of the agreement, you will both display or even distribute one another's business cards to generate referrals. Browse dozens of the best business card designs for ideas that would work for your automotive business or design your own. When you're ready to print your business cards, we recommend . They top our list of the best places to print business cards quickly and affordably. If you'd rather have a pro create a unique business card design for your company, work with a freelance graphic designer from for as little as $5. You can view individual designers' work on the platform and choose the one that offers the best price and design for your needs. 11. Sell Your Automotive Products Online Another automotive marketing idea is to expand into selling products online. Considering that online sales of auto parts and accessories increased almost 3% in 2021, you could take your piece of the $6 billion-plus U.S. market share. When you're ready to create an online store, use one of the best ecommerce site builders to make it easy and save time. Visit each of the providers in order to choose the platform that is most suited for your business type. For example, check out which site builders have templates that could easily be modified to represent your automotive business and brand, and which make it easy to add products to your online store, manage inventory, and fulfill sales. If you prefer to sell as a third-party distributor, many ecommerce platforms could work for your automotive marketing strategy. Large sites, such as Amazon and Walmart, accommodate third-party merchants, as do more niche platforms. If your automotive business sells unique items such as car decals or decorative seat covers, for example, selling on Etsy would be a good option. 12. Send Direct Mail to Local Residents Whether you use a mailing list of your customers or create an Every Door Direct Mail® (EDDM) campaign, you can drum up a lot of interest in your brand, an event, or a sale with postcards sent via direct mail. Add something memorable and fun to the design that provides value for the recipient, such as a scratch-off section that reveals a percentage off. Setting up a direct mail campaign can be time-consuming. However, using one of the best direct mail services reduces the time it takes to create mailers and set up direct mail campaigns, and makes it more affordable. Since many advertising budgets are leaning digital, direct mail marketing creates an advantage and opportunities for businesses that use it for automotive marketing. In fact, customers who receive direct mail often spend twice as much as those who don't receive or use direct mail. Given the opportunity that exists to successfully reach new customers using direct mail, check out our article with 20 direct mail marketing ideas you can use to boost your business. Frequently Asked Questions (FAQs) How much do auto dealerships pay for advertising? On average, car dealerships paid $273,000 on digital advertising in 2020 and $41,400 for radio ads. Overall, dealerships spent more than $7.4 billion on advertising in 2020. How do you market in the automotive industry? Your strategy should incorporate a mix of digital and traditional automotive marketing and advertising tactics to get the best results. Digital marketing has become the dominant marketing strategy for most industries, but there are many local advertising ideas that work especially well for local businesses, including car dealerships, detailers, auto parts stores, and repair shops. How do I get internet leads for car sales? The first step is to make sure you have a search-friendly website. It should have informative content that shows your expertise in the automotive industry and include keywords you want your content and site to rank for. Adding topic-specific landing pages to your website is an especially effective method for collecting the contact information of leads using web forms. Once a site visitor fills out a form on your website, these leads should be funneled directly to your customer relationship management (CRM) software or email marketing platform for lead nurturing. Bottom Line The key is understanding your customer's journey—some may prefer to research online and buy in person—so you need to market appropriately. Whether you find the most success with email, direct mail, SEO, word of mouth, or social media marketing, try a mix of automotive marketing strategies, track your results, and reinvest in those that produce the best return on investment. You Might Also Like… One of the first steps any business should take is to create a small business website. If you're trying to decide between Facebook ads or Google ads, it's a good idea to understand how each works.
Discover more resources
for your business
MS in International Marketing from Edinburgh Napier University