A non-disclosure agreement (NDA), also known as a confidentiality agreement, is a legal document used to safeguard your company information and data. An NDA is used by businesses when sharing proprietary information with at least one other person or organization, and states that the information cannot be disclosed by one or both parties to the agreement.
Free Non-Disclosure Agreement Template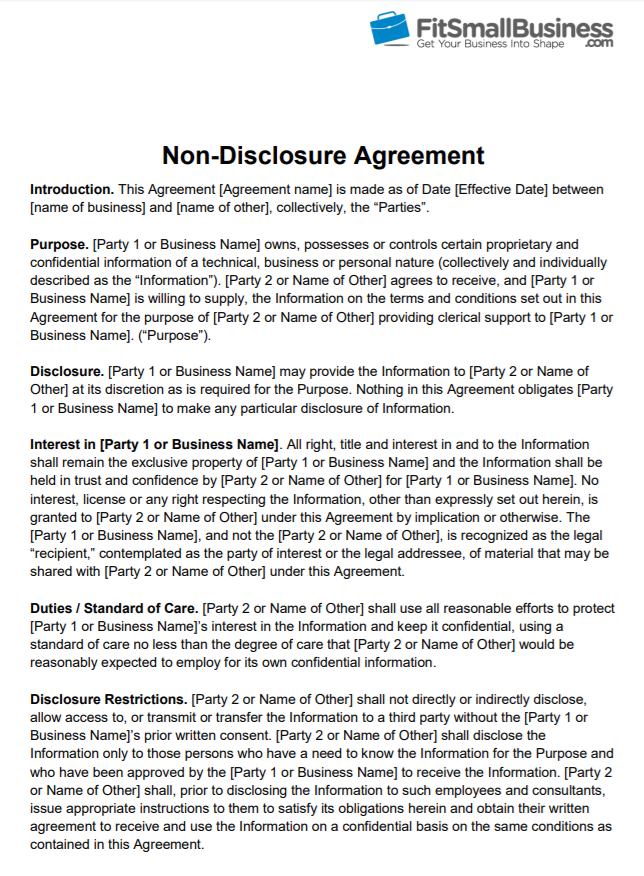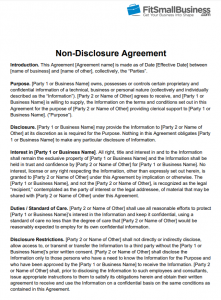 To give you a head start on an NDA for your business, download our free NDA template that you can customize to ensure the confidentiality of your business' trade secrets or client data.
Another way to get a free start on your NDA is to use Rocket Lawyer. They allow anyone to create an NDA by answering a few basic questions.
Disclaimer: Fit Small Business does not provide legal advice or serve as an attorney. In case you have any questions about the legality of your NDA, or what to do in case it is violated, please contact your business lawyer.
What to Include in a Non-Disclosure Agreement
An NDA ensures that a person or organization who has access to your company's business does not disclose proprietary information to anyone without your consent. Non-disclosure agreements also specify the terms under which the business shares their information. An NDA clarifies what will happen in case the agreement is broken, who will pay the expenses and penalties for violating the agreement.
The four types of information that every NDA should include are the date, time frame, the information you're trying to protect, and consequences. Regardless of the length or type of agreement, these should appear in your NDA:
Effective Date
An NDA must specify the date on which it goes into effect. This is generally the date when the agreement is signed, such as the start date of an employee or contractor, but it can be a different date. For instance, let's say you're hiring a vendor to help you build out your marketing plan and they will begin work in two weeks. You may want to have the effective date of your NDA dated for two weeks from today.
Time Frame
The NDA must also specify the time period for which the agreement will remain effective. This can range from a day to an indefinite period after your worker's employment is over (including years). The NDA time frame will vary depending on what you are trying to protect. The time frame section is where asking your attorney might be best. They can advise you on pros and cons.
Protected Information
The agreement must specify the information that is to be protected and the owner of the information. This information is referred to as "confidential information" in the agreement. The description of the confidential information must be specific and detailed. General phrases are best avoided as they are hard to define and even harder to prove in a court of law.
Consequences of Breaking the Agreement
The agreement must have a clause that permits the business to get an injunction order from a court of law if it fears that the recipient party is likely to disclose the information. Once the agreement is signed and the party receiving the information breaches the agreement, that party can be sued for damages.
"NDAs are critical for small businesses, especially those whose business model depends upon trade secrets, technology, and/or creative ideas. It's very easy for a 'partner' to 'borrow' ideas or share them with others to gain leverage. I always recommend an NDA to my clients. I feel it's a fiduciary ethical responsibility, even if legally, it isn't.

I've been in business for over 25 years. I've seen product ideas stolen where a copycat product was on the market before the innovator could launch their own. Because of the technology, the only way that would have been possible is that the technology had to have been shared. It was not an obvious leap. I've seen creative ideas stolen as one employee shifted to a competitor. I've seen trade secrets leaked to a competitor in order to gain business."
Non-Disclosure Agreement Sections
Your NDA should have some or all of these sections as provided in our NDA template above. You and your business attorney may want to revise each section to fit your business and may choose to add or delete sections based on case law in your location.
Introduction
In the introduction section of your NDA, describe your business with the company name and the name of the party (individual or business) you are making the agreement with. Also, include the date so that the contract is legally valid as of a specific time frame or start date.
Introduction Example:
This Agreement ["Agreement"] is made as of Date ["Effective Date"] between ["Company"] and ["Employee / Vendor"], collectively referred to as the "Parties."
Purpose
State the purpose of the agreement. For instance, if your agreement is with a supplier, you'll state what information the supplier will have access to, such as client purchase information. You'll customize this section of the NDA template with your own purpose. This is also where you can specify the time frame that the NDA is to be valid.
If your agreement is with an employee, consider the example below:
[Company] owns, possesses or controls certain proprietary and confidential information of a technical, business or research nature and is willing to supply this information on the terms and conditions set out in this Agreement for the employment of [Employee Name].
Disclosure
This section describes who (such as the business or entity) is providing information to whom (such as an employee or vendor), for example. It describes the rights of the person or business disclosing confidential information.
Standard of Care
This section explains that all reasonable efforts should be taken to protect secret information.
Disclosure Restrictions
This section suggests how information may or may not be shared with third-party outsiders. For example, your website developer may need permission to share passwords with a website hosting company.
Parties with Express Permission to Access
This section lists any others who may be given access to proprietary information. For example, your accountant may have an assistant who needs access to your business financial files and vendor contracts in order to build reports.
Storage Restrictions
This section typically clarifies that copies can't be made, and that electronic documents need to be secured, not made available to others, and destroyed after use.
Instances of Reduced Obligation
This optional section clarifies that information in the public domain, or information that is already known, doesn't necessarily have to be kept secret.
No Representation
This section confirms that the agreement only applies to the parties listed in the agreement, and doesn't protect other third-party information.
Damages Acknowledged
This section clarifies that if the agreement is broken, damages will be assessed.
Return and Deletion of Information Upon Request
This section requires information and data to be returned to the business on request.
Severability
This section provides legal words stating that if one part of the contract isn't valid, the rest of the contract is still good.
Indemnification
This section primarily serves to protect the business by stating that if the agreement is broken by the employee or contractor, for instance, it's not the business' fault.
Merger Clause/Entire Agreement
This statement reminds both parties that this agreement is the primary document, regardless of other agreements, emails or conversations.
Modification
This section allows both parties the right to change the terms at either party's request.
Assignment/Delegation
This section protects the business by saying the other party can't pass this agreement onto someone else. This comes in handy if, for instance, a contractor sells their business, and wants to give your terms to the new buyer. A sale of the business would require a new NDA to be written.
Enforcement
This section specifies which state's laws apply. In the case of legal action, it specifies where an injunction or court case might be filed.
Good Faith
This section assumes all involved with the agreement are acting in good faith, and not trying to take advantage of one another.
Successors in Interest
This clarifies that others may be able to keep the agreement in force. This wouldn't apply in an employee situation. But, for instance, if you contracted with a vendor, and the vendor passed their business on to their kids, the agreement would still stand.
Execution in Multiple Parts
This section is optional; it is used in case the agreement has many parts, or there are copies of the agreement that should be considered just as valid as the original.
Capacity to Contract
This section confirms that the contract is being made by people capable of making a contract (for instance, not a minor or individual who is mentally incapable of understanding a contract).
Notice of Terms
This section ensures that both parties have read and agreed to what's stated in the document.
Construction
The section assumes, in the case of a disagreement, that both parties had an equal hand in creating the document.
Signatures
Both parties should sign and date the document. The original NDA should be kept on file with the business/employer. A copy should be made and given to the employee, contractor, vendor or other parties.
Here's what may happen without signatures:
Shahara Wright, Esq., Author, Speaker and Business Lawyer, The CEO Effect, LLC
"The last issue I had with an NDA was the failure to put it in place.

I have a client who entered into a joint venture with a company to provide an ongoing service. The service was to bring live streaming to some of their events. As a part of the JV agreement, we had an NDA, non-solicitation, and non-compete.

However, my clients (against my advice) did not require the agreement to be signed before they started working with the service. This went on for two years and a bigger, more well-funded company, which competes with my client, came in to town. Not only did the streaming service leave my client to work with the bigger company, it took several key employees and clients.

Needless to say, my clients were angry but there was nothing that could be done. They completely ignored my advice and did business with this service without requiring the agreement to be signed."
What Cannot be Protected by a Non-Disclosure Agreement
Not all kinds of information can be included in an NDA. Things that are exempt from these agreements include, but are not limited to:
Anything that is a matter of public record is not proprietary information and cannot be protected in an NDA.
Any information that the receiving party has prior knowledge of or gained from different sources cannot be included in an NDA.
Any information subject to a subpoena may not be protected, even if included in an NDA.
Any information that is common knowledge in a field. For example, how one lights a pilot light is the same regardless of the company they work for.
An NDA is not meant to protect a company from doing something illegal either; if your company has unethical or illegitimate business practices, your clients, employees, and vendors have the right to whistleblow to the proper authorities.
Where to Find a Non-Disclosure Agreement
You can use our template above and customize it to your needs. Here are additional sources for free or low cost NDAs that range in price from free to $59.95.
Docracy – This is a freeware, downloadable NDA provided by an attorney (our template above is streamlined and simplified for small business based on this document).
Entrepreneur – This is a free, fill-in-the blank option provided through SeamlessDocs, a government form automation software.
Legal Templates LLC – This NDA is customizable based on the questions you fill in. You can sign up for a free trial, or pay for one document starting at $59.95.
Rocket Lawyer provides a tool to create your own template for an NDA with a monthly service that ranges between $39.94 and 49.95 per month.
Cost to Have a Non-Disclosure Agreement Reviewed
You can get a non-disclosure template for free online or download the one we've provided above as a starter document. But before using it, it's best to have an attorney review it based on the laws in your state. That may cost from $100 to $200 per hour (more if you're seeking a specialist or doing business in a large city like New York). A legal expert should confirm that the language used in your agreement can stand up as valid.
Have someone review and finalize your NDA in a few ways:
$100 – $200 per hour – Hire an attorney by the hour to review and finalize your NDA.
$200 – $400 per document – Sign up for a legal service like LawTrades that outsources your projects.
$39.95 – $49.95 per month – Use a service like Rocket Lawyer that provides legal advice on their templated documents.
Unless you're an attorney yourself, creating your own NDA may be risky. For between $0 and $59.95, you can start with a template and have it reviewed by an expert, increasing the odds that your NDA will stand up in court.
Where to Store Your Non-Disclosure Agreement
For an employee confidentiality-type of non-disclosure agreement to be most effective, consider adding it to your employee handbook to delineate your company policy on proprietary information.
The employee handbook explains in plainer language what is expected to be protected by the agreement, serving as training on the agreement. It is also much easier to update the handbook quickly as your business expands (whereas an NDA should be written in a way that should rarely need editing).
The employee handbook section elaborating on the importance of confidentiality should include the following elements:
Labeling proprietary information as "secret and confidential," e.g., labeling hard drives or customer files as such.
Limiting employee access to confidential information to a "need to know" basis by having passcode-required applications or files.
Right to periodically search employee lockers, desks, and computer files for unauthorized storage of information.
Placing notices about the company's policy near photocopy machines, printers, and fax machines.
Requiring outside consultants and temporary employees to sign your NDA.
The business must then define in the handbook what constitutes a secret if the confidentiality agreement is to work.
Don't forget to include an acknowledgment in termination notices that reminds employees of their continued obligation to not misuse corporate trade secrets, even after they've been let go.
Who a Non-Disclosure Agreement Is Right For
For the purpose of this article, we'll assume an NDA is best for small businesses with trade secrets or customer lists to protect. However, an NDA could also be used by a contractor wanting to protect information or proprietary tools provided to a client.
Here are two kinds of small business users who may need NDAs:
Business Owner – A business owner may want to protect their confidential business process, master customer list, or product recipes.
Independent Contractor – An independent contractor may want to prevent a customer from sharing trade secrets they've provided, such as selling skills, or how best to grow award-winning orchids for sale.
Whether you supply confidential inputs to a business or hire gig workers to create your price sheets, you won't want contingent workers and business partners taking, using or selling your trade secrets and customer information.
An NDA Protects Proprietary Information
Proprietary information is the broad term used to encompass various types of information that have some value to the owner. Proprietary information can be information, records, software, and other work products that are developed on behalf of a company or by using the company's facilities.
It is information that was difficult or costly to develop, or that has an intrinsic value. This value could be diminished or destroyed if the information is disclosed to others or shared without appropriate restrictions. The basic criteria for proprietary information are:
The information is not generally known to the public.
The information gives the business an advantage over other businesses.
Reasonable efforts are made to protect its secrecy.
Let's look at a few examples of why a business needs an NDA.
Example 1:
An accounting manager quits your firm and becomes the finance director at a competitor. In their last role, they helped out in Board of Director meetings and learned about your company's new products in beta testing. They could tell the new firm about two of the products in beta testing that are not public. An NDA would protect your business in this case.
Example 2:
Your HR manager left to start their own firm. They used Indeed to recruit for you, and they're using Indeed in their own company. Since Indeed is a public product, an NDA wouldn't prevent them from using the same software at two different firms.
Let's look at some other common business situations in which an NDA might make sense:
Common Company Situations & NDAs
| Company Situation | Is an NDA Needed? | The Reason(s) |
| --- | --- | --- |
| Small social media marketing firm | Yes | Since most businesses in this industry have unique approaches, employees and clients should have an NDA to protect their "secret sauce" from being stolen. |
| Any company with managers | Maybe | Employees in higher level positions, like manager, director, or CEO, often have access to company secrets. An NDA will protect the business, whether it's within the employee handbook or signed separately. |
| Chiropractic office | No | Medical offices are held to other standards under HIPAA laws. Healthcare businesses might need a non-compete agreement (NCA) to protect their client list instead. |
| Startup that just got funding | Yes | This is absolutely essential to protect yourselves as a startup. You also may want to look into an Invention Patent and an Operating Agreement. |
| HVAC company | No | An NDA doesn't make sense in a trade where the processes to fix or repair systems is common knowledge. Nonetheless, a NDA might make sense to protect the company's client list. |
3 Questions to Ask Yourself to Discover Whether You Need an NDA
If you aren't sure if your business needs an NDA, ask yourself the following yes or no questions:
Would an employee telling our competitor about our inner business workings hurt our business in a non-repairable way?
Would our vendor or business partner telling another company in our industry our arrangement with them damage our ability to negotiate or do business?
Would I want the grounds to fire an employee if I found out they were giving away our sales secrets or posting our restaurant recipes online?
If you answered "yes" to any of these questions, then you need an NDA to protect your business.
Types of Confidentiality Agreements: Unilateral vs. Mutual NDAs
There are two types of NDAs: unilateral and mutual. A unilateral NDA is a one-way contract, where a business is protecting their secrets or trade information. It's the most common in cases where a business is seeking confidentiality from an employee or contractor. A mutual NDA is used when two businesses need to protect each other's secrets.
For example, vendor/partners often create mutual NDAs. Mutual NDAs protect both parties equally when they work together on common initiatives—such as a merger or have a manufacturer/supplier relationship.
The Unilateral Non-Disclosure Agreement
Unilateral NDAs are more common. In a unilateral NDA, the business discloses the information to another party and the party that receives the information agrees not to share the information. This is commonly used with employees or investors of a company.
Example of a Unilateral NDA:
Bill has a company that provides nutritious frozen snacks. He has all his employees sign an NDA so they don't share or sell the flavor recipe or manufacturing process with competitors.
The Mutual Non-Disclosure Agreement
In a mutual NDA, the parties agree not to share each other's information. This type of non-disclosure agreement is generally used when two businesses share proprietary information, such as those who are doing business together to launch a product. This is more useful for vendors or clients and other strategic business partners.
Example of a Mutual NDA
A cleaning company and a moving firm have decided to help cross-market to one another's client base, since they both provide services for people moving in and out of their homes. They would likely learn trade secrets from each other while doing business together. They would both sign and date a mutual NDA.
Benefits of a Non-Disclosure Agreement
In general, an NDA provides you with a means to seek damages in case an employee, contractor, vendor, or other party shares or gives away your business trade secrets.
It's date specific – A judge would know the exact dates that an NDA is in effect.
It's company and person specific – A judge would see who is protected from whom.
It's in print – There's no he said/she said. What's been agreed to is explicit.
It's signed – There's proof that both parties read and understood it.
Drawbacks of a Non-Disclosure Agreement
On the other hand, a small business owner might feel like an NDA is overkill, or fear using one for risk of insulting a business partner. And an NDA, like any legal document, has to be kept up to date.
Keeping it in force – An NDA falls right in line with your annual taxes, in that you need to stay on top of it and review it at least annually to make changes or update dates.
Storing it – You need a good filing system to be able to retrieve the NDA when you need it, such as when you update your contractor's project deliverables and timelines.
Enforcing it – An NDA is only good if you're going to enforce it. You'd have to hire a lawyer to seek damages against a person who violates your NDA.
Getting it signed – An NDA requires signatures in order to stand up in court.
Alternatives to Using a Non-Disclosure Agreement
NDA language can be added to your employee handbook in lieu of creating a separate document to protect the confidentiality of your business' proprietary information. Some examples of where using a shorter or different form may make sense are listed below.
Alternatives to using an NDA include adding similar language to these documents instead:
Non-Compete Agreement
If you're looking to ensure that your employees don't go work for a competitor or start their own business using your ideas after they leave your company, you may want to use a non-compete agreement instead of—or in addition to—your NDA. Be aware that non-compete agreements aren't valid in some states, such as California.
Employee Handbook
Rather than using a full-blown NDA, many employers opt to put a few statements in their employee handbook stating, for instance, that employees are not to share information about the business outside of the company. You can borrow language from our NDA template above to add to your existing employee handbook or create your own using our free employee handbook template.
Employment Contract
Some business owners prefer to write an employment contract to protect their interests when hiring W-2 or 1099 workers. They may wish to include a non-disclosure section within that employment contract.
Operating Agreement
You may want to include NDA language in your operating agreement if you have business partners. That way, it's clear who has rights to what within your business LLC.
Frequently Asked Questions (FAQs)
If an employee signed an NDA and wanted to work for a competitor that deals with the same vendors, is there anything that can be done to stop them from working there?
An NDA can be written to cover an indefinite time period. In other words, the agreement can still hold after an employee leaves your business (for a year, five years, or an indefinite amount of time—however you write the contract).
An NDA only protects your business' proprietary information. It cannot prevent an employee from working for a competitor. You may be looking for a non-compete agreement instead.
How do you know that they aren't breaking their NDA and telling the competitor confidential things about your company?
An NDA protects you in that it provides legal recourse should an occurrence happen. It won't physically prevent an ex-employee from disclosing secrets, but it will allow you to seek an injunction (to make them stop) or damages should that occur.
Is there any advantage to establishing two unilateral NDAs instead of a mutual NDA?
In general, a mutual NDA is the best way to proceed when you have a transaction or series of transactions where both parties might disclose confidential information. The mutual NDA acts to protect the confidentiality of both parties' information. That being said, in a mutual NDA, the same terms typically apply to both parties, so both parties have the same rights and obligations.
If the transaction is such that one party's information deserves more protection or different protection measures than the other party's, then there could be a case for using two unilateral NDAs.
Can an NDA be backdated to a date prior to today's date?
A date that is after the employee knew about the document may be okay to use (for example, if the employee was hired on Monday and you wanted to backdate their NDA to the hire date).
However, if the company wants to protect against disclosure of information that may have been made known before the agreement, then this would be done in the agreement itself, not by backdating the signature. In other words, you would put in the agreement that things "learned over the last three years are covered under the agreement." The agreement would have a signature date of today or some date in the future.
Is an NDA really needed?
Attorneys, like the one below, agree that NDAs are vital. Your attorney can assist you in making the best choice for your business.
J. Armondo Edmiston ESQ, Managing Partner, Ask2Amigo Law Firm
"I am an attorney for an MIT/Harvard startup. I was brought in to advise on what should be done legally to protect the company and advise on how to do business. I advised the members that we needed to do an NDA for each member of the company.

The group felt that we did not need an NDA signed right away. The company then started to get a lot business and two of the members decided to do their own thing with the company's clients.

So now we are stuck competing against our old employees because we did not have an NDA and a non-compete signed right away. An NDA is a must-have for any business wanting to protect its clients and/or business relationships."
What do I do if the signer breaks the NDA terms?
If you learn that the signer of the NDA, to whom you provided access to proprietary information, breaks the terms of the agreement, that's when you need to contact your attorney. Your attorney may need to file legal documents to request the party to stop, or file a lawsuit requesting damages.
The Bottom Line
If your gut tells you that having a non-disclosure agreement is important for your business, consult with your attorney or ask the professionals at Rocket Lawyer about it. You can use our free template or download one that an online legal service provides on its website.