How to Prepare for a Real Estate Job Interview in 7 Steps
One of the first steps to starting a real estate career is setting up interviews at real estate brokerages in your area. The purpose of a real estate interview is for both the broker and the agent to determine if they can successfully work together. For new and experienced real estate agents alike, learning how to prepare for a real estate interview is essential to ensure a good fit. Start with a business plan and resume, plan for real estate agent job interview questions and answers, and dress for success.
In this article, we explore the seven steps regarding how to prepare for a real estate job interview and get hired at the brokerage firm you want to work for.
1. Know the Differences Between a Real Estate Agent & Salaried Worker
Real estate is a unique industry for job interviews, and it's important to understand what to expect and what to look for in your real estate interview so both parties can accurately determine if they are a good fit. They can be different from other job interviews since most real estate professionals don't work for a salary. Instead, real estate brokers and salespeople are independent contractors who can work with as few or as many clients as they choose.
Although agents are required to choose a real estate brokerage to serve clients, they make business decisions independently. They do not report to their broker in the same way that employees report to their manager. Agents also have autonomy over their working hours, marketing and advertising strategies, and have unlimited earning potential. This differs greatly from salaried workers whose bosses determine these items for them.
Real estate agent interviews should not consist of one-sided questions from the broker to the agent. Instead, it should be an equal mix of the broker and agent asking questions and evaluating whether their business goals and needs align. The interviews commonly happen between those who have just become a real estate agent, but they also happen between experienced agents who are looking to change their brokerage.
In many cases, real estate brokers want to have as many agents as possible in their brokerage, and only have a few requirements like basic real estate knowledge, a willingness to work hard, and integrity. Most agents can choose almost any real estate brokerage they want to work for, which is why it's so important for agents to know how to prepare for a real estate job interview. The way that you prepare for your meeting will help you get the most important information to determine which brokerage is the right fit for your needs.
However, not all real estate professionals work as licensed agents. Many brokers and agents choose to hire a real estate assistant, who may be employed part time or full time or also work as an independent contractor. There is also a variety of other real estate positions that don't require a real estate license.
For example, Thunder Team Realty includes a front desk assistant, a client care manager, and a transactions coordinator. Other real estate teams and companies also have positions like marketing manager or financial services manager.
If you're preparing for a real estate interview as a team member without a real estate license, the process will be similar to interviewing for a job at other companies in other industries. You will speak about the job requirements, responsibilities, hours, and compensation, and decide if the role is the right fit for you.
2. Make a Real Estate Business Plan
Many new real estate agents mistakenly believe they don't need a business plan immediately. However, creating a thorough business plan helps you establish clear goals and make smart choices from the get-go, which ultimately increases your chances of being successful.
Your business plan should include a SWOT analysis, which stands for strengths, weaknesses, opportunities, and threats. This should help you identify areas where you need to grow as well as areas where you are strong. It should also help you define the marketing and lead generation strategies you plan to use—from real estate mailers to social media to email marketing.
As a result, having a business plan will help you identify what to look for in a real estate company, which is arguably the most important way to prepare for your real estate interview. Having an accurate awareness of your current strengths, weaknesses, plans, and goals will make it clear what type of real estate brokerage fits your needs.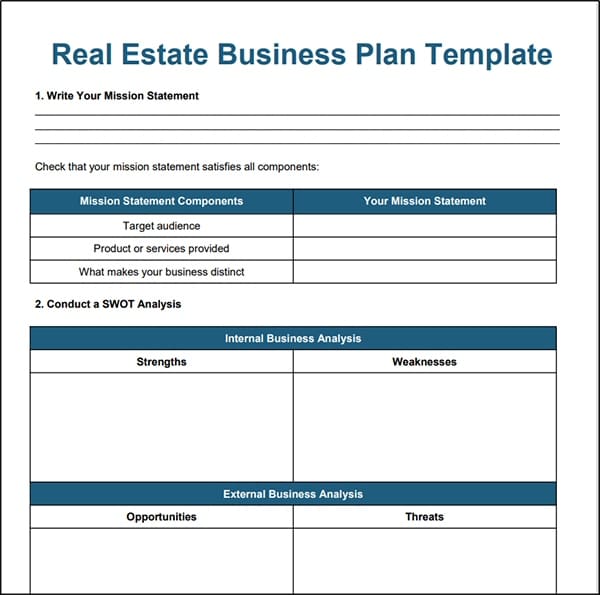 For example, if you start by knowing that networking is one of your weaknesses, finding a real estate company that hosts regular meetups with professionals and members of the community would be ideal. On the other hand, if you struggle with online marketing, finding a brokerage that provides all-in-one online marketing tools and support would be an obvious fit.
3. Create Your Real Estate Resume
Before any interviews, make sure you create a real estate resume. This can be a challenge for some agents since working as a real estate professional is different from most other corporate job positions. However, a strong resume is the best way to show your professionalism and expertise to make a good impression on real estate brokers and other professionals in the industry. Don't forget to print multiple copies to bring with you to interviews in the event there is more than one person you are speaking with.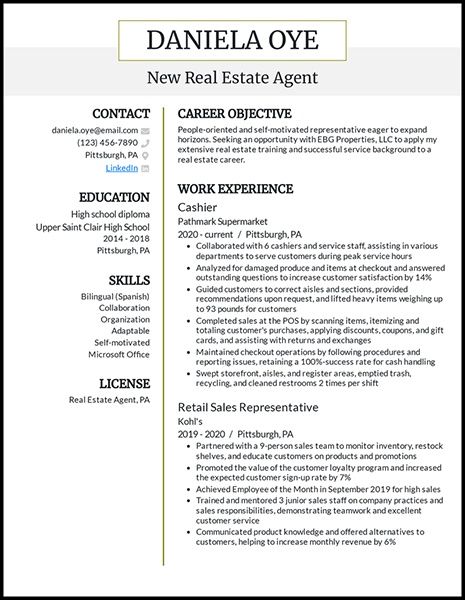 ---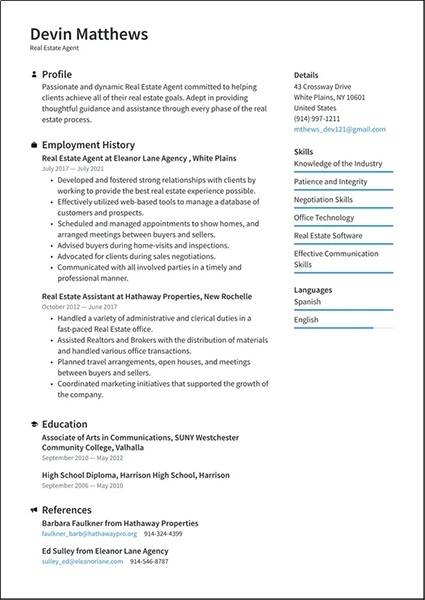 ---
Your real estate resume should be scannable, easy to read, and focused on applicable skills and experience. For experienced agents, it should be relatively easy to list your previous or current real estate brokerage, certifications, awards, or sales accomplishments. However, it can be challenging for new real estate agents without experience.
Regardless of your experience in the real estate field, creating an impressive resume is possible with some strategic thought about your past experience and skills. Don't exclude your experiences and skills even if they aren't directly related to real estate. Instead, think about the collective life experience you have with marketing, sales, and even building relationships, and include those details in the professional and personal sections of your resume.
Most brokers aren't looking solely at real estate or even sales performance, but want to work with an agent who works hard, seeks growth, and serves clients well.
Read the most important tips for creating a real estate resume in our guide and download free templates to use today.
4. Research the Real Estate Brokerage
Once you have your business plan and resume prepared and have a few interviews scheduled, the next step is to research each company before attending the interview. The focus of your real estate interview should be determining whether the real estate brokerage is the right fit for your needs and business goals.
Prior to the interview, learn more about how to choose a real estate company to work for and research everything you can about the company.
Pay close attention to its brand, reputation, and benefits for agents. Consider what each brokerage offers their agents in relation to your individual needs and experience level. For instance, new agents should put a heavier focus on training and mentorship opportunities, while experienced agents may be more concerned with marketing and lead generation tools and systems. Doing this research will help you more clearly evaluate your options and think of the right questions to ask the brokerage to learn more about these elements.
For example, you might notice that the company is active on Facebook or Instagram. This may prompt you to ask questions about their social media, branding, and lead generation strategies and successes. This information can reveal more about the company's organization, systems, and opportunities for you to learn.
You'll find that some companies provide plenty of information online, like customer reviews, agent bios, active social media pages, and even details on commission splits for new agents. Other brokerages reveal very little about their company online, but that doesn't mean you should count them out. This will just mean that you need to be even more diligent at the interview to learn more about the benefits and drawbacks of working for this particular brokerage firm.
5. Determine the Questions You Plan to Ask the Brokerage
As you research each real estate brokerage, you'll naturally think of some questions to ask during your interview. Make sure you write down any specific thoughts, questions, or concerns you develop during your research so you can discuss those openly with the broker. In addition, plan on some specific questions to ask every broker you interview.
A few questions we recommend asking include the following:
How many agents at this brokerage work part time and full time?
What is the average income of your agents?
Does your brokerage host social gatherings?
What are the brokerage's short- and long-term goals?
What kind of training and mentorship opportunities are offered?
What kind of software or technology is provided?
What is the commission split structure?
6. Prepare for Potential Real Estate Interview Questions to Answer
Even though real estate job interviews are different than most, it's important for you to make a good impression on the brokerages and companies you meet with. You may change brokerages in the future, and it's extremely likely that your paths will cross with other agents and brokers many times throughout your career.
Therefore, it's a good idea to think through some real estate questions and answers before your interview. Some common real estate agent interview questions may include the following:
Why did you become (or are becoming) a real estate agent?
What are your sales goals?
Why do you want to work for us?
What makes you stand out from other agents?
What are your top three strengths? Weaknesses?
Where do you see yourself in five years?
How do you generate leads?
How do you use the internet for your business?
How do you build relationships with clients?
How do you market your listings?
How do you handle difficult clients?
How do you make a home more sellable?
How do you stay organized during a real estate transaction?
What do you think are the three most important qualities of a successful real estate agent?
What have your past clients said about you?
What type of clients/transactions do you enjoy the most?
If you work with a real estate client niche like buyers or 65-plus communities, you should also prepare for some more specific questions. For example, commercial real estate interview questions might be more focused on your professional network, past deals you've made, and your understanding of business finances.
7. Dress for Success
Finally, make sure you set yourself up for success by dressing appropriately. In most cases, this means wearing formal business attire like a button-up shirt and tie, jacket, dress pants, or a dress skirt. However, determining what to wear to a real estate interview is similar to the rest of the process, and should be done with consideration to each brokerage's brand.
Look at any broker and agent headshots posted on the brokerage's website or social media pages and model your wardrobe accordingly. For example, if the brokerage you're interviewing with recently posted a photo like this one from Schmitz & Smith Group, consider dressing in black and pink to show how you fit with their brand.
Bottom Line
In order to find success in real estate, you must choose the right real estate brokerage to work for. By thoroughly preparing for interviews with brokers, you'll be able to clearly communicate your needs, ask the right questions, and confidently answer questions. Knowing how to prepare for a real estate job interview is one of the first steps to starting and continuing a successful real estate career.