10 Real Estate Open House Signs to Attract More Leads (+ Tips)
When hosting and promoting an open house, the most classic and effective strategy to get the word out is by posting real estate open house signs. Although most real estate agents default to the standard rectangle or square sign with basic verbiage, there are plenty of ways to make your open house sign unique and eye-catching.
Creating open house signs doesn't have to be complicated or stressful to be effective. To make the design process simple, use VistaPrint's intuitive editor with dozens of design templates. Alternatively, you can upload a custom design for the widest range of sign types, from banners, car magnets, pop-up displays, floor decals, and lightboxes to traditional A-frame yard signs and flags.
We've created a list of 10 creative signs and strategies to keep in mind to help you stand out and drive more interest in your listing.
1. Adhere to Real Estate Sign Regulations
Be mindful of sign restrictions from property-owner associations (POAs) and homeowner associations (HOAs). Many POAs and HOAs restrict the type of signs you use, like the number of open house signs or feather signs. You can scale back your open house signs in the community and still get the word out with conventional yard or sidewalk signs.
Takeaway Tips:
Research your property's neighborhood for any rules they enforce before putting up your signs.
Plan to purchase open house materials that coincide with HOA and POA regulations.
2. Stand Out With Shapes
One of the simplest ways to make your sign stand out is by using an unconventional shape like a house, arrow, or another shape that represents your brand. However, all signs should be used with a strategy. Since this sign does not include open house event details like contact information, time, and date, you'd likely need to use this along with a listing brochure box or sign riders.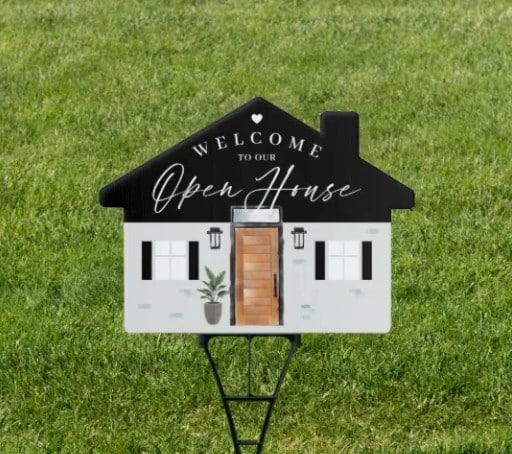 ---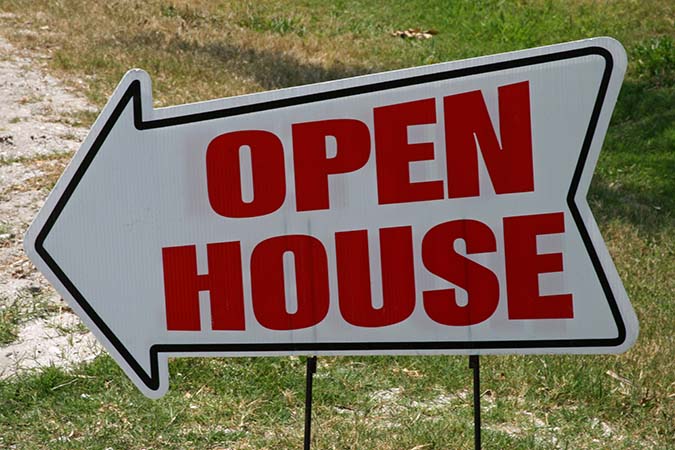 Takeaway Tips:
Decide on a shape that represents your brand and use that as the cut-out of your open house sign.
Use a shaped open house sign in conjunction with a standard open house sign to attract a variety of clientele.
When using unconventional shapes, ensure the signs are easy to see and read
3. Make Your Open House Sign Pop With Color
When it comes to attention-grabbing colors, magenta is energizing and eye-catching while still feeling professional. Colors are a powerful way to grab attention and attract leads, but they also speak to each person differently. For instance, colors too bright or neon can actually annoy many buyers. Choose your colors wisely to make your signs stand out without screaming for visual attention.
If you aren't confident in your ability to choose the right colors for your signage, it's worth contacting 99designs. It's the only service where you can see designs from multiple designers before making a choice. Simply provide a brief with your color choices, and you'll receive multiple options from different designers.
4. Be Concise in Your Real Estate Open House Sign
The best open house signs shouldn't have the same content or goals as other real estate marketing materials like brochures or newsletters. Open house signs should include the location, time, and date prominently displayed. The open house sign ideas from this example are directing buyers to the location of the event.
Takeaway Tips:
Be strategic about how and where you present the time and location of your open house.
Keep each sign's message clear, concise, and visible.
5. Add Your Headshot to Signs
Another one of the best open house sign ideas is to include your Realtor headshot. By adding a name and a face to the sign, the open house feels more personable. In addition, potential buyers will recognize your face from the signs, which can help build trust and authority before you've even shown them the property.
Takeaway Tips:
Get professional headshots taken to include on your open house sign.
Include your name with your headshot to build brand recognition.
6. Turn Everyday Objects Into Open House Signs
It's possible to make your sign stand out without adding shapes or colors to the original sign. Instead, by placing it on a unique object, it will capture attention on its own. This agent used an antique bike as an open house sign in a community that values vintage and renovated properties. In turn, it shows buyers that the homeowners and agent truly know and love the area.
Takeaway Tips:
Creative and different open house signs will make you stand out from the competition.
Ensure it is large enough and positioned so drivers can see and read it.
7. Create Movement in Open House Signs
Feather or flag real estate open house signs are designed to move in the breeze to attract the attention of passersby. The size of the flag, bright colors, and large lettering swaying in the wind are difficult to ignore. The movement stands out from all of the other static objects on the property.
Takeaway Tips:
Using large feather or flagged open house signs will draw attention from further away.
Display your brokerage logo and name on the open house sign for brand reinforcement.
8. Incorporate Personal & Brokerage Branding for Trust-building
There are many reasons to incorporate your brokerage into your real estate marketing plans, and many agents choose to centralize their signage on the brokerage branding. Large brokerages like Keller Williams already have a strong reputation, so their name can build trust and authority with an audience who's unfamiliar with you.
Takeaway Tips:
Unknown or new agents who belong to a large brokerage can benefit from their company's recognized brand.
Take advantage of larger real estate brands or familiar brands in the area to improve client trust.
9. Ensure Proper Placement & Size of All Signs
The location of your open house sign is just as important as its format or design. Many homes are located within neighborhoods, so placing a few signs in front of the home will only attract a small number of neighbors. However, by placing signs on street corners and on busy roads near the home, you can attract many more potential buyers in the area.
Before ordering your open house signs, consider what size you want them.  A typical open house sign size is 24 inches wide by 18 inches tall, which is relatively small. On the other hand, commercial property signs can be as large as eight feet wide by 4 feet tall. Your sign should be large enough to read without having to slow the car down. This may require a sign larger than the standard yard sign size.
Takeaway Tips:
Pay attention to the size of the sign so people can read it from a moving car.
Place additional signs in heavily trafficked throughout the community to draw a larger crowd.
10. Include Interactive Elements in Promotional Materials
While most open house signage is meant to be placed in physical locations on or around the property, it's important to also create an online promotional strategy for your open houses. When creating digital open house flyers, you can include more details and information and even add interactive elements like links. This open house flyer uses a short video loop to take advantage of the marketing power of video.
Takeaway Tips:
Expand your open house marketing by creating digital flyers.
Digital flyers can include interactive elements that lead to videos, QR codes, and listing details.
In addition to promoting a digital open house sign, add your open house to your Zillow listing. Zillow displays open house times and dates to listings, so potential buyers can search through Zillow for upcoming open houses. Don't miss out on qualified buyers and leads by neglecting to set up your agent profile or sign up to become a Zillow Premier Agent.
What to Include on Open House Signs
Realtor open house signs can come in a wide variety of shapes, sizes, styles, and colors. Most open house sign companies have free templates that allow you to start with a somewhat generic design, with the ability to change elements of the sign. Make note that changing every element of a sign can lead to muddled messages and confusing designs, so revise wisely.
These sign details can include:
"Open house" title
Date and time
Agent names
Phone number
Additional contact details
Brokerage name
Logo or personal branding
Headshot
Listing price
Keep in mind that all of these details must be presented in an organized way to avoid overwhelming your target audience. When designing your real estate open house sign, start with a plan for each sign. Instead of trying to include all of the information in one sign, create multiple signs, each with one primary goal. For example, place a flag sign on the front edge of the property, an A-frame sign near the home's entrance, and open house directional signs beside surrounding roads. Use similar colors and fonts for cohesion.
If designing signs is stressful, outsource the job for multiple signs. It's easy and cost-effective to outsource to a graphic designer on Fiverr, a freelance platform, to search for designers with a background in real estate signage. Prices start at $5, depending on skill and the scope of the project.
How to Design Open House Signs
Since there are no rules for open house sign design, it can be overwhelming for a real estate agent to decide how or where to begin. However, becoming successful in real estate doesn't necessarily require you to become an expert in every part of real estate marketing. Instead, you just need the right tools and tips to design effective open house signs.
Designing an effective open house sign essentially boils down to these four elements:
Focus on a clear message: Each individual sign should have a clear goal, like drawing attention to the property or building authority.
Use clear and legible writing: Choose font styles that are easy to read and remember for those walking or driving by.
Incorporate branding: Include elements of you and your company's brand.
Location-specific strategy: Purchase signs with directional arrows to direct visitors where to go. Signs placed on a main road should not be identical to signs placed by the front door.
Don't forget to test different sizes, colors, and placements. Include attention grabbers on the day of your event, like balloons or small flags.
Where to Buy Open House Signs
There are many different companies that provide real estate open house signs, so it can be difficult to choose. However, depending on the quantity and types of signs you require for your open house, you will be able to find a company that fits your business needs. A few of the top sign providers are:
| Provider | | | | |
| --- | --- | --- | --- | --- |
| Order Minimum | 1 | 3 | 1 | 5 |
| Shipping | Standard, Priority, and Express | Contact company | Free standard, Overnight, Next-day | Contact company |
| Sign Pricing Starting At | $12.89 | $92 | $21.47 | $12.20 |
| Learn More | | | | |
Bottom Line
Open house signs are an integral part of a real estate agent's marketing strategy to attract leads, direct open house guests where to go, and help sell listings. When choosing open house signs, you want to ensure the colors are appealing and not overly laden with text and images. Signs can be unique, but ensure they're easy to read by passing cars. Strategically place additional signs on main roads so they can be seen by more people, and pay close attention to local sign ordinances.