Best & Worst Time to Buy a House: Month-by-Month Analysis
The beginning of the year is typically the best time to buy a home. However, there are several factors that play into the economics of homebuying. The biggest are available interest rates, which affect buying power and the number of homes listed for sale in an area, also known as inventory. In addition, the state of the economy as a whole can have a significant influence on price and demand, making some years better for prospective homebuyers than others.
Best Months to Buy a Home: January & February
January and February are typically the least expensive time to purchase a home. You have the perfect storm where the seller is eager to negotiate and the pool of buyers is small. I find that the buying process through this period of time also goes smoother and faster, where many agents, lenders, and inspectors are eager to get the holidays behind them and "get back to work."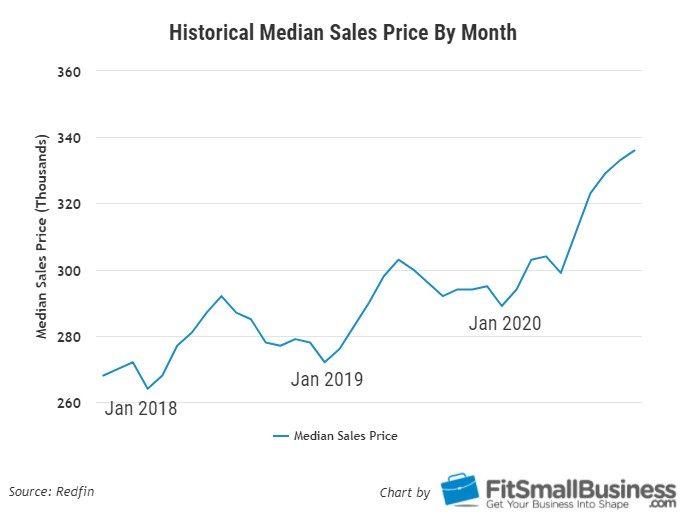 I have found that in my 21 years of selling real estate, February is one of my largest income-producing months. This is absolutely a result of selling more homes in January. The motivated buyers will brave the elements of rain, wind, and storms to preview a home where there is less competition. According to NerdWallet, houses purchased in January and February typically cost 9% to 13% less than they do in June and August.
Worst Month to Buy a Home: April
While warm weather and sunshine are lovely elements to enjoy the outdoors and come out of dreary days, it creates a homebuying frenzy with lots of competition. There is a direct correlation to the beauty of spring and the homebuying process. During the winter months, many sellers have been told to take their home off the market.
This recommendation is partially because of the busyness of the holidays, but also because homes, in general, don't show as nicely due to trees and flowers going dormant. As a result, depending on inventory, buyer competition for the remaining homes on the market can be grueling and make the homebuying process taxing for all parties during this time of year.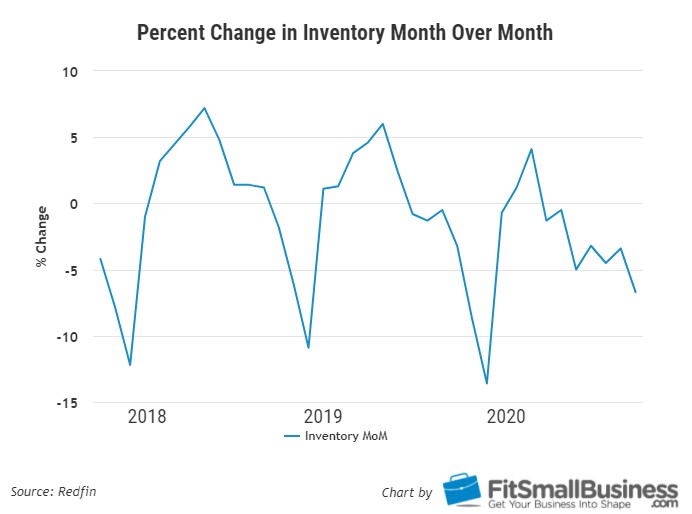 For example, in California, we are seeing an extremely low inventory of homes for sale. Basic economics of supply and demand has created multiple offers and an increase in home prices. Buyers are finding themselves up against 15 to 20 other buyers and having to significantly go over the asking price of a home. This process can be very discouraging and emotional for the buyer. It is our mission to keep the buyer motivated and encouraged to continue their search for a home.
Pro tip: Communication between buyer and agent is key to staying motivated when offers are getting passed over. Agents and the buyers they represent are going to feel beaten and worn down by the process of looking for another home and writing another offer. A good agent should stay by their client's side and remind them to "hang in there." Nonetheless, they should also be realistic and let a buyer know when they may need to make some adjustments and compromises for the purchase to happen.
Home Sale Data by Month
| Month | Existing U.S. Home Sales Seasonally Adjusted Annual Rate (in Millions) | Median Sales Price at Closing | Median Days on the Market |
| --- | --- | --- | --- |
| September 2019 | 5.41 | $271,500 | 41 |
| October 2019 | 5.41 | $271,500 | 44 |
| November 2019 | 5.32 | $271,300 | 45 |
| December 2019 | 5.53 | $274,500 | 50 |
| January 2020 | 5.42 | $266,200 | 56 |
| February 2020 | 5.76 | $270,400 | 55 |
| March 2020 | 5.27 | $280,700 | 44 |
| April 2020 | 4.33 | $286,700 | 35 |
| May 2020 | 3.91 | $283,600 | 38 |
| June 2020 | 4.70 | $294,500 | 39 |
| July 2020 | 5.86 | $305,500 | 35 |
| August 2020 | 5.98 | $310,400 | 31 |
| September 2020 | 6.54 | $311,800 | 29 |
Indicators That It Is a Good Time to Buy
A local real estate agent can be a great resource to call on when determining the best time to buy a home in a specific market. However, there are several indicators that you can watch for yourself when determining the best time to buy real estate in your area.
Local Housing Affordability & Interest Rates
Whether you are looking for your next forever home or looking to buy an investment property, chances are you are going to need access to financing. When a potential buyer comes to me to purchase a home, no matter what the year or season is, I ask the following questions: "What do you want your house payment to be?" and "How much money do you have to put down?" These questions provide a better idea of what affordability looks like for a specific buyer.
Many lenders will run a buyer's credit and tell them what sales price they qualify for before a buyer even starts shopping for a new home. However, if you are looking for an investment property, like a rental or a fix and flip, the rules for lending are different. In this case, getting a quote from a bridge loan provider, like Kiavi, can help you better understand your potential purchasing power.
Median Days on the Market
An increased number of days on the market allows more negotiating power for the buyer. The seller in this circumstance recognizes that the listing could be stale or old, making it less desirable. This is a perfect time for a buyer to offer below asking price and the seller to accept the chance that no other offer will come on the table.
Number of Listed Homes
Would-be buyers who are looking for the best deals should watch for an increased number of homes on the market, as this allows the buyer more home choices and gives the opportunity to negotiate the sales price. The seller also will be more amenable to potential repairs that may not have been considered in a hotter market.
Time of Year
Seasonality in real estate relates to a specific time of year, and its impact varies from location to location. For example, selling activity in the Midwest and Northeast gets much busier in the peak season than in any other region in the United States. For instance, in the Midwest, sales in the slow season account for 60% of the sales in the peak season compared to 71% in the West.
Two of the seasons in real estate are referred to as the school year and the holidays. Buyers will determine the school year to be September through May, whereby homes sales will be higher June through August. Buyers want to use this time to move and settle their children in a new school with as little disruption as possible. The holiday season encompasses the months of November, December, and January.
Perceived slower months, such as Thanksgiving and Christmas, can also be a great time for a buyer to purchase a home. This is because a seller who is willing to show their home during this holiday time, potentially disrupting their celebrations, is eager to sell and negotiate. They might also be more willing to take a lower offer seriously, as a buyer who is willing to brave the weather elements like rain and snow is committed to purchasing a home.
Did you know? According to the National Association of Realtors, the slowest month for real estate sales is January, with November, December, and February not far behind. During these slower months, the number of sales is typically only 68% of what real estate professionals can expect to see compared to sales activity during the peak season.
Market Type
A balanced market is a market in which there is a six-month supply of homes available. As real estate agents, we calculate the absorption rate, which is an estimate of how long it will take for all the homes on the market to be sold based on how many homes are currently on the market. When there are enough homes for buyers to buy and sellers to sell, we are in a balanced market.
As a society, we like to put labels on everything. You hear many times a consumer will ask, "Is this a buyer's or seller's market?" A buyer's market is when there is an abundance of homes to choose from. For every buyer, there is a home for sale. A seller's market is when the inventory is low, meaning there are more buyers looking to purchase than homes available for sale.
When the market becomes unbalanced, housing bubbles can occur. For example, when the market is frantic, inventory is low and demand is high, causing prices to escalate at a rapid rate. I have always referred to this as a false sense of inflation. Unfortunately, home prices can just get pushed so high before the "bubble bursts." When you pay attention to these trends, you will become more in tune with what is coming in the market.
If you aren't sure how the market is trending in your area, considering checking out Zillow. In addition to providing a helpful site that can help you identify affordable properties in your area and the agents who represent them, Zillow offers weekly market reports and an interactive home value index tool for visualizing trends.
Rental Trends
When closely watching the housing market, it is also important to pay attention to what is going on in the rental market. Lack of rental inventory and a higher demand for rentals can also cause rents to increase.
The difference with rentals is that if the market shifts—and sometimes that can happen quickly—the renter in a lease will continue paying the contracted amount. The renter sometimes can find themselves paying more rent than they would for a mortgage payment. Our present market of lower interest rates is a perfect example of this scenario. As a Realtor who recognizes business opportunities, I have reached out to my clients who are renters and have shared that this is the perfect time to purchase a home.
Was 2020 a Good Year to Buy a House?
2020 was a good year to buy a house in terms of affordability, as interest rates in 2020 were 3% and lower. This meant buyers could spend potentially $30,000 more on a property compared to prior years and still expect to be within their budget. That said, this additional boost to buying power also came with a greater amount of buyer competition since housing inventory was also low, especially through the challenging time of COVID.
According to Realtor Magazine, more young Americans under the age of 35 are rushing to become homeowners in the pandemic. Americans in that category had a homeownership rate of 40.2% last quarter, which is up from 37.5% a year earlier according to the U.S. Census Bureau data. According to the National Association of Realtors, first-time homebuyers made up 31% of home sales in September 2020. NAR also reports that all four major regions of the U.S. saw an increase in homeownership rates in the third quarter.
The lack of supply and increased demand has caused home prices to rise. So while 2020 offered a great opportunity to purchase more home for your dollar, it also resulted in a situation where the majority of buyers had to have capital behind them and the flexibility to remove their appraisal contingency in order to get their offers accepted.
Even then it was not a cake walk. For example, I sell homes in the Central Valley of California, where homes are getting 15 to 20 offers and going significantly over asking. With this scenario, I have buyers who have written on four to five homes and still have not had their offer accepted. I encourage these buyers to "hang in there" and I'm their cheerleader, reminding them again that with persistence comes a great reward.
Will 2021 Be Better or Worse? Get Your Crystal Ball
Based on this year's housing market where inventory is low, prices have continued to rise, and bidding wars are making it super-difficult to get a home, will 2021 be better or worse to buy a home? I am asked this question quite a bit and my standard answer is the following, "If I knew if 2021 was going to be better or worse to buy a home, I would be on my book tour."
This answer gets a giggle, but I believe it states the obvious. As real estate agents, we don't have a crystal ball or tea leaves to predict the future. Most of us, as real estate agents, are guesstimating the outcome of the future market based on past market history.
That said, HousingWire anticipates the interest rates to stay low, ranging from 2.8% to 3.1%. With low rates, there is more buying power whereby the buyer can purchase a home at a higher price and still stay within budget. There is also anticipation of more homes being available on the market.
There are possibly two sources where the additional inventory can come from. New home construction is anticipated to continue producing more homes to choose from. Also, within the State of California, investors are hopeful that the moratorium on rental properties will be lifted, allowing landlords to give notice to their tenants and sell their rentals.
Bottom Line
My philosophy has always been it's always a good idea to buy a home. Are there better times than others? Sure. However, since we don't live in a vacuum and the stars may not align perfectly, it is always a good idea to start your housebuying journey to create financial security. Some of us will buy too high and some of us will get a deal.
When purchasing a home to live in, we need to embrace the mindset that this home is our shelter and safe haven. Your personal home or palace should not be equated to your only investment. The top financial advisers remind us to diversify and that buying a home is only part of the equation of financial security. At the end of the day, when you walk into your home and close the door behind you, extreme pride and satisfaction should be felt knowing that you have fulfilled the American dream of home ownership.