6 Best Call Center Phones
This article is part of a larger series on VoIP.
The best call center phones for small businesses are affordable yet packed with essential features, such as high-definition (HD) audio, programmable keys, and an intuitive user interface. They also offer various call routing options and are compatible with most business phone service providers. These features contribute to a streamlined call center experience, enabling agents to manage calls efficiently.
After comparing a host of handheld units, we arrived at the top six call center phones for small businesses:
Top Call Center Phones at a Glance
Call Center Phones

Starting Price*

Key Features

Advanced Features

FSB Rating

Grandstream GXP2170

$90 to $95 per unit

12 line keys
4.3-inch color display LCD
6 session initiation protocol (SIP) accounts

5-way audio conferencing
Automated provisioning
48 digitally programmable fast-dial keys

4.59 out of 5

Yealink T54W

$249 per unit

Adjustable 4.3-inch color LCD screen
Built-in Bluetooth
Built-in USB 2.0 port

Corded/cordless phone
5G Wi-Fi connectivity
Acoustic shield technology

4.43 out of 5

Yealink SIP-T58A

$429 per unit

Android operating system (OS)
Hearing aid compatible (HAC) handset
Intuitive user interface

Smart Noise Proof
Adjustable high-resolution display
Advanced wireless connectivity

4.40 out of 5

Grandstream GXP1780

$85 per unit

HD wideband audio
8 dual-color line keys
Built-in USB port

32 digitally programmable fast-dial keys
5-way audio conferencing
Media access control

4.14 out of 5

Polycom VVX 311

$179 to $279 per unit

Voicemail support
Call handling features
6 programmable line keys

Zero-touch provisioning
Open application programming interface (API)
Acoustic clarity technology

4.11 out of 5

Snom SNO-D715

$55.61 per unit

Hands-free operation
4-line black and white graphical display
HD audio

5 programmable function keys
Integrated USB port
4 SIP identities

3.77 out of 5
*Discounts and better sales prices are available when you shop online
Grandstream GXP2170: Best Overall Call Center Phone
What We Like
Colored display screen
5-way audio conferencing
Customizable fast-dial keys
What's Missing
Overwhelming number of function keys
No video camera
No touchscreen function
Grandstream GXP2170 Pricing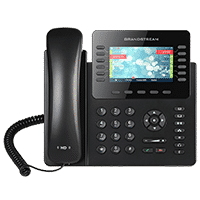 The Grandstream GXP2170 is an enterprise internet protocol (IP) phone and is one of the best voice-over-internet-protocol (VoIP) phones in the market. This unit specifically supports contact centers handling high volumes of inbound and outbound calls. The GXP2170 comes with 12 line keys and 48 digital, on-screen speed-dial keys, helping agents maximize call control and efficiency. It also stands out for its incredible connectivity speeds, creating an ultimate high-volume experience.
Along with its wide range of keys, the GXP2170 offers extreme flexibility to handle six SIP accounts. It benefits agents handling incoming calls on separate lines throughout the day, allowing them to accommodate 12 calls simultaneously.
On the downside, this unit is not a perfect fit for call centers that don't receive much call volume on a daily basis. A better alternative is the Polycom VVX 311, a feature-rich call center phone for low to moderate call volumes. It comes with voicemail support, acoustic clarity technology, and a variety of call handling functions.
Grandstream GXP2170 Features
48 digital speed-dial keys: Connect people across your network instantly using the 48 on-screen speed-dial keys. Grandstream designed these keys as customizable fast-dial keys, making them ideal for handling high volumes of calls.
Automated provisioning: Grandstream supports various automated provisioning options, such as a zero-configuration solution, to make mass deployments easier.
Dual Gigabit ports: Provide the fastest possible connection speed with dual Gigabit ports, integrated with Ethernet ports and built-in Bluetooth for syncing with mobile devices.
Yealink T54W: Best for Advanced Telephony Features
What We Like
Adjustable LCD screen for comfortable viewing
Acoustic technology eliminates background noise
Multiple wireless connectivities
What's Missing
Touchscreen and the ergonomic display may be an overkill for small businesses
Lacks video camera function
Yealink T54W Pricing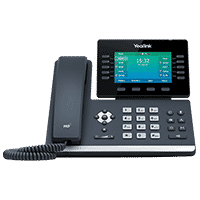 The Yealink T54W is the ideal call center phone for those looking for more advanced functionalities than an entry-level phone, but don't need all the features of an enterprise-level handset. It comes equipped with recording ability, HD voice technology, multiple connectivities, and an adjustable colored display.
Unlike most call center phones, the Yealink T54W offers an efficient call center experience that caters to your personal and business needs. The IP phone functions with Yealink Video Conferencing (VC) Desktop, sharing content from your laptop and making team collaboration much easier. For busy environments, Yealink allows users to turn it into a shared phone system by simply connecting multiple cordless handsets.
For those looking for a cheaper alternative but want to remain using the Yealink product line, choose the Yealink SIP-T58A. The T58A is a smart media phone integrated with Android OS, allowing you to install third-party applications on its system.
Yealink T54W Features
Acoustic shield: Eliminate background noises and distractions with Yealink's acoustic shield technology. This feature uses multiple microphones to form a virtual shield between the caller and the speaker. Once enabled, it blocks out sounds outside the shield in order for both parties to hear each other clearly.
Wireless transmission: The T54W offers wireless connectivity with its built-in Bluetooth 4.2 for Bluetooth headsets and built-in, dual-band Wi-Fi for 5G Wi-Fi connectivity. This allows you to add multiple handsets and share content from your laptop.
Ergonomic display: Get the best viewing and navigation experience with T54W's large backlit display and LED indicators. It has a fully adjustable display that allows users to change the screen angle based on their needs.
Yealink SIP-T58A: Best for Extensive Third-party App Customizations
What We Like
Adjustable multipoint touchscreen
Built-in web browser, calendar, and recorder
Supports third-party apps for customization
What's Missing
Stand is not adjustable
Lacks anti-glare capability
Too pricey for businesses on a tight budget
Yealink SIP-T58A Pricing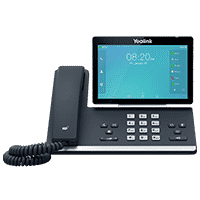 The Yealink T58A is a smart media phone based on the Android OS. It supports the installation of third-party apps, such as Zoom and Skype, including a built-in web browser, calendar, and recorder for further customization. Additionally, it comes with a software development kit (SDK) to deeply integrate the phone with other business solutions for a greater user experience.
If this unit is too complex for your call center needs, consider the Snom SNO-D715. The D715 is a simple yet intuitive call center phone with the basic features you need for an enriching call experience, such as configurable function keys and HD audio.
Yealink SIP-T58A Features
Enhanced HD video: Experience crystal-clear video calls with Yealink's HD video communication technology that makes every conversation clear and focused.
Hearing aid compatible handset: Yealink uses the latest version of Optimal HD Voice technology, helping those with hearing loss hear calls more clearly.
One-touch operation and control: Enjoy smoother navigation with its seven-inch intuitive and adjustable touchscreen that allows users to manage various telephony features.
Grandstream GXP1780: Best Feature-rich, Entry-level Call Center Phone
What We Like
Personalized ringtones and music on hold
32 programmable fast-dial keys
Large phonebook capacity with up to 2,000 contacts
What's Missing
Lacks Bluetooth capability
Poor backlighting of LCD screen
No touchscreen
Grandstream GXP1780 Pricing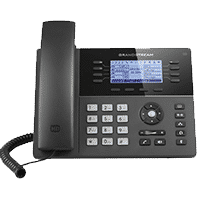 The Grandstream GXP1780 is a mid-range internet protocol (IP) phone with feature-rich capabilities at an affordable price point. It offers a mid-range capacity that enables small businesses to scale up for a competitive price. It supports eight lines, four SIP accounts, eight dual-color line keys, and 32 digitally programmable speed-dial keys.
This call center phone also enables importing and exporting of data with its built-in USB port. For added personalization, the GXP1780 comes with a personalized ringtone and integration with enterprise applications.
If you're looking for more advanced features for a call center phone, such as an LCD touchscreen and built-in third-party apps, choose the Yealink SIP-T58A. The SIP-T58A is one of the most high-tech call center phones on this list, with its enhanced LCD display and multiple connectivity options.
Grandstream GXP1780 Features
Five-way audio conferencing: Enable multiple users to connect on the same call for easy audio conferencing. This allows users to dial in to a central conferencing line and speak and hear other people calling on the same line.
HD wideband audio: Grandstream delivers HD voice quality through its full-duplex speakerphone and handset. It also supports an electronic hook switch (EHS) compatible Plantronics headsets.
Open SIP standard: The GXP1780 runs the open SIP standard, enabling users to connect with any SIP-compliant service provider. This feature offers a great deal of flexibility since it's compatible with a wide range of standards-based equipment.
Polycom VVX 311: Best Call Center Phone for Low to Moderate Call Volume
What We Like
Broad call server interoperability
Robust call management features, such as call waiting, call timer, and 3-way audio conferencing
Voicemail support
What's Missing
Lacks colored screen display
No Bluetooth or USB port
No call logs
Polycom VVX 311 Pricing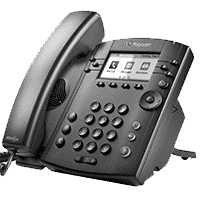 The Polycom VVX 311 is an entry-level business media phone for call centers handling low to moderate call volumes. It provides six lines, programmable speed-dial keys, and SIP support.
Besides its excellent calling experience, the VVX 311 comes with a user-friendly interface and web-based configuration, making the use and maintenance simple and convenient for its users.
It also easily integrates with productivity applications, such as Skype and Zoom, for open application platforms.
If your call center regularly handles high call volumes, the Grandstream GXP2170 is the right call center phone for you. The GXP2170 supports contact centers with high volumes of inbound and outbound calls. It has 12 line keys and 48 programmable fast-dial keys to enhance call control.
Polycom VVX 311 Features
Call handling features: The Polycom VVX 311 comes with a wide range of call handling capabilities, such as call timer, call waiting, call transfer, hold, forwarding, and pickup.
Acoustic clarity: Polycom uses acoustic clarity technology to bring a smooth audio experience to voice calls. It enhances interactivity by using acoustic echo cancellation and full-duplex operations.
Zero-touch provisioning: Reduce installation and maintenance costs with its zero-touch provisioning capability, making it easy to deploy, administer, upgrade, and maintain.
Snom SNO-D715: Best Call Center Phone for Simplicity & Ease of Use
What We Like
Intuitive user interface
Built-in noise suppressor
What's Missing
Lacks advanced features, such as acoustic technology
Number of programmable keys is limited to 5
Unit is not adjustable
Snom SNO-D715 Pricing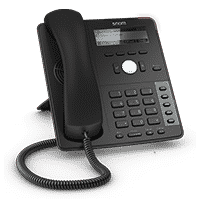 TheSnom SNO-D715 stands out when it comes to simplicity and ease of use. Unlike other flashy phones in this list, this handheld device brings everyday telephony features to call center phones. At only $55.61 per unit, the D715 offers all the basic functionalities of a desktop phone, such as a Gigabit switch, configurable function keys, HD audio, USB port, and an intuitive menu. There's no learning curve required, so many users will find its deployment fairly easy.
One of the huge disadvantages of the D715 is the limited number of programmable keys. If you're looking for a call center phone with plenty of configurable keys, consider our top-recommended unit, the Grandstream GXP2170. The GXP2170 is a powerful IP phone with 48 digitally customizable speed-dial keys to help users be more productive and efficient.
Snom SNO-D715 Features
Advanced remote management: The provisioning capabilities of D715 makes it an ideal choice for large-scale installations and voice-over-internet-protocol (VoIP) deployments. It also gives users access to troubleshooting and maintenance.
Programmable keys: The D715 features five programmable keys that provide the flexibility to configure each function key, such as presence indication, speed dial, or busy lamp field (BLF).
Sound quality: Polycom supports wideband sound processing to ensure excellent audio quality for its microphone and speakers. Audio features include a comfort noise generator and voice activity detection.
How We Evaluated the Best Call Center Phones
The best call center phones allow businesses to contact people inside and outside their organization, whether through digital, analog, or IP phones. For this guide, we evaluated six call center phones that offer greater flexibility, scalability, personalization, and cost savings when implementing a business phone system.
Learn how we evaluated the best call center phones by clicking on the tabs below:
25% of Overall Score
We compared the costs of handheld devices by looking at the available discounts and pricing per unit. From there, we gave higher points to providers that offer more affordable deals.
30% of Overall Score
We examined each unit based on the call management features it offers, such as call recording and call queuing. We also focused on essential functions, such as HD voice, voicemail, and conference calling.
20% of Overall Score
The best call center phones offer niche features that are considered essential for advanced communication needs. We looked for units offering full-color display, app support, video camera, ergonomic headset, and Bluetooth headset compatibility.
25% of Overall Score
We came up with our expert score by considering the value for money and ease of use of each handheld unit. We also factored in the popularity and the standout features.
*Percentages of overall score
Do you prefer a business phone service for your communications stack? Check out our guide on the best business phone systems to find the provider that is best for you.
Bottom Line
While there are plenty of communication channels that exist today, telephones still play an important role in today's business environment. According to PR News Wire, nearly 90% of people prefer speaking to a live agent on the phone, which explains why many companies still prefer call center phones when it comes to handling inbound and outbound lines. They also offer vast functionalities, such as voicemail and audio conferencing, all for an affordable price.
The Grandstream GXP2170 earned an overall score of 4.59, making it the top call center phone on our list. It's competitively priced at $90 to $95 per unit, supports a high volume of calls, and offers maximum connectivity speeds. This powerful enterprise IP phone makes it an ideal choice for small businesses handling high call volumes.