Answering and making telephone calls is an integral part of any call center environment, which makes it even more important to have the proper equipment for doing so. You want calls to sound clear and high definition, but you also want your phone to be easy to use and handle in the meantime. Call center phones range in price and have varying features, so we examined six different voice-over-internet-protocol (VoIP) phones to find our pick for the best.

| Call Center Phones | Best For |
| --- | --- |
| | (Best Overall) Companies that want a reliable piece of equipment for basic use in a call center environment |
| | Teams that want advanced options in a call center phone |
| | Organizations looking for a high-quality phone that can handle a heavy call volume |
| | Businesses looking for a basic phone system that lets agents do their jobs efficiently |
| | Businesses that need to make the most of video conferencing capabilities |
| | Organizations needing a full phone solution for a growing environment |
How We Evaluated Call Center Phones
While choosing our pick, we considered options like the number of features for the price you pay, as well as what other users have to say about the equipment. The best hardware should help you make the most of your call center phone system while being user-friendly, easy to use, and requires only a minimal training period for all tech skill levels.
We evaluated call center phones based on the following:
Price
User-friendliness
Call quality
Built-in features and hotkeys
Digital display
Call handling options
Customer support
At the end of the day, we have chosen the Cisco SPA 303 as our winner for the best call center phone. Not only is it affordable, but it is highly simplistic and can be used by skill levels all across the board. The Cisco SPA 303 offers many useful stock features like caller ID, voicemail, and hold options, but it is also incredibly easy to set up, use, and maintain over time.
Cisco SPA303-G1: Best Overall Call Center Phone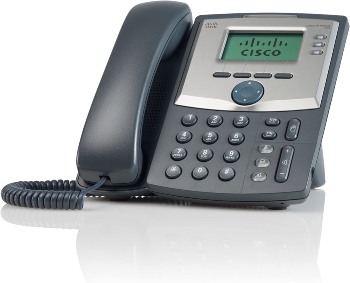 What it is: The Cisco SPA303-G1 is a three-line VoIP desk telephone.
Why it is great for businesses: If all your call center needs is a basic internet protocol (IP) phone to perform day-to-day-functions, then the Cisco SPA303-G1 is ideal. There are no bells and whistles attached to this phone, making it a good fit for all tech skill levels. Retailing at under $60, it is an ideal choice for companies that do not want to spend a lot of money.

| Cisco SPA303-G1 Strengths | Cisco SPA303-G1 Weaknesses |
| --- | --- |
| Call handling: Forward, transfer, and mute are only three of the many call handling options available. | No LCD backlight: If you're in bad lighting, the panel might be difficult to read. |
| Speakerphone: If your hands are busy, simply press the speaker button to turn your call into a speaker call. | Quiet: Users complain that the ringer is too quiet on the phone, making calls easy to miss. |
| Headset compatible: Connect your own headset to the Cisco SPA to free your hands while taking calls. | Plastic: Some users are frustrated with the plastic parts of the phone because they are not made as strongly as they should be. |
Cisco SPA303-G1 Pricing
You can expect to pay about $54.99 per Cisco SPA303-G1 desk phone.
Cisco SPA303-G1 Features
Voicemail: Missing a call is no hassle with the Cisco SPA303-G1; each phone comes with voicemail capability so that callers can leave you messages, which you can check anytime you want.
Conference calling: The ability to host conference calls is easy with the Cisco SPA. Dial the numbers of the participants you wish to join and go from there; it's that simple.
Very basic: If you need an IP phone but don't necessarily need the additional functionalities associated with one, the Cisco SPA303-G1 offers the best of both worlds by giving you a VoIP phone without being overly weighty in features.
Grandstream GXP1780: Best Call Center Phone for Advanced Options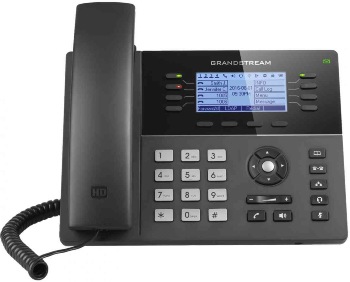 What it is: The Grandstream GXP1780 is a VoIP desk phone designed for call centers.
Why it is great for businesses: Full of advanced features specifically for call centers, including audio conference calling and advanced call routing options, the Grandstream GXP1780 is the ideal piece of equipment for organizations with a heavy call volume.

| Grandstream GXP1780 Strengths | Grandstream GXP1780 Weaknesses |
| --- | --- |
| Personalization: Custom ringtones and ringbacks make your calling experience one-of-a-kind. | Wireless capabilities: You cannot use a wireless headset with this phone because there is no Bluetooth capability. |
| Quick setup: A step-by-step walk-through makes setting up your new phone a breeze. | Voice quality: There are reports that the voice quality is lacking with the Grandstream GXP1780. |
| Included hardware: With each Grandstream GXP1780 phone, you get an AC adapter as well as an Ethernet cable to make setup easy. | Back panel: Although the LCD panel does have a backlight, it's difficult to see in low lighting. |
Grandstream GXP1780 Pricing
The Grandstream GXP1780 retails for around $79 online.
Grandstream GXP1780 Features
Eight lines: You can maximize efficiency with Grandstream GXP1780 by making use of its eight-line system, allowing multiple lines for making and transferring calls.
USB port: If you find that you need to import and export data, there is a dedicated port for plugging in a USB stick to easily upload or download information.
Integrations: Web and enterprise app support is available with the Grandstream GXP1780, giving you quick access to useful apps like local weather.
Shop for the Grandstream GXP1780
Grandstream GXP2170: Best Call Center Phone for Heavy Call Volume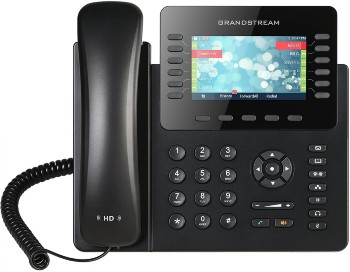 What it is: The Grandstream GXP2170 is a VoIP desk telephone.
Why it is great for businesses: Priced at under $100 and offering users 12 phone lines, there is more than enough data for users to seamlessly make, answer, and control their telephone calls.

| Grandstream GXP2170 Strengths | Grandstream GXP2170 Weaknesses |
| --- | --- |
| Built-in USB: Exporting and importing data is no hassle thanks to the built-in USB port. | Options: With up to 48 programmable on-screen buttons, it can get confusing to configure your options. |
| Bluetooth compatible: Sync your headset, mobile devices, contacts, and more with Bluetooth capability. | One USB port: You are limited to a single USB port with the Grandstream GXP2170. |
| Awesome support: Grandstream GXP2170's support center includes a knowledge base, live chat, and a help desk ticketing system. | Laggy: Users report that the touchscreen takes a second to respond; it is not as intuitive as others on this list. |
Grandstream GXP2170 Pricing
Amazon is asking $95.00 for the Grandstream GXP2170.
Grandstream GXP2170 Features
Twelve lines: Offering users the highest number of lines, you can maximize efficiency easily by making use of all 12 lines.
Warranty: Every Grandstream GXP2170 comes with a one-year limited hardware warranty in case something goes wrong with the device.
Call recording: Improve customer service using the record feature on your Grandstream GXP2170 telephone. Listen to previous recordings and track patterns to learn how you can better your customer-agent interactions.
Shop for the Grandstream GXP2170
Polycom VVX 311: Best Basic Call Center Phone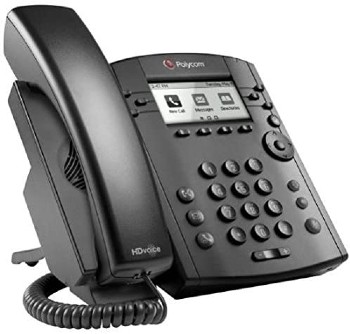 What it is: The Polycom VVX 311 is a VoIP telephone.
Why it is great for businesses: Call centers that only need a basic set of stock features will find the Polycom VVX 311 the most useful. It offers great base features like a backlit LCD panel and half a dozen telephone lines, but it is missing advanced features, like call logs, that you'd expect from a VoIP phone.

| Polycom VVX 311 Strengths | Polycom VVX 311 Weaknesses |
| --- | --- |
| Backlit LCD: An easily readable LCD panel makes it easy to see menu options. | No Bluetooth: Users who want a Bluetooth connection will be disappointed. |
| Headset port: There is a dedicated port on the phone to plug in a headset. | Call logs: Call history, phone book, and other call log records are missing from the Polycom VVX 311. |
| Call routing options: Transfer, mute, hold, and divert are only a few of the available options. | USB: There is no USB port for headset connectivity. |
Polycom VVX 311 Pricing
You can expect to pay anywhere between $89.88 and $104.78 for this phone.
Polycom VVX 311 Features
Six lines: The Polycom VVX 311 lets you work faster and more efficiently by giving you six lines to control your call settings.
Open application platform: The VVX 311 offers a full WebKit, including HTML, CSS, and JavaScript.
Secure: Offering a number of security options like encrypted configuration files, HTTPS secure provisioning, and password login, your data and information is secure.
Yealink T49G: Best Call Center Phone for Video Conferencing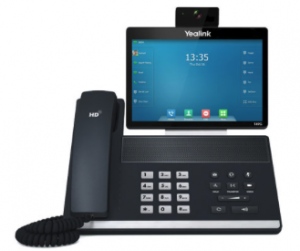 What it is: The Yealink T49G is a VoIP phone that doubles as a platform for video conferencing.
Why it is great for businesses: If your company does a lot of video conferencing, then this is the perfect solution for you. Rather than boot up your computer and take the time to download and load video conferencing software, you have the convenience of doing so directly from your desk phone.

| Yealink T49G Strengths | Yealink T49G Weaknesses |
| --- | --- |
| Convenient: You need no additional equipment to host and participate in video conferences. | Complex: There is a lengthy process involved to get the phone set up. |
| Advanced options: The phone itself includes options like mute, redial, speakerphone, and hold. | Touchscreen: Some users report that the touchscreen is less intuitive than other devices, like your smartphone. |
| Sturdy: Made of solid, high-quality plastic, the device is well-constructed and built to last. | Limitations: Since the screen is only so big, you're capped on how many people you can conference with at once. |
Yealink T49G Pricing
Retailing around $399, the Yealink T49G is the most expensive option on this list.
Yealink T49G Features
High-quality screen: The screen has a 1080 resolution, giving you a beautifully clear picture while you video conference.
HD voice: Crystal-clear, high-definition voice calling transforms your calls and lets you hear conversations more easily.
Conferencing options: Your screen gives you the option to host a three-way conference call or a five-way audio/video mixed conference.
RingCentral: Best Full-service Phone Solution

What it is: RingCentral is not a piece or hardware; rather, it is a complete business phone system that offers several different service tiers to small businesses along with the ability to lease equipment like call center phones, allowing your team to always use the best technology.
Why it is great for businesses: RingCentral is a full business solution for companies that want an entire phone system. It gives users three different service tiers to choose from (each tier building on the previous one), and offers a multitude of features like SMS messaging, video conferencing, and different call handling options.

| RingCentral Strengths | RingCentral Weaknesses |
| --- | --- |
| Scalable: Grow your plan over time and upgrade your service as needed. | Overwhelming: Users who are not as tech savvy as others might have a difficult adjustment period. |
| Clean user interface (UI): Users like how easy it is to navigate through RingCentral's features. | Bandwidth: Ensure that your internet service provider (ISP) can give you enough bandwidth to support RingCentral. |
| Knowledge Base: If you find yourself stuck, RingCentral has a great online knowledge base full of helpful articles. | Price: Some users might find RingCentral's price tag too expensive for their needs. |
RingCentral Pricing
You can choose to be charged on an annual or monthly basis with RingCentral. Pricing below reflects two to 19 users:
Essentials: $29.99 per user, per month; $19.99 per user, per month on an annual basis
Standard: $34.99 per user, per month; $24.99 per user, per month on an annual basis
Premium: $44.99 per user, per month; $34.99 per user, per month on an annual basis
Ultimate: $59.99 per user, per month; $49.99 per user, per month on an annual basis
RingCentral Features
Service suite: RingCentral gives you a full phone service suite instead of simply placing a phone on a desk. With RingCentral, you are subscribing to a service that will allow you to host video conferences, send and receive SMS texts, and view reports and analytics to improve your call center.
Affordable: Pick the price point that you're the most comfortable with and go from there. Prices range from $19.99 to $59.99 per user, per month, with each tier giving you something that the previous tier doesn't have.
Equipment rental: Choose which desk phones and any additional equipment that you want to order with your RingCentral package. These are optional, but can include equipment such as call center desk phones and headsets.
Bottom Line
What you are looking for in a business desk phone will depend on how your call center conducts business. Price and shipping times are an important factor, naturally, but you must also consider the daily use of the phone. Some models work better as a secondary phone for the lobby or common area, while some are engineered to handle a huge call volume and hold up well for years to come.