Best VoIP Phones for Businesses in 2022
This article is part of a larger series on VoIP.
High-quality voice-over-internet-protocol (VoIP)-enabled phones support crisp audio quality with tools for enhanced call management. The top VoIP phones also have touchscreen or LCD (liquid crystal display) displays and user-friendly interfaces. We identified the best VoIP phones for businesses by comparing available features, talk time, interconnectivity, and ease of use to determine the best value for the price.
Based on our evaluation, the top phones for VoIP include:
Best VoIP Phones at a Glance
VoIP Phones

Starting Price

Key Features

Audio Conferencing

FSB Rating

Grandstream GXP2170

$115

4.3-inch LCD display
48 speed dial contacts
Works with 6 session initiation protocol (SIP) accounts

5-way

4.5 out of 5

Grandstream GXV3275

$199

7-inch color touchscreen
Built-in camera
Tablet functionality

6-way

4.44 out of 5

Ooma DP1-T

$84.78

32 speed dial contacts
Supports two phone lines
Speakerphone

3-way

4.10 out of 5

Yealink W60P

$163.20

2.4-inch color display
Up to 30 hours of talk time
Pairs with up to 8 handsets

3-way

3.98 out of 5

Grandstream DP720

$50

Supports up to 10 phone lines
Up to 20 hours of talk time
Multilanguage support

3-way

3.91 out of 5

Polycom VVX 601

$309

4.3-inch touchscreen
Integrates with a computer softphone app
Up to 16 phone lines

3-way

3.90 out of 5
Grandstream GXP2170: Best Overall VoIP Phone
What We Like
Works with many different VoIP providers, including Vonage
Supports VoIP call recording and voicemail functions
Integrated Bluetooth
What's Missing
No video capabilities
Doesn't have a touchscreen
Lacks a 3.5 millimeter (mm) jack
Grandstream GXP2170 Pricing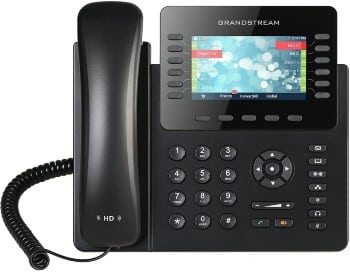 The Grandstream GXP2170 outshines the competition because of its low price per phone and integrated Bluetooth. Grandstream designed the enterprise-grade desk phone for high-volume users, and it syncs smoothly with mobile phones and headsets. This also makes it one of the best VoIP phones for call centers. In addition, the full-color LCD screen and traditional dial pad have a familiar look and feel, but dual gigabit ports ensure a reliable high-speed connection.
It works with up to six SIP accounts, meaning six different employees can log in and use the phone (hotdesking) and answer up to 12 phone lines. The interface has 48 digital speed dial/busy lamp field (BLF) buttons, and you can use your business phone system to transfer or park calls.
However, the Grandstream GXP2170 doesn't have a 3.5mm jack or a built-in camera like the Grandstream GXV3275. Also, some staff may prefer a desk phone that feels more like a tablet or smartphone. In this case, consider a touchscreen model like the Grandstream GXV3275 or Polycom VVX 601.
Grandstream GXP2170 Features
Audio conferencing: Host a five-way conference call on your VoIP phone or skip the handset and put your meeting on the speakerphone. Either way, you'll get full duplex sound and HD audio for maximum clarity.
Call handling: Five programmable soft keys and 11 dedicated function keys enable VoIP phone features on your office phone. You can park or transfer calls and set up personalized ringtones.
Contact management: View up to 500 call log records or press the dedicated Phonebook function key to access a downloadable phone book with up to 2,000 items.
Grandstream GXV3275: Best VoIP Phone for Built-in Video Conferencing
What We Like
Large, full-color touchscreen
Supports 3-way video conferencing
Has a built-in web browser
What's Missing
Uses older Android software
Supports fewer phone lines than other desk phones
Grandstream GXV3275 Pricing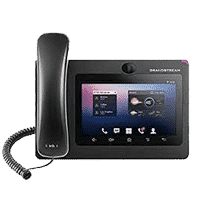 The Grandstream GXV3275 is the best option for video conferencing, thanks to its sizable seven-inch touchscreen and tiltable camera. You can host and record three-way video calls and use the privacy shutter to block the camera when it's not in use. The tablet-like console has three dedicated Android keys (Home, Menu, and Back), and you can perform essential VoIP functions like call forwarding and call park or pickup.
This desk phone suits a variety of uses because it has integrated Bluetooth and Wi-Fi for connecting external devices. You can also connect tools using the RJ9 or 3.5mm jacks, universal serial bus (USB) port, or the mini high-definition multimedia interface (HDMI) port.
Grandstream GXV3275 Features
Video conferencing: The on-screen display has a video resolution of up to 720p and uses auto-focus, auto-exposure, and anti-flickering tools to provide top-notch video quality.
Call management: The capacitive touch interface lets you add contacts to a downloadable phone book and see which employees are on a call before transferring a customer.
Tablet functionality: Customize your phone by downloading third-party applications for the weather, social media, or calendars. You can also stream internet radio, use the built-in web browser, or create custom tools with Grandstream's application programming interfaces (APIs) and software development kits (SDKs).
Ooma DP1-T: Best VoIP Phone for Ooma Home Office Users
What We Like
Lowest-priced VoIP phone on our list
32 programmable speed dials
36-hour standby battery backup
What's Missing
Only supports 2 phone lines
Doesn't have a 3.5mm or RJ9 jack
Only works with Ooma VoIP services
Ooma DP1-T Pricing
The Ooma DP1-T pairs wirelessly with the Ooma Office base station, so you can start making and receiving phone calls without fiddling with an Ethernet cable. The phone uses DECT (digital enhanced cordless telecommunications) technology and works as long as it's within 150 feet of the base unit. Plus, the rechargeable battery has a 36-hour standby time and seven-hour talk time, allowing you to switch from the office to the living room without finding an outlet.
The Ooma DP1-T is inexpensive when purchasing from a third-party provider, or you can buy it from Ooma directly. If you get it from Ooma, it may already be provisioned for your account, making your installation even easier. However, it has the smallest LCD display compared to the Grandstream and Polycom phones. It's also not a good fit if you need to answer or monitor more than two phone lines.
Ooma DP1-T Features
User interface: The Ooma DP1-T shows the status of your lines with lights. Red means a call is on hold, green indicates a busy line, and no lights signal an open line. Hard buttons let you access the contact directory, call logs, and 16-speed dial contacts.
Voicemail: A red light appears at the top of the Ooma DP1-T phone if you have voicemail messages waiting, and the LCD screen shows the number of new voicemails you have up to 99. Simply press the voicemail button and follow the prompts to hear your messages.
Call flip: The Ooma DP1-T lets you quickly switch devices. Dial *44 on your desk phone, and it'll automatically ring all devices for your extension simultaneously.
Yealink W60P: Best Cordless VoIP Phone for Extended Talk Time
What We Like
Impressive 30-hour talk time with a charged battery
Easy-to-read 2.4-inch color LCD display
Can be purchased through Vonage, RingCentral, or third parties
What's Missing
Supports fewer SIP accounts than the Grandstream DP720
More expensive than comparable cordless and desk phones
Yealink W60P Pricing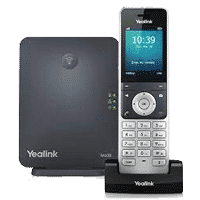 The Yealink W60P is a cordless business phone with a base station and USB charger cradle. It's more scalable than the Grandstream DP720 because one base unit supports up to eight cordless phones versus Grandstream's five. The Yealink W60P also has a larger 2.4-inch color LCD screen, making it easier to read than the cordless Grandstream model.
With a 400-hour standby time and a range of 50 meters (about 164 feet) indoors and 300 meters (roughly 984 feet) outside, the W60P is suitable for many businesses. It can cater to retail stores and even sprawling nurseries. You can view up to 500 contacts and lock your keypad to prevent accidental phone calls.
Yealink W60P Features
Scalability: The Yealink W60P grows with your business, as you can add up to eight phones to one base station. It also supports eight VoIP accounts and phone lines. If your company adds square footage, use up to five repeaters per base console to extend your range. Your team can stay connected while covering more ground.
Call handling: The Yealink cordless phone works like other desk phones, allowing the use of many VoIP features. You can place callers on hold, transfer them, and switch between two calls simultaneously.
Contact management: Search your phone book or access a remote contact list via a lightweight directory access protocol (LDAP) application. Plus, you can import or export contacts from other devices.
Grandstream DP720: Best Budget-friendly, Cordless VoIP Phone
What We Like
Has a micro USB charging port
Supports 10 SIP accounts and phone lines
Has 19 language settings
What's Missing
Very small LCD display
Requires purchase of a base station
Grandstream DP720 Pricing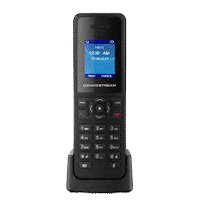 The Grandstream DP720 is the lowest-priced cordless phone, and like Yealink, it uses the digital enhanced cordless telecommunications (DECT) wireless standard. It has 23 keys, including two soft keys and four dedicated function keys, so you can answer, park, or transfer calls with ease. This model also supports three-way audio conferencing.
The price doesn't include the required Grandstream DP750 base console, and the 1.8-inch color LCD is smaller than the cordless Yealink device. However, you can have up to 10 Session Initiation Protocol (SIP) accounts on your DP720 phone, whereas the Yealink W60P only supports eight.
Grandstream DP720 Features
Mobility: Like the Yealink W60P, the Grandstream DP720 has a range of 50m indoors and 300m outdoors. The rechargeable battery provides 20 hours of talk time and 250 hours of standby time.
Call management: Create direct inward dialing (DID) call groups or download your phone book from the Grandstream cordless phone. It also supports three-way conferencing, call transfer, call park, and on-hold features.
Multilanguage: The Grandstream DP720 supports 19 languages, which is more than the 16 on Polycom models. In addition, the Grandstream DP720 includes some languages not offered by other phone vendors, including Czech, Hebrew, Turkish, Arabic, and Serbian.
Polycom VVX 601: Best Multiline VoIP Phone
What We Like
Easy-to-navigate touchscreen
Has 2 USB ports, whereas other phones have 1
Digital picture frame mode
What's Missing
Costs more than other desk phones
Conferencing limited to 3 people
Doesn't have a 3.5mm jack
Polycom VVX 601 Pricing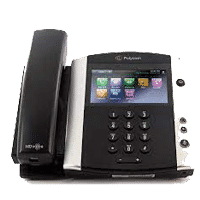 The Polycom VVX 601 is geared toward executives and is one of the best devices for multiline phone systems. It supports 16 SIP lines compared to six with both Grandstream desk models. The VVX 601 features a 4.3-inch touchscreen, hard numeric keypad, and integrated Bluetooth. Although the Polycom VVX 601 doesn't have a built-in video camera, it coordinates with the USB plug-and-play Polycom VVX camera.
You can complete most tasks on your office phone, including managing your calendar or viewing instant messages. Or pull your phone interface up on your computer screen and use your mouse to navigate through various menus. However, the Polycom VVX 601 costs more than the Grandstream GXV3275 with a built-in camera. If you have 12 or fewer lines, the GXV3275 is a better choice.
Polycom VVX 601 Features
User interface: Personalize your display with Polycom apps or install custom applications using Poly's SDKs and APIs. Or add your favorite photos and view them on your phone in digital picture frame mode.
Acoustic technology: Enjoy crystal-clear conversations with Poly's Acoustic Clarity technology. The high-definition (HD) audio supports full-duplex sound with background noise suppression and echo cancellation.
Unified communications: Use your desk phone to view and manage calendars, receive reminders, and see the presence status of your team members.
How We Evaluated the Best VoIP Phone
The best devices for your business phone system vary in price and functionality, allowing you to equip your team with the right tools for communication. We assessed several VoIP phone models based on phone costs and feature sets. Plus, we looked at the ease of use and overall value for the money.
Learn how we evaluated the best VoIP phone by clicking on the tabs below:
15% of Overall Score
The best VoIP phones for business range in price from $50 to $300+. Also, if some devices included a maintenance fee, we factored that in as well as this can help businesses save money on repairs and upkeep.
35% of Overall Score
VoIP business phones provide call management and handling features, including call holding, forwarding, and transferring. We gave points for devices with call recording, speed dial buttons, and voicemail access.
30% of Overall Score
We reviewed various phone models to see if they offered a password login for multiple SIP accounts. We also scored devices with a conference bridge and text messaging higher than those without.
20% of Overall Score
We identified features that made each desk or cordless phone stand out and determined a score based on the overall value for the money. We also considered the device's popularity among business users and how easy it was to set up and configure.
*Percentages of overall score
Bottom Line
VoIP phones can support multiple SIP accounts, phone lines, and audio conference participants. Think about how you want to use your phones and check with your VoIP provider to ensure compatibility before choosing a VoIP phone.
The Grandstream GXP2170 earned 4.5 out of 5, making it the clear winner. It's priced reasonably at $115 per device, works with many VoIP vendors, and has integrated Bluetooth. This enterprise-grade phone is an excellent addition to offices with high call volumes.