Once you've chosen the best VoIP phone service provider for your small business, your next step is to equip your staff with the phones they'll use to access it. We looked at the most popular VoIP phone options that covered the range of options for small businesses in terms of cost and available features. Read on for our comparison and to see what options are available at different price points.
Many VoIP providers offer phones when you sign up for their service. RingCentral, the most-recognized VoIP provider, has a great selection of desk phones, conference phones, and headsets available. Click here for details.
Best VoIP Phones for Business Comparison Table
We recommend the Grandstream GXP2170 as the best value in VoIP phones for small businesses, but were nonetheless impressed by the range of other options. Read on to learn more about each of them.
| | Grandstream GXP2170 | Cisco SPA 303 | Polycom VVX 300 | Polycom VVX 600 | Yealink T49G |
| --- | --- | --- | --- | --- | --- |
| Price | $110.25 | $58.00 | $101.94 | $219.99 | $799.00 |
| Number of Lines | 12 | 3 | 6 | 16 | 16 |
| Display | 4.3" TFT color LCD at 480 x 272 | 3.2" grayscale LCD at 128 x 64 | 3.2" grayscale LCD at 208 x 104 | 4.3" TFT color LCD at 480 x 272 | 8" IPS color LCD at 1080 x 800 |
| Touchscreen | ✕ | ✕ | ✕ | ✔ | ✔ |
| Bluetooth | ✔ | ✕ | ✕ | ✔ | ✔ |
| Caller ID | ✔ | ✔ | ✔ | ✔ | ✔ |
| Caller Hold | ✔ | ✔ | ✔ | ✔ | ✔ |
| Call Conferencing | ✔ | ✔ | ✔ | ✔ | ✔ |
| HD Voice | ✔ | ✕ | ✔ | ✔ | ✔ |
| HD Video | ✕ | ✕ | ✕ | ✕ | ✔ |
| HD Camera | ✕ | ✕ | ✕ | ✕ | ✔ |
| HDMI Output | ✕ | ✕ | ✕ | ✕ | ✔ |
| Power Over Ethernet | ✕ | ✕ | ✕ | ✕ | ✔ |
| WiFi Connectivity | ✕ | ✕ | ✕ | ✕ | ✔ |
The Best VoIP Phone for Your Business
VoIP phones generally resemble your traditional landline phones, but they often include a wider range of features and, more importantly, they connect to your business' internet connection rather than a traditional phone line.
When choosing the right VoIP phone for your business, there are a number of considerations to make. Primary among them are:
Start by determining how many lines you need to carry on your phone. Most VoIP phones will be set up to easily accommodate three to six lines, but it's not uncommon for more expensive phones to allow up to 16. Most small businesses will only need two or three lines per extension, but it's important to understand your business' specific needs now and in the future.
Some VoIP phone service providers recommend specific brands or models of phones over others because they work well on their systems. While this used to be an important consideration to make, it's becoming less so as phones become more universal in their compatibility. However, some phone features may also be offered by your service provider, so this may add to the cost of the phone unnecessarily.
Finally, price is the main concern for most businesses. Remember to include all of your employees who will need a phone, as well as any future growth.
Best Value in VoIP Phones for Business: Grandstream GXP2170
The Grandstream GXP2170 strikes an impressive balance between features and price, making it our recommendation for the best value in VoIP phones for small businesses.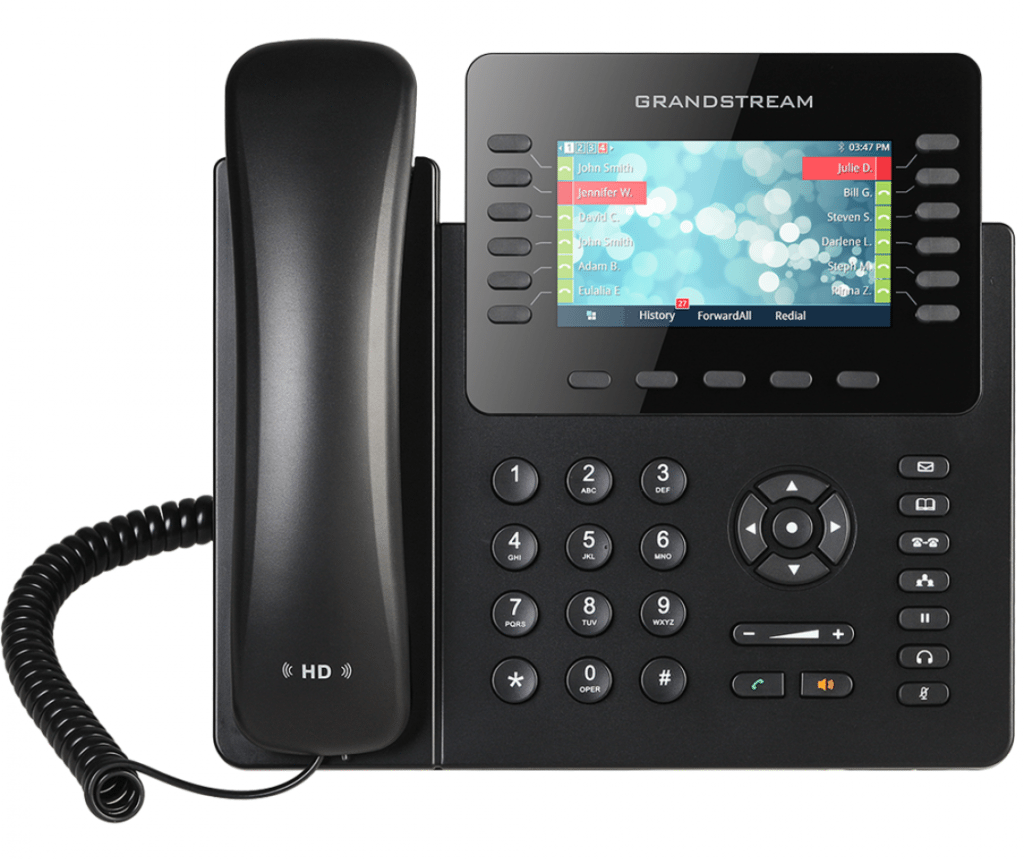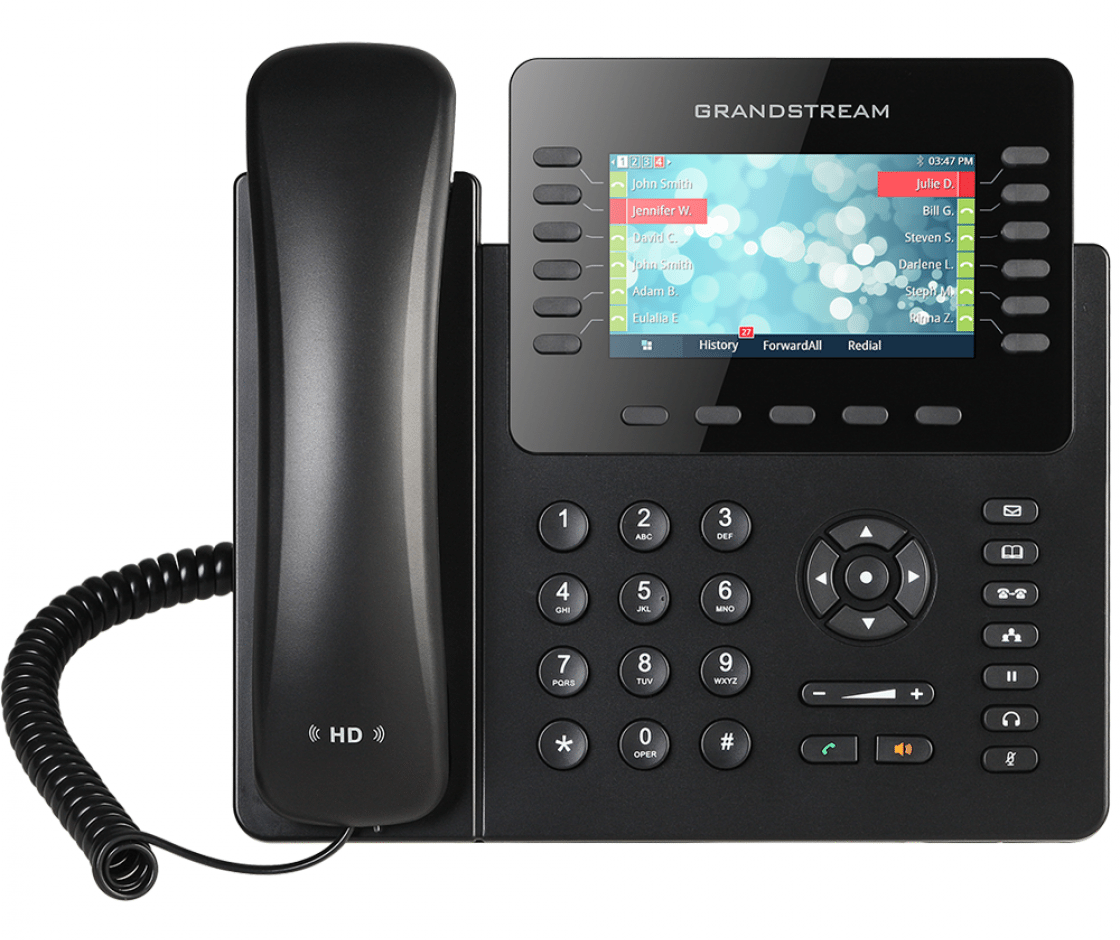 The Grandstream GXP2170 offers many features usually found on higher-priced phones for a mid-level price. With 12 lines, it's excellent for handling a high volume of calls. HD voice ensures a high sound quality and Bluetooth connectivity lets you pair a headset for hands-free operation. And there is a large range of programmable keys.
But what's most impressive at this price point is the Grandstream GXP2170's thoughtful design. Buttons are well laid out with minimal crowding, and the 4.3" TFT color LCD screen with a 480 x 272 resolution is large and clear.
While the Grandstream GXP2170 may not offer some of the features of a higher-end phone, such as a touchscreen or WiFi connectivity, it's nonetheless the best value among its peers for the price.
Best Entry-Level VoIP Phone for Business: Cisco SPA 303
The Cisco SPA 303 delivers the basic functions that your employees will need to conduct their business over the phone for a budget friendly price of $58.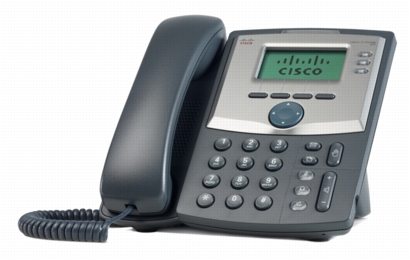 The Cisco SPA 303 lacks many of the features found in mid and high-end phones, such as a color display, HD voice quality, or WiFi connectivity, but it's hard to beat it at $58 if your business is on a tight budget. It's three lines are the fewest offered by any of the phones we reviewed, but still ample for the needs of most small businesses. And the simplicity of fewer features means that the Cisco SPA 303 is easy to use and can be up and running in less than ten setup steps.
Best Mid-Range VoIP Phone for Business: Polycom VVX 600
We like the range of features that the Polycom VVX 600 offers for its mid-range price, but at about $100 more than the Grandstream GXP2170 we can only recommend it if you desire a touchscreen.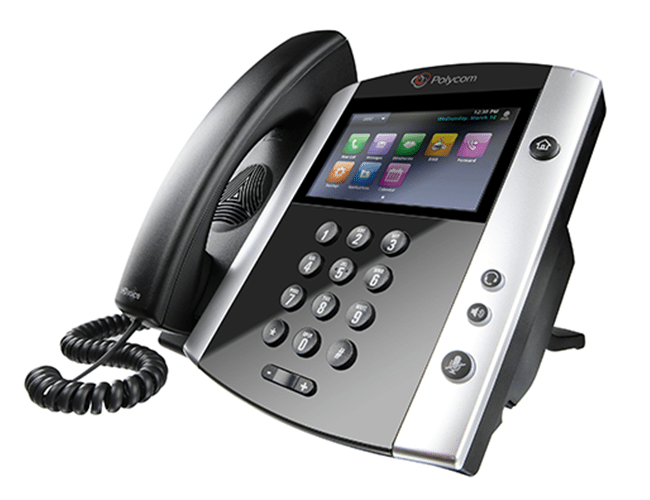 The Polycom VVX 600 offers many of the features that you would expect from a mid-range priced phone, such as Bluetooth connectivity and HD voice quality, but what truly separates it from its peers is its 4.3" TFT color LCD touchscreen with a 480 x 272 resolution.
Using a touchscreen to access its features is more user friendly and intuitive, which can help increase your staff's productivity by minimizing the amount of time they're navigating their phone. However, this added feature brings the price of the Polycom VVX 600 to about $100 more than our recommended best value, the Grandstream GXP2170.
Best Executive-Level VoIP Phone for Business: Yealink T49G
With the widest range of features of all of the phones we reviewed, including HD voice, HD video, and an HD camera with the price tag to match, the Yealink T49G is our choice for the best executive-level VoIP phone for businesses.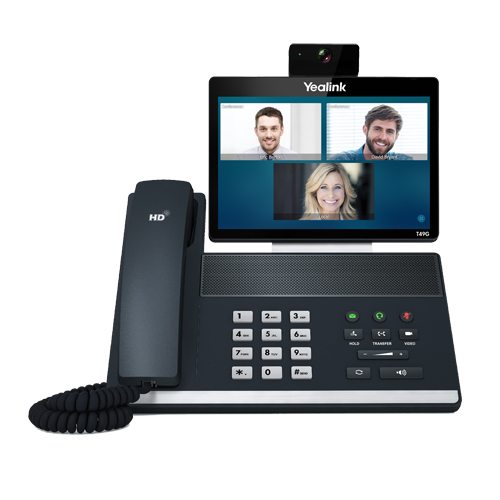 Targeted to executive-level employees and others who work remotely, the 16-line Yealink T49G is an impressively featured phone in a sleek and sophisticated design.
The 8" IPS color LCD touchscreen offers full HD video at a 1080 x 800 resolution as well as an HDMI output for projecting calls on to a larger screen. As well, users can record calls and/or take screenshots of the video at share them across the phone's 802.11 a/b/g/n WiFi connection.
Finally, the Yealink T49G includes several features that none of the other entry and mid-level phones we reviewed did, including:
HD video
HD camera
HDMI output
Power over ethernet
WiFi connectivity
Of course, these features come at a cost, and at $799 this is the Yealink T49G's one downside.
The Bottom Line: Best VoIP Phone
When you're choosing the best VoIP phone for your business, remember that not every employee needs to use the same phone. If most of your staff can get by with basic functionality, then an entry-level phone like the Cisco SPA 303 will be more than sufficient and allow you to budget for a more full-featured phone like the Yealink T49G for your management and executives.
But for the best overall value for most small business needs, we recommend the Grandstream GXP2170.