5 Best Purchasing Cards for 2022
Editor's note: This is a recurring post with regularly updated card details.
If you're a small business owner looking for purchasing cards for your employees, consider if the costs and terms of the card will work well with your company's budget and buying habits. Purchasing cards are a less expensive option than credit cards as long as you're able to pay the account balance monthly. The best purchasing cards should simplify the purchasing process and protect your business from unauthorized charges. We've also included a debit card and prepaid card on the list because of their beneficial features. Here are our choices for the five best:
A purchasing card, also called a p-card, procurement card, or corporate charge card, is similar to a debit card. Purchasing cards are linked to the organization's account, but the business owner controls where they can be used, how much can be spent, and determines daily or weekly dollar limits. Also, the full balance on the card must be paid each month.
Citi® Purchasing Card: Best Overall Purchasing Card for Custom Reporting & Payment Optimization Strategy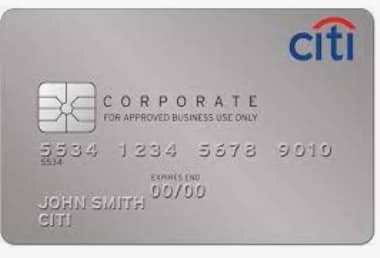 No annual fee
Costs are customized for each business—contact a Citi representative for details
Balance must be paid in full each month
Most legal and verifiable businesses are eligible to apply
Remove the need for purchase orders, invoices, and other inconvenient paperwork with the Citi® Purchasing Card. It's a more efficient payment method than a standard credit card because it streamlines the purchasing process. After establishing which merchants can be paid, how much, and how often, your employees can make purchases without the need for your pre-approval. With Citi, vendor payments are initiated using a file-based system and smoothly integrate with your other accounts payable processes.
You can use online reporting and compliance tools to analyze and keep track of payments:
The CitiManager Portal provides online access for both cardholders and program administrators to manage accounts and review account statements. Authorized users can set individual card account limits and review and reconcile payments.
Citi® Working Capital Analytics, an additional service, confidentially analyzes your spending and recommends strategies to help increase efficiency across your business.
A dedicated account manager can help answer questions and set up your account. To apply, contact a bank representative at Citi.
American Express® Corporate Purchasing Card: Best Purchasing Card for Businesses With $4 Million or More in Revenue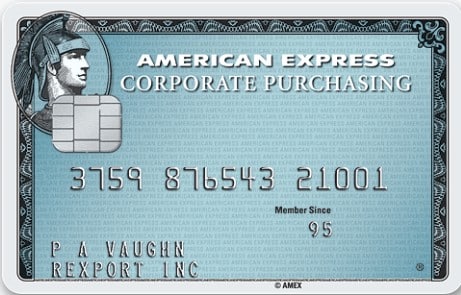 Annual fee: $0
Foreign transaction fee: 2.5%
Late payment fee: $39 or $2.99% of past due amount, whichever is greater
Balance must be paid in full each month
At least $4 million in annual revenue
Business must have a valid tax ID
The American Express® Corporate Purchasing Card allows your employees to conveniently make business purchases without the need to submit any paperwork other than a receipt. As the account owner, you can easily manage the account online or through the mobile app to control and monitor spending. It makes payments more efficient by reducing the need for checks and automating payments to suppliers. It also offers two expense programs that can help your small business control its purchasing process, American Express @ Work® Reporting and the ExpenseIt Pro from Concur App.
Call American Express® at 855-531-3491 or request a phone call through their website to apply for this card.
One Card from Capital One®: Best Purchasing Card for Earning Rewards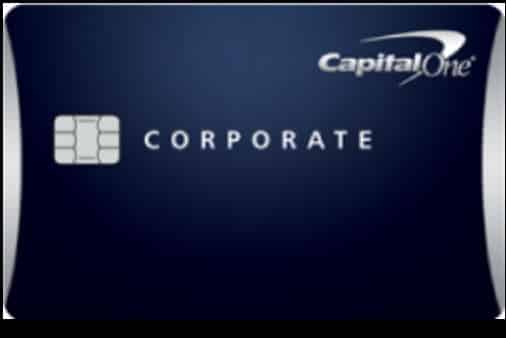 Annual fee: $0
Foreign transaction fee: $0
Cardholder fee: $35 per card
Late fee: 1.5% of past due amount
Cash advance fee: $5 or 5%, whichever is greater
Flexible billing options:

14-day term: Best for businesses that spend close to their card limit within 14 days
30-day term: Best for businesses that prefer to distribute their expenses throughout the month
Most legal and verifiable businesses are eligible to apply
The One Card from Capital One® is the only card on this list that offers rewards. Reward amounts depend on which billing cycle you choose:
Earn 1.25x the rewards with a 30-day billing cycle
Earn 1.5x the rewards with a 14-day billing cycle
Rewards can be redeemed through a statement credit, gift cards, merchandise, and travel.
Capital One® offers online management tools that can help account owners manage spending, schedule automated reports, view expense reporting, and access up to 36 months of transactions. You can easily connect your transactions to accounting software, such as QuickBooks and Quicken. You'll also be assigned a dedicated account representative to assist you with any questions about the program.
To apply, schedule a call with a Capital One banking representative.
Bento for Business Visa® Debit Card: Best Debit Card With a Convenient Application Process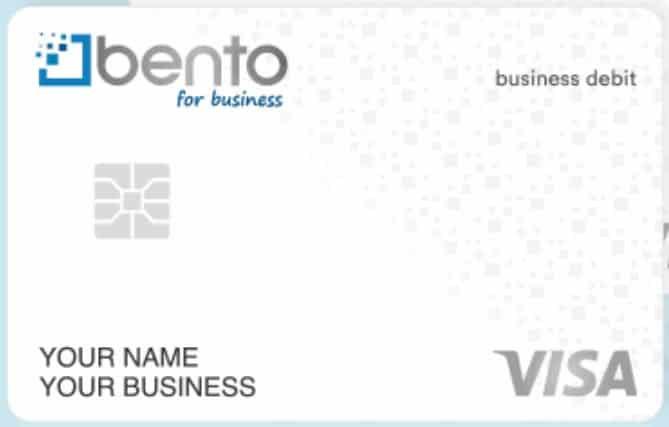 Starter: Up to 10 cards—$29 per month
Team: Up to 25 cards—$69 per month
Professional: Up to 100 cards—$149
Enterprise: More than 100 cards—contact Bento at (866) 200-8455 or support@bentoforbusiness.com
60-day free trial
No setup fees
No debit fees
No domestic transaction fees
No decline or overdraft fees
No repayment terms since this is a debit card
Daily spend: $25,000 per card per day
ATM and cash back limit: $500 per day, only the primary cardholder has ATM access
No business size or revenue requirements; most legal and verifiable businesses are eligible to apply
No credit check required
Although the Bento for Business Visa® Debit Card operates like a debit card rather than a true purchasing card, we've included it on this list because of its convenient online application process, easy eligibility requirements, and low fees. Funds are pulled directly from your linked business checking account, so you won't receive a monthly bill.
There are two versions of the debit card: spend limit cards and fixed-value cards. The spend limit card is for everyday purchases and good for managing all business spending in one place. The fixed-value card is best for one-time payments, per diems, or recurring vendor payments. You can also integrate with QuickBooks and other accounting software.
Apply easily through the Bento website. Once your application is approved, link a business checking account to your Bento card, then manage your account online through the website or mobile app to determine spend limits and spend categories. You can also choose to order physical or virtual cards for your employees.
PEX Prepaid Business Card: Best Prepaid Card That Integrates With a Custom Payment Platform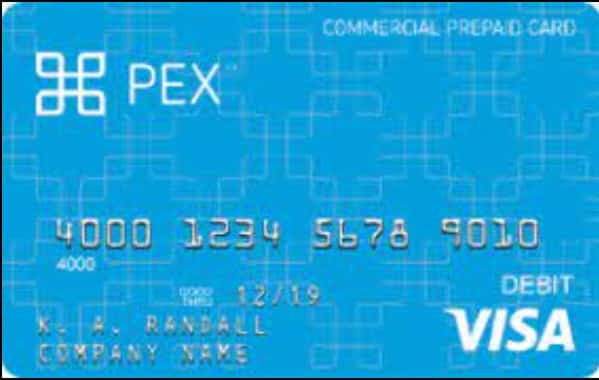 One-time setup fee: $49.95
Monthly fee: $75 for up to 20 cards, $200 for up to 100 cards, $300 for up to 150 cards; waived for months where you spend more than $50,000
Foreign transaction fee: 1.5%
60-day free trial
No repayment terms since this is a prepaid card
Funds are preloaded onto the card. Once those funds run out, you can add additional funds through your online PEX account. It can take 1 to 2 business days for your bank to transfer funds to your PEX card.
Business and personal information required
No credit check or personal guarantee
The PEX Prepaid Business Card is a prepaid card and not a purchasing card, so you'll need to reload funds onto the card anytime the balance is low. We added it to our list because of its powerful, custom automated payment platform. Integrate PEX into your existing system to manage expenses, for funds disbursement, or employee or customer rewards programs. For employee cards, manage your account through the website or mobile app to create merchant categories and determine spend limits, and connect your PEX account with QuickBooks Online. There's no need for expense reports, and employees can submit receipts through the mobile app.
Apply online through the PEX website and get assistance through live chat.
How We Evaluated the Best Purchasing Cards
When researching the best purchasing cards, we looked at various factors, including cost, terms, and qualifications. We also looked at access and convenience of their online account management system, as well as access to reporting and analytics.
Purchasing Card Alternatives
Small Business Credit Cards: Small business credit cards allow you to float expenses while growing your business. Cards that are the best fit give you opportunities to save money with low introductory and ongoing interest rates, relevant rewards, and grow your credit score. We compare credit cards and purchasing cards in this article to help you make the right decision for your business.
Prepaid Business Cards: A prepaid business card requires that you preload funds onto the card whenever the total available funds become low. They have lower qualifications than a small business credit card or a purchasing card.
Secured Business Credit Cards: Secured business credit cards are a good option for those who cannot qualify for a non-secured card due to poor credit, low credit score, or no credit history. With consistent on-time payments, in time you can grow your credit score and qualify for a non-secured card.
Bottom Line
The best purchasing cards for your organization allow you to control spending and streamline the purchasing process. This results in a more efficient payment method and better accountability. Consider the costs and terms when making your decision. If you're interested in a wider selection of cards, take a look at our choices for the best small business credit cards.