4 Best Purchasing Cards (P-cards)
Editor's note: This is a recurring post with regularly updated card details.
Purchasing cards (p-cards) are a less expensive option than credit cards, as long as you're able to pay the account balance monthly. The best p-cards for businesses come with costs and terms that will work well with your company's budget and buying habits. When choosing a p-card, find one that simplifies the purchasing process of your business and protects it from unauthorized charges.
A p-card, also called a procurement card and corporate charge card, works like a charge card. P-cards are linked to the organization's account, but the business owner controls where they can be used and determines daily or weekly dollar limits. The full balance on the card must be paid each month.
Here are our choices for the four best p-cards for business:
To see how these cards stack up against others we reviewed on our site, click Add to Compare on a card below and choose up to two additional cards for comparison.
Citi® Purchasing Card: Best Overall for Custom Reporting & Payment Optimization Strategy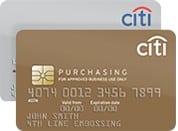 No annual fee
Costs are customized for each business—contact a Citi representative for details
Balance must be paid in full each month
Most legal and verifiable businesses are eligible to apply
Why we like it: The Citi® Purchasing Card is a great option if you need comprehensive control of your business purchases and prefer access to capital analytics. It offers robust spend controls and streamlined purchasing and payment processes. It's best for business owners needing to remove purchase orders (POs), invoices, and other inconvenient paperwork.
After establishing which merchants can be paid, how much, and how often, your employees can make purchases without the need for your preapproval. With Citi, vendor payments are initiated using a file-based system and integrate smoothly with your other accounts payable (A/P) processes.
Other benefits of using Citi® Purchasing Card include:
Online reporting and compliance tools: Gain access to the following to keep track of payments:

CitiManager Portal: Provides online access for both cardholders and program administrators to manage accounts and review account statements. Authorized users can set individual card account limits and review and reconcile payments.
Citi® Working Capital Analytics: An additional service that confidentially analyzes your spending and recommends strategies to help increase efficiency across your business.

Dedicated account manager: Get a dedicated account manager to support you on ongoing card management, implementation, and consultative advice suited to your business's needs.
ATM withdrawals: Eligible cardholders can make cash withdrawals from any of the 2.1 million ATMs within Citi's global network.
American Express® Corporate Purchasing Card: Best for Businesses With Revenue of $4 Million or More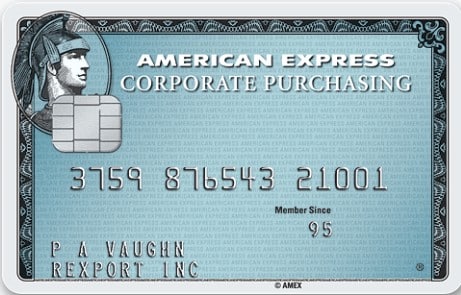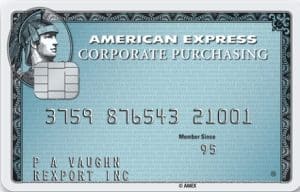 Annual fee: $0
Foreign transaction fee: 2.5%
Late payment fee: $39 or $2.99% of past due amount, whichever is greater
Administrative suspense fee: $25, applied to accounts that are 90 days past due with suspended charge privileges
Reinstatement fee: $25, if card is canceled due to nonpayment
Balance must be paid in full each month
At least $4 million in annual revenue
Business must have a valid tax ID number (TIN)
Why we like it: The American Express® Corporate Purchasing Card allows your employees to make business purchases without the need for paper invoices and checks. Business owners can control and monitor spending and access detailed monthly reports. Plus, it makes payments more efficient by reducing the need for checks and automating payments to suppliers.
Other benefits include:
American Express @ Work® Reporting: Allows employees to create standard or customized reports that can run automatically at scheduled intervals.
ExpenseIt Pro from Concur App: Helps cardholders save time by uploading receipts immediately through a mobile app, which connects with your business's accounting system.
Optimize spending: Choose to use the card to help support your program strategy, such as:

Individual cards for employees
Supplier cards for use with designated suppliers
Department cards for employees within a department
A/P cards to pay approved invoices
One Card from Capital One®: Best for Earning Rewards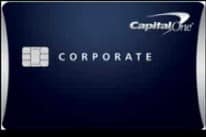 Annual fee: $0
Foreign transaction fee: $0
Cardholder fee: $35 per card
Late fee: 1.5% of past due amount
Cash advance fee: $5 or 5%, whichever is greater
Flexible billing options:

14-day term: Best for businesses that spend close to their card limit within 14 days
30-day term: Best for businesses that prefer to distribute their expenses throughout the month
Most legal and verifiable businesses are eligible to apply
Why we like it: The One Card from Capital One® is the only card on this list that offers rewards. You'll unlock market-leading rewards, with no maximum limit on the amount of cash back you can earn, and your rewards won't expire. Rewards can be redeemed through a statement credit, gift cards, merchandise, and travel. Plus, with Mastercard Easy Savings®, you can save 1% to 4% on more than 30,000 qualifying merchants.
Other benefits include:
Online management tools: These tools allow you to manage expenses, schedule automated reports, view expense reporting, and access up to 36 months of transactions.
Accounting software integration: You can connect your transactions easily to accounting software, such as QuickBooks and Quicken.
Dedicated account representative: You'll be assigned a dedicated account representative to assist you with any questions about the program.
Spendesk: Best for Flexible Pricing & Scalability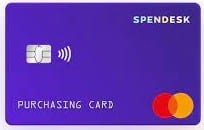 Monthly fee: Spendesk charges a software fee, and the amount depends on the plan you choose—contact Spendesk for custom pricing
Works like a debit card—card is preloaded and funds are debited directly from your account
Most legal and verifiable businesses are eligible to apply—best for businesses with 20 to 500 employees
Why we like it: The Spendesk purchasing card is a great option for companies of all sizes because it offers different plans with flexible pricing options and allows you to change to a higher plan easily as your business scales. It's also ideal for growing businesses with multiple spending policies and custom approval workflows.
It works like a debit or prepaid card. You open an account, verify your company, and transfer funds to your Spendesk wallet from your existing bank account. Then, you can set your spending rules by defining teams, approval workflows, spending policies, and card limits based on your goals. Your employees can request funds, pay securely using the card, and submit receipts using the Spendesk app.
Other benefits of using the Spendesk card include:
Custom control: Spendesk allows you to customize payment methods with individual rules and spending policies.
Real-time expense tracking: You can view all spending as it happens through the Spendesk software.
Zero liability protection: Spendesk purchasing cards are protected against fraud. This applies to in-store purchases and those made over the phone, online, and via a mobile device. All ATM transactions are also protected by zero liability.
How We Evaluated the Best Purchasing Cards
When researching the best purchasing cards, we took various factors into consideration, such as cost, terms, qualifications, and control. We also looked at access to reporting and analytics and the convenience of their online account management system.
Purchasing Card Alternatives
Small business credit cards: Small business credit cards allow you to float expenses while growing your business. Cards that are the best fit give you opportunities to save money with low introductory and ongoing interest rates, relevant rewards, and grow your credit score.
Prepaid business cards: A prepaid business card requires that you preload funds onto the card whenever the total available funds become low. It has lower qualifications than a small business credit card or a p-card.
Secured business credit cards: Secured business credit cards are a good option for those who cannot qualify for a nonsecured card due to poor credit, low credit score, or lack of credit history. In time and with consistent on-time payments, you can grow your credit score and qualify for a nonsecured card.
---
Purchasing Cards vs Small Business Credit Cards
The major difference between small business credit cards vs purchasing cards is how the terms are set up. A business credit card allows you to carry a balance with APR while a purchasing card is a charge card, meaning your balance is due in full every month. Both can be used to pay for business expenses, but purchasing cards are specifically designed to streamline the purchasing process for business-to-business (B2B) transactions.
---
Bottom Line
The best p-cards for your organization allow you to control spending and streamline the purchasing process. This results in a more efficient payment method and better accountability. When choosing a p-card for your business, consider the costs, terms, features, and qualification requirements. If you're interested in a wider selection of cards, visit our Credit Card Marketplace.