Email marketing produces some of the highest return on investment, but success often comes down to using the best tools for email marketing. Finding affordable, easy-to-use email marketing platforms for automated campaigns, customer confirmations, lead nurturing, and triggered emails can be challenging, so here are the absolute best tools for email marketing to make your decision easy.
Best Tools for Email Marketing Compared
How We Evaluated the Best Tools for Email Marketing
To choose the best tools for email marketing, we considered more than just email marketing software. We looked at apps that aid email marketing efforts, whether through marketing automation, data enrichment of your contacts, or email enhancements. Comparing them came down to choosing the most useful, easiest to use, and most affordable options for small businesses.
We chose Mailchimp as the best all-in-one email marketing tool. It offers features for everything from building a contact list and segmenting audiences to creating campaigns, automating drip emails, setting up triggers, analyzing results, testing A/B variations, and sending email blasts to your customers.
It's also one of the most affordable options as a small business can use it for free for up to 2,000 contacts, and scale to higher plans as the business grows. Plus, it integrates seamlessly with hundreds of other business apps and has a form builder you can use to build custom lead generation forms to embed on your website and social media.
Here are the factors we considered in choosing the best email marketing tools:
Cost and fees: To be accessible to small businesses, email marketing tools must be affordable. We considered whether a tool offered a free version or free trial as well as the overall cost and pricing structure of each platform.
Ease of use: We only chose apps easy to learn and use—otherwise, a business might not use each email marketing tool to its fullest extent. Ease of use also impacts overall value for the money.
Features: Regardless of primary functionality, the best email marketing tools offer a robust set of features, or specific features to boost marketing emails from good to great and provide a good return on investment (ROI).
Customer reviews: How current customers rate a company and what they say about it is one of the best ways to find out whether it's right for your small business. We considered what customers had to say and how they ranked each company on our list.
1. Mailchimp: Best All-in-One Email Marketing Tool
Mailchimp is an all-in-one marketing hub with a website builder and marketing tools for email, social media, and even direct mail marketing. However, its bread-and-butter is email marketing. It includes a variety of features to help you manage a master contact list, create email campaigns, automate triggered email sends, segment your audience, and analyze the success of each campaign you send.
It's one of the best email marketing tools due to its robust feature set, ease of use, and affordability. Due to its prominence in email marketing, it integrates with a lot of other platforms, including CRMs, and you can build webforms in Mailchimp and then embed them on your website and on social media to streamline list building and lead generation.
Mailchimp is an ideal option for small businesses just starting their email marketing efforts. However, it's also a great choice for any business looking for a comprehensive email marketing solution that includes social ad integration and more A/B testing options than competitors. Customer support is harder to come by, though—for phone support, you have to upgrade to the highest-priced plan at $299 per month.
Tiered Features & Pricing
How It Works
Mailchimp makes it easy for you to maintain a general contact list and segment it, and you can create and send emails to any of those audiences. The platform has expanded over the years to include more business marketing tools, including automated tasks (such as email scheduling), a website builder, and social ad integration for Facebook and Instagram.
It's easy to create individual or automated email campaigns for new subscribers or triggered emails, such as an abandoned cart notification, using Mailchimp's drag-and-drop editor. Choose from the prebuilt email marketing templates or create your own from scratch.
Mailchimp automatically creates a text-based version of your email and adds a footer with the information required per the U.S. CAN-SPAM regulations. It also has a preview mode that lets you see what your email will look like when viewed on desktop, mobile, or tablet devices. Plus, you can quickly send a test email to one or more email recipients to make sure your email is error-free, all the links work, and it's audience-ready.
Your dashboard shows open rates, clicks per open, delivery success rate, and responses to surveys. The data can help inform you of what you need to improve or what's already working, and you can even see who opened your emails or clicked on links to identify hot leads that may be ready to convert.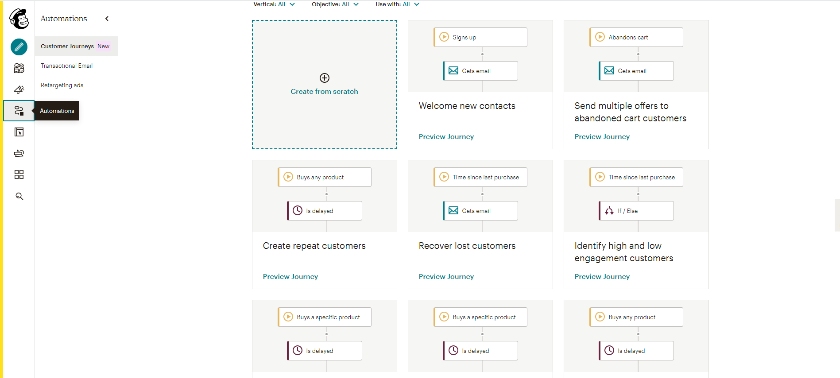 Our Expert Opinion
Mailchimp's free option is a great choice for any new small business just getting started with email marketing. As your business grows, you may want to upgrade to a paid plan to get more features or when you need to add more contacts. Mailchimp limits the number of emails you can send each month, so if you're looking for a top email marketing platform with unlimited sends, consider Constant Contact.
2. Sendinblue: Best for Sending Transactional Emails
Sendinblue's email marketing tools are among a bevy of other tools the platform offers to help you promote your business, generate and nurture leads, and stay in touch with current customers. It offers a free plan that limits you to 300 emails per day, whether they are marketing or transactional in nature. The number of contacts you can have is never limited, though, regardless of which plan you choose.
Most businesses rely on transactional emails to communicate with customers who make purchases or when any user makes changes to their account. Set up automated transactional emails with order confirmations or to send invoices, or to provide updates on shipping and delivery to keep customers aware of what they purchased and when it should arrive.
Transactional emails are helpful in other ways, such as when a customer requests a password reset for their account or changes their password or login information, or for double opt-ins when someone subscribes or sets up an account. Managing all these types of emails manually would take way too much time, which is why you should use an email tool like Sendinblue.
Pricing is low compared to some of Sendinblue's competitors, such as HubSpot. However, some of the features you may take for granted on low-tier plans with Mailchimp or Constant Contact, like A/B testing, are available only on higher-plan tiers or an add-on fee.
Tiered Features & Pricing
*Remove branding and add A/B testing on the Lite plan for $12 per month as an add-on
How It Works
Sendinblue makes it especially easy (and free) for ecommerce businesses to send transactional emails, such as confirmation emails when a purchase is made on your site. Personalize emails with the contact's information or send text marketing messages via short message service (SMS), even on the free plan.
The size of your contact list doesn't matter, since there are no limits on the number of contacts you can have, but you may need to pay more to increase your monthly email sends within the plan you choose. Upgrade to a paid plan for more monthly emails and features, such as advanced analytics (location and heatmaps, for example), a landing page editor, and integrated Facebook ads.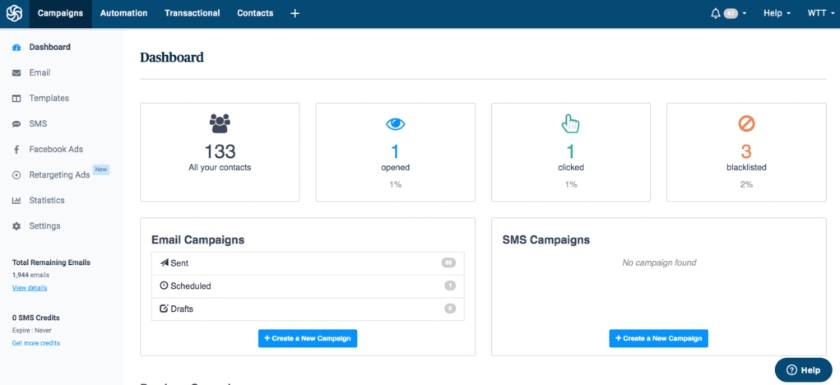 Our Expert Opinion
When it comes to sending transactional emails to your customers, the best option is Sendinblue. The forever-free plan is generous in its features, but you'll have to live with Sendinblue branding unless you upgrade to the Lite plan (plus an add-on) or the Premium plan. However, whitelabeling your business emails costs less with Mailchimp.
3. HubSpot: Best for Creating Landing Pages for Email Marketing
HubSpot is well known in the marketing world for its data studies, free tools, and as a comprehensive sales and marketing platform. Email marketing and the HubSpot CRM are included among its free tools, so you can build your mailing list at zero cost. When you're ready to turn non-marketing contacts (those you simply correspond with and do not sell to) into marketing contacts, you'll have to upgrade to a paid plan, which starts at $45 per month.
The drag-and-drop landing page builder by HubSpot is a free and easy-to-use tool. You can use one of many templates to get started, and simply change the images and content to suit your business. All templates are mobile-friendly, making them as easy to read on a mobile phone as a desktop. Each template is designed to produce conversions—you can capture emails easily or get a visitor to the page to click a link to go to a product page.
The free plan includes HubSpot branding, but as soon as you move into a paid plan, you can remove branding from your emails, forms, landing pages, and live chat app on your site. All these additional tools boost your email marketing efforts because you can use them to build contact lists, direct traffic to high-converting landing pages, or add web forms and a chat bot to your website to get visitors to sign up for marketing information, a demo, or a free trial.
HubSpot offers tools (like the landing page builder) that you can't find from alternative options like Mailchimp. However, HubSpot's lowest-tier plan is somewhat limited—Mailchimp is far more generous in email sends, number of features, and contacts. You'll get a lot more when you upgrade to HubSpot's more expensive plans, but for a high price—$800 to $3,200 per month, which is a bit out of reach for most small businesses.
Tiered Features & Pricing
*Marketing contacts are limited but you can have up to 1 million non-marketing contacts on any plan
How It Works
Use HubSpot's free tools to create marketing emails and landing pages, or customize premade templates. With any paid plan, the HubSpot branding goes away and you can start sending email marketing campaigns. At its core, HubSpot is an inbound marketing tool, so you use the tools to capture emails to convert site visitors to subscribers and landing pages to encourage sales.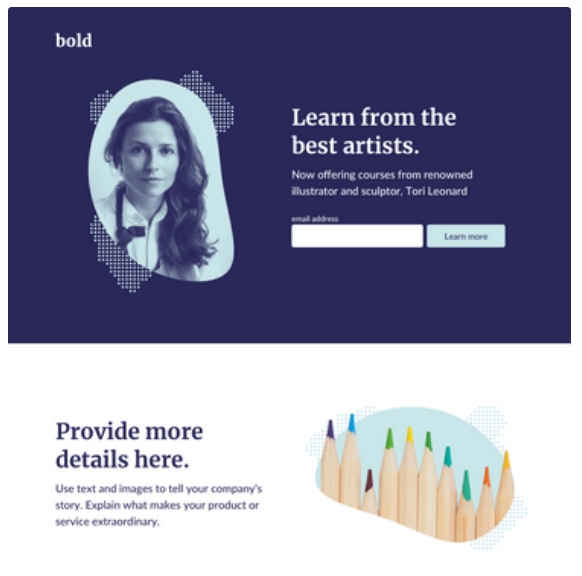 Our Expert Opinion
HubSpot offers some of the best free tools for email marketing for building contact lists, creating email templates, and publishing online landing pages to sell products or services. The lowest-priced paid plan is far more limited in terms of features and number of contacts allowed compared to providers like Constant Contact, but the landing page builder and live chat feature are unique and not generally found in other email marketing tools.
4. Constant Contact: Best Email Marketing Tools for Ecommerce Businesses
Constant Contact started its life as event management software, but evolved into a cross between a CRM and an email marketing tool. It integrates seamlessly with ecommerce platforms like Shopify and has loads of customizable templates; however, it limits the size of your contact list at every tier. For example, Mailchimp is free up to 2,000 contacts, but for the same number of contacts with Constant Contact, you need to subscribe to its second tier at $45 per month.
One of the unique features of Constant Contact is its easy integration with Shopify and the ability to add products from Shopify to your emails. Similar to Mailchimp, the drag-and-drop email editor is easy to use, and Constant Contact offers about twice as many templates as other providers. Also, Constant Contact doesn't limit the number of emails you can send per month.
Another helpful feature from Constant Contact is its built-in survey tool—there's no need to integrate a third-party tool. Use prewritten suggested questions or write your own to solicit feedback from customers about your brand, service, products, or their preferences. All this information can help inform you to make better business decisions, such as dropping an unpopular product or restocking an item customers keep asking for.
Although Constant Contact doesn't offer a free plan, you can take the email marketing tool for a test drive with a 30-day free trial. After that, you'll have to subscribe to a plan based on the size of your contact list. You're limited to 500 contacts on the lowest tier—if you grow your list to more than 500, you'll be automatically upgraded to the next tier at $45 per month.
Tiered Features & Pricing
It's easy to use Constant Contact, regardless of prior experience with email marketing tools. There are hundreds of easy-to-modify templates to get you started when creating an email to send to your contact list. Managing your contact list is intuitive too. Add tags to segment your audience based on whatever you want (products, location, sex, or any other information you have about your subscribers).
Shopify users will appreciate the direct integration with Constant Contact, and you can drag and drop products you sell in your store to an email to make selling them easier for you and your customers. You can preview your email before you send it out to ensure you have no missing links or typos, but you won't see precisely how it will look in different inboxes (e.g., Gmail vs Outlook).
A/B testing is available with Constant Contact, but only for subject lines. Comparatively, Mailchimp allows you to split-test up to three different elements of an email, such as body text or the time sent—not just subject lines.
You can quickly create a survey from your dashboard using the survey creation wizard. Once you've created a survey with your questions, you'll publish the page, get the link, and then you can send an email with your survey link to your contacts. All the responses are recorded and display in your dashboard.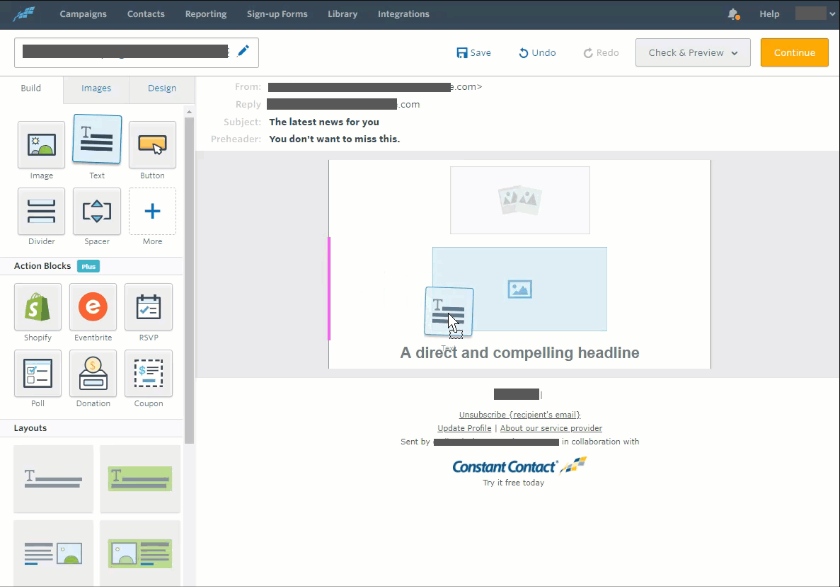 Our Expert Opinion
Constant Contact is one of the best email marketing tools for smaller businesses that don't have huge contact lists—especially if they plan to send lots of emails—since contact list size is limited, but the number of emails that can be sent is not. It's especially ideal for Shopify users who want to add products directly to an email or businesses that want built-in survey tools. However, there's no free plan and its pricing isn't nearly as affordable as Mailchimp.
5. ActiveCampaign: Best for Email Marketing Automation
ActiveCampaign is an email marketing tool first, but it also specializes in marketing automation, making it a more affordable alternative to marketing automation juggernaut HubSpot. You have lots of options for automating emails, such as time triggers to encourage more opens, and action or behavioral triggers, like after a contact opens an email or clicks a link.
While there is no free version, the lowest-priced plan starts at just $25 per month, which is low compared to HubSpot's $45 per month starter plan. Even the highest-priced plan ($229 per month) costs less than most other enterprise-level email marketing tools, though you will pay more as you grow your contact list. For example, if you have 5,000 contacts and you choose the Lite plan, you'll pay $79 per month.
Tiered Features & Pricing
Setting up automations is easy with ActiveCampaign's visual workflows. You can set up if-this-then-this conditional logic-style flowcharts to create email drip campaigns. You can also set up automations for triggered transactional emails, so customers get an email confirming a purchase or an appointment, and then follow-up emails when an item ships or a 24-hour reminder of a service.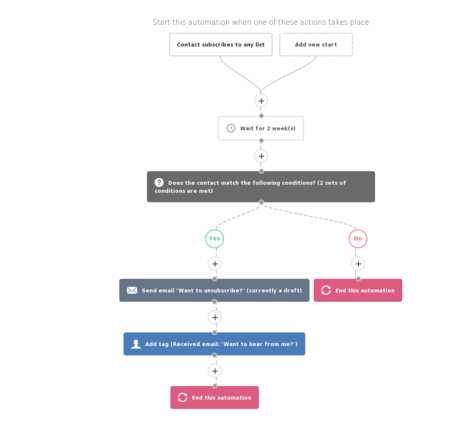 Segmentation is also a big deal for ActiveCampaign. As with other email marketing tools, you can create separate groups based on tags, but you can also create custom fields to track specific information from emails. You can also send SMS text marketing campaigns with ActiveCampaign—Sendinblue is the only other provider on this list to offer that functionality.
Our Expert Opinion
ActiveCampaign offers a lot of value for the money, even in the starter plan. Marketing automation is an important email marketing tool usually only available on high-tier plans, such as with Sendinblue, but ActiveCampaign includes it in every plan. It can get pricey overall as you grow your contact list though, so Sendinblue's no-limit contacts feature may be better for companies with lots of email contacts.
Frequently Asked Questions (FAQs)
What is the best tool for email marketing?
The best tools for email marketing are found on affordable platforms that let you build and manage contact lists, create emails for campaigns, and send marketing emails to subscribers, leads, and customers on a scheduled and automated basis. These providers make it easy with premade templates, robust feature sets, and seamless integration capabilities. Find out more about different kinds of professional email tools that can aid your marketing efforts.
What are the four types of email marketing?
The four types of email marketing are newsletters, promotional emails, acquisition emails, and retention emails. Alternatively, you can break it down to three types: newsletters (informational), behavioral emails (sent when a customer performs or doesn't perform an action), and transactional emails like receipts, confirmations, or password change request emails. Learn more about email marketing in this guide.
Is email marketing still effective in 2022?
Definitely. In fact, email marketing has a high average return on investment (ROI) of $32 to $45 for every $1 spent. Success depends on targeting your audience correctly and providing valuable content, but it's affordable and easy to get started with the best email marketing tools. If you need to find email addresses for your marketing efforts, you can try using one of the best email finders to fill out your list.
Bottom Line
While there are many email marketing tools available, not all are ideal for every business. Some cater to specific business types or sizes, and some may be out of reach for a small business in terms of cost. Finding the right email marketing platform for your business comes down to the features and functionality desired as well as your budget, the size of your contact list, and how many emails you need to send each month.
Our top pick for the overall best tools for email marketing is Mailchimp. It has an amazingly robust feature set, provides an all-in-one marketing hub, and has plans to fit almost any business size, budget, and email marketing need. A forever-free plan is available to entrepreneurs and small businesses just getting started, with plans that scale as you add contacts and grow your business.
You Might Also Like…
Stop using your Hotmail account from 1994—get business email to make your business appear more professional.
Is your website lackluster? Redesign it with one of the best website builders for small businesses (and send your customers to a site they'll like).
A professional email address doesn't have to cost a lot (you can even get one for free)—and it's easy to set up.