Email marketing is a reliable marketing strategy that's cheap and easy to set up and produces a high return on investment when done right. That's partly because it's so versatile: you can send multiple types of emails for various marketing campaigns and gain considerable results, from higher brand awareness to more customers.
This is also why you need different types of email marketing campaigns to meet specific business goals. Some help you gain more leads, and some help you form deeper connections and foster loyalty to your brand. Here, we've outlined some of them—keep reading for the 20 best types of email campaigns to grow your small business.
Lead Generation Emails
We won't sugarcoat it—lead generation is often one of the biggest challenges for marketing your small business—but also one of the most crucial. One benefit of using emails to generate leads is that these offer a more focused form of communication, rather than having to compete with dozens of other content on your audience's screens.
Here are the types of emails you can send for lead generation marketing.
1. One-on-one Cold Emails
Primary purpose: Generating new leads
Cold emails may not seem like the most appealing way to strike up a conversation, but they can bring substantial value to your business when done right. Unlike other types of marketing emails, these are more focused and professional. In short, they feel less like marketing campaigns or email advertisements than genuine conversations between professionals.
Cold emails are as much a sales strategy as they are a marketing one. Therefore, when writing these types of emails, the key is to be genuine, direct, and professional, but also polite and persuasive. Learn more about how to nail them in our guide to writing a sales cold email.
2. Mass Business Introduction Emails
Primary purpose: Grow brand awareness and generate leads
While cold sales emails are a more focused and one-on-one form of communication, business introduction emails are another option for casting a wider net. Rather than sending to one person, business intro emails are mass sent out to a wide list of prospects in hopes of getting a few replies back (aka leads).
Business intro emails serve to introduce your brand to people and establish new connections and leads. As with cold emails, the key is to keep your emails succinct, direct, and friendly. You want to come off as someone that people want to stay in touch with. Learn more about the different business introduction email types, plus some templates to get you started.
Lead Nurturing Emails
After capturing a lead, the next step is playing the long game of lead nurturing, or walking your prospect through the entire sales pipeline to convert them into paying customers. Of course, there are different types of emails that work best for each stage of the funnel—read more about them below.
3. Welcome Emails
Primary purpose: Establish connections with new subscribers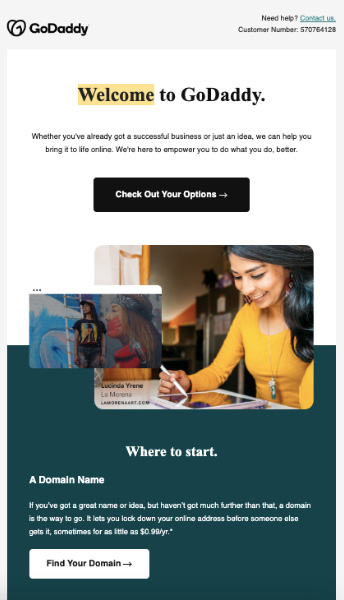 Welcome emails are also known as "new subscriber" emails because they're the first point of email contact between brands and new email subscribers. Welcome emails are simple—they let your customers know they're part of your mailing list, help break the ice for your future emails, and keep your brand top-of-mind.
While welcome emails are generally simple content-wise, they're also crucial to nail because they're your subscribers' first impression of your brand. Make sure you use the right brand voice in your copies and don't overwhelm them with too much content. As a bonus for even better brand affinity, add personalization to your emails (you can do this on any email platform).
4. Product Introduction Emails
Primary purpose: Inform subscribers about your products or services

Product or service introduction emails are one of the simplest and most common email marketing types; in fact, you've probably received dozens of them before in your own inbox. These are primarily informative—they let your customers know of the products and services you offer. Therefore, they're best sent during the early stages of the sales pipeline (for example, right after a welcome email), or if you have new products to launch.
5. New Customer Discount Emails
Primary purpose: Qualifying and nurturing leads
In between capturing new leads and motivating them to make a purchase is the lead qualification and nurturing stage. This is where you get to know more of your leads' likes, dislikes, and other preferences about your brand—for example, the products they prefer most and how eager they are to purchase them.
A new customer offer email helps with these because it touches both points: you get to see which products they are most interested in, and whether or not they immediately complete their purchase after receiving your offer. Make sure to add a tracking link in your email's call-to-action (CTA) button so you can monitor your customers' journey.
6. Customer Testimonial Emails
Primary purpose: Nurturing warm leads in the consideration stage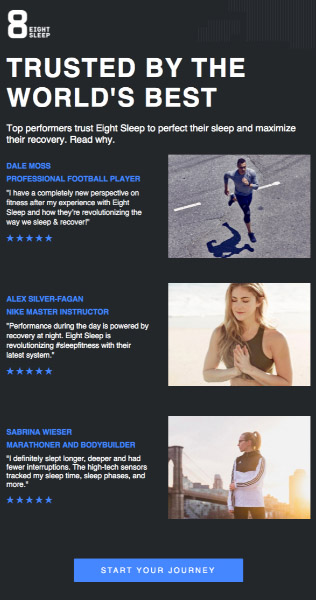 There are many ways to nurture a lead—and testimonials are increasingly becoming one of the most helpful for email and other marketing channels. Testimonials are effective because they allow your prospects to hear from fellow customers, helping them visualize a possible outcome of purchasing from your brand.
Because of this, they're especially effective during the consideration stage of the sales pipeline, i.e., when they're in the process of deciding whether or not to complete a purchase. When including testimonials in your email, make sure you link back to the original source for transparency.
7. Seasonal Sale Announcement Emails
Primary purpose: Encouraging sales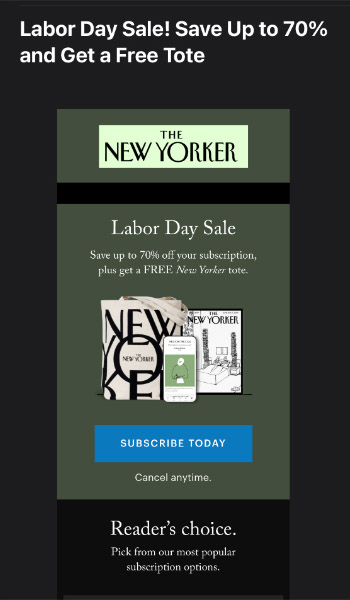 Seasonal sales (for example, a 50% off Black Friday sale) entice more customer purchases—and emails are a great way to announce them. This is because purchases in general spike during holiday seasons, and so customers expect to see more promotions and offers from brands in their emails. In fact, research has even shown that 70% of customers learn about holiday promotions via email.
To maximize your impact in the sea of other holiday emails, personalize your emails with your recipients' names. If you want to lead them to an online store, make sure you also add a CTA button that leads directly to it in your email content.
8. Abandoned Cart Emails
Primary purpose: Encouraging end-of-funnel sales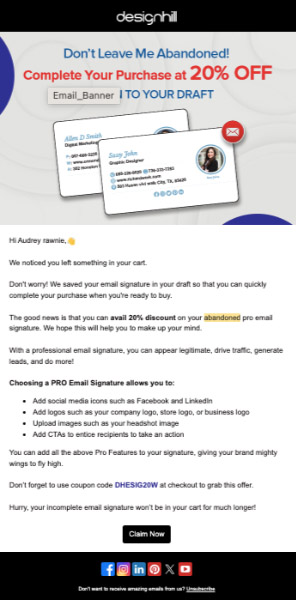 It isn't uncommon for customers to go through the entire customer journey and be on the verge of completing a purchase—only to leave at the last minute with an abandoned cart. This is usually because of things like shipping costs, taxes, or other budgetary concerns that hold them back at that final moment.
One of the most effective types of emails to win those customers back and give that final push is called a cart abandonment email. It's automatically triggered by the site visitor not completing the purchase, sometimes extending an incentive, like a promo like a discount code or free shipping voucher that can offset those concerns and encourage them to complete their purchase.
This is a checkout optimization strategy that works because your abandoned cart customers are already at the end of the sales funnel. In other words, you're only reactivating a purchase intent that's already there.
Pro tip: For an easier time managing cart abandonment, use email automation so these emails are automatically sent anytime a customer leaves their cart. For this, you'll need an email platform that supports automations—find out your best options in our guide to the best email marketing software.
Customer Onboarding Emails
So you've managed to convert a lead into a paying customer—but the journey doesn't end there. You don't want your recipients to feel like they've been abandoned the minute they've completed their first purchase. This is where your customer onboarding emails come in. This type of email maintains and strengthens your relationship with your customers and makes them feel more valued.
Here are some of them to consider:
9. Post-purchase Emails
Primary purpose: Informing and educating customers about their purchase

Emails sent after completing a purchase are common courtesy in ecommerce shopping, making this type of email an important post-purchase marketing tool for online stores. These can be as simple as an order confirmation email listing the item/s purchased with an estimated ship time or even a shipping tracking link.
Or, you can go the extra mile and send an educational email about how to get the most out of their purchase. As with the example above, telling customers how to use or get maximum results from their purchases shows you genuinely care about their experience.
10. Review Request Emails
Primary purpose: Get reviews from new customers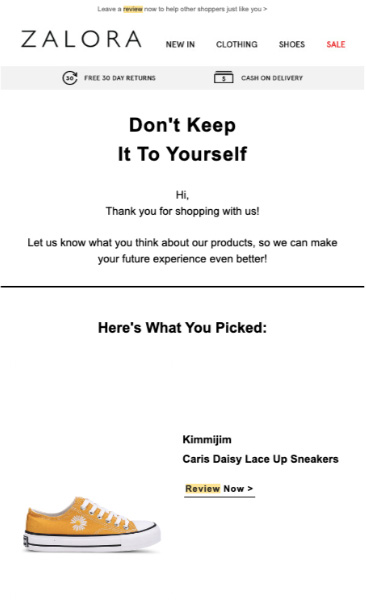 Reviews are an invaluable asset for any small business—98% of consumers read reviews when deciding to purchase from local businesses. And, one of the best ways to ask for them is through emails. After customers have received your order and had time to try it out, send an email to ask them politely for a review. Most customers usually don't mind, especially if you've provided them with a positive experience.
Make sure to make it easy for them to leave a review by including a link to your Google profile (or wherever you want them to leave a review, e.g., Yelp, Facebook, and so on). These reviews will boost your online brand presence, reputation, and your website's online visibility, since reviews are a Google ranking factor.
Getting reviews (especially on Google) can improve your small business rankings in online search. In fact, Google profiles are often displayed alongside organic search results and in map packs. For more guidance, checkout our article explaining how to get more Google reviews.
11. Referral Request Emails
Primary purpose: Gain more leads from existing customers
Beyond requesting your new customers for reviews, you can go further and ask them for referrals. Word-of-mouth marketing is still one of the most effective ways to market your small business; in fact, 88% of customers trust their friends' and family's recommendations over brand advertising. And sometimes, all it takes is one email request to turn your customers into brand ambassadors.
For your best chances, send these out to your most loyal customers who you know have positive experiences with your business—for instance, customers who have posted positively about your brand on social media or left positive reviews online. Write a polite email (we have some referral request email templates to help you start), then add a referral link.
Customer Retention Emails
Customer retention plays just as important a role in your business' success as acquiring new leads. In fact, some even argue that it's more valuable, as repeat customers can spend up to 300% more than one-time customers.
Emails are an effective way to keep your customers engaged with your business. From newsletters to loyalty programs, here are the best types of email marketing to keep your customers coming back for more.
12. Newsletter Emails
Primary purpose: Sustain customer interest and engagement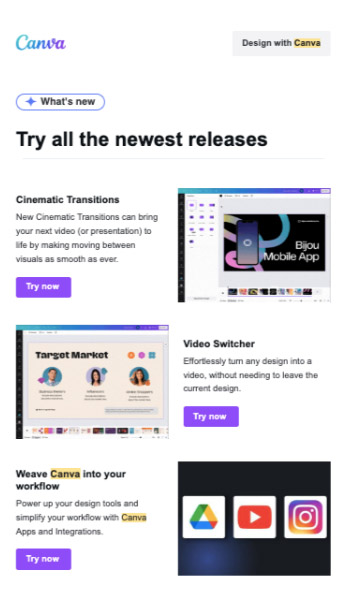 Email newsletters are a popular type of email marketing for one main reason—these help sustain customer interest and engagement in your brand. Email newsletters are sent regularly (usually monthly, weekly, or quarterly), and they're a prime way to keep customers updated, and, therefore, interested and engaged with your brand.
You can repurpose content from your website and blog in your newsletters, link out to your press releases, and offer exclusive subscriber-only promos to foster brand loyalty. They're also a great way to let your brand personality shine. Email newsletters are also a content marketing strategy, so be sure to only send content that's genuinely valuable to your audience.
Pro tip: Before sending your first email newsletter, make sure you have consent from your subscribers first. Learn how to (and more) in our guide to permission-based email marketing.
13. Loyalty Program Emails
Primary Purpose: Encourage repeat purchases
Loyal customers are the key to sustaining your small business. A small group of dedicated customers can even be more profitable than a big group of first-time buyers.
And, customers like to feel appreciated by the brands they use most, which is why customer loyalty programs are an effective strategy for customer retention. They're your way of giving back to your most loyal fans and making them feel part of an exclusive club, eventually leading to more repeat purchases.
There are many types of customer loyalty programs, from points-based systems to tier-based rewards. Learn more about them in our list of the best customer loyalty programs.
14. Cross-selling & Upselling Emails
Primary purpose: Encourage more purchases based on buying behavior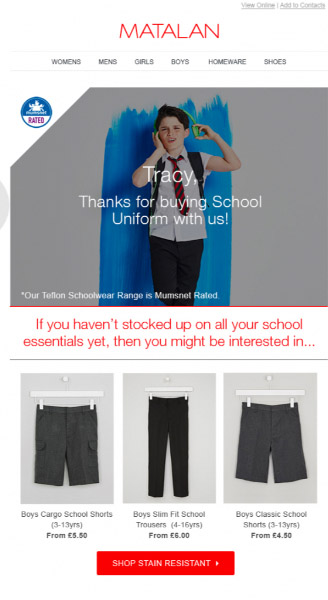 Cross-selling refers to selling similar or related products to the ones they've already purchased, while up-selling is selling an improved version of their purchase (for instance, gadgets or airline seat upgrades). Both offer great opportunities to generate more revenue for your business.
Cross-selling and up-selling emails are similar to product introduction emails in that they show what your business offers. The difference is they're sent to those who already have a purchase history with your business to encourage them to purchase again along those same lines. You can set them up easily using email automations that follow your customers' buying behavior.
15. Customer Satisfaction Survey Emails
Primary purpose: Gain customer feedback and drive engagement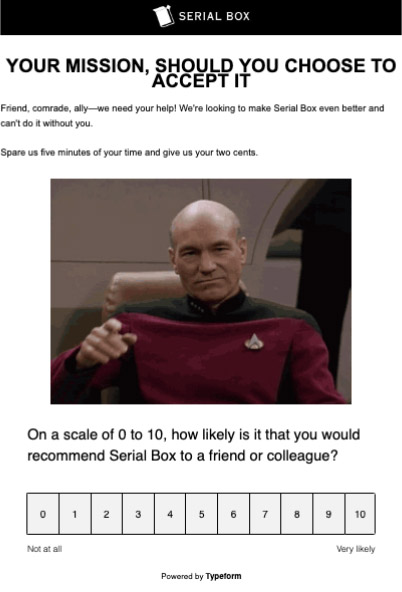 Customer satisfaction (CSAT) surveys are effective in several ways—they give you valuable insight into your customers, and they signal that you care about providing a positive experience. Plus, they keep customers engaged with your brand.
As such, they're one of the most essential types of emails in email marketing, especially for customer retention. There are a few types of surveys you can send, from product experience feedback surveys to NPS (net promoter score) surveys.
Most customers are usually happy to spare a minute to provide their feedback, but be sure you don't overwhelm them with a survey that's several pages long. Include only one or two of your most important questions, and make your survey page easy to access.
16. Special Occasion Emails
Primary purpose: Show appreciation and encourage customer loyalty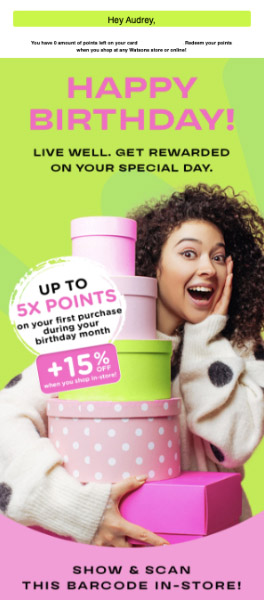 If there's one way to make your customers feel special (and encourage their loyalty to your brand) it's to celebrate their special occasions along with them. Whether it's on their birthday, their membership anniversary, or another special holiday, sending a short email greeting makes their day a little extra special—spurring them to associate all those positive feelings with your brand.
You can even offer special gifts on those occasions as an extra token of appreciation. It's an easy way to potentially win lifelong loyal customers in return.
17. Automated Customer Service Emails
Primary Purpose: Address customers' concerns
Customer service is vital to customer retention. Any time customers raise concerns, you should be able to address them promptly, especially as nearly half of customers expect brands to reply in under four hours.
Even if you don't address their specific concern immediately, send an automated response email to let them know you've received their concern and are working to resolve it. Here are some customer service response templates to get you started.
Lapsed Customer Emails
You may think that a customer who's been inactive for a while is the complete end of your relationship. But fear not: There are ways to win them back into active members of your community, and even into paying customers again. Here are some types of email campaigns to send to your lapsed or inactive customers to re-engage them back with your brand.
18. FOMO (Fear of Missing Out) Emails
Primary purpose: Re-engaging inactive customers
It's long been a strategy in marketing to leverage consumers' inherent psychological need to belong to a group, and that also applies to email marketing. In this case, the larger group is being part of your brand's community, or being one of the lucky few to take advantage of an exclusive limited-time offer.
These types of emails are simple in terms of content layout, but it's in how your content is written that makes it work. For instance, including FOMO-inducing phrases like "Don't miss out" or "Ends in 2 hours" instantly activates a sense of urgency among your customers and can motivate them to re-engage with your brand.
19. 'We Miss You' Special Offer Emails
Primary purpose: Using emotion to win back old customers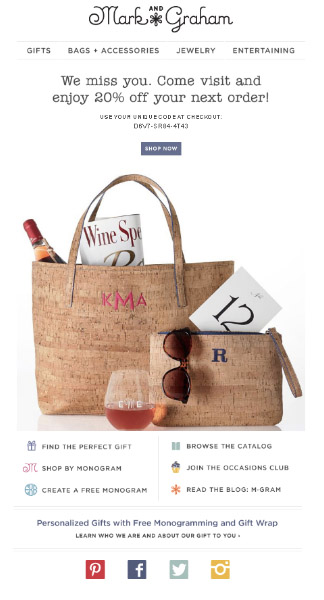 Another way to win back your old customers in a less urgent and more emotionally driven way than FOMO campaigns is via "We miss you" special offer campaigns. Like FOMO campaigns, "We miss you" offer campaigns are simple—but they pack a punch because they strike an emotional chord with your recipients and humanize your brand.
In your email content, you can also remind lapsed customers why they purchased in the first place. Finally, you can also include a special offer on their next purchase, for instance, a 20% discount or free shipping voucher, to motivate them to buy again.
20. Business Update Emails
Primary purpose: Reignite customers' interest in your brand
If you haven't heard from a customer in a while, there's also the chance that they've simply lost interest in what your business offers, or they've already gotten what they need from you. In these cases, no amount of persuasiveness you use or special discounts you offer will take effect. Instead, your best course might be to send a straightforward email to update them about recent goings-on and changes in your business.
Tell your recipients about all the most relevant updates you've made in your business since they last purchased. Also, include particular developments that might interest them—for example, new products, upcoming events, new store locations, and so on.
Is It Worth It? Benefits of Using Email for Marketing
Creating a single email takes minutes—but the time spent creating a lot of different types of emails for marketing, tracking results, implementing A/B email tests, and others, all add up. But from a high return on investment (ROI) to conversions and business growth, the stats show it's more than worth it.
Consider these statistics about email marketing's effectiveness:
Over 90% of marketers say email marketing is essential to their business' success. (Constant Contact)
Email is one of the top three channels for 79% of marketers. (Constant Contact)
37% of consumers are likely to purchase products promoted in email newsletters. (Statista)
Every dollar businesses spend on email marketing earns them $36 back. (Statista)
In 2022, marketing emails had an average conversion rate of 8.17%. (Barilliance)
And those are just the tip of the iceberg—check out our full list of email marketing statistics to learn more. There's no questioning it: Email marketing has sustained its relevance and effectiveness, even with the emergence of new marketing channels. The only question is how to best leverage it to benefit your business the most.
Frequently Asked Questions (FAQs)
The best email marketing app for small businesses is HubSpot. This is because of its many helpful email marketing tools, including lead gen forms, customer list segmentation, A/B testing, and more, even on the free plan. Other helpful email marketing platforms are Omnisend for ecommerce integrations, Mailchimp for multivariate testing, and Moosend for beginners.
---
Sending different types of emails for marketing is necessary in order to target different types of objectives. For example, a cold email is helpful for sourcing new leads, while it might take a new customer discount email to get those leads to convert, and yet another type of email to turn them into loyal customers. The different types of marketing email campaigns follow the stages of the customer journey and target the needs of each stage.
---
Many different types of email campaigns are beneficial for any small business. The most effective (and most crucial) are lead nurturing emails like new customer discount emails and testimonial emails, and customer retention emails like newsletters and loyalty programs. This is because building a strong customer community is the most effective strategy for a small business' growth—which these types of email campaigns work best for.
---
Bottom Line
Email marketing is a stronghold in any small business' marketing strategy because it's still so effective even with the growth of other marketing channels. It's also evolved to support nearly any kind of marketing objective, from finding new leads to cementing your customers' loyalty. The types of emails for email marketing above are some of the most effective for every stage of the customer journey—use them as a guide when crafting your email strategy.