What a CD Ladder Is & How It Can Benefit Your Business
A business certificate of deposit (CD) ladder is a financial strategy that involves investing in multiple CDs of varying lengths at staggered maturity dates. Opening a CD ladder benefits your business by ensuring that you earn the maximum interest return on your business reserve funds while keeping some of those funds regularly available to cover company expenses.
Live Oak Bank is a great option for building a business CD ladder. Our list of the leading business savings accounts named it the best for high annual percentage yield (APY) and short-term CDs. It offers term lengths from three months to five years, with short-term CD rates ranging from 3.00% to 5.10%. Visit Live Oak Bank for more information.
How a Business CD Ladder Works
When setting up a business CD ladder, you split funds among multiple CDs with varying term lengths. By staggering the maturity dates, you will have access to a portion of your reserve funds more regularly. You then get more freedom to spend on business expenses or reinvest in a new CD.
CDs require you to keep funds deposited until your account matures—and if you withdraw the funds before maturity, you will likely have to pay a sizable penalty. If you choose to invest all reserves into just one timed account, you would have limited access to your funds, which would be inconvenient should you ever incur unexpected business expenses.
Business CD Ladder Example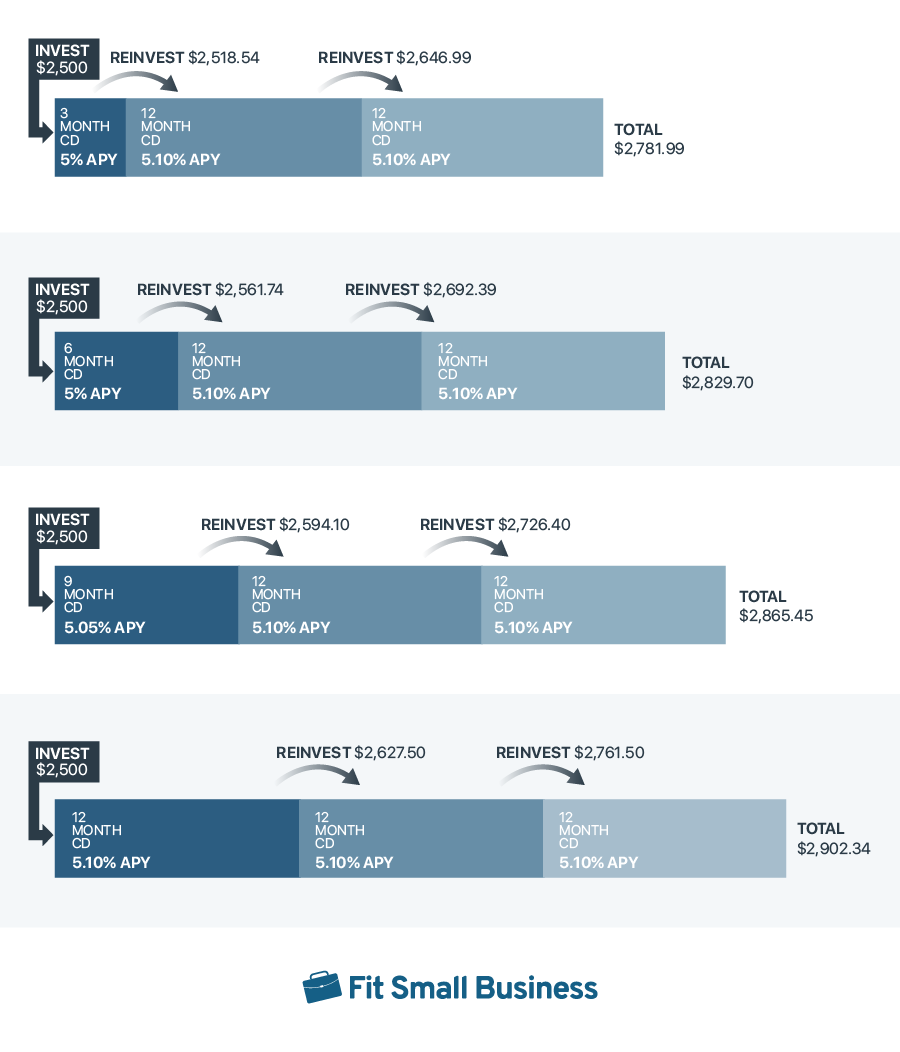 The above graphic illustrates how a CD ladder works using Live Oak Bank's business CD rates as of September 2023. You can visit the company's website for the latest rate information.
In this example, you simultaneously invest deposits worth $2,500 each into three-month, six-month, nine-month, and 12-month CDs. Whenever a CD matures, you reinvest your deposit into a new 12-month CD. This way, your funds become accessible every three months.
If you want to maximize returns, you can reinvest both the principal and the interest earned. However, this isn't a necessary step to building a CD ladder.
Additionally, you don't have to invest the same amount in each CD or open all CDs at the same bank. However, doing so makes it easier to keep track of your deposits.
Pros & Cons of a Business CD Ladder
PROS

CONS

Business CDs offer a guaranteed interest rate, which means your rates are locked in until your term ends, despite the fluctuation.
Interest rates can fluctuate—and when the rates decline, you might be reinvesting the ladder into lower rates when a business CD matures.
A business CD ladder offers more liquidity because you maintain regular maturity intervals.
Rates may not keep up with inflation, especially with long-term business CDs.
You can earn higher interest rates when you have cycled through all your business CDs.
You still need to wait until a business CD matures before you can withdraw your funds. Early withdrawal or pre-termination of the account is subject to penalties.
How To Build a Business CD Ladder
Learning how to build a business CD ladder is a simple process. All you need to do is determine how much to invest, how many CDs to open, and how long each CD's term length will be. Once you've found a strategy that suits your needs, you can open your CDs, and then reinvest when needed.
Step 1: Decide the Amount of Business Reserves You Will Invest
Because you cannot withdraw your funds until your CD matures, you need to decide how much of your business reserves you can afford to put in timed accounts. Stay on top of your short-term business expenses so that you know how much money needs to stay liquid and how much you can afford to invest.
Step 2: Decide How Many Business CDs to Open
While you can open several CD accounts as part of a business CD ladder, you don't want to open so many that they become difficult to track. The easiest way is to keep consistent maturity dates with a similar amount of money invested in each CD. Having the CDs mature every three to 12 months allows you to plan for those funds to become available regularly.
Step 3: Determine the Maturity Terms of Each Business CD
You can choose to have your CDs mature at any interval offered by the bank. Live Oak Bank, for instance, offers maturity terms ranging from three months to five years. You want to choose terms that keep funds available regularly. For tracking purposes, having the CDs mature every three to 12 months is much easier to monitor than opening CDs at sporadic maturity dates with no consistent patterns.
Step 4: Open your Initial Business CDs
Once you have decided how much you want to invest and the maturity terms of the CDs, you can open your initial CDs. Keep track of the maturity dates of each CD when budgeting your business finances as this will allow you to know when reserves for spending or reinvestment will be available.
Check out our how to open a business bank account guide for tips on opening a business deposit account.
Step 5: Reinvest your Matured Business CDs or Place in Liquid Accounts
Once your business CD matures, you can withdraw your funds and reinvest them into a new CD. Consider when you need access to your funds, then choose a CD length that matches your business needs. If you need the funds from a matured CD in the short term, you can transfer those funds to a business checking, savings, or money market account for immediate use by your business.
CD Ladder Alternatives
Sometimes, CD laddering isn't the best choice for your business. Here are a few alternatives you can consider:
Interest-earning business checking accounts: With a business checking account, your funds remain accessible all year round. While it is traditionally noninterest-earning, many modern providers (particularly online-only banking solutions) now offer APY-earning checking accounts. You can find a few examples in our list of the best small business checking accounts.
High-yield business savings accounts: Savings accounts typically earn interest while providing a few fee-free withdrawals per month. If you need that level of liquidity, consider opening a high-yield savings account with an online-only provider. See our top-recommended business savings accounts to find a provider that suits your needs.
Business money market accounts: Another low-risk way to earn interest is to open a business money market account. These let you earn competitive interest while providing access to check-writing and debit card privileges. Learn more by reading our guide on the business money market account.
For more tips on earning interest on business funds, check out our article on the best ways to earn business interest.
Frequently Asked Questions (FAQs)
Creating a business CD ladder can be worth it, as it allows you to earn interest on your business reserves without tying them up in long-term CDs. It helps you keep a portion of your reserves liquid, with staggered maturity dates freeing up funds for use or reinvestment.
---
There can be any number of CDs in a business CD ladder. The key is keeping the number of CDs to an amount you can easily track. Opening too many CDs with staggered maturities might make it hard to monitor when those will mature and how much money will be available at any given time.
Having too few CDs might limit the benefits of a CD ladder to earn maximum interest on your reserves while keeping them regularly available for use. However many you choose, keeping the maturity dates set at a regular interval (such as every six months or every year) can make them much easier to track.
---
A good business CD ladder strategy is a solid mix of short-term CDs combined with long-term CDs. For example, you might open CDs that mature every three months for your short-term strategy. Depending on the bank you choose, short-term CDs typically offer lower APY rates but become available for use or reinvestment much sooner.
Combine those with longer-term CDs ranging from one to five years. Those tend to earn greater interest but should be opened with funds you won't need immediate access to, as you'll have to pay a penalty to withdraw those funds early.
---
Bottom Line
A business CD ladder is a great way to earn maximum interest yield on your business reserves while keeping a portion of those reserves available for use regularly. It will earn more money than keeping those funds in a business savings or money market account, and if you stagger the maturity dates of the CDs, you'll still have access to those funds when your business needs them. Choose a wide range of maturities, and even banks, to find the best rates and maximize your return on your company's finances.