Product liability insurance covers a business's responsibility for the products they make or sell. If a product causes harm, product liability pays the injured party's medical or repair bills as well as the business's legal fees. How much product liability insurance costs depends on your risk. Low-risk businesses pay an average of 26 cents per $100 of annual sales revenue.
Most small businesses need some product liability coverage, which is why it's included in standard general liability insurance. This is also a good reason to work with an insurer that understands small business's needs, such as The Hartford, that make it easy to get covered. Online quotes are fast, and policies are often issued in just minutes.
What Product Liability Insurance Is
Any business involved in bringing products to consumers can be held responsible if its products cause bodily harm or property damage. Product liability insurance protects these businesses by paying claims associated with product defects, malfunctions, or insufficient warning labels and instructions. General liability includes products-completed coverage, but a business with greater risk may want a standalone policy.
Both general liability and product liability insurance can be written on an occurrence or claims-made basis. An occurrence policy pays covered claims as long as the damage happened while the policy is active. However, a claims-made policy only pays if the damage and the claim both occur when the policy is active. This is an important distinction to know because it impacts whether or not you are covered in a product liability claim.
Top Product Liability Insurance Providers
| Provider | Best for |
| --- | --- |
| | Companies seeking a bundled policy that can cover product liability claims retroactively |
| | Young small businesses with new products and no history of liability exposure |
| | Retailers and manufacturers of cannabis-based products |
| | Businesses looking for product liability and product recall insurance |
| | Local retailers that don't manufacture goods but sell a variety of products to consumers |
Small business owners with low product liability risk, like many retailers, should look to top providers who offer comprehensive general liability policies and business owner's policies (BOPs). However, manufacturers and designers may need to work with surplus lines brokers to get a standalone product liability policy, especially if the products they work with pose great risks, such as firearms and consumable goods.
The Hartford is a good fit for small business owners whose risks can be sufficiently covered with the products-completed operations coverage found in a BOP. BOPs bundle commercial property and general liability that comes with product liability coverage, and The Hartford's can be written on a claims-made basis with prior acts endorsements to cover incidents occurring before the policy's start date.
The Hartford offers some of the most competitively priced BOPs on the market. Its minimum annual premium is $250, or slightly more than $20 per month. This gives small business owners fundamental coverage they can customize at an affordable rate.
CoverWallet is a great fit for new businesses that have no previous product liability exposure and need per-occurrence coverage. These policies tend to be more expensive, and CoverWallet can shop these policies among multiple top providers to find the best price for new companies that don't yet have a track record of product sales.
CoverWallet is an online insurance broker that quotes all types of business insurance. As a broker utilizing proprietary technology, CoverWallet simplifies and speeds up the entire insurance purchasing process. This broker works with top-rated insurance providers in all 50 states to offer product liability coverage as part of general liability or BOPs.
Insurance Canopy is a specialty insurance provider that can place difficult-to-insure businesses with a carrier or underwrite their policies. The company understands the growing needs in the marketplace for product liability at all levels of the supply chain and has the relationships to insure manufacturers and retailers with competitive pricing.
Insurance Canopy is an ideal choice for cannabis-industry companies that have significant exposure from the sale or manufacturing or hemp-based and CBD items, including ingestible and topical products. Business owners can add product liability riders to policies or purchase standalone policies on a claims-made or occurrence basis.
AIG is a good choice for businesses that face a high likelihood of product recalls, such as those involved with child safety products, lithium-ion batteries, auto parts, or vitamin supplements. The company offers product liability and contaminated product insurance as well as a product recall policy that can cover your business's responsibility to third parties.
As one of the largest insurance carriers in the world, AIG has the financial means to insure a wider range of businesses. This diverse industry experience helps it understand the risks of manufacturers, wholesalers, and retailers fully.
Nationwide is a good fit for store owners who aren't involved in manufacturing the products it sells. Retailers often have some protection through the product liability insurance found higher up in the supply chain, but still need to cover themselves from being attached to claims or lawsuits.
Nationwide is a major property and casualty insurance company that provides both personal and small business insurance policies. Its BOP covers product liability within the general liability portion and has agents working within communities so small business owners can get personalized attention when it comes to getting insurance.
What Product Liability Insurance Covers
Business owners are liable for injury, illness, and property damage caused by the products they bring to consumers. In most states, any business in the supply chain can be held responsible for the harm its products or completed operations cause. That means retailers, designers, wholesalers, manufacturers, and distributors can all be sued by the injured party.
If sued, product liability insurance covers:
Your attorney's bills
The injured party's medical bills or repair costs
Judgments against your business or settlements made to avoid court
The product liability coverage found in general liability covers the liability that comes with bringing products to consumers as well as business operations that occur off-premises. For example, if a carpenter finishes hanging kitchen cabinets that later fall and cause damage, the products-completed operations portion of general liability covers the repairs.
Common Product Liability Insurance Claims
Product liability claims generally fall into one of three categories, namely design defects, manufacturing flaws, and defective warnings. Below are examples of each:
Design defects: When the initial design causes an entire product line to be inherently dangerous, like a top-heavy car that consistently flips over on turns
Manufacturing flaws: When a flaw in production creates a defect in a product that then causes injury or damage; an example might be a swing set with a loose or weakened chain
Defective instructions or warnings: When inadequate or unclear instructions cause an injury; such as a cleaning solution that emits chemical fumes and does not directions to use in a ventilated area
Claims-made vs Occurrence Product Liability Insurance
Product liability can be written on a claims-made or occurrence basis. Claims-made policies only pay if both the triggering event and the claim filing happens while the policy is in force. Most claims-made policies include prior acts coverage for covered events that occur before the policy starts. Without this coverage, claims over damage occurring before policy inception would be denied—even if the policyholder learns during the life of the policy.
The second option is an occurrence policy that pays any covered claim as long as the triggering event occurs during the life of the policy. As a result, occurrence policies tend to be more expensive than claims-made policies because the insurer has to pay claims even after the policy has ended.
What Product Liability Insurance Does Not Cover
Compared to other types of insurance policies, product liability can have more exclusions, creating more reasons for a carrier to deny a claim or choose not to renew your policy. Always talk to your carrier when you add products or change production methods, materials, or designs on current products.
Five common exclusions specific to product liability insurance include:
Quality control exclusion: Product liability insurance carriers require that manufacturers and distributors maintain quality control standards to ensure products are safe for consumers
Reporting exclusion: Failure to report new manufacturing methods, products, materials, or ingredients can mean your policy doesn't cover your product
Efficacy exclusion: Your insurer may deny a claim if your product fails to perform its main function
Material exclusions: Many carriers do not cover certain materials or ingredients; selling or manufacturing a product that contains a forbidden material or ingredient means your policy doesn't cover it
Product recalls: Most product liability policies don't cover costs associated with the withdrawal, inspection, repair, replacement, or loss of use of an insured's product if it's recalled
Product Recall vs Product Liability Insurance
Business owners often assume their product liability insurance pays for getting defective products off of shelves and out of consumers' hands. Unfortunately, recalls are usually excluded from coverage and require product recall insurance. A product recall policy generally covers the business' financial loss when recalling products, such as:
Reimbursement payments
Shipping costs
Product testing
Customer notification
Employee overtime
A company working in an industry where product recalls could affect millions of people―safety products, electronics, or food items―should consider getting product recall coverage in addition to product liability insurance.
Who Product Liability Insurance Is Right For
Product liability insurance is a must for anyone who manufactures, distributes, designs, or sells products. If there's potential for a member of the general public to link what you sold to injuries or damages they sustain, you're at risk for a claim. Essentially, everyone in the supply chain needs product liability insurance.
A few examples of small businesses that need product liability insurance include:
Manufacturers
Wholesale distributors
White label resellers who repackage other products under their own brand name
Retailers and distributors selling products to the general public
Ecommerce business owners and drop shippers
Vendor Coverage Rider for Product Liability Insurance
Instead of buying a standalone product liability policy, retailers may want to ask whether distributors or manufacturers of the products they sell offer vendor coverage. Vendor coverage is a rider to the manufacturer's or distributor's policy that extends product liability coverage down the supply chain to retail sellers and distributors. A retailer who wants to take advantage of this rider should request a certificate of insurance (COI) as proof that the other business owner has product liability insurance. Not all suppliers offer it.
Product Liability Insurance Costs
The average cost of product liability insurance is 26 cents per each $100 in sales revenue. However, in most cases, the minimum cost of product liability insurance is about $2,500 per year. For riskier products like medical devices, the costs likely won't fall below $7,000 per year. Prices vary among providers, so business owners need to compare policies.
For example, if you sell $1 million worth of goods per year, your product liability insurance costs might be $2,600 (or 0.0026 x $1 million / $100). If you are in a riskier industry (like biotech), then you can expect to pay closer to $10,000 per $1 million in sales (or 0.01 x $1 million / $100). Of course, your actual costs may vary depending on the type of product.
Product Liability Insurance Costs Factors
The cost of product liability insurance varies greatly depending on the risk categorization of your product. These can depend on the size of your product, how it's marketed, its safety features, and the size of your distribution. Items like fireworks and firearms will have a higher risk factor than fuzzy slippers and yoga mats.
Some of the biggest factors that determine product liability insurance cost include:
Industries: Not only are some products riskier than others, but certain industries face high standards and more lawsuits than others, so they often pay higher product liability premiums
Location: Carriers price insurance based on state insurance regulations and typical loss exposure
Company revenue: Annual revenue defines the overall liability lawsuit exposure a company faces and impacts the amounts awarded by courts
Claim history: A company or product with a history of claims generally indicates a greater risk for the insurer
Coverage limits: Policies start with limits as low as $100,000 but can exceed tens of millions of dollars for protection; higher coverage means more exposure for the insurer, so premiums are higher
The Cost of Not Getting Product Liability Insurance
Businesses that need standalone product liability insurance may balk at the extra expense. Before they decide to forgo the coverage, however, they might want to consider what they could pay if they were hit with a product liability lawsuit. As the chart below shows, jury awards in product liability cases outstrip both general liability and medical malpractice suits.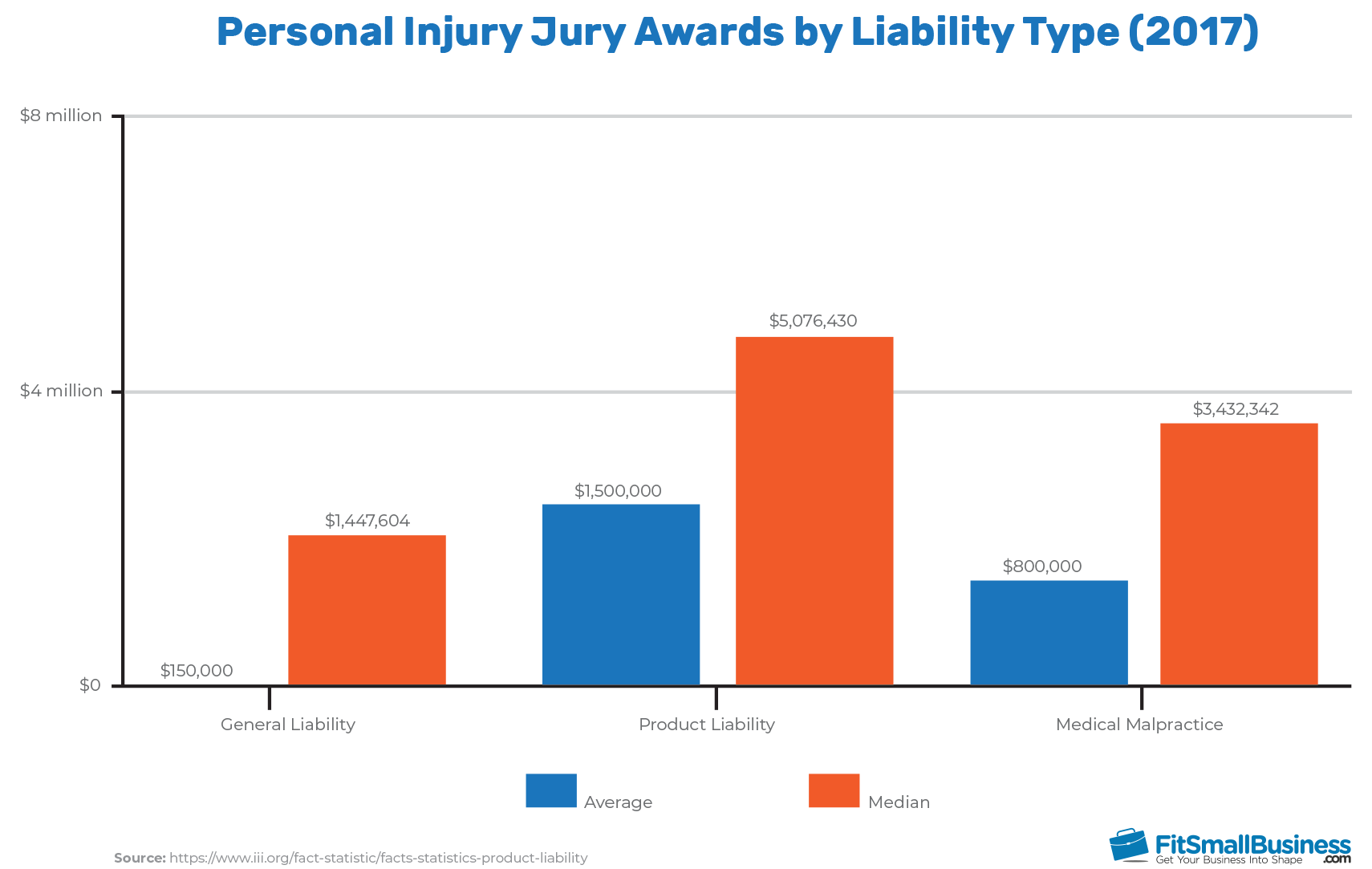 Tips on Getting Product Liability Insurance
Whether you manufacture, distribute, design, or sell products, you need product liability insurance coverage. Your risk may be appropriately covered with the products-completed operations coverage in general liability, but some businesses may require a standalone policy. Either way, the tips below can help you find the right policy for your business.
1. Report Even Small Claims
Report all claims, even those falling under the deductible limit, to preserve product liability coverage. Many policies will exclude claim coverage if product issues are not reported. While these minor claims will not yield any remuneration for losses, they do maintain the legal requirements outlined in policies for product disclosures.
2. Get the Right Level of Coverage
Underinsuring can lead to claim proceeds maxing out and still leaving a business owner exposed. Overinsuring leaves business owners paying higher premiums that won't translate to more coverage. Product liability insurance rates are determined by revenue, so it makes little sense for a business that does $100,000 in revenue to buy the same amount of insurance as a company that does $10 million.
3. Choose an Insurer That Provides Certificates of Insurance Quickly
Certificates of insurance are used to provide proof that you are covered by liability insurance. For product liability insurance, certificates of insurance are typically shown throughout the supply chain. They are used when goods are manufactured, transported, stored in a warehouse, or sold at a retail store.
Product Liability Insurance Frequently Asked Questions (FAQs)
Our goal is to help you decide if you need product liability insurance. To do that, we've answered some of the most frequently asked questions about the coverage here.
Is product liability insurance included in general liability?
In most cases, small business owners get sufficient product liability coverage in their general liability policies. For larger manufacturers with very high exposure rates, standalone policies are available through surplus or specialty brokers.
What is the retroactive date on a claims-made policy?
Claims-made policies typically provide coverage for claims that occur before the policy's start date. A retroactive date shows how far back the insurer provides coverage. Some claims-made policies, however, have full prior acts coverage and pay claims on any event that happens before the policy starts. Your retroactive date should be listed on your policy's declarations page.
What Is the extended reporting period?
Extended reporting periods, or reporting period extensions, are features of claims-made insurance policies. Most product liability policies written on a claims-made basis have a basic extended reporting period that covers losses occurring while the policy was in force but reported after the policy was canceled.
Bottom Line
Product liability insurance offers important liability protection if your business manufactures, distributes, sells, or repairs products. Product insurance protects against claims and lawsuits where judgments can be in the millions. Protect your business against the expense of defending claims if a product malfunctions or has a design flaw.
One product liability claim can bankrupt a company that isn't prepared with product liability insurance. It is easy to get a quote that covers liability before you realized you needed it with The Hartford. Visit The Hartford to see how it can cover your business and get a quote in just 20 minutes.