Product liability insurance protects manufacturers, wholesalers, and distributors from claims arising from products they make or sell. It covers medical bills, property damage, and legal fees associated with a product usage by customers. As an extension of general liability, product liability insurance costs an average of approximately 26 cents per $100 of annual sales revenue.
If you are making or selling goods in any way, you need product liability insurance to protect your business. Policies that include product liability options, such as The Hartford's Business Owner's Policy, make it easy to get the coverage you need. Online quotes are fast and policies are often issued in just minutes.
Product Liability Insurance Providers
Small business owners can buy product liability insurance from providers who offer comprehensive general liability policies and BOPs. Providers vary in pricing, industry coverage, and underwriting requirements. The best provider is one who understands your business industry, operations, and the likely claims arising from product sales and distribution.
Top Product Liability Insurance Providers
| Provider | Best For |
| --- | --- |
| The Hartford | Companies seeking a bundled policy that retroactively covers product insurance claims |
| CoverWallet | Young small businesses with new products and no history of liability exposure |
| Veracity | Import wholesalers and distributors looking for standalone policies to cover product exposure |
| AIG | Businesses in industries where product recalls are common and specialized product recall insurance is necessary |
| Nationwide | Local retailers that don't manufacture goods but sell a variety of products to consumers |
Claims made and claim per occurrence are two different ways to structure the product liability policy. The first allows for an expansion of the coverage period to a retroactive date while the latter only covers incidents that happen during the policy period. For more information, see our sections below on
claims made
and
per occurrence
claims.
If you need product liability insurance, consider getting a quote from these top providers.
The Hartford offers some of the most competitively-priced commercial insurance policies found on the market. Its business owner policy includes general liability, business property, and business interruption coverages that include product liability. Small business owners get an all-encompassing policy that lets them customize the levels of coverage in every area.
The Hartford is a good fit for small business owners seeking to bundle product liability with inventory coverage, business property, and general liability protection. Product liability endorsements with The Hartford can be on a claims made basis, meaning coverage extends to a date before the policy was written, which can help business owners fill in gaps in coverage.
CoverWallet is an online insurance broker that quotes all types of business insurance. As a broker utilizing proprietary technology, CoverWallet simplifies and speeds up the entire insurance purchasing process. This broker works with top-rated insurance providers in all 50 states to offer product liability coverage as part of general liability or BOPs.
CoverWallet is a great fit for new companies that have no previous exposure with product liability and only need per occurrence coverage, meaning there is no retroactive protection before the policy start date. CoverWallet can shop these policies among top providers to find the best pricing for new companies that don't yet have a track record of product sales.
Veracity is a specialty insurance provider that helps place difficult-to-insure companies with the right carrier for proper protection. Veracity understands the growing needs in the marketplace for product liability at all levels of the supply chain and has the relationships to insure manufacturers and retailers with competitive pricing.
Veracity is an ideal choice for companies who have very significant exposure because of high manufacturing output or revenue from selling products. Veracity can write product liability within existing policies as a rider but can create standalone policies on a claims made or per occurrence basis.
AIG is one of the largest insurance carriers in the world with the ability to write combination policies or standalone policies for product liability insurance. AIG has diverse industry experience that helps it fully understand the risks of manufacturers, wholesalers, and retailers. It also has the financial strength to insure everything from small mom-and-pop businesses to large manufacturing operations.
AIG is a good choice for companies where product recalls are more likely. AIG has the financial resources to insure innovative products produced domestically or internationally. Things like safety risks for child safety products, lithium-ion batteries for cellphones, auto parts, or ingredients in vitamin supplements often have higher recall risks and need additional coverage, making them ideal products for AIG to insure.
Nationwide is a major property and casualty insurance company that provides both personal and small business insurance policies. Nationwide offers a BOP to cover product liability within an existing policy and has local agents within communities to help small business owners get personalized attention when it comes to insuring business risk.
Nationwide is a good fit for a local retail store that doesn't manufacture its own products but instead resells products purchased from wholesale distributors or directly from manufacturers. Resellers often have some protection through the product liability insurance found higher up in the supply chain, but still need to cover themselves from being attached to claims or lawsuits.
What Product Liability Insurance Is
Product liability insurance (PLI) is an elected coverage within a general liability or a BOP that pays for injuries and damages resulting from products you make or sell. It can pay claims while the policy is in force (per occurrence claims) or be set up to provide coverage retroactively before the policy's effective date (claims made).
Product liability coverage, often referred to as products completed coverage, protects any business in the product supply chain with exposure to claims against product defects, malfunctions, or insufficient warning labels and instructions. In many cases, these risks can apply across entire industries. For example, the vaping industry currently faces billions in lawsuits because e-cigarettes claimed to reduce occurrences of lung cancer ― a claim that is now in dispute.
Anyone in the supply chain can be the target of a product liability lawsuit. The supply chain starts with the product manufacture, then moves from wholesale distributors through retail and drop-shipping sellers. In all of these cases, product liability insurance can be necessary to protect small business owners from claims involving their products.
Product Liability Claims Made
If a product liability case is done on a claims made basis, it will cover claims resulting from activity that occurred up to a certain date before the policy was active. The policy must have the election for claims made coverage, can include a retroactive date for coverage to start. It provides protection through the policy period. This is a more expensive option that requires proof of any loss-history on previous policies or claims against the company.
Let's say a dog car seat safety harness retailer gets a policy in January 2019 with claims made coverage set for 12 months prior. If a claim is made based on a harness failing and resulting in pet injury in June 2018, the new policy is responsible for the claim because it falls within the retroactive period.
Product Liability Per Occurrence
A less expensive type of product liability coverage is the per occurrence option. This means that the policy will only cover claims brought against the company during the policy term. If the policy lapses for any reason, you will not be covered for claims arising during that period unless you reinstate or get a new claims made policy that covers you retroactively.
Median Personal Injury Jury Awards by Liability Type (2016)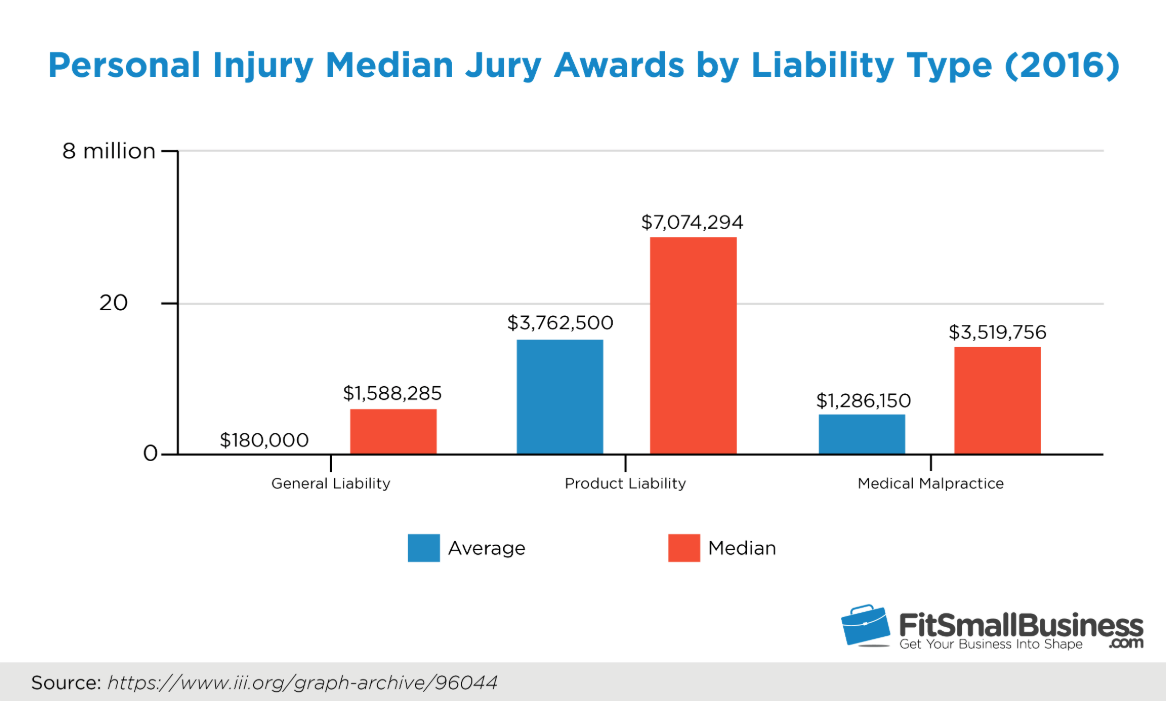 What Product Liability Insurance Covers
Business owners are liable for injury, illness, and property damage resulting from products sold. Product liability insurance coverage pays for these claims and is defined in the general liability section of business insurance policies by the term, "Products-Completed Operations Hazard." Whether a policyholder makes or distributes products, product liability insurance helps protect them against customer claims.
Product liability insurance covers two types of potential legal actions:
Bodily injury: If somebody is wrongfully injured by your product, product liability insurance typically covers the cost of care, lost wages, restitution for death, or legal fees incurred in connection with a lawsuit
Property damage: If property is damaged due to your product, product liability insurance typically covers the value of physical damage, repairs, lost profits due to damages, and legal fees
Common Product Liability Insurance Claims
A few examples of common types of product liability claims include:
Design defects: When the initial design of the product is the cause of the injury or damage; an example is when Samsung had defective lithium-ion batteries that caught spontaneously fire or exploded due to a defect in the battery size
Manufacturing flaws: When the manufacturer's poor quality control measures cause injury or damage; an example might be a swing set with a loose or weakened chain; manufacturing flaws can be one-off instances that were not noticed by quality control
Defective instructions or warnings: When inadequate or unclear instructions cause an injury; in a memorable 1994 case, McDonald's was sued for defective labeling on their coffee cups by a customer who accidentally spilled coffee and burned herself
What Product Liability Insurance Does Not Cover
Compared to other types of insurance policies, product liability insurance can have more exclusions as well as more potential reasons for a carrier denying a policy. Always talk to your carrier when changes occur with your products. Changes can be in production method, materials, or design. Adding new products also affects coverage.
Five of the most basic types of exclusions specific to product liability insurance include:
Quality control exclusion: Product liability insurance carriers require that manufacturers and distributors maintain quality control standards to ensure safe and effective products are released to consumers
Reporting exclusion: Failure to report new manufacturing methods, products, materials, or ingredients can mean your product isn't covered by your policy
Efficacy exclusion: Failure of a product to perform its main function is known as an efficacy; some companies will not underwrite this risk while others will require the purchase of endorsements for a higher premium
Material exclusions: Many carriers have exclusions for certain materials or ingredients; selling a product that contains a forbidden material or ingredient means it won't be covered by your policy; willow bark and creatine are two common coverage exclusions examples in supplements
Product recalls: Most policies won't include product recalls; specifically, the exclusion extends to damages arising from the withdrawal, inspection, repair, replacement, or loss of use of an insured's product, should it be recalled
Who Product Liability Insurance Is Right For
Product liability insurance is a must for anyone who manufactures, distributes, or sells products. If there is the potential for a consumer or member of the general public to link what you sold to injuries or damages they sustain, you're at risk of facing a claim. Anyone in the supply chain that exchanges products for profit needs product liability insurance.
Small businesses that need product liability insurance include:
Any product manufacturer including but not limited to electronics, medical products, food, supplements, and toys
Wholesale distributors of products of any kind
White label resellers who repackage other products under their own brand name
Retails stores and distributors selling products to the general public
E-commerce business owners or drop shippers
Product Liability Insurance Vendor Rider Coverage
Instead of buying a standalone product liability policy, product retailers may want to ask whether distributors or manufacturers of the products they sell offer vendor rider coverage. This is a rider to the manufacturer's or distributor's policy that extends product liability coverage down the supply chain to protect retail sellers and distributors.
A retailer who wanted to take advantage of a vendor rider would need to request a Certificate of Insurance as proof of product liability insurance reducing his overall need for coverage. Not all suppliers offer it. For more information on how to read certificates of insurance, be sure to check out our ultimate guide to certificates of insurance.
Product Recall Insurance Exclusion
Most product liability insurance policies exclude coverage for recalls, which means that manufacturers and distributors must get products already sold off shelves and returned quickly to prevent any potential lawsuits or other liability. A company working in an industry where product recalls affect millions of people ― safety products, electronics, or food items ― should consider adding an endorsement specifically for product recall.
Product Liability Insurance Costs
The average cost of product liability insurance is 26 cents per each $100 in retail costs. However, in most cases, the minimum cost of product liability insurance is about $2,500 per year. For riskier products like medical devices, the costs likely won't fall below $7,000 per year. Prices vary among providers, so it's important for business owners to compare policies.
For example, if you sell $1 million worth of goods per year, your product liability insurance costs might be $2,600 (or 0.0026 * $1 million / $100). If you are in a riskier industry (like biotech), then you can expect to pay closer to $10,000 per $1 million in sales (or 0.01 * $1 million / $100). Of course, your actual costs could be much lower or higher depending on the type of product.
Factors Affecting Product Liability Insurance Costs
The cost of product liability insurance will vary greatly depending on the risk categorization of your product. These can depend on the size of your product, how it's marketed, it's safety features, and the size of your distribution. Items like fireworks and firearms will have a higher risk factor than fuzzy slippers and yoga mats.
Some of the biggest factors that determine product liability insurance cost include:
Type of business: Some industries are riskier than others, and the nature of your business and its products are factored into your cost
Geographic location: Carriers price insurance based on state insurance regulations, loss exposure, and unique risks such as wildfire exposure
Company revenue: Annual revenue defines the overall exposure a company faces when being rated for product liability insurance
Claim history: A company or product with a history of claims increases company exposure and premium rating
Coverage limits: Policies start with limits as low as $100,000 but can exceed tens of millions of dollars for protection; higher coverage means more exposure for the insurer, so premiums are higher
Claims Made vs Per Occurrence Policy Costs
A claims made policy gives the small business product liability coverage for products manufactured or sold during the policy period but also extends beyond policy terms. In other words, the coverage is still in effect even after the policy is canceled or terminated. These are more expensive than per occurrence policies that only cover incidents when policies are in force.
The longer the claims made period is, the more expensive the policy becomes. When changing product insurance carriers, the new carrier will want to know if there is additional coverage for previous policy terms, thus reducing its liability for products made before the policy period. This can reduce the premium of a new policy. Conversely, covering the products made prior to the new policy's issue date will likely lead to more expensive coverage.
Product Liability Insurance and Other Business Insurance
Rarely is product liability insurance issued as a standalone policy. Most small business owners combine product insurance with general liability and other types of coverage for separate business risks. Review the total insurance types and coverage your small business needs to make sure you are packaging and bundling whenever possible to save money.
There are several other types of insurance small business owners may need, including commercial general liability insurance, commercial property insurance, and BOPs.
Commercial General Liability Insurance
Commercial general liability insurance policies cover third-party liability claims for bodily injury, property damage, and related medical bills and legal costs. Common general liability claims include medical bills and lawsuits from slip-and-fall accidents on your premises or work site. Product liability is often included in general liability insurance policies.
Commercial Business Property Insurance
Most businesses need commercial property insurance, which covers businesses for property damage due to certain covered events like fire, theft, vandalism, or natural disaster. Commercial property insurance helps business owners protect their valuable assets, such as an owned or leased building, tools, equipment, machinery, or inventory.
Business Owner's Policy
A BOP is a hybrid commercial policy combining general liability, business property, and business interruption insurance policies. A BOP is often less expensive compared to buying each policy type individually or as a monoline policy. BOPs don't cover commercial auto or workers' compensation liabilities or losses.
Professional Liability Insurance
Professional liability insurance, also known as errors & omissions (E&O) insurance, protects business owners against liability claims arising from their mistakes or negligence. This differs from product liability insurance in that E&O insurance covers legal and defense costs if you are sued by a client for damages caused by mistakes in services and intangible products, such as bad advice. Product liability covers injury, illness or property damage caused by your physical product.
Workers' Compensation Insurance
Workers' compensation insurance covers your employees for work-related injuries or illnesses and is required in most states for business owners with one or more employees. Workers' comp can pay medical bills, wages from lost work time, and may also cover injury or illness that occurs away from your business premises provided the employee was doing something related to their job.
Commercial Umbrella Policy
A commercial umbrella policy adds extended liability coverage to all liability policies in force. This means general liability ― including product liability ― workers' compensation, and commercial auto liability limits are increased with one policy. An umbrella policy is a cost-effective method to add protection for one unforeseen catastrophic loss.
Tips on Getting Product Liability Insurance
Here are three tips when getting equipment breakdown insurance.
1. Report Even Small Claims
Report all claims, even those falling under the deductible limit, to preserve product liability coverage. Many policies will exclude claim coverage if product issues are not reported. While these minor claims will not yield any remuneration for losses, they do maintain the legal requirements set forth in policies for product disclosures.
2. Get the Right Level of Coverage
Underinsuring can lead to claim proceeds maxing out and still leaving a business owner exposed. Overinsuring leaves business owners paying higher premiums that won't translate to more coverage. Product liability insurance rates are determined by revenue, so it makes little sense for a business that does $100,000 in revenue to buy the same amount of insurance as a company that does $10 million.
3. Choose an Insurer That Provides Certificates of Insurance Quickly
Certificates of insurance are used to provide proof that you are covered by liability insurance. For product liability insurance, certificates of insurance are typically shown throughout the supply chain. They are used when goods are manufactured, transported, stored in a warehouse, or sold at a retail store.
Product Liability Insurance Frequently Asked Questions (FAQs)
Whether you manufacture or sell products, you need product liability insurance coverage. If after reading this article, you have questions about property liability, please visit our forum or drop us a comment below. Our mission is to give the best answers to your questions.
Is product liability insurance included in general liability?
In most cases, small business owners will elect product liability insurance coverage in the general liability section of other commercial insurance policies. In a BOP, this is part of Coverage A options. For larger manufacturers with very high exposure rates, standalone policies are available through specialty brokers.
What Is the retroactive date on a claims made policy?
The retroactive date is the specified day coverage starts before the policy inception date of the liability policy. A business owner may have delayed or lapses in coverage and realized there is exposure for the retroactive period where there was no insurance. The new policy covers losses per the policy terms back to the retroactive date.
What Is the Extended Reporting Period?
Extended reporting periods, or reporting period extensions, are a feature of claims made insurance policies. Most product liability policies written on the claims made standard have a basic extended reporting period that covers losses occurring while the policy was in force but reported after the policy was canceled.
Bottom Line
Product liability insurance offers important liability protection if your business manufactures, distributes, sells, or repairs products. Product insurance protects against claims and lawsuits where judgments can be in the millions. Protect your business against the expense of defending claims if a product malfunctions or has a design flaw.
One product liability claim can bankrupt a company that isn't prepared with product liability insurance. It is easy to get a quote that covers liability before you realized you needed it with The Hartford. Visit The Hartford to see how they can cover your business and get a quote in just 20 minutes.