Product liability insurance (PLI) protects businesses from lawsuits if their product causes bodily injury or property damage. This insurance covers product-related defects for manufacturers, distributors and retailers. PLI coverage is important coverage because these lawsuits typically receive large jury awards. The cost of product liability insurance averages 26 cents per $100 in retail costs.
For small business insurance, including PLI, working with a trusted partner is key. The Hartford's team of specialists will provide you with a customized insurance plan based on your business's needs. Fill out a short online questionnaire and get a free, no obligation quote in minutes.
What Product Liability Insurance Is
PLI can give you a piece of mind and will help keep your business running smoothly if your product damages something or someone. PLI coverage can be included with some larger commercial general liability policies, but there are many caveats to what is covered if you don't have a stand-alone PLI policy.
You should make sure you have sufficient coverage if your business manufactures, distributes, sells or repairs products. It's also important to note that business partners throughout your supply chain may require proof of adequate product liability coverage, which can be accomplished with a certificate of liability insurance (COI), available through your insurance provider.
If you provide products to customers, then it's important to understand how PLI can help you because product-related lawsuits typically have the highest jury awards.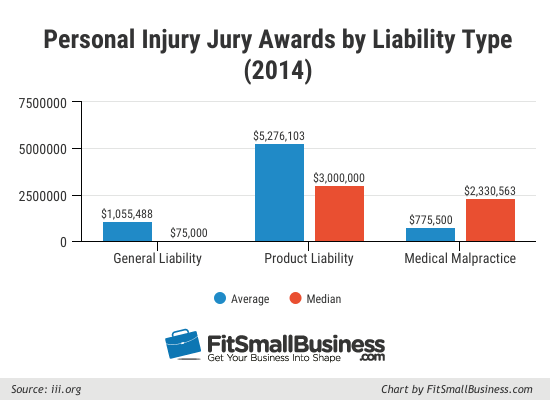 What Product Liability Insurance Covers
PLI covers what are called "completed products hazards," which in simple terms means that PLI pays for the financial losses your product caused to a third party, such as a client, customer or bystander.
PLI covers two types of torts in potential legal actions:
Bodily injury: In the event that somebody is wrongfully injured by your product, PLI can cover the cost of care, lost wages, restitution for death or legal fees if you're taken to court
Property damage: In the event that property is damaged due to your product, PLI can cover the value of physical damage, repairs, lost profit due to damages and legal fees if you're taken to court
Product Liability Insurance Claim Examples
Here are three examples of common types of product liability claims:
Design defects: When the initial design of the product is the cause of the injury or damage; a common example is an electronic toy or battery that tends to catch fire when it's overheated
Manufacturing flaws: When the manufacturer causes the injury or damage; an example might be a swing set with a loose or weakened chain; manufacturing flaws can be one-off instances that were not noticed by quality control
Defective instructions or warnings: When poorly written — or a lack of — instructions causes the injury. In a memorable 1994 case, McDonald's was sued by a customer for defective labeling on their coffee cups; served roughly 45 to 50 degrees Fahrenheit warmer than the average cup, the claimant won her case that the restaurant failed to warn of the coffee cup's potential hazard
What Product Liability Insurance Does Not Cover
Compared to other types of insurance policies, PLI can have more exclusions or reasons why an insurance company couldn't underwrite your policy. This is something that can be negotiated, but you'll likely have to pay a higher deductible or a higher monthly premium in order to expand the coverage.
There are five basic types of exclusions specific to PLI:
Quality control exclusion: Quality control is a system of maintaining standards or requirements for manufactured products; most policies usually require you to oversee a certain level of quality control for your products
Reporting exclusion: You're typically required to report any changes in manufacturing such as new ingredients, materials or components to your carrier; failure to do so can mean your product isn't covered by your policy
Efficacy exclusion: A product may be excluded from your policy if it fails to perform its main function; for example, if a fire alarm or home security system fails to go off the result could be damaging; thus, most policies exclude performance failures — known as an efficacy exclusion — unless businesses are willing to pay a higher premium
Material exclusions: Many carriers have material or ingredient exclusions; selling a product that contains a "forbidden" material or ingredient means it won't be covered by your policy; in the context of health products, yohimbe, kava kava, lobelia, magnolia, willow bark and creatine are a few examples of commonly excluded ingredients
Product recalls: Most policies won't include product recalls in product liability coverage; more specifically, the exclusion extends to damages arising from the withdrawal, inspection, repair, replacement or loss of use of an insured's product should it be recalled
How Much Product Liability Insurance Costs
The average cost of PLI is 26 cents per each $100 in retail costs — retail costs represent what you sell your goods for. However, in most cases, the cost of PLI won't fall below $2,500 per year. For riskier products like medical devices, the costs likely won't fall below $7,000 per year.
So, for example, if you sell $1 million worth of goods per year, your PLI costs might be $2,600 (or 0.0026 x $1 million). If you are in a riskier industry like biotech, then you can expect to pay closer to $10,000 per $1 million in sales (or 0.01 x $1 million). Of course, your actual costs could be much lower or higher, depending on the type of product.
Factors Affecting Product Liability Insurance Costs
The cost of PLI will vary greatly depending on the "risk factor" of your product. This includes the type of product, the size of your distribution, how it's marketed and what safety measures are in place. Items like fireworks and firearms have a higher risk factor than fuzzy slippers and yoga mats.
From the dollar amount of your coverage to your geographic location, there is a lot that goes into calculating how much you pay for your insurance. Here are the most common factors:
Type of business: Some industries are riskier than others, and the nature of your business is factored into your cost
Geographic location: The location of your business impacts your property value, local laws and geographical risks like flooding; all of these factors can drive your insurance costs up
Company value: Valuable companies are likelier targets for lawsuits and have the cash or assets that give them little choice but to pay out; smaller, less valuable businesses could just go bankrupt and avoid paying a large judgment award
Claim history: Business owners generally pay more if there are more claims on their insurance
Coverage limits: All else equal, the higher the payout by the insurance, the more a business owner will pay
While you can't control every factor that impacts your PLI cost, there are some actions you can take to limit it. Speaking with an expert from The Hartford is a good first step. They'll take time to learn about your business's needs to make sure you get the coverage you need at a price you can afford. Get a free, no-obligation quote in minutes.
Tips to Reduce Product Liability Insurance Costs
Reducing your insurance cost is not an exact science. Your actions won't give you a standard reduction of cost across all insurance companies. Each company evaluates its risk differently, which makes the amounts they quote you varied. However, there are some general actions you can take to give you a good chance of lowering your insurance costs.
Here are three tips that might help you reduce PLI costs:
Increase safety policies: Improve the safety in your business by implementing new safety policies to lower risk. This can lower the number of claims and the dollar amount you could potentially pay for safety-related claims.
Don't get more coverage than you need: Lowering your coverage limits to the amount you absolutely need will likely lower your monthly costs.
Have insurance companies compete for your business: Since PLI is so varied in its pricing, small business owners should work with a broker to have multiple insurance carriers compete to offer you the best policy at the best price.
Some people will tell you that not reporting smaller claims can help you save money on your PLI. But that can be a bad idea that will cost you in the end. Many PLI policies have reporting provisions that require business owners to report claims of any size in order to avoid the claim being declined later if it turns into something big.
Tips on Getting Product Liability Insurance
Once you've determined that you need PLI, it's important to do a bit more homework to be sure you get the right coverage at the right price. Fortunately, there are only a handful of key points to know before you buy PLI.
The four main points to know before you buy PLI include:
1. Get Quotes on General Liability Insurance
If you think you need PLI, you'll find this coverage in a commercial general liability (CGL) insurance policy. Therefore, when you are ready to begin shopping for rates for PLI, you'll need to get quotes on a CGL policy. If the policy doesn't provide adequate product liability coverage, you can make adjustments as necessary with the help of your insurance provider.
2. Know How Much Product Liability Coverage You Need
When shopping for small business insurance, it's important to get complete coverage but also be sure you're not buying too much coverage. Knowing what insurance coverages others in your industry are using might give you an indication that you are not covered in areas that you should be.
Remember that brokers may attempt to upsell you on insurance policies you don't need. Also, don't purchase limits that are too high and do not correspond with your actual exposure. You do not want to overpay for insurance you can get at a cheaper rate.
3. Look for Providers Offering Quick Access to Certificates of Insurance
Certificates of liability insurance (COI) are used to provide proof that you are covered by liability insurance. Many businesses need to provide their COI in a timely manner in order to win contracts or to start performing on a new contract. Therefore, it's important that you have quick access to a COI through your provider and that you can easily add other insureds to the COI when needed.
For PLI, COIs are typically shown throughout the supply chain. They are used when goods are manufactured, transported, stored in a warehouse or sold at a retail store. Before money exchanges hands in a transaction at any of these levels, COIs are typically exchanged to confirm insurance coverage is in place for the appropriate parties to protect against lawsuits that arise out of bodily injury or property damage caused by the product.
Related Types of Insurance You May Need
Even if PLI is the most important coverage your business needs, it's likely you'll need other forms of insurance for complete coverage. It's also important to know that PLI is not typically sold as a standalone policy. PLI is standard coverage included in a general liability insurance policy.
Here are other types of business insurance that small business owners may need:
Commercial General Liability Insurance
If you need PLI, you'll typically get this coverage through a CGL insurance policy. CGL covers third-party liability claims for bodily injury, property damage and related medical bills and legal costs. Common claims on a CGL policy include medical bills and lawsuits from trips and falls on your premises or work site.
Commercial Property Insurance
Most businesses need commercial property insurance, which covers businesses for property damage due to certain covered events, such as fire, theft, vandalism or natural disaster. Commercial property insurance helps business owners protect their valuable assets like an owned or leased building, tools, equipment, machinery or inventory.
Errors & Omissions Insurance
Errors & omissions (E&O) insurance, also known as professional liability insurance, protects business owners against liability claims arising from their mistakes or negligence. This differs from PLI in that E&O insurance covers legal and defense costs if you are sued by a client for damages caused by mistakes, such as bad advice. Product liability covers injury, illness or property damage caused by your product.
Workers' Compensation Insurance
Workers' compensation insurance covers your employees for work-related injuries or illnesses and is required in most states for business owners with one or more employees. Workers' comp can pay medical bills, wages from lost work time and may also cover injury or illness that occurs away from your business premises, provided the employee was doing something related to their job.
The Bottom Line
Product liability insurance offers important protection if your business manufactures, distributes, sells or repairs products. Product liability lawsuits have some of the largest judgments compared to other personal injury claims. Even defending against the suits successfully can be expensive. Because of this, having satisfactory PLI is often a prerequisite for working with partners throughout the supply chain.
Don't forget to check out The Hartford to get a free quote for liability insurance. Based on the information you provide, The Hartford will get you a customized insurance quote. Best of all, the process only takes about 10 minutes.