A certificate of insurance (aka COI, certificate of liability insurance, or ACORD Certificate) is a document that serves as proof of insurance coverage. These one-page, standardized certificates are governed by the Association for Cooperative Operations Research and Development (ACORD). Certificates will include your insurance coverage, limits of coverage, the certificate holder, authorized representative, and more.
You might need a certificate of liability insurance to enter into a contract or to apply for a professional license. Obviously, you'll need coverage to get a certificate. The Hartford offers a broad range of insurance packages to meet your specific coverage requirements. Complete a short online questionnaire to receive a quote in minutes.
Who Needs a Certificate of Liability Insurance
Every business owner that needs liability coverage will want to have a certificate of liability insurance and be prepared to present it at any time. Put simply, having the certificate of insurance makes yourself employable, especially by other business owners who typically won't hire you for a job before seeing evidence that you are covered by liability insurance.
A general liability insurance certificate is most commonly needed when you're about to enter into a contract and the contractor or prospective client requests to see your proof of insurance. However, there is a wide range of scenarios where you may need to supply a certificate of liability. Here are some examples when you need a certificate:
There are also times when your business may have reason to request proof of insurance from a partner. Perhaps you're partnering with a new subcontractor, manufacturer, or 3PL company and want to make sure that their small business insurance is sufficient to protect against mishaps. Requesting a COI in these situations is not uncommon and, indeed, prudent.
13 Certificate of Insurance Sections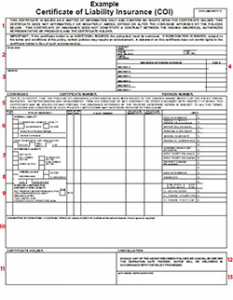 A certificate of insurance is a relatively simple, one-page document. There are 13 distinct sections that summarize the extent of your insurance coverage, along with the limits of each applicable coverage type and several other crucial pieces of information. You can download a free COI example with full explanations here, or read the table below for summaries the COI's sections.
Sections of a Certificate of Liability Insurance
| COI Section | COI Section Description |
| --- | --- |
| Disclaimer | Statement that explains that the COI is for information only and that it serves only as proof that Insured purchased the referenced policy |
| Producer | Insurance company, broker or agent representing the insured |
| Insured | Person or entity that purchased the insurance coverage in the COI |
| Insurers Affording Coverage | States the insurance companies that provide the coverage types listed in the COI |
| Coverages | Introductory paragraph explains that the coverage types listed below it have been purchased by the Insured |
| General Liability | Specifies coverage, the limits per occurrence and the aggregate limit, and number of claims, if applicable. |
| Automobile Liability | Specifies coverage and limits on any and all vehicles, including owned and non-owned. |
| Excess/Umbrella Liability | Liability coverage in addition to general liability coverage |
| Workers Compensation | Coverage for claims arising from injury to employees. Workers comp covers medical expenses and lost income for employees. |
| Description of Operations, Locations, Vehicles | Specifies any special operations, job sites, and additional insured |
| Certificate Holder | Person or business to which the certificate is issued |
| Cancellation | Notice of cancellation of the policy that insurance company will provide Certificate Holder |
| Authorized Representative | Insurance company, agent, or broker authorized to sign the Certificate |
You can download a free COI example with full explanations here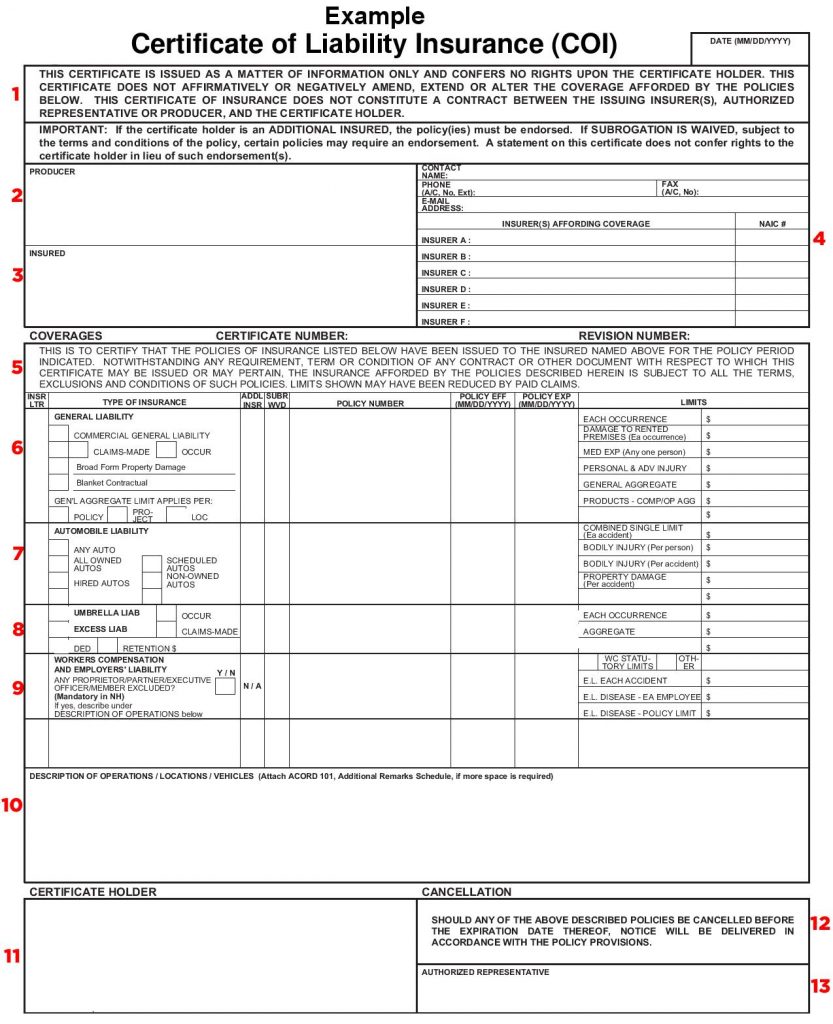 Many of the terms found in a general liability insurance certificate will be familiar to those who have a working knowledge of insurance. But some of the terminology may be new to you, especially if you've not had to review a COI before.
Here are the 13 sections of a COI with full explanations of those section's contents:
1. Disclaimer & Purpose of the COI
In this section of the certificate of insurance, there is a paragraph that serves as a disclaimer or statement of purpose: "This Certificate is issued as a matter of information only and confers no rights upon the Certificate Holder. This Certificate does not amend, extend or alter the coverage afforded by the policies below."
2. Producer
Found in the upper-left portion of the certificate of insurance, the Producer is usually the insurance company, or the agent or broker acting on behalf of the insurance agency, that prepared the Certificate. They are the entity or individual that provides the insurance coverage to the Insured.
3. Insured
The Insured is the individual or business that has purchased the insurance coverage for which the Certificate was created. If there is more than one insured entity listed on the Certificate the Insured is the primary insured and the others are Additional Insureds. Additional Insureds are notated in each coverage section, if applicable, and in the Description of Operations section.
4. Insurers Affording Coverage
This section of the certificate of insurance lists the insurance companies that issued the insurance coverages to the Insured. This section also includes the National Association of Insurance Commissioners (NAIC) number for each respective insurance company. It is important that the insurance companies have a good "A.M. Best Rating" which demonstrates financial strength and creditworthiness.
5. Coverages
A COI's Coverages section begins with a paragraph that explains the informational nature of the coverage types listed on the Certificate and that it merely demonstrates that the Insured has purchased the coverage types. In this section of the Certificate, there are several subsections that include the various types of insurance and respective limits that cover the Insured:
6. General Liability
General liability insurance is the primary coverage type that business owners need to protect against claims from bodily injury or property damage of a third party. This is the primary insurance type that is required when a request is made for a Certificate of Insurance.
7. Automotive Liability
Business owners that use commercial vehicles, whether rented or owned, will need this insurance coverage and it should be included on the Certificate, which will also show if coverage is for owned or non-owned vehicle or for any vehicle, regardless of ownership.
8. Excess/Umbrella Liability
Also known as excess liability coverage, umbrella insurance will provide additional liability coverage above the limits of primary insurance policies. For example, legal fees can be a major expense that exceeds the limits of general liability coverage and an umbrella policy can cover the excess liability.
9. Workers Compensation & Employers' Liability
If the insured has employees, they should have workers compensation insurance, which will cover an employee's medical expenses and lost income in the event of injury or illness on the job.
Each of the above insurance types also includes the limits for each respective coverage. Limits include those on a per occurrence basis and on aggregate (total coverage during the policy period, usually a calendar year). It's important to note that the Certificate does not reveal if any or all of the limits have been reached.
10. Description of Operations, Locations, Vehicles, & More
This section will describe the nature of the Insured's business, their locations or job sites or contract numbers, and it may list additional insured individuals or entities other than the Insured first named in the Certificate. It's important to note that additional insured listed here are not guaranteed by the Certificate to hold the listed coverage types.
11. Certificate Holder
The Certificate Holder is the individual, business or contractor that requested the Certificate of Insurance. The Certificate Holder is not the Insured but can be listed as an additional insured in the Other section of the Certificate.
According to Teri Beckman, Agent, Farm Bureau Financial Services:
"There is a big difference between being listed as a certificate holder and being listed as an additional insured. For example, if you are a vendor and require your suppliers to have general liability insurance, asking for a certificate of insurance is one way to get proof that the individual or business has current insurance. However, you may want to go one step further. You could ask to be listed as an additional insured (which costs money to the party you are requesting it from) that will release you and your insurance company from claims that are levied against that supplier. For example, if you are listed as an additional insured and then there is a claim that is levied against the supplier's business, their insurance company will represent them and you in the suit."
12. Cancellation
This section of the Certificate states: "Should any of the above described policies be cancelled before the expiration date thereof, the issuing insurer will endeavor to mail ___ days notice to the Certificate Holder." The notice also indemnifies the insurer from "obligation or liability" should the insurer not provide the notice to the Certificate Holder.
13. Authorized Representative
The Authorized Representative is the insurance company, or the agent or broker representing the insurance company, that is authorized to sign the Certificate. The Authorized Representative is signing and authorizing that the Insured, as well as the additional insured listed, is covered under the policies described in the Certificate.
Having a certificate of liability insurance can help protect you in a variety of circumstances. But understanding the terminology contained within it is almost as important as the certificate itself.
When to Get a General Liability Insurance Certificate
In general, business owners will need a certificate of insurance when they are about to enter into a contract that requires proof of insurance. If you're a business owner that works with the public, and especially if you work with contractors, subcontractors, vendors and other businesses, you should have a certificate of liability insurance.
According to Greg Szymanski, SPHR, CCP, CBP, Geonerco Management, LLC:
"A certificate of liability is usually requested by a business from a business wishing to provide some product or service to the requesting company. For example, Company A makes a product and wants to contract with Company B to ship the product. Company A requests certificate(s) of insurance from Company B to determine if Company B has sufficient insurance coverage to perform the shipping services. Usually the insurance requirements Company A wants are specified in a contract for the services Company B is providing. Certificates of insurance are requested through insurance companies, usually by brokers or insurance company reps. The COI is often emailed to authorized company reps in PDF format."
Small business owners are especially wise to carry an ACORD certificate of liability insurance as a proactive and professional measure. If and when you are asked for proof of insurance, you'll want to be prepared to present it. And even if the certificate is not requested, you'll look more professional when you provide it when bidding for a project.
How to Get a Certificate of Liability Insurance
The first step in getting a certificate of liability insurance is to get the liability insurance. After all, the certificate is simply the proof that you are covered. Obtaining the actual certificate should be the easiest part of the insurance process, but many insurance companies have an antiquated process. Most insurance companies can get you covered and a certificate on the same day.
Here are five simple steps you can take when a business asks you to provide a certificate of liability insurance:
Ask the requestor of the certificate what coverages and limits they need. For example, let's say they are a vendor and they require general liability insurance with limits of $1 million per occurrence and $5 million aggregate.
Call your insurance provider to confirm your coverage limits. If you need to increase the limit, you can adjust the policy or you may be able to purchase a rider that covers you for the duration of the contract. Your insurance agent can help with this process.
File paperwork required to make the coverage adjustment for the term you need and submit it, along with payment, to your insurance company.
Request the certificate of liability insurance listing the appropriate coverage amounts. The certificate will also include the vendor's information as the Certificate Holder, which will waive liability claims against them during an event.
Provide the certificate to the vendor and complete your contract with them.
Adding additional coverage to a policy to win a contract is a common occurrence. Your insurance provider can mail or email a copy of your certificate of insurance upon request to you or a third party via mail or email.
Bottom Line on ACORD Certificates
A COI provides proof of insurance and all essential information about the insurance your small business carries. Almost any business owner that works with the public and with other businesses should have a certificate of insurance (COI). Presenting the COI, even if it's not requested, demonstrates a high degree of professionalism and can help you win contracts and bids on projects. And when you receive a request for a COI, you'll be prepared.
Working with an insurance company that enables you to access a certificate of liability insurance wherever and whenever you need it is a must. The Hartford not only makes obtaining COI's quick and easy, but if you make changes to the policy (adding coverage or additional insured, etc.) those updates can easily be made available.