Remote deposit capture processes check deposits using electronic images instead of the actual paper checks. This digital-based facility is offered by both traditional and digital banks, allowing clients to process check deposits remotely using a computer or a smartphone and an internet connection. This banking feature allows your business a convenient, secure, and easy way to deposit checks you receive.
What Is Remote Deposit Capture?
Remote deposit capture is a technology-based banking service that allows depositors to process check deposits using electronic images without the need to send the original checks to the bank. Remote deposit capture is available widely to customers with a computer or a smart device and an internet connection. With this technology, you can deposit checks payable to your business anytime and anywhere without the need to go to the bank or an ATM.
Is Remote Deposit Capture Safe?
Remote deposit capture generally is safe and convenient to use. Banks have strong procedures that can help protect against potentially fraudulent transactions. Prior to using the remote deposit feature, it is important to ensure that you have downloaded the banking app directly from your bank's official website to prevent opening yourself up to potential phishing. Furthermore, it would be helpful to use a secured internet connection or virtual private network (VPN) when accessing your bank account online for additional protection.
How Does Remote Deposit Capture Work
Most banks and credit unions offer a remote deposit facility—ask your bank about this service when you open an account. To utilize this feature, you'll need to access your online banking mobile app or the bank's official website, then upload a scanned image of the check to be processed. You can also use your smartphone to take a photo of the check. As part of the process, you may also need to input some information about the transaction manually, such as the amount of the check you are depositing―similar to creating a deposit ticket.
The uploaded images must meet certain requirements, such as file size, clarity, and canvass size. It's best to keep your actual check after uploading the image until it is cleared or until the bank allows you to destroy it.
Once submitted, the bank processes your deposit, and the funds are added to your account. The clearing period of remote check deposits varies from bank to bank, but funds are usually available in the account within one to two business days. Some banks may occasionally place holding periods before the funds become available—this typically depends on the amount of the check.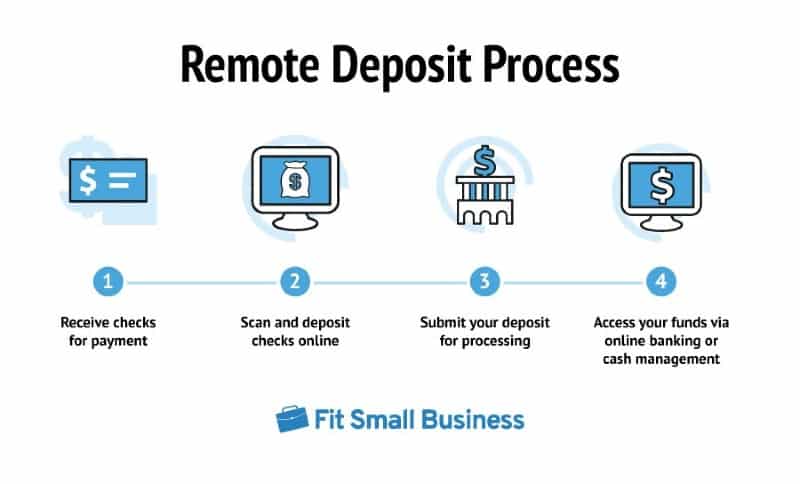 Types of Businesses That Benefit From Remote Deposit Capture
Remote deposit capture is beneficial to any small business owner that wants the convenience of being able to deposit checks remotely using a computer or a smartphone and an internet connection. This digital service is a convenient option for those who are always on the go and may not have time to go to a bank's physical branch to process their check deposits.
Remote deposit capture is best for the following types of businesses:
Businesses that use an online bank: Most businesses that use online banks prefer to do most of their banking transactions online because they don't want to go through the hassle of going to a physical branch. Therefore, they will find the remote deposit capture facility useful.
Businesses that are a distance from their bank: If your business location is far from your bank's physical branch, you will benefit from the remote deposit capture service because you won't have to travel to your bank to process your check deposits, which helps save on travel costs.
Businesses that need to make deposits outside of banking hours: Banking hours are usually the same time as business hours—when businesses are most likely busy. Using the remote deposit capture feature will help businesses manage their time better by allowing them to make deposits outside banking hours.
Business owners who often travel: If your business requires you to travel often, then you will benefit from remote deposit capture as it allows you to process your check transactions wherever you are as long as you have internet access.
Businesses that receive most of their payments electronically: Businesses that typically receive payments electronically would also benefit from remote deposit capture. With remote deposit capture, you can process the occasional paper check payments that you receive directly.
How to Access Remote Deposit Capture
Typically, you can access the remote deposit feature directly through your bank's official mobile app. Some apps allow customers to take a photo of their checks using their smartphones to process the deposit.
However, some businesses may need a check scanner device that is designed for this specific purpose. Business owners can connect the check scanner to their computers to process check deposits through a desktop application. Businesses with unique needs, such as those having to pay fees for each check, may want to outsource payments through the bank's treasury management or lockbox service.
Pros & Cons of Remote Deposit Capture
PROS

CONS

It's convenient as you can process check deposits anytime, anywhere
Risk of system and hardware failures
It saves time and the cost of going to the bank
Additional cost if check scanner is required
Clearing time is usually faster
May require additional holding period, depending on the bank
Bottom Line
Remote deposit capture streamlines the process of check deposits by eliminating the need for business owners to go to the bank to deposit checks. This check electronification offers convenience to both the financial institution and depositors, which saves time and minimizes overall cost. This service is best for clients who don't want to go through the hassle of depositing checks through a manual and conventional way.