A sexual harassment policy is a document prohibiting both kinds of sexual harassment in the workplace – quid pro quo and hostile work environment. It typically provides examples of prohibited workplace harassment, such as unwanted touching, teasing, or inappropriate jokes, and contains information on how to report a complaint.
This guide will show you how to create a sexual harassment policy, including a free template.
Please note that this article contains general information and we suggest consulting your own legal professional with specific questions about preventing sexual harassment and creating a policy in your workplace based on your city, state, and company size.
Free Sexual Harassment Policy Template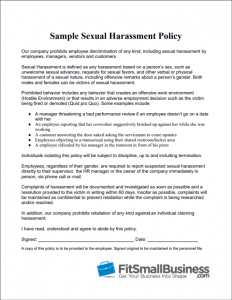 To download our sample Sexual Harassment policy as a fillable template:
Click here to download in Google docs
Click here to download PDF version
One way to ensure your business is in compliance with federal, state and local anti-discrimination and harassment laws is to purchase labor law posters with policy language from a vendor website like The Poster Compliance Center, BLR, or State & Federal Poster. Alternatively, a Professional Employment Organization (PEO) like ADP TotalSource offers easy access to policy templates and any workplace posters you need to help you stay compliant with labor laws.
Sexual Harassment Laws
Businesses with 15 or more employees fall under EEOC Title VII which prohibits discrimination in employment and hiring classes such race, color, sex, and age. Under federal law, these businesses are required to have a policy prohibiting sexual harassment and a process to investigate and resolve sexual harassment concerns.
Some states like Arizona, California, Hawaii, New Jersey, Maine and Washington DC have stricter requirements requiring employers with as few as 1 employee to comply with sexual harassment regulations. See table below to learn more about your state.
Even if you're not required to have a formal policy by state or federal law, we recommend small businesses protect themselves by formalizing a policy on sexual harassment.
What to Include in a Sexual Harassment Policy
As you can see in our template above, a sexual harassment policy should have two parts:
Policy Statement – to explain the policy and prohibited behavior.
Reporting Process – to ensure employees know who to contact.
1. Policy Statement
Below is an outline to consider for your policy statement:
Include a definition of sexual harassment
State that sexual harassment will not be tolerated
Describe prohibited behavior (use examples appropriate to your business)
Definition & Examples of Sexual Harassment
In defining sexual harassment as part of your policy, consider borrowing language similar to what the EEOC provides on their website. Although you are not required to word your policy in this exact way, it's a good practice to keep policy language similar to what is provided by the EEOC. In fact, many employers expand on this definition by adding their own examples within policy and training documents.
"It is unlawful to harass a person (an applicant or employee) because of that person's sex. Harassment can include "sexual harassment" or unwelcome sexual advances, requests for sexual favors, and other verbal or physical harassment of a sexual nature."
Although it is not required, some policies also include examples of the two types of harassment clarified by the EEOC:
Quid pro Quo
Hostile Work Environment
What is Quid pro Quo Harassment?
Quid pro Quo is a legal term meaning 'this for that.' It's the type of harassment that occurs when an employee is promised something work-related, such as a promotion, in exchange for sexual favors. The term 'Quid pro Quo' need not be included in your sexual harassment policy. Rather, we recommend including work-related examples that make sense to your employees.
An Expensive Example of Quid Pro Quo
As an HR professional, I witnessed first-hand repercussions when the married manager of a small business asked his administrative assistant on a date. She feared she would lose her job if she turned him down, so accepted and began an affair. When his wife / business partner discovered the relationship, the administrative assistant was immediately terminated and given a settlement to keep quiet. This business paid dearly, suffered a scandal in the community, lost good employees and the brand was tarnished. Had she not accepted the settlement and chosen to sue, how much worse might the damages have been?
What is a Hostile Work Environment?
This type of harassment is related to the environment itself, and occurs when harassment is so intense/frequent that it materially alters workplace conditions. It happens when behavior such as sexual compliments, inappropriate jokes, demeaning pictures, or unwanted physical touching or even interference, such as blocking someone's path, cause stress or make it difficult to do one's job.
For a legal interpretation, review the article, Sexual Harassment, The Employer's Role in Prevention, from the American Bar Association (ABA).
Some Examples of Hostile Work Environment
Below are examples from my own experience investigating harassment claims:
A male employee said his co-worker deliberately "grabbed his junk" while working
A female customer answered the door naked asking the serviceman to come upstairs
Male employees objected to a transsexual using their shared restroom/locker area
A male employee was ridiculed by his manager in the restroom in front of his peers
Not All Harassment is Male Against Female
The examples above also demonstrate that individuals of either sex can be victims of harassment. In fact, recent cases have shown that courts may view the law not only from the perspective of a 'reasonable person', but in the case of harassment against women, they may interpret the law from a female perspective. They may ask whether a 'reasonable woman' would consider it harassment. And California, often first to adopt stricter legislation, also protects individuals with gender-identity issues, such as cross dressers. You may want to include examples in your policy and training illustrating that both males and females can be victims of harassment.
2. Reporting Process
As our sample sexual harassment policy template illustrates, your reporting process can be simple:
List by job title who an employee should contact to make a complaint
Do you want complaints to come to you or to your HR representative?
(An HR best practice is to have employees bring the concerns to their immediate supervisor either in person or in writing, unless the supervisor is the alleged harasser, in which case the employee would need to take their complaint up a level. The supervisor would then report it to your HR representative, if there is one. Otherwise, the supervisor should notify you right away.)
Is a phone call sufficient, or do you want employees to fill out a complaint form? (In a small business, a formal 'complaint' form is rarely necessary, and may prove to be a barrier for employees without access to the office or a computer.)
Although federal law allows employees up to one year to report a claim, we recommend that you encourage your employees to report harassment concerns immediately. In addition, if the harassment issue can be investigated, documented and resolved quickly, it's best to do so. An HR, payroll, or PEO vendor such as Gusto or ADP TotalSource often has templates you can use to report, investigate, and document employee claims.
Describe how complaints are to be investigated
Will you investigate the complaint? (A best practice is to have a neutral party, typically an HR representative, interview the victim. Next, the alleged harasser should be allowed to share his/her side of the story.)
Gather as much detail as possible. Ask who, what, where, when, why questions. Also, ask whether there were witnesses. (Office video cameras, or other data, such as email threads, could also be reviewed.)
Findings, including any disciplinary action against the 'alleged harasser' should be documented in the employee's personnel folder. (For example, a harasser may be asked to apologize, or may be subject to discipline up to and including termination based on the seriousness of the offense.)
To protect your business, you may also wish to seek advice of your attorney.
State that individuals making a complaint will not be retaliated against
Retaliation is a form of revenge. The EEOC says, " it is unlawful to retaliate against employees for: filing or being a witness in an EEO charge, complaint, investigation, or lawsuit, or for communicating with a supervisor or manager about employment discrimination, including harassment."
Document a time frame for resolution
Although all cases are different, a best practice is to give yourself 30-60 days to fully investigate the claim.
It's important that the complaint be kept confidential to protect both/all parties.
If aware of the investigation, the alleged harasser should be reminded that retaliation will not be allowed and that the investigation is to remain confidential.
How To Know When Sexual Harassment is Occurring
After reading the reporting process and harassment examples above you may be asking yourself, "how would I know if this type of behavior is happening?" Thus, you may have uncovered the biggest challenge business owners face in preventing sexual harassment, even with a policy. Business owners and HR managers may not be aware of harassment… unless they create both a policy and a culture that allows victims to come forth and report their concerns.
Preventing Sexual Harassment
In fact, all of the examples above were considered harassment and addressed effectively so that lawsuits were avoided. Employees were allowed to report their concerns without fear of retaliation. Your business can take similar steps to prevent harassment. In addition to having a written policy, you will want to:
Take harassment complaints seriously
Address each concern, being willing to discipline and/or terminate a harasser
Review and update your non-discrimination and/or sexual harassment policy
Train new hires and existing staff to recognize and prevent sexual harassment at work
See our comprehensive sexual harassment training guide for best practices on training your employees.
According to the ABA article referenced above: "under case law, an employer fulfills its obligation if it takes all reasonable steps to prevent harassment before it occurs, and takes effective steps to remedy harassment after it takes place."
Why You Should Care About Documenting a Sexual Harassment Policy
In addition to potential labor law violations and fines, a claim of sexual harassment can cost your business thousand of dollars and damage your reputation or company brand. Take for example a restaurateur I worked with whose female servers sued claiming that cooks regularly yelled profanities and insults creating a hostile work environment. The judge threw out the case, noting that management had allowed all workers to get away with using 'potty mouth' language, but the business nonetheless spent over $80,000 defending the case! That restaurant owner now provides a sexual harassment policy and training to all employees.
Implementing Your Sexual Harassment Policy
A sexual harassment policy can be added to an existing non-discrimination policy, or included in the section of your existing employee handbook that covers harassment laws.
The easiest way to demonstrate compliance is to ask your employees to sign and date that they have reviewed the policy. If you use a PEO like JustWorks, you can have documents e-signed and e-filed for reference.
Your policy can also be posted on a wall (as required in some states like California), printed out as a stand-alone document, or covered as part of new hire onboarding. A best practice we recommend is that once your sexual harassment policy is developed, post it in the employee breakroom or main office area and provide training to all employees to ensure they understand it.
Sexual Harassment Policy Question & Answers
Below are some common questions you may have when creating a sexual harassment policy and/or preparing to conduct training. Our responses are based on legal summaries, EEOC interpretation and HR best practices.
Question: Should I include a statement discouraging individuals from making false claims?
Answer: No. We do not recommend including this kind of language in your policy for fear of discouraging the reporting of valid claims. (Your employee handbook should already prohibit the breaking of any federal, state or local laws – which would most likely include 'slander'.)
Question: My spouse and I are in business together. Should we not display affection at work?
Answer: Maybe. Small businesses often employ family members and related business partners. Customary greetings like kissing your spouse goodbye would not typically create a hostile environment. However, be aware of how employees feel about your interactions at work, and err on the cautious side.
Question: Should my policy specifically prohibit employees from dating co-workers?
Answer: No. A review of case law by ABA determined: "While it is impossible to avoid friendships and relationships between co-workers, vendors and customers, it is imperative that such relationships do not result in creating a hostile work environment for other employees of the company." We also recommend, in order to avoid potential Quid pro Quo issues, that "employee couples" do not have a reporting relationship such as manager-employee.
Question: What about a stray comment or compliment?
Answer: It depends. Just because comments are meant as compliments, they may still be considered harassment. While a stray comment or joke is typically not considered harassment, we encourage business owners to discourage all inappropriate jokes or sexual compliments in the workplace.
Question: What about a touchy-feely business like a spa—should we prohibit all touching in our policy?
Answer: It depends. You know your employees and business environment best. It may be necessary to discuss your policy with employees as a group to get a feel for what they would consider appropriate and inappropriate behavior at work. For example, female employees in your spa may welcome shoulder rubs from their peers, whereas that type of behavior may be completely inappropriate in a professional office environment.
State Sexual Harassment Laws – Summary Table
Here is a summary of state sexual harassment laws that are stricter than federal harassment laws. For more information, contact your state EEOC office or other agency in your state that handles discrimination complaints.
| State | Notable Differences From Federal Law |
| --- | --- |
| Alaska | Statutes apply to all employers except social clubs and fraternal, charitable, educational, or religious associations or corporations, as long as the corporation or association is not-for-profit. Policy must be posted. See State of Alaska Posters. |
| Arizona | Statute applies to businesses with 1 or more employee. |
| California | The California Fair Employment and Housing Act FEHA provides additional employee protections. Statutes apply to all employers regardless of size. A 2-hour supervisory training must be provided if more than 50 employees. Policy must be posted. |
| Colorado | Statutes apply to all employers, except religious organizations. See Colorado Department of Regulatory Agencies Employment Discrimination. |
| Connecticut | Statutes apply to businesses with 3 or more employees. A 2-hour supervisory training must be provided within 6 months, if more than 50 employees. See Connecticut Discrimination Employment Practices Act. |
| Delaware | Statutes apply to businesses with 4 or more employees. |
| District of Columbia | Statutes apply to all employers regardless of size. |
| Hawaii | Statutes apply to all employers and training is recommended. See Hawaii Civil Rights Commission Administrative Rules 4 |
| Idaho | Statutes apply to businesses with 5 or more employees. |
| Indiana | Statutes apply to businesses with 6 or more employees. |
| Iowa | Statutes apply to businesses with 4 or more employees. |
| Kansas | Statutes apply to businesses with 4 or more employees. |
| Kentucky | Statutes apply to businesses with 6 or more employees. |
| Maine | Statutes apply to all employers, and training is required within one year of hire for staff in businesses with 15 or more employees. Length of training is not specified. See Maine Title 26. |
| Massachusetts | Statutes apply to businesses with 6 or more employees. |
| Michigan | Statutes apply to all employers, and agents of an employer. See Elliott Larsen Civil Rights Act. |
| Minnesota | Statutes apply to all employers regardless of size. Includes Gender Identity. |
| Missouri | Statutes apply to businesses with 6 or more employees. |
| Montana | Statutes apply to all employers regardless of size. |
| New Hampshire | Statutes apply to businesses with 6 or more employees. |
| New Jersey | Statute applies to businesses with 1 or more employees. |
| New Mexico | Statutes apply to businesses with 4 or more employees. Gender Identity applies to businesses with 15 or more employees. |
| New York | Statutes apply to businesses with 4 or more employees. Includes Gender Identity. |
| North Dakota | Statutes apply to all employers regardless of size. |
| Ohio | Statutes apply to businesses with 4 or more employees. |
| Oregon | Statutes apply to all employers regardless of size. |
| Pennsylvania | Statutes apply to businesses with 4 or more employees. |
| South Dakota | Statutes apply to all employers regardless of size. See Sexual Harassment brochure in Publications. |
| Tennessee | Statutes apply to businesses with 8 or more employees. |
| Virginia | Statutes apply to businesses with 4 or more employees. |
| Washington | Statutes apply to businesses with 8 or more employees. Protects Gender Identity. See Human Rights Commission Washington Law Against Discrimination WLAD. |
| West Virginia | Statutes apply to businesses with 12 or more employees. |
| Wisconsin | Statutes apply to all employers regardless of size. |
| Wyoming | Statutes apply for businesses with 2 or more employees. |
Bottom Line: Sexual Harassment Policy
As a small business owner or HR manager, you lead by example in not tolerating discrimination or harassment of any kind, and by taking all complaints seriously. Culture is created top down in a small business, based on the behavior and expectations set by the business owner and managers.
Creating a policy is key to ensuring your business is compliant with non-discrimination laws. The free template, tools, and suggestions in this article can prevent sexual harassment in your workplace and protect your business from unwanted claims that cost money and damage your reputation.
Once you implement your harassment policy, the next step is to train your employees on recognizing sexual harassment and resolving complaints.