Progressive Discipline Policy Steps & Tips (+ Free Template)
Progressive discipline is a formal company process of addressing and correcting employee-related performance and behavior issues with increasing severity. Small businesses need to have clear progressive discipline policies to ensure employees receive equal treatment and correct substandard performance that can adversely affect morale and productivity.
The use of a progressive discipline policy provides your company a fair way to manage your team while documenting your disciplinary steps (from verbal warning up through termination) for employees who do not meet your standards. We've provided a free progressive discipline policy template that you can use for your business.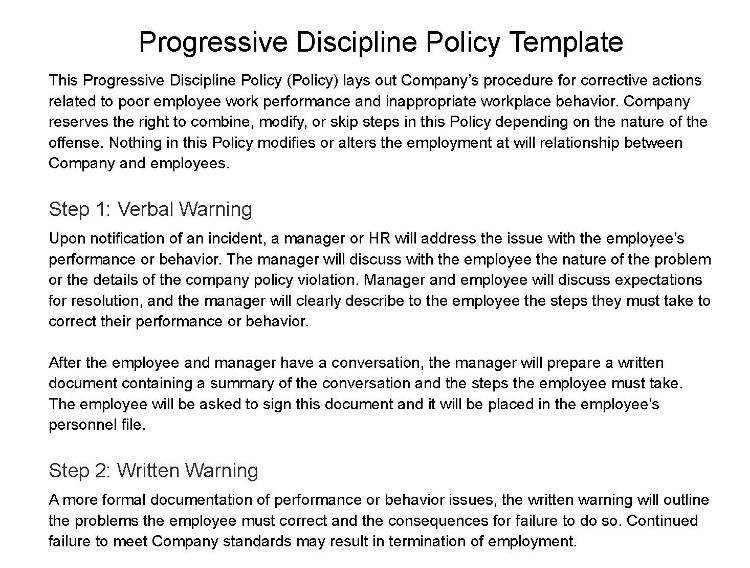 Thank you for downloading!
Quick Tip:
For a low-cost payroll provider that we find best for small businesses, consider Gusto.
Gusto provides HR labor law compliance. They also serve as an insurance provider and can offer health benefits and 401(k) savings plans for your employees if you wish to add those.
Click here to start a free trial.
Key Steps in a Progressive Discipline Policy
To discipline an employee for poor work performance or inappropriate workplace behavior, you must explain what constitutes unacceptable behavior. While some behavior is illegal (sexual harassment, racial discrimination), other behaviors can be unique to your organization. You need to define these and communicate them clearly in your handbook.
It is also imperative that employees understand the consequences of poor work performance. Starting with their job description, you need to ensure that every employee understands their goals and how they will be held accountable.
Verbal Warning
The first step in a progressive discipline policy is to have a discussion with the employee about their poor performance or behavior. I recommend addressing these concerns in real time. Discussions with the employee during their next formal performance review are fine, but issues that can be resolved immediately should be handled immediately. Managers with stellar people management skills can handle these tense situations with grace.
If you give a verbal warning, you don't simply tell the employee to change or leave. Your goal is to provide direction to the employee to help them improve. Managers need to discuss the issue with employees and ask how they can help them resolve the issue. It is also crucial for the manager to define clearly what steps the employee must take to improve their performance or behavior.
For example, if an employee has been late three days in one week, the manager should address the tardiness with the employee and ask how they can help. Managers should avoid asking about medical or family issues but ask why the employee is tardy. Together, the manager and employee can work to address and correct the problem.
While this first piece of a progressive discipline policy is a verbal warning, you must still document the discussion and put a copy in the employee's personnel file. The employee should receive a copy of the document and you should request they sign it to acknowledge its contents.
Written Warning
When an employee fails to correct a problem even after being given reasonable time to do so, the next step would be to issue a written warning. When an employee receives a written warning, they are informed that if they fail to resolve the problems, further disciplinary action will be imposed.
Prepare a written warning before having a conversation with the employee. In the formal written warning, clearly state what previous steps have been taken to help the employee improve and how their performance or behavior is still sub-par.
Sticking with the tardy example, if an employee does not have a valid or protected reason for being tardy and continues to arrive late to work, taking this next step is the right move. In the written warning, state the consequences for failure to correct the behavior.
Once you've written the document, have a discussion with the employee. Never simply hand an employee a written warning without giving them an opportunity to have a discussion with their manager, HR, or both. As long as you show the employee that you are there to help them and support them, even a formal discussion doesn't need to be tense or uncomfortable.
During this step, you may also decide to place the employee on a performance improvement plan (PIP). If the employee fails to comply with the PIP, your company will have legal support should you need to terminate the employee as a result.
Final Written Warning
The next step in your progressive discipline policy is a final written warning. In the event that an employee has not made a substantial improvement in performance or behavior, a final written warning represents the employee's last chance to do so.
Not every employee will meet your stated goals and standards. Though this can be frustrating, it's better to know when an employee isn't a good fit so you can make the appropriate changes. As long as you gave the employee every chance to improve, you know you did everything you could and have a valid business reason to terminate the employee.
Excessive tardiness can be a legitimate business reason to give an employee a final written warning. You have schedules for your employees for a reason, and if an employee is routinely late, that has a snowball effect on the rest of your team and can demoralize other employees when they have to pick up the slack.
Prepare the final written warning before having a discussion with the employee. Include brief statements about the steps taken to this point and why this last step is necessary. Once written, speak with your employee and stress to them the seriousness of the issue. Be explicitly clear that if you have another discussion with them, it could be to terminate them.
Termination
The ultimate step in a progressive discipline policy is termination. Employees should be terminated if they have been given adequate warnings and have been provided with necessary support but still aren't able to improve their performance or behavior.
In every instance, consultation with HR and maybe even an employment lawyer should occur. An employee termination has legal hurdles, and you want to make sure you get everything right.
While it's never easy to terminate an employee, it's ultimately in everyone's best interest. Your company will benefit from replacing the employee with a more effective worker. You will show your existing employees that you take action when necessary. The terminated employee will see the consequences of their actions and hopefully make adjustments that help them become successful.
Appeal
At every step in the progressive discipline process, an employee will have the right to appeal. During discussions with their manager or HR, they can rebut the information used to issue the disciplinary action. An employee may also provide written responses within a reasonable time.
The purpose of an appeal is to give an employee the opportunity to inform their employer of contributing circumstances to their poor performance or inappropriate behavior. Some of these circumstances may include sensitive and protected information. Your employee who keeps showing up late, for example, may have a sleep disorder that requires reasonable accommodation, including an adjustment in their scheduled start time. Always seek advice from legal counsel when issues like this arise.
In every situation, you must let employees be heard. You must document your discussions with an employee even if you dismiss their reasons as excuses. This will show that you gave them a chance to explain their performance or behavior and ample opportunity to take corrective action.
Tips to Implement Your Policy
The key to an effective progressive discipline policy, a crucial component of employee management, is to remember that the intent is not punishment but rather assistance and support. Supporting and guiding your employees to improve their performance and workplace behaviors will lead to better alignment with your company's culture and expectations.
You must also ensure that your policy clearly communicates your intentions. By not doing so, you could end up with employees who think that you're just trying to fire them or are holding them to unreasonable expectations.
Make sure the policy is readily accessible to employees. Including the policy in your handbook and sending out updates to the whole company will ensure that everyone is on the same page.
In rare circumstances, you can skip steps. If an employee's behavior is especially egregious, you can go right to termination. Just make sure that you have properly documented the incidents, your actions, and your reason for immediate termination.
Some actions which may warrant immediate termination:
Theft
Sexual harassment
Workplace violence
Illegal drug use
Assault
Be consistent. Do not unfairly single out employees or put them through this process because you dislike them. Employees will notice, and your organization will get a reputation for unfair treatment. It could also lead to costly employee discrimination lawsuits.
For more best practices, check out our tips on employee discipline.
Bottom Line
When your employees fall below your standards, a progressive discipline policy provides your managers and HR with a process to follow. Having a clear policy allows you to discipline employees fairly and consistently, while remaining in compliance with all applicable labor laws. Your progressive discipline policy ultimately elevates your employees and your organization to new heights.