Business casual is an "in-between" office dress code that's less formal than business professional but still "business" enough to front-face with clients and executives. Think of it more as dressing down a business professional outfit—not dressing up a casual outfit. It's inherently subjective, which is why many businesses choose to create a business casual dress code.
To give you an idea, here's a quick overview of what is typically considered business casual attire:
PROS

CONS

Long- or short-sleeved button-downs, polos
Shirts without a collar (unless paired with a jacket or blazer)
Smart pants/trousers (dark jeans are OK if paired with a dressier top or blazer)
Jeans/denim pants
Non-sheer blouses
T-shirts
Pencil-cut skirts
Leggings
Business Casual Examples
The best way to explain how you wish your company to define business casual is by providing concrete examples of what you can wear. This way, there's no ambiguity, and your employees understand exactly what you expect. While the specifics for your business or industry will vary, here are some acceptable business casual attire examples to consider.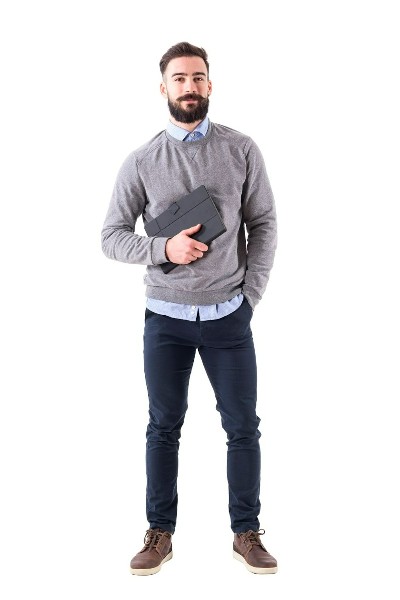 ---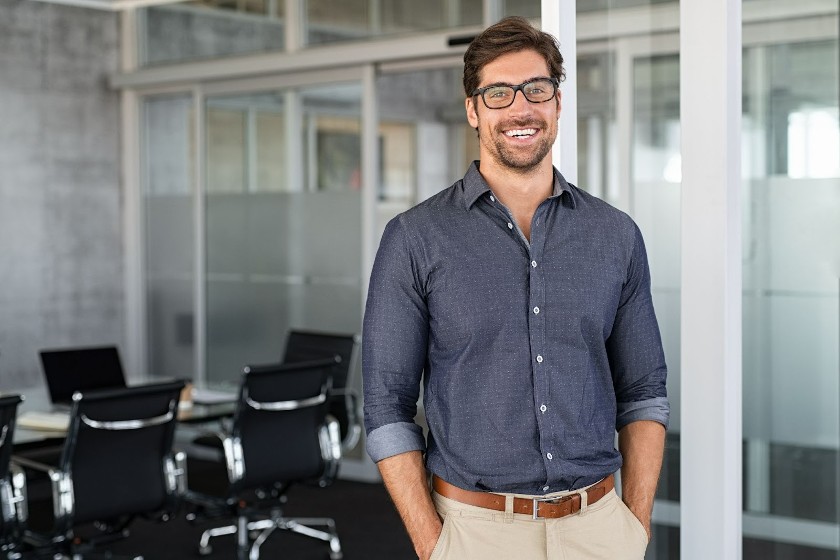 ---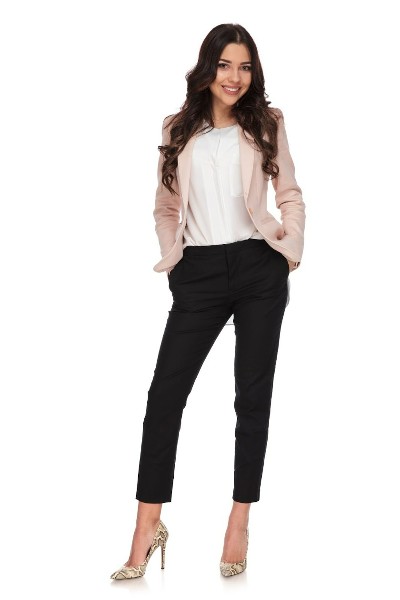 ---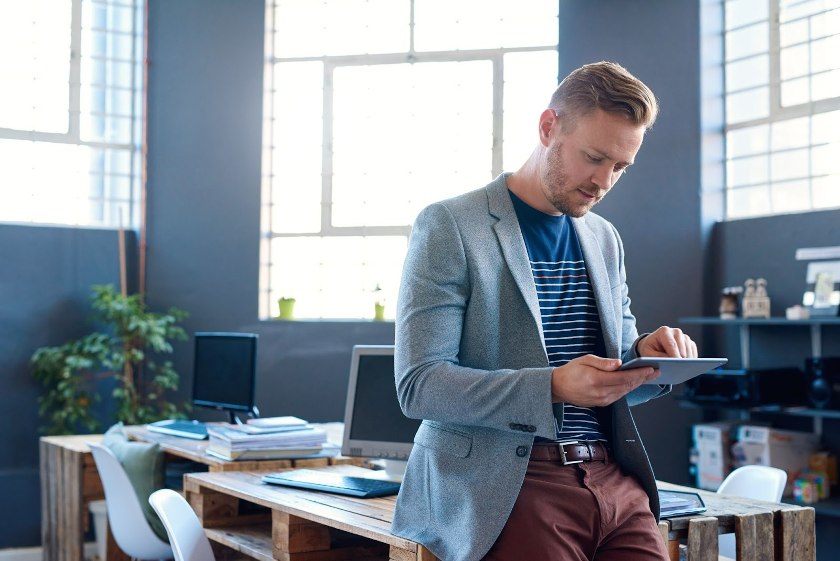 ---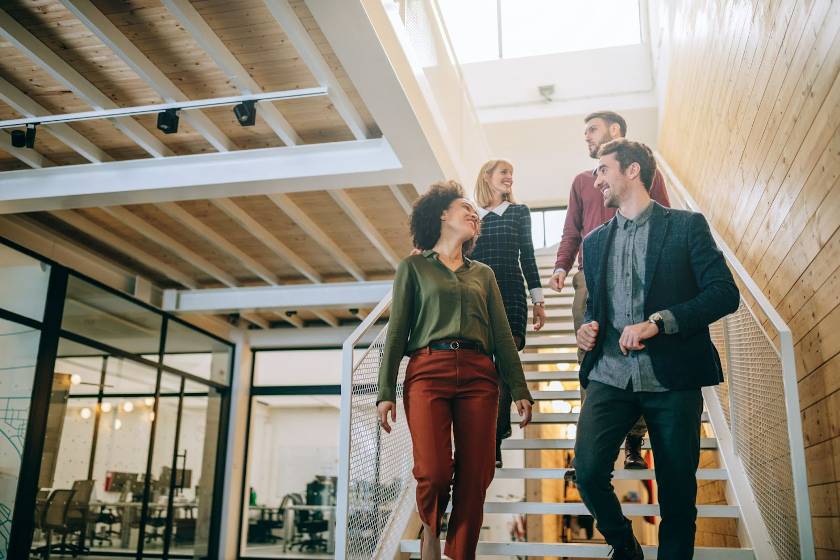 ---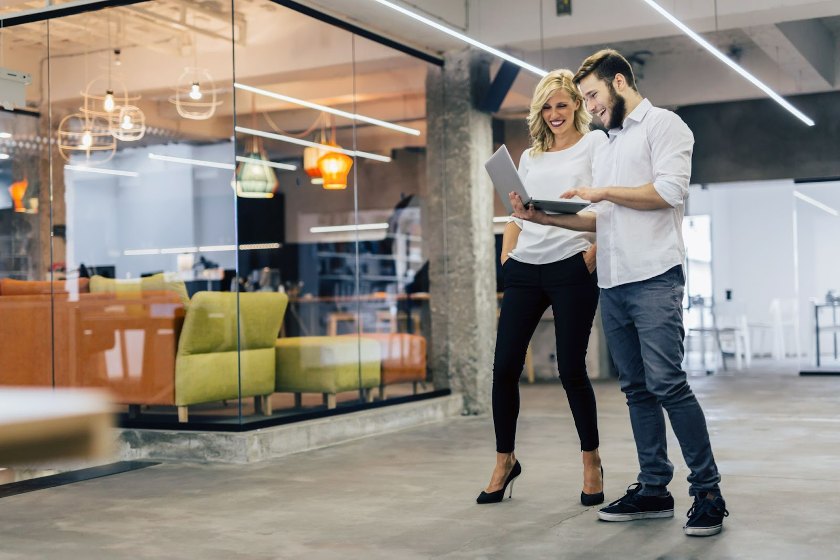 ---
Industry Differences
Different industries often define business casual in various ways. While each company may choose to define its dress code as they see fit, companies in similar industries often have similar definitions.
Here are some quick examples.
| Industry | Business Casual Definition |
| --- | --- |
| Education | Short-sleeved shirts with collars, casual pants (not jeans), casual shoes (not sneakers) |
| Finance/Legal | Suits without a tie, blouse without a blazer, dark colors for tops and bottoms, dress shoes—generally closer to business professional attire |
| Medical | Casual pants (not jeans), button-up or short-sleeved shirts, sneakers are usually acceptable since workers are moving frequently |
| Service | Usually a jacket, blazer, or sweater over a button-up or short-sleeved shirt, dark pants (jeans are sometimes appropriate), dark shoes (comfort is key) |
| Tech | Jeans and short sleeve shirts are common in tech, as are sneakers—usually closer to casual attire |
Tips for Creating a Business Casual Dress Code Policy
As the employer, it's your job to set the tone for your company's dress code. When creating a business casual dress code policy, be as specific as possible in defining exactly what that means—give a definition, provide picture examples, and explain some do's and don'ts.
Here are some other things that you should keep in mind:
Make your dress code fit your company culture.
Leave no room for ambiguity about what business casual means at your company.
Don't make it so restrictive that it will require employees to purchase an entirely new wardrobe.
Communicate the policy with your employees, especially when you have addendums in the future.
The Importance of Defining Business Casual
While most people have a general idea of what to wear, you may have something different in mind. If you don't define it or set rules about it, your employees won't know what you mean, and you may end up with employees dressed quite differently than you expect.
Have you ever received a wedding invitation stating the dress code was black tie optional? Does that mean you have to wear formal clothes, dark clothes, anything you want because it's "optional?" Don't confuse your employees in the same way.
Business casual is an evolving concept. A generation or two in the past, it might have been a business suit sans tie or slacks and a blouse but no sweater or blazer.
Today, however, business casual is much different. In most office environments, business casual means something more … well, casual.
Bottom Line
A business casual dress code makes many employees happy that they don't have to wear more professional clothing. But unless you specifically define what it means for your company, you may leave your employees in the dark about what you expect. Be clear about what business casual means and your employees will enjoy a relaxed and comfortable atmosphere.