Colgate University, Bachelor of Arts, English Language and Literature
Restaurants
Retail
POS
Payments
More than a decade in the retail and restaurant industry
POS & Payment software review expert
Published author
Mary King is an expert retail and restaurant contributor at Fit Small Business. With more than a decade of hospitality experience, Mary has worked with some of the best restaurants in the world, and some of the most forward-thinking hospitality programs in the country. Mary's firsthand operational experience ranges from highly specialized small businesses like food trucks and coffee shops to the grand scale of Michelin-starred restaurants and cutting edge co-working spaces.




Mary also blogs about cooking and hospitality. In her spare time, she is working on a novel set in the world of restaurants.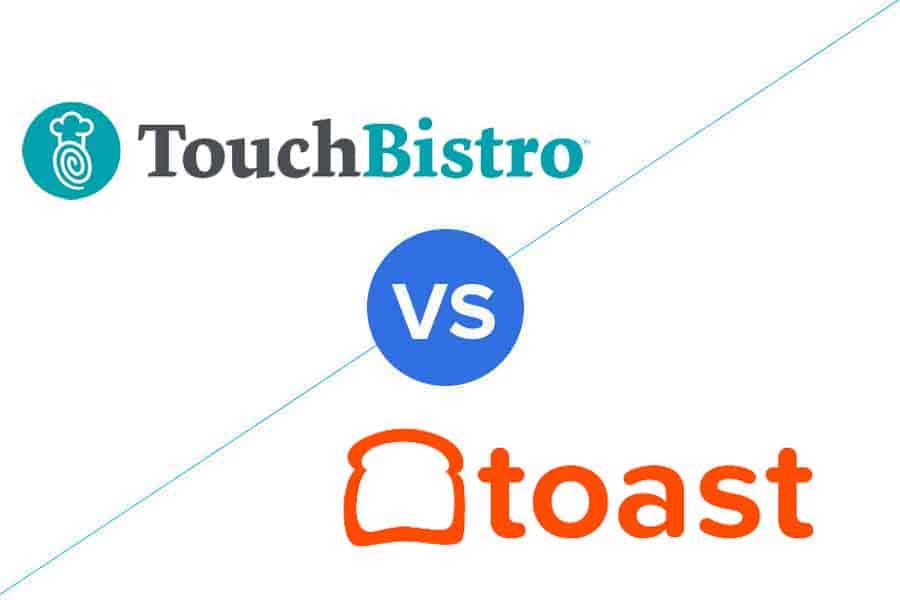 December 6, 2022
TouchBistro vs Toast: Price, Features & What's Best in 2023
Toast and TouchBistro are excellent point-of-sale (POS) systems designed especially for restaurants. Our POS experts score these systems multiple times a year across dozens of restaurant-specific criteria for our restaurant POS rankings. Both are great choices, but TouchBistro tends to be a more templatized, user-friendly system while Toast is more customizable and offers much broader features that micro-operations (like food trucks) may not use. In a nutshell: : Best for smaller operations, restaurants with simple inventories, and those preferring iPads : Best for growing restaurants of all types, especially those wanting expansive online ordering, delivery, and workforce management tools TouchBistro vs Toast at a Glance *Toast's Starter Plan comes with a higher payment processing fee. **User scores are averaged from multiple third-party user review sites. Alternatives to TouchBistro & Toast If you want a different combination of hardware and payment options—an iPad POS with additional payment processing options or a smaller-scale POS with non-iPad hardware—the systems below will be a better fit for you. See fullscreen table × All three of the systems listed above operate on iPads, though Square for Restaurants also uses Square-designed registers and terminals. If you feel that either Toast or TouchBistro will be your best fit, though, read on to see how they performed across our scoring criteria. Let's start with the most basic difference: each system's price. TouchBistro vs Toast Pricing TouchBistro outscored Toast due to more favorable contract terms, earning a 3 out of 5 in this category to Toast's 2 out of 5. TouchBistro's contracts are only one year (Toast's requires two years), and it supports three payment processors (Toast users are locked into Toast Payments). But if you look past Toast's contract terms, the system may be less expensive for you. Toast offers a free baseline POS subscription while TouchBistro doesn't even offer a free trial. Toast users also have several options to pay as they go for hardware and additional software. * Custom quotes are available, with potentially lower per-terminal fees. TouchBistro's add-on pricing is easy to understand. Its fees are monthly flat rate prices, so it is easy to budget for. And they clearly list most of their add-on fees on their website. Toast users have the option to pay for add-ons as they go with higher payment processing fees, or to opt for monthly flat-rate pricing. Its number of pricing options can make budgeting a little confusing; it can be hard to tell which arrangement is better for your business. Though if you do a high sales volume, the upfront pricing is a better deal in the long run. Still, it's hard to argue with $0 upfront. Hardware TouchBistro and Toast operate on very different hardware. Toast operates on industry-grade, Toast-designed touch-screen tablets and peripherals. TouchBistro, on the other hand, relies on iPads for POS terminals, KDS screens, customer-facing displays, and tableside order and payment devices. Toast offers a wider range of hardware options, though. If you want self-service kiosks and digital ordering displays, Toast is the only option. Toast offers easy payment plans and pay-as-you-go options for up to two terminals. TouchBistro requires custom quotes for its hardware, with no pay-as-you-go options. TouchBistro also does not support self-ordering kiosks. So, if kiosks are a must-have, Toast is a better bet. Payments TouchBistro has the edge over Toast for payment processing. TouchBistro has interchange-plus payment processing fees and lets you choose your own payment processor from the built-in TB Payments, TSYS, or Square. So, you can shop for the best rates, which may save you money. Toast only supports the built-in Toast Payments, with rates starting at 2.49% + 15 cents per transaction for customers to pay upfront for hardware. High-volume restaurants can also request a custom rate quote, which will likely be lower. Though, with Toast, you can pay for additional software and hardware purchases by agreeing to higher processing fees, which can help small restaurants get advanced tools with no money down. TouchBistro vs Toast General Features Toast scored higher than TouchBistro in this category because it includes more customizable reports and much more expansive workforce management tools. TouchBistro's reports are mostly templatized, and some are only available on the POS, the back-office dashboard, or as PDFs. TouchBistro also acts as a time clock to record your employees' hours, but it falls well short of Toast's full-spectrum employee management, which includes automated tip pool calculations, scheduling, and even onboarding paperwork. TouchBistro includes real-time, ingredient-level inventory tracking in the baseline POS. Toast no longer includes this. Toast users have the option to add on the xtraCHEF by Toast app to their POS for a custom-quoted fee. This is where things get a little nuanced; if you plan to track your inventory in real time, Toast's inventory tool is functionally a lot stronger and easier to use. But, it costs more. TouchBistro includes ingredient-level inventory, but the module needs a lot of manual updating to stay current and is a little clunky to use. TouchBistro vs Toast Niche POS Features Toast has many, many more advanced features than TouchBistro. Most of them are optional add-ons and come with additional monthly fees (or higher transaction fees). If you need automated tip pool management, a system that alerts you of local labor law conflicts when you are creating employee schedules, Toast is your best option. If the advanced tool you need is built-in reservations, you may prefer TouchBistro. When it comes to online ordering, TouchBistro and Toast are closely aligned—in fact, both make it to our list of the top delivery POS systems. Both have an online ordering system that handles pickup or delivery and lets people order from your website or social media pages. With either system, you can add wait times to throttle orders, so your kitchen staff doesn't get overwhelmed. The information integrates with your marketing and loyalty programs (if you have them). Though Toast's driver management tools are more robust, with map-based driver dispatch. Both systems integrate with delivery systems through third-party apps. Toast has 11 integrations. Some are direct, such as Grubhub or DoorDash, and some are aggregators, like ItsaCheckmate. TouchBistro, meanwhile, only uses the aggregators Deliverect and Ordermark, which come with extra monthly fees. TouchBistro vs Toast Ease of Use If you want an easy-to-use POS software for your restaurant, you can't go wrong with either solution. Both have excellent user interfaces for your waitstaff and administrators. Toast may take longer to set up than TouchBistro, but that depends on the complexity of your menu and inventory. *We looked to third-party-user-review sites like Capterra, taking into account only the scores in the ease-of-use category. Real-world users give these systems a tie when looking at ease of use. Both earned a 4.2 out of 5 just on customer support. This is an excellent score for SaaS in general and above average for restaurant POS systems. We give kudos to both Toast and TouchBistro for having 24/7 year-round live help via phone, email, or online chat. Their help sections are thorough and include illustrations and videos. Both services go beyond how to use the software with white papers on many aspects of restaurant management. Toast provides some additional help, such as with online setup. TouchBistro offers personal help remotely, while Toast has in-person assistance and training available for a fee. Toast also offers many training modules in Spanish and English. TouchBistro vs Toast Expert Score Both TouchBistro and Toast are excellent, user-friendly POS systems. In general, though, TouchBistro is better for simpler restaurant operations. Those with a small footprint, like a food truck or a high-volume counter-service restaurant, will love this iPad-based system. Toast offers a ton of standout features for every possible restaurant type. The four distinct subscription options ensure that large operations have everything they need, while small guys don't pay for tools they won't use. Are you still undecided? If neither of these systems seems like a fit and you're still looking for the best POS for your restaurant, take the quiz below to see our expert recommendation. You won't need to enter any personal information, and your results will appear on this page: Methodology We grade these systems multiple times a year—as we do with all restaurant POS systems—across more than 20 criteria that are important to small, independent restaurants. Click through below to see the full criteria. Bottom Line When it comes to Toast vs TouchBistro, Toast is overall a more complete software and better suited for larger restaurants, like sit-down eateries with large menus or with a bar or lounge attached. TouchBistro, meanwhile, is a little simpler and faster to set up, but is by no means meager in its features. It's a great choice for smaller restaurants, food trucks, and those who don't need extensive inventory and like the convenience of an iPad-run software.
Discover more resources
for your business
Colgate University, Bachelor of Arts, English Language and Literature