A bar point-of-sale (POS) system is a combination of hardware and software that collects orders and processes payments quickly. The best bar POS software also pre-authorizes bar tabs and helps with physical stock counting.
If you need specialized tools like quick cocktail recipe lookup, live keg tracking, and cash management, read on; our bar and POS experts have ranked the best bar POS systems and software for bars, nightclubs, pubs, and breweries.
Our expert evaluation found that the best POS systems for bars are:
TouchBistro POS is an all-in-one restaurant management system designed for growth. Until December 31st, save up to $7,000 on your startup costs.

---

Smart "Fast Bar" features that increase sales and streamline operations
Train staff faster with an intuitive iOS
Seamlessly integrate POS with bar inventory solutions
Optimize business decisions with cloud-based reporting and analytics
TouchBistro POS is an all-in-one restaurant management system designed for growth. Until December 31st, save up to $7,000 on your startup costs.
---

Smart "Fast Bar" features that increase sales and streamline operations
Train staff faster with an intuitive iOS
Seamlessly integrate POS with bar inventory solutions
Optimize business decisions with cloud-based reporting and analytics
Top Bar POS Systems Compared
Monthly Software Fee

Hardware Cost

Payment Processing

Pre-authorized Bar Tabs

Learn More

$0–$165+

$0–$875+

From 2.49% + 15 cents

✓

$69–$399+

Custom-quoted

From 2.6% + $0.10*

✓

$55–$75+

From $1

Custom-quoted*

✓

$59–$349

$150–$749+

Custom-quoted

✓

From $69 per terminal

Custom-quoted

Custom-quoted*

✓

$0–$60+

$49–$799+

From 2.6%+ 10 cents

✕

*This system also integrates with third-party processors. See the individual provider sections for the list of compatible processors.
Monthly Software Fee

Hardware Cost

Contract Length

Payment Processing

Pre-authorized Bar Tabs

Inventory Tracking

$0–$165+

$0–$875+

Optional, from $200

From 2.49% + 15 cents

✓

Via integration with xtraCHEF

$69–$399+

Custom-quoted

Optional

From 2.6% + $0.10*

✓

Built-in; Best available features

$55–$75+

From $1

Custom-quoted

Custom-quoted*

✓

Via integration with Yellow Dog

$59–$349

$150–$749+

$0

Custom-quoted

✓

Via integration with MarketMan, Bar-i, BevSpot, and others

From $69 per terminal

Custom-quoted

Optional, custom-quoted

Custom-quoted*

✓

Built-in; Strong features

$0–$60+

$49–$799+

Optional, from $200

From 2.6%+ 10 cents

✕

Via integration with Yellow Dog, MarketMan, Apicbase

*This system also integrates with third-party processors. See the individual provider sections for the list of compatible processors.
Which Bar POS Software Is Right for You?
Toast: Best Overall Bar POS With Free Options

Pros
Starter Kit POS has $0 monthly software fees
Pay-as-you-go hardware and software options reduce upfront cost
Robust hardware can withstand high-volume use
Cons
Inventory and vendor management require third-party integration
Toast Payments is the only payment processor
Two-year contract
What we like:
Toast is designed specifically to support food and beverage businesses. This system frequently leads our rankings of the best restaurant POS systems, too.
The hardware—including an excellent handheld terminal—is drop-tested and spill-resistant to stand up to high-volume use in wet bars, hot kitchens, and on the floor. Pre-authorized bar tabs, dual cash drawer tills, and detailed reporting make managing your profits and costs a breeze. Best of all, Toast offers pay-as-you-go options for hardware and software so that small bars can get started for no upfront cost.
The only bar type where Toast may not be ideal is a busy nightclub; the speed screens just aren't as dynamic as something like MICROS.
Countertop Kit

Handheld Kit

Guest Self-Service Kit

Toast KDS

Pay-as-you-go: $0 upfront; 2.99% + 15 cents processing fees

Pay upfront: $875 plus $69 per month*

Pay-as-you-go: $0 upfront; 2.99% + 15 cents processing fees

Pay upfront: $627 plus $69 per month*

Pay-as-you-go: $0 upfront; 2.99% + 15 cents processing

Pay upfront: $1,009 plus $99 per month*

Custom-quoted; Contact Toast for pricing

Toast Flex terminal, payment device, router**

Toast Go 2 handheld order and payment device, indoor wireless access point, router**

22" Toast touch-screen kiosk terminal, payment device, router**

Wall-mountable touch-screen kitchen display system screen**
* Toast's standard processing rates of 2.49% + 15 cents apply to hardware and software packages that are paid upfront, rather than on a Pay-as-you-go plan.
** Includes setup and customer care.
Pay-as-you-go hardware
Get Toast's industry-grade hardware with no upfront cost by agreeing to pay slightly higher credit card processing fees. You can get hardware for up to two terminals. Toast is the only option on this list with pay-as-you-go hardware.
Flexible bar tab management
Pre-authorize payment cards so no cards are left at the bar. Set your Toast POS to give any employee the ability to add items to an open tab from any register. Toast has a mobile POS terminal—the Toast Go 2—so employees can take orders and close tabs tableside.
Robust beverage integrations
Toast features a host of third-party integrations so you can customize the POS. Beverage-centric inventory is supported by BevSpot. Breweries can track keg usage with BrewLogix and offer self-serve pours via PourMyBeer.
Toast Pay Card
For an additional fee, you can add the Toast Pay Card with PayOut, an app that enables your employees to access their wages and tips as they are earned. This is a game changer for bars with high employee turnover. Toast is the only system on this list with this feature.
Text from the POS
If your bartenders need more change, another bottle of tequila, or a manager to address a customer situation, they can send a text via the POS with the push of a single button. This can be helpful for alerting managers to high tills or requesting assistance with a customer.
Quick Start Bundle

Core

Growth

Build Your Own

Monthly Software Fees

$0

$69

$165

Custom quote

Email Marketing

$75 per month

Loyalty

$50 per month

Gift Cards

$50 per month

New Restaurant Basics (scheduling, payroll, business insurance)

$110 per month

In-person Payment Processing

Standard: 2.49% + 15 cents
Pay-as-you-go: 2.99% + 15 cents

*Custom rate quotes available on request
If you're seeking the functionality of Toast, but want more options for payment processors, try Lightspeed Restaurant. Those are both great options if you want built-in inventory too.
If you only need one or two terminals, go with Lightspeed. For three or more terminals, look into TouchBistro bar POS software. And if you need more dynamic speed screens that can showcase more buttons, consider MICROS Simphony.
Lightspeed Restaurant: Best Built-in Bar Inventory

Pros
Built-in ingredient-level inventory tracking with one-click reordering
Customizable speed order screens
14-day free trial
Cons
Advanced inventory requires higher subscription fees
Hardware pricing requires custom quote
Pre-authorized bar tabs require Plus or higher subscription
What we like:
Lightspeed Restaurant has some of the most intuitive built-in inventory features in a bar POS system. It recently added pre-authorized bar tabs, extending the bar functions of this user-friendly POS.
The ingredient-level inventory incorporates vendor management and one-click reordering. If you want a POS to track your ingredients and generate suggested orders with built-in tools, you can't do better than Lightspeed Restaurant.
iPad Hardware Kit

Customer-Facing Display

KDS

iPad stand cash drawer, receipt printer, and kitchen printer (iPad not included)

iPad-based customer-facing display

iPad-based touch-screen KDS
Automated inventory
Lightspeed's built-in inventory tracking is comprehensive, including physical count and vendor management tools. It's also more automated than TouchBistro. With Lightspeed's Advanced Inventory function (available at the Pro and Enterprise levels), your POS will generate suggested orders based on low stock alerts and let you place several orders with different vendors by clicking a single button.
Advanced insights
The Lightspeed POS includes detailed reports called Insights (at the Pro and Enterprise levels) that offer a deeper look at your staff productivity and customer behavior. Customer reports update automatically based on payment information. You don't have to manually input each customer visit or purchase; the system logs all of this for you, even if the same customer uses different credit cards.
Cost-saving workforce management
Lightspeed's Workforce Management tools provide an easy-to-use scheduler that can be shared with staff via email or text. The system also prevents early clock-ins without a manager's approval, keeping unexpected labor costs in check.
Recipe lookup
You can enter cocktail recipes into the POS, so your bartenders can look up cocktails with the push of a button. This is especially useful in craft cocktail operations where customers expect bartenders to make any obscure drink they request.
Essentials

Plus

Pro

Enterprise

Monthly Software Fees

$69

$189

$399

Custom quote

Loyalty

Included in Plus, Pro, and Enterprise plans

Gift Cards

Custom-quoted

Advanced Inventory & Insights

Included in Pro and Enterprise plans

 

 

In-person Payment Processing

2.6% + 10 cents

*Custom rate quotes available on request
If you want all of Lightspeed's functions but need more robust hardware, try Toast.
If you don't need quite as many functions and need a lower upfront cost, Toast is also a great choice—assuming you don't mind proprietary hardware. If iPads are more your speed, you should take a look at Square.
Oracle MICROS Simphony: Best for Speed Screens & Cash Management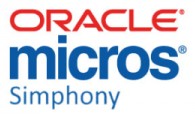 Pros
Hardware starts at $1
Dynamic, customizable speed screens reduce button presses
Open application programming interface (API) supports custom integrations
Cons
Hardware and payment processing require custom quotes
Inventory requires a third-party integration
No free trial or free baseline subscription
What we like:
Oracle's MICROS Simphony is the cloud-based version of the legacy MICROS POS. This system has longevity; it's been an industry standard for a reason. It combines resilient hardware with robust, customizable POS functions and comprehensive cash management tools like dual cash drawer tills and high till alerts. MICROS Simphony even tracks petty cash transactions from your tills.
This system also allows you to customize button sizes and colors to create comprehensive speed ordering screens. The MICROS Simphony speed screens are the most customizable of any system on this list.
MICROS Compact Workstation 310

MICROS Customer-facing display

Mobile 721 Tablet

Express Station 400

Small footprint countertop touch-screen terminal

Customer-facing display

Handheld order and payment device

24" KDS screen with bump bar navigation
$1 hardware
Like top-ranked Toast, Simphony operates on industry-grade hardware that's tested and rated to withstand wet, hot, and dusty conditions. Simphony advertises its terminals for as little as $1 each, but you'll need to reach out to a Simphony sales rep to confirm your final pricing.
Robust cash management
Like Toast, Simphony can operate two cash drawers from a single till. You can track every cash transaction from each drawer, check cash status mid-shift for audits, track multiple paid-ins and paid-outs, and retain digital cash counts that are searchable later. Unlike other systems on this list, Simphony also includes petty cash tracking directly in the POS. These are the most robust cash tracking tools of any system on this list.
Dynamic engagement screen
Your Simphony POS home screens feature interactive live tiles to showcase whatever information your staff needs. You can include daily specials, weather widgets, shift notes, and even social media feeds, which can help your team see what customers are saying about their experiences in real time.
Customizable speed screens
All the systems on this list offer some type of quick order mode. MICROS Simphony includes highly customizable speed order screens that allow you to control even the size of each button, so you can squeeze all your popular beers, cocktails, and spirits on a single screen, reducing screen switches and button presses to speed service.
Essentials

Plus

Single Tenant

Monthly Software Fees

$55

$75

Custom quote

Marketing & Loyalty

Included in Plus and Single Tenant

Gift Cards

Custom-quoted

In-person Payment Processing

Varies based on processor (Oracle Cloud Payments, Ayden, or Elavon).
Oracle Cloud Payments is custom-quoted, but has no annual contract.
If built-in inventory is a must-have in your bar POS, you'll be better off with Lightspeed or TouchBistro.
If you need a lower upfront cost, Square or Toast are better bets. If you prefer iPad terminals, check out Square, Lightspeed, or TouchBistro.
Lavu: Best for Switching From Cash-only Operations

Pros
Cash discounting settings offset card processing fees
Customizable quick service screens and detailed modifiers
Supports multiple payment processors
Cons
No free trial
Add-on features can add-up
Best pricing requires enrolling in Lavu Pay
What we like:
Lavu is a customizable iPad POS with several subscription options at varying price levels and contract lengths—making it a good fit for growing bars.
The cash discount settings make it suitable for bars that are shifting from cash-only operations and starting to accept credit cards. This setting allows you to offset the costs of accepting credit cards (which is typically a bar's third-largest daily expense behind labor and cost of goods).
Windfall iPad Stand

IDYnamo 5 Card Reader

Epson TM-M30ii Printer

$189

$159

$259

Low profile countertop stand for 10.2" iPad

Lightning port connected card reader

Ethernet or WifiThermal receipt printer
Cash discount setting
Lavu's lowest-price software subscriptions all come with enrollment in Lavu Pay with Cash Discounting. This setting builds the cost of payment processing into your menu item prices and offers a discount to customers who pay in cash. If you've avoided accepting credit card and digital payments because of the expense of processing fees, Lavu offers an easy (and legal) way to offset the costs.
Bar-supporting features: Like others on this list, Lavu supports dual cash drawer tills, credit card pre-authorizations, and quick order screens. So, if you need to manage multiple cash drawers and handle a high volume of customers, Lavu has you covered.
Accounts Payable via Sourcery: Lavu owns the accounts payable software Sourcery, and the Lavu POS integrates seamlessly with it. For an additional $99 per month, you can connect your POS to powerful invoice management tools, allowing you to store invoices, approve them, pay your vendor bills online, and even generate new orders. Sourcery's ordering tools are the strongest of any system on this list, centralizing vendor catalogs and supporting orders placed from tablets, desktop computers, or over the phone.
Bar-supporting integrations: Lavu users can choose from several bar-specific
inventory tools like Bar-i, which counts your inventory using barcode scans and an integrated scale for accurate counts every time. You'll also find integrations for draft management with DigitalPour and multiple options for bar-specific inventory management.
Monthly Software Fees

Starter

Growth

Optimize

with Lavu Pay Cash Discount Program

$59

$129

$279

With Lavu Pay Traditional Processing

$69

$139

$289

Without Lavu Pay

$129

$199

$349

Add-on Fees

Additional Terminals

$50 each per month

Loyalty

$50 per month

Third party processor

$30 per terminal, per month

Sourcery AP Automation

$99 per month
Lavu includes every feature a growing bar needs. But if you want more robust hardware than a standard iPad or iPad mini, look at Toast, Square, or MICROS Simphony.
If you operate multiple locations, Toast has stronger multilocation management tools. And if you prefer inventory management built into your POS, check out Lightspeed or TouchBistro.
TouchBistro: Best for Breweries & High Staff Turnover

Pros
Easy-to-learn iOS interface
Integrates with multiple payment processors
Streamlined tableside mode
Mobile reporting smartphone app
Cons
Add-ons can get pricey
Built-in inventory is not automated
No free trial or free baseline subscription
What we like:
TouchBistro is so user-friendly that many users say they learn to use it in less than an hour. This is great news for bars that have high turnover and frequently need to train new staff. The price point and user-friendliness also make TouchBistro a great fit for streamlined operations like breweries that only need simple, built-in inventory tracking.
Reports are templated and easy to read, and you can choose from three payment processors to get the best rates. This user-friendly system might be too simple for complex operations, in which case, you should look at Toast, Lightspeed, or Lavu.
POS Kit

KDS

Customer-facing Display

Kit containing an iPad POS stand, cash drawer, receipt printer, and card reader

iPad KDS screen

iPad customer-facing display
iOS-based user interface
Anyone who has used an iPhone will pick up TouchBistro at lightning speed. This streamlined design makes TouchBistro so easy to use. In fact, many user reviews mention training new staff to use the POS in less than an hour. If your bar struggles with high turnover, TouchBistro could save you hundreds of dollars in training costs.
Flexible payment processing
Like the others on this list, TouchBistro has a built-in payment option, TouchBistro Payments. Like Lightspeed, Lavu, and MICROS Simphony, TouchBistro integrates with a few other payment gateways like TSYS and Square, so users have the option to rate shop.
Built-in inventory options
TouchBistro supports two inventory systems, one of which is a basic countdown for individual items like bottles of wine, which may be all a wine bar or brewery needs. Cocktail bars and pubs that serve food may prefer the ingredient-level inventory. In our experience, however, TouchBistro's ingredient-level inventory tools require a lot more administrative legwork to update than more automated systems like Lightspeed.
Reports To Go
TouchBistro includes a smartphone reporting app that owners and managers can access on the go. TouchBistro calls its app "Reports To Go." This app is available for iOS and Android phones and includes basic sales and labor reports along with void and discount tracking.
Brewery-supporting integrations: TouchBistro integrates with Bevchek, a draft beverage management system that monitors inventory level, fluid flow, and even beer temperature. Additional integrations with Marketman, Freepour, and Craftable provide additional inventory options for different bar types.
Software

Monthly fee

POS

$69 for one terminal

*Get a custom quote for additional terminals

Online ordering

$50

Loyalty

$99

Marketing

$99

Gift Cards

$25

Reservations

$229
If you only need a single POS terminal for your bar, Toast or Square both offer free options.
If you need more advanced, automated inventory management with physical counting tools and automated ordering, check out Lightspeed or Lavu with the Sourcery integration.
Square for Restaurants: Best Free POS for Wine Bars & Small Bars

Pros
Baseline POS is free to use
No long-term contracts
Low upfront cost
Cons
Cannot pre-authorize bar tabs*
Inventory is not ingredient-level
Locked into Square Payments
What we like:
Square for Restaurants is a wildly popular small business POS provider. Like top-ranked Toast, Square for Restaurants is free to use for baseline POS subscribers, making it a great fit for bars that have tighter profit margins, like wine bars. The included item-level inventory is also better at tracking glasses of wine and individual bottles than complex cocktail recipes, and it is likely all that a wine bar needs.
Unlike every other system on this list, Square has no long-term contracts. You can use this system for a few months or a few years and cancel with no penalties. The system operates on iPads, so you can get started with hardware you already own. High-volume wine bars may want to add Square-built hardware—including Square's excellent, affordable handheld order and payment terminal.
Square Stand

Square Terminal

Mobile POS Kit

Square Register

$149

($14/ month with Square Financing)

$299

($27/month with Square Financing)

$49 without phone; $259 with phone

$799

($39/ month with Square Financing)

iPad stand with built-in tap, dip, and swipe card reader (iPad not included)

Handheld order and payment device with built-in receipt printer

Samsung L7 smartphone case with integrated tap and chip card reader

Square-built touch-screen terminal with integrated customer-facing display
One-day setup
Square setup is the fastest of any system on this list. All you need to do is download the POS app and attach a bank account. Square will send you a free swipe card reader, or you can purchase a tap or dip card reader for $49.
Affordable hardware
Square operates on iPads or Square-built POS registers and handheld terminals. You can use hardware you already own or purchase hardware through the Square website for $49 to $799 each. Almost every hardware tool offers easy monthly payments to reduce your upfront cost.
Free baseline POS
Like competitor Toast, Square for Restaurants offers a free baseline POS subscription. This Free tier is designed to support the smallest businesses, so it only comes with a single set of user permissions, but you can use the software on unlimited terminals.
Item-level inventory
Square for Restaurants includes simple item-level inventory tracking in the baseline POS. It is not ingredient-level like Lightspeed, but Square can easily track wines by the glass or bottle, which is all a wine bar needs. If your bar needs more advanced, ingredient-level inventory, Square integrates with Peachworks, Yellow Dog, Digital Pour, and our top-ranked inventory system, MarketMan.
Free

Premium

Enterprise

Monthly Software Fees

$0

$60 (additional terminals are $40 each)

Custom-quoted

Email Marketing

$15–$425 / month

*based on use, baseline price includes 500 messages per month

Loyalty

$45–$105 / month

*based on use, beeline price includes 500 loyalty visits per month

Square Teams

(employee management)

$0–$35 / month

*Free trial available

In-person Payment Processing

*Custom rate quotes available for bars processing more than $250,000 annually
If you want to shop for processing rates, check out Lightspeed, Lavu, or TouchBistro. If you prefer built-in inventory with more advanced try features, consider Lightspeed.
And if card pre-authorizations are a must-have, try any of the other systems on this list. Square is currently beta-testing this feature, so if you don't need a new bar POS immediately and Square interests you, check back in a couple of months; pre-authorizations may be available.
How We Evaluated Bar POS Systems
We compared more than a dozen popular POS systems based on what's important to bars, nightclubs, pubs, and other beverage operations. Ease of use, niche bar functions, general POS functionality, and price were our main considerations. We also considered our POS and bar experts' personal evaluations of each software, alongside real-world user reviews.
Click through the tabs below for our full evaluation criteria:
15% of Overall Score
First, we looked at whether or not each software offers a free plan and a plan option under $75 monthly because bars need to save money wherever they can. Then, we made sure those plans include unlimited user logins and custom user roles. We considered whether the system runs on proprietary hardware or lets users bring compatible hardware they already own. Finally, we awarded bonus points to systems with shorter service contracts and multiple options for payment processing.
15% of Overall Score
We looked for basic features like inventory tracking, gift card processing, and customizable reporting tools. Because of customer demand for contactless payments, we looked for systems that support tapped card and mobile wallet payments. Since bar owners and managers are always on the move, we awarded points to POS brands with mobile reporting and management apps.
25% of Overall Score
We considered features like storing drink recipes, supporting dual cash drawer tills, and cash auditing tools. We also looked for features like the ability to pre-authorize credit cards, run tabs, split payment methods, and transfer tabs between servers and dining areas. We also awarded points to systems that have integrated handheld order and payment terminals to support tableside service.
30% of Overall Score
We looked for POS systems that hourly employees can easily use without error in a fast-paced environment. Because bars typically operate on late nights and weekends, we prioritized solutions that offer 24/7 customer support. We also awarded points to POS systems with hybrid installation or an offline mode, so business doesn't come to a grinding halt during an internet outage. We also prioritized platforms that offer comprehensive training and online knowledge bases.
15% of Overall Score
We considered each system's standout features and scored the systems' value for their price. We also judged each system's popularity among bar owners and awarded points for systems that have an average user rating above four stars on popular review sites. Finally, we awarded points based on our personal experience interacting with the software and the company's customer support.
*Percentages of overall score
Meet our Experts
Mary King

has managed bars and restaurants and used several POS systems in real-world bar environments. With over 14 years of industry experience, she has worked in food service businesses from coffee shops and food trucks to quick service and full-service restaurants and bars.

Meaghan Brophy

has 10-plus years of retail experience, during which she has operated a variety of cash registers and POS systems in different settings and applications. Since working in retail, Meaghan has 7-plus years of experience writing for retailers and 4-plus years of experience evaluating POS systems.

Katie-Jay Simmons brings a decade of experience in the retail and hospitality industry, which includes working in diverse bar environments, from high-end country clubs to casual cantinas. She has been reviewing retail and restaurant software for 2+ years.

 
How to Choose a Bar POS System
The first step to choosing bar POS software is assessing your needs. Look at your operation and make a list of all POS functions that are must-haves.
Provide your email to download this free checklist that will guide you through your bar POS search:
Step 1: Assess Your Needs
In addition to general POS functions like payment processing, time-keeping, and loyalty, most bar POS systems include most of these bar-specific functions.
Cash management: If you process a large amount of cash, you'll want detailed cash tracking and high till alerts so you can transfer cash to a safe on busy nights.
Recipe look-up: If you experience a high degree of turnover or your customers frequently try to "stump the bartender," the ability to look up recipes will be a lifesaver.
Physical count inventory tools: You can speed physical counts with barcode scanners, integrated scales, and even smartphone apps.
Inventory tracking: Many systems can track your inventory usage in real time and send you low-stock alerts to remind you to restock.
Purchase order and vendor management: A lot of bar POS software takes the next step and generates purchase orders from your low stock alerts. In most cases, you can email these purchase orders to your vendors directly from the system.
Pre-authorized tabs: Swipe open bar tabs that store payment information are a must for most bars.
Step 2: Set a Budget
Once you know your must-haves, set a budget. Most modern bar POS systems come with a monthly software fee and at least a small upfront fee for hardware and installation.
Take a look at your sales, COGS, and labor so you know what you can afford as a one-time expense and monthly ongoing costs. You don't want to fall in love with a system you can't afford.
Step 3: Schedule POS Demos
With your budget requirements in mind, schedule demos of several POS systems. See how the interfaces work, and check out the speed screen functions. But more than that, get a feel for the customer support team. Do they seem like the people you want on the other end of the phone when you're trying to troubleshoot a software glitch at 10 p.m. on a Saturday night?
During your demo, ask these questions:
Does the POS fit into your budget?
Does it include your must-have features in the baseline POS, or will you need to spend extra for an additional module or a third-party integration?
Does the POS integrate with other software you already use?
Does it offer additional attractive features you hadn't thought about?
Can it grow with your business if your needs change?
Are there installation or implementation fees?
What is the lead time for installation?
If you like the system during the demo, ask the sales representative if they can connect you with a few of their current customers so you can ask about their experiences. Ideally, these would be nearby bars that use this POS. The sales rep might need to get back to you with contact information, but it is not an unusual request.
In my experience, the best bar POS brands offer to connect you with some of their current customers without being asked. Contact these business owners and ask for their opinion of the software. Most will be eager to share their experience.
Step 4: Compare Estimates
After a demo, the POS provider typically sends a full, itemized estimate of your expected costs for software, hardware, and payment processing (if the system includes a built-in processor). If the provider does not offer to do this, ask for an estimate directly. It is the best way to see exactly what your fees cover. Compare the estimates to find your best fit.
Estimates include more than just monthly cost. Remember to compare terms and conditions of each contract as well. You don't want to be surprised by lengthy contracts, installation fees, or high early-termination fees.
Step 5: Finalize Your POS Decision
Once you have made your final decision about which POS is best for your bar, contact the sales representative and begin the implementation process.
It's wise to take the time to notify the providers you opted not to work with. This is a polite business move, and it will also save you time ducking calls and emails from sales representatives trying to close the deal.
Features to Look for in a Bar POS System
Your bar POS software should come equipped with features designed to meet the specific needs of a bar while simplifying your day-to-day operations. Here are the most important features to look for when choosing a bar POS system:
Tab Management: The best bar POS systems can easily handle and track open tabs, ensuring smooth transitions even when customers move to tables. Also look for seamless retrieval of open or closed tabs by name, order number, or credit card.
Speed Screens: Reducing the number of buttons your bartenders press to ring in orders and process payments saves time and improves your service speed.
Seating and Table Organization: Organize tables and seating areas effectively with a POS system that can adapt to your specific layout, aiding in efficient service and capacity management.
Inventory Management: Look for a bar POS system that allows ingredient-level inventory tracking. More sophisticated solutions should also have tools for physical inventory counts and vendor management capabilities.
Mobility: For a bar environment where staff frequently move around to serve customers, seek a POS solution offering mobile hardware. This flexibility enables your bartenders and servers to deliver personalized service directly to customers, enhancing their overall experience.
Splitting Checks: A bar POS system that offers an easy way to split checks, combine checks, or transfer items between tickets is key to quick and satisfactory customer service.
Digital Payments: A modern bar POS system should accept various contactless and digital payments, catering to customer preferences and ensuring speedy checkouts.
Promotional Tools: Look for promotional tools like customer loyalty programs, email marketing, gift cards, discounts, and specials to boost customer retention and engagement.
High-quality Support: Opt for a bar POS provider known for responsive and efficient customer support. Ensure they're committed to swiftly resolving any technical issues, minimizing downtime, and maintaining smooth operations in your bar.
Payment Preauthorization: The ideal bar POS system should provide payment preauthorization capabilities. By swiping a customer's credit or debit card at the start of a bar tab, the system verifies the card's authenticity and checks the available funds. This reduces risk and streamlines the checkout process.
Detailed Reporting and Analytics: Choose a bar POS system with comprehensive, easy-to-navigate reporting features. It should give you overviews of net sales and transactions, as well as in-depth analyses of sales by product and item profitability. The best Bar POS solutions also incorporate CRM capabilities to collect and leverage customer data.
Manageable Pricing and Terms: Of course, look for bar POS solution with monthly pricing, hardware costs, and processing rates that fit into your budget. Also keep in mind that many POS providers require contracts of a year or longer, so find a provider with contract terms that align with your business' future plans.
Bar POS System Frequently Asked Questions (FAQ)
The simplest bar POS system is TouchBistro. It's remarkably user-friendly and known for taking less than an hour to learn. This makes it an excellent choice for bars with high turnover, reducing the time needed for staff training. Its affordable pricing and straightforward features also make it ideal for streamlined operations that require simple, built-in inventory tracking.
---
The best POS system for your bar will depend on your business type and sales volume. But, overall, our expert evaluation found that Toast is the best POS for most types of bar businesses. For a detailed breakdown of alternative POS options, see our list of the best bar POS systems above.
---
At the most basic level, bar POS systems manage orders and process payments. High-functioning systems also track inventory in real time, act as an employee time clock, and include detailed cash-tracking tools. All of these tools help reduce costs and opportunities for theft while growing sales and increasing your speed of service.
---
The cost of a bar POS system ranges from $0 to more than $100 per month for software and from $0 to over $1,000 for hardware. The total costs for your bar will vary based on your hardware and software needs.
A small bar can run a cloud-based POS app on an iPad and get started with no money down.
A high-volume operation that handles a lot of cash, however, would be better served by a stronger system with cash management tools. In that case, you should expect to pay around $100 per month for software and around $800 for each countertop terminal.
---
Bottom Line
Toast outscored the competition for best overall bar POS. This flexible system is available at three different pricing tiers to support beverage operations of any size, from draft houses to wine bars and pubs to cocktail lounges.
With user-friendly speed screens, pre-authorized bar tabs, and employee and customer management tools, alongside dynamic tableside tablets and in-app staff communication, this massively functional system has every tool you need.
If cost is a concern, small bars can start with Toast's hardware and software for free and be confident that the system will grow with their business. See if Toast is a fit for your bar by scheduling a demo.