Best Bar, Nightclub & Pub POS Systems in 2023: Pros, Cons, Pricing
This article is part of a larger series on POS Systems.
A bar point-of-sale (POS) system should collect speedy payments and track inventory. The best POS systems for bars also pre-authorize bar tabs and help with physical stock counting. If you need specialized tools like quick cocktail recipe lookup, live keg tracking, and cash management, read on; our bar and POS experts have ranked the best bar POS systems and software for bars, nightclubs, pubs, and breweries.
Our expert evaluation found that the best POS systems for bars are:
Top Bar POS Systems Compared
*This system also integrates with third-party processors. See the individual provider sections for the list of compatible processors.
Which Bar POS Is Right for You?
Take the quiz below to get a personalized recommendation. It is only four questions, does not require entering personal information, and will give you a result without directing you to another page.
Answer a few questions about your business, and we'll give you a personalized product match.
Toast: Best Overall Bar POS
Toast

Pros
Starter Kit POS has $0 monthly software fees
Pay-as-you-go hardware and software options reduce upfront cost
Robust hardware can withstand high-volume use
Cons
Inventory and vendor management require third-party integration
Toast Payments is the only payment processor
Two-year contract
What we like:
Toast is designed specifically to support food and beverage businesses. This system frequently leads our rankings of the best restaurant POS systems, too. The hardware is drop-tested and spill-resistant to stand up to high-volume use in wet bars, hot kitchens, and on the floor. Pre-authorized bar tabs, dual cash drawer tills, and detailed reporting make managing your profits and costs a breeze. Best of all, Toast offers pay-as-you-go options for hardware and software, so small bars can get started for no upfront cost.
Countertop Kit

Handheld Kit

Guest Self-Service Kit

Toast KDS

Pay-as-you-go: $0 upfront; 2.99% + 15 cents processing fees

Pay upfront: $799 plus $69 per month*

Pay-as-you-go: $0 upfront; 2.99% + 15 cents processing fees

Pay upfront: $609 plus $69 per month*

Pay-as-you-go: $0 upfront; 2.99% + 15 cents processing

Pay upfront: $999 plus $99 per month*

Custom-quoted; Contact Toast for pricing

Toast Flex terminal, payment device, router**

Toast Go 2 handheld order and payment device, indoor wireless access point, router**

22" Toast touch-screen kiosk terminal, payment device, router**

Wall-mountable touch-screen kitchen display system screen**
* Toast's standard processing rates of 2.49% + 15 cents apply to hardware and software packages that are paid upfront, rather than on a Pay-as-you-go plan.
** Includes setup and customer care.
Pay-as-you-go Hardware
Get Toast's industry-grade hardware with no upfront cost by agreeing to pay slightly higher credit card processing fees. You can get hardware for up to two terminals. Toast is the only option on this list with pay-as-you-go hardware.
Flexible bar tab management
Pre-authorize payment cards so no cards are left at the bar. Set your Toast POS to give any employee the ability to add items to an open tab from any register. Toast has a mobile POS terminal—the Toast Go 2—so employees can take orders and close tabs tableside.
Robust beverage integrations
Toast features a host of third-party integrations so you can customize the POS. Beverage-centric inventory is supported by BevSpot. Breweries can track keg usage with BrewLogix and offer self-serve pours via PourMyBeer.
Toast Pay Card
For an additional fee, you can add the Toast Pay Card with PayOut, an app that enables your employees to access their wages and tips as they are earned. This is a game changer for bars with high employee turnover. Toast is the only system on this list with this feature.
Text from the POS
If your bartenders need more change, another bottle of tequila, or a manager to address a customer situation, they can send a text via the POS with the push of a single button.
Starter Kit

Point of Sale

Essentials

Custom

Monthly Software Fees

$0

$69

$165

Custom-quote

Email Marketing

$75 per month

Loyalty

$50 per month

Gift Cards

$50 per month

New Restaurant Basics (scheduling, payroll, business insurance)

$110 per month

In-person Payment Processing

Standard: 2.49% + 15 cents
Pay-as-you-go: 2.99% + 15 cents

*Custom rate quotes available on request
If you want the functionality of Toast, but prefer to shop for more processors, try Lightspeed Restaurant or Revel. Those are both great options if you want built-in inventory too. If you only need one or two terminals, go with Lightspeed. For three or more terminals, Revel may be a better bet.
Lightspeed Restaurant: Best for Inventory
Lightspeed Restaurant

Pros
Built-in ingredient-level inventory tracking with one-click reordering
Customizable speed order screens
14-day free trial
Cons
Advanced inventory requires higher subscription fees
Hardware pricing requires custom quote
Pre-authorized bar tabs require Plus or higher subscription
What we like:
Lightspeed Restaurant has widely expanded functionality since our last update. Notably, the system now supports pre-authorized bar tabs (in the US, anyway). The ingredient-level inventory has also grown, incorporating vendor management and one-click reordering. If you want a POS to track your ingredients and generate suggested orders, you can't do better than Lightspeed Restaurant.
iPad Hardware Kit

Customer-Facing Display

KDS

iPad stand cash drawer, receipt printer, and kitchen printer (iPad not included)

iPad-based customer-facing display

iPad-based touch-screen KDS
Automated inventory
Lightspeed's built-in inventory tracking is comprehensive, including physical count and vendor management tools. But, Lightspeed's inventory tool is more automated than TouchBistro and Revel Systems. With Lightspeed's Advanced Inventory function (available at the Pro and Enterprise levels), your POS will generate suggested orders based on low stock alerts and let you place several orders with different vendors by clicking a single button.
Advanced insights
The Lightspeed POS includes detailed reports called Insights (at the Pro and Enterprise levels) that offer a deeper look at your staff productivity and customer behavior. Customer reports update automatically based on payment information. You don't have to manually input each customer visit or purchase; the system logs all of this for you, even if the same customer uses different credit cards.
Cost-saving workforce management
Lightspeed's Workforce Management tools include a user-friendly staff schedule builder. You can send the schedule to staff via email or text message. The system will block staff from clocking in early and require a manager to override if a staff member tries to clock in off schedule. So, you'll never be surprised by higher labor costs from early clock-ins.
Recipe lookup
You can enter cocktail recipes into the POS, so your bartenders can look up cocktails with the push of a button. This is especially useful in craft cocktail operations where customers expect bartenders to make any obscure drink they request.
Essentials

Plus

Pro

Enterprise

Monthly Software Fees

$69

$189

$399

Custom quote

Loyalty

Included in Plus, Pro, and Enterprise plans

Gift Cards

Custom-quoted

Advanced Inventory & Insights

Included in Pro and Enterprise plans

In-person Payment Processing

2.6% + 10 cents

*Custom rate quotes available on request
If you want all of Lightspeed's functions but need more robust hardware, try Toast. If you don't need quite as many functions, and need a lower upfront cost, Toast is also a great choice—assuming you don't mind proprietary hardware. If iPads are more your speed, you should take a look at Square.
Oracle MICROS Simphony: Best for Cash Management
Oracle MICROS Simphony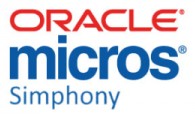 Pros
Hardware starts at $1
Most comprehensive cash tracking tools
Open application programming interface (API) supports custom integrations
Cons
Hardware and payment processing require custom quotes
Inventory requires a third-party integration
No free trial or free baseline subscription
What we like:
Oracle's MICROS Simphony is the cloud-based version of the legacy MICROS POS. This system has longevity; it's been an industry standard for a reason. It combines resilient hardware with robust, customizable POS functions and comprehensive cash management tools like dual cash drawer tills and high till alerts. It even tracks petty cash transactions from your tills.
MICROS Compact Workstation 310

MICROS Customer-facing display

Mobile 721 Tablet

Express Station 400

Small footprint countertop touch-screen terminal

Customer-facing display

Handheld order and payment device

24" KDS screen with bump bar navigation
$1 hardware
Like top-ranked Toast, Simphony operates on industry-grade hardware that is tested and rated to withstand wet, hot, and dusty conditions. Simphony advertises its terminals for as little as $1 each, but you'll need to reach out to a Simphony sales rep to confirm your final pricing.
Robust cash management
Like Revel and Toast, Simphony can operate two cash drawers from a single till. You can track every cash transaction from each drawer, check cash status mid-shift for audits, track multiple paid-ins and paid-outs, and retain digital cash counts that are searchable later. Unlike other systems on this list, Simphony also includes petty cash tracking directly in the POS. These are the most robust cash tracking tools of any system on this list.
Dynamic engagement screen
Your Simphony POS home screens feature interactive live tiles to showcase whatever information your staff needs. You can include daily specials, weather widgets, shift notes, and even social media feeds, which can help your team see what customers are saying about their experiences in real time.
Multilanguage support
Simphony operates in over 20 languages. You can set up your system in Chinese, Japanese, Spanish, English and more—whatever language your team is most familiar with.
Essentials

Plus

Single Tenant

Monthly Software Fees

$55

$75

Custom quote

Marketing & Loyalty

Included in Plus and Single Tenant

Gift Cards

Custom-quoted

In-person Payment Processing

Varies based on processor (Oracle Cloud Payments, Ayden, or Elavon).
Oracle Cloud Payments is custom-quoted, but has no annual contract.
If built-in inventory is a must-have in your bar POS, you'll be better off with Lightspeed, Revel, or TouchBistro. If you need a lower upfront cost, Square or Toast are better bets. If you prefer iPad terminals, check out Square, Revel, Lightspeed, or TouchBistro.
Revel: Best for High-volume Bars
Revel

Pros
High till alerts
Built-in inventory includes counting app and vendor management
Integrates with multiple payment processors
Cons
Three-year contract
Requires installation fee
Hardware is custom-quoted
What we like:
Revel offers the best of both worlds—a high functioning POS with tons of bar-supporting functions and operates on user-friendly iPads. This system is the most comprehensive bar POS available on an iPad. It has inventory, employee scheduling, and advanced reporting in the baseline POS, plus it integrates with multiple payment processors. So, high-volume bars that operate with several terminals can get all the functions they need, plus shop for the lowest processing rates.
C-Stand Terminal

L-stand Terminal

Handheld Terminal

Low profile countertop iPad stand

Eye-level iPad stand with customer-facing display option

iPad mini-based handheld order and payment terminal
Flexible payment processing
Revel Systems has a built-in payment processing solution called Revel Advantage. Payment processing rates are not disclosed on the Revel website; quotes are customized based on your sales volume and card mix. Users can also get rate quotes from compatible processors First Data, Heartland, TSYS, triPOS, Worldpay, Chase Paymentech, and Elavon.
Employee management
Revel Systems includes employee scheduling in the entry-level POS. Revel's schedule builder is easy to use but is slightly less robust than Toast's add-on workforce management module.
High till alerts
Revel supports dual cash drawer tills, so two bartenders operate from the same POS terminal. In addition, Revel users can set a maximum dollar amount for each cash drawer. The system will alert you when the cash drawers are over the limit so your staff can drop excess cash in the safe.
Robust, built-in inventory
Revel has detailed inventory tools built into the POS itself. Unlike others on this list that require a third-party integration to get vendor and purchase order management, Revel's tools are part of the POS, just like competitor Lightspeed. It also includes an integrated Stock Take smartphone app to speed physical counts.
Monthly Software Fee

$99 per terminal

One-time Installation Fee

From $674

Included Features

Inventory Management

Employee Scheduling

Customer Relationship Management

Customizable Reports

Optional Add-ons

Delivery Management

Online Ordering

Self-order Kiosks

Multilocation Management
If you want a system with nearly as many tools, but with a shorter contract, try Toast. If you absolutely need something month-to-month, Square for Restaurants is your best bet (though you'll sacrifice pre-authorized bar tabs). For close to the same level of built-in functions and the ability to shop for multiple processors, try Lightspeed Restaurant.
TouchBistro: Best for Breweries & High Staff Turnover
TouchBistro

Pros
Easy to learn iOS interface
Integrates with multiple payment processors
Streamlined tableside mode
Cons
Add-ons can get pricey
Built-in inventory is not automated
No free trial or free baseline subscription
What we like:
TouchBistro is so user-friendly that many users say they learn to use it in less than an hour. This is great news for bars that have high staff turnover and frequently need to train new staff. The price point and user-friendliness also make TouchBistro a great fit for streamlined operations like breweries that only need simple, built-in inventory tracking. Reports are templated and easy to read, and you can choose from three payment processors to get the best rates.
POS Kit

KDS

Customer-facing Display

Kit containing an iPad POS stand, cash drawer, receipt printer, and card reader

iPad KDS screen

iPad customer-facing display
iOS-based user interface
Anyone who has used an iPhone will pick up TouchBistro at lightning speed. This streamlined design makes TouchBistro so easy to use. In fact, many user reviews mention training new staff to use the POS in less than an hour. If your bar struggles with high turnover, TouchBistro could save you hundreds of dollars in training costs.
Flexible payment processing
Like the others on this list, TouchBistro has a built-in payment option, TouchBistro Payments. Like Lightspeed, Revel, and Simphony, TouchBistro integrates with a few other payment gateways like TSYS and Square, so users have the option to rate shop.
Built-in inventory options
TouchBistro supports two inventory systems, one of which is a basic countdown for individual items like bottles of wine, which may be all a wine bar or brewery needs. Cocktail bars and pubs that serve food may prefer the ingredient-level inventory. In our experience, however, TouchBistro's ingredient-level inventory tools require a lot more administrative legwork to update than more automated systems like Lightspeed and Revel.
Reports To Go
TouchBistro includes a smartphone reporting app that owners and managers can access on the go. TouchBistro calls its app "Reports To Go." This app is available for iOS and Android phones and includes basic sales and labor reports along with void and discount tracking.
Software

Monthly fee

POS

$69 for one terminal

*Get a custom quote for additional terminals

Online ordering

$50

Marketing

$99

Gift Cards

$25

Reservations

$229
If you only need a single POS terminal for your bar, Toast or Square are better deals. If you need more advanced, automated inventory management with physical counting tools and automated ordering, check out Lightspeed or Revel.
Square for Restaurants: Best for Wine Bars & Small Bars
Square for Restaurants

Pros
Baseline POS is free to use
No long-term contracts
Low upfront cost
Cons
Cannot pre-authorize bar tabs
Inventory is not ingredient-level
Locked into Square Payments
What we like:
Square for Restaurants (like top-ranked Toast) is free to use for baseline POS subscribers. Unlike every other system on this list, Square has no long-term contracts. You can use this system for a few months or a few years and cancel with no penalties. The system operates on iPads and Square-built hardware, so you can get started with hardware you already own.
Square Stand

Square Terminal

Mobile POS Kit

Square Register

$149

($14/ month with Square Financing)

$299

($27/month with Square Financing)

$49 without phone; $299 with phone

$799

($39/ month with Square Financing)

iPad stand with built-in tap, dip, and swipe card reader (iPad not included)

Handheld order and payment device with built-in receipt printer

Samsung L7 smartphone case with integrated tap and chip card reader

Square-built touch-screen terminal with integrated customer-facing display
One-day setup
Square setup is the fastest of any system on this list. All you need to do is download the POS app and attach a bank account. Square will send you a free swipe card reader, or you can purchase a tap or dip card reader for $49.
Affordable hardware
Square operates on iPads or Square-built POS registers and handheld terminals. You can use hardware you already own or purchase hardware through Square website for $49 to $799 each. Almost every hardware tool offers easy monthly payments to reduce your upfront cost.
Free baseline POS
Like competitor Toast, Square for Restaurants offers a free baseline POS subscription. This Free tier is designed to support the smallest businesses, so it only comes with a single set of user permissions, but you can use the software on unlimited terminals.
Item-level inventory
Square for Restaurants includes simple item-level inventory tracking in the baseline POS. It is not ingredient-level like Revel or Lightspeed, but Square can easily track wines by the glass or bottle. If you need more advanced, ingredient-level inventory, Square integrates with Peachworks, Yellow Dog, Digital Pour, and our top-ranked inventory system, MarketMan.
Free

Premium

Enterprise

Monthly Software Fees

$0

$60 (additional terminals are $40 each)

Custom-quoted

Email Marketing

$15–$425 / month

*based on use, baseline price includes 500 messages per month

Loyalty

$45–$105 / month

*based on use, beeline price includes 500 loyalty visits per month

Square Teams

(employee management)

$0–$35 / month

*Free trial available

In-person Payment Processing

*Custom rate quotes available for bars processing more than $250,000 annually
If you want to shop for processing rates, check out Lightspeed, Revel, or TouchBistro. If you prefer built-in inventory with more advanced features, check out Lightspeed or Revel. And if card pre-authorizations are a must-have, try any of the other systems on this list.
How We Evaluated Bar POS Systems
We compared more than a dozen popular POS systems based on what's important to bars, nightclubs, pubs, and other beverage operations. Ease of use, niche bar functions, general POS functionality, and price were our main considerations. We also considered our POS and bar experts' personal evaluations of each software, alongside real-world user reviews.
Click through the tabs below for our full evaluation criteria:
15% of Overall Score
First, we looked at whether or not each software offers a free plan and a plan option under $75 monthly because bars need to save money wherever they can. Then, we made sure those plans include unlimited user logins and custom user roles. We considered whether the system runs on proprietary hardware or lets users bring compatible hardware they already own. Finally, we awarded bonus points to systems with shorter service contracts and multiple options for payment processing
*Percentages of overall score
Meet our Experts
Mary King

has managed bars and restaurants and used several POS systems in real-world bar environments. With over 14 years of industry experience, she has worked in food service businesses from coffee shops and food trucks to quick service and full-service restaurants and bars.

Meaghan Brophy

has 10-plus years of retail experience, during which she has operated a variety of cash registers and POS systems in different settings and applications. Since working in retail, Meaghan has 7-plus years of experience writing for retailers and 4-plus years of experience evaluating POS systems.
---
Bar POS System Frequently Asked Questions (FAQ)
What is the best POS system for a bar?
The best POS system for your bar will depend on your business type and sales volume. But, overall, our expert evaluation found that Toast is the best POS for most types of bar businesses. For a detailed breakdown of alternative POS options, see our list of the best bar POS systems above.
---
What does a bar POS system do?
At the most basic level, bar POS systems manage orders and process payments. High-functioning systems also track inventory in real time, act as an employee timeclock, and include detailed cash-tracking tools. All of these tools help reduce costs and opportunities for theft while growing sales and increasing your speed of service.
---
How much does a POS system for a bar cost?
The cost of a bar POS system ranges from $0 to more than $100 per month for software and from $0 to over $1,000 for hardware. The total costs for your bar will vary based on your hardware and software needs.
A small bar can run a cloud-based POS app on an iPad and get started with no money down.
A high-volume operation that handles a lot of cash, however, would be better served by a stronger system with cash management tools. In that case, you should expect to pay around $100 per month for software and around $800 for each countertop terminal.
---
Bottom Line
Toast outscored the competition for best overall bar POS. This flexible system is available at three different pricing tiers to support beverage operations of any size, from draft houses to wine bars, and pubs to cocktail lounges.
With user-friendly speed screens, pre-authorized bar tabs, and employee and customer management tools, alongside dynamic tableside tablets and in-app staff communication, this massively functional system has every tool you need.
If cost is a concern, small bars can start with Toast's hardware and software for free and be confident that the system will grow with their business. See if Toast is a fit for your bar by scheduling a demo.