How to Design a Restaurant Floor Plan: A Step-by-Step Guide
A restaurant floor plan is a sketch of your restaurant space that includes your dining area, kitchen, storage, bathrooms, and entrances. The best restaurant floor plans support operational workflow and communicate your brand to customers. Depending on your restaurant type, your specific restaurant layout will vary, but a 40/60 split between the kitchen and dining room is industry standard.
When designing your restaurant floor plan, the most important thing to remember is that your layout must enable the flow of several elements through your restaurant. Your ultimate restaurant layout should take all of these elements into consideration:
The flow of people: Your staff, customers, and vendors
The flow of product: Food and beverage deliveries and food and beverage sales
The flow of utilities and information: Electricity, water, air, order information, and payment data
Here's how to design a restaurant floor plan in seven steps:
1. Count Your Operational Restaurant Spaces
There are several operational restaurant spaces that every restaurant needs. The size of each will vary based on your restaurant's style and whether customers eat on-site or take food to go.
The primary operational areas of the restaurant floor plan include:
Entry and waiting area: Your entry is the billboard for your restaurant. It should communicate your concept and entice passersby to enter. Once inside, the greeting and waiting areas depend on the type of establishment. For fine and casual dining, this area needs serious consideration if you have wait times. For quick service and cafe concepts, this space can be minimal, especially if you have a bar for counter service. The entryways of all restaurants should comply with Americans with Disabilities Act (ADA) regulations.
Dining areas: Restaurant dining areas typically need 60% of the restaurant space to provide adequate seating and traffic flow. Delivery-only restaurants or quick-service spots may not need this much room, however. If you use a point-of-sale (POS) system, you'll need to consider where to place terminals throughout your dining room as well. (See our general guide to restaurant POS systems and niche POS guides such as for cafes and quick service restaurants.)
Kitchen: In most restaurant floor plans, the kitchen takes up about 40% of your space. This might seem like a lot for a space that patrons never see, but it's the heart of your business. Kitchens also need gas lines, water lines, electrical wiring, floor drains, and ventilation hoods.
Restrooms: If you can place restrooms near your kitchen area, you can save money by tying into nearby plumbing and water lines. Depending on your space's size, it's a good idea to add a staff-only restroom, too. Keep in mind that your restrooms need to be ADA compliant as well.
Delivery entrances and loading docks: In most locations, you don't receive supplies through the same entrances that customers use. Large commercial buildings will already have loading docks or back entrances for vendor deliveries. If your building does not have one, it is a good idea to add a delivery entrance to your restaurant. You don't want customers walking around vegetable crates to get to a table!
Staff areas and back office: Most restaurants need a back office to hold sensitive business information like personnel files, tax documents, computing equipment, and cash reserves. Some cities also require employers to provide break areas for staff as well. If you have the space, a staff locker room is an excellent addition so that your team can change from street clothes into work clothes and securely stow their personal belongings while they work.
Pro Tip: Providing an area for your team to change clothes and put on uniforms helps prevent foodborne illnesses and outside allergens from entering your restaurant in the first place.
There are also optional areas that you'll need to add, depending on your restaurant concept. These include:
Bar and service counters: A bar area is essential for restaurants with robust cocktail, coffee, or juice programs. If you allow customer seating at your bar, you'll need to ensure that a portion of it is ADA compliant. Delis, sushi shops, and other quick-service restaurants also need counters or bar areas. The availability of floor drains, electrical lines, and water lines will usually determine where you can place your bar or service counter.
Takeout and delivery pickup areas: If you do a lot of takeout and delivery business, you should set aside space to hold completed orders and enable efficient pickup. Full-service restaurants with dine-in guests alongside delivery services should separate the two guest types to keep business flowing.
Outdoor spaces: Don't forget your outdoor spaces. For some restaurants, the only outdoor space is the front entrance. But, in temperate climates, you'll want to expand your dining space with outdoor patios or sidewalk seating.
Make a list of all the functional spaces your restaurant needs. Consider how many people need to work or dine in each area simultaneously and how long they will occupy the space. You should plan on allocating the most space in your floor plan for areas where the most people will congregate for the most extended amount of time. Dining rooms in full-service restaurants where customers spend two hours per meal will naturally be larger than in a burger joint where most customers take food to-go.
2. Consider the Space You Have
Before you fall in love with a particular restaurant layout, you'll want to locate electrical lines, water lines, load-bearing walls, and areas where you can place floor drains. Get a copy of your restaurant location's blueprints, or consult with a contractor to determine the most sensible places for your kitchen equipment, restrooms, and bar equipment. You should also contact your landlord and local zoning board to learn about any restrictions that could impact your choices.
Before you begin sketching your restaurant layout, you need to know these things:
Location of utilities: The availability of gas lines, electricity, ethernet cables, phone lines, and water lines will influence how you layout your restaurant space.
Interior elements that cannot change: You may not be able to move some walls or columns in your restaurant space. It is better to know what you can and cannot change before you draw your plans.
Landlord restrictions: Most commercial buildings have rules about where you can receive deliveries and where entrances and exits can face.
Zoning restrictions: This is primarily a concern for exterior signage and concepts that want to add drive-thru service. Local ordinances may not permit drive-thrus, or you may need special permits for sidewalk seating and outdoor patios. Zoning ordinances also determine where you can vent kitchen fumes and smoke.
Pro Tip: Start with an existing restaurant space. Re-configuring an old restaurant to meet your needs costs a lot less money than starting with a raw commercial space. Find a commercial real estate pro with restaurant experience to help you find the ideal restaurant location to rework. They can usually advise you on loans and financing options too.
3. Design your Kitchen Layout
Your restaurant's kitchen has the most significant technical needs of any part of your restaurant. That's why you start with the kitchen. Most restaurants allocate 30% to 40% of their total space to the kitchen to allow adequate food prep, cooking, and server pickup space. There is more than just food to consider.
A restaurant kitchen must allow for adequate flow of:
Food: Raw ingredients need to flow into the kitchen, and prepared food needs to flow out of the kitchen.
Staff: Cooking and cleaning staff need an efficient workspace, and service staff need an efficient pickup space.
Information: Cooks need to quickly see orders as they arrive in and leave the kitchen.
Waste: Cooking fumes, steam, and smoke must exit the building. Wastewater and cooking grease also must be safely disposed of.
To remain safe and sanitary, a restaurant kitchen needs:
Gas lines: To power cooking equipment
Electrical lines: To power cooking and ventilation equipment, refrigerators, freezers, and POS equipment like printers and kitchen display systems (KDSes)
Water lines: To supply dishwashers and sinks, specialty beverage equipment like soft drink dispensers and espresso machines, and sprinkler systems or fire suppression equipment
Floor drains: To drain refrigerators, ice machines, ice bins, and sinks
Grease trap connections: To prevent cooking fats from wastewater and cooking equipment from entering public sewer systems
Once you've chosen the best spot in your restaurant to support your kitchen equipment, you're ready to think about the layout of the kitchen itself. There are the three primary commercial kitchen designs that restaurants use: Assembly Line, Island, and Zone.
Restaurant Kitchen Layout Examples

Description

Assembly Line

Three distinct areas for food production
Moves foods through parallel stations for prep, cooking, plating, and pick-up
Keeps staff in defined workspaces with little movement between stations
Best for: High-volume full-service, pizza, and institutional kitchens.

Island

Circular production allows more staff movement and supervision between stations.
Cooking equipment: ovens, grills, fryers are centralized
Other work areas line the perimeter
Best for: Large restaurants with multiple order streams, kitchens with flexible staff

Zone

Allows staff movement and supervision between stations
Allows server access to prep and cooking zones
Best for: Small spaces, restaurants that serve a lot of salads, and foods that don't require cooking
Whichever kitchen layout fits your needs, it's a good idea to test your plan before installing any permanent equipment. Have staff walk through workflows to ensure there are no traffic jams or rubbed elbows. Then you can lock the equipment in place.
Pro Tip: Have designated entrance and exit doors in your kitchen to establish traffic patterns and reduce accidents. If you cannot install two separate doorways, install a double door with clearly marked "in" and "out" on both sides.
Ghost Kitchens & Cloud Kitchens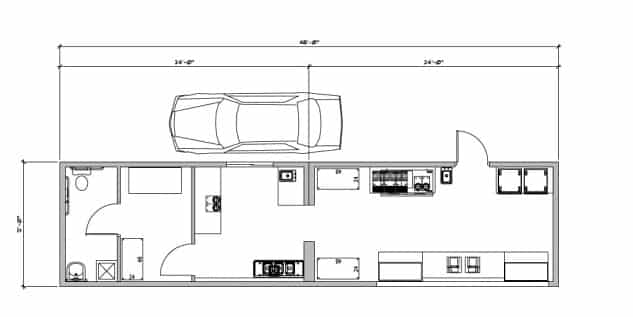 Ghost kitchens are delivery-only restaurants that rely on third-party online ordering apps. Sometimes they are also called "cloud kitchens." These restaurant types don't need publicly available amenities like a dining room or public bathrooms. They operate like stationary food trucks. Since ghost kitchens rely on delivery services, adding a drive-thru window is an excellent idea if your location permits one. Depending on your business volume, any of the three kitchen layouts mentioned above can work for a ghost kitchen or cloud kitchen.
---
4. Design Your Restaurant Dining Room Layout
Restaurant dining areas generally use around 60% of your total restaurant space. What you put in this space depends on your restaurant type. The first step in this equation is checking with your local building permit office for occupancy guidelines for your space. You'll also want to read the ADA guidelines for accessibility carefully. Having all of this information upfront ensures that your dining area layout and floor plan meet applicable regulatory guidelines.
Pro Tip: Most restaurant POS systems and reservation systems have customizable table layout tools. If you have a POS or reservation system, tinker with the built-in floorplan tools to help you find your ideal table configuration.
These industry-standard measurements should help you plan your seating space and traffic flows:
| Restaurant Style | Square feet per-person |
| --- | --- |
| Fine Dining | 18–20 square feet |
| Full-Service Casual Dining | 15–18 square feet |
| Countertop Diner or Bistro Service | 12–15 square feet |
The following space allocation allows staff and customers to co-exist easily and provides room for most wheelchairs to pass.
| Unit | Space between each |
| --- | --- |
| Occupied chairs | 18–20 inches |
| Tables set in parallel | 42–60 inches between sides |
| Tables set on a diagonal | 24–30 inches between corners |
Of course, much of your space allocation for tables and chairs depends on your restaurant concept and the types of seating you use. Mixing table styles optimizes dining space by making clever use of wall space and supporting efficient traffic flow. You can move freestanding tables to accommodate large parties or change your space's look and flow. Booths maximize wall space, and mixing them in with tables gives patrons their choice of seating. Many dining concepts add countertop-height tables to the mix to add visual variety.
Restaurant Dining Room Layout Examples

Description

Full-service restaurant with bar

Two distinct seating areas
Mix of booths and freestanding tables
Kitchen completely enclosed from dining room
Delivery and take out could run from bar
Best for: Full-service restaurants with bars, high-volume full-service restaurants

Quick service restaurant

The service counter has direct access to the kitchen.
Counter service staff have good sightlines of the entire dining room.
Best for: Cafeterias, build your own concepts (burritos, salads, combos, etc.)

Dining room with open kitchen

The kitchen opens out to the dining room
Cashiers are visible from the main entrance
Room for line forming and delivery pick-ups
Best for: Delivery-heavy restaurants, pizzerias
Remember Your Restaurant Tech
Beyond supporting the efficient flow of your staff and customers, your restaurant dining room has another critical component—information flow. Whether you use a register or a POS system, you need to send order information from customers to your kitchen and payment information from your customers to your payment processor. So, don't forget to include server stations equipped with card readers or POS terminals in your dining room layout. Remember, of course, to place these tools near electrical outlets.
If you use a cloud POS or iPad POS, you'll need to think a lot about your walls. The more walls between your POS terminals and your Wi-Fi router, the weaker your signal will be. Open floor plans are great for cloud POS users. But you can still have a dining room full of partitions and cozy nooks; just remember to add Wi-Fi signal boosters to your design plan.
---
Outdoor Dining Areas
In outdoor spaces, plan for adequate walking space between tables and umbrellas (if you use them). Also, plan for wide walkways and aisles that run alongside planters and walls. Just like your indoor spaces, you need to leave enough room in main thoroughfares to allow wheelchairs to pass. And if you plan to accept tableside payments, you'll likely need a Wi-Fi signal booster.
Pro Tip: Check local zoning laws before you place dining tables on your sidewalk. Many locations require a separate permit, or may limit the hours you can use outdoor seating.
---
5. Layout Restrooms, Entryways & Waiting Areas
All guest-facing areas of your restaurant must be ADA compliant, so it's a good idea to design them all together. Doorways must be wheelchair accessible, and you must have at least one restroom stall in each bathroom that is also wheelchair accessible.
Placing your restrooms near kitchens can save you money on your plumbing by tying into nearby lines. Though placing your restrooms away from the kitchen can reduce crowding in a high-traffic area. Restrooms are also a spot that require careful consideration for ADA compliance.
So place your restrooms carefully. This isn't an element that's easily moved about the space.
Pro Tip: The ADA generally requires at least 60 inches of turning space between fixtures for wheelchair accessibility. Small restaurants may only have room for single occupancy restrooms to stay within ADA guidelines.
Your restaurant entrance should clearly communicate your restaurant concept and brand. This is the first visual and tactile experience your patrons have when entering your establishment, so carry any design choices you make in your dining room design choices forward to your entry. Or simply customize your door to compliment your signage and brand concept.
Pro Tip: If your entryway includes stairs or a step up or down from ground level, you'll need to think about ADA adjustments. If you can fit a ramp alongside any stairs, that is usually the simplest solution. You might also consider a separate, wheelchair-accessible entrance or a wheelchair lift.
For cafe, bistro, and diner concepts, your entrance can be minimal, especially if you have a bar or countertop where patrons can wait. If you need a defined wait space in front, plan this area to allow traffic flow in and out and accommodate seating if at all possible. A few comfortable chairs work, but bench seating against the wall can better use a tight space. And, if it works in your location and climate, adding outdoor seating to your wait space can be a good idea. A few patio-type chairs or benches can do the job with style.
Pro Tip: Remember your curbside. If you offer curbside pick up for orders, you'll need to add signage outdoors, and possibly set aside an indoor area for organizing curbside orders.
6. Add Bars, Service Counters & Delivery Areas
Bar or countertop dining areas can be a great addition to your restaurant floor plan. If you haven't considered one, you should if space allows. It's a more profitable use of space than a large waiting area since patrons can order drinks while waiting. Plus, it creates small-footprint dining space since diners expect less elbow room at a bar than they do at a table.
For placement, a bar or countertop that shares its back wall with the kitchen works very well, especially in small spaces. That lets you tie into your existing plumbing for bar sinks or add a pass-through window to the kitchen for a diner, cafe-style coffee house, or bistro restaurant concept.
Pro Tip: Most bars and service counters need 14 feet of width. This allows plenty of room for customers to gather on one side, width for the counter itself, room for your staff to work, and room for a backbar for additional workspace.
Quick service restaurants like pizza shops and burger joints ring in customer orders at a central counter, equipped with registers or POS terminals. This counter is usually the only separation between the kitchen and the dining area. Order counters typically only need electrical outlets and an internet connection to process payments. Many restaurants also use this real estate to store dry goods and paper supplies under the counter.
Delis, bakeries, and slice shops perform most of their business from a counter. Depending on the food you serve, this counter may need to support refrigerated or heated displays. These service counters are like mini-kitchens and need access to electric and water lines as well as drainage and ventilation.
Many restaurants are struggling to keep up with the rising consumer demand for online ordering and delivery. Whether you provide takeout and delivery with your in-house staff or rely on third-party delivery services, you should set aside an area specifically for drivers and customers to pick up delivery and takeout orders. If your delivery program is especially robust, it makes sense for the pickup area to be near—or in—your kitchen.
Depending on your business level, this area can be a series of shelves inside your front entrance or a drive-thru window. Suppose your restaurant is a delivery-only concept like a ghost kitchen or cloud kitchen. In that case, you'll want to invest in warming cabinets or countertops with heat lamps to keep your food at optimum temperature.
Pro tip: Any counter that allows seating should have an ADA-compliant section that is no higher than 36 inches above the floor, with at least a 12 inch overhang to allow for wheelchair users to comfortably enjoy the bar.
7. Add Staff Areas & Back Office
Last but not least, you want to include space for your managers and staff. These areas don't need to be large—since they don't generate revenue, and ideally, your team isn't spending long hours in them—but they should be thoughtfully designed.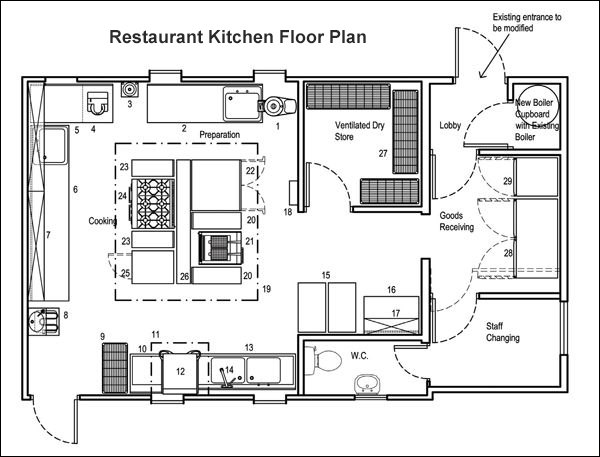 Staff Entrance & Locker Room
A separate staff entrance prevents traffic jams between your staff and your customers. A staff entrance can also double as a delivery entrance. Locker rooms keep employee belongings out of work areas during their shifts, which can help your team focus. Many health inspectors will also dock points on your health department rating if they see employee belongings in food service areas. Anything that travels from outside your restaurant is a potential source of food-borne illness.
---
Back Office
Your restaurant back office doesn't need to be large, but it does need to be secure. Your back office holds sensitive information like hiring documents, tax information, and business licenses. It also holds valuable items like your back office computer, security system hub, and safe. There should always be at least two lockable doors between your safe and the outside world. Your office door should be solid, and it should lock from the inside.
---
Restaurant Floor Plan Frequently Asked Questions (FAQs)
Why do I need a restaurant floor plan?
In most cities, you'll need to include your restaurant floor plan when you apply for business permits. If you are seeking investors, it's a good idea to include your floorplan in your restaurant's business plan, too.
---
What are the restaurant layout elements?
Your restaurant layout should include all entrances and exits, a dining room floorplan, kitchen layout, restrooms, staff-only areas, and loading dock entrances.
---
How do I create a restaurant floor plan?
You can create a restaurant floor plan in your POS or reservation system, or use a floor plan drawing app like SmartDraw.
---
Bottom Line
Your restaurant floor plan dictates your entire operation's workflow, from kitchen and dining areas to customer amenities like waiting areas and restrooms. Allocating about 40% of your total area to the kitchen is the industry standard, with 60% for your customer-facing areas. The layout that works best for your restaurant will depend on your restaurant type and sales volume. The best restaurant floor plans support the smooth flow of employees, customers, food, and information through the restaurant space.