Bachelor of Arts in Journalism with a minor in Electronic Media and Broadcasting from Northern Kentucky University
Nationwide Multistate Licensing System (NMLS)-Certified (NMLS # 1780899)
N5-Certified on the Japanese Language Proficiency Test
Small business lending
Residential mortgage lending
Commercial mortgage lending
Commercial equipment lending
Financial journalism
Broadcasting
10 years of finance experience in lending and lockbox
20 years of journalism experience in print, online, and broadcasting
Matt Sexton is a finance expert at Fit Small Business, specializing in Small Business Finance. He holds a bachelor's degree from Northern Kentucky University and has more than 10 years of finance experience and more than 20 years of journalism experience. He has worked for both small community banks and national banks and mortgage lenders, including Fifth Third Bank, U.S. Bank, and Knock Lending.

In addition to his financial and journalistic background, Matt has been a high school tennis coach for 16 years—with his teams winning 12 league championships during that time. He is also the lead women's basketball and men's and women's soccer broadcaster for Northern Kentucky on the ESPN+ streaming platform. He has also broadcast games at Thomas More University and the University of Cincinnati.
"I feel like we have a very important role here at Fit Small Business to help users cut through the clutter of the internet and find the products and services that will best serve their needs. We spend the time to bring them the best answers so that they can spend time running their business and not endlessly searching for information."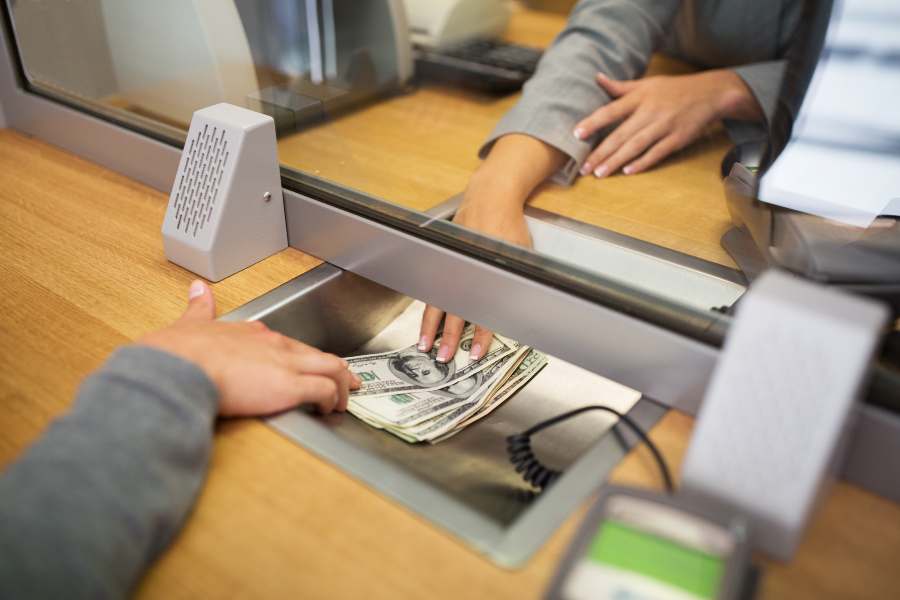 November 2, 2022
10 Best Banks for Small Business in 2023
The best banks for small business should be able to support your company with outstanding business checking products and other business services to help you grow and prosper. The banks on this list have either full-service business banking or a specific product that's good enough to merit inclusion in this buyer's guide. While these providers offer outstanding business banking services, each has slightly different strengths and weaknesses. Decide what services you need from your business bank and choose the option that best aligns with your business needs. Here are the 10 best banks for small business, with links directly to the provider: : Best overall bank for full-service small businesses banking tools and premium checking : Best for low cash deposit fees and ongoing rewards *: Best high-yield checking account †: Best traditional bank for extensive business lending products †: Best for unlimited everyday transactions †: Best for businesses looking for smaller Small Business Administration (SBA) 7(a) loans *: Best digital bank for incorporated startups and tech companies *: Best digital-only bank for rapid access to funds and faster payments : Best for full-service digital banking : Best for startup business resources *Providers are financial technology (fintech) platforms backed by and Federal Deposit Insurance Corp. (FDIC)-insured through a supporting bank partnership. (Partnerships: Coastal Community Bank for Bluevine, Evolve Bank & Trust for Mercury, and Middlesex Federal Savings for Novo) †Providers are geographically limited. See the U.S. Bank geographic limitations, Capital One geographic limitations, and Huntington Bank geographic limitations to see if your business is located in an area served by these providers. Best Banks for Small Business Basic Checking Accounts At a Glance See fullscreen table × Chase: Best Overall Bank for Full-service Small Business Banking Tools & Premium Checking Chase Business Complete BankingSM Checking Overview Bank of America: Best for Low Cash Deposit Fees & Ongoing Rewards Bank of America FundamentalsTM Business Checking Overview Bluevine: Best High-yield Checking Account Bluevine Business Checking Overview U.S. Bank: Best Traditional Bank for Extensive Business Lending Products U.S. Bank Silver Business Checking Overview Capital One: Best for Unlimited Everyday Transactions Capital One Business Basic Checking Overview Huntington Bank: Best for Businesses Looking for Smaller SBA 7(a) Loans Huntington Bank Business Checking 100 Overview Mercury: Best Digital Bank for Incorporated Startups & Tech Companies Mercury Business Checking Overview Novo: Best Digital-only Bank for Rapid Access to Funds & Faster Payments Novo Business Checking Overview First Internet Bank: Best for Full-service Digital Banking First Internet Bank Business Checking Overview Silicon Valley Bank: Best for Startup Resources SVB Edge Business Checking Overview How We Evaluated the Best Banks for Small Business When we evaluated the best banks for small business, we considered Monthly fees, if any, and how easily they're waived Required opening deposit and balance minimums Transaction limits before fees ACH and wire transfer fees ATM fees and availability Cash deposit fees and availability Interest yield, if applicable Other checking account perks Software integrations Other business services provided Lending products provided Customer service Customer reviews What You Need To Open a Business Bank Account Each provider on this list may require different documents to open a business bank account. Generally, you'll need: Employer identification number (EIN) or Social Security number if you're a sole proprietor Fictitious business name certificate or doing-business-as (DBA) certificate Business formation documents Organization documents, including your ownership agreements Business licenses Government-issued photo ID, such as a passport or driver's license Frequently Asked Questions What bank is best suited for small businesses? If you want to use a brick-and-mortar bank for your small business, Chase is the best option, thanks to multiple checking options and great business support products. If you want a digital-only bank, Bluevine, with its interest-bearing checking and line of credit product, is the best choice. Which bank is good for a startup business account? If you're looking for the best banks for a startup business, our top choices are Chase, Bank of America, and Axos Bank. Each provides full-service banking with specific tools to help new businesses. Who has the best small business checking account? Bank of America has the best small business checking account, thanks to waivable monthly fees and plenty of free transactions available each month. It also provides you access to your Dun & Bradstreet business credit score as part of your business checking account. Bottom Line While the 10 banks listed in this guide provide multiple business banking support products to help your growing company, choosing which is best for your business will be determined by your company's exact needs. Each provider offers slightly different products and services. Consider what you need from your business bank and go with the bank that best aligns with your needs.
Discover more resources
for your business
Bachelor of Arts in Journalism with a minor in Electronic Media and Broadcasting from Northern Kentucky University
Nationwide Multistate Licensing System (NMLS)-Certified (NMLS # 1780899)
N5-Certified on the Japanese Language Proficiency Test
"I feel like we have a very important role here at Fit Small Business to help users cut through the clutter of the internet and find the products and services that will best serve their needs. We spend the time to bring them the best answers so that they can spend time running their business and not endlessly searching for information."