Business insurance brokers can help you find the best coverage because they have access to multiple carriers. We researched two dozen popular brokers to find the top insurance brokers for small business owners. The final eight come out on top based on eight criteria, including price options, available carriers, coverages, and customer service.
8 Top Insurance Brokers for Small Businesses
| Business Insurance Broker | Best For |
| --- | --- |
| | Small business owners who want to work with the best overall insurance broker |
| | New business owners who want expert advice to help determine the coverage they need |
| | Businesses that rely on business-owned vehicles and need commercial auto insurance |
| | Small business owners who want to know about extra fees before they buy |
| | Tech-savvy business owners who prefer to easily manage their policies online |
| | Contractors who see declines because of high-risk operations |
| | Ecommerce businesses looking for cyber liability insurance and cybersecurity resources |
| | High-growth businesses that want directors & officers insurance for investors and their board |
Which Insurance Broker is Right for You?
What Are Insurance Brokerage Firms
An insurance brokerage is a firm that works on behalf of a customer to find the best possible policies to meet their needs. This could mean getting favorable pricing or comprehensive coverage options. Brokers have the access and ability to shop insurance pricing by partnering with many insurance carriers—often top-rated business insurance companies.
A business owner can find cost savings by working with a broker because they're more likely to help you find the right amount of coverage. Also, comparison shopping with an insurance broker helps you to find the best deal on coverage that works for your business.
How We Evaluated Business Insurance Brokers
Small business owners know they need insurance, and they want to get it fast and at a good price. We kept that in mind when evaluating business insurance brokers. Our top criteria focus on the ways brokers help you get affordable coverage quickly: price, carriers, coverages, applications, customer service, and reviews.
We used the following criteria to compare top insurance brokers:
Price: Premium is up to the carrier, so we looked for brokers who offered discounts or payment plans. We also checked their compensation disclosures to see if they charged a broker's fee. Generally, brokers charge 15% of the premium. Large national brokers may not charge anything.
Carrier options: Any premium quoted through a broker depends on the insurance carrier, so the more carriers one can quote, the better chance you have of finding an affordable policy.
Policy options: Some businesses only need one policy. For the rest, having all your insurance through a single broker can simplify payments, servicing, and renewals.
Ease of use: The most important factor here is the broker's application. We looked for streamlined applications with clear and relevant questions.
Online options: Most brokerages have online applications, but some also let you pay for the policy, download certificates, add insureds, and amend coverage.
Customer reviews: First, we researched customer reviews from a number of sources, including Feefo, the Better Business Bureau, and ConsumerAffairs. But we also evaluated responsiveness through email and online chat features.
Additional benefits: Our main focus is each broker's access to commercial lines products, but we also took note of brokers with other policy options.
When it's time to get business insurance, brokers can help owners find coverage that is affordable and appropriate for their risks.
"Providers can vary based on the line of insurance, but the best solution for anyone in this position is using an independent agency model. An independent agency has access to hundreds of options and can tailor the policy and budget shop at the same time. It's a win/win."

– Joshua Martin, President, Good Life Protection
Brokerages can share a lot of similar qualities, but AP Intego took the top spot. It received high marks for carriers, coverage, online options, and pricing, making AP Intego our pick for top insurance broker for small businesses.
AP Intego: Best Overall Business Insurance Broker for Small Businesses

AP Intego is our pick for best overall business insurance broker. Workers' compensation insurance may be its bread and butter, but the company also offers most common small business policies from quality carriers without charging broker fees. Its online application is only a few pages and quotes appear instantly.
AP Intego Costs
AP Intego is the only brokerage on the list that offers pay-as-you-go workers' compensation. Instead of submitting payments based on your payroll estimates, AP Intego's plan lets you pay monthly. Your payroll service sends a copy of your recent payroll, and AP Intego uses it to charge your premium.
AP Intego Coverage & Carriers
AP Intego works with seven top-notch insurers to bring small business owners quality insurance. A few of these are household names. Others may be less recognizable, but that simply broadens your options and increases your potential for quotes.
Here are a few of the carriers AP Intego works with:
Travelers
Berkshire Hathaway Guard
Oyster Insurance
Markel
Working with multiple carriers means AP Intego can offer all kinds of small business policies, but its standout product is workers' compensation. AP Intego knows how to apply each state's workers' compensation laws to specific risks, helping business owners avoid fines. Plus, AP Intego can also quote less common liability policies, like cyber, employment practices, and umbrella coverage.
AP Intego Customer Reviews
Reviews for AP Intego are sparse—however, in general, they trend positive. In addition to pay-as-you-go workers' compensation, customers often mention they're impressed with the company's responsiveness. While they had to call other business insurance brokers several times, AP Intego representatives return calls quickly.
What AP Intego Is Missing
AP Intego's online application is easy to use and sends workers' compensation quotes instantly. However, quotes for other policies, including general liability, sometimes require talking with a broker. Plus, you can't make online service requests. Other brokers on our list have instant quotes for all policies, and a few have better online servicing.
CoverWallet: Best Business Insurance Broker for Expert Advice

CoverWallet stands out among business insurance brokers for business owners who aren't sure what type of coverage they need. With an easy assessment tool, CoverWallet offers expert advice to help you determine the type of coverage you need and why. Its carrier partnerships boast a wide appetite, ensuring businesses can get the coverage they need.
CoverWallet Costs
Unlike its competitors, CoverWallet is one of the few brokers that offers pricing on its website. CoverWallet offers ballpark prices on coverage—which vary depending on the type of policy and industry. For example, if you look at ecommerce insurance, a business owner's policy (BOP) starts at $49 per month, whereas for a BOP plus malpractice insurance for an occupational therapist starts at $149 per month.
CoverWallet Coverage & Carriers
Small business owners in more than 20 industries can purchase all the most common policies they need from CoverWallet to operate with protection, including general liability, commercial property, workers' compensation, and cyber liability coverage. CoverWallet offers detailed information about the types of coverage, as well as answers to basic questions about business insurance.
CoverWallet works with a number of national carriers on its platform, including:
Chubb
AmTrust
CNA
Hiscox
Liberty Mutual
Progressive
More carriers are being added regularly, and all insurance companies that CoverWallet partners with have an A.M. Best rating of A or higher.
CoverWallet Customer Reviews
CoverWallet receives high marks from customers for its attention to detail and ease of use, as well as for its intuitive online portal for managing your policies. CoverWallet user reviews also highlight the fast service handling and knowledgeable representatives.
What CoverWallet Is Missing
Like all of the companies in our list, CoverWallet is an online broker, which means some of its servicing is done by the insurance carrier that writes your business insurance policy. Policyholders may have difficulties with communication if they're not sure if they should turn to CoverWallet or their specific carrier for assistance.
CyberPolicy: Best Business Insurance Broker for Commercial Auto Insurance

CyberPolicy offers an array of business insurance products, but it's the standout broker for commercial auto coverage. It's one of the only brokers that can take your auto information directly from your state's department of motor vehicles. Picking this option speeds up the application and reduces error to find you the best match for commercial auto insurance.
CyberPolicy Costs
CyberPolicy works with many carriers, so it can't provide standard pricing. That said, the company claims it can get a discount for people who buy more than one policy in most cases. Also, CyberPolicy doesn't charge a broker's fee, which can keep costs down compared to other business insurance brokers.
CyberPolicy Coverage & Carriers
CyberPolicy works with over 40 insurance carriers. On the site, it lists a number of high-quality carriers, such as Progressive, The Hanover, and Acuity. These carriers sell basic business insurance plus a few policies you don't see everywhere, like directors and officers liability and crime insurance.
CyberPolicy Customer Reviews
Customer reviews for CyberPolicy tend to be positive. Most positive reviews mention the easy application and low cost, but many also approve of how CyberPolicy uses their information after they apply. CyberPolicy never sells or shares client data with outside agents.
What CyberPolicy Is Missing
An easy application and multipolicy discounts are big selling points for CyberPolicy. However, CyberPolicy only sells policies online. Any extra requests, like adding insureds or getting extra certificates, goes through the insurance carrier.
BizInsure: Best Business Insurance Broker for Price Transparency

BizInsure pledges to help small business owners by reducing commercial insurance costs and increasing price transparency. It's best for budget shoppers searching for lower costs and clear, accurate, all-in price quotes. Its application is more thorough than other business insurance brokers, but that results in more precise pricing information on your initial quote.
BizInsure Costs
Like most brokers, BizInsure's primary compensation is commissions, fees, or a combination of the two. When it charges broker fees, the amount is clearly listed in your quote. Additionally, BizInsure lets you select annual, quarterly, or monthly premium payments and includes those amounts in its proposals.
BizInsure Coverage & Carriers
BizInsure lists over 30 industries and occupations it covers on its site. The company specializes in general liability, business owner's policy, and professional liability. In addition to these essential coverages, BizInsure also offers a range of industry-specific policies, like glass coverage and machinery breakdown.
BizInsure works with eight top-notch small business carriers:
Hiscox
The Hartford
Liberty Mutual
Progressive
Beazley
Chubb
CNA
USLI
BizInsure Customer Reviews
Customers like the online quoting BizInsure offers, describing it as quick and painless. They also appreciate being able to call a customer service representative during regular business hours for additional assistance.
What BizInsure Is Missing
BizInsure lets you apply, purchase, and access your policies online 24/7. Plus, you can contact a licensed agent throughout the process. The main drawback to working with BizInsure is the limited number of policies. Many small businesses need more coverage than BizInsure can quote.
Embroker: Best Business Insurance Broker for Online Experience

Embroker takes the paperwork out of the insurance industry. Not only can you apply online, but you can manage your policies in Embroker's digital policy vault—including policies written through another broker. Combine this with Embroker's easy-to-navigate site, and you have the best digital business insurance broker.
Embroker Costs
Embroker's compensation disclosure claims the site periodically charges clients a fee. However, the platform is free to use even if you aren't looking to buy coverage today. Some startups may qualify for premium credits.
Embroker Coverage & Carriers
The list of policies offered by Embroker is huge. It covers everything from standard business coverages, like general liability, to industry-specific insurance, including trucker's cargo, builder's risk, and third-party fidelity. Embroker even offers an insurance program custom-built for startups.
Embroker Customer Reviews
Reviews for Embroker are few and far between, but the ones available give the broker high marks for customer service and cost savings. Customers also give Embroker positive notes on its Risk Review service. You upload your current policy, and Embroker provides coverage gaps and potential savings at no cost to you.
What Embroker Is Missing
Embroker's strength is its digital innovation. Most business owners would benefit from having all their insurance information in one easily accessible place. And Embroker goes a step further by creating digital note cards describing your specific coverage. Surprisingly, the one thing that's missing is instant quotes. Other business brokers take just minutes to send insurance rates.
Insureon: Best Business Insurance Broker for Hard-to-Insure Businesses

Businesses that are declined by other business insurance brokers can usually get policies through Insureon. The company's strong stable of quality carriers lets it write policies for businesses with operations that other brokers can't cover. That's especially true for construction businesses, retailers, and restaurants.
Insureon Costs
Insureon does not charge fees except when required to for surplus lines taxes. That last bit means some of the hard-to-place businesses that get coverage are probably going to pay more. However, Insureon also has strong markets for business owner's policies, and that's a good way to keep costs down.
Insureon Coverage & Carriers
Insureon works with nearly 200 insurance carriers. With so many relationships, Insureon can typically find coverage for businesses in 23 industries.
Here are a few of the carriers that Insureon works with:
The Hartford
Hiscox
Chubb
Liberty Mutual
Travelers
Coverage options include the basics, like general liability and commercial property, but it also offers specialty policies by industry.
Insureon Customer Reviews
Customer review site Feefo show Insureon earning 4.8 out of 5 stars. Most customers praise the quote speed and price options. Other Insureon reviews cite poor customer service and response time, possibly due to the broker's large size.
What Insureon Is Missing
Insureon is the old-timer of the Insurtech world. That experience shows through in its ability to cover many industries fast. But its application is a behemoth—over 10 pages compared to five or six from its competitors. The detailed questions help get more accurate quotes, but it's definitely going to take more time to complete than for the other brokers on our list.
Layr: Best Business Insurance Broker for Cyber Liability Insurance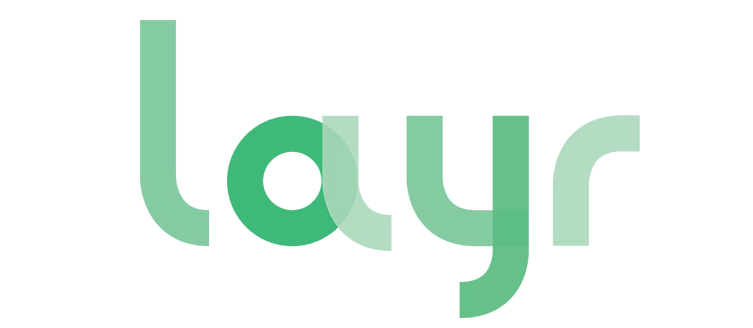 Layr embraces technology to make it easier to buy commercial insurance. This broker places a focus on cyber liability protection at the top of its list, especially for ecommerce business owners and technology-focused businesses. Layr also provides educational resources for businesses to help mitigate their risks and reduce costs.
Layr Costs
Like many other brokers, Layr doesn't provide coverage cost information online. However, it does give an explanation of its pricing and how it makes money. The insurance carriers that work with Layr pay a commission for every policy purchased through the platform, and businesses pay a percentage-based finance fee of up to 20% of the premium.
Layr offers discounts based on when customers pay their premium as follows:
A 10% discount if you pay your premium in full for one year
A 5% discount if you pay your premium in quarterly installments
If you fill out Layr's online application, it can offer instant pricing for the basic policies available depending on your industry and business operations.
Layr Coverage & Carriers
Layr offers common coverage types that small businesses need, including general liability, property, and workers' comp. It also places an emphasis on cyber liability insurance. This is a top concern for ecommerce and technology businesses because they often collect and store customer data. For cyber liability policies, Layr's limits start at $250,000 and go up to $1 million.
Layr works exclusively with A+ and A-rated insurance companies, including:
CNA
Chubb
Ace
One Beacon
Philadelphia
You can find information about many of the popular carriers Layr works with on its site, including financial ratings, market share, and company histories.
Layr Customer Reviews
Founded in 2016, Layr is a more recent addition to the business insurance marketplace, so customer reviews are difficult to find. Still, user testimonials mention Layr's easy, straightforward platform and its ability to get coverage in place quickly, often within 48 hours.
What Layr Is Missing
Layr has a fairly painless application and offers instant pricing on policies, but its website layout isn't exactly user-friendly. It's difficult to find coverage information for different kinds of businesses. You might spend too much time digging for answers on coverage and industry offerings in Layr's uncategorized blog.
Founder Shield: Best Business Insurance Broker for High-growth Startups

Founder Shield is the best commercial insurance broker for startups and small businesses experiencing high growth. The broker was founded by startup veterans, so it understands what coverage new ventures need, including directors and officers insurance to cover their boards. It can also help businesses seeking to do one or more rounds of capital raises.
Founder Shield Costs
Founder Shield doesn't offer exact pricing information on its site, but it does provide some research on average premium cost for certain policies and industries. However, not every coverage type has this information.
For example, on its directors and officers (D&O) insurance page, it examines the average premium by company size, based on annual revenue of its policyholders:
| Company Revenue | Average Premium |
| --- | --- |
| $1 - $10 million | $6,800 |
| $10 - $25 million | $10,300 |
| $25 - $50 million | $20,300 |
| $50 - $100 million | $23,400 |
| $100 - $250 million | $52,800 |
Founder Shield Coverage & Carriers
Founder Shield policies are tailored and bundled based on the size of your business. For startups and technology-based businesses, the broker offers insurance options for their unique risks.
Founder Shield breaks down recommended coverage for small businesses based on the stage of its growth:
Bootstrapper: One to 10 employees, $0 to $1 million funding raised, and in beta or prelaunch
Venturer: Zero to 50 employees, $1 to $30 million funding raised, and scaling operations
Premiere: More than 50 employees, more than $30 million funding raised, and in a growth phase
The brokerage offers basic, essential coverage, such as general liability, property, cyber liability, workers' compensation, and more. Founder Shield's carrier partner information is elusive and isn't readily available.
Founder Shield Customer Reviews
Founder Shield generally has positive reviews touting the broker's expertise and knowledgeable service when it comes to technology-based businesses. However, as with many brokers, some customers felt Founder Shield fails to offer dedicated, personal attention to their companies.
What Founder Shield Is Missing
Founder Shield offers great advice on coverage that startups need and why. However, there is little to no transparency about what happens after you get a quote. Additionally, at first appearance, the application seems simple—but it gets nitpicky quickly the more types of policies you need. To avoid confusion (and a headache), it's probably easier to speak with a Founder Shield service representative to discuss your questions.
Bottom Line
Time and money are always top of mind for small business owners, but you also want to cover your specific risks. Working with a top insurance broker lets you compare premiums and policies more efficiently so you can the right insurance fast.
With multiple quality carriers, a broad range of coverages, and a pay-by-the-month workers' compensation policy, AP Intego makes buying insurance easy. Fill out a short application to get a quote in minutes.