Business plan software helps to automate the process of creating a business plan, with templates, calculations, projections, and even writing sections for you using your inputs. We looked at the most popular options and decided to review LivePlan, Bizplan, and Enloop. These solutions covered a broad range for small businesses in terms of price, ease of use, and features. Read on for our comparison and review of these three options, as well as our top recommendations.
Best Business Plan Software for Small Businesses: LivePlan
We recommend LivePlan as the best business plan software for small businesses in 2017 because it offers the most features and the largest library of templates to help you get your business plan started.
Business Plan Software Comparison Table: LivePlan vs Bizplan vs Enloop

LivePlan

Bizplan

Enloop

Best For
Most small businesses
Small businesses in a creative field who want more control over the design of their business plan
Small businesses on a budget who only need a small plan
Ease of Setup and Use

Learn More
Easiest overall for inputting data
Easiest for modifying layout and design
Easiest for creating a very basic plan
Differentiating Features

Learn More

Auto-generate one-page plan summary
500+ industry specific templates
Customize financial projections
Compare plan against industry benchmarks and statistics

Modular, drag-and-drop builder
Creates web-based version of plan for easy sharing
Keep track of collaboration with threaded comments
Social media integration
Automatically publish videos to fundable.com

Enloop Performance Score (EPS) grades your plan for immediate feedback as you build it
Autowrite automatically writes sections with standardized copy and your inputs

Integrations
None
Customer Support

Learn More
Online knowledge base, email, chat, and phone support available 8am-5pm PST
Online knowledge base and ticket-based support
Online knowledge base and email support

Phone support only available on Professional plan
Pricing

LivePlan

Bizplan

Enloop

Pricing
$19.95/month or $140/year
$19/month for one member
$29/month for four members
$49/month for unlimited members

$9.95/month or $72/year for Basic plan
$19.95/month or $132/year for Advanced plan
$39.95/month or $288/year for Professional plan
Free Trial
No, but 60 day money back guarantee
No
Yes, free option with limited features
Best Business Plan Software for Small Businesses: LivePlan

We recommend LivePlan as the best business plan software for small businesses because of its impressive list of features, over 500 industry-specific templates, and competitive pricing. From your initial pitch to number crunching, layout and design, and then tracking your business' actuals against projections, LivePlan provides a comprehensive end-to-end solution.
Like most business plan software, LivePlan leads you through a series of steps that prompt you to enter information about your business, including the compelling copy and hard numbers that help to paint a picture of your business' potential. You will describe your company, the principals behind it, the product and/or service you will provide, who your target market is, what your strategy is and how you plan to execute it, your staffing plan, your financial plan, and include any current data or statements you have available to support them.
While it might seem like an overwhelming amount of information to provide, especially the copy fields for non-writers, LivePlan's primary benefit is that it guides you through the process with a friendly user interface and informative prompts. While Bizplan and Enloop also provide prompts and relevant examples, we found that LivePlan's were much more comprehensive and informative.
Most impressive is the number of options that LivePlan offers to help tailor your plan to the specifics of your business. For example, beyond the expected numbers around your products and services, their costs, and revenue, you can choose how you want to itemize or allocate — by job role or category, if an expense is a general cost or connected to a specific revenue source, in what format you account for it (percentage of revenue, fixed cost, variable cost, etc.), and the type of revenue (unit sales, billable hours, recurring charges, or revenue only). You can also customize not just the information you enter, but what LivePlan prompts you to enter and how and where it displays it.
LivePlan offers a staggering 500+ templates to build your business plan around, categorized by industry and often with dozens of options within each category. Any business plan software will output a formal document of your results, but again, LivePlan allows for a great deal of customization to align them with your business' established look and feel. Bizplan offers some well-designed templates as well, but much fewer than LivePlan; and Enloop doesn't provide any at all.
Finally, LivePlan isn't just a tool for helping you to make projections; it also helps you to track your business' actual performance and how it measures up against them. It integrates with QuickBooks and Xero to download your business' financial data, or you can update it manually if you prefer. Bizplan integrates with QuickBooks and Xero as well, but lacks the ability to track your business' performance against your projections to the extent that LivePlan offers.
Best Business Plan Software for Visual Designs: Bizplan

We recommend Bizplan as the best business plan software for businesses who place a priority on the design of their finished document and who want to expand their reach through Bizplan's partner websites on the startups.co platform.
Much the same as LivePlan, Bizplan guides you through the steps of writing your plan by prompting you to enter the copy and data that's specific to your business. It then builds the finished document through a modular drag-and-drop tool that allows you to add, remove, or move sections of your plan as well as add images, copy, data, or videos to it.
While it doesn't include as many as LivePlan, Bizplan does have an extensive library of sample business plans and templates to choose from with an emphasis on engaging designs. They use bright and bold colors, compelling images, different fonts, and display them in modern designs that will help your business stand out from the pack. You can use one of the included templates as-is, or as a starting point that you customize to make your own. Financial information, such as spreadsheets and forecasts, can also be dropped into a template or adapted to your particular needs.
You can even add videos to your business plan, which Bizplan will then publish to their partner website, fundable.com, to help you crowdsource your capital at no additional cost. Similarly, Bizplan connects with popular social media websites like LinkedIn and Twitter to help you raise awareness of your plan and build all-important social capital. And once your business plan is complete, Bizplan partners with Launchrock to help you build a website that's optimized for customer acquisition through the early stages of your growth. Neither LivePlan nor Enloop offer similar cross-platform integrations.
Best Free Business Plan Software: Enloop

We recommend Enloop as the best business plan software for businesses with a limited budget because it's the only software of the three we reviewed that offers a free option.
Like LivePlan and Bizplan, creating your business plan in Enloop is relatively straightforward; the program guides you through the step-by-step process as you complete the fields with your company's specific information. Enloop then organizes your data into sections, including your business idea, product and sales, marketing plans, personnel, and financial data and displays them in a finished document that you can present to potential investors. While Enloop does make this a relatively straightforward process, LivePlan's prompts are much more informative and provide contextual examples.
Enloop's free version allows a single user to create a single business plan for one business, including three-year financial forecasts, a PDF output, and Enloop's proprietary Enloop Performance Score (EPS) that measures the overall strength of your business plan based on the information you input and industry benchmarks. Your EPS automatically updates as you enter or change your data so you can receive real-time feedback on the benefits or consequences of your changes. Neither LivePlan nor Bizplan offer similar real-time feedback.
While Enloop's free plan may be adequate for a small business with basic needs, many important features are excluded. These include charts and graphs, the ability to remove the Enloop logo from your business plan's footer, financial ratio analysis, rich text formatting, and the Autowrite and TextSync features. Once you upgrade to a paid package tier, other services, such as LivePlan and Bizplan offer more features and better designs for a comparable cost.
In-Depth Review: LivePlan vs Bizplan vs Enloop
Ease of Setup/Use
The entire purpose of business plan software is to make the process of writing your business plan as efficient and painless as possible. Therefore, how easy the software is to use will directly affect its effectiveness.
All three of the solutions we reviewed followed the same basic process — they guided users through each step, prompting them to enter copy and data specific to their business, and then using these inputs to automatically generate a document that the user could refine to fit their needs. LivePlan, Bizplan, and Enloop all build on this process to offer an enhanced user experience, each in their own way.
LivePlan is unique from Bizplan and Enloop as it creates a one-page "pitch" — a summary of your plan as you progress through the input process. It's dynamically updated to reflect your business' information as you enter it, highlighting the opportunity you're presenting to your potential investors and the funding you will need to realize it. This provides an immediate reference point for you to focus on.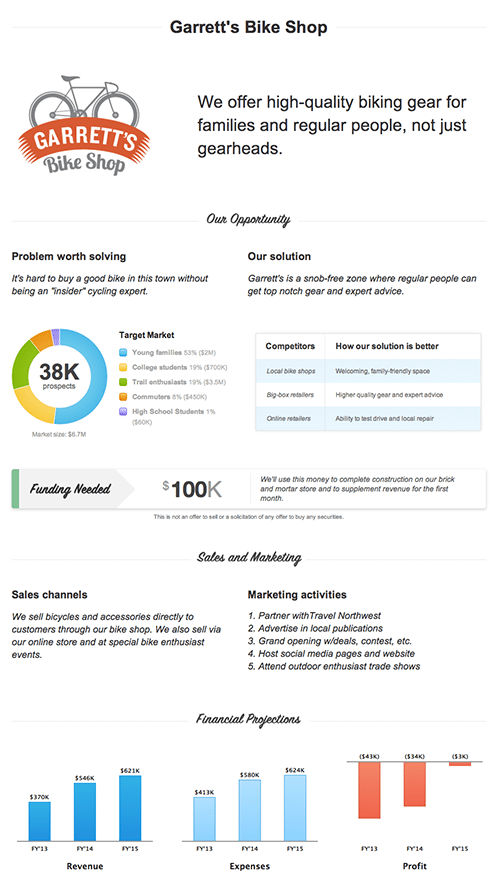 As you begin to define your company, including the people behind it, the product or service you plan to bring to market, who your target market is, your strategy for reaching them, and the financial plan to get you there, LivePlan guides you through the process with informative prompts that describe the data you're to input at each step. This is of a particular benefit to non-writers who may feel intimidated by the copy they need to create.
LivePlan also includes a huge library of over 500 templates that are organized by the industries they're designed for. These can be used as-is, or as a starting point to jump start your own design process as you modify them. Bizplan's templates are more design-forward, but no other software on the market offers nearly the range of templates that LivePlan does.
Similar to LivePlan, Bizplan guides you through each step of creating your business plan by prompting you to enter your company's specific information. Where it differs is that it builds your plan through a modular drag-and-drop interface where you can add, remove, modify, or move individual components of each section.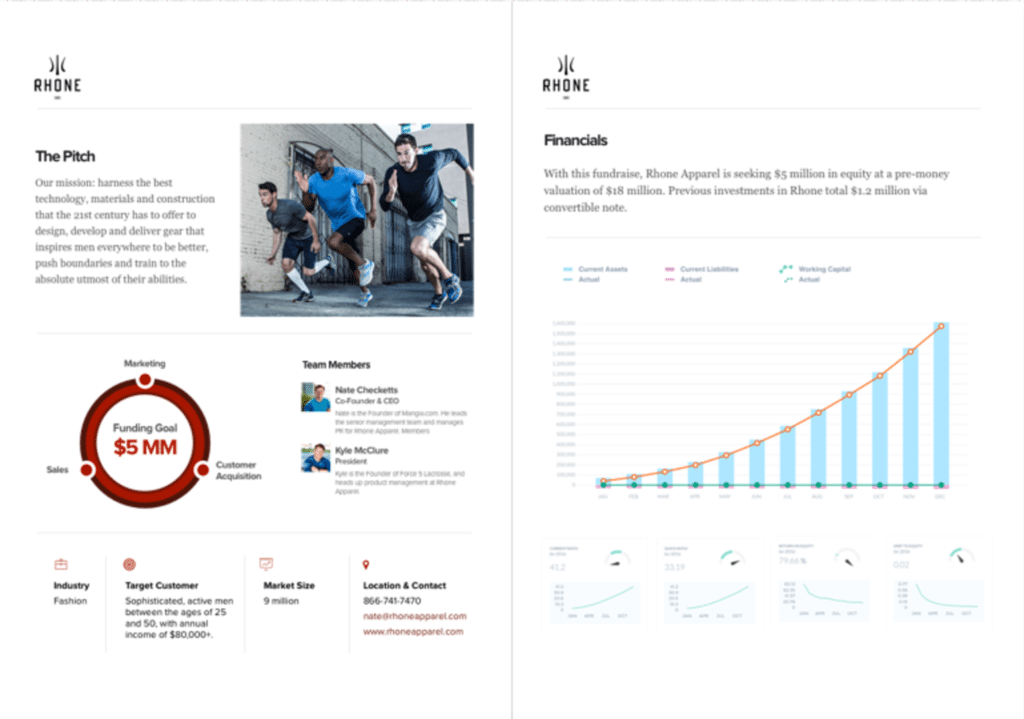 Adding images, copy blocks, charts and graphs, or videos further customizes your business plan and speaks to Bizplan's design-focused user experience.
Like LivePlan and Bizplan, Enloop helps to guide you through the process of building your business plan step-by-step. Informative prompts and relevant examples take much of the guesswork out of what to input. And Enloop's EPS automatically updates as you enter or revise data, giving you immediate feedback on the impact of your changes to your plan.
Enloop's Autowrite and TextSync further automate the creation process, relieving much of the pain for non-writers. Autowrite takes your inputs and creates the basic structure of the business plan, adding standardized copy that you can edit to customize to your needs and TextSync ensures that the entire document is updated to reflect any individual changes you make when that data is shared across sections.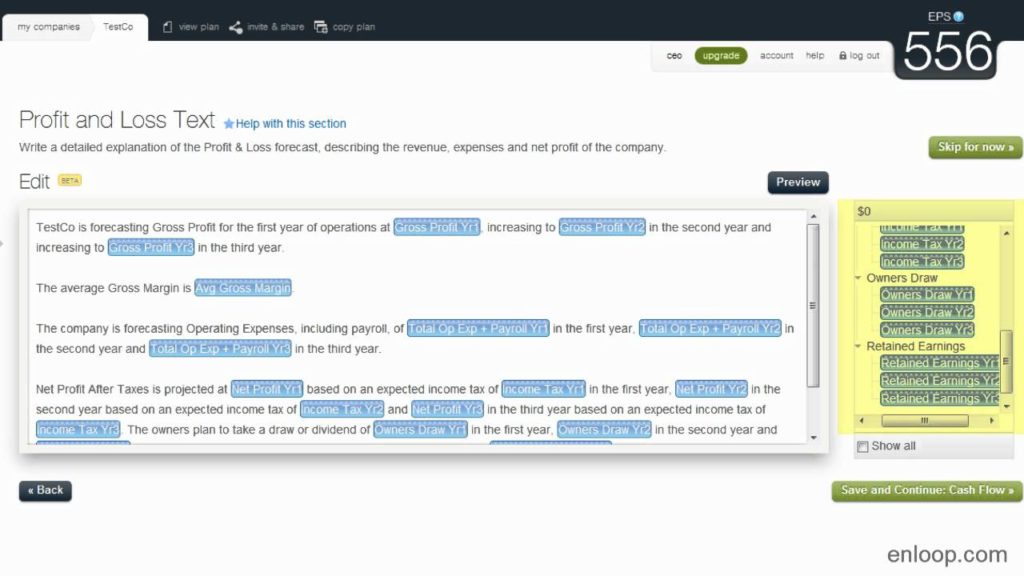 Autowrite and TextSync are paid features that are only available with Enloop's Advanced or Professional plans.
Features
LivePlan, Bizplan, and Enloop all offer the same basic set of features. They guide users through the process of creating their business plan by prompting them to enter copy and data, then use these inputs to generate the basic structure that can then be further modified and customized. They will also automatically calculate any financials based on your data and update it as you make any changes.
Where the solutions differ is in the tools they offer to complete these tasks and the extent to which they allow for easy customization.
LivePlan offers three main features that differentiate it from its closest competitor, Bizplan.
The most user friendly of these features is the extremely informative prompts that guide you through the data input process. From the moment you log into the program, LivePlan provides definitions, videos, relevant examples, and/or text tutorials at each step.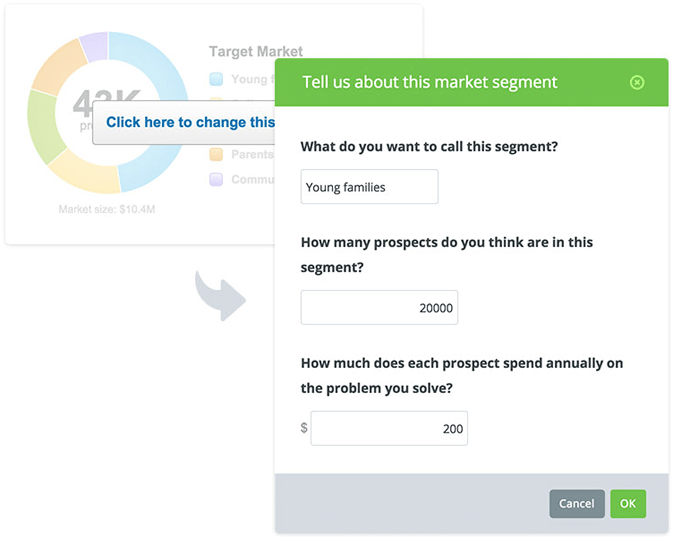 Next, LivePlan includes a library of over 500 different business plan samples and templates you can use to inspire or build your own plan with. Many of them are based on real-world examples from previous LivePlan customers, including actual sample content and data. This is a significant benefit for non-designers who would prefer to work off of a templated layout and design as well as for non-writers who may feel overwhelmed by the amount of copy they need to write or who may not know how to word a mission statement or executive summary.
Finally, as you progress through the input process, LivePlan automatically creates a separate one-page "pitch" summary of your business plan. This an help you maintain focus as you progress and be used as an introduction to potential investors when you finish.
LivePlan also has a nice feature that enables you to compare your financial projections to the actual performance of your business and to industry averages. In other words, LivePlan answers the question: is your business executing on its vision? As your business grows, you can change the numbers in LivePlan and see financial projections adjust automatically.
Bizplan's two main differentiating features are its design-focused interface and integration with the startups.co platform of services.
Their modular plan builder breaks your business plan down into smaller more digestible chunks, which you can complete in any order. The modern drag-and-drop user interface lets you add, remove, move, and modify the individual components that together comprise each section. And the design-forward options place an emphasis on visuals, which creates a more engaging presentation.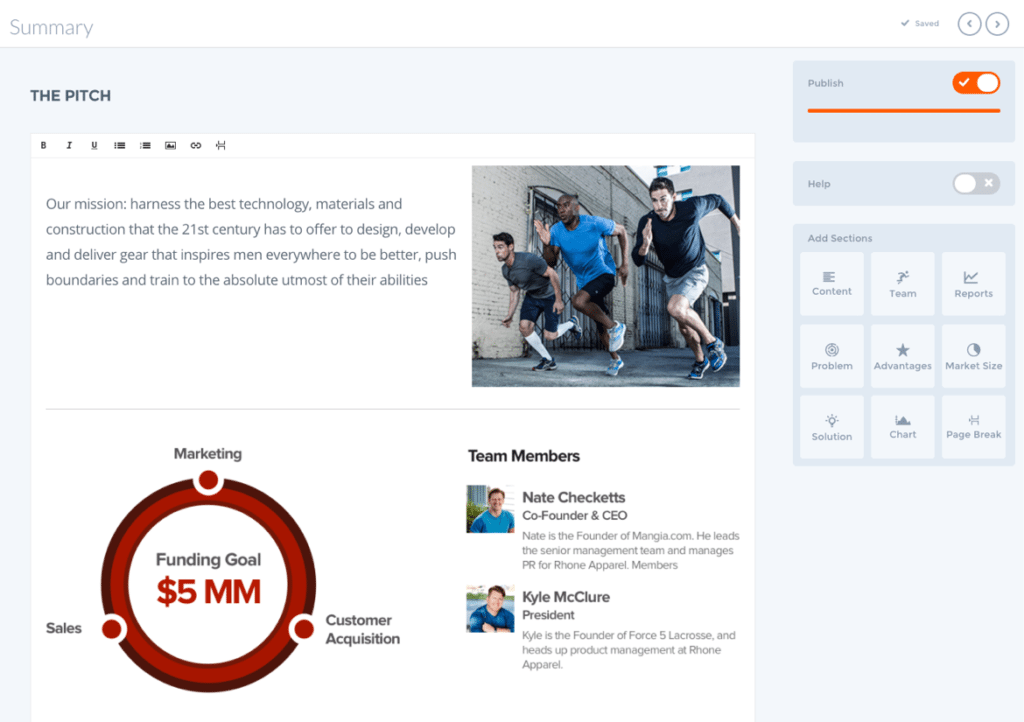 Once your plan is ready to share with potential investors, you can publish it to the web and share the link for easy access. You can also take advantage of Bizplan being a part of the startups.co platform and publish videos to fundable.com, a crowdsourcing website to raise funding, and build a website that's optimized for customer acquisition with Launchrock.
Enloop also offers two unique features that help you build your plan and measure its potential effectiveness.
Enloop also assigns every business plan with an Enloop Performance Score (EPS) that's a FICO-like rating of the strength of your business plan compared to industry benchmarks. Your EPS is always visible on your screen and automatically updates with every input, giving you immediate feedback on the benefits or consequences of any changes you make. This is available to all of Enloop's subscribers.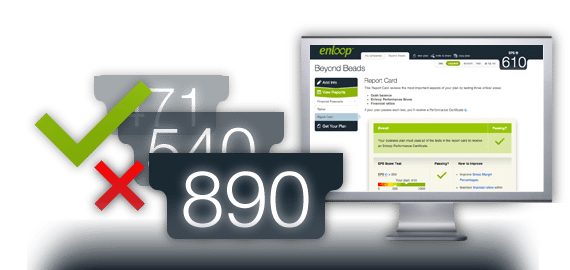 Autowrite is a feature that's available to Enloop's paid subscribers. It automatically generates basic copy throughout your business plan based on the data you input. You can use it as-is or as a foundation to write your own (as useful as the feature is, we highly recommend customizing your results). You can also insert blocks of data anywhere in your copy and Enloop will automatically update it as you input and/or update your data. This is particularly useful and time saving as you continually refine any financial data or company information. It also helps to reduce the chances of error.
Customer Support
Since the process of creating a business plan can seem overwhelming at times, it's good to have someone you can reach out to with questions. LivePlan, Bizplan, and Enloop all offer comprehensive online knowledge bases for self-sufficient users and email or ticket-based support; however, LivePlan and Enloop also offer individual assistance.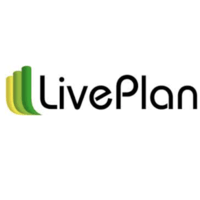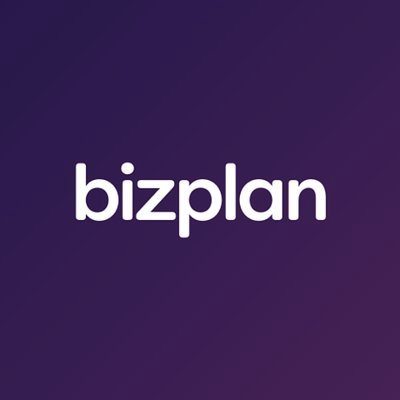 Other Business Plan Software Options
There are many other business plan software solutions on the market that may be a better fit for your business' needs. Here are some of the others that we liked and what makes them unique:
| Software Name | What Makes It Unique? |
| --- | --- |
| LivePlan | Best overall business plan software with the easiest user experience |
| Bizplan | Visually engaging plans with a focus on easy to customize designs |
| Enloop | Offers a free option for businesses who only need a single basic plan |
| GoSmallBiz | Includes more sections than competitors, such as legal and manufacturing |
| EquityNet | Helps you crowdsource investors, not just write your business plan |
| PlanGuru | Offers advanced cash flow and financial projections and tracking |
| StratPad | Includes project management component to help execute on your plan |
The Bottom Line
We recommend LivePlan as the best business plan software for your small business. The two leading alternatives, Bizplan and Enloop, offer some advantages but ultimately fall short in the number of options and available customizations that they include.
For businesses that are focused primarily on design and who want a visually engaging final document, Bizplan may be a better solution. Their intuitive drag-and-drop interface and use of bold design elements produces a modern and polished business plan.
Businesses who are on a tight budget and who need a simple business plan with a relatively straight-forward writing process and final design may find Enloop's free membership package to be adequate for their needs. However, once additional paid options are needed, then LivePlan and Bizplan quickly become more attractive solutions.
LivePlan's list of included features, over 500 industry-specific templates, extensive customization options, and competitive pricing make it our recommendation for the best business plan software for your small business.