How to Start a Business: The Complete Guide
Whether you're starting a part-time business or quitting your corporate job to create your dream biz, you'll find information in this guide to help you succeed. Throughout this article, you'll learn from experts in finance, legal, marketing, human resources, software, insurance, in addition to myself—a former small business consultant.
As a small business consultant, I've helped hundreds of small business owners start and grow their companies. I've also built a couple of successful online businesses on my own and will share with you knowledge that I gained from that experience, firsthand.
Now it's time for you to start your first business. I want to help you make your dream become a reality, and with the right knowledge and tools, you can make it happen.
As an added resource to this helpful guide, download our popular Starting A Business E-book:
FREE DOWNLOAD
"HOW TO START A BUSINESS" E-BOOK
Should You Start a Business?
You may be unsure if you have the needed experience or skills to start a business. Well, I'm here to tell you that when first starting out, no one does. Most entrepreneurs learn how to be a business owner "on the job."
Now, you do want to make sure that if a customer hands you money, you can follow through competently. You don't want to create an inferior product or perform a service poorly. If you're unsure of yourself and abilities, go slow. Start small with the business. Sell one product. Accept one client. Take time to build your success and your confidence.
You can be a business owner. Be patient and give yourself time to grow into the new role.
Traits of a Business Owner
What makes someone successful at being a business owner? One important trait is to be an aggressive problem solver—look at problems as challenges. If you find that you're tackling problems in your current job while everyone else complains, you may be ready to be a business owner.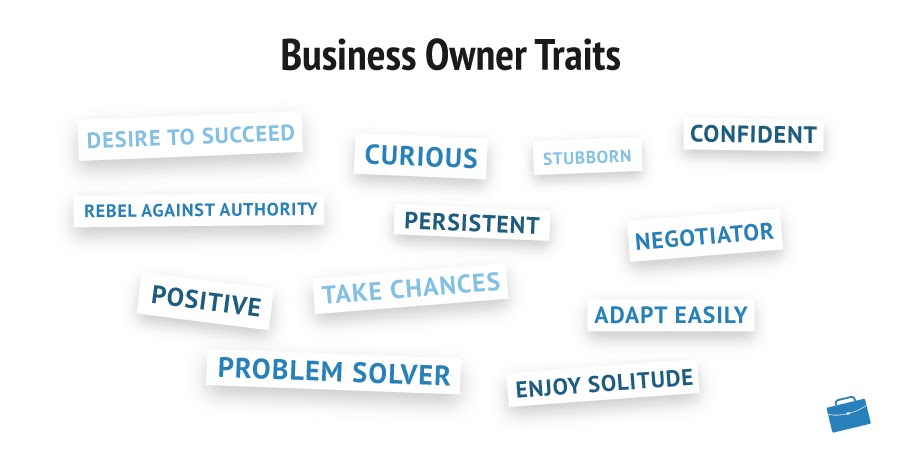 Also, persistence and stubbornness are overlooked traits. I see many new entrepreneurs get down on themselves if they get a "no" from a potential customer or vendor. Let me tell you right now, you're going to get a lot of "nos" as a new business owner. Those who succeed must be persistent, see a "no" as temporary, and not take it personally.
How Much Do Business Owners Make?
You need to be prepared to make less money as a full-time business owner than you do at your current job. It may take several years to build up the customer base that provides the income you desire.
Additionally, the amount of money you can make varies widely with the type of business you choose. For example, a company that scales easily such as software or ecommerce has the potential to make more money than a business that is tied to an hourly rate.
The real question you should ask yourself is, what are you comfortable earning? I've met several entrepreneurs who would rather earn half the income of their current job to be their own boss and have more freedom.
Here are the eight steps to get your biz up and running:
1. Choose a Business to Start
Your first step—a difficult one—is choosing which type of business you are going to start. You may have no clue what you'd like to start—just a feeling that you want to start something. That's OK! We'll walk you through ideas to help your entrepreneurship desires become a reality.
Come Up With a Business Idea
Coming up with business ideas can be more of an art than a science. As you go through your day, you should write down any ideas you have. Look for problems you're having in your own life. Can you solve that problem yourself and turn the solution into a business?
Business Idea Lists
If you're having trouble coming up with a business idea, browse a few of our lists:
Start From Scratch vs Buying Existing vs a Franchise
One question you may have is if you should start your small business from scratch, buy an existing business, or purchase a franchise? Two things to consider are your business experience and available funds.
If you have no experience running a business or in a particular industry, buying into a franchise can increase your odds of success. When you buy into a franchise, you're mostly learning how to run the business. If you follow the franchise formula in a well-populated area, you're likely to succeed.
The same line of thinking applies to an existing business. Purchase an existing business, and you'll learn how to run the business—plus receive previous customers. This combination makes the likelihood of success higher than you'd have for a brand-new franchise.
The challenge with buying a franchise or an existing business is cost. The high cost is one of the main reasons most new entrepreneurs start their business from scratch. However, keep in mind that there are dozens of franchises that cost under $25,000.
How Much Money Do You Need to Start?
It's essential to know the answer to this question before starting your business. I've met with several people who never got their business off the ground because it required too much money. Remember, if you don't have the capital available: Dream big, but start small.
To start some businesses, such as residential cleaning or power washing, you may only need $1,000. Use these funds to register the business, purchase supplies, get your first customers, and then, you'll be in business.
Opening a store with a location is more costly. You'll need at least $50,000 in funding—possibly several hundred thousand dollars. For a very small retail store, you should plan on earning at least $100,000 a year to cover overhead costs and make a nice profit.
If you need substantial debt to open your first business—over $20,000—you should seriously think about that decision. What's the worst-case scenario? And how long will it take you to get out of debt? If possible, start part-time with the business and acquire the necessary entrepreneurship skills. Or consider waiting. Save up cash, and take on as little debt as possible.
2. Test Your Business Idea
Once you have chosen your business idea, you need to test the idea to determine the likelihood that it will work. The majority of new business owners skip this step. Don't skip it! You may learn valuable information that alters the type of business you start or how you implement it. All the information you collect will go into your business plan (step No. 3).
Get Early Customers (if possible)
The best way to validate your business idea is to get early customers— not family or friends, customers who haven't met you before.
If you have a product, one way to secure customers early is through pre-sales or crowdfunding. If you have a service, consider offering a simplified version of your service—do people want or need the service you're providing? If you'd like to open a retail store, can you start small? Consider selling at a pop-up shop, farmers' markets, or through social media.
Do Market Research
Market research is information you gather about your potential customers and the industry it's in. Use this information to make informed decisions on how many potential customers are located near your business and how your business's industry will grow in the future. If you're trying to receive funding from a bank or investor, you'll need to show industry research in your business plan.
Customer Research: ReferenceUSA
To research potential customers, use the consumer database tool ReferenceUSA—offered for free in tens of thousands of libraries across the US.
It's slightly scary how much information ReferenceUSA knows about people. If you weren't aware, loyalty cards (the ones you use at gas stations and retail stores) sell your purchase history to customer database companies. For example, you can use ReferenceUSA to learn how many customers near your business are likely to have a dog based on previous purchase behavior.
Industry Research: IBIS World
The best industry research company (the one the banks use) is IBIS World. Before you look at the price tag for your industry report ($925) and get mad at me for recommending, I'll let you in on a secret. Many SBA-funded, no-cost business consulting centers called Small Business Development Centers (SBDCs) have a subscription to IBIS World. Make an appointment with your local SBDC to see if they can assist you with your industry research.
Perform a SWOT Analysis
A SWOT (strengths, weaknesses, opportunities, threats) analysis is an exercise that helps you think critically about your business idea. It will work great if you have a business partner; assessing it together will ensure you're on the same page in regards to the future of the business.
It's easy to do a SWOT analysis. Go through each section and list your ideas:
Strengths: What will the business do well?
Weaknesses: What may the business not do well?
Opportunities: What opportunities are there outside of the business—such as less competition and underserved markets?
Threats: What factors outside of the company may make success difficult—such as competitors and regulations?
Research a Location
If you're considering an office or store location, start your research into the location now. Why start so early? You want to make sure you can afford it.
I've had several clients get excited about their first business. They spend a lot of time researching the idea and writing a business plan. This is great, except when they start researching the location, learn they can't afford it, and have to start over.
Look into potential locations to develop a rough estimate of the build-out cost (renovations) and monthly rent. The information you collect will go into your business plan and financial projections.
3. Write a Business Plan
You now have your idea and the data to support it potentially being a success. Now, you need to put that information and your thoughts about your idea into a cohesive business plan.
You may feel the need to skip this step and get right to starting the business, but don't. According to research, writing a business plan makes your new business more likely to succeed.
One Page Business Plan
If you're starting a smaller or part-time biz, consider creating a one-page business plan. This plan walks you through the basics of your business, such as the problem your business is solving and how it will make money.
Be specific when giving your answers. The more precise you are, the better your plan will be. Share it with friends and family you trust to get honest feedback.
Click on the template below to download the fillable, one-page business plan template.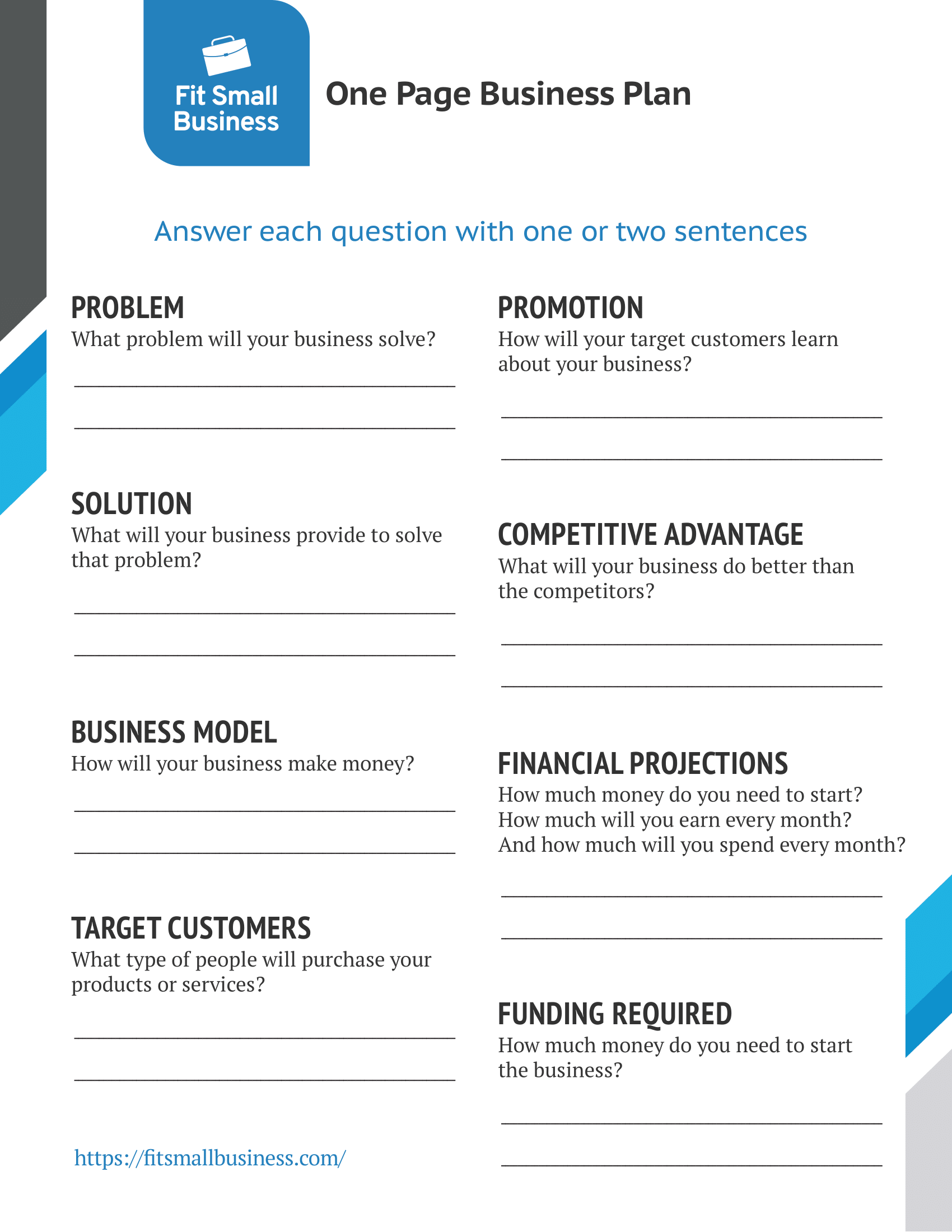 Traditional Business Plan
The traditional business plan is what you need to create if you're seeking funding from a bank or investor. It's time-intensive and will be around 40 pages long. There are typically eight sections to thoroughly fill out, including a section on products and services, marketing strategy, and financial data.
Financial Projections
The financial data and projections section of a business plan is the most critical part of your plan. And for some, it's also the most difficult.
The projections are crucial, because investors and bankers simply want to learn when they make their money back—which makes sense. You'll likely find it challenging to create the projections, because it requires knowledge of financial statements such as the balance sheet and income statement. The projections require research and a lot of estimating (which many biz owners consider guessing) about future income and expenses.
One of the best free resources to help you create your financial projections is a template from SCORE (Service Corp Of Retired Executives). Download the template and enter information such as your startup costs, sales forecast, and balance sheet.
Business Plan Software
If you find the financial projections template above challenging to navigate, you may want to get additional assistance from a business plan software. This software walks you step-by-step through the business plan creation process. Additionally, you can learn from the in-depth educational materials it provides.
LivePlan is a biz plan software you can test drive free for 60 days. After that, it's $15 per month. Once you create your plan and start your business, use LivePlan to track your income and expenses month-over-month.
4. Secure Funding for Your Business
If you don't have sufficient personal funds to start your business, you'll need to secure additional funds. There are several funding options available for soon-to-be business owners, including several types of loans, investors, and crowdfunding.
Family & Friends
A popular saying that many in startup financing like to say is, "You should always look to family, friends, and fools for funding before an investor or loan." The reason is that family and friends (and fools) are the cheapest sources of capital.
An investor would likely want 50% equity in the new business, which is 50% of all income earned—an expensive option!
The main downside of securing capital from family and friends is the potential of a damaged relationship. To avoid this, draw up an agreement that states how and when you need to pay back the funds.
Get a Loan
A loan is a sum of money that needs to be paid back with interest. Business loan amounts can range anywhere from under $1,000 to over $1 million.
Just because you may qualify for a loan doesn't mean you should use it. Start your small business with as little debt as possible. Remember, if your business were to fail, you would still need to pay off the debt you incurred, which could take several years.
Here are several different types of loans to fund your business:
Business credit card: If you have good credit and open a new business card, it's possible to have a 0% APR (interest) for up to the first 18 months.
Personal business loan: This loan is typically under $20,000 and needs to be repaid within five years. Your credit score determines the interest rate.
Rollover for business startups (ROBS): This is a popular option for those who would like to use part of their 401(k) or IRA (individual retirement account) to fund their startup.
Home equity loan or line of credit: These loans pull equity out of your home for a loan. They are appealing because of their low-interest rate.
Government microloan: Typically under $50,000, a microloan is funded by the SBA (Small Business Administration) or local government. It's for certain businesses such as child care or those in underdeveloped communities.
SBA Loan: This type of loan is not common for a startup. It requires a "personal guarantee," which means your personal assets will be collected if you default on the loan.
Find an Angel Investor
An angel investor is typically a wealthy individual who funds early-stage businesses. Investors usually want equity ownership in businesses they invest their money in. Having ownership means they will collect a percent of your profits in exchange for their investment.
Finding angel investors near you can be a challenge. It's best first to create a business plan with detailed financial projections. Then, start networking within your business community.
If you are able to secure a meeting with a potential investor, make sure you know your future business's finances inside-and-out—you will receive questions about it.
Crowdfund
Crowdfunding a small business is when you get customers to pre-order products or services. It's a great way to raise funds before opening your business or creating a product.
Kickstarter and Indiegogo are crowdfunding platforms that assist with raising the money for your business. The cost to use the platforms is 5% of the final price raised plus payment processing fees, which are around 3%.
Business Grants
Business grants are funds given to start a business that don't have to be repaid. Federal, state, and local governments are common sources of grants. Many new business owners seek them, but they are hard to find.
A business grant is typically reserved for a particular type of business such as a research-based business. Grants may also come in forms other than money, such as reduced rent to open a business in a disadvantaged area designated by a city.
5. Take Necessary Legal Steps
You will need to take at least a few legal steps before opening your business. At a minimum, name your business, register it with the state, and open a bank account. If you are opening at a physical location, you will need an Employment Identification Number, insurance, and local permits.
Name Your Business
Before taking any legal steps below, you need to decide on your business name. This is important to do first, because your business name will be on all of your legal documents.
Know that you don't have to stick with this name forever. If you'd like to change the public-facing name of your business, you can always file a doing-business-as (DBA) with the state in which your business is primarily located.
Register Your Business
We recommend all businesses register as a legal entity— either LLC (limited liability company) or C corporation. If a customer were to sue the business, the legal entity registration protects your personal assets. There are also tax benefits to electing the LLC as an S corporation or "small business corporation."
Here are the most common business structures:
Sole proprietor: If you don't register your business, this is the default business structure. Typically, only very low liability businesses should stay a sole proprietor, such as a beginner graphic designer or tutor.
Partnership: Similar to a sole proprietor, except a partnership has two or more owners.
LLC and LLP (legal entity): This is similar to that of a sole proprietor, except it provides personal asset protection in the event of a lawsuit or business bankruptcy. An LLP (limited liability partnership) is for multiple partners.
S corporation (tax status): Elect your LLC or LLP as an S-corp to save money on taxes. Consider this structure if you are paying yourself more than $20,000 per year from the business.
C corporation (legal entity): This business structure provides several benefits, including transferable shares and perpetual existence. You'll likely need to work with an attorney before forming a C-corp to create the needed documents.
Registering a business varies between $40 to $500, depending on the state in which you choose to register. You can register through the state's official business registration website. If you find the website challenging to navigate, use an online legal service such as Rocket Lawyer to assist with the process.
Open a Bank Account
All new businesses need to open a business bank account to keep personal and business income and expenses separate. If the IRS ever audits the business, the process and paperwork will go more smoothly if you keep all of your business finances in one bank account.
You may find that business bank accounts from well-known banks require a minimum balance of at least $1,500. If you believe your balance will drop below that amount, consider a more modern banking account. Novo is an online bank account that has no balance minimums and provides free invoicing software.
Additional Legal Steps
Depending on the needs of your business, here are additional legal steps to consider:
Employer identification number (EIN): The EIN is a free identification number that the federal government uses for tax purposes. If you're going to hire an employee, it's a requirement.
Insurance for startups: You may need insurance if your business faces certain risks such as those that come with having a physical location, dealing with sensitive customer data, or having employees.
Intellectual property: Registering a trademark keeps competitors from using your logo, design, or tagline. A patent secures your new product or process idea so that no one else else can recreate it.
Obtain business permits or licenses: Certain businesses need a license to operate. The use of a physical location for business purposes requires several permits. Check your city and state's official business websites to determine if you need a permit or license.
Customize legal forms: If you are hiring or creating contracts, you will need to customize your legal forms. You can use a local business attorney for assistance or save money by using an online legal service such as Rocket Lawyer.
6. Make Key Hires
Your first employees will be vital to the success of your business. Additionally, many new business owners overlook the importance of hires outside of the business such as a bookkeeper, attorney, and mentor.
Hire Your First Employee
You will likely hire your first employee through word-of-mouth. Many first-time business owners use online resources such as Facebook or Instagram to post their job opening. If you can't find a qualified candidate through your personal connections, turn to an online job board such as ZipRecruiter.
When hiring, you'll need to follow employment laws. The Fair Labor Standard Act (FLSA) ensures employees have fair pay. The Federal Insurance Contributions Act (FICA) requires you to withhold Social Security and Medicare taxes from employees' wages.
Hire a Bookkeeper or Accountant
If you're starting a part-time business, you can likely track your income and expenses with software such as QuickBooks Online. However, if you have a full-time business with multiple products and services and have several expenses to track, you may want to hire a professional.
Many new business owners are unsure if they should hire a bookkeeper or accountant, but most people starting a small business only need a bookkeeper. If you need complicated financial statements or business tax advice, it's wise to hire a certified public accountant (CPA).
Connect With a Business Attorney
A business attorney may help you form your new business, create custom forms or contracts, and provide legal advice. Even if you won't need an attorney for these activities, it's wise to connect with one before a legal matter occurs in your business. You don't want the stress of interviewing business attorneys after your company has been served.
Meet With a No-cost Business Adviser
The federal and state government funds several organizations that provide no-cost business consulting and mentoring. The SBDC has over 5,000 consultants across the United States that provide no-cost consulting in a variety of business areas. These consultants typically have advanced education or experience owning a business.
SCORE Advisers are volunteers who typically have previously owned a business. They serve as mentors to business owners. A SCORE Adviser can be a great asset to your business, especially if they have experience in your industry.
7. Set Up Systems & Software
As you organize your business, you will find yourself creating systems to manage repeatable tasks. You'll often find software to assist with the tasks.
Below you'll find two lists—one with processes that almost all new small businesses will need to implement. The second list includes several systems and software that—if they apply to you—are highly recommended.
Must-Have Systems & Software
Payment processing: You'll need this to accept credit card payments. Sign up with a merchant service provider before setting this up.
Bookkeeping: This is how you track income and expenses. If you are managing it yourself, you'll need accounting software. If not managing yourself, consider hiring a virtual bookkeeper.
Payroll processing: If you have employees, you'll use this system to pay them. To make the process easier, consider payroll processing software.
Business tax payments: It's a best practice to make business tax payments to the IRS quarterly so that you don't have a large tax bill at the end of the year. You can often use your accounting and payroll software to submit early tax payments.
Business phone number: You'll want to secure a business phone number so that you can separate personal calls from business calls. You can get a virtual phone line for free or a small fee.
Branded business email address: You don't want potential customers to email a "@gmail," "@yahoo," or another alternative. It looks unprofessional. Get a business email that ends with "@yourcompanyname." Google Workspace provides this for $6 a month.
Additional Systems & Software to Consider
Business website: If potential customers are typing your business name into the search engines, you need a business website. You can set one up yourself and pay around $15 a month.
Email marketing: Send your customers valuable info through email. Set this system up with an email marketing software.
Sell online: Expand your products' or services' reach by selling to customers online. You don't need to build an ecommerce website to do this. Use a platform such as Amazon, Facebook Shop, or Etsy.
Customer management: If you have dozens of customers (or more), you'll need a customer relationship management (CRM) software. This software helps you keep track of customer information such as previous communications and contact info.
Appointment scheduling: Don't schedule appointments by hand (unless you want to). Use a free appointment scheduling software to store your appointments in the cloud. Also, allow clients to schedule online without communicating with you.
Work from home: COVID-19 is forcing and encouraging many people to work from home for the first time. Set up your home office and manage it so that you can keep up productivity and enjoy your working environment.
Take video calls: Video meetings and calls have skyrocketed since the pandemic arrived. Give your clients the option to meet through a video conferencing software.
8. Market Your New Business
Your last step to starting your business is to get customers. You'll use your marketing strategy to get your new business in front of potential customers.
There are a lot of strategies you can implement to get your business noticed. Don't get overwhelmed! Remember, you don't have to implement—and pay for—all of these strategies. A few done well will get your business enough customers to make it a success.
Write a Marketing Plan
Before diving headfirst into any of the marketing strategies, take time to write a marketing plan. Think through and plan out how you want to market your business. In your plan, outline your brand, such as the logo, colors, font, and tagline overall feel.
Nail down the brand before creating any materials or online profiles. This will help ensure you send consistent messages about your company. You don't want potential customers going from a brochure or website to a social media profile and encounter different colors, fonts, and taglines. It should be a cohesive, seamless brand experience.
Create Marketing Materials
At a minimum, you'll want to create business cards to hand out while networking or to potential customers and vendors. Other marketing materials to consider are brochures, flyers, cards, and branded apparel.
As a new business, you need material that potential customers can take home. Many new business owners make the mistake of relying too much on online marketing. Don't overlook the effectiveness of having physical business marketing materials in someone's home.
Market Online
Website: A must-have if potential customers are searching for your business online; you can create a website on your own for around $15 a month. Or, if you're on a tight budget, create a free one-page Google My Business website.
Social media marketing: Connect with your customers where they are spending their time online. Don't try to grow a following on all social media platforms. Choose one and spend the majority of your time growing your account there.
Email marketing: Stay in touch with past customers by sending them valuable or entertaining emails. Don't make your emails all about sales and discounts. You'll lose subscribers.
Google My Business (GMB) listing: This listing is free for all businesses looking for local customers. Many marketers are calling GMB the new small business "homepage." It's what customers see on Google before your website when they search for your business.
Online directories: It's likely your business can be on several online directories such as Yelp and Yellow Pages. Consider any industry-specific directories as well.
Network With Local Businesses
When you first open, explore networking groups available for local businesses. It's always a good idea to meet and network with other business owners. Word-of-mouth recommendations and referrals may lead to some of your first customers.
To get the most out of networking, choose one organization to get involved with instead of attending four different group meetings every month. Take positions and responsibilities in the group. The members will get to know you better and be more likely to send you referrals.
Pay for Advertising
You may want to pay to get your business in front of ideal customers. This paid marketing can give your brand recognition a jump-start. You can pay for advertising online or through traditional advertising channels.
Online advertising, such as Facebook Ads, allows you to target audiences based on demographics, interest, and location. Traditional advertising, such as radio and billboards, reaches a broad audience, and has the potential to spark a conversation among viewers.
Search engine ads: Pay to get your business at the top of Google or Bing. Typically, you will pay every time an interested searcher clicks on your ad. The cost of the click will depend on the number of businesses competing for the ad space.
Social media ads: Get your social media ad in front of both followers and nonfollowers. Ad cost depends on the competitiveness of the audience you're targeting.
Online directory leads: Depending on the directory, you can pay for higher rankings or leads. Yelp provides both options.
Direct mail: Create cards or brochures and send them to homes of potential customers near your business.
Radio ads: This type of advertising is an excellent option if your business appeals to an audience in a broad industry such as retail or home improvement.
Billboards: The cost of a billboard varies depending on location. Pay anywhere from $250 per month for a rural area to over $15,000 per month in a larger market.
Bottom Line
If you're feeling overwhelmed with all the tasks to start your business, don't stress! Starting a business is a marathon, not a sprint. Be patient. Give yourself time to absorb and understand the above steps.
Be proud that you're learning and trying to figure out this messy world of starting a business. Make your next move today: What micro-step are you taking today to make your idea a reality?