Whether you're starting a part-time business or quitting your corporate job to create your dream biz, you'll find information in this guide to help you succeed. Throughout this article, you'll learn how to start a small business from experts in finance, legal, marketing, human resources, software, insurance, as well as expert advice from former small business consultants.
Starting a small business involves coming up with a business idea, testing the idea, writing a business plan, acquiring funding, choosing a business structure, registering the business, getting it insured, making key hires, setting up systems, and finally, marketing and promoting it.
Download Your Free "How To Start A Business" E-book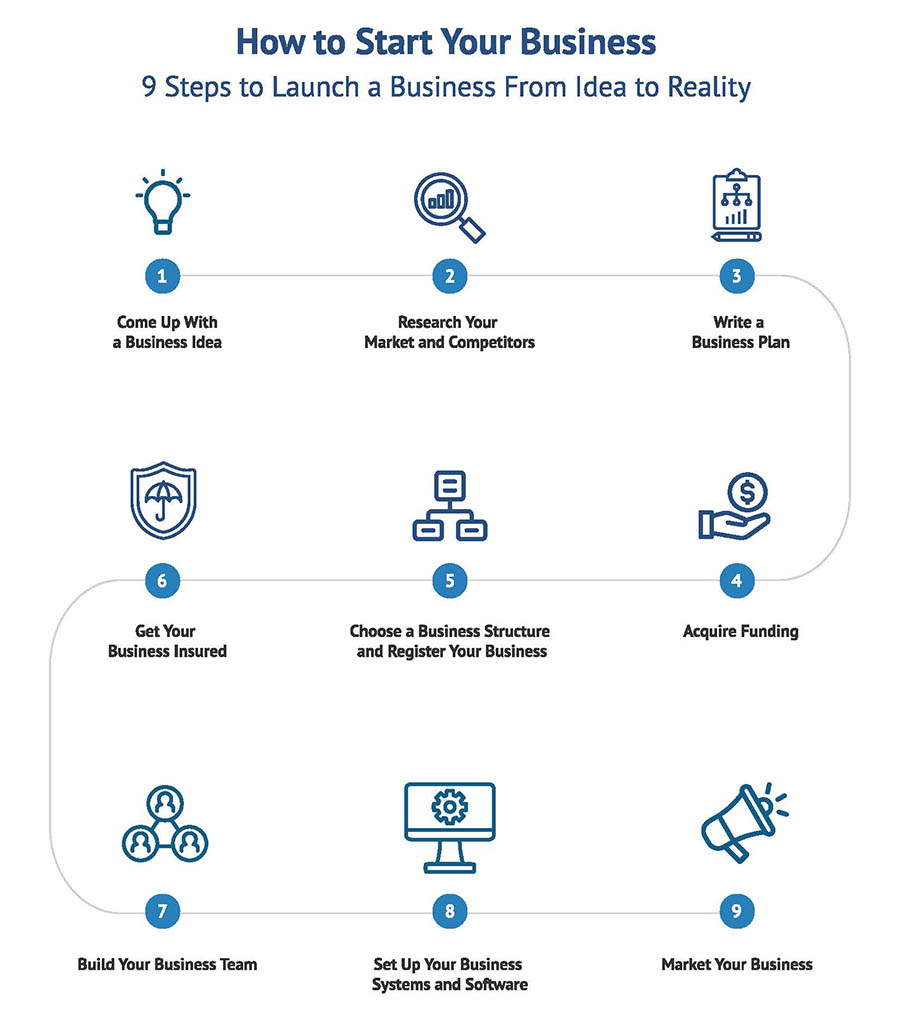 Should you start a business? Before coming up with a business, it's crucial to determine if you're ready to become a business owner and there are many things to consider. Examine the main points to consider by reading our guide on determining if you should start a business.
Step 1: Come Up With a Business Idea
All businesses start with the same first step—coming up with a business idea. When coming up with an idea for your business, consider your own skills and experiences, as well as business trends and problems or pain points your business could help address.
As you go through your day, you should write down any ideas you have. Look for problems you're having in your own life. Can you solve that problem yourself and turn the solution into a business?
It's also important to consider your personality when choosing a business idea:
Would you like to work at home in silence or talk with customers in a store?
Would you like to have a lifestyle business, which caps your income, or an eight-figure business with employees?
Would you like to start from scratch or purchase an existing businesslike a franchise?
Would you like to work 80-hour weeks and grow a business fast or keep a more balanced life and grow the business slowly?
Would you like to create products and have other people sell them or sell products that other people have created?
Think about these questions to help you begin with the end in mind. Another personality-based test is to notice your energy levels when doing tasks at work and home. What tasks give you energy, and what depletes your energy? Running a business that gives you energy will be much more likely to succeed.
Business Idea Examples
Browse our list of business ideas for inspiration:
Additionally, you may want to browse "how to start a business" guides to learn more about a specific business idea:
Starting From Scratch vs Buying Existing vs a Franchise
One question you may have is if you should start your small business from scratch, buy an existing business, or purchase a franchise? Two things to consider are your business experience and available funds.
If you have no experience running a business or in a particular industry, buying into a franchise can increase your odds of success. When you buy into a franchise, you're mostly learning how to run the business. If you follow the franchise formula in a well-populated area, you're likely to succeed.
The same line of thinking applies to an existing business. Purchase an existing business, and you'll learn how to run the business—plus receive previous customers. This combination makes the likelihood of success higher than you'd have for a brand-new franchise.
The challenge with buying a franchise or an existing business is cost. The high cost is one of the main reasons most new entrepreneurs start their business from scratch. However, keep in mind that there are dozens of franchises that cost under $25,000.
Related:
How Much Money Do You Need to Start?
It's essential to know the answer to this question before starting your business. I've met with several people who never got their business off the ground because it required too much money. Remember, if you don't have the capital available: Dream big, but start small.
To start some businesses, such as residential cleaning or power washing, you may only need $1,000. Use these funds to register the business, purchase supplies, get your first customers, and then, you'll be in business.
Opening a store with a location is more costly. You'll need at least $50,000 in funding—possibly several hundred thousand dollars. For a very small retail store, you should plan on earning at least $100,000 a year to cover overhead costs and make a nice profit.
If you need substantial debt to open your first business—over $20,000—you should seriously think about that decision. What's the worst-case scenario? And how long will it take you to get out of debt? If possible, start part time with the business and acquire the necessary entrepreneurship skills. Or consider waiting. Save up cash, and take on as little debt as possible.
Now that you've settled on an idea, it is time to really dive into the market.
Step 2: Research Your Market and Competitors
Once you have chosen your business idea, you need to test the idea to determine the likelihood that it will work. The majority of new business owners skip this step—that's why 20–22% of small businesses fail within the first year according to the Bureau of Labor Statistics.
Don't skip this step! You may learn valuable information that alters the type of business you start or how you implement it. All the information you collect will go into your business plan (step No. 3).
Validate Your Business Idea
Validating your business idea involves making efforts to ensure the solution you want to sell is something customers will pay for. True validation comes when someone spends their money on your product or service. However, you may not be able to figure out with certainty how well your product will do in the market until it's created, or your business is open.
This is where research becomes crucial. Consider creating a few focus groups and surveys to gather feedback. Building an audience online is a great way to elicit feedback for your idea. Additionally, starting a crowdfunding campaign is one of the best ways to ensure your business idea is a good one.
Evaluate your competitors. Consider your top five potential competitors and list their strengths and weaknesses. What strengths do your competitors have that you cannot beat? What weaknesses do they have that you can improve upon? If you have no competitors, that is not always a good sign. Ask yourself why there are no competitors in your area. There may be a reason. For example, the market may be too small to support your idea or people are not willing to pay for your product or service.
Identify your target demographic. Customer research is key in deciding whether or not the business will work. There must be people willing to pay for your product or service in your area. To narrow down your customers, consider creating customer profiles for each type of customer you will have. Once you are clear on your customers, you want to determine how many of them are in your area. ReferenceUSA is a database you can use to do this research. ReferenceUSA is a powerful tool that allows you to research customers based on demographics. Tens of thousands of local libraries provide free access to ReferenceUSA.
Perform a SWOT Analysis
A SWOT (strengths, weaknesses, opportunities, threats) analysis is an exercise that helps you think critically about your business idea. SWOT analysis may reveal certain aspects of your business you have not considered—both positive and negative.
Go through each section below and list your ideas:
Strengths: What will the business do well?
Weaknesses: What may the business not do well?
Opportunities: What external market opportunities are there—such as less competition and underserved segments?
Threats: What external factors may make success difficult—such as regulations?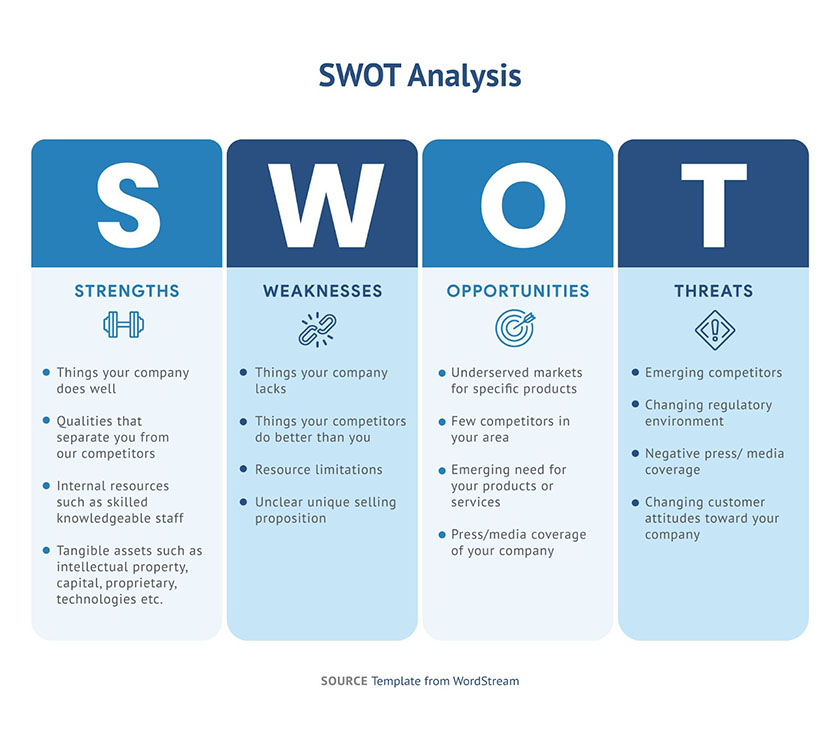 Identify your competitive advantages. A SWOT analysis helps you identify your own competitive advantages. A question to ask yourself is: "What is my advantage that the competition will struggle to match?" Is it your quality of product or service, customer service, or knowledge? This question will help you determine if you can be the best at something. Being the best in a certain area of a business makes it more likely that the business will succeed.
Research a Location
If you're considering an office or storefront, start your research into the location now. You want to start early to make sure you can afford it. Look into potential locations to develop a rough estimate of the build-out cost (renovations) and monthly rent. The information you collect will go into your business plan and financial projections.
Once you have validated your idea, performed in-depth research, identified target demographics and possible locations, and performed competitive analysis, you are ready for the next step. So far, you have put together informal pieces of a business plan. Now, it's time to write down information in a document as part of a formal business plan.
Step 3: Write a Business Plan
When you're just starting your business, a business plan, along with a solid business philosophy, can help you plot your future. Additionally, a business plan is an opportunity to show why and how your business will become a success. All businesses need to create a business plan or a strategic roadmap to guide their business decisions.
The business plan contains several elements, including market analysis, competitor analysis, and financial projections. If you're seeking funding from a bank or investor, you will need a business plan. The plan shows on paper how you will start your own business. After you open, the document keeps you focused and on track with your goals.
A typical business plan may contain over 40 pages of info about your business. You should plan on spending at least 30 hours creating a well-researched business plan. In addition to writing the plan, you will also spend time doing market research and creating financial projections.
Most business owners can easily do the research and write the plan. Where most have difficulty are the financial projections, which require creating several financial documents. If you don't have a financial analysis background or interest, it's a wise strategy to purchase business plan software that walks you through the financial projection process.
Related: 4 Types Of Business Plans (Plus Software & Writing Services)
Here are nine sections to include in your traditional business plan:
Opening Organizational and Legal Pages: Cover page, nondisclosure agreement, and a table of contents
Executive Summary: A summary of the entire business plan in fewer than two pages; Complete this section last
Company Summary: Basics of the company, such as its history, location, facilities, company ownership, and competitive advantage
Products and Services: How your business makes money (business model), the products or services it provides, and future products or services
Market and Industry Analysis: Analysis of potential customers and industry. Include any data here about your current (or ideal) customers, business industry, and competitors
Marketing Strategy and Implementation Summary: Discussion of marketing, sales, and pricing strategies
Management and Organization Summary: Business ownership and operation. (If your business isn't open yet, give a compelling reason why your background will make it a success. Include information on any managers in the business as well.)
Financial Data and Analysis: Financial projections such as a profit and loss statement, projected cash flow, and business ratios
Appendix: Any documents or information that doesn't fit in the above categories goes in the appendix. You may want to include documents such as a floor plan, trademark, or marketing materials.
This might be a big undertaking for some, so there are business plan writing services you can seek help from. Alternatively, Here are some industry-specific business plan templates that can help:
Step 4: Acquire Funding
Obtaining financing for your startup business may be the biggest challenge you face in your company's infancy.
If you don't have sufficient personal funds to start your business, you'll need to secure additional funds. There are several funding options available for soon-to-be business owners, including several types of loans, investors, and crowdfunding.
---
---
---
---
---
---
Step 5: Choose a Business Structure & Register Your Business
After acquiring funding, it is time to file the necessary legal paperwork and register your business. You want to take the steps below to comply with city, state, and federal laws. You also want to protect your personal assets if something happens in your business that results in a lawsuit. Additionally, if you have a unique business idea, you want to protect that from competitors.
The cost of registering a business varies between $40 to $500, depending on the state in which you choose to register. You can register through the state's official business registration website. If you find the website challenging to navigate, use an online legal service such as Rocket Lawyer to assist with the process.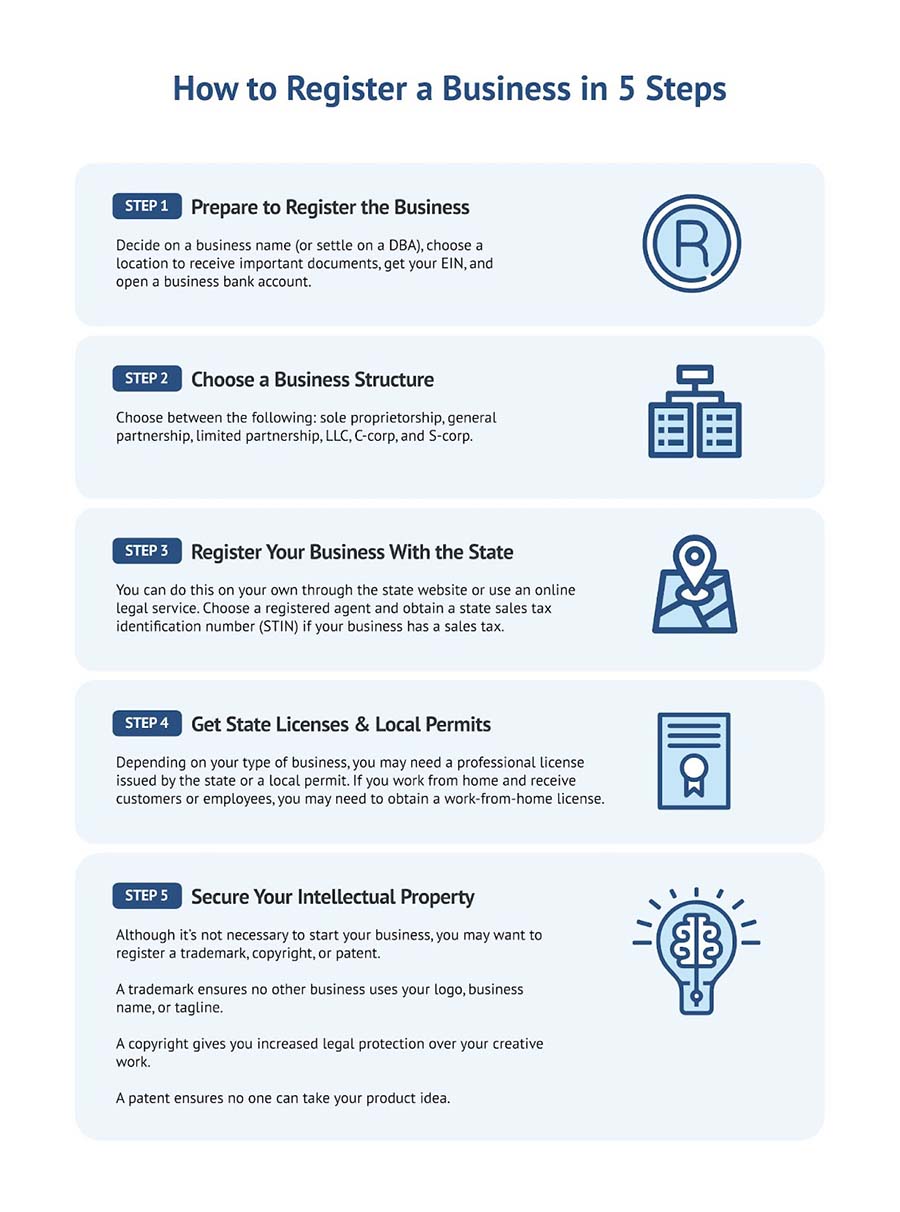 Prepare to Register Your Business
This may only include obtaining an employment identification number (EIN), opening a business bank account, and registering the business as a legal entity in the state in which it operates.
Or registering your business can be several tasks including those above in addition to obtaining a professional business license, getting a State Taxpayer Identification Number, and passing a city health inspection. It's best to prepare for these tasks in advance to ensure they go smoothly.
Choose a business name. Before taking any legal steps below, you need to decide on your business name. This is important to do first because your business name will be on all of your legal documents. Know that you don't have to stick with this name forever. If you'd like to change the public-facing name of your business, you can always file a DBA (doing business as) registration with the state in which your business is primarily located. Try our business name generator if you need help coming up with a name for your business.
Choose a location to receive important documents. Your city or state may require certain documents to be signed and will mail them to you. Additionally, your state will mail documents to your address every year to remind you to re-register your business. It's important to re-register on time because the late fee is often higher than the initial registration cost.
Obtain your Employment Identification Number (EIN). Your EIN is a federal business number provided by the Internal Revenue Service (IRS) to primarily identify your business for tax purposes. It's free to obtain your EIN and you will use it on several documents. Many banks require an EIN before opening a business bank account.
See also: Can I Open a Business Bank Account Without an EIN?
Open a business bank account. It's important to open a business bank account before incurring any business expenses. This ensures you're not mixing personal and business expenses. Many banks require a balance of at least $1,500 or they deduct a monthly fee.
Choose Your Business Structure
We recommend all businesses register as a legal entity, such as a limited liability company (LLC), S corporation, or C corporation. Registering your business as a legal entity protects your personal assets if a lawsuit were to ever occur against the business.
Research and determine the right type of legal entity for your business. While these legal entities have different pros and cons, they all achieve the vital goal of separating the business owner from personal financial liability if the business were sued or went bankrupt.
Here are the most common business structures:
Sole proprietor: If you don't register your business, this is the default business structure. Typically, only very low liability businesses should stay a sole proprietor, such as a beginner graphic designer or tutor.
Partnership: Similar to a sole proprietor, except a partnership has two or more owners.
LLC and LLP (legal entity): This is similar to that of a sole proprietor, except it provides personal asset protection in the event of a lawsuit or business bankruptcy. An LLP (limited liability partnership) is for multiple partners.
S corporation (tax status): Elect your LLC or LLP as an S-corp to save money on taxes. Consider this structure if you are paying yourself more than $20,000 per year from the business.
C corporation (legal entity): This business structure provides several benefits, including transferable shares and perpetual existence. You'll likely need to work with an attorney before forming a C-corp to create the needed documents.
Here is a snapshot of the different business structures you can consider and their key advantages and disadvantages.
Register Your Business With the State
Now that you've done the research and chosen your business' legal entity, it's time to submit the entity registration to the state it's operating in. You can do this on your own by navigating to your state government's business registration website. Or you can use an online legal service to assist you in the process. Additionally, if your business has a sales tax, you'll want to obtain a state sales tax identification number (STIN).
Get State Licenses & Local Permits
Depending on your type of business, you may need a professional license issued by the state or a local permit. Additionally, if you work from home and receive customers or employees, you may need to obtain a work-from-home license.
State professional licenses are typically for businesses that may pose a public health risk. Each state may require different professions to obtain a professional license.
Local license and permit requirements vary by state; however, typically, before opening a physical location you'll need a local building inspection to ensure the facility is safe for the public.
A home-based business license is needed if you're accepting employees and customers or creating products from your home. This license is to ensure the business isn't causing a public health risk. However, Most businesses that operate from a home won't need a license.
Secure Your Intellectual Property
Although it's not necessary to start your business, you may want to register a trademark, copyright, or patent. A trademark ensures no other business uses your logo, business name, or tagline. A copyright gives you increased legal protection over your creative work. A patent ensures no one can take your product idea.
Related:
Step 6: Get Your Business Insured
Business insurance is a form of protection small business owners can buy to safeguard their personal or business assets. Getting the appropriate coverage for your operations protects your assets by covering customer lawsuits, property damage, and other perils so the costs following a disaster don't put you out of business.
Most businesses deal with third parties who may claim your business caused their property damage, bodily harm, or financial loss. Different types of business insurance cover these accusations by paying the associated costs.
Certain small business insurance policies are considered fundamental because they protect against risks that most business owners face. General liability is a good example of this because it covers claims that your business is responsible for someone else's damages. Many business owners also get commercial property insurance because it pays for damages to their property.
Common Types of Small Business Insurance Policies
How to Get Business Insurance
Small business owners can get business insurance online through brokers or directly from carriers. To get the appropriate coverage for your business, it's important to first assess your risks and then to find providers who offer coverage that protects against them.
Related:
Because no business is immune to general liability claims, getting coverage should be a standard business practice. However, cash-strapped small business owners who are looking for inexpensive general liability insurance should remember that price shouldn't be the only consideration. Smart business owners evaluate coverage limits, additional fees, and the carrier's reputation as well.
Step 7: Build Your Business Team
After taking care of the necessary legal steps to get your business registered and protected, it is now time to make key hires. Your first employees will be vital to the success of your business. Additionally, many new business owners overlook the importance of hires outside of the business such as a bookkeeper, attorneys, and mentors.
Connect With a Business Attorney
A business attorney may help you form your new business, create custom forms or contracts, and provide legal advice. Even if you won't need an attorney for these activities, it's wise to connect with one before a legal matter occurs in your business. You don't want the stress of interviewing business attorneys after your company has been served.
Meet With a No-cost Business Adviser
The federal and state government funds several organizations that provide no-cost business consulting and mentoring. The SBDC has over 5,000 consultants across the United States that provide no-cost consulting in a variety of business areas. These consultants typically have advanced education or experience owning a business.
SCORE Advisers are volunteers who typically have previously owned a business. They serve as mentors to business owners. A SCORE Adviser can be a great asset to your business, especially if they have experience in your industry.
Hire Your First Employee
Hiring great employees is the key to growing your business. A thoughtful hiring process includes well-written job descriptions, effective recruitment ads, and strong interview processes, all of which should promote your values and culture and adhere to fair labor practices.
Many first-time business owners find employees online these days—through job boards, LinkedIn, Facebook, and Instagram. You will likely hire your first employee through word-of-mouth or from one of your family members or friends.
Related:
Hire a Bookkeeper or Accountant
If you're starting a part-time business, you can likely track your income and expenses with software such as QuickBooks Online. However, if you have a full-time business with multiple products and services and have several expenses to track, you may want to hire a professional.
Many new business owners are unsure if they should hire a bookkeeper or accountant, but most people starting a small business only need a bookkeeper. If you need complicated financial statements or business tax advice, it's wise to hire a certified public accountant (CPA).
Step 8: Set Up Your Business Systems & Software
Below you'll find two lists—one with processes and systems that almost all new small businesses will need to implement. The second list includes several systems and software that—if they apply to you—are highly recommended.
Must-have Systems & Software
Additional Systems & Software to Consider
Overwhelmed? Don't be. Free business software helps your company save money and become efficient. You can use free business tools to do accounting, accept payments, and pay employees.
If you're starting a business, going with free business tools is a great way to keep operating expenses at a minimum. Free business tools are a low-risk test as you figure out the best systems and software for you. If you like them, keep them and possibly expand their features with a paid version. If you don't like them, stop using the software with no added costs to your business.
Step 9: Market Your Business
Your last step to starting your business is to get customers. You'll use your marketing strategy to get your new business in front of potential customers.
Before diving headfirst into any of the marketing strategies, take time to write a marketing plan. Think through and plan out how you want to market your business. In your plan, outline your brand, such as the logo, colors, font, and tagline.
At a minimum, you'll want to create business cards to hand out to potential customers and vendors or while networking. Other marketing materials to consider are brochures, flyers, cards, and branded apparel. Many new business owners make the mistake of relying too much on online marketing. Don't overlook the effectiveness of having physical business marketing materials in someone's home.
Market Online
Network With Local Businesses
When you first open, explore networking groups available for local businesses. It's always a good idea to meet and network with other business owners. Word-of-mouth recommendations and referrals may lead to some of your first customers.
Related: 8 Business Networking Statistics to Generate New Opportunities
Pay for Advertising
You may want to pay to get your business in front of ideal customers. This paid marketing can give your brand recognition a jump-start. You can pay for advertising online or through traditional advertising channels.
Media Package
You want local media to know about your new business. Local media prefers information about your business submitted to them in a press release. A press release is a summary and story of your business. You also want to include owner headshots and photos of the business in the press kit. It's important to include a hook, which is a way to present your business that creates interest so that the business journalist will cover the opening of your startup.
How to Start a Small Business Frequently Asked Questions (FAQs)
Click through the questions below to get answers to some of your most frequently asked starting a small business questions.
---
---
---
Bottom Line
If you're feeling overwhelmed with all the tasks to start your business, don't stress! Starting a business is a marathon, not a sprint. Be patient. Give yourself time to absorb and understand the above steps.
"The truth is, success is a process—you can ask anybody who's been successful."
– Oprah Winfrey
Be proud that you're learning and trying to figure out this messy world of starting a business. Make your next move today: What micro-step are you taking today to make your idea a reality?