6 Best Commercial Food Processors of 2023
Food processors are essential tools when it comes to efficient prep in the restaurant industry. These machines can save you hours of labor, allowing your staff to be ready for service while also focusing on higher-level tasks. The best commercial food processor will process ingredients accurately, safely, and efficiently. It will also be easy to clean and maintain and fit smartly within your kitchen space.
Based on our evaluation, the best commercial food processors for restaurants are:
Commercial Food Processors Compared
Commercial food processors are just one of many tools needed to start a restaurant. Read our guide to see everything you need to get your business up and running.
Why You Can Trust Us
Ray Delucci is a food service professional with over 10 years in the industry. He has managed restaurants and worked in food manufacturing, product development, equipment validation, and food media. His wide-ranging experience in both food technicality and online research allows him to bring a unique perspective to the commercial food processor recommendations offered in this buyer's guide.
Best Overall: Robot Coupe R2U
Pros
Bowl useful for dry and wet applications
Continuous feed head attachment
Easy three-button control panel
Brand used by vast amounts of restaurants
Cons
Not the highest wattage on the market
Warranty is only one year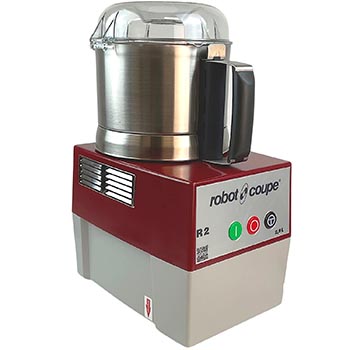 Why We Picked It
For many, the terms "Robot Coupe" and "food processor" are interchangeable. Robot Coupe is an excellent brand that makes high-quality yet affordable food processors. This unit is the standard, 2.9-liter version that is used in many restaurant kitchens. It has a small kitchen footprint yet can manage a lot of ingredient processing at once. You can use it to cut down vegetables, puree sauces, and for a variety of other cooking techniques. It is a simple yet versatile kitchen tool.
The lid of the machine is clear so that your employees can see into the unit when they are adding ingredients. There is a hole in the top of the machine in which you can stream products while it is in use. The machine has a safety feature that prevents the blades from moving when not in use. On top of that, Robot Coupe estimates you can slice 90 lbs. of vegetables per hour on this machine. All of these features, combined with industry popularity, make this the best commercial food processor in this guide.
Best For Grating & Dicing: Robot Coupe R301U DICE
Pros
Great grating and dicing attachments
Easy-to-use continuous feed head
3.7-liter bowl
Honing stone and scraper included
Cons
High upfront cost
Dicing units can be tricky to clean
Warranty is only 1 year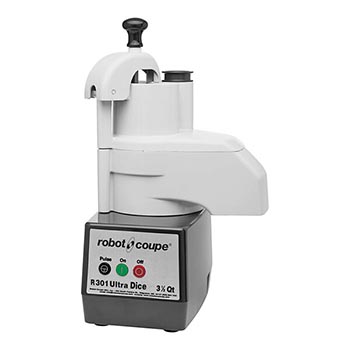 Why We Picked It
The Robot Coupe R301U DICE is the perfect machine for grating, dicing, and even slicing. It runs on over 1,500 watts, so you get a ton of power when performing prep. Its 3.7-liter bowl is larger than most standard food processors, making it more efficient and useful in high-volume prep situations. It is estimated that this machine can prep 110 lbs. of vegetables an hour, making it highly productive for any restaurant kitchen. It also can fit more disk sizes (at an extra cost), supporting the prep for popular cuts like french fries.
The continuous feed chute on the head of the machine supports user safety and efficient ingredient placement. The pulse power function gives you exact control over the cadence of the blade, and a locking lid stops the blade from moving if it is not assembled properly. This is the ideal food processor for kitchens that need uniform dicing and grating in a short amount of time.
Best Sealable Bowl Processor: Waring WFP11S
Pros
Liquid-safe bowl
Clear mixing bowl for a view of ingredients
Slower spin rate for better accuracy
Multiple cut size ability
5-year warranty on motor; 2-year warranty on other parts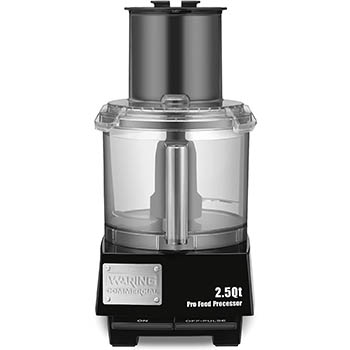 Why We Picked It
The Waring WFP11S is the perfect food processor for those using many wet or liquid-based recipes within their food processor. This unit offers a Liquid Lock bowl that can house and hold liquid without the fear of it spilling out or being shot out of the container when in use. The clear mixing bowl lets you see right into the processor when in use so that you can process your recipe to the desired consistency.
This processor's build and liquid-containing bowl make it durable and able to withstand a kitchen environment, and it is offered at an affordable price. Some extra features, such as different discs for whipping egg whites, 16-slice sizes, and even a 2-bladed disc for finer processing, are also included. This unit offers many different cut options and a container that can hold dry and wet ingredients with ease, and this is why we recommend this food processor.
Best Dual Chute Processor: AvaMix CFP5D
Pros
Dual-shoot feed
Five disc cutting settings
Cleaning brush
Auto-stopping feature for user safety
Cons
Very low wattage
Not liquid-friendly
Only one power source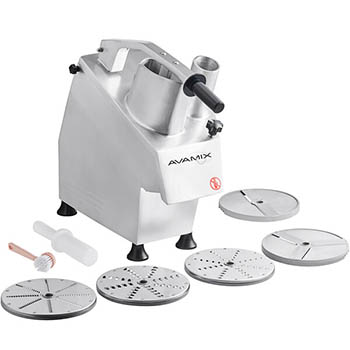 Why We Picked It
The AvaMix CFP5D is a dual chute food processor that can be used for a variety of applications. This food processor has five disc-cut settings for a variety of cutting options, perfect for those who need multiple cuts done in a precise fashion. The dual chute gives you options to fit your ingredients based on how they are shaped, allowing for perfectly sliced cucumbers alongside finely diced onions based on the chute you choose.
The auto-stopping safety function stops the blade when you raise the lid more than 12 inches, reducing the risk of injury to the user when the blade is running. This unit also comes with a cleaning brush to make it easier to reach hard-to-reach spots.
Best Affordable Food Processor: Cuisinart Food Processor
Pros
Very affordable price
Very small kitchen footprint
Highly easy to use
3–5 years' warranty
Cons
Limited cut sizing
Smaller processing chamber
Not great for harder ingredients
Warranties do not cover commercial use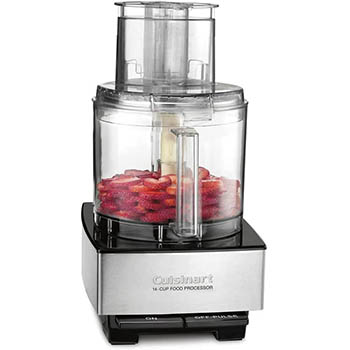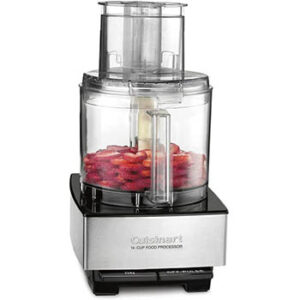 Why We Picked It
The Cuisinart Food Processor is an extremely affordable food processor that will process vegetables in your kitchen with ease. This unit is highly affordable and great for small-scale food processing for a cafe or small restaurant. It is best to use softer fruits and veg within this unit, as the blade speed may not hold up well for hard meats or very large pieces of root vegetables.
This food processor has a very small kitchen footprint and can be stored away when not in use. This unit also has a full 5-year warranty allowing it to be replaced with ease, but that is only for residential use. With some different blade attachments and the price of $217, it is hard to find a better affordable food processor on the market.
Best High-volume Buffalo Chopper: Hobart 84145-2
Pros
Can manage a large volume of prep ingredients
Bowl Safety Interlock
Rubber gripping feet
Cons
Only used for high-volume prep
Cannot work with liquid ingredients
Limited but efficient functionality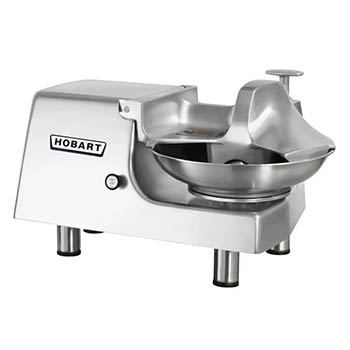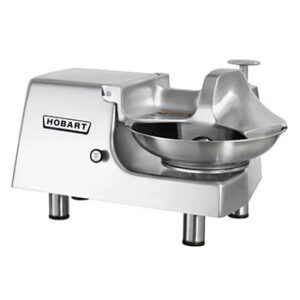 Why We Picked It
The Hobart 84145-2 Buffalo Chopper is a great tool for large-scale ingredient production. This tool is very different from the others in this guide, but if you are in need of a processor for high-volume, non-liquid processing, then this is your go-to. With a one-piece aluminum housing unit and double stainless steel knives, this chopper is built to handle the workload you throw at it. The blades reach up to 1,725 RPM and can efficiently cut whatever product you need. If you work in high-volume dining or catering, this buffalo chopper would be an asset to your business.
Buffalo chopper: A buffalo chopper is a food processor composed of a rotating bowl that feeds product through spinning blades to produce fine chops. The name comes from Buffalo, New York, where the first buffalo chopper was designed and manufactured in the early 1900s.
Types of Commercial Food Processors
Bowl Food Processors
This kind of food processor lives within most commercial or restaurant kitchens. It is a medium-sized tool that can process ingredients with ease and great efficiency. Bowl food processors often leave a small physical footprint and are easy to function and clean. They are perfect for medium-sized prep volumes and can make a kitchen much more efficient.
Buffalo Chopper
The buffalo chopper is a high-volume, durable food processor with a bowl as its main feed container. These machines are made specifically for large amounts of prep and can handle even the hardest root vegetable or toughest pieces of meat. They are primarily used in catering or high-volume dining and are really efficient tools to have.
Continuous Feed Processor
Similar to the other two, this processor is very efficient at breaking down large amounts of prep. This type of processor has a continuous feed function, allowing you to put in whole vegetables and larger cuts of product to be processed in a super-efficient and easy way. They are great for high-volume production and work very well with many different ingredient types.
Factors to Consider When Choosing a Commercial Food Processor
Size
The first factor you need to know when choosing a food processor is the size of the unit. If you have a large demand in your prep, you will obviously need a much larger unit. If you need one for standard restaurant kitchen prep, then a countertop unit will be fine. The choice all depends on the volume of prep you have vs the max volume of the food processor you are considering.
Price
Next in your decision-making should be your budget. A good food processor may cost a couple of hundred dollars, but many can be a thousand or more. Knowing your budget and what price you can reasonably afford will trim down the units you are looking at and give you a sense of the ones you can actually buy.
Functionality
Do you need a processor that is solely focused on shredding? Or do you need a bunch of diced vegetables of varying sizes? Understanding the type of prep you need from a processor will then give you the field in which you can play when it comes to buying one. Knowing the exact need your food processor will fill is integral to buying the right one for your business.
Accessories
Food processors come with all sorts of different attachments and cutting disks. It may be worth spending slightly more on a unit that has more accessories if you foresee using them. Different cutting and processing options can open up your kitchen in all sorts of ways, so be sure to have a good idea of the accessories on offer before committing to your purchase.
Speed
This last one could tie in with size, but it does deserve its own recognition. How fast a processor cuts and breaks down prep is just as vital as the max volume available. Knowing the speed can allow you to make mock time reports on prep based on your assumptions and the capacity of the unit. This will show you exactly how much time a machine will or will not save and can give you an idea of the processing output you will need in a processor.
How We Evaluated Commercial Food Processors
Here is a quick breakdown of how we evaluated the food processors in this guide:
25% of Overall Score
For our final criteria, we looked at the overall features of each food processor and how they stood out. We then took into account the features and the value they brought compared to the selling price. We then noted the reputation of each brand per our experience and the overall ease of use for each food processor.
*Percentages of overall score
Commercial Food Processor Frequently Asked Questions (FAQs)
You would not understand the value of a food processor until you have one in your kitchen. Food processors help you break down large amounts of ingredients in short periods of time. They are machines designed for specific cuts and to keep your prep time short. They help greatly in large amounts of prep work and save literal hours in professional kitchens on a daily basis.
---
Food processors can cost anywhere between a couple of hundred dollars to over $10,000. It all depends on the size, functions, power, and volume of work it can handle at any given time. Most commercial-grade food processors sit within the $150–$2,000 range, but there are many machines at different price points on the market.
---
You should use a food processor whenever you have a large volume of ingredients that needs to be cut to a uniform size. This could be mincing large amounts of onion, shredding a lot of cheese, or dicing cambros full of carrots. Breakdown and cutting into uniform sizes is what a food processor will do, so be sure to use it for any prep task with a higher volume of product to get through.
---
Bottom Line
Finding the best professional food processor for you can take time and research on the many different units available. You want a processor that fits your needs, operates efficiently, is safe to use, and is versatile in how it can cut your ingredients.
The Robot Coupe R2U is the all-around best choice for a food processor when it comes to all of these functions and is used by countless chefs. It offers different cut settings, great cutting power, and solid room for the product to fit in—plus, it is easy and safe to use. For a food processor high in quality and versatility, the Robot Coupe R2U is a great fit.