Restaurants are an enormous part of the US economy. There are more than half a million restaurants in the US, accounting for 4% of the US GDP, and 10% of the US workforce. Starting a restaurant takes six months to a year, and costs between $250,000 to $2 million, depending on the type of restaurant you plan to open.
There are several steps to starting a restaurant, and we list them all below. If you are looking for an even more expansive look at the process of opening a restaurant, download our free e-book, Starting and Running a Restaurant.
1. Decide What Type of Restaurant to Open
When it comes to deciding what kind of restaurant to open, most restaurant owners start in one of two places: either with a food idea or a profitability idea. A food idea can be a desire to serve foods that your grandmother used to cook, or a passion to serve people your amazing burrito recipe. A profitability idea usually starts with a target audience then designs the food and beverage features around that.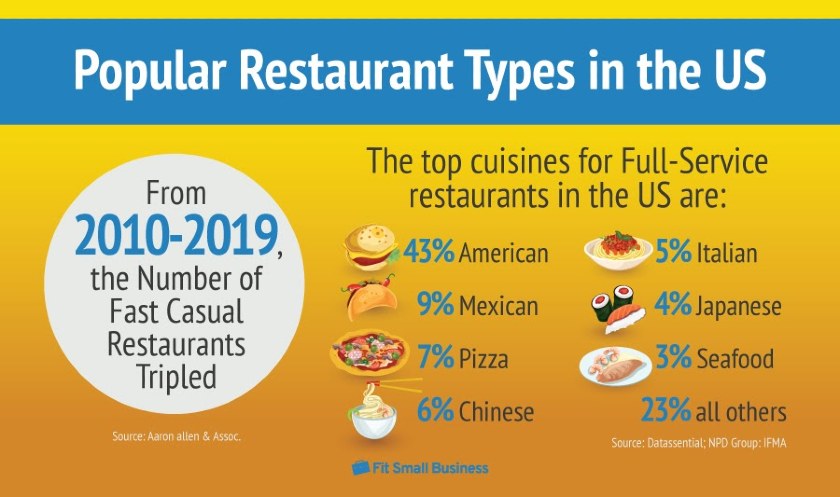 For example, you might have noticed that a downtown corridor where people gather before sporting events would be a great place for a restaurant. Or, if you live in a seaside vacation destination, you might start with the idea of serving seafood to tourists close to the waterfront. No matter where your restaurant idea begins—with food or profit—you'll need to put your restaurant idea into words that investors, employees, and customers will understand.
Identify the Target Audience You Plan to Serve
The easiest place to start determining what type of restaurant you'll have is to think about the people who will eat there. Get a pen and paper and write down all the qualities that describe the customers you envision. Get specific. Think about things like:
Age: Are your customers 18-34 years old?
Profession: If you are in a college town, your target customers could be students or professors. Near a hospital, you are likely to see a lot of doctors. In a rural setting, you'll see farmers, ranchers, and folks who work from home.
Relationships: Do you see mostly families, couples, or groups of friends?
Other qualities: People who dine out near a stadium are probably sports fans. If you plan to open a cat cafe, you're looking for cat-lovers.
Price point: How much money are your ideal customers spending?
If you started with a dish as your restaurant inspiration, you'll want to think about the kind of customer that will be attracted to your food idea. If you started with a location that has a captive audience, then this step is easy; all you have to do is look at who is already congregating where you plan to put your restaurant business.
Learn About Restaurant Styles
Now think about what kind of restaurant qualities appeal to your target customer. A restaurant is more than a single dish or a location. There are two major categories of restaurant: full service and limited service. Which category your restaurant falls into depends on the way customers order and pay for their food.
If your customers order and pay before they eat, then you are looking at a limited service operation. If your customers pay after they eat, then you are probably full service. There are, however, many shades of restaurant type.
Understand Revenue Centers
Revenue center is a category of your restaurant business that generates profit. In restaurants, revenue centers tend to be identified by the area in which food or beverages are served. For example, a pizza shop that only sells pizzas on-site would have one revenue center—in-house dining. If the pizza shop had a bar and offered delivery, then it would add two more revenue centers—bar and delivery.
Categorizing your restaurant by which revenue centers it contains can help you in a few ways. Revenue centers help potential investors or loan officers see how your restaurant will make money. Once your restaurant is running, separating your sales and costs by revenue centers helps you see what segments of your business are profitable. Beyond the categories mentioned above, there are several potential revenue centers to consider.
Takeout: Similar to delivery but with a lower startup cost. A robust takeout program can boost your bottom line.
Catering: Catering departments can be further separated into two revenue centers: on-site catering and off-site catering.
Grab and go: Also called Ready to Eat (RTE) or Ready to Drink (RTD), sometimes restaurants make jams or jarred sauces as well.
Private events: If you can close off a section of your restaurant for the exclusive use of large parties, private events can bring in bucks.
Food truck: Some restaurants add a food truck to their restaurant to increase the mobility of their business.
Rentals: If you have purchased special equipment that you don't often use, like tents, chafing dishes, or back up serving ware, you might choose to rent these items out when you are not using them.
Ticketed events: These are usually wine dinners, or one-off pop up meals to celebrate themes like Mardi Gras or the opening of the summer season where customers pay in advance for a shared experience.
Decide Your Role
There are many roles a restaurant owner can play in the daily operation of a restaurant. Some owners also act as the general manager, others may be the head chef. Another possibility is the proprietor model. This is where an owner oversees the development of the business from a back office, handling high-level decisions about growing business relationships.
Restaurant Owner Type

Typical Tasks

Real World Inspiration

Owner/ General Manager

Daily dining room management
Interacting with customers
Hiring and training service staff
Building maintenance
Maintaining beverage and other non-food inventory
Purchasing

Owner/ Head Chef

Daily kitchen management
Menu selection
Recipe development
Hiring and training cooks
Maintaining food inventory
Food Purchasing

Owner/ Proprietor

Focuses on highest-level decisions about business strategy
Hires others to run the kitchen and dining room
One you have decided the type of owner you plan to be, find some collaborators who can fill in gaps in your skill set or take over tasks that you don't have the bandwidth for. A collaborator may be a chef, a front of house manager, or even someone like an accountant.
Find Collaborators
Restaurants are businesses with a lot of moving parts and specialized roles. The biggest divide is between the front of house and back of house. The front of house (FOH) consists of the dining room, bar, and all of the customer-facing staff in a restaurant. The back of house (BOH) is the kitchen and all the staff that work in it. Most restaurant owners tend to be most comfortable handling the operations on one side of the house, and bringing in a collaborator to help carry the load on the other side.
A collaborator can be your first employee, or you can bring them on as a business partner. There are several places to find such a person. Most every town in America has a private Facebook group of local restaurant owners. You can find these by searching the social media platform for your location and "restaurant owners." You can also search sites where people post their resumes like LinkedIn or job sites like Indeed.
Other good places to look are:
Culinary Arts programs: The career development department of a nearby culinary is always eager to tell their alumni about career opportunities.
Hospitality Management programs: If you are looking for an FOH partner, look for career services departments of Hospitality Schools.
Professional organizations: Local chapters of the National Restaurant Association are usually happy to notify their members about business opportunities. Be prepared to join, though.
Other restaurants: Ask a local restaurant owner you respect if they can recommend a chef or front of house manager to you.
When speaking with nearby restaurant owners, be careful that you don't appear to be enticing their staff to work for you instead. This is called "poaching" and is very rude. Restaurants are a tight-knit community, and if you begin your business with a reputation for poaching talent, you could lose community support that you might need in the long run.
If you need additional support with the business structure and financial side, you can work with a business attorney or bookkeeper. Alternatively you can visit your local Small Business Development Center (SBDC) where you can get free advice from business consultants that have advanced education or experience owning a business.
2. Create Your Business Structure
To open a restaurant, you'll need to get some legal steps out of the way. One of the first—and potentially fun—things you need to do is name your restaurant. You'll then register your newly named restaurant business with the state, and open a bank account. Applying for Federal and State Employment Identification Numbers, insurance, and basic licenses that allow you to sell items to the public and purchase bulk ingredients tax-free are also part of this step.
Choose a Name
The first step is also the most creative one—choosing your restaurant name. This step is important to do first because this is the name that will be on all of your legal documents. If you need some inspiration to get your creative juices flowing, check out our Ultimate Restaurant Name Generator.
Incorporate & Register Your Restaurant Business
Now it is time to define what type of business your restaurant will be. This is different from deciding on your restaurant type. Your business type will govern the ownership structure of your restaurant and has nothing to do with what types of food or beverages you serve.
The most common business types for restaurants are:
Sole Proprietorship: Simply a business with a single owner. Sole proprietorship is the least expensive structure to establish. However, since there is no legal separation between the owner and the business, you can be held personally liable for all debts and obligations incurred by your restaurant.
Partnership: This is a business that has two or more owners who share in the profits and losses of the restaurant. Like a Sole Proprietorship, this structure provides no legal separation between the owners' personal and business assets.
Co-op (legal entity): Short for "Cooperative," this is a business structure where each employee owns a portion of the business, and has a say in how the business is run. Regulations on cooperatives vary from state to state; if this model interests you, you will need to consult an attorney who is familiar with local laws.
LLC and LLP (legal entity): Unlike with sole proprietorships and partnerships, only the amount of money you put into an LLC is at risk. For example, If a customer suffers an allergy attack from your food, the lawyers can't go after your house. An LLP (limited liability partnership) is for multiple partners.
C corporation (legal entity): This business structure provides several benefits, including transferable shares and perpetual existence. You'll likely need to work with an attorney before forming a C-corp to create the needed documents.
The cost of registering a restaurant business ranges from $40 to $500, depending on the state in which your restaurant is located. Regardless of your location, however, you can register through the state's official business registration website. If you find the website challenging to navigate, or you just want to save time, an online legal service like Rocket Lawyer can assist with the process or connect you with an attorney in your area to guide you.
Obtain Basic Business Licenses & Insurance
The first licenses you need for a restaurant business are the same as any other type of new business. You'll also need a lot of permits and licenses that are specific to food and beverage service, but before you can apply for any of those, you need the basics.
Employer Identification Number (EIN): The EIN is an identification number issued by the federal government to be used for tax purposes. It's sort of like your business's Social Security number. It is free, and easy to obtain from the IRS website.
State Employer Identification Number (SEIN): This is your state's version of the federal EIN. Typically you need both if you plan to hire any employees.
Business License: Businesses of all types need a business license to operate in their city, county, or state.
Resellers License: This is the license that allows your business to purchase products at wholesale prices and avoid paying sales taxes.
Sales Tax Registration: Locations may vary how they refer to this license. Most refer to it as a sales tax permit, registration or license. You need this documentation to collect and pay sales tax in your area.
You'll also need insurance for your restaurant that covers the liability associated with hosting customers and employees in a physical location. Coverage that includes liabilities associated with handling sensitive customer data like credit card numbers, or protects you against claims of food-borne illness is also a good idea. If you directly employ a delivery driver that uses personal or company vehicles, you will also need a commercial automotive policy.
Depending on how expansive your plans are for the future you may also want to protect intellectual property like your restaurant name and logo. For example if you plan to expand to multiple locations or create a franchise, you should trademark your name and logo.
Open a Bank Account
Opening a business bank account keeps your personal and business finances separate. Even if your restaurant is small and structured as a sole proprietorship, keeping your personal and business banking separate will save you headaches, especially if the IRS ever audits your restaurant business.
3. Find a Location
A restaurant's location is one decision that can have the single biggest impact on your restaurant's success. You want a location that supports your restaurant type, allows space for your target customers to reach you, and is available at a price you can afford. For example, a grab and go taco stand would do a high sales volume near a sports stadium, but might find a rural location challenging. A trendy restaurant in a city center needs to be sure that customers have a place to park, or that their location can be reached via public transportation.
When you are in the process of opening a restaurant, you may not want to think about events that might lead you to close. It is important to keep in mind, however, that unaffordable leases are one of the leading causes of restaurant closures. Before signing on the dotted line of a commercial lease, go over your projected costs and sales with an accountant that you trust.
There are many variables to consider when deciding if a space is the right first for your restaurant. For a complete guide on how to choose, check out this article, How to Choose the Best Restaurant Location. You can also take this checklist with you to help track and compare the restaurant spaces you are considering.
Download Location Search Template
Should You Lease or Buy?
Most restaurants in the US lease their location. Buying a restaurant location outright, however, is becoming increasingly popular with some restaurant owners. There are pros and cons to each. Renters have someone to call for repairs to the building when something goes wrong. If you own the space, then you have options if your restaurant business starts to struggle. You can shift to being a landlord and rent the restaurant to another business.
When you begin looking at restaurant spaces, it is important not to be dazzled by a sales pitch. Even if the space you are considering has been a restaurant in the past, it is important to take a deep look at the systems that already exist in the space, and their quality. You'll also want to consider logistics like where suppliers can park their delivery trucks and where your staff can park their vehicles while working.
Tip: You can also choose to buy an existing restaurant business to include the property or the active lease. For the ins and outs of that process, see How to Buy a Restaurant in 5 Steps.
4. Create a Menu Plan for Your Restaurant
After you've completed some of those tedious tasks, let's get back to creative territory again. A love of food is usually a big reason people open restaurants, and if you are one of those people, now is the time to bring your ideas to life. If you need a little inspiration for your restaurant menu, it might help to consider what American diners already enjoy eating and drinking.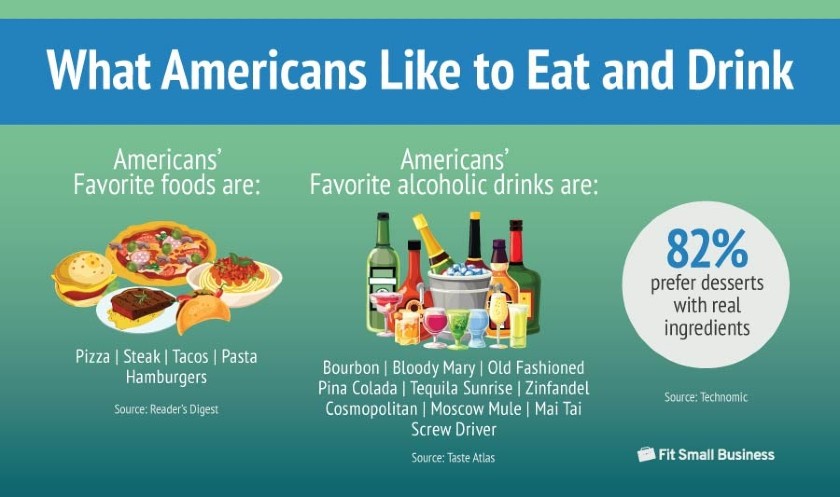 There is more to menu creation than just giving people what they want. A good restaurant menu should feature dishes from your chosen cuisine, presented in a way that matches your restaurant's service style.
For example, let's say you plan to open a German restaurant. If you are a quick-service restaurant, then your menu might feature lots of German Sausages served in buns, hot dog style. In an upscale setting, your German menu might feature schnitzels and dumplings.
Price Your Menu
Once you and your chef have decided on the dishes you want to serve, the next step is calculate the food cost for each recipe. Basically, you add together the cost of each ingredient in the dish, then use this total to generate the price you will charge customers. In most restaurants, the cost of the ingredients should only be 20% to 30% of the menu price.
5. Design Your Restaurant Floor Plan
Now it's time to consider your restaurant floor plan. Restaurants need to fit a lot of functions into a single space. You'll need room for customers to order or sit. You'll need space for food preparation. Restrooms for guests and hand wash sinks for employees are a must. You'll also need storage for food, beverage, serving supplies, and paperwork like personnel files and licenses.
If you have a small restaurant operation or are moving into a space that has previously been a restaurant, then you can probably do this step yourself, or with your collaborators. If, however, your layout requires construction, it is best to work with an architect or engineer.
6. Write Your Opening Budget
The costs of opening a restaurant can range widely, from less than $100,00 to over $2 million. Now that you have a firm idea of the kind of the kind of restaurant you are opening, it's time to figure out how much your dream restaurant will cost.
When estimating how much it will cost to open your restaurant consider the following categories:
Construction Costs: These are costs associated with remodeling your restaurant space, and can include things like installing signs and paving parking lots.
Software Tools: There is a software tool for about any restaurant function you can think of. From a point-of-sale (POS) to scheduling software to restaurant accounting tools, the amount you budget will depend on what tools you choose.
Hardware Tools: These are things like the tablets or registers that you use to operate your POS as well as kitchen printers or kitchen display screens. Don't forget a back office computer for typing menus and keeping track of your daily operational information.
Furniture, Fixtures and Equipment (FF&E): FF&E is exactly what it sounds like—it is the furniture your guests use, fixtures that bring light and water into your restaurant, and the equipment your staff cooks on.
Smallwares and Servingware: These are your cooking tools like pans and spatulas, as well as the plates and glassware that you will use to serve your food and beverages. Don't forget to-go containers in this part of your budget, or items for storing prepared food on-site.
Permits and Licenses: Your costs will vary depending on your restaurant type and location. There are more details in step No. 10, below.
Starting Inventory: Before you start selling any food and beverage, you'll need to purchase them from suppliers.
Starting Payroll: You will need to pay staff to prepare food and train before you start generating revenue. To be safe, you should have at least three months projected wages in the bank before you open.
Tip: The articles below can help determine the actual costs to open restaurants of various types:
7. Write a Business Plan
A restaurant business plan is a summary of your restaurant's business structure, projected sales, and development budget. It introduces prospective investors to your management team, restaurant type, and menu. You'll also provide design details and market research to show banks, investors, or business partners the viability of your restaurant idea.
If you have elected collaborators like a chef or a general manager to work with, you should ask for their input on your business plan. You may also wish to have an accountant look over your profit and loss projections to ensure your calculations are accurate. If you want a software tool to guide you through the entire process, a tool like Liveplan gives you step-by-step guidance for $15 to $20 per month.
Tip: Include mouth-watering photos if you have them; just like customers, potential investors eat with their eyes first.
8. Raise Money for Your Restaurant
Remember that business plan from the previous step? This is where it comes into play. Most restaurant owners raise the funds they need through a mix of personal investment, business loans, equipment loans, and individual investors. Crowdfunding and lines of credit can help with smaller amounts of money.
If you have previous restaurant industry experience, a loan through the Small Business Administration (SBA) might be a good fit. It is much easier to qualify for an SBA loan if you have relevant experience in the industry in which you are opening a business. There are several different types of SBA loans, with various qualifications for each one. To get a better understanding of what SBA loan type is right for your restaurant, check out our article, What is An SBA Loan?
9. Create Your Restaurant Brand
Your restaurant's brand is a combination of visual components that tell customers what to expect from your restaurant. Branding starts with elements like logos, fonts, and color schemes and expands to include the overall look and feel of your restaurant. Less tangible brand elements might be the tone of voice you use when communicating with your customers via social media or the style of uniform your staff wears.
A complete restaurant brand should include:
A logo
Colors and font styles for use in all of your restaurant's messaging
Business Cards for owners and managers
Images of menu items
Menus
Marketing materials
If you want to design some of these elements yourself, a site like Canva is a good place to start. If you want to hire a professional to take this off your plate, there are several websites like Fiverr and 99Designs that can connect you with designers to create everything from your logo to your website.
This is also the time to think about your email address. It is a good idea to secure email addresses for yourself and your management team that tie to your restaurant website domain name and put those on your business cards.
You don't need a full-time IT department to set this up; it is actually pretty easy to use a simple tool like Google Workspace, Google's collection of cloud computing and collaboration tools designed for businesses. For $6 per user, per month, you can get an email address with your restaurant's domain name, in an ad-free Gmail format.
10. Secure Restaurant-Specific Permits & Licenses
Your restaurant concept is really taking shape now! Depending on the style of your restaurant and your location, the types of permits you need may vary. They typically fall into one of four categories:
Health and Safety: These are permits like food handlers certifications and a certificate of occupancy from your local fire safety authority.
Construction Permits: The scope of your building or renovation plans will determine what type of permits you need here. Some locations even require demolition permits, so be sure to check your local requirements.
Operational Permits: These types of licenses allow you to sell alcohol, as in a liquor license, or play copyrighted music (as in a music licensing permit).
Specialty Permits: These could be things like a permit for a valet stand or sidewalk seating.
For a fee, you can obtain a personalized list of the licenses and permits required through a service like IncFile, which charges $99 to compile a list of all the permits and licenses you will need in your specific location.
Did you Know: Liquor license costs and requirements vary the most from location to location. If you plan to serve beer, wine, or spirits in your restaurant, see our guide to How to Get a Liquor License.
Secure Appropriate Business Insurance Coverage
All businesses need liability insurance, but restaurants have additional insurance considerations. Restaurants typically buy separate policies to protect against business-related losses, property damage, data breaches that compromise customer data, and injury to employees. If you staff delivery drivers you will also need to think about a commercial automotive policy and if you serve alcohol, a liquor liability policy is a must.
Finding the best fitting policies for your restaurant can take some time. You should work with a business insurance broker to ensure that you have all your bases covered. Restaurant businesses in particular will find that AP Intego is a good fit. It specializes in pay-as-you-go workers' compensation policies, which ensures that your premium rates are always based on current data, which in the restaurant industry can fluctuate widely.
11. Secure Vendors & Order Supplies
The critical function of a restaurant supplier is to allow a restaurant to purchase products at lower prices and without sales tax. This allows restaurants to generate a higher margin of profit on each sale. When choosing food suppliers, you should consider cost, delivery schedule, minimum order requirements, and quality of products. There are over 16,500 food distributors in the US. Though the largest players by far are Sysco, US Foodservice, and Performance Food Group.
As with most decisions that you make when starting a restaurant, the types of suppliers you need will vary based on your restaurant type. Though in the case of suppliers, it will also depend a lot on your location. For example, Sysco is the most common supplier in the Midwest and Western states. On the East Coast many restaurants rely heavily on Performance Food Group.
To find vendors in your area, you can check with local restaurant owners, or note the names on the trucks you see delivering to your favorite spots. You can also search the International Foodservice Distributors Association (IFDA) website to find member distributors in your market.
Open Accounts With Beverage Suppliers
If you will serve wine, beer, or spirits, you will need separate beverage suppliers. If you plan to serve soft drinks from a fountain or soda gun, that is also a separate beverage vendor. Just as with food suppliers, beverage suppliers come in all sizes and the major players vary by region. The major players are Young's Market Company, Republic National Distributing, and Southern Glazer's Wine and Spirits.
Many restaurants also design and serve a signature coffee blend. You can work with a local coffee roasting company to create a unique blend, or reach out to a major market player like Intelligentsia or BlueStone Lane. If you commit to exclusively serve a particular brand of coffee and don't mind equipment with their logo on it, you can usually negotiate some loaned equipment.
Tip: When it comes to soft drinks, if you commit to featuring a major brand like Coca-Cola or Pepsi exclusively; those brands will usually provide complimentary beverage refrigerators or soda machines.
Purchase Remaining FF&E
If you need additional FF&E, now is the time to purchase it. Some of the mainline distributors like Sysco and US Foods also sell equipment and furniture. Though you will usually get a better deal from looking at smaller distributors or searching your town for restaurants that are liquidating their supplies.
When it comes to large scale equipment like refrigerators, ovens, and freezers you can either lease or buy. There are pros and cons to each, of course. Leased equipment usually comes with service agreement so you always have a technician to call if the machine malfunctions. But you can't write off the depreciation of leased equipment on your annual taxes. If you opt to buy, you also find option to finance the major purchases.
12. Secure Contracts With Third-Party Services
There are several functions in a restaurant's daily operations that are commonly sub-contracted out to specialized companies. Nightly cleaning of the restaurant floors and drains is the most common. Many restaurants also work with valet companies and linen suppliers.
When you are starting a new restaurant, you should consider working with these types of third-party services:
Bookkeeping/accounting: Single unit restaurants typically don't have enough bookkeeping tasks to require a full-time accountant. Securing a freelance bookkeeper to work a few hours a week, however, will help you stay on top of your metrics and sales tax payments.
Human resources: Outsourcing human resources tasks is becoming increasingly popular with small restaurant operators. Depending on your budget a restaurant HR company can administer your employee benefits programs and payroll, or simply provide on-call support when you encounter a tricky people management situation.
Grease traps and sanitation: If you have a grease trap, you need a licensed company to empty it regularly. You'll also need a sanitation company to empty your dumpsters.
Linen company: Even if you choose not to use cloth napkins and tablecloths, you may opt to rent aprons for chef coats from a linen supplier.
Pest control: No matter how carefully you store your food, it will always be attractive to pests like mice and cockroaches. A standing monthly pest control service is a must for any restaurant.
Valet: Most restaurants do not directly operate valet drivers. Valet companies act as middlemen between a restaurant and a parking lot. In city centers they can be invaluable.
Security: Mostly bars and late-night spots hire security guards, though most restaurants contract with an alarm company or install security cameras.
Online ordering and delivery platforms: Whether or not to work with third-party delivery platforms is a big question for restaurants today. There are a lot of pros and cons to consider, but the good news is that they are not exclusive contracts.
13. Write Standard Operating Procedures (SOPs) & Handbooks
This step is one that small operations typically overlook. It's understandable since at this point in your restaurant opening journey, you could be feeling a little burnt out. Handbooks and SOPs are worth your time, however. They can ensure that you, your management team, and your staff are all on the same page. They also ensure that your team is fully trained, which helps prevent accidents and workers' comp claims.
A standard operating procedure (SOP) is simply a document that defines how your team should perform a specific task in your restaurant. Your restaurant's recipes are the ultimate SOP. They describe exactly how a dish should be prepared, how it is garnished, and what plate it is served on. You can design an SOP for every major action in your restaurant from the phone greetings to the precise location where your staff should store to-go containers.
Every restaurant should establish these policies and record them in writing:
Intellectual Property: Restaurants traffic in food and beverage recipes. You want to describe exactly what recipes belong to your restaurant, as well as define who retains credit for and ownership of any recipes your team develops on your premises, using your supplies.
Kitchen Protocols: These SOPs should define how supplies are ordered from vendors, how vendor deliveries are checked in, and where vendor invoices are filed. You'll also want clear descriptions of how food and beverages should be stored, how to operate kitchen equipment safely, and how the kitchen and equipment should be cleaned.
Time and Attendance Policies: You will also want policies that describe how your employees should clock in and clock out, how early they may arrive for their shifts, how they should request time off, and how they can trade or cover scheduled shifts.
Service Related Procedures: Phone greetings, in-person greetings, how to take orders, how to ring items into the POS correctly, discount, void, and comp policy, cash handling policy, till management, and more.
Employee Benefits: Most restaurants offer some fringe benefits like employee dining discounts or shift meals. Your SOPS should describe these in detail, including how you intend to handle alcoholic beverages on employee tabs.
Company Culture: SOPs also define the processes you and your management team will follow when hiring and training employees. You should have detailed policies about non-discrimination in your hiring practices. You should also have a detailed anti-harassment policy that applies to your entire team. This is an especially good area to outsource to a Human Resources professional.
Write Your Restaurant Handbook
The SOPs you just created will provide a foundation for your employee handbook. A complete employee handbook, however, will include many more sections. You will want to include a mission statement that sets the tone for your restaurant business, as well as a brief bio of yourself and your chef.
You can outsource your entire handbook project to a human resources firm that specializes in restaurants. Expect to pay between $5,000 and $10,000 for this service. Alternatively, you can use sites like LegalZoom to find an attorney in your area who can look over your documents and ensure they meet the proper legal standard.
Once you are satisfied with the contents of your restaurant employee handbook, there are a couple more steps to take:
Translate: There are many different languages spoken in restaurants. You should have your handbook available in the language that your employees are most comfortable reading.
Print: You should provide copies of your handbook to each employee.
Digitize: Making your handbook available in digital format can be as simple as saving as a pdf and emailing it to your staff, or storing it as a locked Google Document that you can give your team read access to.
File employee receipts: You should obtain a signed, dated form from each employee that states they have received the employee handbook and understand its contents. Keep these on file in your back office.
Tip: Place copies of your handbook in easily accessible places throughout your restaurant so staff can easily refer to them when they have a question.
14. Hire & Train Employees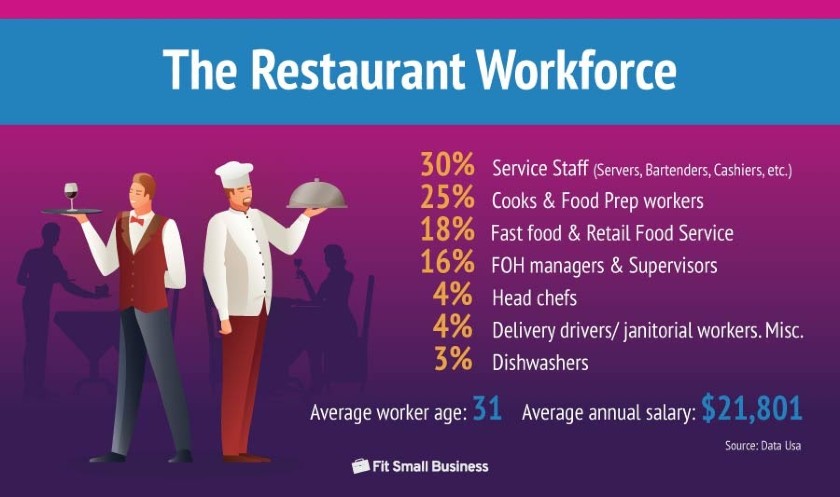 Decide What Types & How Many Employees You Need
Most restaurants have two major categories of employees: managers and hourly staff. Some very small restaurants operate with hourly supervisors rather than salaried managers. Staff like line cooks, servers, and bartenders generally work part time and are paid hourly.
Hire Managers or Supervisors
Even if your restaurant is small, you may need additional managers to supplement the work you do as an owner. Depending on the type of restaurant you have and the role you play in the daily operation, the types of front and back of house managers that you need will vary. Typically managers in the back of house are some type of chef.
Word-of-mouth referrals from other restaurant owners is a great way to find restaurant managers with relevant experience. If you are located in a city with lots of restaurants, using industry specific job sites like Culinary Agents and Poached Jobs can save you administrative time. In smaller markets with fewer hospitality professionals, a tool like Indeed's resume search tool can be a great way to scan resumes for relevant experience.
Hire Staff
The types of restaurant staff you need will vary based on your restaurant's style. The fastest way to find restaurant staff is to wallpaper the internet with open positions.
You will get the most relevant applicants if those postings contain a detailed description of each job's tasks. If the prospect of writing job descriptions for every role on your team sounds exhausting, look at the functions of your restaurant software. Some tools, like the Homebase scheduling app actually contain job description templates for the most common restaurant roles.
Create Staff Uniforms
There are two major strategies to building a staff uniform. The first is to purchase entire uniforms and then distribute them to your team. The second is to create a strict dress code and allow your staff to provide their own uniform clothing. Purchasing uniforms will be more expensive, but will allow you greater control over your brand. A dress code is much less expensive, but may require time and attention to enforce.
Train Staff
One of the major benefits that a new restaurant has over an existing one is the ability to focus on training. The weeks before your restaurant opening will be one of the few times in your restaurant's life span that you are able to bring your entire staff together and get everyone on the same page.
A comprehensive staff training plan should include time to cover:
Skills training: Show your staff how you would like trays, plates, and glassware to be carried. Teach them your restaurant's table settings and beverage recipes. Go over daily side work tasks to ensure everyone knows what is expected of them.
Menu knowledge: Have your management team write detailed guides about each dish, including common allergens. Include the same information for your beverage program.
Customer service procedures: Your staff should know the answers to common questions customers ask, like parking information, driving directions, and brief biographical information about the chef and owner. Make sure your team knows how you prefer to handle customer complaints.
Safety procedures: Everyone on your team should know where to find emergency exits, and who to contact if an emergency arises. Beyond that you should also cover basic, daily safety protocols like cash handling, opening and closing the restaurant, and how to safely work in the kitchen and bar areas.
15. Host a Soft Opening & Promote Your Restaurant
You are in the home stretch. The final step before you open your doors to paying customers is to run all of your systems through a real-life test. In restaurant terminology this is called a "soft opening." The more your soft opening resembles a live service, the more useful it will be to you. Some restaurants offer all the food and beverage at their soft opening at no charge to their guests. Others offer complimentary food and charge for alcohol (some cities and counties prohibit restaurants from serving free alcohol).
If your restaurant is a tipped house, you should plan to compensate your tipped staff at a higher wage for this night, or remind attendees that tips will be gratefully accepted. A soft opening is exciting and nerve-wracking. You will be welcoming people who are not your staff into your restaurant for the first time. It is important not to think of a soft opening as a big party, however. This is your last chance to find opportunities to improve your restaurant's systems before you open to the general public.
To ensure an effective soft opening, you should:
Run like a real service: Your servers should take orders and ring them into the POS. Your kitchen should use ticket printers or KDS screens, just like they would during any service. Everything should be rung into your POS so you can see trends and areas where you can operate more efficiently.
Take feedback from guests: Provide an easy way for your guests to tell you what they think. This can be something simple like a brief, handwritten questionnaire, or a Google Form that can be completed online. Your POS or reservation system may also have options for collecting this feedback.
Ask all staff to take notes: Your staff's experience of the soft opening is possibly the most useful look at how well your restaurant will work. Their experience may reveal a better position for service stations, better locations for key supplies, or even changes to menu items.
Plan a debrief session: Bring in all your key stakeholders. These are any business partners, as well as your chefs, managers, cooks and service staff. Ask for constructive feedback or any lessons they learned during the soft opening.
Adjust your operation: Armed with new information, update your SOP's and retrain your team where necessary.
Promote Your Restaurant
Your soft opening is a great opportunity to generate images for future social media posts and advertising. Ask your guests to tweet, Instagram, and share their experiences on Facebook. Then you or your managers can follow up with retweets, re-grams, and comments from your restaurant's social media accounts. Be sure to thank these guests for their comments and pictures in your posts, and attribute who took the picture.
You could also hire a professional food photographer to capture images during your soft opening that you can later use on social media or online menus. Keep these images on file in your back office computer so they are readily available for future marketing materials.
Next Steps
Starting a restaurant requires patience and attention to detail. It can also be an incredibly collaborative process that can allow you, the owner, to learn from the vast experience of other hospitality workers and managers. Opening a restaurant is a big job. Don't be afraid to hire help in the form of business lawyers, designers, bookkeepers, and chefs to ensure that all your bases are covered.
Once your restaurant is open, it's time to run it. The articles listed below will give you some great guidelines for keeping your restaurant running smoothly and profitably.