6 Best Commercial Refrigerators for Restaurants in 2023
A commercial refrigerator for your restaurant will keep your food properly stored and safe to eat, making it a high-level priority when building out your kitchen. Staying on budget while choosing the ideal option for your kitchen space takes research time and effort. In this guide, we will go over some of our top recommendations for commercial refrigerators for restaurants in 2023, why we chose them, and what to generally look for when making your purchase.
Based on our evaluation, the best commercial refrigerators for restaurants are:
Commercial Refrigerators Compared
Commercial fridges are just one of many tools needed to start a restaurant. Read our guide on how to start a restaurant to see everything you need to get your business up and running.
Why You Can Trust Us
Ray Delucci is a food service professional with 10 years of experience in the food industry. He has managed restaurants, worked in food development, and also has experience in verifying processes with food machinery. His experience in multiple food service roles allows him to suggest the best commercial fridge for your kitchen. Ray takes into account factors such as storage, energy efficiency, ease of use, and safety ratings when looking over the fridges on this list.
Best Overall: Beverage-Air RB49HC-1S Reach-In
Pros
Tested for high kitchen temperatures
LED interior lighting
ENERGY STAR-qualified
49 cubic feet of cold storage
Cons
Pricier option than others on this list
No mention of automatic defrost, which helps maintain longevity of unit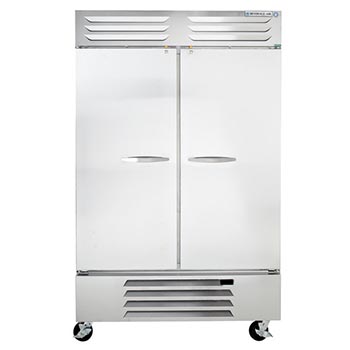 Why We Picked It
The Beverage-Air RB49HC-1S refrigerator is a double-door unit that is excellent for use in a hot kitchen. It has 49 cubic feet of cold storage, more than enough to keep a station stocked during a busy service. LED lighting makes it more energy-efficient while not pumping heat into the inside of the unit. This refrigerator is also ENERGY STAR-certified. It also offers self-closing doors, ensuring that cold air stays in at all times.
ENERGY STAR certification: To earn the ENERGY STAR, electrically powered appliances must meet strict energy efficiency criteria set by the US Environmental Protection Agency or the US Department of Energy.
This is a larger unit but it is perfect for those needing a lot of refrigerator space within their kitchen. It is also pricier than others on this list but is very well made with almost every feature you might need for a commercial refrigerator. You also have the option to pay for this product through a payment plan, which sets it apart from most on this list. With temperature controls, a temp display, and a bottom-mounted compressor, it is the ideal commercial fridge for hot kitchens.
Best Single Door Reach-in: Westlake 27" Commercial Reach-In
Pros
Affordably priced
Automatic defrost
Safety door lock
LED interior lighting
Cons
Not ENERGY STAR-qualified
No payment plan option

Why We Picked It
This Westlake refrigerator comes with excellent features and a great, single-door size that allows it to fit in a busy hot line with ease. Fingerprint-free stainless steel makes up the outside, offering a clean and aesthetic look throughout the service. LED lights brighten the inside while making it energy-efficient. The shelves within the unit are coated with corrosion-resistant plastic to avoid breakdown over time, and the fridge sits on heavy-duty casters, which makes it easy to move around and then lock into place.
This unit offers a safety lock that allows you to lock up the fridge during off hours to prevent unwanted access to the inventory within. The cooling fan works with the automatic defrost system so key components in the unit won't ice over. The LED temp display also alerts you when defrost will occur so you can plan your inventory accordingly. All of this makes this unit an excellent single-door reach-in.
Best Affordable Two-door Reach-in: Coldline C-2RE 54″
Pros
Affordable price
Door locks
Corrosion free shelving
Self-closing and stay-open door functions
Cons
Not STAR qualified
No high ambient temp test
Non–LED interior lights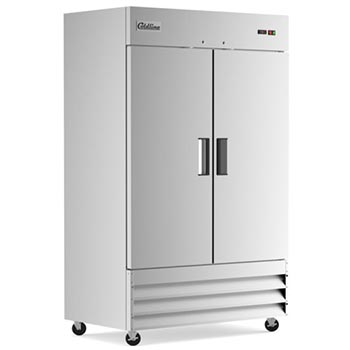 Why We Picked It
This Coldline double-door fridge is perfect for those who need a large amount of cold storage on a budget. This fridge comes with lockable doors so that you can keep your inventory safe. It also has self-closing and 90-degree stay-open door functionality so that your cold air stays in while offering ease of entry. While it may not be STAR certified, the R290 refrigerant used within the unit is eco-friendly.
The interior is made of stainless steel so that it is easy to clean and manage the overall care of the fridge on a long-term basis. The digital temperature controls display the current temperature and also when the auto-defrost mode occurs. If you are on a budget and need a large commercial fridge, then this is the best choice for you, especially since you can use a payment plan to purchase.
Best Worktop/Under-counter Fridge: Arctic Air AUC27R
Pros
ENERGY STAR-qualified
Self-closing and stay-open door
Fits nicely under most kitchen counters
Heavy duty worktop surface
Cons
No payment plan option
No high ambient temperature rating
No interior LED lighting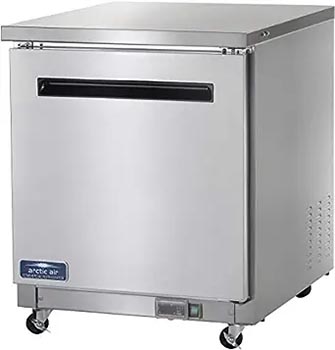 Why We Picked It
This Arctic Air dual-use worktop/under-counter unit is perfect for fitting into a small kitchen production area. Not only does it fit under most stations, but it can also be converted into a prep station itself. The top of the fridge is reinforced stainless steel that will hold up to repeated use in a kitchen. This unit is made of stainless steel, and the interior has coved corners, which makes it easy to clean at the end of every service. If you need to reduce the height slightly, the unit's top panel can be removed to serve just as an under-counter fridge. Finally, it sits on 3-inch casters, which makes it easy to move around the kitchen as needed.
Best Glass Door Reach-in: KITMA 2 Glass Door Commercial Fridge
Pros
49 cubic feet with 8 shelves
LED lighting for a clear view of inventory
Self-closing and lockable doors
Double-pane glass door
Cons
No payment plan option
No ambient temperature testing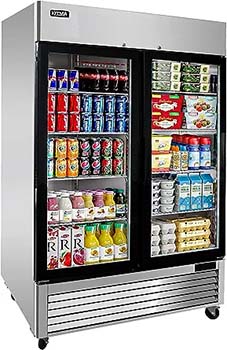 Why We Picked It
This KITMA glass door fridge is ENERGY STAR-certified and offers LED interior lighting. This, behind a double-pane glass set of doors, allows your inventory to be displayed and easily viewable. This fridge also has eight adjustable shelves with a ton of cold storage.
The self-closing and lockable doors can also be propped open with a built-in automatic feature for quick restocking. This unit offers a Dixell temperature control, which offers advanced controls such as managing water temperature within the unit. It is ideal for front-of-house applications or areas such as cold line prep stations at a sandwich shop. This unit will work well for any operator wanting to show off products or easy and organized access at a moment's notice.
Best for Ease of Cleaning: Arctic Air AR23 Single Door Reach-In
Pros
ENERGY STAR-certified
Easy to disassemble for cleaning
6-inch casters for ease of movement
Lockable door
Cons
No payment plan option
No high ambient temperature rating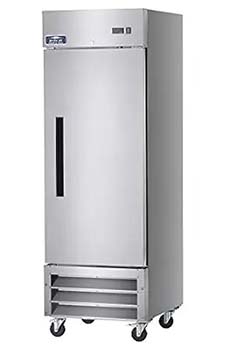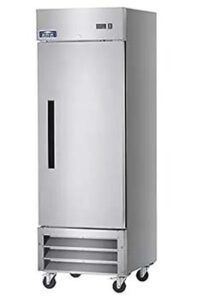 Why We Picked It
This Arctic Air single-door reach-in is ideal for those who need a dependable commercial fridge that is easy to clean, maintain, and service over its life span. Coved corners within the unit allow for ease of cleaning after every shift. The condensing unit is mounted on a slide-out rack in the bottom front of the fridge to allow for easy access and maintenance. Door gaskets that are magnetic and removable, even without tools, make them simple to clean and reapply.
The door is also field reversible, so you can change the way it swings out as needed. A digital temperature control and display, the use of R290 environmentally friendly refrigerant, and three heavy-duty epoxy-coated shelves to store food make this fridge a dependable purchase.
Types of Commercial Refrigerators
Reach-in Refrigerators
The reach-in refrigerator is very common, often used in bars and directly on cooking lines in a kitchen. Their power draw is not too crazy, and they offer ample storage space with multiple shelves within the unit themselves. They are usually made of stainless steel and tend to last a long time if cared for and maintained well. They can come in solid or glass doors with different cooling features, dependent on where they are placed in the restaurant.
Under-counter Refrigerators
An under-counter fridge is one that is placed under a workstation, often in bars or in kitchen prep areas, and keeps food cold and also easily accessible. They are not meant for full-time storage in the back of the house but more so meant to hold cold food throughout a service.
Worktop Refrigerators
Similar to under-counter units, these refrigerators prioritize cold storage of food under a station. The unique feature of these is the fact that a workspace, usually made of stainless steel, is on top of the fridge. This allows for prep while also using the fridge footprint in your kitchen as a space for your team to work on top of.
Prep Table Fridges
If you have ever been in a Subway, you have seen this type of fridge. This cold storage unit often has many slots to fit pans that must remain cold during service. Usually, the cold section of a cook line will be made up of this type of refrigeration unit. There will also be storage underneath the slots themselves for even more room to store cold foods.
Walk-in Coolers
Walk-in coolers are large commercial refrigerators that are built into the structure of your restaurant. They pull on a lot of power but are integral to keeping large amounts of product cold. These often need to be quoted by a professional, so if you are interested in one, seek out a pro in your area.
Factors to Consider When Choosing a Commercial Refrigerator
Size
It is first important to understand how big of a fridge you need to store your ingredients. You also need to understand the specs of each fridge and the size you can reasonably allow in your restaurant. If you have a cramped line, then a double-door fridge is probably too large. If you have high volumes of covers, an under-counter fridge alone is probably not enough.
Location
Where in your business will the fridge be located? You will want to avoid using glass door units in the back of the house, as the compressors are often on top, and glass is also easily breakable and can get dirty easily. But glass may be perfect for offering items to your customers in the front of your restaurant. Knowing where you intend to put your refrigeration unit and the environment it will be in is key before purchasing.
Budget
It goes without saying, but the price is important. Setting a budget for what you can reasonably afford will shorten your search for the many units out there and give you a framework on where to begin shopping around.
Maintenance Level
How much time and effort it will take to maintain the quality of your refrigerator. Is it easy to clean? Does it offer you efficient ways to service it when needed? Can you access condensation sections, compressor housing, and fans with ease? Knowing how easy a fridge is to care for is just as important as the features it has.
Other Non-negotiables
Lastly, a bunch of other factors can be at play when choosing a fridge. Do you want it to be certified in energy efficiency? Do you want easy control of temperature along with temp displays built into the doors? Understand what you want out of your fridge and what features are your must-haves before making a decision.
How We Evaluated Commercial Refrigerators
Here is how we evaluated the commercial refrigerators in our guide:
25% of Overall Score
For durability, we noted if the compressor was at the top or bottom of the unit or if it was operating remotely. We then checked for self-closing doors, which help keep cool air in. We checked to see if each unit was energy STAR verified and also assessed the overall quality of materials the refrigerators were made of.
25% of Overall Score
For the expert score, we looked at all features in each unit and the value for the money you were paying for each unit. We also used our industry expertise to look at the brand reputation and finally ensured how easy it was to use each fridge.
*Percentages of overall score
Commercial Refrigerator Frequently Asked Questions (FAQs)
There is some debate on whether or not a top or bottom compressor should matter when choosing the fridge in your kitchen. All of the refrigerators on our list house their compressors in the bottom. There are pros and cons to both placements. A bottom compressor allows better airflow and avoids hot heat that may rise. It can also be easier to clean these compressors. On the other end, top compressors often take up less space and need less energy to function. It is widely thought that bottom compressor refrigerators do better in hot kitchens, while top compressors do well in cooler areas of a restaurant.
---
Refrigerators, much like freezers, need to defrost. They need to be manual or automatic and work in tandem to keep the fridge cool and maintain a safe temperature. This is due to the fact that over time, frost builds up on the evaporator and other components and can damage how the fridge functions. Without this ability, your fridge will not last as long or keep temperatures as accurate as you need them to.
---
LED lights are the best choice for a lighting source inside a commercial refrigerator. They pull on less energy, are more efficient, and do not give off as much heat as other light sources. While they are not necessary, they are better and are one of the many reasons why our top pick ranked so well.
---
Bottom Line
When choosing the best commercial refrigerator, it is important to understand your needs, the space you have, and the budget you have set for this purchase. A commercial refrigerator should be reliable in both its function to keep food cold and its promise to last you a long time. With all of this in mind, the Beverage-Air RB49HC-1S is our top pick. With quality materials, great functionality, and attention to user ease, it makes for a solid pick for anyone needing a commercial fridge in their restaurant.