The best cyber insurance companies offer a 24/7 hotline for cyber response and risk management services. We've reviewed 19 carriers using our proprietary rubric evaluating financial stability, customer satisfaction, convenience, and policies offered. Here are the top cybersecurity insurance companies:
Top Cyber Insurance Companies Compared
Best For

Quote Process

24/7 Cyber Hotline

Risk Management Services

Financial Rating

Best overall provider for cyber insurance

Online or through an agent

✓

✓

A+ (Superior)

Ecommerce businesses

Online

Depends on the provider

Depends on the provider

A++ (Superior)

Restaurant and retail businesses

Online or through an agent

✓

✓

A++ (Superior)

Financial Institutions

Through an agent

✓

✓

A++ (Superior)

Visit Travelers for a Quote

Cyber security resources

Online

✓

✓

A (Excellent)
The Hartford: Best Overall Provider for Cyber Insurance

Pros
24/7 call center
Experienced provider
In-house claims team
Cons
Unavailable in Alaska
No mobile app for commercial lines
May have to call to finish the quote
Standout Features
Access to cyber risk resources
Worldwide coverage
Cyberextortion and terrorism coverage
First-party and third-party coverage
The Hartford offers a 24/7 cyber claim hotline, several cyber risk resources, and policies structured differently for varied business sizes. Add in its excellent customer service and the convenience of using its website, and it is the overall best provider for cyber insurance.
While The Hartford and Simply Business scored the same in our evaluation, what set the two apart is The Hartford's ability to handle everything in-house, from claims and policy management to cyber risk assessments and assistance. By going directly through it, you do not have multiple points of contact to maintain.
The Hartford offers multiple cybersecurity policies that serve the different needs that small businesses have while also providing coverage for larger or growing small businesses. However, the policies are designed more broadly and not as specialized as some of the offerings below.
While online quotes for cyber insurance are available, The Hartford requested a call with an agent to finish the process because of the risk involved with the business we were seeking insurance for.
The Hartford offers a data breach policy for smaller businesses, and it focuses more on helping your business expenses if you suffer a data breach by notifying impacted customers or handling a public relations (PR) campaign to help your business reputation. Meanwhile, it has cyber liability for larger small businesses. Some of the coverage it provides are legal services, notification expenses and, if the network goes down, lost income.
Finally, for larger businesses handling a lot of sensitive data, The Hartford offers the policy CyberChoice First Response. This is more comprehensive and has higher limits and additional coverages, including worldwide coverage, voluntary notification expenses, and cyberterrorism protection. While targeted toward larger businesses, this coverage is available for small businesses too.
Its cyber liability insurance is available in nearly every state and Washington, D.C. It has lower-than-average complaints with the National Association of Insurance Commissioners (NAIC) and is one of the top three insurers that independent agents prefer to work with, according to J.D. Power.
For convenience, it offers its Cyber Center for cyber insurance policyholders. This is an online hub where you can find resources on how to prevent and respond to cybersecurity attacks.
Simply Business: Best for Comparing Quotes & Saving Money

Pros
Fast quote
Same-day coverage
Intuitive user experience
Cons
Unavailable 24/7
Cyber response details not provided
Commercial property insurance may not be available online
Standout Features
Compare quotes for multiple lines of coverage
Purchase a policy online without speaking to anyone
Works with top-rated carriers
Account portal to manage your policy
Simply Business is an online broker that gives micro and small businesses the opportunity to shop for coverage and buy a policy entirely online. You do not have to call anyone to finish the process and get insurance. Some providers emphasize industries and coverage over others, and Simply Business emphasizes cyber insurance for ecommerce businesses. The benefit of using it is it can provide you with a quote for your ecommerce business within 60 seconds.
Using a brokerage is a great way to save money because it gives you multiple options from different companies but for different costs. Sometimes, it will even produce several quotes from the same company for relatively similar coverage but significantly different premiums. Having consistently researched Simply Business and other brokerages, we've found savings often in the hundreds to over a thousand, depending on the type of insurance.
However, while Simply Business is the best option if you want to compare costs and look for ways to save, it has the potential to create more work for you in the long run. If there is a coverage issue or a claim, you may have to work directly with the insurance provider, not with this broker. All of the other companies listed here provide one point of contact.
Also, if you are interested in learning more about the actual cybersecurity risk management available, you will need to do some research on the provider before purchasing the policy.
In less than a minute, we received a cyber insurance quote for an online book dealer. The cost was $250 annually. It provided $250,000 in aggregate cyber liability. Some of the coverages included within that limit were:
Privacy regulation claim
Crisis management expense
Fraud response expense
PR expense
At the start of the quote, it laid out what would be covered. Also, within the quote, it helpfully lists activities that are not covered, such as general liability for property damage or motor vehicles while in business use.
It also offers quotes for general liability and workers' comp for an ecommerce retailer.
For cyber insurance, you can get a quote in 60 seconds. The information requested was very minimal, and almost immediately, a quote was generated. While we only received one quote instead of multiple, we could call and speak with a licensed agent for more options in case the one generated wasn't sufficient.
If you do need to call, it is open 8 a.m. to 8 p.m. Eastern time Monday through Friday. Once you purchase a policy, it will create an online account where you can manage your policy, request a certificate of insurance (COI), and file a claim.
On the independent review site Trustpilot1, Simply Business has 4.7 out of 5 stars from nearly 700 reviews. The top comments are all related to how happy customers are with the agents they worked with.
Chubb: Best for Restaurants & Retail Businesses

Pros
Ranked #2 by J.D. Power for customer satisfaction
Underwriters with experience in cybersecurity
Ransomware endorsement
Cons
Unclear process for getting a COI
No mobile app for commercial lines
May have to call to finish the quote
Standout Features
Experience writing and handling cyber insurance since 1998
Loss mitigation services
Worldwide coverage
Cybercrime available as standalone or as an endorsement
Global insurer Chubb has been writing cyber insurance for decades and continues to adapt the policies for the changing world and continues to introduce new endorsements. Its base policy includes payment card loss, making it the best provider for restaurant and retail businesses, which process a lot of credit payments. Chubb has also developed a rapid response; it makes an investigation within five hours of a claim being reported.
Chubb can insure small businesses of all sizes, but it does not necessarily target very small companies with 10 or fewer employees. It is also so large that if you are looking for a company even after hours of research, some questions remain, such as how you can request or create a COI. Unlike a company like Hiscox, which focuses exclusively on small business insurance, Chubb offers personal insurance and insures larger and enterprise-level companies.
Chubb has an online quoting tool. However, for cyber insurance, it will most likely request you to contact one of its agents to get a more accurate assessment of your business needs.
Enterprise risk management (ERM), launched in 1998, is Chubb's cyber policy. As the name implies, Chubb states it isn't only insurance but is a risk management solution. It includes recommendations and assessments before policy binding, prevention services for the policyholder, and near-instant response to incidents once Chubb is notified.
In 2021, Chubb added endorsements to meet the growing challenges of cyber security, including expanded ransomware coverage.
Chubb has a 24/7 hotline for cyber incidents. It also provides a quick response to any cyber-attacks. Within 5 hours of reporting an incident, a local incident response manager will be assigned. An analysis will be done, and within 24 hours, vendors that will help triage the loss will be assigned to the incident.
Customers are happy with Chubb. It has lower-than-average complaints and is ranked #2 on J.D. Power's customer satisfaction survey.
Travelers: Best for Financial Institutions

Pros
Prebreach services
Strong financial rating
24/7 call center for claims
Cons
No online quotes
Unclear process for obtaining instant COI
No mobile app for commercial lines
Standout Features
Available as a standalone policy or bundled with a package
Betterment costs to improve computers covered
Prebreach and post-breach services are available
Coverage for regulatory costs included
Travelers' specialty is in financial institutions. It has developed a policy called CyberRisk for financial institutions, which is available as a standalone option or as part of a management liability package. It is designed specifically for data breach incidents for businesses of all sizes.
One standout feature of Travelers' cyber insurance is it offers betterment. This means if you suffer a data breach and need to update your equipment or systems to prevent future breaches, the betterment coverage will help defray those costs.
Also, it's the only company in our guide that offers a customer service ombudsman service. So if you are having problems with billing, coverage, or a claim, there is a dedicated hotline. In our research, I called the line and spoke with a representative there, and they will work with you to try to resolve any issue you are having.
To get a quote, you will need to contact Travelers or an independent agent that works with it.
For smaller businesses, Travelers has CyberFirst Essentials. This policy is available with a business owner's policy (BOP) and has first- and third-party coverage if your business has a data breach.
Travelers is available in all 50 states and Washington, D.C., and has lower than the national average of complaints filed with the NAIC. It also offers a customer advocacy hotline if you have concerns about the service you have received.
It even has a wide range of prebreach services, including a hotline. Travelers has a Health Insurance Portability and Accountability Act (HIPAA) coach, who is available for consultative services for any businesses that may handle protected health information (PHI) and have HIPAA responsibilities.
Travelers is a global company with nearly 200 years of experience. It has the financial strength you want for your business, with an AM Best rating of A++ (Superior).
Hiscox: Best for Cybersecurity Resources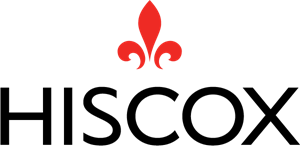 Pros
Exists for small businesses
Online quotes and policy purchase available
Numerous industries covered
Cons
No 24/7 call center
Higher than average complaints
Online limits are sometimes lower
Standout Features
Leading authority on cyber risk analysis
Six coverage modules available to provide you with flexibility
Instant access to COIs
Worldwide coverage
Hiscox has become a leading authority in cybersecurity, publishing its annual Cyber Readiness Report. It used its experience to create numerous resources for policyholders to help prevent cyberattacks. One resource, Paladin Shield, has reduced claims by more than 50% for the policyholders that use it.
It is the only provider listed here that is dedicated exclusively to small business insurance. To clarify, while Simply Business is also only for small businesses, it is a broker and not an insurance company. This single-mindedness toward small businesses makes Hiscox a great option for smaller companies looking for a company that doesn't see them as one part of a larger portfolio.
However, if you want an insurer that is always available, Hiscox is only available on weekdays by phone. Other carriers, such as The Hartford or Chubb, operate a 24/7 call center for claims reporting—so, if something happens to your business on the weekend, you have a way to contact someone immediately.
Hiscox provided us with a cyber insurance quote for an ecommerce business with one employee for $35.78 over 10 monthly payments. This also included a down payment of $119.20. Alternatively, you could pay in full for $477. The policy carried total coverage of $250,000 with a deductible of $10,000.
Hiscox policyholders have access to a 24-hour breach response hotline, which is staffed by Baker-Hostetler. Hiscox will then acknowledge the claim within 24 hours of it being reported.
While Hiscox offers a number of cybersecurity resources, of particular note is the free service, Paladin Shield, a cybersecurity platform with training, phishing simulations, and live consultative services. Hiscox reports that of its policyholders who have engaged Paladin's services, cyber claims are filed at a rate of less than 50% of policyholders who have not used the service.
Unfortunately, Hiscox complaints are higher than the national average with the NAIC.
It is a global company with more than 100 years of experience and more than 500,000 small businesses insured through it. Hiscox has a financial rating of A (Excellent) from AM Best.
How We Evaluated the Best Cyber Insurance Companies
We determined the top cybersecurity insurance companies with our in-house proprietary evaluation system. In evaluating them, we focused on the customer's needs. We paid particular interest to convenience, financial ratings (AM Best), customer service, types of policies offered, and the overall experience as a policyholder for a specific provider.
Frequently Asked Questions (FAQs)
Because the risk differs by industry, premium costs have a wide range. Cyber liability insurance can cost anywhere from $250 to $2,287 annually for smaller businesses with fewer than 10 employees.
---
A data breach insurance policy is usually designed for smaller businesses, and its coverage is less broad. It helps your business by helping with the cost of a data breach, such as notifying the affected customers.
---
The Payment Card Industry (PCI) refers to organizations that use, store, and process credit and debit card data. If you have a cyberattack and it involves data associated with payment, the PCI may investigate whether your business was negligent. If it finds you negligent, then it can levy fines against your business. Cyber liability insurance can provide coverage in that scenario.
---
Cyber insurance is a coverage every small business needs to consider. According to Hiscox's Cyber Readiness Report of 2022, 48% of companies reported a cyberattack in the past 12 months. This represents a 43% increase from the previous year. The average cost of an attack has risen to slightly less than $17,000, which represents a 29% increase.
---
Bottom Line
Cybersecurity requires proactive measures, including purchasing cyber liability insurance. After evaluating 19 carriers, we determined that The Hartford is the overall best provider. Its experts can help determine the right coverage for your specific business, so visit The Hartford or call (888) 219-3051 today.
---
User review reference: