A business owner's policy (BOP) packages general liability and commercial property into a single policy that covers businesses' most common risks. BOPs are often more convenient and more affordable than purchasing these policies separately. On average, BOP insurance costs about $1,200 per year but can range from $350–$3,000.
The Hartford has been assisting small business owners get the proper coverage for over 30 years. Their agents will work with you to get the right policy for your individual needs. Get a free, no obligation quote online in minutes.
Top BOP Insurance Providers
Most insurance carriers that work with small businesses offer BOP insurance, so many create endorsements or add coverages to either stand out in the crowd or attract businesses in specific industries. This means business owners should look at both price and policy terms to see which BOP gives them the ideal coverage for their operations.
Our list of top providers includes a few large, national carriers that either specialize in or dedicate teams to small business insurance, plus an online broker that can help business owners compare quotes from multiple top-rated insurers.
Top BOP Insurance Providers
| Provider | Best For |
| --- | --- |
| | Business owners who want to tailor their BOP insurance to their specific risks |
| | Professionals who depend on computers and electronic data |
| | Business owners who want to compare rates from multiple BOP insurance providers |
| | Contractors and construction business owners who want BOP insurance with employee dishonesty coverage |
| | Business owners looking for up to 24 months of business interruption coverage |
The Hartford is a large national insurance carrier that does a great job of meeting the insurance needs of small business owners. They offer a BOP policy that includes general liability, commercial property insurance, and business interruption, and allows business owners to customize with additional coverages based on their unique risks. Depending on your industry, you might choose coverage for data breaches, employee dishonesty, or off-premises property.
Their combination of small business experience and laundry list of industry-specific endorsements makes The Hartford the ideal choice for business owners who want to customize their BOP. Moreover, business owners can save 5% when they pay their premium upfront and up to another 10% if they also buy a workers' compensation or commercial auto policy.
Hiscox is a small business insurance specialist that designs policies to fit a wide range of industries. They are particularly strong at covering business owners who offer professional services, such as consultants, accountants, and marketers. Hiscox can offer BOP insurance to businesses with up to $3 million in revenue and pricing starts at just over $40 per month.
Another highlight of Hiscox's professional services BOP is its coverage for income lost in computer interruptions and recovery of electronic data. They automatically include up to $10,000 for these perils, making it ideal for professional service businesses that rely on technology.
Insureon is an online brokerage focused on getting small businesses, freelancers, and independent contractors business insurance. As a small business insurance brokerage, Insureon partners with top-rated carriers to give their clients business insurance that fits their specific needs.
These partnerships make Insureon the ideal choice for business owners who want to compare BOP policy offers before they pick an insurer. Most business owners get to choose from multiple quotes when they submit an application with Insureon. Then they can usually bind their BOP online or talk through their options with a licensed insurance professional.
Travelers is a large, well-known, national carrier that can offer insurance to a diverse set of businesses. Their size allows them to create BOP insurance for industries where other carriers won't, including artisan contractors and construction businesses.
Not only can Travelers offer coverage to hard-to-insure artisan contractors, but their construction BOP includes up to $25,000 in coverage for employee theft that can be extended to clients' property. This makes it ideal for contractors who want protection for their business in case a client accuses their employees of illegal acts.
CNA is one of the nation's largest property and casualty insurance carriers and has a broad range of insurance policies for small businesses. Their BOP policy offers broad protection by including coverage for identity theft, employee dishonesty, and equipment breakdown.
CNA's business owner's policy is the best choice for business owners who are concerned about business interruption insurance. Where most insurers offer 12 months of coverage, CNA's BOP can be extended to 24 months, and it does not include a waiting period or payroll limit.
What BOP Insurance Is
BOP insurance is a bundle of insurance policies that includes general liability, commercial property, and usually business interruption coverage. The main advantages of BOP insurance for small business owners are that it provides necessary protection, often costs less than purchasing separate policies, and reduces the number of policies for business owners to keep track of.
Not all businesses qualify for BOP insurance. Every insurer has different rules, but BOPs are generally reserved for businesses in low-risk industries with fewer than 100 employees, less than $1 million in revenue, and small commercial spaces (whether they own or rent).
What BOP Insurance Covers
BOP insurance combines general liability and commercial property because these policies cover some of the most common perils business owners face. General liability pays for property damage and physical injury the policyholder causes other people, while commercial property pays for damage to the policyholder's property.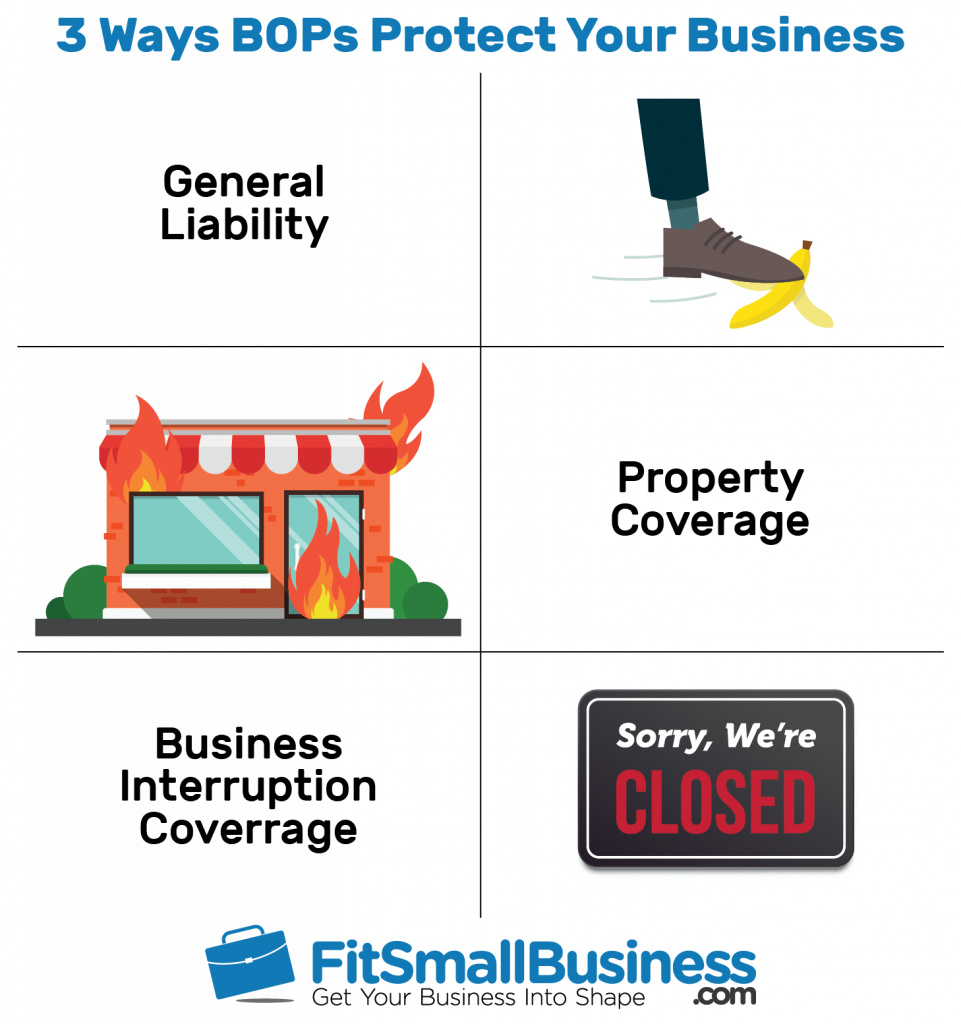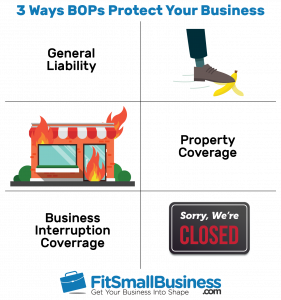 Most small business insurers also add business interruption insurance to the property coverage in a business owner's policy. Also called business income insurance, this coverage pays for lost income and ongoing expenses when perils covered in the property portion stop the business from operating.
General Liability in BOP Insurance
The general liability coverage in BOP insurance protects your business by paying costs associated with third-party property damage, bodily harm, and advertising injuries like defamation and copyright infringement. These costs might include the injured party's medical and repair bills or your legal fees if they sue.
Situations that might trigger the liability portion of a business owner's policy include:
A fire in your store that causes smoke damage in a neighboring business
A customer's slip-and-fall that causes physical injury
A graphic designer's allegation that you used their work without permission
Liability claims may be your greatest financial risk if you work with the public, which makes general liability an essential coverage for your business.
Commercial Property in BOP Insurance
A business owner's policy also includes commercial property coverage to pay for damage to your business' physical assets. These assets typically include business-owned buildings, equipment, fixtures, furniture, and inventory.
You can choose to insure your business property either at its actual value or its replacement cost value. Opting for the actual value insures items at their market value, which means your insurer pays the replacement cost minus depreciation. This option usually has a lower premium than insuring for the replacement cost.
Business Interruption Insurance in BOP Insurance
Business interruption insurance covers lost income and ongoing expenses when a covered claim forces you to suspend business operations. Insurers typically only cover these costs for 12 consecutive months, but 18-month and two-year business interruption coverage is becoming more common.
Costs the business interruption coverage in your BOP insurance might pay for include:
Lost revenue
Employees' wages
Rent
Utilities
Relocation expenses
Business interruption insurance can help you survive if a fire or a burst pipe forces you to shut down for even a brief period.
According to Hannah Sullivan, co-founder and designer for Pogo Insurance:
"The great thing about a BOP is that it's a packaged policy. You get both general liability and commercial property coverage at a lesser cost than buying each policy separately. Another bonus to this policy is that it's very easy to add on an assortment of endorsements, allowing you to customize additional coverage, if desired. BOP insurance is best for small businesses with little risk of injury, such as those based in an office."
Other Coverages That May Be Included in BOP Insurance
BOP insurance is relatively standardized throughout the insurance industry, which means it typically includes general liability and commercial property coverage no matter which insurer offers it. However, other coverages can be added to a business owner's policy. Coverages that are not part of the standard package are called endorsements or riders.
Examples of coverage insurers sometimes offer as a rider to their BOP insurance include:
Cyber liability insurance: Covers costs associated with a data breach or cyberattack
Professional liability insurance: Covers legal fees when clients claim they suffered financial loss due to your negligence (also called errors and omissions insurance)
Inland marine insurance: Covers business property in transit
Spoilage and temperature change: Covers the cost of replacing spoiled perishable inventory after a mechanical malfunction or power outage
Accounts receivable: Covers financial losses arising if your accounts receivable records are damaged by a covered peril
Earthquake insurance: Covers damage caused by earthquakes, mud flow, and landslides
Employee dishonesty: Covers financial loss due to employee theft and other illegal activities
According to Travis Biggert, chief sales officer with Hub International:
"A BOP is a great starter policy that includes numerous coverage options in one package. One of the main benefits of a BOP policy is that most of them come with what is called Actual Loss Sustained coverage relative to a loss of business income. A BOP will also include numerous additional coverages that businesses need. Some of these coverages include crime and vandalism, and some even carry a small amount of coverage for claims brought by employees, such as sexual harassment."
What's Not Covered in BOP Insurance
A business owner's policy is a good foundation for most small business owners. However, some situations may call for additional coverages that aren't included in BOP insurance and aren't usually offered as a rider or endorsement.
Other policies small business owners might need include:
Commercial auto insurance: Covers injury, damage, and lawsuits arising from accidents involving business-owned vehicles
Workers' compensation insurance: Covers employees' work-related injuries and illnesses by paying their medical bills and replacement wages
Business overhead expense: Covers overhead costs while the business owner is disabled (also known as business expense insurance)
According to Steven Crawford, owner of Disability Insurance Quotes:
"One type of coverage most small business owners don't think about is a business overhead expense disability insurance policy. Many small business owners really are the business, meaning if they cannot work, then the business is not generating any income. A BOE policy will reimburse a business owner for their overhead expenses during a period of disability."
BOP Insurance Costs
Affordability is a primary reason small business owners should consider buying BOP insurance. A business owner's policy typically costs between $350 and $2,000 per year. However, the two coverages most commonly included in BOP insurance, general liability and commercial property, could easily total $500 to $3,000 if purchased separately.
Business Owner's Policy Costs by Industry
| Industry | Coverage Limits | Typical Premium Range |
| --- | --- | --- |
| Construction & Contracting | $1 million / $2 million | $500 - $1,500 |
| Building Design | $1 million / $2 million | $400 - $1,300 |
| Cleaning | $1 million / $2 million | $750 - $1,300 |
| Food Services | $1 million / $2 million | $500 - $7,500 |
| Retail | $1 million / $2 million | $800 - $2,000 |
| Business Consulting | $1 million / $2 million | $400 - $2,500 |
Your industry has a major impact on how much your business owner's policy costs. Certain industries, including construction or retail, have a higher risk for both property and liability claims. Business consultants, on the other hand, don't have much property exposures, but they may face more liability lawsuits.
Insurers also consider other details when calculating BOP insurance costs, including:
Claims history: Insurers need to protect their bottom line, so most charge business owners who have filed multiple claims.
Number of employees: Employee injuries aren't covered in BOP insurance; however, the more staff you have, the greater risk you face of theft and liability lawsuits.
Property value: The actual value of any business-owned property can help you determine the appropriate limits. Most policies also require co-insurance, which is the percentage of the value of your property you're required to insure.
Policy terms: Requesting higher coverage limits causes your premiums to go up. Conversely, you can ask for a higher deductible to lower your costs, but you only want to do that if you can afford to pay that amount out of pocket.
Tips on Getting a Business Owner's Policy
Insurance needs for small businesses vary by industry, location, and other factors. Although BOP insurance is a relatively standard insurance product, policies can usually be tailored to fit a small business policyholder. For this reason, knowing how to shop for business owner's policy insurance is nearly as important as the coverage itself.
Here are four tips to help you buy the appropriate BOP for your business:
1. Gather Important Business Documents
The first step to getting business insurance is filling out an application. These applications are notoriously long, but it's important to provide accurate information because this is how the insurer determines your BOP insurance costs. Plus, insurers can use false information as a reason to deny any claims you file.
Some documents you may need when you apply for insurance include:
Business contact information
Twelve months of estimated revenue
Type and estimated value of equipment, tools, and inventory
Number of years you've personally worked in the industry
Number of years your business has been open
Information about current insurance policies
Details about the extent you work with the public
Details about the extent you work with hazardous materials
Claims history
2. Know Your Risk Exposures
BOP insurance includes general liability and commercial property insurance, which are usually fundamental business policies. However, most businesses have additional risks either because of their industry or business operations. Some insurers may include coverage for these risks in their policies, while others may require you buy endorsements. Either way, you want to make sure you know what your risks are so you can get the correct coverage.
3. Think Value Over Price
When you're looking for a business owner's policy, you want to think about the value you're getting for the premium you're spending. Cheap business insurance is seldom the best deal. While you may save money on your premium in the short term, you can end up being underinsured when it's time to file a claim. If that happens, you could be on the hook for repairs, medical bills, or lawsuits.
4. Use an Agent Who Knows Your Industry
Most insurance agents know about BOP insurance and can sell you a policy. However, not every agent is knows your industry risk exposures, so they may not realize the amount of coverage or the riders that make the most sense for your business. Be sure to find an agent or broker who understands your industry. They can help you buy the appropriate coverage with the ideal limits for your particular business risks.
BOP Insurance Frequently Asked Questions (FAQs)
BOP insurance is a popular option for small business owners who want affordable coverage, so they usually have a lot of questions about how it works. We've answered a few of the most frequently asked questions about BOPs here.
What's the difference between a commercial package policy & BOP insurance?
A business owner's policy, or BOP, is an insurance bundle designed specifically for small, "main street" businesses. The underwriting guidelines are fairly strict, limiting coverage to businesses with a certain amount of revenue and square footage. A commercial package policy also bundles policies, but it is designed for larger companies.
What is Coverage B in a business owner's policy?
The property portion of BOP insurance is split into two coverages. Coverage A protects business-owned buildings, land, and structures, while Coverage B protects business personal property. Basically, business personal property is every moveable item you own and use for your business. Owners can get BOP insurance that only covers business personal property.
Do I need a business owner's policy for my home-based business?
Most homeowner's insurance excludes business activities, so you may have business exposures. If that's the case, you might want BOP insurance to cover your business liability and property. However, some home insurance providers offer business riders. Review your policy options with your agent before you decide whether you need a home-based business insurance policy.
Bottom Line
BOP insurance is a cost-effective and convenient way for small business owners to get the fundamental policies they need to protect their business. Combining general liability and property coverage in a single package lets insurers sell BOPs for less, but it also means business owners only have one policy and one premium to keep track of.
It's easy to find a business owner's policy that's best for your business by contacting The Hartford. Their team of specialists will get to know your business to ensure you get the right policy at the right price. Get a free, no-obligation quote online in minutes.