A business partnership agreement is a contract between business partners that defines how partners will manage the business together, what they must invest in the business, and how they will be paid. It also defines how changes, such as adding new partners or partners leaving, will be handled.
According to Noam Wasserman, author of The Founder's Dilemmas, a whopping 65 % of new businesses fail due to conflict among co-founders. One way to avoid this fate is to have a strong business partnership agreement, which is what this article will tell you how to do.
Please note that this article provides general information only. Before executing a partnership agreement, we recommend that you consult your attorney.
Free Business Partnership Agreement Templates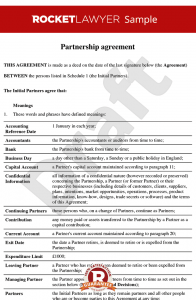 Docracy's Free Business Partnership Template
If you're comfortable preparing your own agreement here's a free partnership agreement template from Docracy. It doesn't have everything we'd recommend so you'll need to add some provisions. However it's been downloaded 1,200 times and starred 35 times. It'll get you started on business partnership agreement language.
Rocket Lawyer's Business Partnership Agreement Template
If you want a more professional partnership agreement, our trusted partner Rocket Lawyer has a step-by-step questionnaire for creating a custom business partnership agreement. You will be asked a 10-15 questions to customize your partnership agreement, and you can then download, print it, sign it, and share it with your partners. Access to the free partnership agreement template is free for one week. To go back and change the agreement later or to create multiple versions of the business partnership agreement, you have to upgrade to a paid subscription.
11 Things to Include in a Business Partnership Agreement
Business partnership agreements come in all shapes and sizes. What works for a two-owner retail shop in New York City may not work for a 4-owner law firm in Boulder, Colorado. Similarly, what works for partners who have worked together and known each other for years may not work for partners who have just met. However, below are 11 elements that are typically included in a business partnership agreement:
1. Business Name and Purpose
A business partnership agreement should include the name of the company, any other names that the company will be operating under, and the name of the parent company if there is one. If your company will use a fictitious business name (i.e. a trade name like "Sarah and Bob's Bakery"), then that should be mentioned here.
A partnership agreement should also include a statement of the company's purpose. Generally you will want to keep this fairly broad so you have the flexibility to adapt and don't have to revise the partnership agreement every time you try a new experiment or business venture.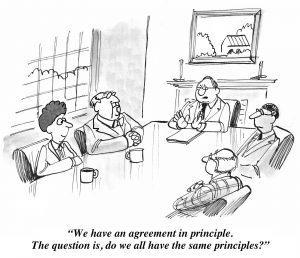 2. Partner Areas of Responsibilities
Decide who is going to be responsible for which parts of the business. As discussed in our article on how to find the right business partner, there are a number of responsibilities that you'll need to decide who is in charge, including:
General partnership business strategy,
Hiring and HR in general,
Sales and marketing,
Partnerships with other companies,
Financial management,
Day-to-day management.
One partner may have multiple responsibilities, and sometimes, responsibilities may overlap in the day-to-day of the business. Some partners may be full partners versus limited partners and some partners will be full-time and others part-time. This will impact the best assignment of responsibilities.
In addition you'll need to think through the titles of each partner based on their responsibilities. This will make the organizational structure and areas of responsibility more clear to the entire partnership.
3. How Much Time Each Partner Will Commit
To answer this question, make sure you cover the following:
Are partners expected to work set hours?
Does one partner plan on working more or less than the other partners? If so, you may want to adjust the division of ownership and profits accordingly (see compensation section).
How much vacation will be allowed?
Will this be a full time role for each partner or are partners allowed to conduct other types of businesses outside of the partnership? If partners are given more flexibility, there should be a provision specifying that other ventures cannot compete with the business.
4. Contributions
Next, you want to determine what each partner is bringing to the business in terms of cash investment, physical property (equipment, office space etc), and intellectual/other types of property (software code, client lists etc.)
Once you have listed everything out, you should outline how that property will be owned and used.
Here are some examples:
Personal Property Example: You are starting a landscaping business, and one of the partners contributes a lawnmower. Does that mower become the property of the business?
Client List Example: You are starting brokerage firm, and one of the partners brings clients with them from a previous job. Does 100 % of the revenue from those clients flow into the business?
Intellectual Property Example: You and your partners launch an online business, and one partner contributes software code. Is that code now owned by the business? Can other partners modify it?
5. Ownership Split
Now that you have decided on responsibilities, workload, contributions, you can come to an agreement on how ownership is going to be shared in the business.
A 50/50 ownership, as Dan Shapiro explains further in this post, is not always the way to go. If a partner is doing any of the following, that typically merits their getting a larger ownership share in the business:
One partner has contributed to a significantly larger amount of property or cash to the business (greater risk should merit greater return).
The partner thought of the original business concept and/or developed a beta product, secured a patent, or completed another critical first step.
Working full time while other partners are working part time.
The partner has successfully raised venture capital funding.
6. Profit & Loss Distribution
Partners are not paid salaries because they are considered to be self-employed. Instead of a salary, they receive distributions from the profits of the business. If there are no profits, then there are generally no distributions.
An exception to this is something called "guaranteed payments," which is compensation that's paid and guaranteed to a partner without regard to the profits and losses of a partnership. This is like a taking a salary, but the IRS has certain rules and restrictions regarding the payment and treatment of guaranteed payments.
In the profit & loss section of your partnership agreement, make sure to answer the following questions:
At what point do you plan on taking out profits and distributing them to the partners?
How are distributions be calculated, e.g. % of profits.
Do you plan on reinvesting profits back into the business? If so, how much?
How and when will profits and losses be divided up amongst the owners? Often, it's based on contributions and ownership. For example, someone who contributes 60 % of the property to a business will typically own 60 % of the business and receive 60 % of the profits/losses. However, the setup may be different for your business if, for instance, one partner works a lot more than others or has more responsibilities.
Will you offer guaranteed payments? If so, to whom, when, and how much?
7. Partner Disputes
Being able to discuss and come to an agreement on differences of opinion is a must for any business to move forward and grow. Most of the time, collaboration on day to day issues happens seamlessly. However, disputes are inevitable, and when the contested issues affect the future of the business, the agreement should lay out a method for resolution.
One common mistake small businesses make, says Michael Boutros, a lawyer and partner at Krevolin & Horst, LLC, is to give each owner an equal say in the business without including a tie breaker. Boutros explains, "When two 50-50 partners inevitably develop diverging views on a major company decision–whether to purchase a new building, or to invest in a new international division–the company reaches an impasse that impedes its long-term viability."
Here are some better ways to handle partner disputes:
The CEO has the final say.
One partner has the final say on a particular part of the business. For example, on hiring and firing disputes, it may be the CEO; for product development disputes, the partner who is in charge of product may have the final say.
Vote based on ownership. For instance, someone owning 60 % of the business would have more of a say than someone owning 40 % of the business. Also how does voting occur: verbal, written, or something else. Is it a formal or informal process?
Majority vote for businesses with an odd number of partners.
Partners agree to use an outside mentor to resolve disputes. You identify the specific mentor you're going to be using in your partnership agreement.
Partners agree to use an outside advisory board. You should specify how these advisors get selected, compensated, and what are the objectives and responsibilities of the advisors.
Other more formal options are:
Mediation – Working with a professional mediator can help partners come to an agreement on issues that they were not able to resolve alone. All parties must agree. The mediator cannot force an agreement as in arbitration. For more on this option, see this article.
Arbitration – If you are not able to come to an agreement through mediation, then arbitration, which binds the partners to the decision made by the arbitrator, is the next option before going to court. For more on this option, see this article.
Litigation – If things become too contentious and the business is not able to move forward, you can sue your business partner. This is usually a long and expensive process however, and one that will probably sour your relationship with the partner forever. It's possible to prevent this from being an option in the partnership agreement by requiring arbitration for most disputes.
8. Each Partner's Power to Commit the Partnership
You should define how much power each partner has to commit the partnerships to contracts and spending since all partners are responsible for any one partner's actions in this respect. This is a very important provision since partnerships, unlike corporations, make full partners personally responsible for any financial or legal obligations the partnership takes on.
This section should answer the following questions:
Contracts: Does each partner have the authority to sign contracts on behalf of the business? If so, those contracts will bind all partners.
Debt: Is the business going to have a credit card, credit line, a loan? Keep in mind here that, depending on the business structure that you choose, each partner may be personally liable for any unpaid business debt.
Spending: Does a partner have the ability to make purchases without consulting the other partners? Generally, there is a limit that is set in the agreement above which point the partner must obtain permission from the other partners.
9. Changes In Partnership
Partner Death/Disability
What happens if a partner dies or becomes unable to participate in the business at the same level because of a disability? Most business owners probably do not want their deceased partner's heirs to be their new business partners. To prevent these types of issues a buy sell agreement will be included in most business partnership agreements. A buy sell agreement allows remaining partners to buy out the partner who is disabled or who passed away. Buy sell agreements also usually cover partner divorces to prevent a divorcee's ex-spouse from becoming a business partner.
You should also look into key person insurance. This type of insurance enables the business to survive the loss of a key person. The insurance company will pay out a benefit to the business in case an owner or key executive passes away or becomes disabled.
Partner Exit
Your partnership agreement should include details on what happens when a partner must exit the partnership either voluntarily or involuntarily.
Questions to address include:
Voluntary Exit: What happens if a partner wants to leave the partnership and pursue other interests? This is usually covered by a buy sell agreement.
Involuntary Exit: Under what circumstances can a partner be forced to leave the business?
Death: As sad as it may be to think about, a partner's incapacitation due to illness or death can be complicated given that spouses, family, or named beneficiaries might now have a claim on the partnership stake. So make sure, to the extent you can, define what happens when a partner is incapacitated or dies.
10. Adding New Partners
If you're lucky your partnership will grow and add new partners. It could be hiring new partners, acquiring other partnerships, or promotion from within.
Who has the power to add new partners?
What is the process for deciding on bringing in a new partner?
How are changes in responsibilities handled?
How is voting impacted?
Here is a great article on the topic from attorney Matt Dickstein.
11. Selling the Business
Any sale of the business should definitely be covered by the partnership agreement since a lot of money could be at stake and it's a prime point for disagreement between partners. This may be covered in the buy sell agreement. Things that you will probably want to cover include:
How is an inbound offer for the business? Who manages such discussions? At what point must the offer be discussed with other partners?
What is the process if a partner or partners want to sell the business?
Can any partners force a sales of the business?
Who is in charge of negotiating? Who else is involved in the negotiations?
Is there a minimum valuation to entertain a sale?
Is there any acceleration of vesting partnership interest?
Do non-partners participate in sale proceeds?
How are sales process details handled, e.g. due diligence, customer conversations, etc.?
What is the approval process for the sale?
Why Should I Even Bother With a Business Partnership Agreement?
A business partnership agreement serves four main purposes:
Dispute resolution: Every relationship has disagreements, and this is especially true in business relationships where lots of financial, legal, and business decisions have to be made. A carefully crafted business partnership agreement allows you to outline how disputes are going to be handled ahead of time instead of in the heat of the moment. This prevents the friction and expenses associated with legal action.
Dispute prevention: By forcing you to have an honest conversation about how you want to run the business with your partner, disputes that may have otherwise occurred may not occur at all.
Clarify business structure: The process of putting together a business partnership agreement forces everyone to think about and get on the same page about how the business is going to be structured and run from the beginning. This allows decisions to be made efficiently and profits to be divided fairly.
Enable business transition: Should there come a time when one or more of the partners wants to exit the business, wants a partner to exit, passes away, or becomes disabled, there need to be provisions specifying what will happen to the business.
Keep in mind that there are different kinds of partnerships: general partnerships, limited partnerships, limited liability partnerships, and (in some states) limited liability limited partnerships. Learn more about how to choose a business structure in this guide. No matter which type of partnership you are creating, you should have a partnership agreement.
Bottom Line
Creating a business partnership agreement is a necessity for a small business with multiple owners. The agreement will cover the good times and bad times in your business. It covers how the business will be managed, how profits will be divided, and how disputes will be resolved. With a good partnership agreement under your belt, you and your partners can focus on what you do best: running and growing your business!