A well-written, well-researched business plan is vital to the success of a new business or venture. It can attract investors and help you get a bank loan. Not every businessperson has the time or expertise to craft a winning business plan. Fortunately, there are companies with decades of experience that will assist. We evaluated several and found the six below to be the best business plan writing services available.
Top 6 Business Plan Writing Services
| Business Plan Writing Services | Best For |
| --- | --- |
| | (Best Overall) Budget-minded businesses who need high-quality, successful business plans |
| | Startups or growing businesses that could benefit from an expert in the field |
| | Businesses that need a highly focused business plan for a specific need |
| | Startups and Canadian businesses wanting to set up in the US. |
| | Businesses of all types, especially for those needing L-1, E-2, or EB-5 visa business plans |
| | Businesses that can DIY and anticipate needing multiple plans |
How We Evaluated Business Plan Writing Services
All the business plan writing services we evaluated had MBA writers and years of experience in many industries. To distinguish the best, we examined the following:
Price: Most do not list prices, although customer quotes put many of them in the $3,000 range.
Expertise: We considered years in service, qualifications of the writing and management teams, and industries served.
Types of Business Plans: Some companies focus only on plans for funding or strategic planning. Others offered more specific plans like visa business plans. Still, others narrowed their focus more tightly. Some also offer pitch decks and presentation-ready formats.
Turnaround Time: The average business plan turnaround time was two weeks, with additional time for revisions. Always ask about how much time you get for revisions and if there are additional costs involved.
Additional Services: Several of these companies offer additional services to help you succeed. If you are considering mentorship or know you'll need some assessment, having one of these companies build your plan could give you a head start in building a relationship.
Bargain Business Plan: Best Overall Business Plan Writing Service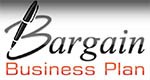 Bargain Business Plan is one of the least expensive business plan services we reviewed. Still, it offers experienced writers and a wide range of plans that includes immigration and visa plans. Overall, it has excellent reviews from customers. You can view samples of their well-designed plans. It's the only service that provides flat-rate pricing as well.
| Bargain Business Plan Pros | Bargain Business Plan Con |
| --- | --- |
| Flat rate pricing | May not include a break-even analysis |
| 14 days of unlimited revisions |   |
| Free consultation | |
Bargain Business Plan Pricing
Bargain: $1,599. For startup businesses with simple business models looking to apply for small business loans or seeking a blueprint for development
Economical: $1,999. For startup and existing businesses with a more complex operation, such as restaurants and child care centers
Optimum: $2,799. For businesses seeking government grants, investments from venture capitalists, and funding through the SBA's CDC/504 Loan Program
L-1 Visa: $1,999
E-2 Visa: $2,199
EB-5 Visa: $3,499
Consultations: Free
Bargain Business Plan Services
Detailed Business Plans: All plans include custom written business plans with market analysis, financial projections, and marketing plans. Higher-level plans offer more details, and each plan is designed for its specific purpose. For example, SBA loan versus visa.
Quick Turnaround: Drafts are done in seven to 10 days, with 14 days of unlimited revisions.
Experience: Bargain Business Plan has served 900 industries over the past 12 years and has worked with 500 partners and 10,000 customers. For immigration business plans, they work with immigration experts across the country. User reviews praise their expertise and attention to detail as well as share successes.
Why We Like Bargain Business Plan
Startups don't always have a big budget for business plans, but it can be a key document for achieving success. Bargain Business Plan offers custom, well-researched, and beautifully designed business plans at excellent prices. The willingness to revise is a big plus as well.
Optimal Thinking: Best Plan Writing Service for Startup and Growing Companies

Optimal Thinking says it best works on business plans for "early stage and existing businesses expanding organically or via acquisition." It claims a 92% success rate with its business proposals. In addition, it offers other programs to help businesses succeed.
| Optimal Thinking Pros | Optimal Thinking Con |
| --- | --- |
| Over 27 years of experience | Uses a questionnaire rather than a personal interview |
| Anticipates barriers to success and builds them into the plan | May not do visa business plans |
| 92% success rate |   |
Optimal Thinking Pricing
Varies anywhere from $5,000 to $30,000, depending on plan and scope. Call for a quote.
Optimal Thinking Services
Expertise: Optimal Thinking has team members who are senior business executives, MBA writers, and industry experts in financing, operating, and marketing companies of all sizes. It  also has 27 years' experience in writing business plans.
Plans address potential roadblocks: Optimal Thinking helps ensure success by anticipating potential business challenges, such as restrictive government regulations, economic issues, or market industry changes. Then, it includes ways to work around or through these issues.
Additional Programs: The company offers mentorship, employee motivation programs, and business assessments of communications, resources, opportunities, and more.
Why We Like Optimal Thinking
Optimal Thinking works with large companies such as Red Bull and Warner Brothers. Its writers have extensive experience in financials and business. Applying that knowledge to a business plan, even for a startup, means you will get not only a well-written and well-researched plan but also one that is informed by their years of expertise. This is also a company you can build a relationship with—get coaching and assistance in other areas of your business.
Wise Business Plans: Best Business Plan Writing Service for Specialized Plans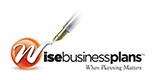 Wise Business Plans has one of the widest varieties of plans of the providers we reviewed. Its business plans are well-researched and thought out, as well as beautifully designed. It works to make sure your ideas and the plan are sound and offer additional services to help you with execution, including funding referrals.
| Wise Business Plans Pros | Wise Business Plans Con |
| --- | --- |
| 12 types of business plans | Can take up to 30 days for delivery |
| Can refer you to financial institutions and assist in other projects | Only one free revision |
| Beautiful design; well-thought-out ideas |   |
Wise Business Plans Pricing
Pricing varies, though users have quoted prices around $3,000. To get a specific quote, call for a consultation. After the first revision, Wise Business Plans charges $199 per revision.
Wise Business Plans Services
Variety of business plans: Wise offers the most variety of business plans of those on our list:

Investor Business Plan
Bank Business Plan
Strategic Business Plan
Nonprofit Business Plan
Franchise Business Plan
L-1 Business Plan
E-2 Business Plan
EB-5 Business Plan
EB-5 Regional Centers
Merger And Acquisition Business Plan (M&A)
Private Placement Memorandums (PPM)
It also offers professional feasibility studies, PowerPoint presentations, pitch decks, and straight market research.
Additional Services: Wise Business Plans can provide other services to help you execute your business plan, including:

Bookkeeping Services
Graphic Design Services
Logo Design
Flyer and Brochure Design Services
Business Printing Services
Concierge Services
Business Consulting Services for Startup Company
Website Design
Business E-books Resources
Small Business Marketing Services
Experience: Wise Business Plans hires MBA writers, financial and market analysts, and graphics designers. The company has done thousands of business plans in over 400 industries.
Why We Like Wise Business Plans
Wise Business Plans has a reputation for doing more than creating a plan for you. It challenges you to make sure your assumptions and ideas are the best they can be. Reviewers on its Facebook page praise the quality of the final product, noting especially the graphics.
Pro Business Plans: Best Business Plan Writing Service for Startups & Canadian Visas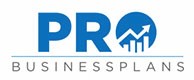 Pro Business Plans gets props for the focus of its plans. While all the services we reviewed will build custom business plans, Pro Business Plans is one of the few that has plans that specifically focus on specific issues. It also has industry experts in finance/accounting and immigration.
| Pro Business Plans Pros | Pro Business Plans Con |
| --- | --- |
| 4 to 7-day turnaround, with 7 days for revisions | No pricing information available online |
| Focus on startups, Canadian Provincial Nomination Program (PNP), nonprofits |   |
| Team members from big accounting firms; works with people in immigration |   |
Pro Business Plans Pricing
Pricing varies—call for a consultation.
Pro Business Plans Services
Focus: Pro Business Plans offers the usual range of business plans: SBA/bank, investment, L-1, E-2, EB-5. However, it also has plans specifically for nonprofits, startups, and the Canadian visa (PNP) program. It also has a pure market analysis product if your goal is to understand your industry before launching your business or expanding into a new area.
Experience: Many Pro Business Plans team members come from major accounting firms or have extensive experience working in venture investment capital. The company has served over 900 industries and has over 500 partners, including contacts in the visa application process.
Fast Turnaround: You can get your business plan drafted in four to seven calendar days, with seven days of close collaboration to get all the details polished.
Why We Like Pro Business Plans
In addition to the variety of plans and experience of the writers, what impressed us about Pro Business Plans was that users said they often went beyond simply writing the plan, providing advice and coaching during the process. Other reviews praised its market and financial research.
Go Business Plans: Best Business Plan Writing Service for Visa Business Plans

While Go Business Plans can work with any industry, its business consultants have had notable success with E-2, EB-5, and L-1 visa business plans. It can create business plans for investors, Small Business Administration (SBA) loans, and strategic and internal planning.
| Go Business Plans Pros | Go Business Plans Con |
| --- | --- |
| Helped over 150 businesses acquire over $1.5 billion in funds | May not review existing business plans |
| Free proposal including advice on content and research |   |
| Willing to revise to your satisfaction |   |
Go Business Plans Pricing
Go Business Plans does custom pricing within the range of $2,000 to $10,000.
Go Business Plans Services
Customized templates: The writers create custom plans. First, they schedule a one-hour interview with you for the basics, then conduct market research, financial analysis, and company and industry analysis, and compare you to the competition. They work with you to ensure it meets your expectations as well as SBA standards.
Advice and Assistance: Go Business Plans brainstorms and researches business strategies to advise you and can help with creating a website, generating leads, implementing marketing, and other services.
Immigration/Visa Business Plans: Go Business Plans has helped entrepreneurs from over 100 countries get their visas. It has drafted plans for 300 lawyers and over 1200 applicants. It works directly with your lawyer to make sure the plan and the legal applications are consistent as well.
Extensive market research: The business consultants have access to over 15 market research databases, including some of the top-tier ones like IBISWorld, Euromonitor, Hoovers, Mintel, Statista, Freedonia, Frost & Sullivan, Forrester, and First Research.
Why We Like Go Business Plans
This business plan writing service offers expertise at competitive prices, and according to past customers, is willing to go the extra mile to help ensure success. Many customers of its business plans went on to use its other services such as website development.
LivePlan: Best Business Plan Writing Software for DIY

Rather than a consulting service that writes the plans for you, LivePlan is a software that helps you build a business plan. Plans start at $20 per month, and prices decrease if you purchase a six-month or annual plan. It offers additional tools to monitor your company's progress, as well. This is the right choice for the entrepreneur on a budget or one who has done the research and needs a software to help them put it into an attractive format for presentation.
| LivePlan Pros | LivePlan Con |
| --- | --- |
| Unlimited plans for the monthly fee | You write your own business plan |
| QuickBooks and Xero integration | You do the research to provide the data |
| Includes performance dashboards |   |
LivePlan Pricing
LivePlan has a pay-as-you-go system but discounts for multiple months. Your first month is only $10, and it offers a 60-day money-back guarantee.
$20 per month, for monthly plans (First month $10)
$18 per month for six months
$15 per month for 12 months
LivePlan Features
Ease of use: Start by filling out the questionnaire and follow the instructions to create a basic plan. The software creates the financial tables, charts, and reports. Choose from 10 themes to create a professional-looking report that is SBA-approved.
Integrations: Sync to your QuickBooks or Xero to create reports or update sections. Export plans to Word or PDF, or put it in PowerPoint to make a slideshow presentation.
Tools that go beyond the business plan: LivePlan offers real-time performance dashboards to track budgets and goals. Benchmark data shows you how you are faring compared to others in your industry or location. Create and track milestones for measuring your progress as you grow.
Help features and examples: If you are blocked or unsure how to create a part of your plan, you can access over 500 examples in all types of industries and watch expert tutorials. Have a problem with the software? Reach support by phone, email, or chat.
Why We Like LivePlan
LivePlan offers an economical way for businesses that are comfortable with their data to create professional business plans for investors or banks. Additionally, it lets you create as many as you wish, so you can customize your plans for your audience or need or update them as your company grows. With budgeting and forecasting tools, it also helps you execute your business plan so your company can succeed.
Other Business Plan Writing Services Worth Considering:
Cayenne Consulting: Cayenne provides a highly qualified team of writers and has experience not only in business plan writing but also in other investment materials and private placements. It's a good service for those looking for funding.
Growthink: This company has highly qualified and educated writers with extensive international experience. It is good for international businesses and business plans for strategic planning and mergers or acquisitions.
Masterplans: This company is more expensive than most on our list (prices ranging from $10,000 to $49,999) but is a highly reputable company that has created over 18,000 business plans for SMBs to multimillion-dollar investment projects.
Way2markit: This company provides business plans for investing, franchises, nonprofits, banks/SBA loans, and more. It also provides other business services from idea development to website design.
Freelance: You can find qualified business plan writers on freelance sites like Upwork. They may be less expensive. Before hiring anyone, be sure to check their qualifications and portfolio.
Bottom Line
Business plans are not cheap to create, but they can pay off by getting additional investment, secured loans, visas, or a clear direction for your company's growth. For research purposes, be sure to know which type of business plan is right for your company. Each of the six business plan writing services reviewed offers decades of experience, high-quality reports, and reasonable prices.
Learn more about How to Start a Business in our complete guide.