What Is Employee Engagement & Why Is It Important?
Employee engagement describes the level at which an employee is connected to their work and the organization. Having high engagement with employees results in reduced turnover, improved productivity and work performance, and increased overall profitability.
Read on to learn more about what employee engagement is and why it's important to small businesses.
Qualities of an Engaged Workplace
An engaged workplace is one where employees are glad to come to work, focus on their projects, offer suggestions for improvements, and speak well of their company to people outside of work. Organizationally, businesses support employees in their immediate work goals and longer-term careers and create an atmosphere of trust and communication.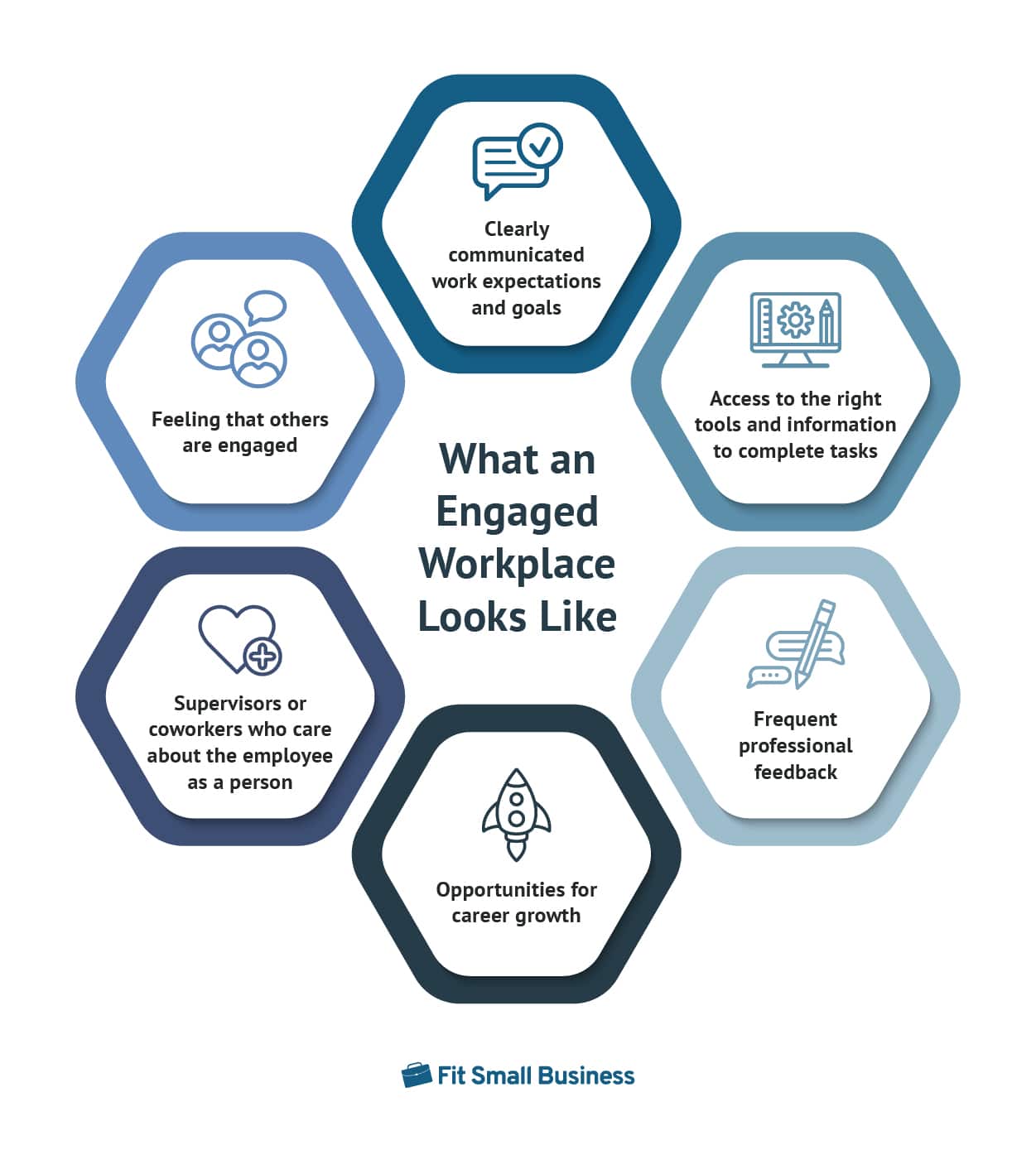 Specifically, highly engaged workplaces have these qualities:
Clearly communicated work expectations and goals
Worker belief that their job is important to the mission of the organization
Access to the right tools and information to complete tasks
A sense of fulfillment
Frequent recognition or praise for doing a good job
Frequent professional feedback
Valuing employee opinions
Opportunities for career growth, including learning opportunities
Encouragement
Supervisors or co-workers who care about the employee as a person
Friendships
Feeling that others are engaged as well
Benefits of Employee Engagement
Employee engagement is important for small businesses for many reasons—it can impact everything from employee retention and safety to customer satisfaction and company profitability.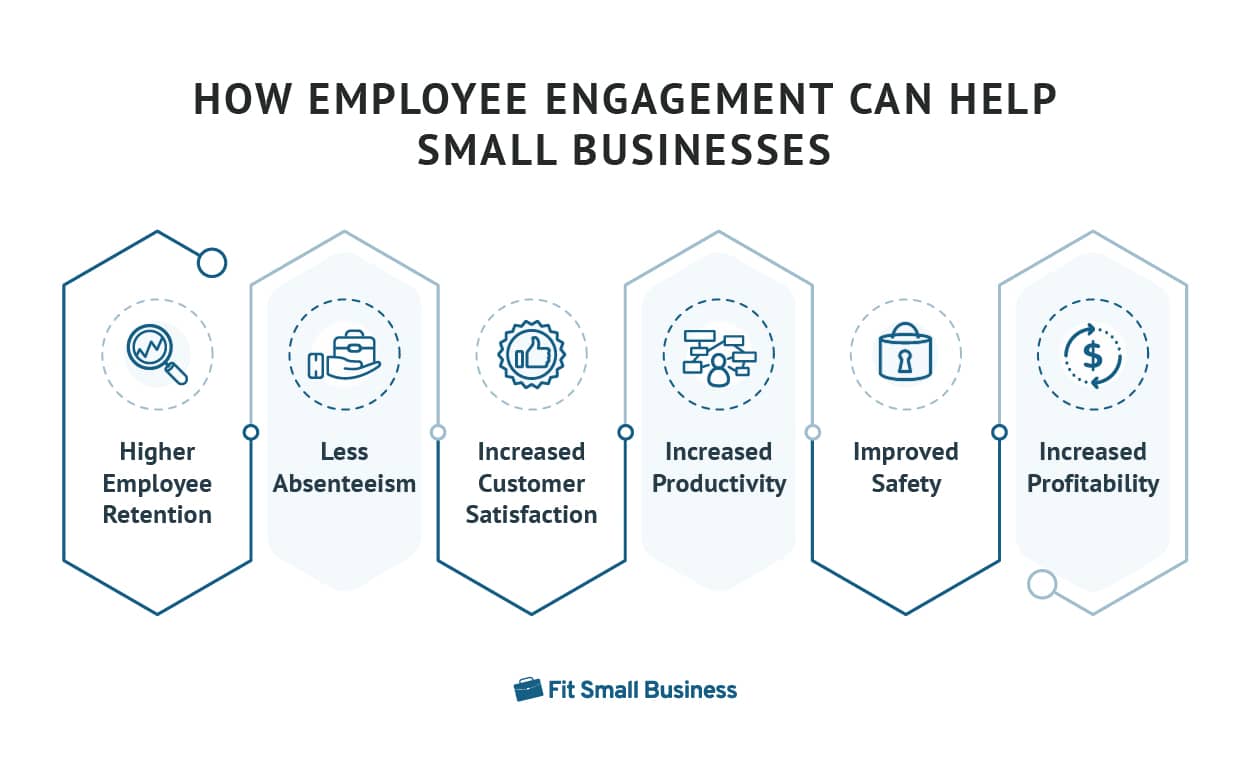 Higher employee retention: Engaged employees have less reason to leave a company because they feel not only invested in the goals of the company but valued as an employee and person. They see opportunities in the company and believe in the company's purpose.
Less absenteeism: In an engaged workplace, employees are more likely to show up for work and take fewer personal days because they are motivated and excited to come to work.
Increased customer satisfaction: Engaged employees care about their jobs, which includes making sure customers are happy.
Increased productivity: Engaged employees are not only more likely to show up for work but to actively participate. As engaged workplaces often give greater autonomy for enacting innovations, employees feel more comfortable suggesting new ideas for the betterment of the company.
Improved safety: Because engaged employees are more dedicated and aware of what they do in the workplace, they also become more careful—which means fewer risks and safety hazards.
Increased profitability: All of this, of course, helps your company make money and reduce costs.
However, Gallup reports that employee engagement is continuing a downward trend (since the onset of the pandemic) and shows that only 32% of the US workforce now feels engaged in their work. Further, 17% are actively disengaged, meaning they are miserable and don't care about work.
Measuring Employee Engagement
To reap the benefits of employee engagement, it's important to measure it among your employee base. This goes beyond a happiness survey but does not have to be time-consuming, either. Rather than satisfaction, ask how well an employee feels heard, appreciated, recognized, and the like.
You can also analyze emails sent to employees, not for content but open rates, click-through rates (such as shared documents), and location. Since email is a significant part of the workplace, reviewing them can give you deep insight into participation level.
Combine these findings with in-house statistics on retention, absenteeism, and turnover to get a more complete picture. Finally, consider productivity and customer satisfaction.
Spotting Engaged vs Disengaged Employees
Highly engaged employees do more than the minimum standard. They are motivated to put in their best effort because they feel a positive connection with their team, work, and organization—and that encourages other employees as well. They want their organization to succeed and believe they play a role in that success.
On the other hand, disengaged employees are indifferent to or feel negatively about their company. They may put in enough effort to complete tasks, but just enough to maintain employment. Often, they are on the lookout for a better job or are just interested in pulling a paycheck and going home.
How to Improve Employee Engagement
Organizations can take many different approaches to improve employee engagement. Some common methods include:
Investing in training and development opportunities
Promoting open communication between management and staff
Encouraging employees to provide feedback
Offering incentives for good performance
Communicating the company's purpose and values to employees
Encouraging employees to have a voice in decisions that affect them
When employees are engaged, they feel a sense of ownership in their work and are motivated to contribute to the success of their organization. By communicating the company's purpose and values to employees, investing in growth opportunities, improving people management skills, and offering incentives, you can ensure that everyone is working toward the same goal.
Employee Engagement vs Other Measures
You mustn't confuse employee engagement with other ways of evaluating employee sentiments, such as satisfaction or well-being. Although related, they are distinct and can result in different outcomes for your company. Click the tabs below to learn about the differences between employee engagement, employee satisfaction, and employee well-being.
Employee satisfaction only addresses how content your employees are to work at your company. It's passive. Engagement, meanwhile, is active, addressing motivation, involvement, and commitment—all factors that affect performance. A satisfied employee could simply be glad to put in minimal work for a paycheck, while an engaged employee will put in extra effort because they believe in the company and want to support it.
Employee satisfaction does affect engagement, of course. Dissatisfied employees are seldom engaged ones. A good first step in improving engagement is determining if employees are satisfied, and if not, what needs you can meet while still maintaining company objectives.
Employee well-being looks at the employee as an individual—their health, mental well-being, and individual goals. Employee engagement, on the other hand, is company-centered. So, for example, an in-work fitness program can improve employee well-being, but will not help employee engagement in and of itself.
Like employee satisfaction, supporting the well-being of your employees can affect engagement. For example, a single parent may be more focused and interested in taking on a new project (engagement) if their child-care needs are met (well-being).
Bottom Line
With the workforce radically changing thanks to technology and telecommunication, it's becoming more obvious why employee engagement is important. Developing an engaged workforce goes beyond focusing on employee happiness—you must reaffirm their belief in your company's mission and their willingness to be an active part of making your company grow. Paying attention to this vital area not only helps you avoid the cost of hiring new employees but makes your business more creative, improves customer service, and reduces absenteeism, all leading to more profits for you.