10 Best Employee Recognition Ideas for 2022
Employee recognition is crucial to keeping workers engaged and motivated. To be effective, it should be immediate and specific. When done right, it increases morale and productivity. With these goals in mind, here is our list of the best employee recognition ideas for your small business.
Individual Recognition
A key component of employee management is recognizing individual team members when they succeed. When an employee goes above and beyond or lends a hand to a project that really takes it to a new level, they deserve to be called out for additional praise. Their contribution should be noted so they know you and other employees see their hard work.
1. Positive Feedback
You can show someone you appreciate their efforts by saying nice things about them. What you say needs to be specific and more than simply a quick "nice job."
For example, you might give the following feedback: "Your report on our lead sources was excellent. The charts were well-organized and illustrated where we need to invest more money and where our efforts are coming up short. I really appreciate your hard work on putting this data together. It helped our leadership team make quick, cost-effective decisions. Thank you and keep up the good work."
It doesn't have to be long, but it must be direct and specific. It also doesn't have to be verbal. In fact, in today's working environment, it might be better as a companywide announcement via email or messenger. Providing this level of feedback will make any employee feel appreciated and happy about the work they've done.
2. Cash
Nothing speaks louder than cash. Despite not being the most original idea, it has stayed around for so long because it is effective.
Publicly recognizing and thanking an employee for their efforts with cash not only shows them your appreciation but demonstrates to other team members that, with the right effort, they could see a similar reward. This motivates all employees to give their best every time.
To be effective, a cash award should be commensurate with the employee's contribution. Giving an employee a crisp $20 bill for spearheading a project that increased your company's revenue by tens of thousands of dollars would seem out of touch. In fact, it may even have a demotivating effect.
To learn how to motivate employees beyond rewards, check out our article on how to motivate your team.
3. Rewards Program
Implementing an employee rewards program gives you a tool to immediately and specifically recognize members of your team. This is a great idea for companies because colleagues can recognize each other.
There are several software programs available that allow you and your team to recognize each other for a job well done. Each employee gets a certain number of points to give out each month to other employees to publicly recognize their achievements. Over time, employees can save the points they receive and cash them in for rewards like:
Extra time off
A free breakfast
Company swag
Gift cards
Other unique perks
These programs also give you metrics so you can see who's actively rewarding others, who's getting rewarded, and who might just be sitting on the sidelines. Consider implementing a tool like this because it encourages peer-to-peer rewards, which are seen companywide and gives your employees currency to trade in for an award they want.
4. Wheel of Awards
One of my favorite employee recognition ideas is the wheel of awards. Whether you build a wheel in your office or use an electronic version, you can put a few awards or even dozens on the wheel. When someone is recognized for their efforts, they spin the wheel and receive the award they landed on.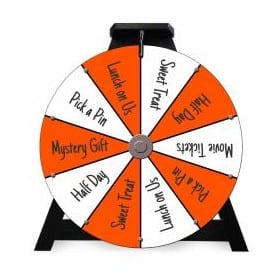 Some of the best wheel awards I've seen are:
Cash award
Noise canceling headphones
Extra PTO
Shopping spree
Bottle of wine
The idea here is to be creative. As long as your budget allows, have a couple of big-ticket items on the wheel like an entire week off or a cruise. The rest of the awards can be smaller, but throwing a few large awards on the wheel increases the excitement and suspense. Make sure you make a wheel spin an experience where the entire company joins in to watch and learn why the particular employee is being recognized. It only takes a few minutes, and it really gets people excited and wanting to spin the wheel themselves.
5. Peer Trophy
Employees want to know they are actively contributing to the team's efforts and that their colleagues appreciate their work. A peer's public recognition of a teammate can have greater meaning to an employee and show that their work is noticed not just by supervisors but by teammates.
Every Friday, for example, the employee currently holding the trophy might think back on the week to see which colleague is deserving of special recognition. The employee then passes the trophy on while saying a few words about why they chose that particular individual.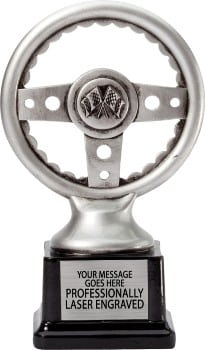 Team Recognition
Recognizing teams for their effort is also crucial. Although an individual may have had a significant impact on getting a project completed or landing a new client, if the entire team effort contributed, then the team should be recognized.
6. Team Lunch or Happy Hour
Hosting a lunch for your team is a generous gesture. Tell your team why it is receiving the lunch by highlighting the collective accomplishments and mentioning specific individuals.
A happy hour is an excellent alternative to lunch. It often results in better bonding opportunities because colleagues are outside of the office atmosphere and often more relaxed. Just like with lunch, though, make sure the team members know why you're buying them a drink and give specific reasons for the recognition.
Don't dismiss this idea if your company is remote. You can achieve the same results with either option. For lunch, you can send employees gift cards to order from a delivery service and join remotely. While they eat, you can speak about why their collective achievement was so important. For a happy hour, there are companies that will send your employees pre-made drinks or the ingredients to make their favorite beverage.
7. Company Outing
Instead of a happy hour or company lunch, treating your team to a company outing can be an effective way to show your appreciation. Usually offered for a much bigger team effort, showing your appreciation by taking your team on a big getaway really shows them you noticed their contribution and took great effort to give them a similarly sized reward.
Some ideas include a:
Spa day
Company cruise
Weekend staycation
Privately catered dinner with a plus-one
This idea may require a larger budget, depending on the size of your team. However, if the team's work significantly contributed to your company's revenue, taking some of that projected cash and investing it back in your team will show them you value their effort.
8. Early Release
Make this one a surprise. Whether you're all in the same office or you're remote, call people together for a quick meeting. Tell them you want to thank them for their hard work on a project and how they collaborated to meet a common goal.
Then surprise them by telling them to log off for the rest of the day or the week. They'll appreciate it and understand why you're doing it for them. Just make sure you're letting them go early enough. If you tell your team at 4:45 p.m. to log off for the day, it doesn't have the same effect as if you tell them at noon.
9. Time Off
Similar to an early release, giving your team time off goes a little further. Rewarding the entire team for a particularly successful effort should be matched by a corresponding reward.
After they have successfully completed an extensive project, your team may be exhausted. Allow them to relax by taking some well-deserved time off. Even a long weekend can give some much-needed rest. The longer the project and the harder they worked, the more time they'll need.
This isn't something every company can do, and certainly not after every successful endeavor. However, offering your employees rest on the company dime after an exceptional team effort is a great way to show your people management skills. Don't forget to explain why the team is getting this time off.
10. Holiday Shopping Spree
While companies often use this idea at the end of the year around the holidays, it can be adapted to fit any time of year. People spend the holidays thinking about others—their families, kids, friends. Taking your team on a shopping spree for themselves after a job well done lets them indulge in a bit of selfishness.
This might sound counterintuitive to the holidays, but it's an incredibly effective way to showcase your appreciation for your team. It's even better if you make a game out of it. Say you give each employee $300. You give them one hour to buy:
A pair of something
One item over $200
An item with your company colors
Making it into a game creates competition, especially if you offer a small reward for the winner. But it also makes it fun, giving your team a chance to bond over their success. When you make it clear that this opportunity is due to the team's achievements, it only encourages them to work harder and achieve even greater success and growth for your company.
Bottom Line
Ideas for employee recognition range from small to large. To truly be effective and increase your employees' engagement, your ideas need to be genuine and recognize specific accomplishments made by individuals or teams. What works for one company may not work for another, so try out different ideas and change them to fit your team. Your employees will always appreciate recognition, even more so when it comes with a tangible reward.