An experience modification rate (EMR) is a number insurance companies use to represent a business' prior workers' comp claims and potential for future injuries. Businesses with lower EMRs pay less for their workers' compensation insurance. EMRs commonly range between .75 and 1.25 based on a business' claims history.
What an Experience Modification Factor Is
An experience rating, also called an EMOD, XMOD, or MOD, is a multiplier that affects base workers' compensation insurance rates. EMRs below 1.0 reduce your workers' compensation insurance cost. Conversely, EMRs above 1.0 increase rates. New businesses often start with an EMR of 1.0 and keep it for three years.
Your insurer determines your EMR by comparing your losses to what's expected in the industry—although the exact formula is a bit more complex. For example, an electrician might be expected to occasionally injure themselves on the job, but as long as their workers' injuries aren't more extensive or more frequent than other electricians in the state, their EMR should remain close to 1.0.
How the Experience Modification Rate Works
Insurers use EMRs to determine a business' workers' comp rates by plugging it into an equation that first multiplies payroll per $100 by each job's classification rate. That number is then multiplied by the business's EMR to come up with the business' total workers' compensation premium. An EMR of 1.0 means there is no modification.
In most states, employees are assigned job class codes based on their regular work duties, such as auto salesperson or plumber. Each class code corresponds to a rate, which insurers use in the first part of the equation. Most states use job classification codes based on the ones created by the National Council of Compensation Insurance (NCCI).
How Experience Modification Rate Affects Workers' Comp Costs
The experience modification rate impacts your workers' comp costs because it's a multiplier that's applied to your base rate. When your base rate is multiplied by an EMR higher than 1.0, your costs increase. This is because an EMR above 1.0 indicates you've had prior workers' comp claims. If your EMR is lower than 1.0, your workers' comp costs go down.
EMR is only one factor that goes into calculating your workers' compensation premium. The three primary factors, according to The Hartford, are your industry, your EMR, and your annual payroll numbers.
Applying Experience Modification Rate to Premium Costs
The formula to calculate it (managed by NCCI) is complicated. But in general, it's based on how severe and how frequent your claims are compared to other businesses with workers in similar jobs.
For example, if your office business had several workers' compensation claims last year, or just one really expensive one (such as a worker who tripped on the carpet, needed back surgery, and was out for four months), your EMR may go up. Let's say it went from 1.0 to 1.2. You might now pay $120 per worker, per year instead of $100 (1.2 EMR x $100 Class Rate = $120).
Think about it this way: If you have $10,000 in annual workers' compensation premium to start with at an EMR of 1.0, and have claims causing it to rise to 1.2, you are paying an extra $2,000 per year in workers' compensation premium.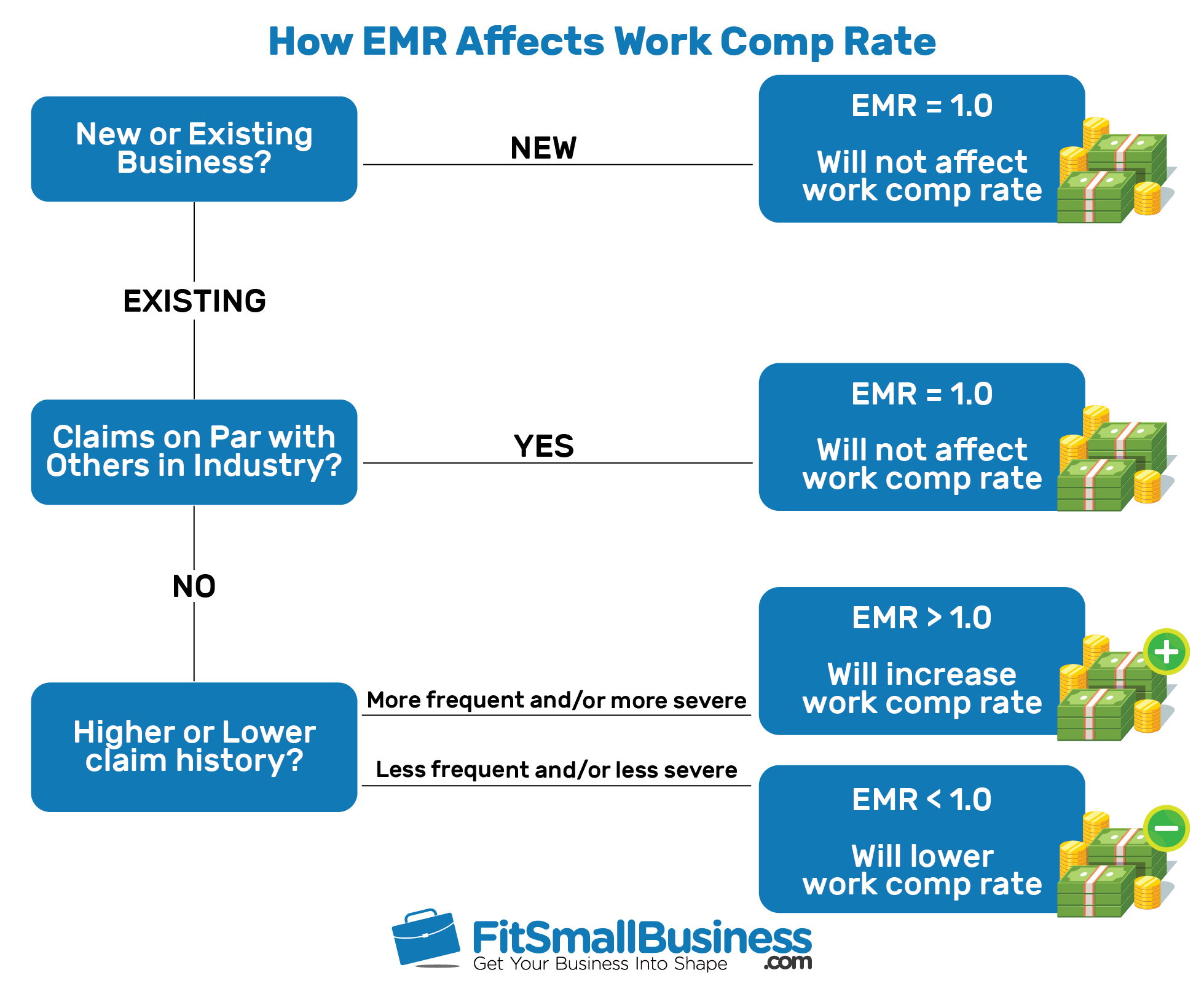 The actual rates you pay are set by each state, based on the loss history in that state. In fact, some states run funds that are the only workers' compensation insurance providers. Regardless, each state sets their own rates based on what they expect losses to be (ELR refers to the expected loss rate).
New Employers vs Existing Employers
New employers are assigned an experience modification rate of 1.0. That means, in essence, that there's no modification of the workers' comp class code rate. The EMR is multiplied by the class code rate. So if the class code rate is $1, for example, then $1 x 1 = $1. The EMR has no effect.
Once employers have three years of claims history, their EMR is adjusted in most states. That means their class code rate will most likely be impacted by the EMR. For instance, if you have few and infrequent claims, you'll pay lower workers' comp rates.
The opposite is also true. If your workers' compensation claims are more frequent, more serious, or more costly than what's typical in your industry, you may find your EMR goes above 1.0. In that case, you'll pay more than the average business employing workers doing similar jobs.
Understanding Workers' Comp Premiums
To fully understand how the experience modification rate affects your premium, you must understand how workers' compensation premiums are determined. Every insurance provider starts with the same premium formula that they adjust based on their industry preferences and state guidelines.
The Workers' Comp Premium Equation
The workers' compensation premium equation is the foundation for all workers' compensation premiums with all insurance carriers around the country. It is important for a small business owner to know whether their rate is going up because of an experience rating or if there are other factors they need to consider, like worker classifications or state rate increases.
The workers' compensation premium equation is:
Premium = Payroll (per $100) x Classification Rate x Experience Rate Modification
The variables in the equation are determined by the following:
Payroll per $100: Total payroll costs divided by $100
Classification rate: Rate assigned by the National Association of Insurance Commissioners (NAICs) based on job risk
Experience rate modification: Number representing the business' claims history
All of these factors affect the pricing of your workers' comp policy for different reasons. Your workers' compensation experience modification rate is one part of the equation you have control over.
9 Factors Affecting Workers' Comp Modification Rate
While most insurance agents say that your modification rate is defined by your company claims, this is only partly true. The number of years you are in business, your company's claim history, and the average number of expected claims in similar businesses all have a direct impact on your claim.
Nine factors that affect a business' experience rating include:
Years in business: New businesses with less than three years of history generally start with an experience modification rate of 1.0.
Claim history: Experience modification (e-mod) rates rise above or fall below 1.0 depending on claims. The more claims you have, the higher your e-mod rate goes, averaging 1.2 and going as high as 1.7.
Industry claims: Company-specific e-mods are calculated against industry-expected claims in your state of operations.
Total premium: EMRs may be subject to minimum state workers' comp premium thresholds. Each state determines what the eligibility dollar amount is. For example, North Carolina requires policies to have a minimum of $5,000 in premium.
Under deductible claims: Most states include small claims under the deductible threshold as a factor that insurers must consider in determining the EMR.
Employer size: Larger employers often receive experience modifiers based on their own company's claims experience without incorporating state average losses.
Frequency of claims: Even if your workers' comp claims aren't extensive, too many claims can have a negative effect on your EMR.
Severity of claims: Even if you have few workers' comp claims, one huge one can increase your EMR.
Duration of claims: Usually claims need to be closed before they impact the EMR, and most insurers use the day claims close to determine any changes. Getting claims filed and closed quickly helps keep EMR values lower.
Companies that get workers reassigned or back to work sooner have a better chance of keeping their experience modification rate down. Medical-only claims are claims that only require payout for medical costs, with the employee returning to work in some capacity. Indemnity claims are more expensive because they must pay lost wages for extended periods of time. As a result, your policy's structure affects how claims are handled and ultimately your EMR and premium.
EMR Claims Severity vs Frequency Example
Compare the sample claims between Company A and Company B. Company A has one $100,000 claim while Company B has 20 claims that add up to $100,000. In theory, Company A seems to have had a fluke injury, which may indicate stronger safety practices. Company B, however, has a lot of little injuries, suggesting it may have fewer or ineffective safety measures in place.
However, state per-claim accident limits influence how insurers interpret the claims listed above. Some insurers look at the per-claim accident limit in relation to how frequently they expect a particular type of claim to occur. This is called split rating.
Split Rating Example
Loss Amount

State per Claim
Accident Limitation

Primary Loss
(Frequency)

Excess Loss
(Severity)

$500,000

$250,000

$17,000

$233,000

$100,000

$250,000

$17,000

$83,000

$5,000

$250,000

$5,000

$0
Chart taken from NCCI report:
ABCs of Experience Ratings
The primary loss is the amount up to a split point, typically $17,000. Anything above that is called the excess loss. Claims below the split point don't impact your EMR, but claims with excess loss directly impact the EMR. If you are above the excess loss number, you will see an increase in your EMR, and your rate will go up.
For example, let's say it's common to have $2,000 in annual workers' comp claims, but your business averaged only $1,000 in workers' comp claims per year. Your EMR in the example might be .50.
$1,000 (Actual losses) / $2,000 (Expected losses) = .50
How Long Before Claims Drop Off
Insurance companies work on a three- to four-year rolling claims cycle, meaning claims stay with policies from year to year and typically fall off in year four. New claims are incorporated into the claims cycle as they occur. A company that is completely claims-free for three years typically sees experience modification rate reductions.
"Claims affect the e-mod for three years after the claim is closed. This is why it is essential for employers to promptly report claims to their workers' comp carrier and work diligently alongside claims adjusters to get a claim opened and closed as soon as possible. Each year, your insurance company reports your company's audited payrolls and claim information to the National Council on Compensation Insurance (NCCI), the people who calculate your modifier."

– Quinten Lovejoy, Insurance Risk Advisor, CraneAgency.com
Your Experience Rating & Your Workers' Comp Premium Audit
Every year, insurers audit businesses with workers' comp policies to make sure the correct premium is charged. This annual workers' compensation premium audit looks beyond just payroll data and considers the prior 12 months of claims to determine the EMR for the next year. Typically, businesses receive an e-mod that reflects their previous policy and past four years of claims experience.
Some small business owners think that just changing workers' compensation insurance providers resets their EMR to 1.0. This isn't true because claims are reported to state workers' compensation boards and are available to all insurers to help prevent insurance fraud and maintain the integrity of insurance policy pricing.
How to Improve Your Experience Modification Rate
If you're trying to save on workers' compensation premiums but have a high EMR, you have relatively few alternatives—at least in the short term. For example, you could lease employees through a staffing firm, hire contractors, or implement a robust safety program to reduce workers' comp claims in the longer term.
Here are four options when dealing with a high experience rating:
Make Safety a Top Priority
By increasing awareness and creating a culture of safe practices, you can reduce the number of claims you file and reap large savings in workers' comp premiums over time. Even inexpensive changes to your business practices, such as a monthly facility inspection or weekly vehicle inspections, can reduce accidents. An ad hoc safety committee, or asking supervisors to host 15-minute weekly tailgate safety training sessions with their teams, are other easy-to-implement ideas.
"A Loss Prevention program is specific to the company's industry and operations. It is reviewed to be sure it is adequate to prevent losses and complies with all OSHA regulations. An example is a contractor's program because their exposures to injury change constantly. They need weekly 'toolbox' meetings to discuss safety that is project specific; it may be trenching collapse for one project and falls from structural steel the next project. … A good agent and carrier can assist with this, or a company can hire their own staff or outsource the safety program."

– Rob Yancey, Business Insurance Advisor, Jones Insurance
"Depending on the state, many individual carriers can also offer discounts and credits to employers who have formal safety plans in place. Several states, such as Florida, New York, Pennsylvania, Colorado, and others, provide for policy premium discounts for businesses that implement a safety program. These discounts are issued by the state, and therefore all carriers must offer the discount assuming the state-specific requirements are met. In some cases, a formal safety program may be a requirement for a carrier to offer coverage at all."

– Craig Coburn, Senior Workers' Comp Specialist, eBacon
Hire Workers Through Staffing Firms
Rather than hire employees, lease workers from employment firms. It costs about 10% to 30% more than hiring employees, but it may be worth it. In fact, some firms, like TargetCW, process all the paperwork for you, even for temp workers you source.
Not only does hiring this way mean you don't have to worry about paying workers' comp, but you also won't have to bother with most payroll, benefits, and tax compliance issues either. The employees work for the staffing firm, not you. You direct their day-to-day activities and keep track of their work time. In turn, the staffing firm manages their payroll and bills you for their hours worked.
Outsource Dangerous Work Activities to Contractors & Experts
You can prevent your workers from doing dangerous tasks by outsourcing those tasks to professionals who have expertise in those functions. Hiring independent contractors or outside service professionals can get the work for you while keeping employees safe.
When you hire contractors, require proof of their workers' compensation insurance through a certificate of insurance to be certain they are adequately covered. Keep in mind that this option doesn't always solve the workers' compensation insurance requirement. Some states (like Texas, which doesn't require workers' compensation for most businesses) do require general contractors to have coverage for subcontractors in many cases.
Ask Your Agent to Talk to the Underwriter
An underwriter is the person in an insurance company who evaluates your business risk and potential losses. You can sometimes discuss unique situations to help you improve your EMR. For example, say you inherit a business from a family member that has an EMR of .75. However, the business is now in your name with a new EIN, so it's treated as a new business and assigned an EMR of 1.0.
In that case, you may need to contact the underwriter to see if you can have the existing EMR assigned to your business. If you are being reconsidered in this case, the underwriter may want to know what measures management has taken to change previous safety risks.
Where to Find Your Experience Modification Rate
Insurance companies send a lot of paperwork, so you need to know where to look for your experience rating. Typically, insurers include a payroll report or a premium computation page with your renewal notice. This lists the various employee work classifications and the assigned rate for those classifications. Each one of these work classes may go up or down depending on the claims history for each.
The example below lists two types of electricians with two different work classification price assignments and office clerks with the third work classification price. Below the work classification listings is the business' e-mod. Remember to confirm that your payroll figures and employee tasks match each job classification along with reviewing your EMR.
Where to Find Affordable Workers' Compensation Insurance
Where and how you purchase your workers' comp can affect your experience modification rate. For instance, some states have funds to help insure businesses with a high EMR or that are in a high-risk pool. Professional Employer Organizations (PEOs) may also be able to reduce rates for employers.
Below are five ways to buy workers' compensation insurance that may help lower your rates:
Commercial Insurance Carriers
Commercial insurance carriers underwrite their own policies. As each company has different underwriting standards (and underwriters), this option may be best if you're located in a state that doesn't have a state fund. Most also offer other types of business insurance, allowing you to keep all your policies under one umbrella.
The Hartford is known as a small business insurance specialist with excellent workers' compensation programs that include more provisions for free that other carriers charge for. If you are looking to get started with a workers' compensation policy today, The Hartford is ready to help.
Insurance Broker
Commercial insurance brokers are an efficient way to buy workers' compensation insurance. With one application, a small business owner has his company's risk shopped among top-rated insurance providers. This gives the business owner the opportunity to compare policies in terms of both premiums and coverage.
Online insurance brokers such as AP Intego utilize a systematic application that takes just a few minutes to complete and typically returns quotes from multiple carriers. Many also help you work with underwriting to lower your rates. Because they quote more than one carrier, they can help you find the best provider for each type of insurance to keep your overall costs down.
Professional Employer Organization
If your business has a high EMR, you may want to have your employees pooled with other businesses in a PEO. As a co-employer, the PEO hires and pays the workers' comp premiums based on their much larger workforce. You, in turn, manage the day-to-day activities but benefit from the lower cost to employ those same workers.
Do keep in mind that the PEO becomes a business partner and doesn't want partners who don't care about safety that will affect the rates of all the PEO partners. Many may think twice about partnering with a company that has too many claims. To find a PEO specific to your industry, business size, and location, you can contact The Huldisch Group. They'll provide a free consultation.
State Workers' Compensation Insurance Fund
There are two types of state workers' compensation funds: monopolistic funds and competitive funds. Monopolistic funds exist in select states (Ohio, Wyoming, Washington, and North Dakota) where no private insurance carriers are allowed to sell workers' compensation. Competitive funds exist in other states as an alternative to private insurance companies that may be very expensive for high-risk companies.
If your company is in a very high-risk industry or has exorbitant increases in premium due to claims, check with the state fund. Most state funds have the mission to provide competitively priced policies for high-risk companies and to guarantee insurability for those that aren't eligible with private insurance companies.
Self-insurance
If your state allows it, and you have the funds to support it, self-insurance may be an option for your business. Even in states that do allow for self-insurance, the company typically needs to meet very strict financial criteria. This is often an option retained by major corporations with very deep pockets to manage and pay claims.
Frequently Asked Questions (FAQs)
Workers' compensation insurance is a very complicated type of insurance to begin with. The following are some of the most frequently asked questions regarding the workers' comp insurance experience modification rate.
Does a safety program reduce my e-mod?
Safety programs are required by many insurance companies, but not all. The insurance companies that don't mandate safety programs often offer credits toward the premium for businesses that have them. More comprehensive training programs often have bigger credits. This doesn't directly affect the e-mod, but it does help reduce overall costs and effectively reduces claims.
How do I find my experience modification rate on my statement?
The experience modification rate is found when you get your initial payroll classifications or renewal statement. Every insurance company uses a slightly different format, but all disclose it to you after your annual premium audit. If you are unable to find your EMR, call your insurance agent to locate it within your renewal paperwork.
What is the lowest possible e-mod rate?
All new businesses start with an experience modification rate of 1.0, which gets reduced based on company claims history as compared to industry standards. The EMR for seasoned companies with no claims might be .75. While it is possible to go lower than this, it is very rare.
What's the difference between guaranteed cost vs loss sensitive?
Insurance carriers have two methods to price workers' comp policies: guaranteed cost and loss sensitive. Guaranteed costs are established when the policy starts and remains constant throughout the policy period. Loss sensitive policies are generally used for large deductible plans with premiums exceeding $100,000 that adjust rates based on premium costs.
Bottom Line
When it comes to their experience modification rate, there are a lot of things a business owner can control. The bottom line is to set safety practices for your business and keep claims to a minimum, both in frequency and severity.