Experience Modification Rate (EMR) is a workers' compensation multiplier that starts at 1.0 and commonly ranges from .75 to 1.25, based on a business' claims history. The EMR determines how an employer's workers' compensation premium is modified—i.e., higher or lower—for a given job-related class code.
Businesses that have an EMR above 1.0 due to poor claims history often seek to reduce their workers' compensation insurance rates by working with a Professional Employer Organization (PEO). A PEO can pool your employees with those of other companies to reduce your EMR. We recommend contacting The Huldisch Group for a free consultation. They will help you find a PEO best suited to your location, company size, and industry.
How the Experience Modification Rate Works
An EMR, also called an EMOD, XMOD or MOD, is a multiplier. If it has a value of less than 1.0, it is considered to be positive because it reduces your workers' compensation insurance cost. Conversely, a negative EMR that's above 1.0 will raise rates. The base rate, also referred to as the unity rate, is 1.0.
In most states, you begin with a work compensation class code based on your industry, e.g., auto sales or home repairs. Then, you multiply that rate by your EMR to determine what your workers' compensation insurance will cost. For the first three to four years of business (before you have much history of work comp claims), your EMR is likely to remain at 1.0.
An EMR of 1.0 means that your state's work comp code classification rate will be multiplied by one, leaving it at the standard rate for the job type or industry. In other words, no modification.
After you have some losses (workers' compensation claims), your EMR is determined by comparing your actual losses to what's expected in the industry—although the exact formula is a bit more complex. For example, a home repair worker might occasionally injure themselves on the job—but as long as your workers' injuries aren't more extensive or more frequent that other home repair workers, your EMR should remain close to 1.0.
Think of it like this:
Perhaps in your industry, it's common to have $2,000 in annual work comp claims. Let's say your business averaged $1,000 a year in comparison. Therefore, your EMR in this simplified example might be .50.
$1000 (Actual losses) / $2000 (Expected losses) = .50
Who the Experience Modification Rate Is Right For
If you are a new business owner, chances are you'll only notice your EMR as a line item on your workers' compensation insurance policy or a form you receive from the NCCI. It will have a value of one, and will have no effect on your premium. You also can't do much to change it right away.
However, you may want to keep tabs on your EMR if you're a:
Business with few or no workers' compensation claims
Buyer of an existing business with few or no workers' compensation claims
Business that has been established for at least three years
New business that wants to lower their EMR in the future
Business with lots of claims that wants to lower its EMR
Your EMR can save or cost you thousands of dollars a year. Businesses that hire workers in high-risk jobs, like roofer or welder, can really save money if they reduce workplace accidents. Therefore, monitoring your EMR and working to lower it can improve your profitability.
Brent Kelly, VP at Sitkins Group Inc., says:
Let's say you are a business with a 1.50 experience modification factor and you are competing against a company with a 0.90 modification factor. You are 60 percent behind your competitor before you even start. If both companies' manual premiums are $100,000 year; one company is paying $150,000 while the other company is paying $90,000. What can you do for $60,000?
Experience Modification Rate Factors
The factors that go into determining the EMR are:
Business Age – If you are a new business with less than three years of claims history, your EMR will usually be assigned as 1.0.
Total Premium – An EMR may be applied based on the total premiums you pay. For example, you may not be eligible until you have premiums of $20,000 or $50,000 per year. Each state determines what the eligibility dollar amount is.
Frequency of Claims – Even if your work comp claims aren't extensive, too many claims can affect your EMR.
Severity of Claims – Even if you have few work comp claims, one huge one can increase your EMR.
Your Industry – Some industries have more claims. For instance, when working in trades with dangerous tools or chemicals, injuries are more likely to occur. Therefore, businesses in these industries are less penalized by a few small claims than a low-risk industry that experiences a large claim out of the norm.
New Employers
New employers are assigned an experience modification rate of 1.0. That means, in essence, that there's no modification of the workers' comp class code rate. The EMR is multiplied by the class code rate. So if the class code rate is $1, for example, then $1 x 1 = $1. The EMR has no effect.
Existing Employers
Once employers have three years of claims history, in most states, their EMR will be adjusted. That means their class code rate will be modified by the EMR. For instance, if you have few and infrequent claims, you'll pay lower work comp rates.
The opposite is also true. If your workers' compensation claims are more frequent, more serious, or more costly in your business than what's typical in the industry, you may find your EMR goes above 1.0. In that case, you'll pay more than the average business employing workers doing similar jobs.
The formula to calculate it (managed by NCCI) is complicated. But in general, it's based on how severe and how frequent your claims are compared to other businesses with workers in similar jobs.
For example, if your office business had several workers' compensation claims last year, or just one really expensive one, such as a worker who tripped on the carpet, needed back surgery and was out for four months—your EMR might go up. Let's say it went from 1.0 to 1.2. You might now pay $120/year per worker instead of $100 (1.2 EMR x $100 Class Rate = $120).
How Experience Modification Rate Affects Workers' Comp Costs
The EMR is only one factor that goes into calculating your workers' compensation premium. The three primary factors, according to The Hartford, are your industry, the EMR and your annual payroll numbers. Here's an image to illustrate how it works: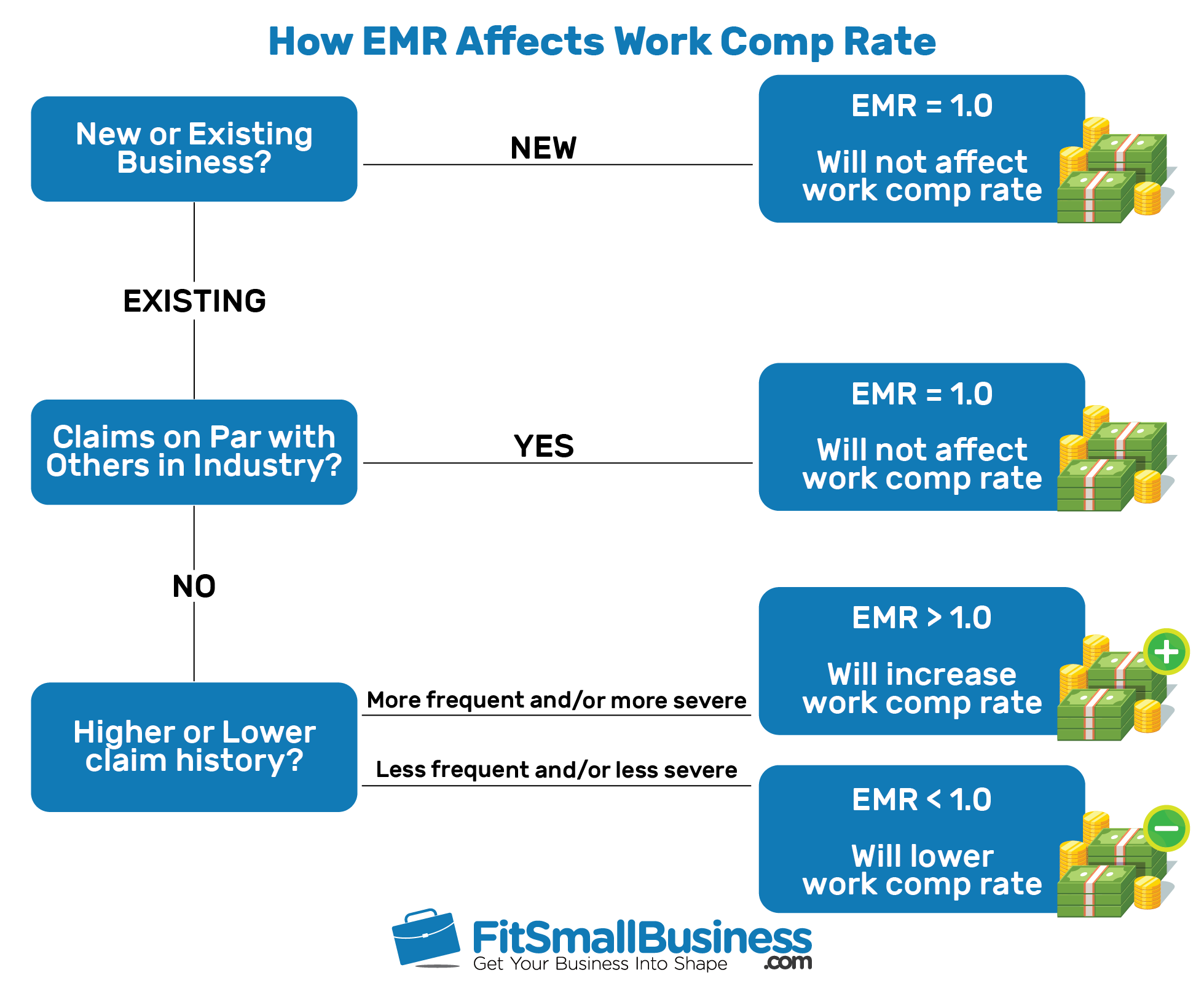 Here's how they work:
Your Industry – Each job type, such as baker, plumber, or fast food worker, is assigned a classification rate code by the NCCI. That code is then assigned a cost per $100 of payroll by the state. Examples can be as low as $0.21 per $100 earned for an accountant or office worker (code 8810) in Nevada, to $11.55 per $100 of payroll for a residential carpenter (code 5645) in that same state.
Here's an alphabetical list of class rate codes from NCCI.
Your EMR – The EMR is merely a multiplier of that classification rate code. Starting at 1.0 for a new business with less than three years of work comp history, new businesses most always have no modification to their rate.
Your Annual Payroll – Since the rate is applied based on every $100 of payroll, a business with a larger payroll will pay more than a smaller business in the same industry.
The actual rates you pay even within industries are set by each state, based on the loss history in that state. In fact, some states are the only provider of workers' compensation insurance. Regardless, each state sets their own rates based on what they expect losses to be (ELR refers to the expected loss rate). Here is an example of assigned risk rates in Alaska.

In other states, you can buy it from a commercial insurance provider, the state, or you can self-insure. For more information, read our article on Workers' Compensation and How to Buy It.
Ways to Lower Your Workers' Comp Rates
There are multiple ways that you can lower your overall workers' comp costs regardless of your EMR. For instance, some states have funds to help insure businesses with a high EMR or who are in a high-risk pool. You could also work with a co-employer like ADP Total Source, or you could self-insure.
Below are five options for lowering your work comp rates:
Commercial Insurance Providers
A commercial insurance provider underwrites their own policies. As each company has different underwriting standards (and underwriters), this option may be best if you're located in a state that doesn't have a state fund. Most also offer other types of business insurance, allowing you to keep all your policies under one umbrella.
Insurance Broker
A commercial insurance broker, like AP Intego, can often get you quotes from various insurance companies, such as The Hartford. That lets you compare policies side by side, and see which carriers have the best rates, as some insurance providers charge higher commissions than others.
If you're looking for a broker, we recommend AP Intego because they offer multiple carriers and can help you work with underwriting to lower your rates. They can also find the best provider for each type of insurance, keeping your overall costs down, with billing all in one place.
Professional Employer Organization
If your business has a negative EMR, you may want to have your employees pooled with other businesses in a PEO. As a co-employer, the PEO hires and pays the work comp premiums based on their much larger workforce. You, in turn, manage the day-to-day activities but benefit by a lower cost to employ those same workers. A PEO typically charges a monthly fee per worker in addition to the employees' payroll and benefits costs.
To find a PEO specific to your industry, business size and location, you can contact The Huldisch Group. They'll provide a free consultation. After answering some basic questions, they'll give you PEO options to consider and assist you with the application process.
Contact The Huldisch Group for a Free Consultation
Your State Workers' Compensation Insurance Fund
Some states don't allow private workers' compensation insurance as workers' comp is managed by the state. In that case, the state will charge your business based on each employee's job classification and earnings. Other states offer insurance at the state level in addition to allowing you to buy it privately. While the state is not likely to change your EMR, their rates may be lower than what private insurance companies offer.
Self-Insurance
If your state allows self-insurance, and you have the funds to provide your own insurance, self-insurance may be an option for your business.
Alternatives to Dealing with a High Experience Modification Rate
If you don't want to deal with a high EMR, you have relatively few alternatives—at least in the short term. For example, you could lease employees through a staffing firm, hire contractors, or implement a robust safety program to reduce work comp claims in the longer term.
Here are four options when dealing with a high EMR:
Make Safety a Top Priority
Changing your culture to focus on safety may take one to three years before it results in a lower EMR, especially if your work comp claims have been frequent or expensive. But why not start? Take a look specifically at what's causing claims and ask yourself:
Is it a lack of personal protective equipment (PPE) enforcement?
Is there poor supervision?
Do you have poor hiring practices?
Is there a lack of employee discipline?
Have employees not been trained properly?
Is there a lack of available safety equipment?
Whatever the factors are, you can fix them. Even inexpensive changes to your business practices, such as a monthly facility inspection or weekly vehicle inspections, can reduce accidents. Consider creating an ad hoc safety committee to report issues, or asking supervisors to host 15-minute weekly tailgate safety training sessions with their teams.
By increasing awareness and creating a culture of safe practices, you can reap large savings in workers' comp premiums over time.
Hire Workers Through a Temporary or Permanent Staffing Firm
Temp agencies specialize in many industries—providing skilled workers for short- or long-term assignments. Rather than hire employees, lease workers from employment firms. It costs about 10 percent to 30 percent higher than hiring employees and may be worth it. In fact, some firms like TargetCW will process all the paperwork for you, even for temp workers you source.
Not only will you not have to worry about paying work comp, but you also won't have to bother with most payroll, benefits and tax compliance issues either. The employees work for the staffing firm, not you. You will direct their day-to-day activities and keep track of their work time. In turn, the staffing firm will manage their payroll, billing you for their hours worked.
Outsource Dangerous Work Activities to Contractors/Experts
Perhaps you recently had a work comp claim due to an employee falling from the roof as they were checking for a leak. Should that work have been done by an HVAC firm instead? Or maybe a forklift operator had a battery explode while charging the equipment. Perhaps a vehicle maintenance company could service your equipment.
In other words, prevent your workers from doing dangerous tasks by outsourcing those tasks to professionals who have expertise in those functions. Contractors can provide the work for you as a service professional instead of an employee. And while they may cost a bit more per hour, they'll probably do a better job while decreasing your risk of an onsite accident or injury.
Ask Your Agent to Talk to the Underwriter
An underwriter is the one who evaluates the risk of your business and potential losses within an insurance company. Let's say that you have inherited a business from a family member. However, the business is now in your name with a new EIN, even though it's an existing business. If the current EMR is great, say .75, you will want the option to keep it, rather than having a new business EMR of 1.0 assigned.
In that case, you may need to contact the underwriter when you purchase workers' compensation insurance to see if it's possible to have the existing EMR assigned to your business—which is new to you, but has been established, and had few workers' comp claims.
Bottom Line
You may not realize it, but you control your EMR. Once your EMR is assigned, you can begin working to lower it—by implementing best practices in safety and outsourcing dangerous work that doesn't need to be done by your staff.
To improve your cash flow as you're working to improve your experience modification rate, consider working with a commercial insurance broker like AP Intego that can shop around for the best work comp rates for your business. Quotes are free.