Workers' compensation insurance is required in most states when businesses have employees. It covers medical bills, rehabilitation costs, and lost wages for employees who get hurt at work. Workers' compensation insurance costs vary widely, and most small business owners should expect to pay anywhere from $500 to several thousand in annual workers' compensation premium.
Getting affordable workers' comp means properly rating employees and keeping accurate payroll records. The Hartford has a pay-as-you-go program for small business owners to make workers' compensation insurance costs reflective of existing employees rather than a guess at annual payroll.
How Workers' Compensation Works
Workers' compensation insurance is paid for by the employer, not the employee, and covers an employee's medical expenses and lost income if they are injured on the job. Many workers' comp policies also include employer's liability coverage to pay for lawsuits should an employee claim their on-the-job injury was caused by their employer's negligence.
Workers' comp insurance is considered no-fault insurance, meaning it pays regardless of whether the employee or employer is negligent. An employee must forgo workers' comp benefits if he intends to sue. It limits your risk of workplace lawsuits, fines, or penalties while providing employees with the support they need to recover — such as surgery, rehabilitation, medications, or disability pay. If an employee decides to sue for negligence, they forgo their workers' comp benefits.
Workers' Compensation Insurance Requirements by State
Workers' compensation is governed by the state. This means every deadline, process, and benefit varies by state, as do any penalties for noncompliance. State law might mandate that employers have anywhere from 24 hours to 30 days to notify the state of an employee injury. Moreover, the state might require notification via a specific form, an online notification system, or a written letter. Employers need to know what's required in their state so they can avoid civil and criminal penalties.
You can read our state-specific workers' comp guides below:
If you're shopping for workers' comp coverage, we recommend reaching out to The Hartford. For more than 30 years, it has assisted small business owners in finding the right policy to fit their coverage needs. Also, it provides nurse case managers to help get your employees back to work and save you money. Get your insurance quote for free with no obligation.
Workers' Compensation Requirements by Industry
In addition to state laws, there are often workers' comp requirements for specific industries even if you are exempt under the general rules. For example, construction companies are often required to provide workers' comp insurance regardless of whether their employee counts are below the required limit. Moreover, government contractors are typically required to provide workers' compensation to their employees, even in Texas.
What Workers' Compensation Insurance Covers
Depending on your state, workers' compensation insurance may pay the costs associated with any worker, full- or part-time, who is injured on the job. Coverage is mandatory in 49 of the 50 states for any business that has employees, with Texas being the only exception. Because it isn't federally mandated, there are some differences in coverage.
There are four main categories of coverage that all workers' compensation policies cover:
Income replacement: Gives employees a percentage of their average weekly wage to cover normal home bills while not working during recovery
Medical expenses: Pays the costs of medical care and physical and occupational therapy
Burial costs: Funds burial expenses of an employee who died as a result of a work-related injury
Death benefit: Provides surviving families members financial benefits due to the loss of a deceased employee's income
In the rare case that surviving family members sue after a work-related death, workers' comp helps cover the costs to defend the case and pay any settlements owed.
Companies that have one or more employees are generally required to purchase workers' compensation coverage. There are many exceptions, however, which we outline in our state map below. Nonetheless, it is a best practice to carry workers' compensation insurance even if your state law does not mandate it. The employer's liability alone makes it worthwhile.
Specific rules and coverages vary by state. Some states provide workers' compensation to businesses. In other states, it can be purchased like any other business insurance. States also determine the exact rates you pay. Those rates are based on a dollar amount per $100 of payroll. For example, office workers such as clerks often have rates of less than 20 cents per $100 while contractors could be more than $5 per $100 in payroll.
What Workers' Compensation Insurance Doesn't Cover
Workers' compensation insurance covers employees' work-related injuries. This includes injuries that occur at your workplace as well as those that occur elsewhere, like on a client's location or while traveling to a client's site, provided the employee was doing something related to their job. State laws vary on the definition of a work-related injury.
Some states cover any workplace injury as long as it wasn't caused by intentional personal harm or obtained during an illegal activity. This means an employee who gets hurt trying to do a backflip in the lunchroom is covered because he didn't intend to harm himself. Other states limit covered injuries to those directly related to an employee's job duties. This often leads to claim denials for employee horseplay.
Workers' compensation generally doesn't cover:
Self-inflicted injuries
Injuries due to employee roughhousing
Injuries sustained while commuting to/from work
Injuries sustained while committing a crime or when an employee is in violation of company policies
Drug or alcohol-related injuries
Who Workers' Compensation Insurance Is Right For
State law determines if a business needs workers compensation, but coverage is usually a good idea for any business with employees. In many states, you are legally required to purchase workers' compensation insurance if you have even one employee, while others only mandate coverage once you reach a certain number of employees. Still others require workers' compensation for specific industries, such as construction.
Here are the businesses that need workers' compensation insurance:
Businesses in most states in the United States: If your business employs workers in a state that mandates workers' compensation for all employers — like Arizona, which requires it even of sole proprietors who hire family members — you need to comply with state law.
High-risk industries: If your business is in a high-risk industry, like construction, you probably need workers' compensation to protect your business from lawsuits, submit bids, and reduce the cost of employee injuries.
Subcontractors: Clients may require that you show that you've got workers' comp because they don't want to be held liable for any of your workers' injuries that occur on their job site.
Any business that wants to reduce risk: Similar to other types of business policies, workers' compensation insurance protects your business assets by reducing your risk of business lawsuits. In some states, a worker could sue you personally if they're injured in your business when you're not adequately insured.
In general, workers' compensation insurance protects your assets. It reduces the likelihood of a lawsuit significantly while prohibiting injured employees who accept workers' comp benefits from suing their employers. The Occupational Safety and Health Administration (OSHA) injury cost calculator helps business owners understand the potential cost of not having workers' compensation insurance.
Workers' Compensation Insurance Cost
Workers' compensation insurance costs vary widely depending on your industry and location. Most carriers have policies starting at $250 per year for one or two employees in a low-risk industry. As the workers' classification risk increases, rates go up, often exceeding thousands of dollars annually.
"Insurance underwriters look at medical expenses and time lost from work as it compares to the industry you're in. It's not unusual for a larger construction company to have a few claims a year — that's expected. But excessive claims may increase your rates over time."

—Kyla Davenport, Small Commercial Advisor, The Hartford
How Workers' Compensation is Calculated
The premium a business pays is determined with a simple formula that considers the job type, the business' claims history, and its total payroll. Workers' compensation is always quoted as a rate per $100 of payroll.
Classification Code Rate X Experience Modification Rate X Payroll (per $100) = Premium
Here is a breakdown of each of these three factors and how they affect the premium.
Classification Code
A classification code is used to determine the level of risk for different types of jobs. There are hundreds of codes managed by the National Council on Compensation Insurance (NCCI) with each code reflecting a very specific type of job. Even an office worker is defined by codes that vary from clerks to sales staff, each with different rates.
Codes are updated every five years. Each classification code is then assigned a class code rate by the state. For example, the same class of job — such as 8810 – clerical office — might be charged a higher workers' compensation classification code rate in California than in Utah.
Examples of Workers' Compensation Costs by Work Classification
Industry / Code

Cost of Workers' Compensation
(Per $100 of Payroll)

Annual Cost Example
(Per Employee Earning $40,000/year)

Accountant / 8803

11 cents

$44*

Jewelry Store / 8013

71 cents

$284

Barber shop / 9586

97 cents

$388

Restaurant / 9082

$2.28

$912

Dry Cleaning / 2589

$3.23

$1,292

Plumbing / 5183

$5.24

$2,096

Landscaping / 0042

$9.82

$3,928

Roofing / 5551

$20.35

$8,140
*Subject to a minimum premium from the insurance carrier of $250 annually.
Using these rates as an example, an accounting firm would pay $44/year for workers' compensation insurance per accountant. However, many insurers require a minimum premium, which increases the cost per employee. Minimum premiums for workers' comp insurance often start at $250 annually.
Meanwhile, the cost to cover a plumber, landscaper or roofer runs in the thousands. Plumbers get eye injuries, landscapers use power tools, and roofers sometimes fall off of roofs. Those increased risk factors are why a roofer's rates may be more than $8,000 per year, per employee.
Experience Modification Rate
An experience modification rate (EMR) is a multiplier that starts at 1.0 and is used to determine whether an employer should pay more or less based on the number and types of workers' comp claims they've had. You'll recall from grade school that if you multiply a number by one, it doesn't change the value. So, a rate of 1.0 means "no modification."
New businesses start with an EMR of 1.0. After about three years of claims history, a business with fewer than average workers' comp claims might be assigned an EMR below one, for example, .095. When multiplied by the classification code rate, this lower EMR reduces the employers' costs for workers' compensation. Employers with good safety records are rewarded with lower rates.
Most insurance carriers have a three-year threshold for new businesses before the EMR drops below one. This reduction is only available if the business has no claims. Claims history will always increase the EMR.
"A good experience modification rate is something all businesses want to strive for. It is a direct reflection of their dedication to ensuring a safe work environment for their employees. If a business meets the criteria and has a clean loss history, an experience modification rate less than 1.00 will earn them a credit on their policy, which helps reduce their premium. Conversely, if they have poor claims history, it can earn them a debit modification that will increase their premium. A rating over 1.00 is considered a debit modification rate."

—Jim Davidson, Sales Manager, AP Intego Insurance Group, LLC
Payroll
Workers' compensation rates are then applied to your total payroll. Because you don't know what your total annual payroll will be at the start of each year, you have to estimate. That payroll estimate is then used to calculate your workers' compensation premium.
At policy year-end, your insurance company may conduct what's called a workers' compensation audit. If they find that your total annual payroll was higher than estimated, you'll be expected to pay the difference in premiums as a lump sum at year-end.
Workers' Compensation Insurance Payment Options
Depending on your industry, workers' compensation insurance can be expensive. The good news is that you can pay workers' compensation premiums in multiple ways. For example, you could estimate your payroll and pay your premium at the start of the year. Paying upfront could net you a discount.
Alternatively, you could pay each payroll based on the exact amount due—that's often referred to as pay-as-you-go workers' comp. Additionally, you could make a down payment at the start of the year, and then pay monthly or quarterly using a payment plan.
Annual Billing and Payment Schedules
When paying annually, you can pay the entire premium upfront. Many carriers offer a discount for doing so. Or, you could stretch out your payments over a timeframe, such as monthly or quarterly based on your annual payroll estimate and the carrier's payment options.
The downside to either payment method is that you have to estimate what your premium will be. Then at year's end, you have to reconcile the difference and may need to come up with a large lump sum payment to fund the difference.
"Workers' compensation billing has often been a pain point for the small business owner. The policy premium is derived from a company's annual payroll. A traditional policy requires a business owner to estimate their annual payroll in advance and the carrier bills them based on this amount.

"The problem is that many small business owners have no idea what their annual payroll will be, especially if they are a new venture. The carrier also typically requires a large down payment, usually 25% or more of the estimated annual premium to start the policy.

"They will conduct an annual audit each year to determine the actual amount of payroll they ended up running. These audits are time-consuming and can result in the insured owing additional premium that they were not prepared to pay."

—Davidson
Pay-As-You-Go
Pay-as-you-go is a newer alternative that can improve your cash flow and eliminate year-end surprise expenses. You tie your workers' comp payments to your actual payroll cycle and amounts — only the amount due each pay period is deducted. Some, but not all, workers' compensation providers can offer this option as it requires some integration with your payroll software and bank accounts.
According to Davidson:
"The pay-as-you-go billing option is a great cash management tool for a business. Rather than being billed based on an estimate of their payroll, their premiums are calculated and collected each pay period based on the actual wages they run. There is no down payment or deposit required to initiate their policy, which frees up cash flow that can be used elsewhere in the business.

"This superior billing method minimizes the risk of an insured owing additional premium from an audit since their premiums are being calculated and paid each time they process payroll. When you compare pay as you go to a traditional direct bill option, it is a no-brainer which way to go."
State Workers' Compensation Insurance Rules
As if different rates weren't complicated enough, each state has different rules. Some states may require that you provide insurance for yourself as a business owner, your 1099-contract employees or subcontractors, and your company partners. Furthermore, other states require that all employees are covered from day one. Others mandate workers' comp only when your business has a threshold number of workers, often between three and five.
On top of that, states provide exemptions to these rules, such as not requiring workers' comp for part-time babysitters (Alaska), seasonal laborers (Maine), or family members (Idaho). In some cases, it depends on how much the worker earns or what your total payroll is.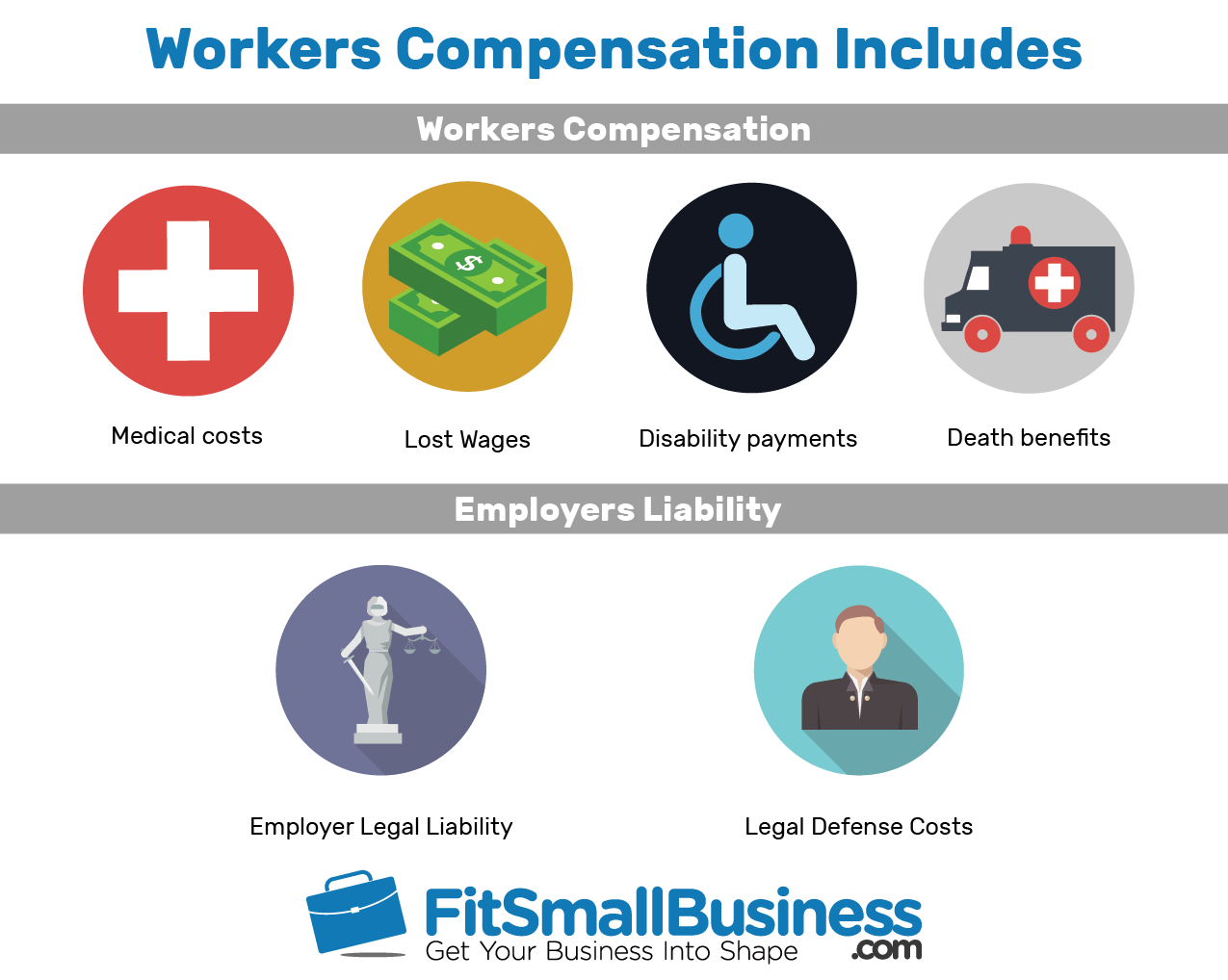 6 Ways to Get Workers' Compensation Insurance
In most states, you can purchase workers' compensation insurance on the private market―just like any other type of business or commercial insurance policy. If this is an option in your state, it's a good idea to get quotes from a few top workers' compensation providers so you know you're getting a good deal. Many accounting and payroll software vendors can also help you set up workers' compensation insurance for you through their business partners.
Private Insurance Carrier
A  commercial insurance provider can offer workers' compensation. This is best if you need to buy other insurance such as commercial general liability or a business owner's policy (BOP), and you want all your business insurance policies in one place.
Due to package discounts, excellent claim services, and reduced workers' comp costs, we recommend The Hartford as a one-stop business insurance carrier that can provide you with pay-as-you-go workers' comp coverage for your business.
Insurance Broker
Commercial insurance brokers work with multiple carriers to find you the best rates. For example, they may offer one carrier for your errors and omissions (E&O) insurance, another for your BOP, and still another for your workers' comp so your overall insurance expenses are lowered. They often provide more personal service to answer your questions as your business grows, plus all your billing is in one place.
For a commercial insurance broker who can offer competitive business insurance and workers' compensation quotes, we recommend AP Intego. For example, they can quote The Hartford alongside other workers' compensation carriers to find you the best rates overall.
State Fund
The state fund is a good option for employers in high-risk industries or with existing workers' compensation claims because their rates tend to be more affordable and they often guarantee coverage for those industries. However, it can be a hassle because you have to do all the paperwork and set up payments yourself.
In some states, unless you've purchased multistate insurance, the state-fund is the only option. This is referred to as a monopolistic fund. You can see which states require you to purchase workers' compensation solely through their state fund in the state map above.
In other cases, the state fund is the only one that will write high-risk businesses or insure companies that have many claims. In that case, the state fund might manage what's referred to as an assigned risk pool.
Other states have no state fund, requiring you to work through one of the providers above, such as a commercial insurance broker or payroll provider.
Professional Employer Organization
A professional employer organization (PEO) is best if your EMR isn't great and your existing premiums are too high. That's because instead of being quoted based on your claims history, you'll have the benefit of your employees being pooled with others. That results in a group rate that's often lower than what your business might qualify for on its own.
We recommend talking to a PEO broker like The Huldisch Group or working with a payroll expert like ADP that now offers a PEO option, ADP Total Source. A PEO takes much of the administrative burden off your shoulders and can ensure your business is compliant with federal, state and local labor laws.
Payroll Software
If you're managing your business with payroll software like QuickBooks, you can often add on services like workers' compensation for an upcharge. If you use a bookkeeper, you can ask them if workers' compensation is something that they can obtain through their accounting software on your behalf. This way you know your coverage is up to date, and the premiums can be set up on autopay from your business bank accounts.
In addition, payroll software has state rules built into their database. They'll take out the correct taxes and apply the correct workers' comp rates. Payroll software is best if you're just starting out and want to provide your employees with a smooth payroll system that provides workers' compensation as well as legally compliant payroll services.
We recommend Gusto as a great option for not just payroll, but also workers' compensation insurance, as they serve as an insurance broker in many states. Gusto is quick to set up and easy to use. It provides employee onboarding, employee self-service, direct deposit, and you can add employee benefits as well.
Self-insurance
Rules for providing self-insurance vary by state. Some allow it, others don't. In general, they require businesses to meet specific financial requirements or have a bond and hire an administrator. They also need you to demonstrate a commitment to loss control and conduct a feasibility study. Safety National provides additional information in their Steps to Self-insurance.
How to Lower Workers' Compensation Insurance Expenses
There are several ways to lower your workers' compensation expense. One is to shop some of the various providers described above around for coverage. Another is to implement workers' compensation best practices, such as developing a safety program that includes written procedures and regular training. These practices minimize the likelihood of a claim, and that can reduce your costs in the long run.
The National Safety Council has a guide on how to build safety into your organization. Safety programs not only reduce workers' comp costs but can reduce overall business costs and improve morale.
Alternatives to Providing Workers' Comp Insurance
Other than moving your business to Texas, where workers' comp is not required for most employers or hiring only family members in states that exempt family members, there are few alternatives to providing workers' comp. It's required in most states.
However, there are two alternatives you might consider.
Use a Staffing Firm or Temporary Agency
If your business is small, and you only need one or two team members, you might consider hiring them through a staffing agency. In that case, you're not technically their employer, the staffing agency is.
However, a staffing agency may charge you a rate up to 30% higher than you would have paid that worker if you hired them outright and had to pay workers' compensation. What you save in payroll headaches, you'll pay in a monthly invoice.
Hire Subcontractors, Not Employees
Hiring subcontractors often means the person working is an independent business owner or solopreneur and responsible for their own insurance. This may be a risky option, but if the work you need to be done can be done by an independent contractor, you may be able to avoid workers' comp in some states. Just be sure your business relationship meets the IRS standard.
However, some states require you to provide or ensure the contractor has workers' comp insurance. So, check your state's rules. Read our article for more on hiring contractors vs employees. The classification of employees is important for a business to get right as this labor law expert notes.
"The mistake I see most often with small business owners is misclassification of employees as independent consultants or contractors vs employees. Then, not allowing those contract employees to work for other companies, giving them equipment to use, tracking their time, or controlling their work. I advise business owners to err on the side of hiring an employee instead."

—Chas Rampenthal, General Council, LegalZoom
Frequently Asked Questions (FAQs)
People often many questions when shopping for workers' compensation insurance because it has so many factors affecting price, including industry, company history, and claims history.
What is workers' comp?
Workers' comp is the shortened term for workers' compensation insurance, a specialized policy that provides insured employees with medical care, lost wages, and rehabilitation services. At the same time, it protects employers from liabilities of having employees hurt on the job.
Can a business purchase workers' comp if it has no employees?
Some states like Colorado and Arizona allow sole proprietors and independent contractors with no employees to obtain workers' comp. In other states like Indiana, they're not allowed to be included in the coverage. It is also possible to purchase a "ghost policy" that sets workers' comp coverage in place for businesses who may intermittently hire employees.
Are 1099 freelancers covered by workers' compensation?
Small business owners generally require independent contractors to provide a certificate of insurance (COI) to show they are covered for insurance for their employees. In some states such as Connecticut, Georgia, Louisiana, and Maine, employers can opt to cover independent contractors.
What happens if I don't provide workers' compensation insurance for my employees?
Some states have stiff fines. For example, New Jersey business owners face fines of $10,000 or felony conviction. In California, fines reach six figures. Most states allow employees to sue you and your business to recover lost wages and medical expenses. Going without coverage also makes it harder to get a policy when you apply.
What if my business is in one state, but my workers travel to other states for work?
There are five states that have specific requirements for out-of-state workers. If your employees are employed in Texas, they'll need workers' compensation insurance if they work in states like Nevada. Wisconsin requires workers' comp insurance provided by a carrier licensed in Wisconsin. You'll want to be sure their workers' comp coverage is valid across state lines.
What if the only employees working in my business are my family members?
Generally, partners and owners are exempt from being added to workers' compensation coverage, and some states such as Idaho, Illinois, and Michigan exempt family members, usually if they also live in your home. In any case, check your state insurance website for workers' compensation insurance requirements.
What if I feel my workers have been incorrectly classified?
Every small business owner should review how their insurance company classifies workers for workers' comp pricing. Doing this at policy inception and with every audit and renewal helps ensure you aren't paying construction worker rates for an office clerk. Look up work classes with NAICs codes and talk to your agent about discrepancies.
My employees have health insurance, so why do they need workers' compensation insurance?
Health insurance does not cover work-related injuries. If an employee reports the injury circumstances to a medical provider, the health insurance company will contact the employer to bill costs to the employer's workers' compensation policy. Employers who don't have workers' compensation can be sued for the claim by the injured worker or the insurance company as well as be subject to state fines and penalties.
Bottom Line
The vast majority of businesses are required by law to buy workers' compensation insurance. Even those that are exempt, however, should seriously consider purchasing a policy to cover employees and protect themselves from lawsuit liabilities when workers get hurt on the job.
By working with a small business insurance specialist, business owners can manage costs while having the right coverage in place at all times. By working with a workers' compensation specialist provider such as The Hartford, you alleviate large retroactive billing costs. Building the right policy for your workforce starts with getting a quote based on your team model today. The Hartford can help with a fast, no-obligation quote.